Rose salve is a homemade balm with an intoxicating smell that is great for applying to your skin for its many benefits. My rose salve recipe is easy to make and uses just a few ingredients.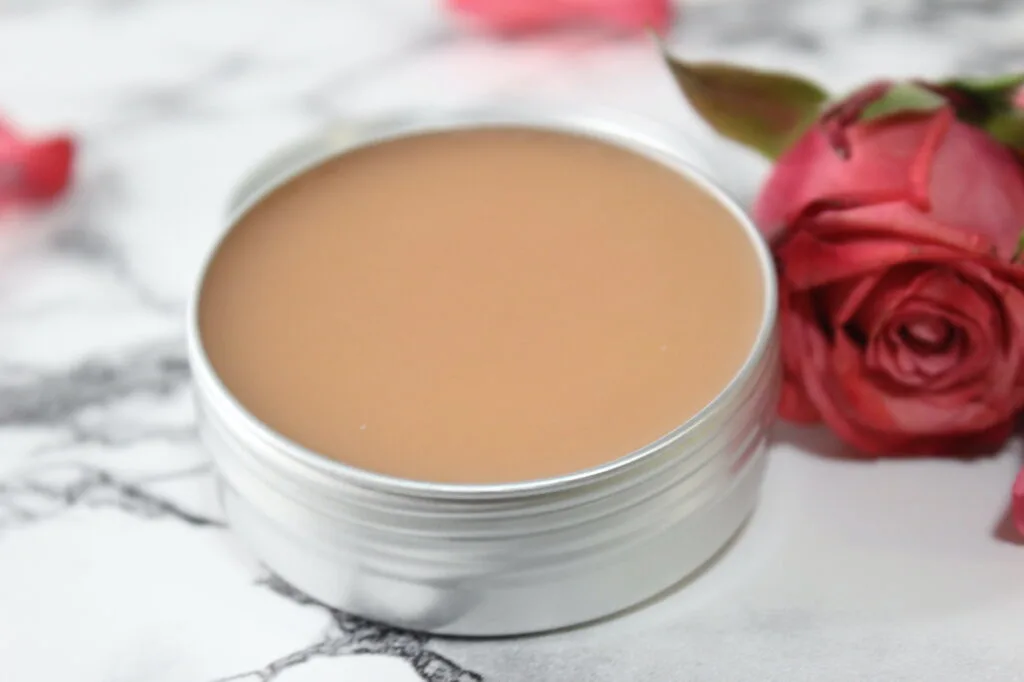 What is Rose Salve?
You probably haven't heard about rose salve a lot, but that doesn't mean that it is not a great item to have in your natural beauty tool box.
Rose salve is a concentrated form of rose petals and oil, along with beeswax as a carrier, to deliver the many beneficial properties of roses to the skin.
This salve is made with rose oil, which is made from dried rose petals; rose essential oil; beeswax; and mica coloring, which is optional.
As you can see, there is only beneficial and natural ingredients in this rose salve.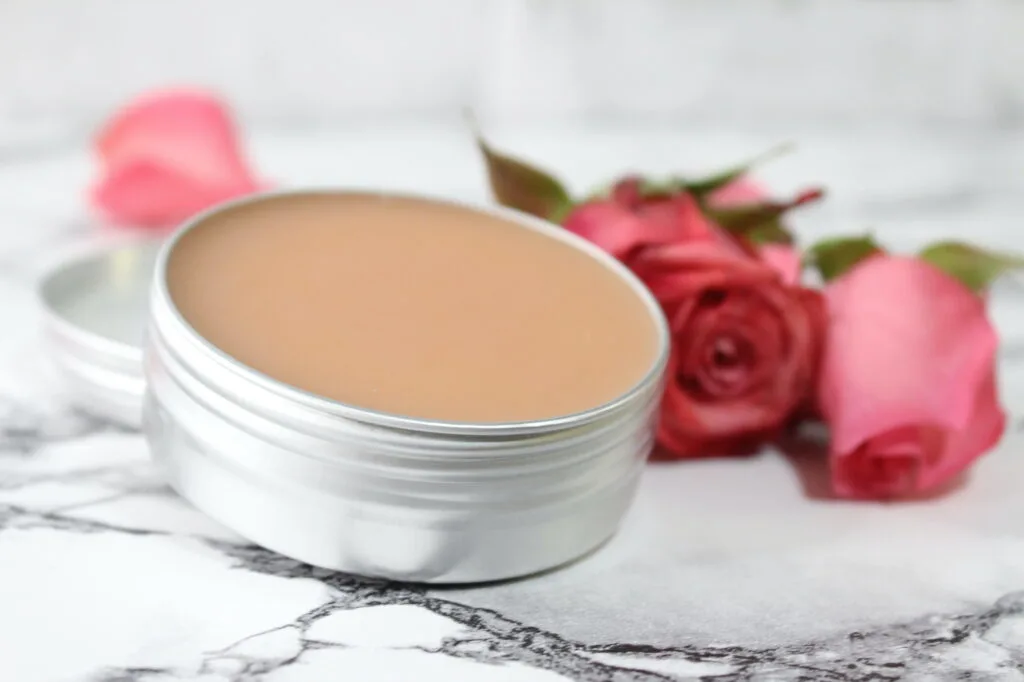 What are the Benefits of Rose Salve?
As rose salve is a concentrated form of the oils and essences of roses, the benefits are the same as the flower itself.
Roses can have the following properties for your skin:
With a lot of antioxidants, roses are great for anti-aging skin care products
Roses have Vitamin A and Vitamin C
The flowers have been shown to have anti-inflammatory properties
Roses can help reduce skin redness
Many dry skin products use roses for good reason. The flowers are hydrating.
Roses can help your skin with healing from minor abrasions and cuts.
Beeswax is the other major ingredient in this rose salve. I am a big fan of beeswax because it is so nourishing to the skin and holds in moisture.
I have used beeswax in the following recipes, as well:
What Type of Rose Essential Oil to Use
This easy recipe has rose essential oil as an ingredient, however, true rose essential oil is very expensive and probably not in your budget to use for a salve.
There are many substitutions for rose essential oil that will deliver the same dreamy fragrance:
If you are using rose essential oil specifically for the sensual fragrance, you can substitute an essential oil blend with romantic notes, such as: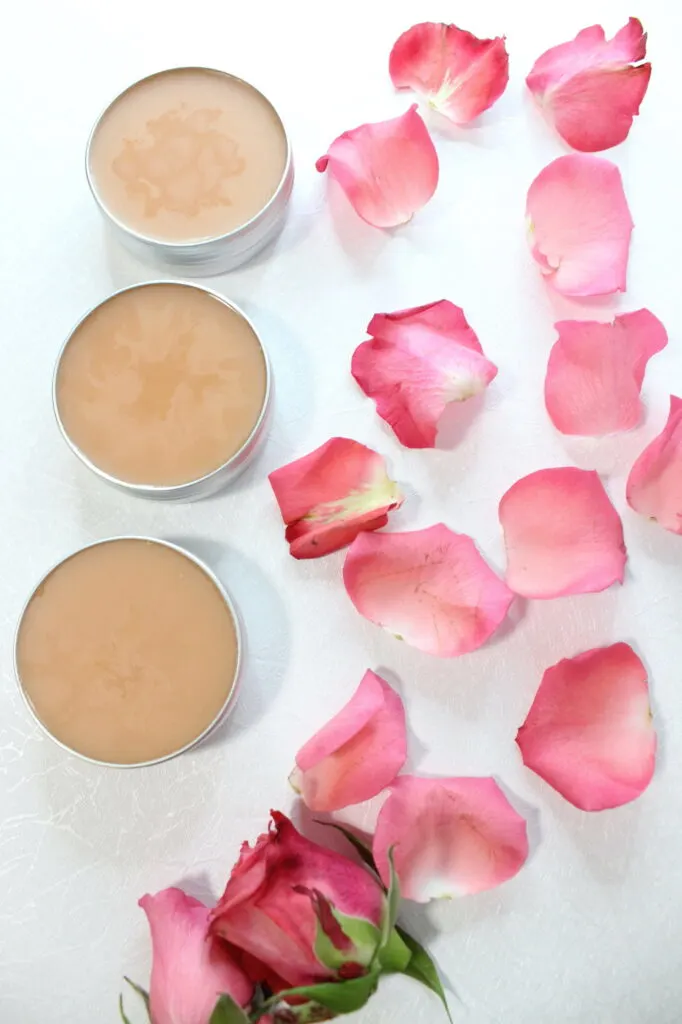 How Long Will Rose Salve Last?
Unlike other DIY beauty products, rose salve will last quite a long time because it is not made with water which can cause a product to go bad more quickly.
Beauty products made with water needs preservatives, because the water can harbor bacteria or other microbes which can cause the product to start going bad.
However, with just beeswax and roses, you can keep this rose salve on hand for 6-9 months. Be sure to store in a cool, dark place so that it doesn't melt.
If the salve starts to smell rancid or looks unusual, though, be sure to toss it out immediately.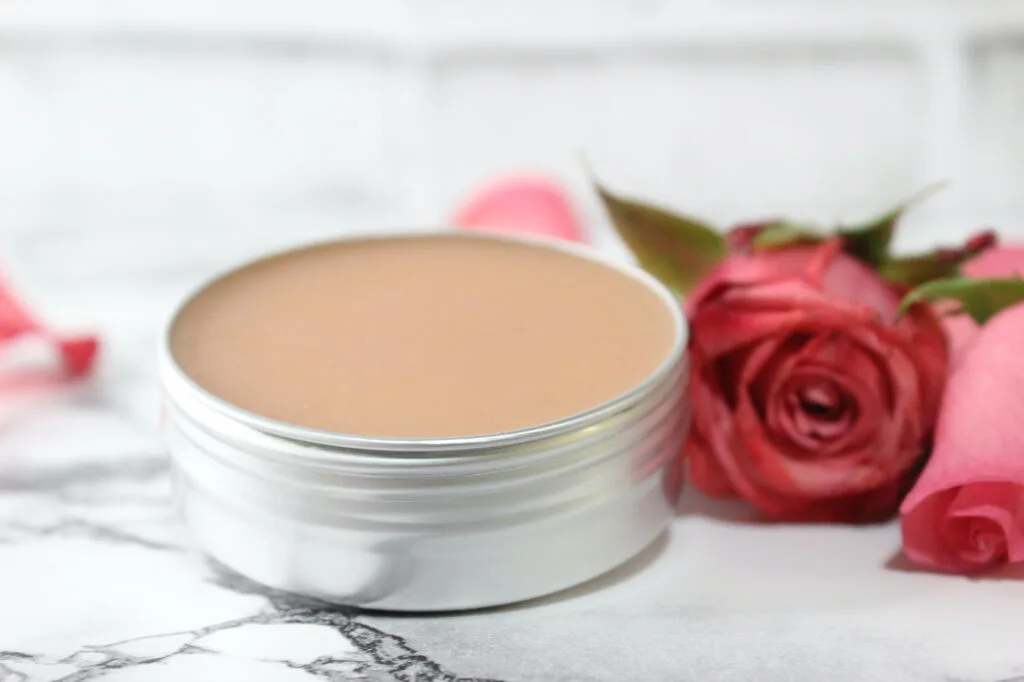 How to Make Infused Rose Oil
This recipe uses infused rose oil. Which I also use to make these DIY Rose Petal Bath Bombs.
To make the rose salve quickly and easily, you can purchase rose infused oil already made. Just be sure to get one that doesn't have artificial fragrance or parfum, which could be made with chemicals. I like this organic rose oil.
If you would like to make your own infused rose oil, it is very easy to do. You will just need to wait a few weeks before making the salve. (Be sure to Pin this recipe so that you remember!)
To make a rose-infused oil, add rose petals to a glass jar. The cover the petals with a carrier oil of your choice, such as sweet almond or jojoba oil. To make this recipe, you will need at least 1/4 cup of oil added, but we suggest using a little bit more.
I actually used olive oil to make my version, but the olive oil can have a bit of a smell that you might not want in your salve.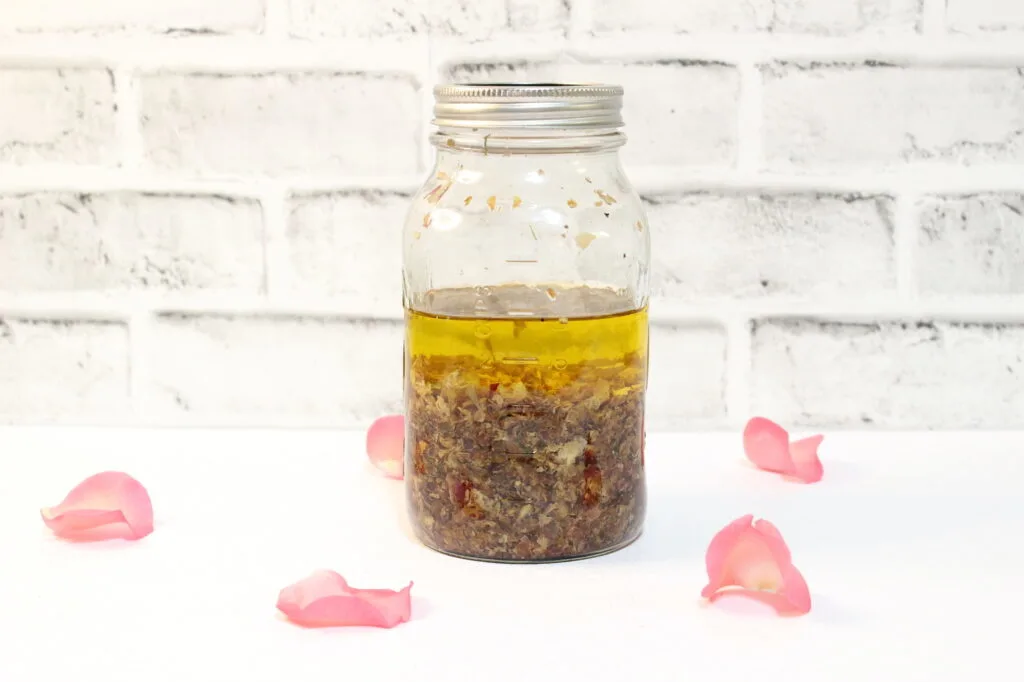 Let the jar steep for 4-6 weeks. Be sure to keep it somewhere cool and dark, such as in a cupboard.
Be sure to shake the jar every few days for the best infusion into the oil.
Once done, strain the oil through a cheesecloth to keep just the fragrant oil without the rose petals.
How to Make Rose Salve
This rose salve recipe will makes three 2-oz tins.
While I used traditional aluminum tins with lids, if you are giving these as gifts I'd suggest using these rose-colored tins, instead.
Ingredients
2 1/2 tablespoons beeswax pellets (use white beeswax rather than yellow for the best coloring of your salve)
1/4 cup infused rose oil
20 –25 drops of essential oil
1/2 teaspoon pink mica powder (optional)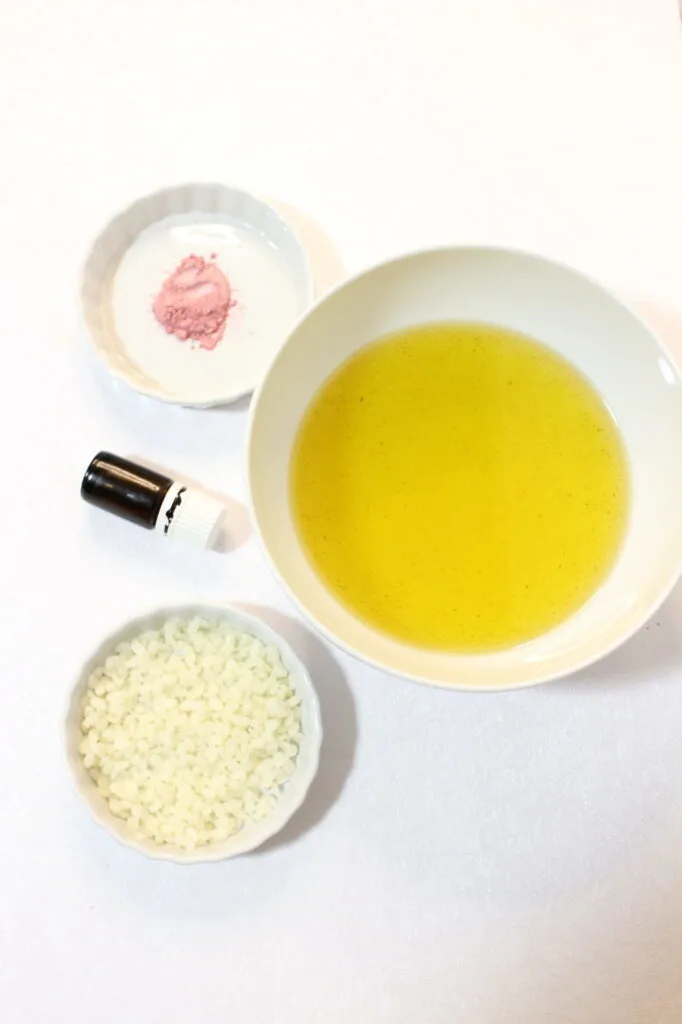 Directions
Pour rose infused oil and beeswax into a glass container.
Heat in the microwave in 30-second intervals, stirring in between. Alternatively, you could use a double broiler instead.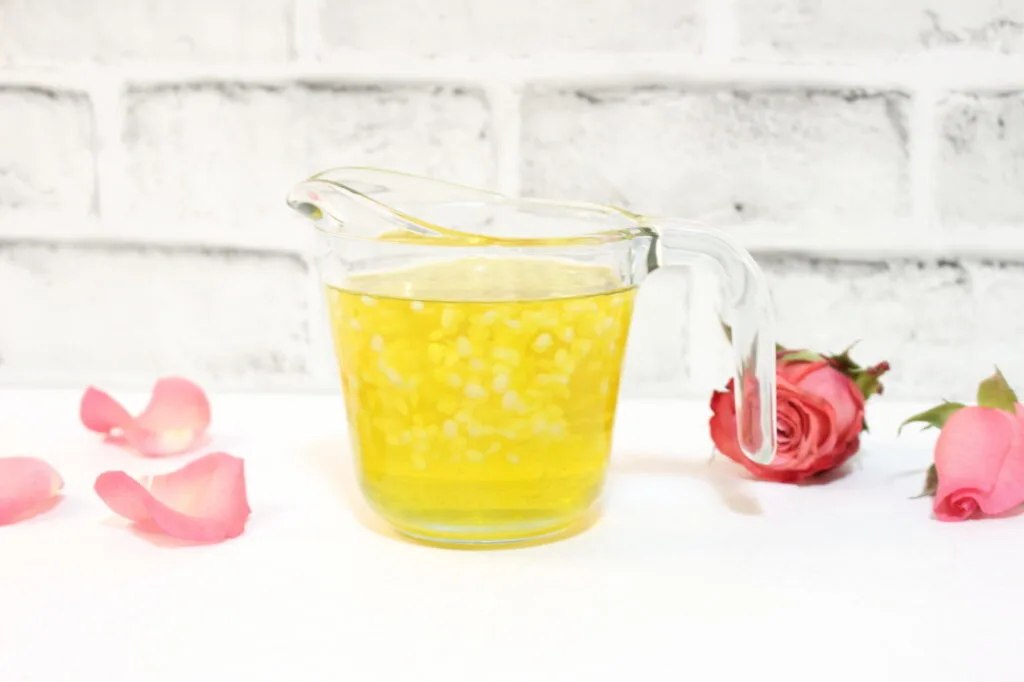 Be sure to not overheat, otherwise your oil and beeswax will burn. You also don't want the mixture to boil over the measuring cup if it is heated for too long.
Add the pink mica powder to the liquid mixture and stir together thoroughly.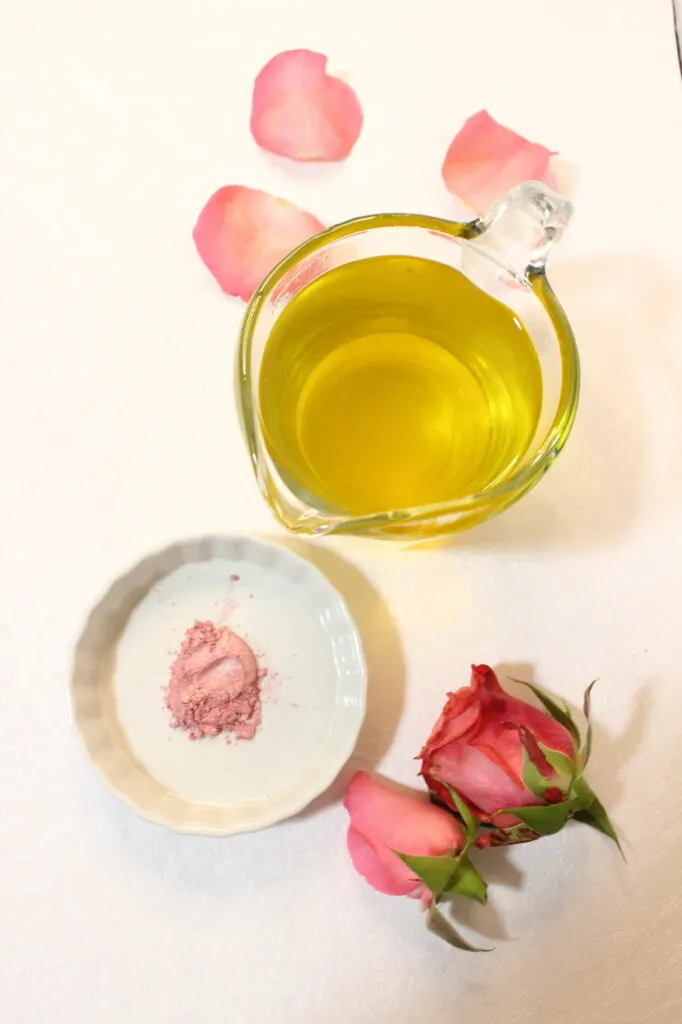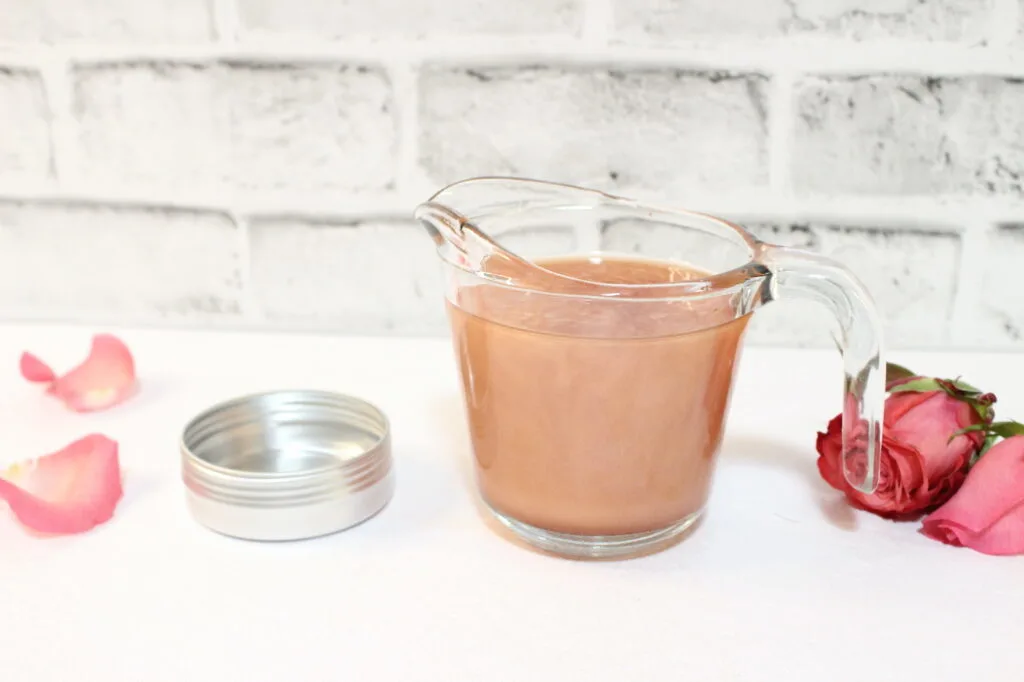 Once the salve is colored as you would like, add in the essential oil and stir together.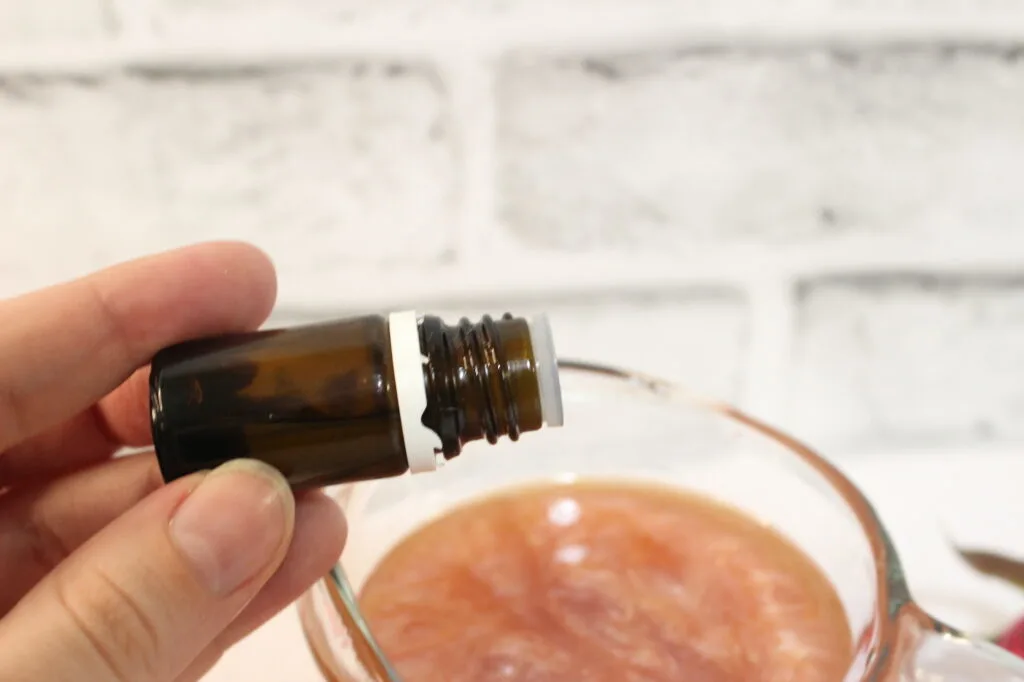 Pour the liquid into the tins carefully. Tap each tin slightly on the table if you need to get air bubbles out of the mixture so that it will dry evenly.
Let sit overnight or until it hardens completely.
This is a great recipe to make with rose petals from a bouquet. You may also want to see my easy stovetop potpourri using rose petals.
Want to save this DIY recipe for later? Print out the recipe card below: