This rose eucalyptus simmering potpourri is the perfect idea for a homemade, natural air freshener! And, it's so easy to make when you have a bouquet of roses that are starting to fade.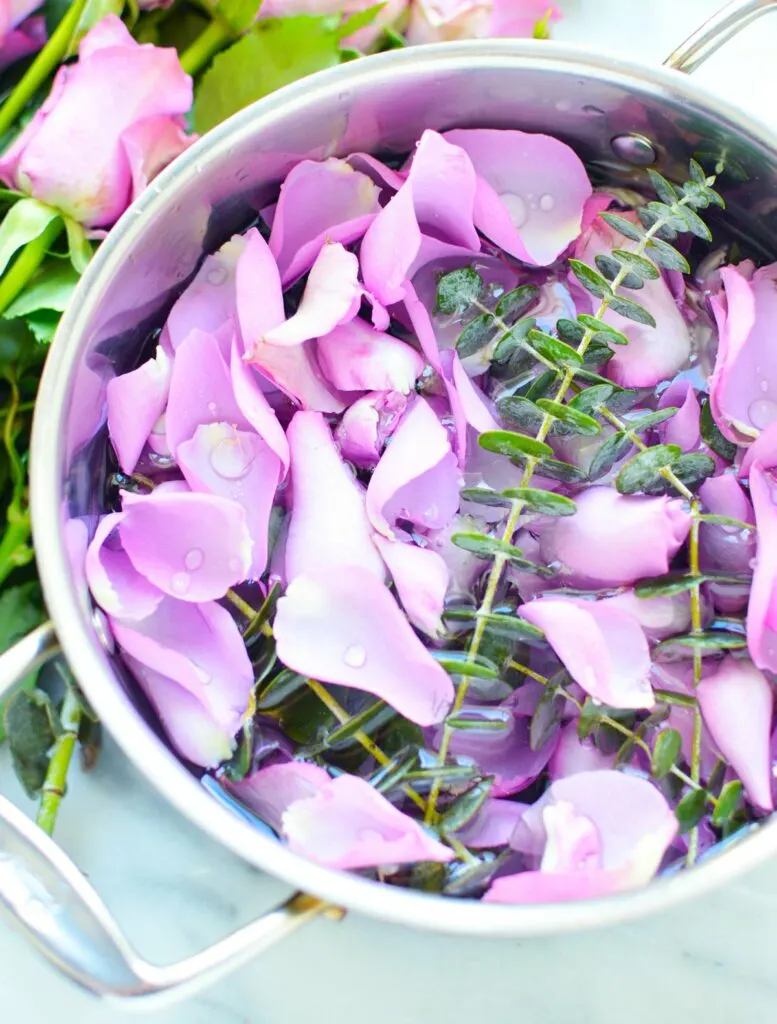 First, can we talk about how gorgeous the combination of fresh roses and real eucalyptus are? We normally think of roses combined with baby's breath or other flowers. But rarely do we combine roses and eucalyptus.
Which is a shame.
Because the fragrant materials can make your home smell SO good! And the combination of textures, with the delicate petals of roses and the rough, thick texture of eucalyptus leaves, is visually stunning as a flower arrangement.
Plus, both roses and eucalyptus are absolutely amazing with their natural essential oils for aromatherapy.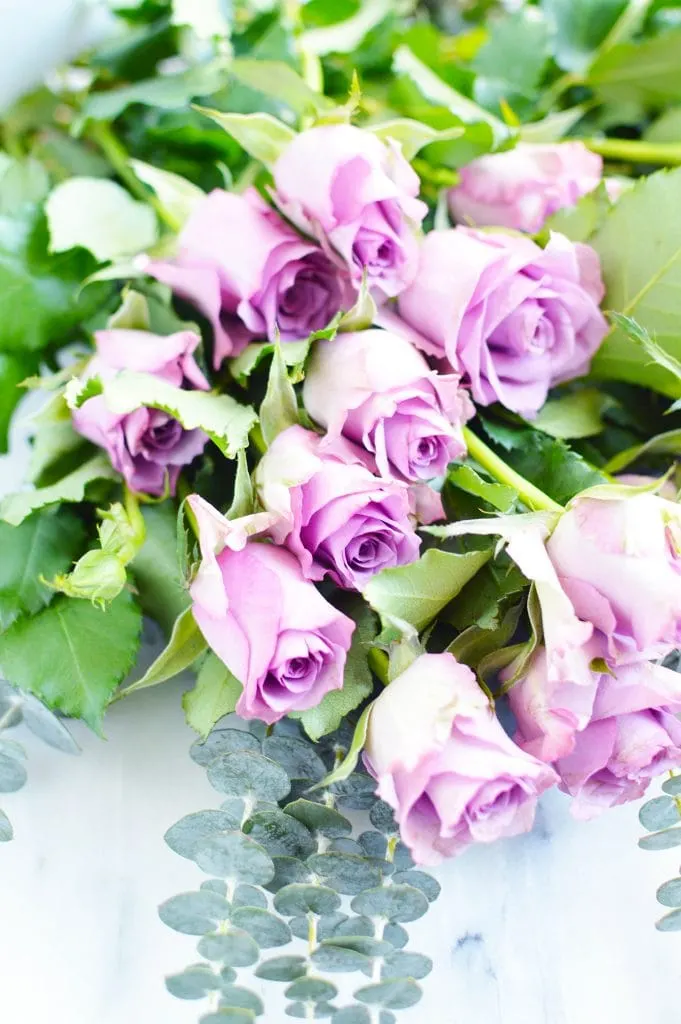 Add them together in a simmer pot and you have a visually stunning, absolutely delicious smelling natural air freshener in your home!
Simmering Potpourri
If you want to make your house smell good, there's nothing more natural and easy that a simmering potpourri pot on the stove.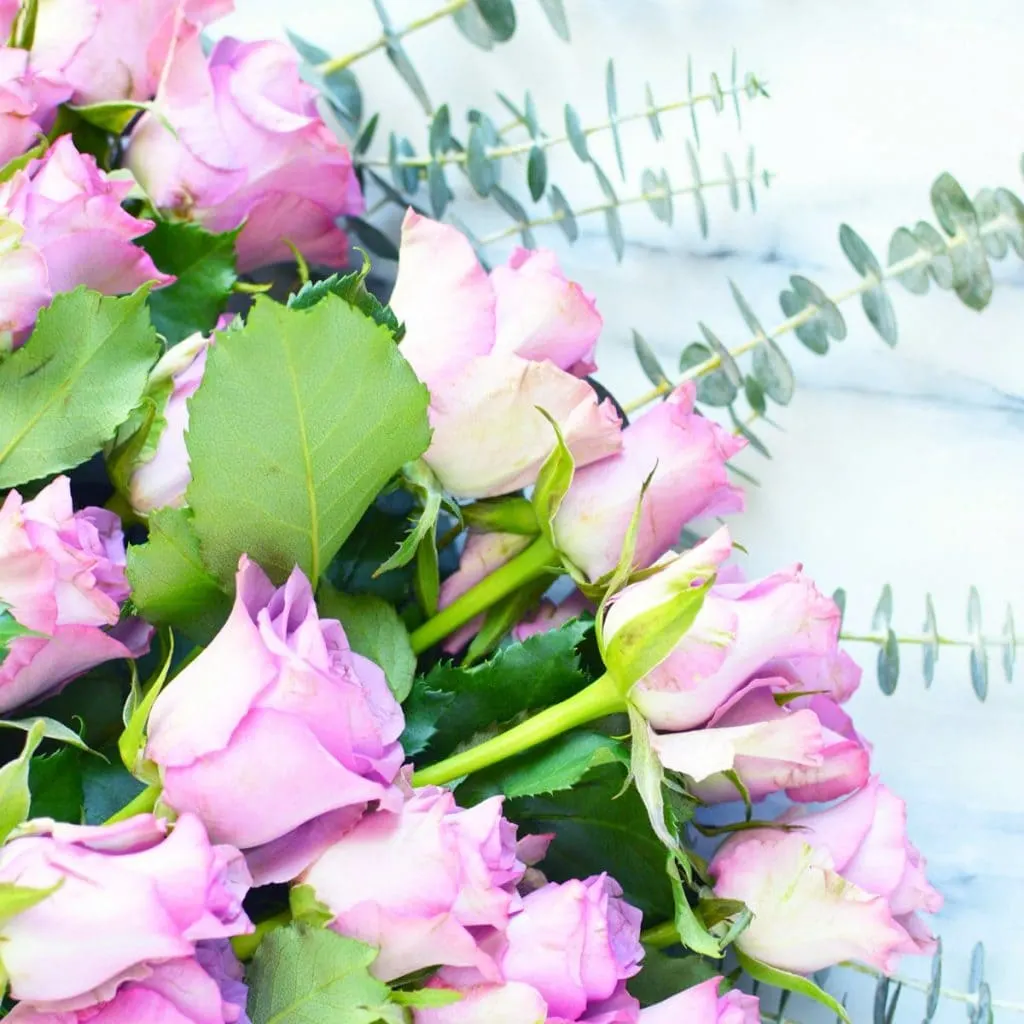 Not sure what a simmer pot is?
It's a collection of fragrant natural materials boiling in water on a low simmer for a few hours.
A simmer pot, also known as stovetop potpourri or stovetop air freshener, is perhaps the easiest way to make your home smell good. It's aromatherapy without worries about VOCs in your indoor air from synthetic chemicals and artificial fragrances.
Not everything that's natural smells good. And not everything is ideal for simmering potpourri.
Benefits of Eucalyptus in Potpourri
Did you know that eucalyptus is one of the key ingredients in Vicks VapoRub? Yep, it's true.
And it's because the essential oils of eucalyptus are great at opening up your nasal passages and airways. Eucalyptus has been used for decades, if not centuries, to help people naturally breathe easier. It's one of the key ingredients in our congestion relief bath salts recipe.
So eucalyptus leaves potpourri is perfect for winter time, when you might be fighting off a cold, or any time you need help with a natural decongestant.
Eucalyptus has a powerful scent, and it doesn't take much to release its strong natural oils. If you want a more floral natural air freshener, use less eucalyptus in this simmer pot recipe.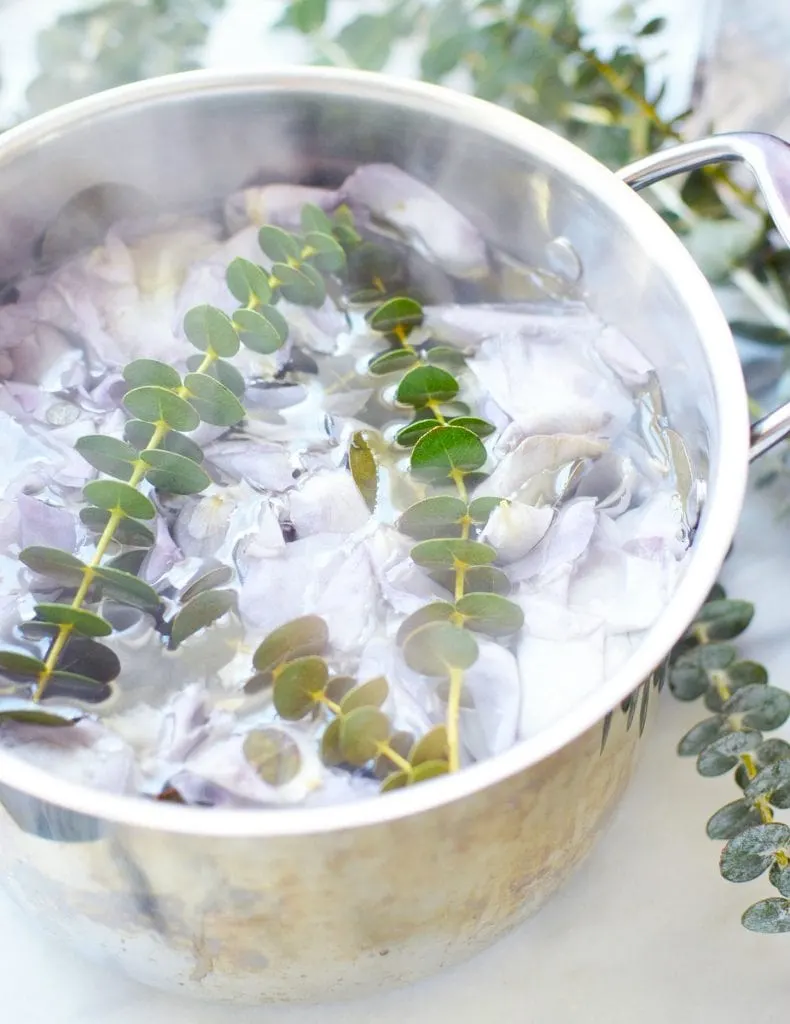 Helpful Tip: Eucalyptus sold in a craft store, or in dry potpourri, is NOT what you want to use. It can be sprayed with chemicals, and certainly won't release as strong of a scent. Use only fresh eucalyptus branches and stems that will be sold at a florist or in the floral department of a grocery store. You can find the stems in water, which means it's fresh eucalyptus.
Rose Eucalyptus Simmering Potpourri Recipe
Is there anything better than a floral air freshener made with all natural rose petals?
It's like walking through fields of roses!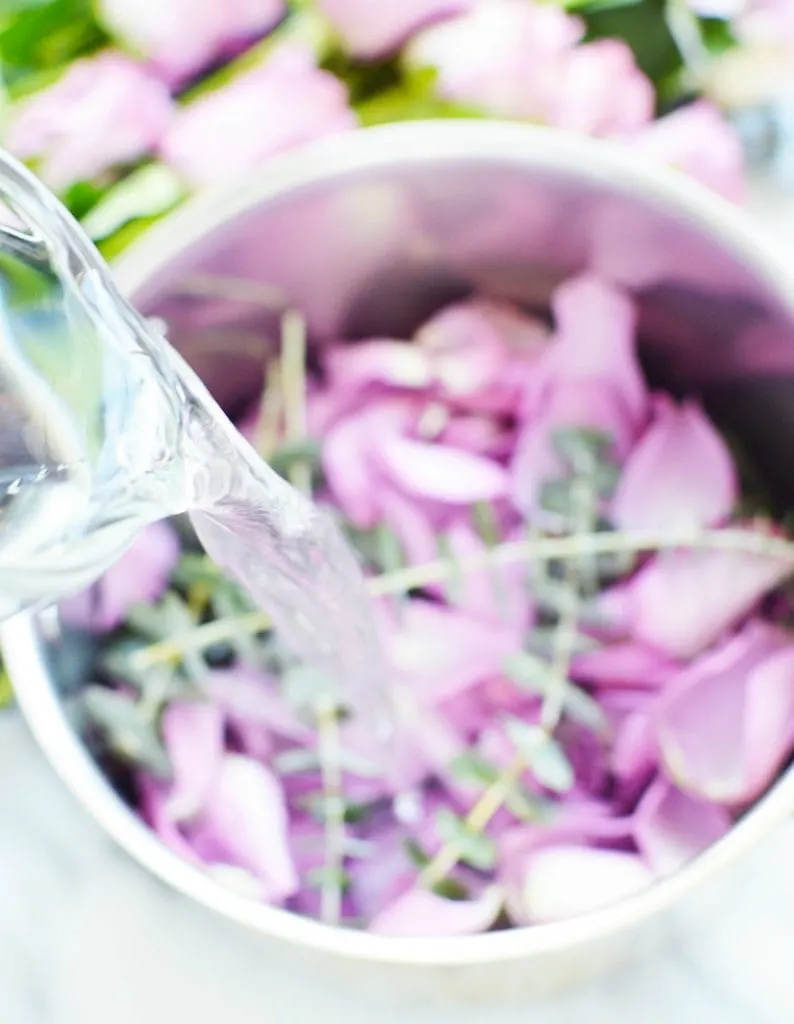 The wonderful thing is, you can make this fragrant floral air freshener with just one trip to the grocery store!
OR, you can get a second use out of a flower bouquet that might be wilting and no longer looks good in a vase. (You could also make this DIY rose salve with your rose petals, too.)
This rose eucalyptus simmering potpourri is a beautiful stovetop air freshener when you have friends or family coming over. It's perfect for a party, too. Not only will your home smell divine, but it looks beautiful on your stovetop, as well. Especially if your guests are gathering in your kitchen for drinks or chatting.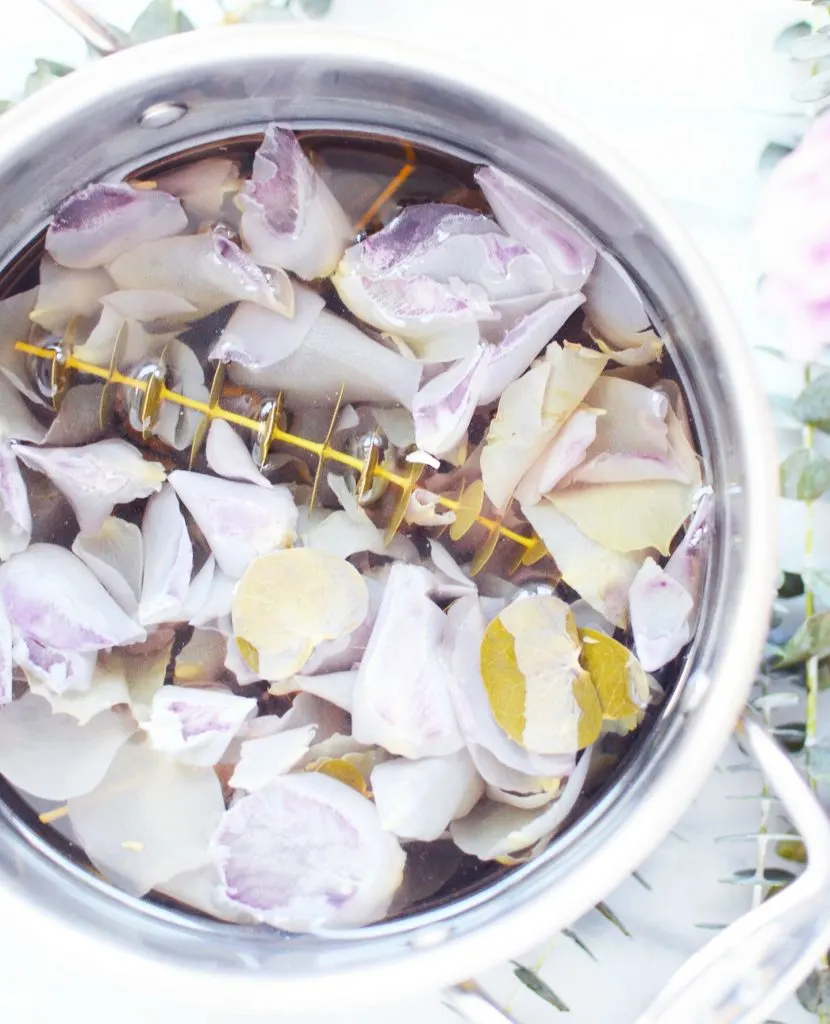 Helpful Tip: The longer this simmering potpourri boils on the stovetop, the more color the rose petals and eucalyptus will lose. So it won't be as visually stunning a few hours into the simmering process.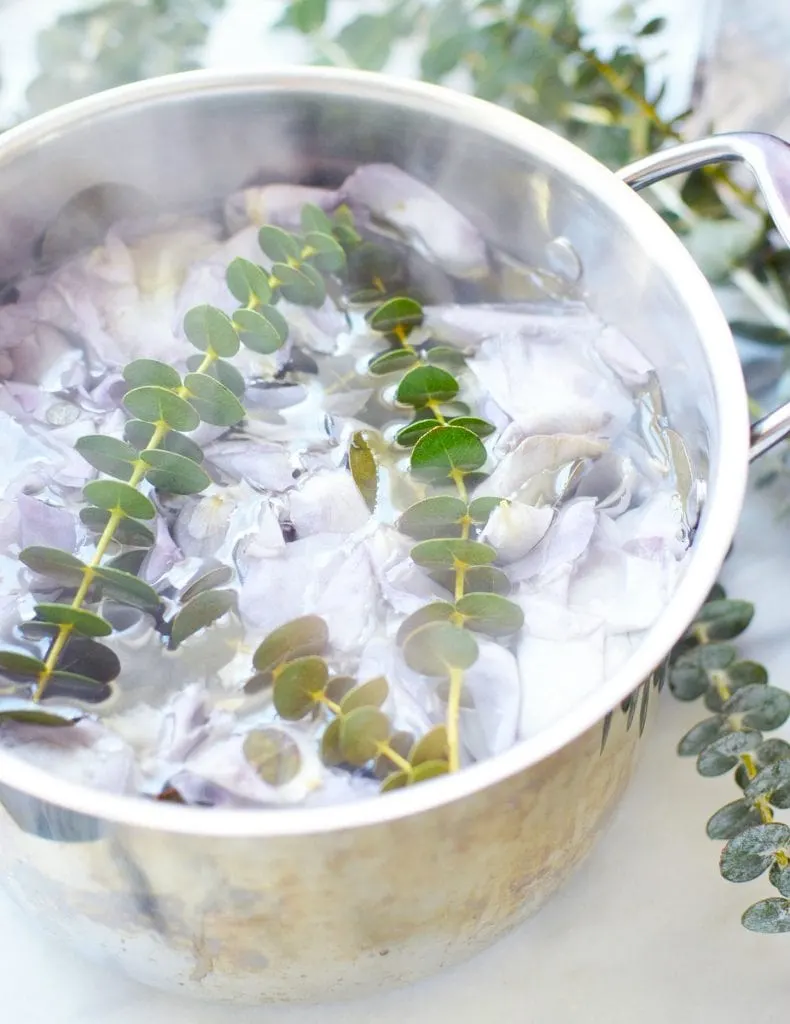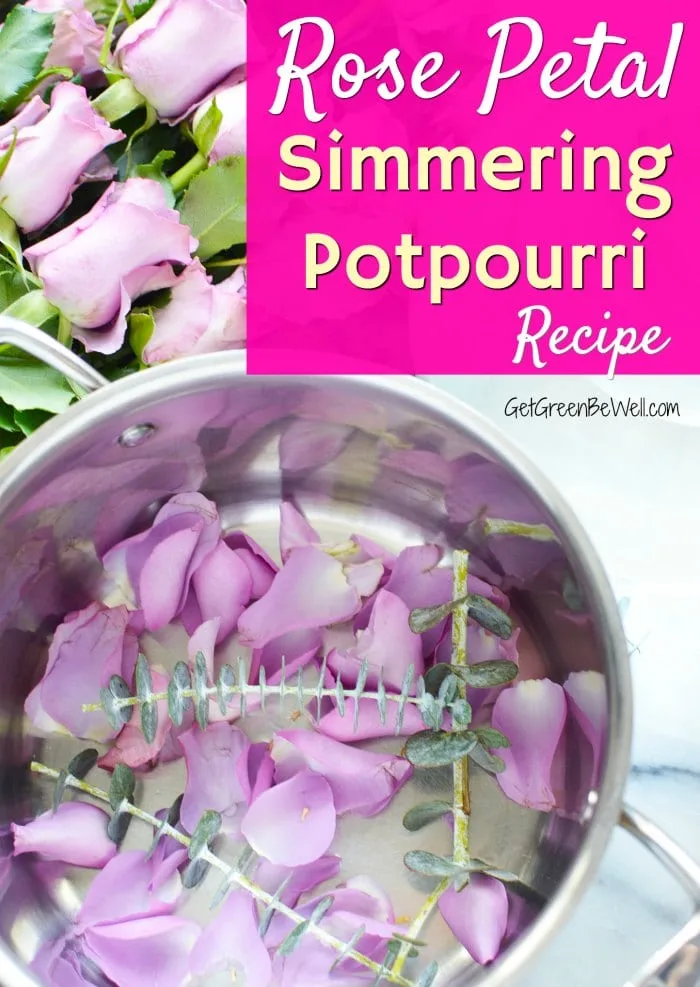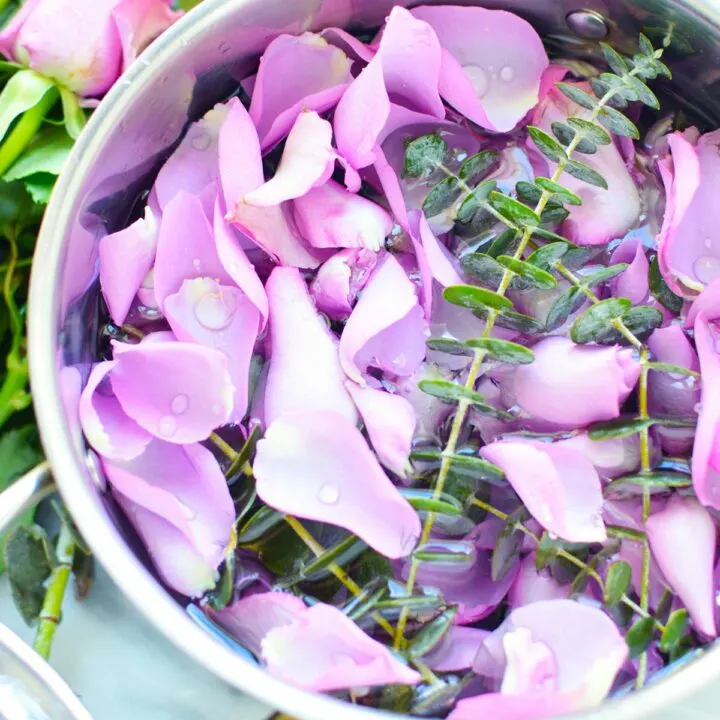 Rose Eucalyptus Simmering Potpourri Natural Air Freshener
Materials
3 - 4 cups rose petals (about 6-12 roses)
5 pieces of fresh eucalyptus, about 5 inches long
Water (around 8 cups, but depends on size of pot)
Tools
Simmer pot (soup pot, old stockpot, simmering pot, etc.)
Instructions
Add rose petals and eucalyptus to a stock pot or simmering pot.
Bring to a boil.
Simmer on low for up to 2 hours. Keep checking the pot to make sure there is enough water covering the rose petals and eucalyptus. Add more water if necessary.
Compost the materials after they are cooled for a zero waste air freshener.
Notes
Using filtered water will make sure you don't have any chemicals or chlorine coming off of the boiling water.
Be sure to use fresh eucalyptus. Do not use eucalyptus in a craft store. It can be sprayed with chemicals and certainly is not fresh. Eucalyptus is a natural material and can be found in a floral shop or grocery store in water, just like the roses will be.
The eucalyptus scent can easily overpower this simmering potpourri recipe. Use fewer pieces of eucalyptus if you'd like a more floral scent.
More Ways to Naturally Scent Your Home
If you are looking for natural air fresheners, there are so many wonderful ways to add scent to your home!
Check out our beautiful lemon lavender herb simmer pot, too. And this apple cinnamon potpourri crock pot recipe will make your house smell like apple pie and warm spices!
If you love the smell of coffee, use your leftover coffee grinds or beans to make this coffee smell air freshener.
These DIY wax sachets are easy to make and you can hang them in your closet for several months of fragrance.
During the holidays, this Christmas stovetop potpourri is absolutely beautiful to have simmering in the kitchen while entertaining.
Give the gift of natural home fragrance with these easy to make Christmas potpourri in a jar gifts.
Our odor eliminator spray can remove odors, while leaving a gentle aromatherapy in your home.
Be sure to follow our Pinterest Board for new ideas on how to naturally fragrance your home!