I have been on the hunt for a great lip balm that doesn't make my lips chap or peel. I have tried so many different types of lip moisturizers, but they don't seem to last long. Or the chemicals in them make my lips feel chapped and cracked.
Which is why I'm so thrilled to discover this DIY Beeswax Lip Balm which is super moisturizing and so easy to make! It only takes three steps to make nearly 20 tubes!
Plus, it's relatively inexpensive when you consider buying that many tubes of store-bought lip balms!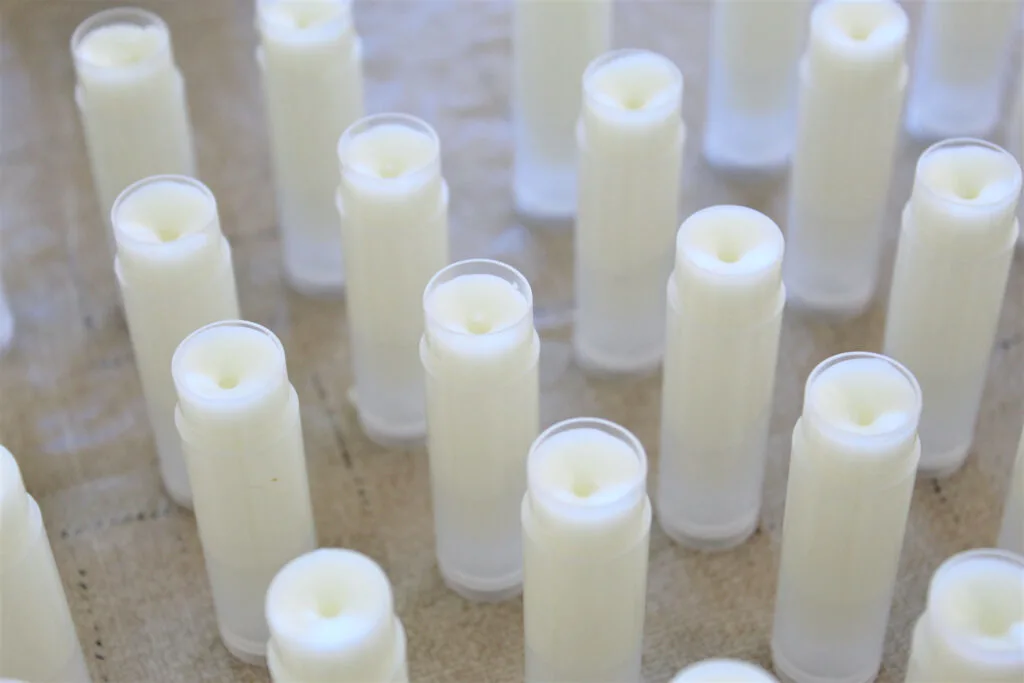 This natural lip balm is creamy and smooth and applies easily.
If you've been wondering how to make homemade beeswax lip balm, you'll be happy to know that all you need to do is melt together the ingredients and pour into empty lip balm tubes that you can find on Amazon.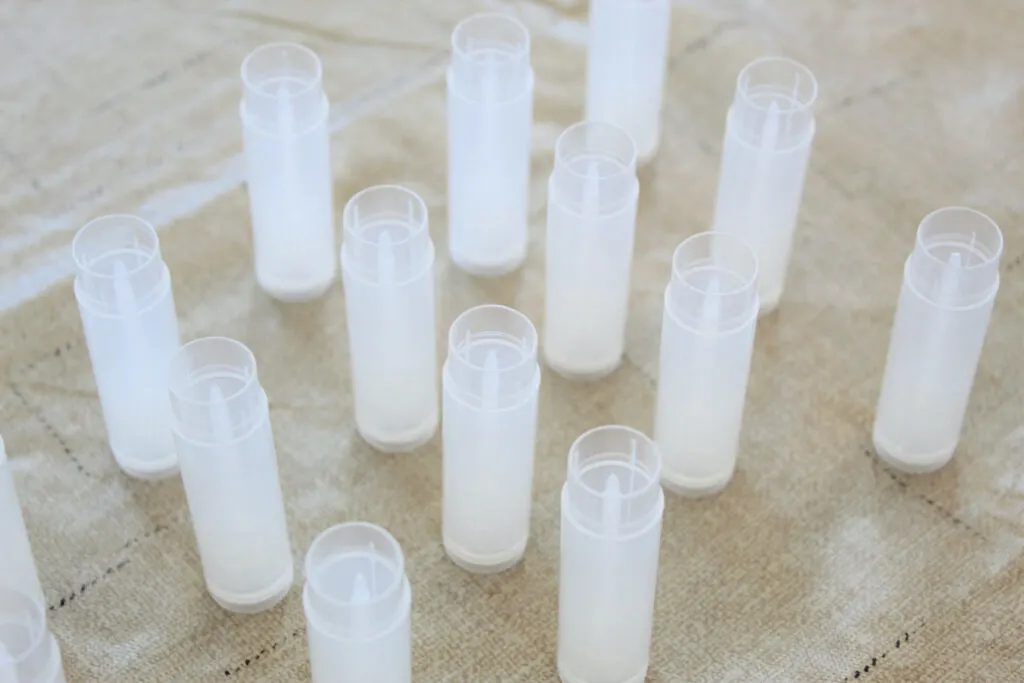 Helpful Tip: Make sure that all of your empty lip balm tubes are rolled all the way down so that you can fill them up as much as possible.
These are great gifts and stocking stuffers! Just add a cute label (or make your own) and everyone will love these handmade gifts.
Since you can make so many, be sure to keep a tube everywhere. Have one in your office, keep them in your purse or backpack, and make sure to have one by your bedside table. I apply this moisturizing lip balm every night.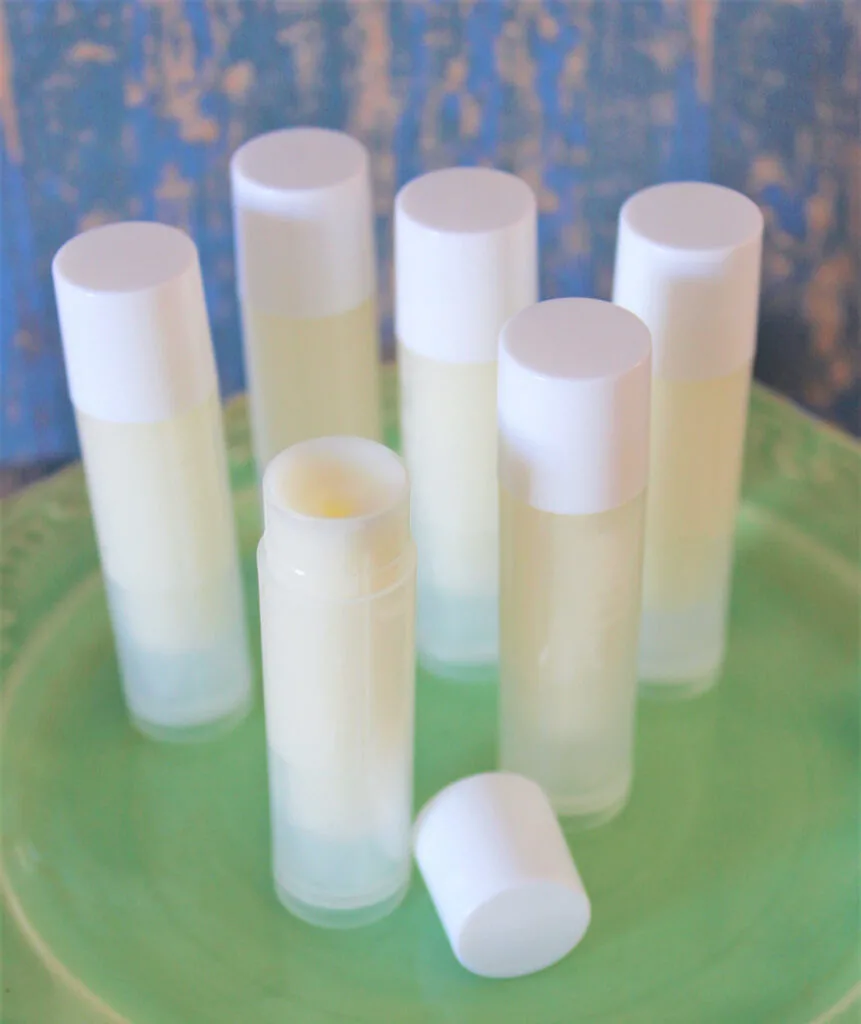 You can use many of these ingredients to also make a Beeswax Balm for your hands and feet. And try my solid beeswax lotion bar recipe, too.
DIY Beeswax Lip Balm Recipe
Ingredients
Directions
Melt the beeswax in a double boiler. Keep a watch on the beeswax. When it starts to gently bubble, turn the heat down to a simmer. You don't want the beeswax to boil over or burn. Stir the wax as it starts to become clear around the edges, to break up the solid pieces and get them to start melting.
Once the beeswax is completely melted, add in the olive oil and coconut oil and stir together well.
Add in the essential oils, if desired.
Carefully fill the lip balm tubes with the liquid. Once the tubes are filled, try not to move them. If the beeswax lip balm starts to get thick, you can gently warm it on heat until it liquifies again. Allow to cool completely, about 2 hours.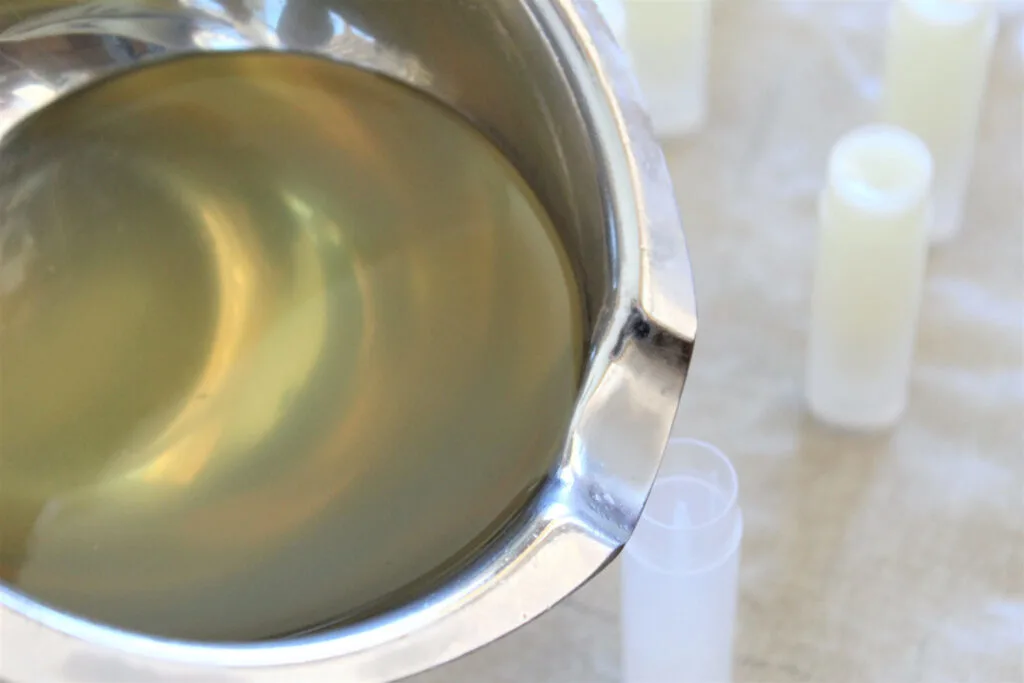 Essential Oil Blends for Lip Balms
You can use any type of essential oil in your lip balm if you choose. These beeswax lip balms don't need any essential oils added to be moisturizing. However, you might want to add oils for their fragrance or benefits.
Many people add peppermint essential oil to their lip balms. Personally, peppermint oil dries out my lips and causes them to crack. If you respond well to it, though, then try it for a cooling lip balm.
One blend I recommend for lip balms is below. The ingredients work together nicely for a slightly herbal and floral fragrance, with many positive benefits.
8 drops rosemary essential oil
24 drops lime essential oil
16 drops lavender essential oil
Want more natural beauty DIY recipes? I have a lot! You might also like my Chocolate Chip Mint Lip Balms made in a microwave.
And be sure to see my soothing balm for dry skin.