This all natural bath bomb recipe is made with olive oil, Epsom salts and rose petals for a luxurious bath melt that fizzes with the scent of essential oils.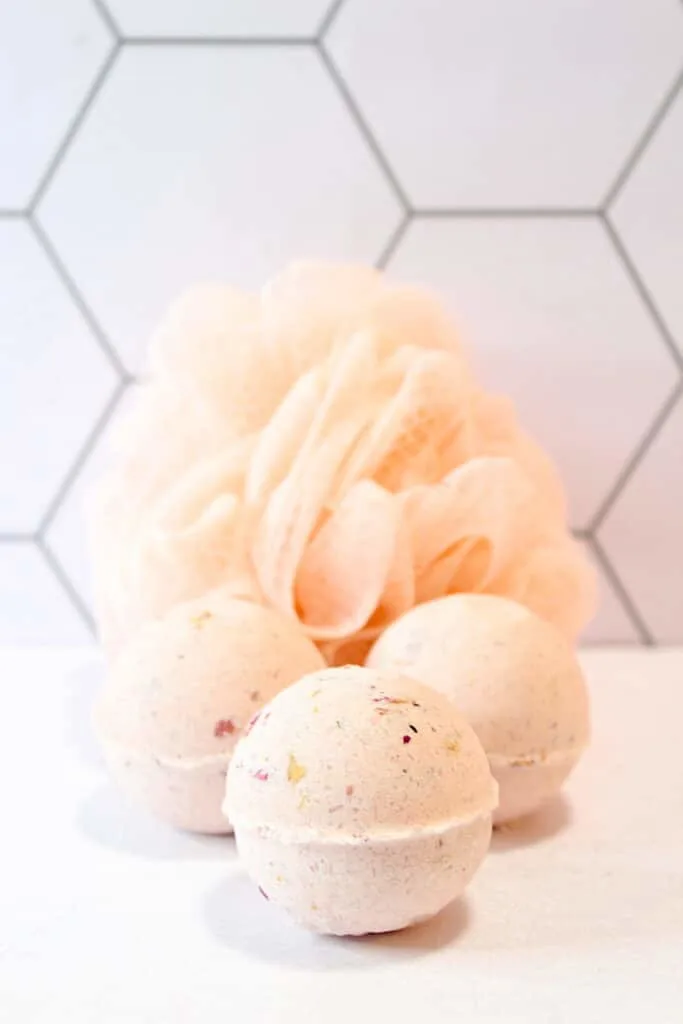 All Natural Bath Bomb Recipe Is Perfect for Gifts!
We love making bath bombs because they look impressive yet take so little effort to make! These homemade rose petal bath bombs are great gifts for:
Valentine's Day
Birthdays
Mother's Day
Christmas presents
Wrap each bath bomb up in cellophane wrap or add a few to a gift box for a special gift. Pair it with a bath brush, bath scrubby or DIY scented candle for a spa-day gift basket.
While you are making these easy rose petal bath bombs, you will have many of the ingredients necessary to make these rose DIY products, too: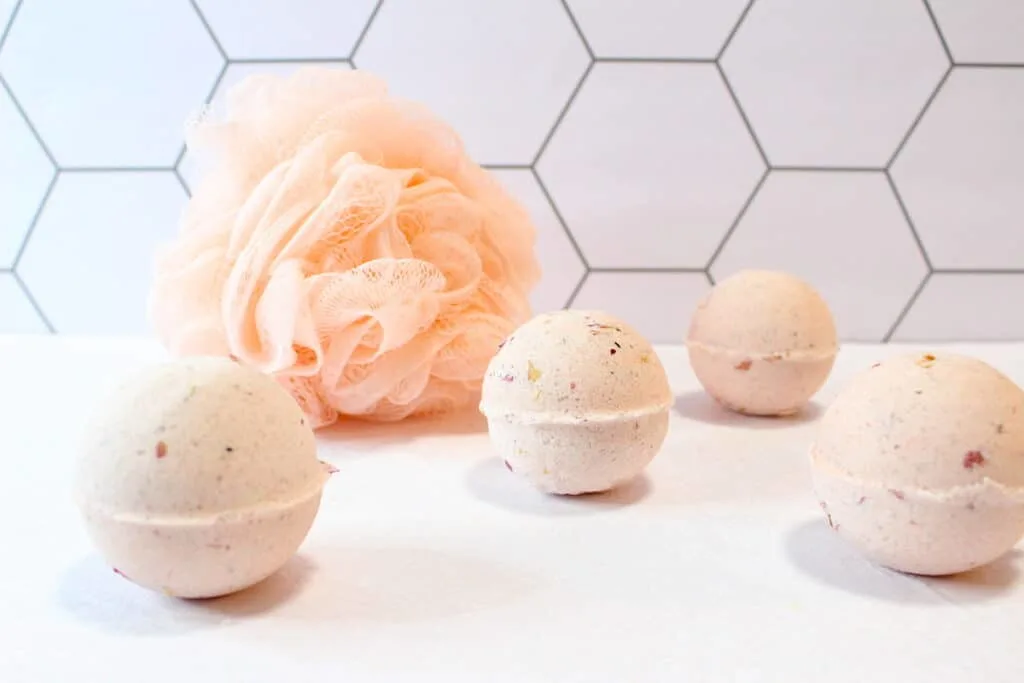 Natural Ingredients for Rose Petal Bath Bombs
Our lovely rose petal bath bombs have soft pink color and intoxicating rose scent using all natural ingredients. There are no artificial fragrances or dyes.
Baking Soda and Citric Acid
The fizz of a homemade bath bomb comes from the reaction of baking soda (bicarbonate of soda) and citric acid. Make sure you don't buy baking powder instead!
Corn Starch
This common pantry staple helps all of the ingredients stick together.
Epsom Salt
A common ingredient in bath products, Epsom salt is known for its relaxation properties. That's why we use it in our DIY magnesium spray.
Helpful Hint: Be sure not to get scented Epsom salts! Not only do these fragrant Epsom salts usually contain artificial fragrance, they will also overpower the essential oils. Be sure to get a fragrance-free Epsom salt.
Rose-Infused Olive Oil
We used rose-infused oil for natural moisturizing to hydrate your skin. If you don't have rose-infused oil, don't worry! It adds another layer of fragrance, but you definitely don't need it. (The easy method to make rose-infused oil is found in our Rose Petal Salve recipe.)
Olive oil works great in this recipe, but you can swap it out for coconut oil or almond oil if you would prefer.
Essential Oils
Bath bombs are known for releasing fragrant scents as the ingredients fizz in the bath water. You can add any essential oil. We used a Love blend from Simply Earth to make these indulgent bath bombs, but we also suggest Love by Eden's Garden.
Many essential oils are known for their beneficial properties for skin. Rose oil is great for pampering your skin and reducing the signs of aging.
Dried Rose Petals
While rose petals are a pretty bath bomb decoration, they are also great for your skin because they are full of antioxidants. Be sure to get a dried rose petals mixture with small pieces and some powder. The rose powder gives these homemade bath bombs a natural color that won't stain the bath. When the dried rose petals are too big, the bath bombs do not stick together very well.
If you have a package of large dried rose petals, you can use a rolling pin to crush them up into smaller pieces and powder. Place the dried petals between two pieces of waxed paper and roll the pin back and forth until the petals are small.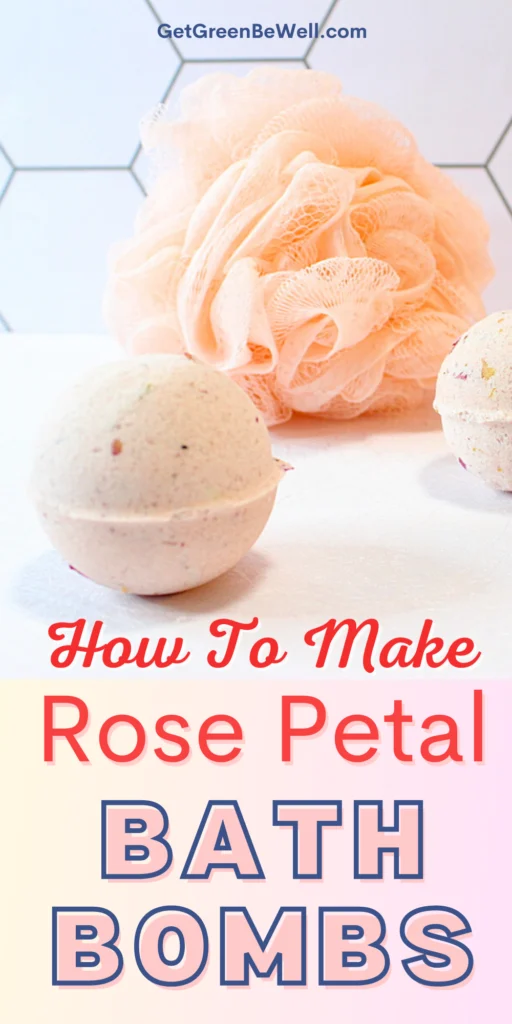 DIY Rose Petal Bath Bombs Recipe
This DIY bath bombs recipes makes 6 medium-sized bath bombs.
Ingredients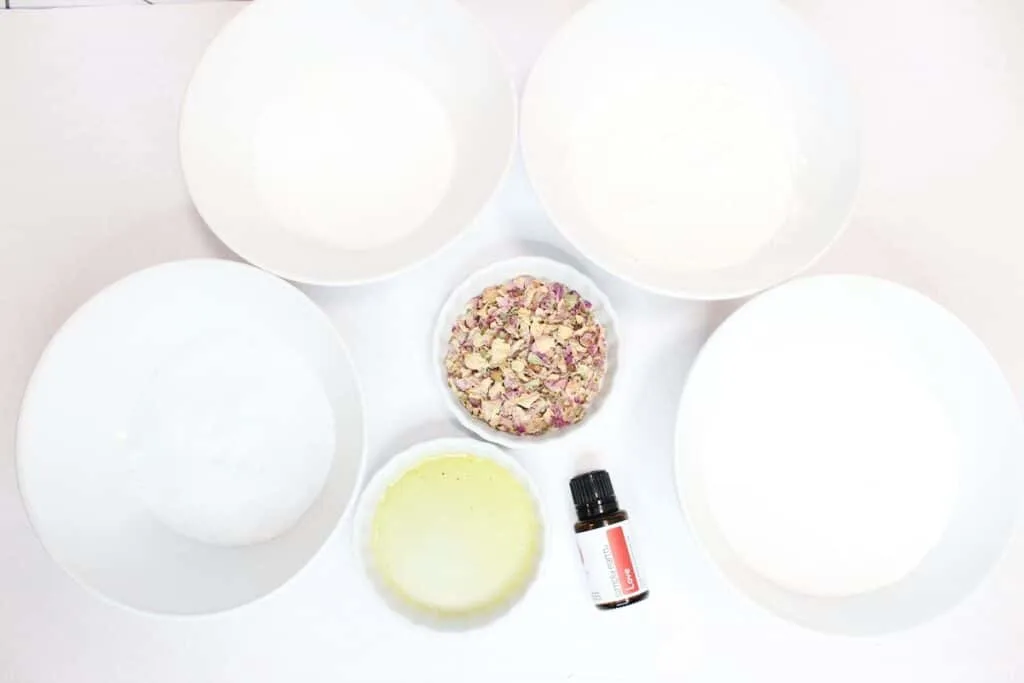 How to Make Rose Petal Bath Bombs
Step 1
Stir the corn starch, baking soda, and Epsom salt together in a bowl, then set aside.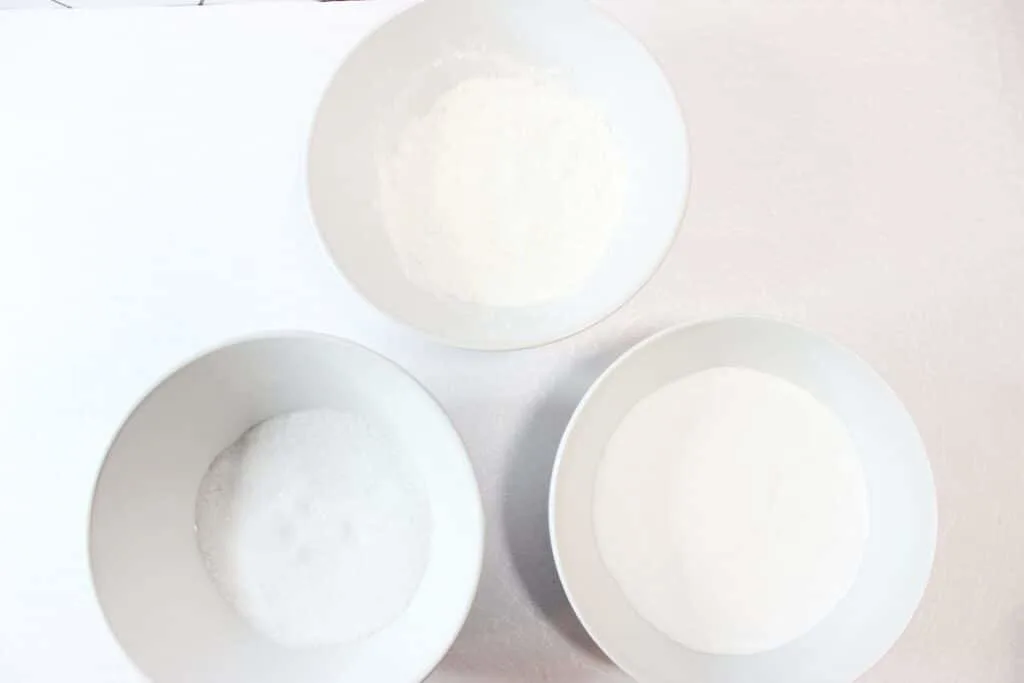 Step 2
Add the essential oil drops into the rose-infused olive oil. Mix together.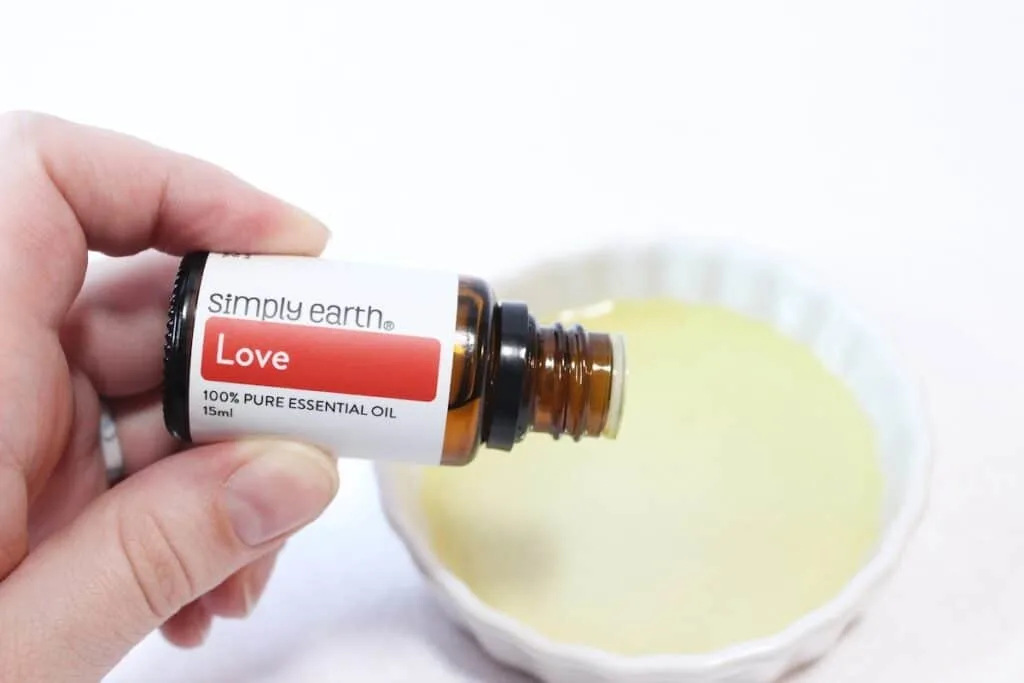 Step 3
Slowly mix the olive oil with the dry ingredients from step 1 above.
Keep combining together until the mixture can clump together like moon sand or kinetic sand. If it doesn't clump, then add an extra teaspoon of rose-infused oil at a time and stir together until it reaches the right consistency.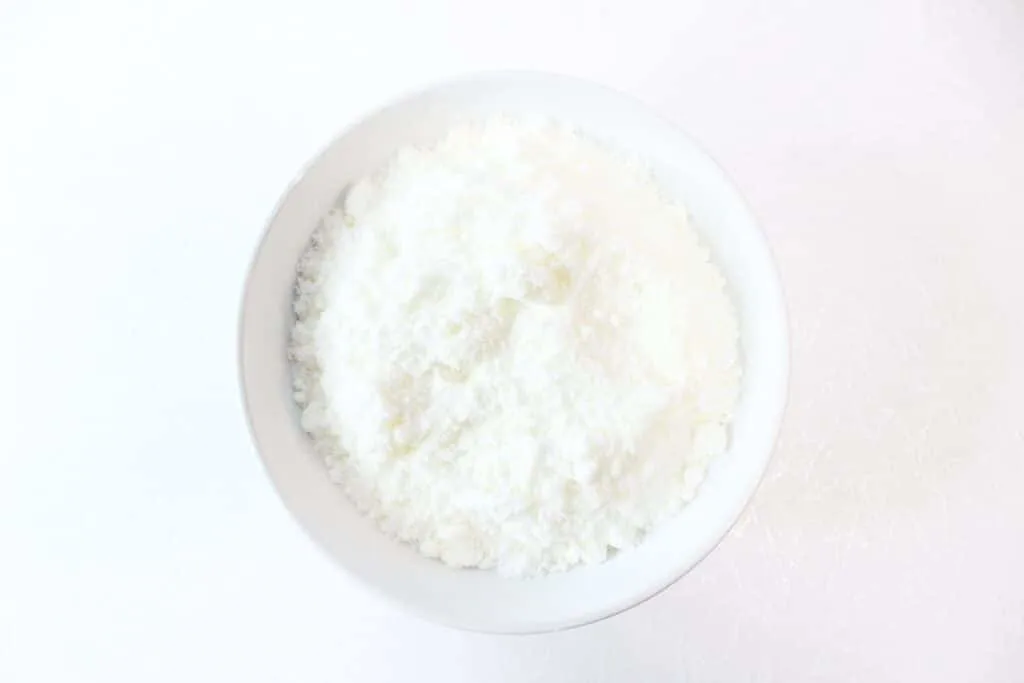 Step 4
When the mixture is soft and moldable, slowly stir in the citric acid.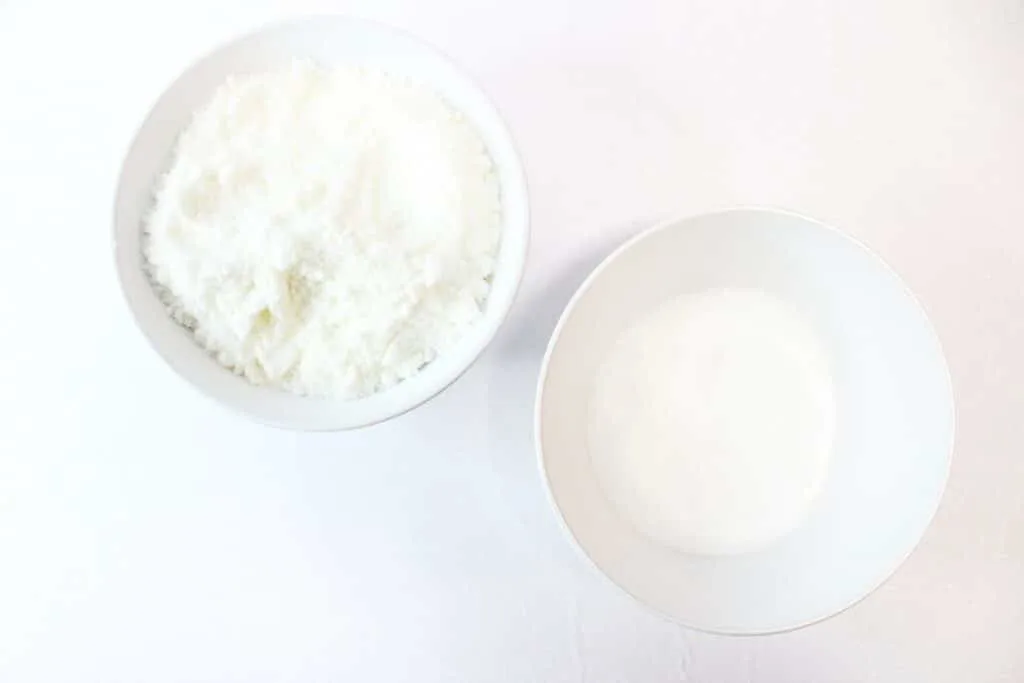 Then add in the rose petals and mix thoroughly.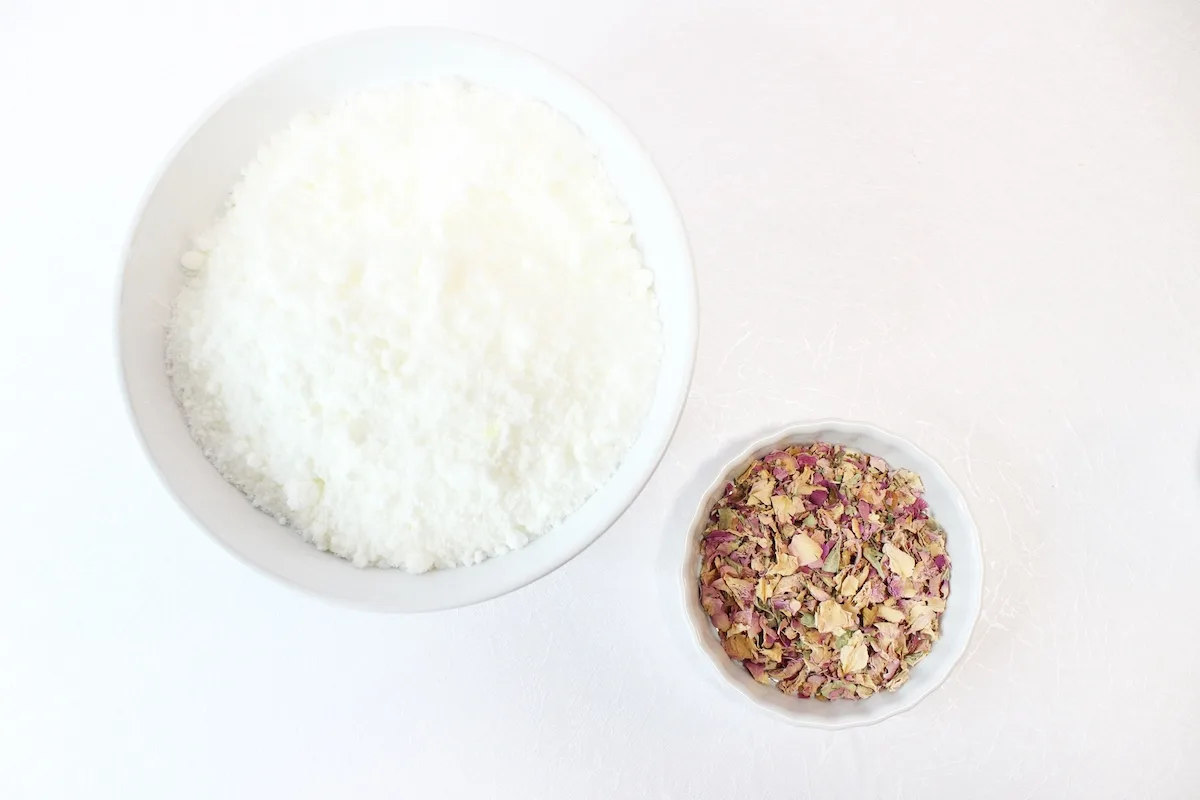 Step 5
Add the mixture into both halves of a bath bomb mold. Push it in tightly and compact it down. You want the mold to be overflowing with the mixture so it will stick together.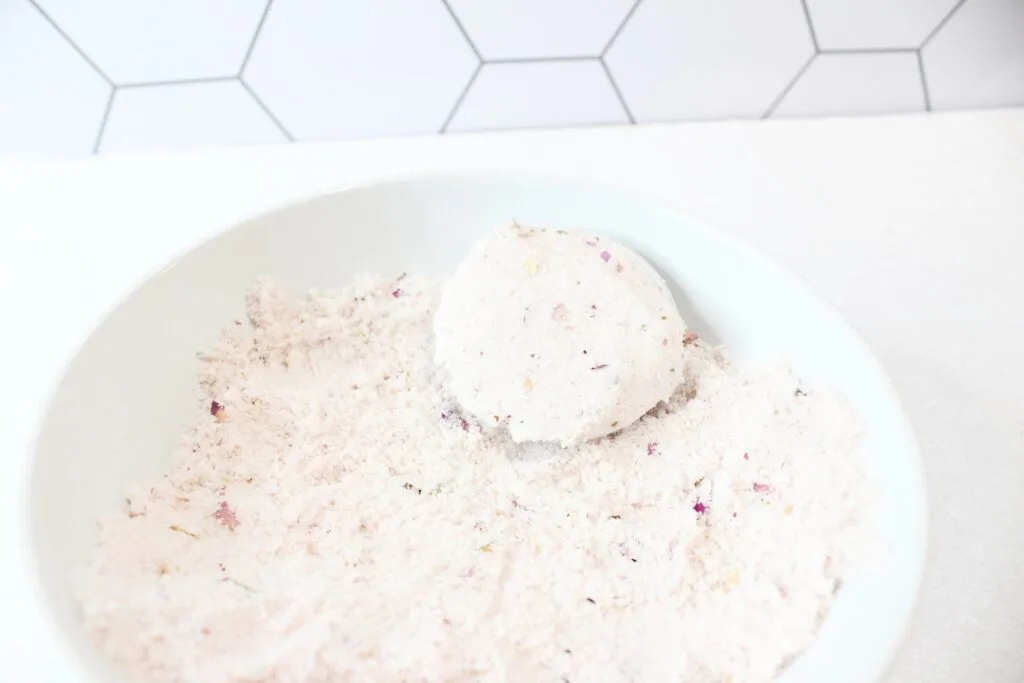 Step 6
Push the two molds together and twist until the two metals touch each other. Do this over the bowl because more mixture will come out of the molds and you can capture it in the bowl to use for the next bath bomb.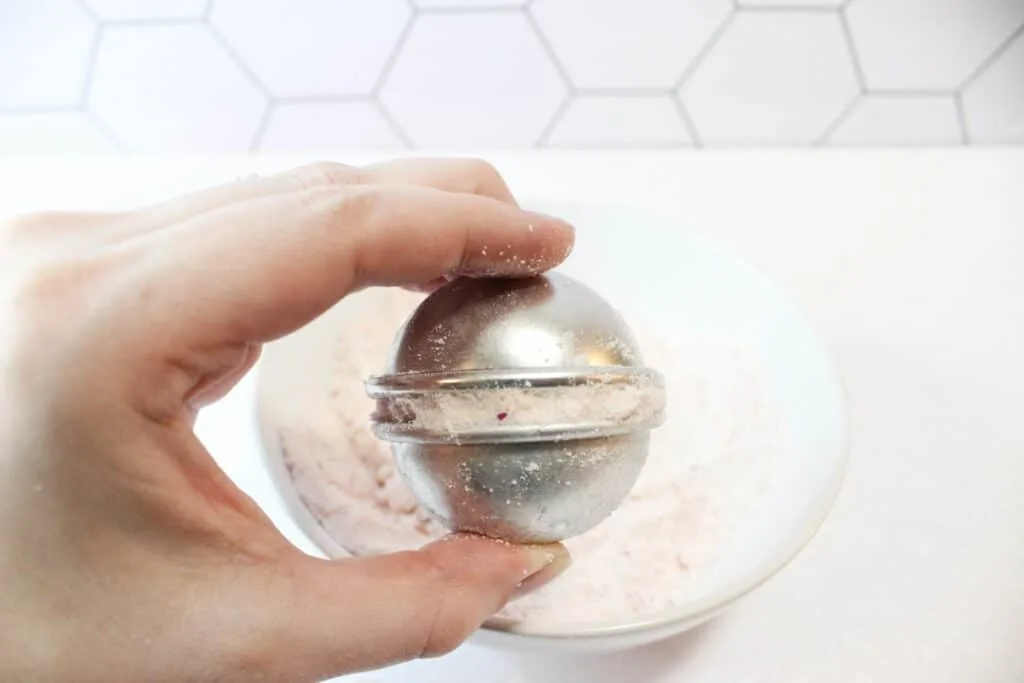 Slowly take off one side of the bath bomb mold. Then, repeat on the other side.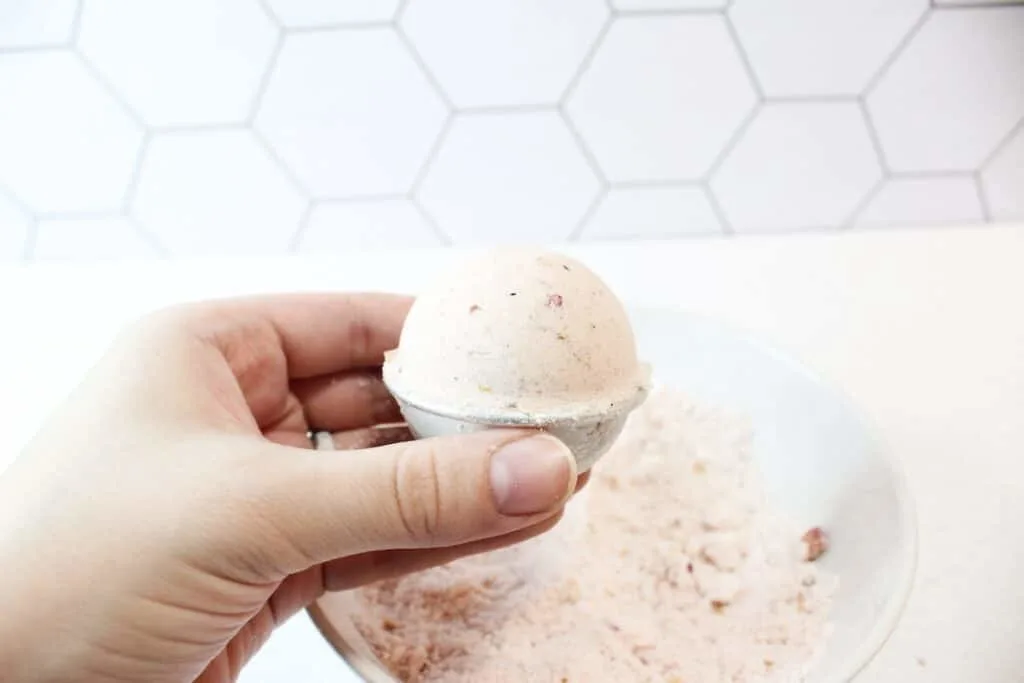 Step 7
Lay the homemade rose petal bath bomb on a table or other solid surface. Allow to dry for at least 24 hours or until they are hard to the touch.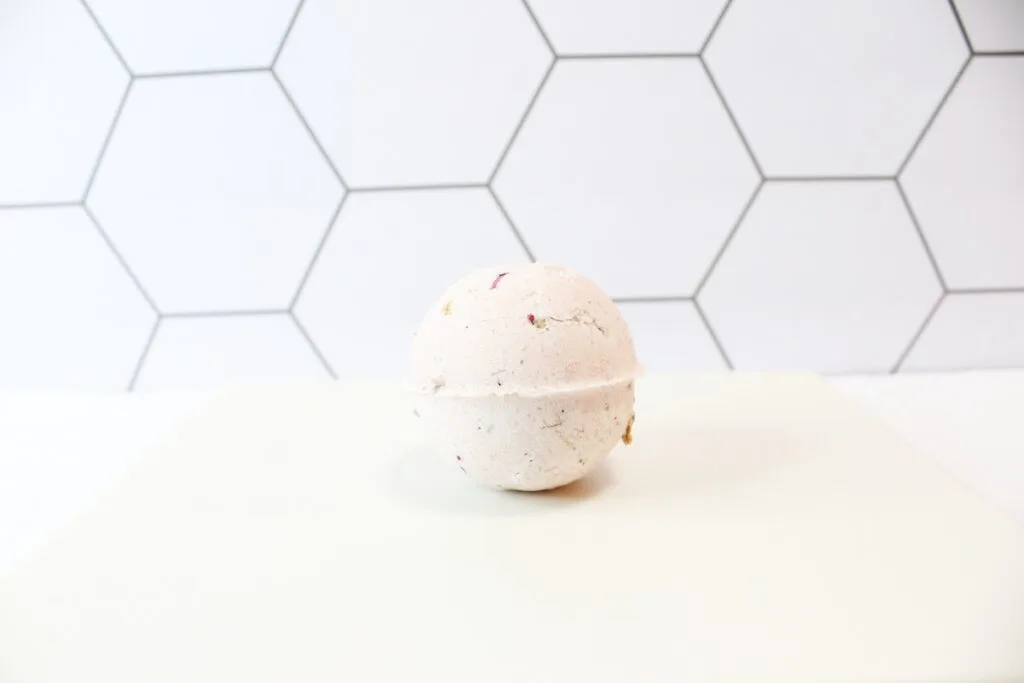 If the natural bath bombs are still crumbly after 24 hours, let them sit longer.
Be sure to Pin This DIY Rose Petal Bath Bomb Recipe to save for later! (Also, it really helps support us when you save our recipes to Pinterest or Facebook! It's a simple thing that's free and takes a few seconds but means the world to us!)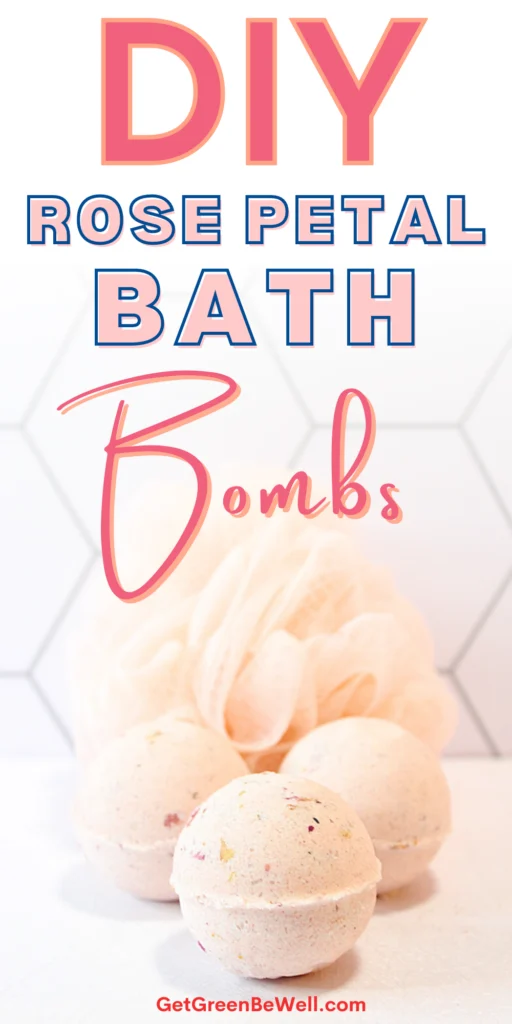 Can Rose Petals Go Down the Drain?
Ideally you don't want lots of rose petals to go down the drain, but a few is nothing to be worried about. Before getting out of the bath, scoop the petals out of the water with your hand. A shower drain (also known as a hair catcher) would also work great at preventing the rose petals from getting into your plumbing.
How Do I Store Homemade Bath Bombs?
You want to keep your bath bombs away from light, heat and humidity so that they last as long as possible. Which usually means storing them outside of the bathroom.
Keep the bath bombs in an airtight container, such as a mason jar or plastic storage bin. You could also wrap each bomb with plastic wrap or put in a cellophane bag.
How Long Can I Keep DIY Bath Bombs?
Store these rose petal bath bombs for up to 6 months when they are kept away from heat, high humidity and sunlight.
If you like this easy bath bomb recipe, you might also like some more of our natural beauty DIY ideas: