If there is a recipe for romance, then chocolate and roses have got to be the key ingredients! While rose bouquets and chocolate candies are always shared on Valentine's Day, there is no reason you can't enjoy the love year round!
Our luxurious Chocolate and Roses Bath Salts use all natural ingredients to tempt the senses. Draw a hot, steamy bath and add a scoop of this bath salt tea for a decadent soak.
This makes a perfect gift for Valentines Day! Or a fun bath soak to have on hand for romantic evenings at home.
You might also like our Homemade Rose Petal Bath Bombs, too, which uses many of these same ingredients.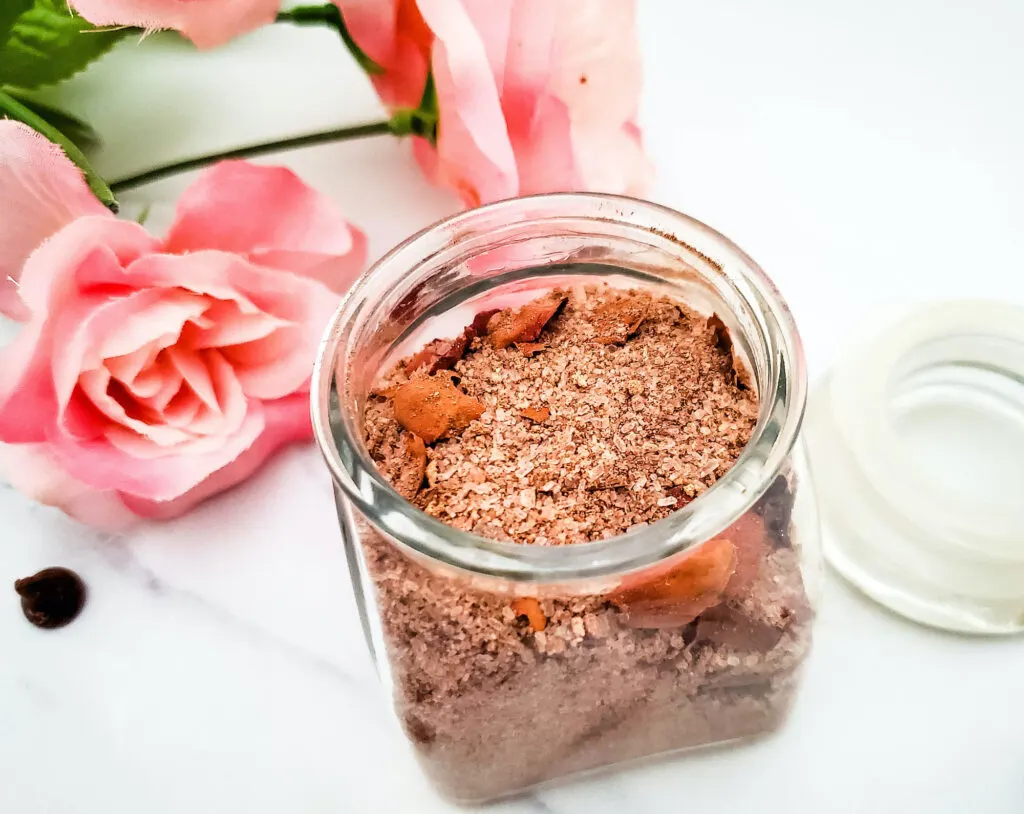 Ingredients Used
This DIY bath soak uses all natural ingredients to smooth and nourish your skin, including:
Epsom Salt is the main ingredient because it is often used in baths to soothe tired and achy muscles and reduce inflammation. Epsom salt provides magnesium in the bath water, which is then absorbed through your skin. A majority of people experience magnesium deficiencies, which makes these bath salts a great addition to your self care routine. See my DIY magnesium spray for a great way to absorb magnesium through your skin.
Pink Himalayan Salt contains trace minerals which can be absorbed through the bath water. Salt is used in a variety of skin care products, so you definitely want to be happy about having it in this bath salts recipe.
Dried rose petals are a pretty addition to these bath salts, but they have some benefits for your skin as well. It is no coincidence that many sensitive skin beauty products use roses as a main ingredient.
Rose absolute essential oil gives you that lovely floral scent, since dried roses are not that potent with fragrance. Pure rose essential oil is really expensive and shouldn't be used in a method such as bath salts. Rose absolute is a great alternative and definitely budget-friendly. I use it in my DIY Rose Salve, too.
Powdered milk provides gentle exfoliation using natural lactic acid, which is a natural alpha hydroxy acid (AHA). We used a powdered goat's milk, but you could use a powdered coconut milk or powdered dairy milk, too.
Cocoa Powder is always fun to use in natural bath products because it smells like chocolate! Plus, the antioxidants in cocoa powder are great for skin renewal. I use cocoa powder in my coffee sugar scrub, too.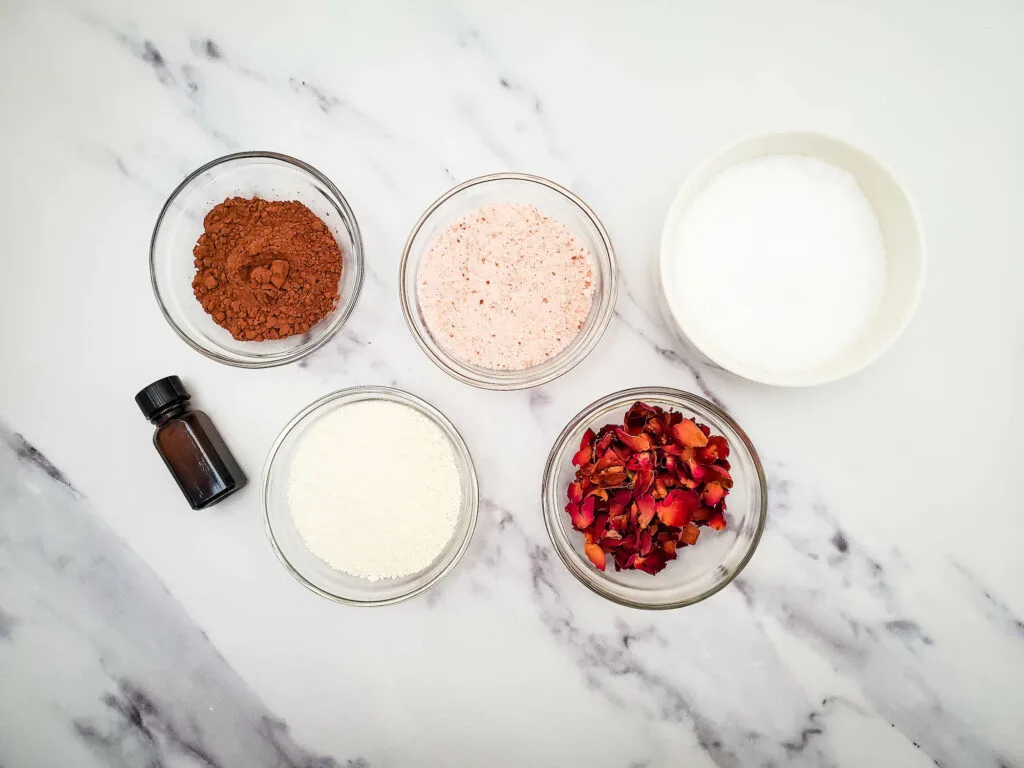 Related Post: DIY Silky Bath Fizzies
DIY Chocolate and Roses Bath Salts
This recipe makes 1 1/2 cups of bath salts.
Supplies
Directions
Add all of the ingredients into a bowl.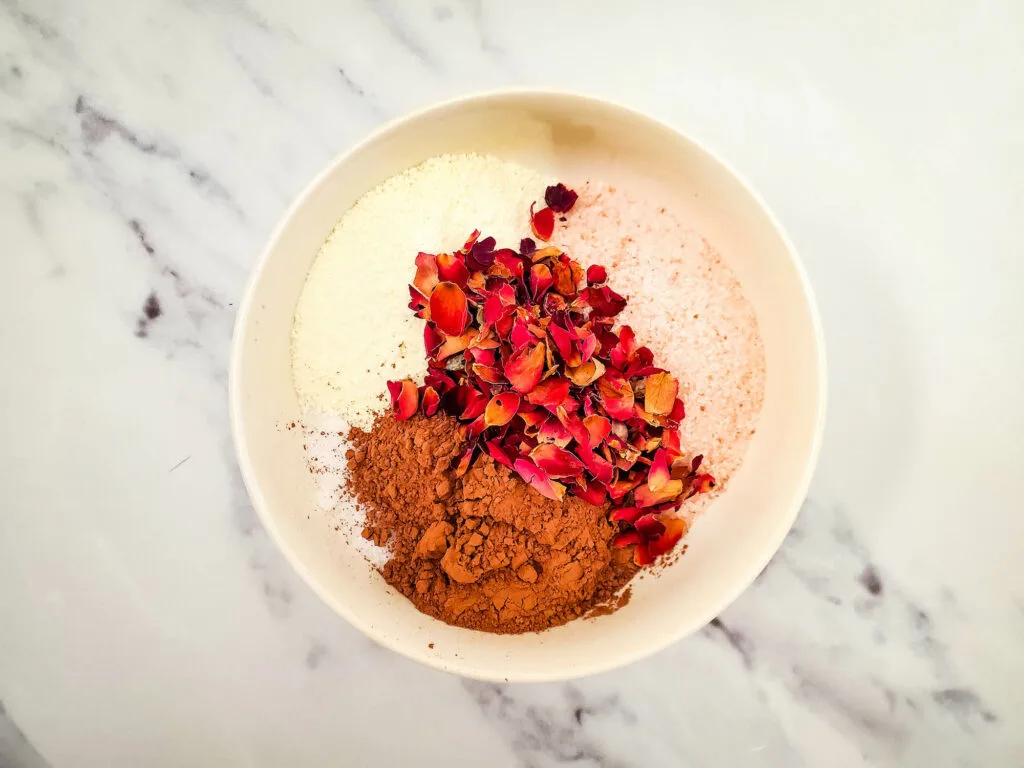 Stir together well.
Pour into a jar or other airtight container.
When adding bath salts to your bath, use about 3 tablespoons at a minimum. You could use more if you would like.
Related Posts: DIY Valentines Day Crafts
Helpful Tips for Making Bath Salts
Layer these ingredients in a jar instead of mixing them together for a dramatic and lovely presentation. Especially if you are giving as a gift. Wondering where you would add the essential oil? You can mix in the rose absolute oil with the Epsom salts to add the fragrance. We suggest starting with the Epsom salts, then the powdered milk, then the Himalayan pink salts, followed by the cocoa powder and then dried roses.
When buying Epsom salts be sure that they are not fragranced. Many Epsom salts on the market have a lavender or eucalyptus fragrance added. Those will not work with this recipe, but they would work with my DIY Sinus Congestion Relief Bath Salts.
The same cocoa powder you cook with can be used in this bath salts recipe, too!
Dried rose petals can be less expensive, but whole dried rose buds make a dramatic presentation in the jar!
Bath salts are great gifts for Valentine's Day, Christmas, Mother's Day, Bridal Showers and Wedding favors.
This is such an easy beauty product to make and sell at craft fairs! You can easily double or triple the batch and add to pretty glass jars tied with a ribbon. Add a small gift tag with the ingredients list and you will be surprised at how fast they sell!
Use unique packaging to make these bath salts even more impressive. They would be pretty in a test tube or in small sachet bags, as well.
Make a small self-care gift basket with these bath salts, as well as some chocolate-flavored tea, a rose-scented candle or a small potted rose plant, and a body loofah or shower brush.
If you like how easy it is to make chocolate and roses bath salts, be sure to see all of our DIY beauty care products.