Buying a natural mattress online is a really difficult decision, but is often your only alternative in purchasing a non-toxic mattress. Trust me, I know. I ordered my natural latex mattress and mattress topper online and was scared about not liking it. It seemed like the most bizarre way EVER of ordering a mattress.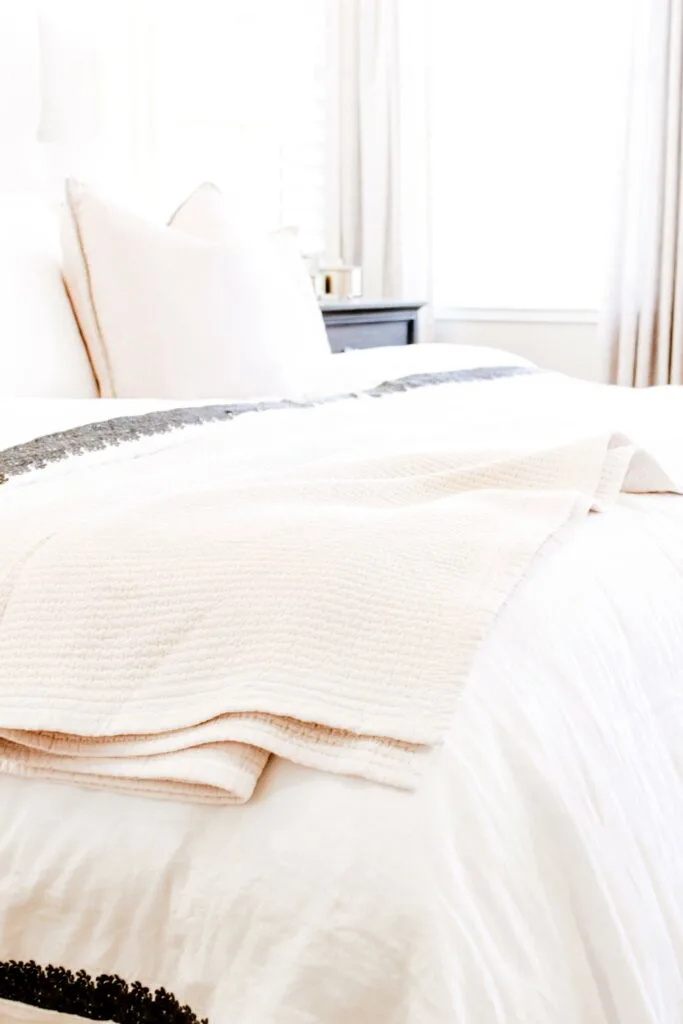 Buying a Natural Mattress Online – Where to Shop?
Yet there is no reason to worry about buying a natural mattress online through a website. Sure, there is the normal worry about wondering how it feels, how firm it is, how soft it is, etc. I understand that. I get it.
The alternative, though, is flopping down on lots of beds at a big box mattress retailer, falling in love with a mattress' feel in 10 minutes, and then being sacked with potential toxic fumes and VOCs releasing from the mattress for the next 10 years.
So why not give a try at ordering a non-toxic mattress online? With these money-back guarantees, you don't need to worry about being out thousands of dollars for a product you don't like. Ordering a healthy mattress through a website gives you a substantial amount of time to try it out and if you don't like it, you can get your money back.
I actually ordered a bed online and had to return it. Here's my experience:
These are the natural bedding companies that I know and trust. I already have many of their products – and hope to try out more of their bedding products in the future.
Keep in mind, these companies often are found on Amazon, too. The mattress guarantees are generally only for buying directly through the bedding company. If you order through another retailer, you might have a limited return policy. Double check before ordering.
And, these are some of my favorite companies that have free return policies for trying out organic sheets.
Plushbeds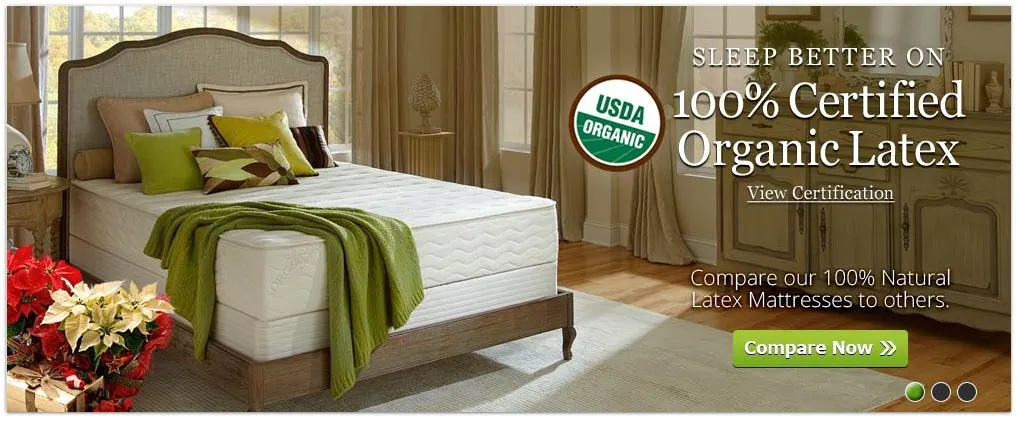 Order a natural mattress online from PlushBeds and sleep on it for up to 100 days. If you don't like it, return it for your money back. PlushBeds asks that you give the natural mattress at least 30 days before making a decision, and I agree. You've got to give your body time to adjust to any new mattress – conventional or made with natural materials.
You can keep the bed for up to 100 days. (Note: If you return in under 30 days, you will need to pay a $99 fee.) Your full purchase price will be refunded. You don't even have to worry about shipping it back. All you have to do is box it back up and they'll take care of the shipping.
PlushBeds states that 2% of its purchases are ever returned. That's pretty good odds you're going to really love their natural mattresses!
Nolah
Nolah Mattress offers a 120-night trial period for their mattresses. You do need to try out the mattress for at least 30 days before initiating a return.
We have a Nolah Natural mattress and really like it.
Interestingly, if you decide to cancel the option of a return policy with a Nolah mattress, you can save money on your purchase.
SleepOnLatex
This is the bed that I sleep on. And I love it! See my video review – and what it looks like when it comes shipped to your house – in my YouTube video below:
SleepOnLatex has one of the most generous return policies for all of their products that I have found.
Mattresses can be returned within 100 days when purchased through their website. They offer a FULL refund along with free return shipping or free pickup. Here is their official return policy.
Here's what's great: SleepOnLatex will also let you return mattress toppers and pillows when bought through their website. You have 30 days to return these items. This is almost unheard of among bedding companies.
I took them up on the 30 day return when I tried out a Sleep on Latex pillow and found it didn't offer the support I need. And, yep, they promptly and happily refunded my purchase price!
You can also buy SleepOnLatex mattresses on Amazon, as well. Note: You need to determine the refund policy with the company if you buy via Amazon.
Latex for Less
A sister company of Plushbeds, Latex for Less has a generous return policy on their natural latex mattresses.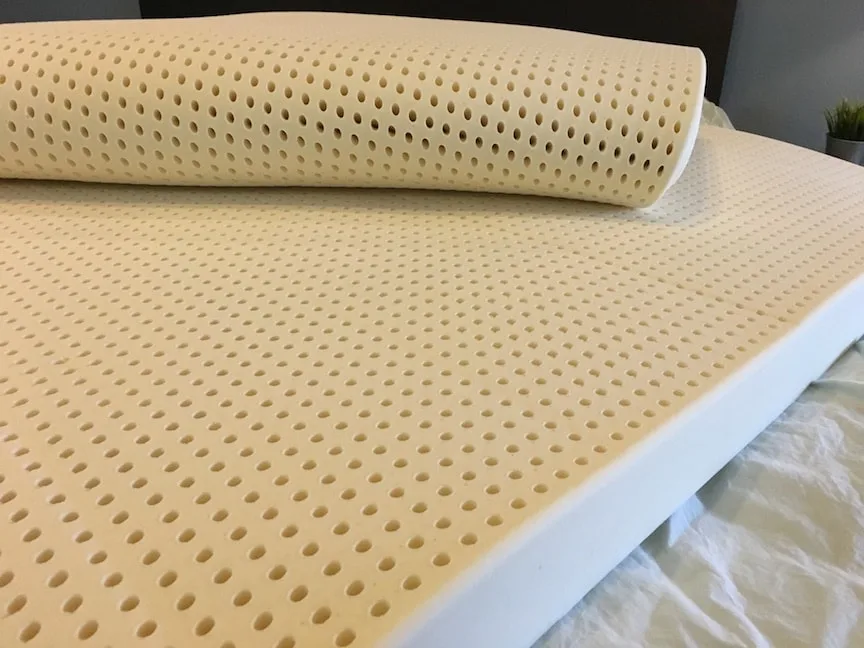 I tried out their mattress topper and was happy with it. While mattress toppers are not eligible for returns, their mattresses are.
Latex for Less offers a 120 night trial.
They will schedule a pickup of your mattress if you choose to return it at no cost to you.
Happsy
Happsy is a brand new organic mattress that comes as a bed in a box. This organic bed brand is under the same company umbrella as Naturepedic (see below). Happsy is manufactured in Jackson, Wyoming. There is a showroom in Jackson so you can try one out for yourself.
Happsy mattresses come compressed in a box. So you can get a mattress made with organic materials conveniently shipped to you like the other highly popular bed in a box options now.
You'll get 120 nights to try out your Happsy mattress. They promise free returns if you are not satisfied.
For a crib mattress and accessories, such as a mattress topper or pillows, Happsy will send you a pre-paid mailing label to return those items.
Again, one of the FEW mattress companies that will take back a pillow, mattress topper, or accessories!
Essentia
I have an Essentia pillow. I'm not sure it's my favorite pillow, but they are good pillows. I've also slept on an Essentia mattress for a couple nights. They are definitely firm and tend to sleep very hot (I don't know why, because I have a latex mattress that doesn't sleep as hot as the Essentia one that I tried out.
Their natural mattresses are more commonly found compared to other non-toxic mattress companies. There are several Essentia retail store locations across the country (I'm still kicking myself for not visiting their Boca Raton location when I was at the Boca Raton Resort).
So you could go in store and try them out and order on the spot. Or come back home and think about it and order online. Or just simply order online having not been to their stores.
Essentia offers a 120 Day Money Back Guarantee. If you don't like your non-toxic mattress, simply return it for a refund or exchange.
Please note, there will be a 9% fee for returning most mattresses. See their official return policy.
Naturepedic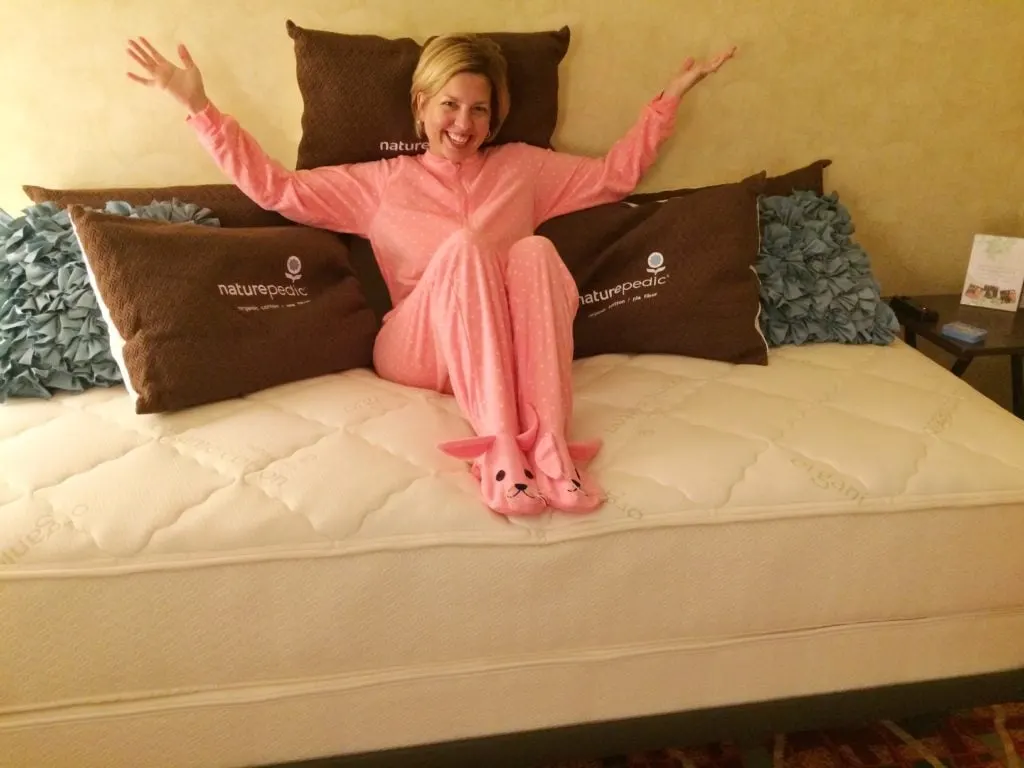 One of my favorite natural bedding companies is Naturepedic. And I've been dreaming about their EOS Organic Mattress since I first tried one out at ShiftCon conferences.
Alas, I can't afford the price tag as of yet, but it's still on my list of things that I want to buy.
After learning more about Naturepedic's EOS Organic mattress, and knowing how simple their comfort exchange policy truly is, I wouldn't hesitate to order their mattresses online.
Naturepedic sells a variety of non-toxic mattresses that are eco-friendly. There is a 90 day money back guarantee on mattresses.
You must keep the mattress for 30 nights before starting a return.
Accessories, such as pillows, have a 30 day return policy.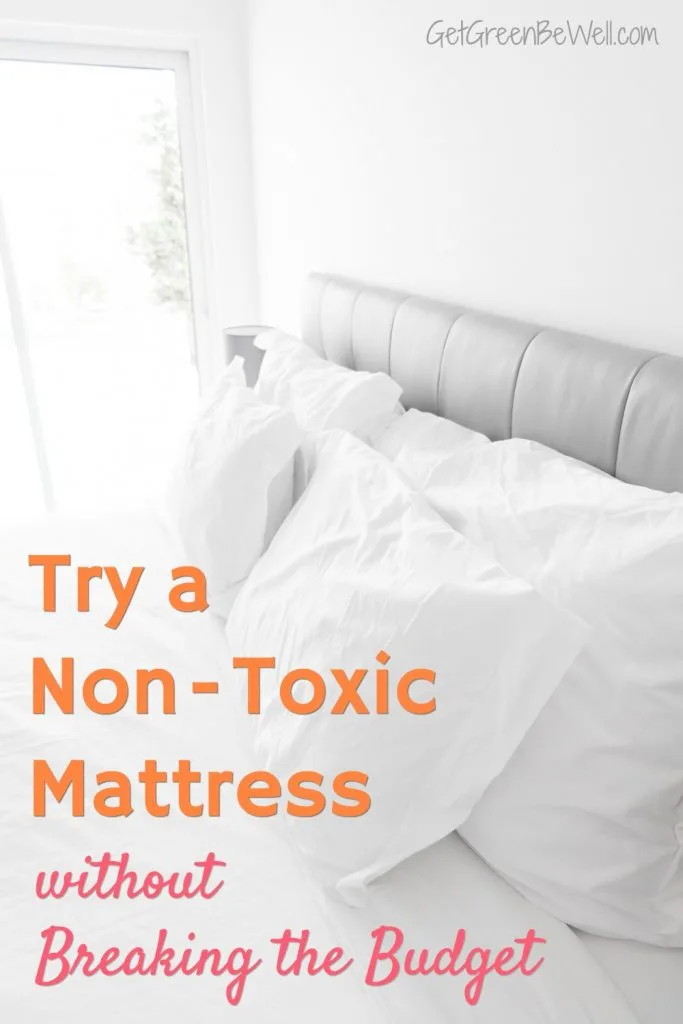 Savvy Rest
This natural mattress company offers some of the best non toxic mattresses and non toxic furniture that I have found. Here's my review of some of my Savvy Rest bedding items which I use and love.
Their mattress return policy isn't too flexible, though. However, they do have a showroom in Charlottesville, Virginia to try out their products. Plus, Savvy Rest mattresses can be found in retailers across the country.
The return policy is a 90 day latex exchange for mattresses that you have bought.
Want to know more about natural and non-toxic bedding? Check out my related posts: