A natural RV mattress – especially a natural latex RV mattress – is possible to find! For RVers who need special sized RV mattresses, you might think that you can't find a non-toxic mattress for your bed while traveling.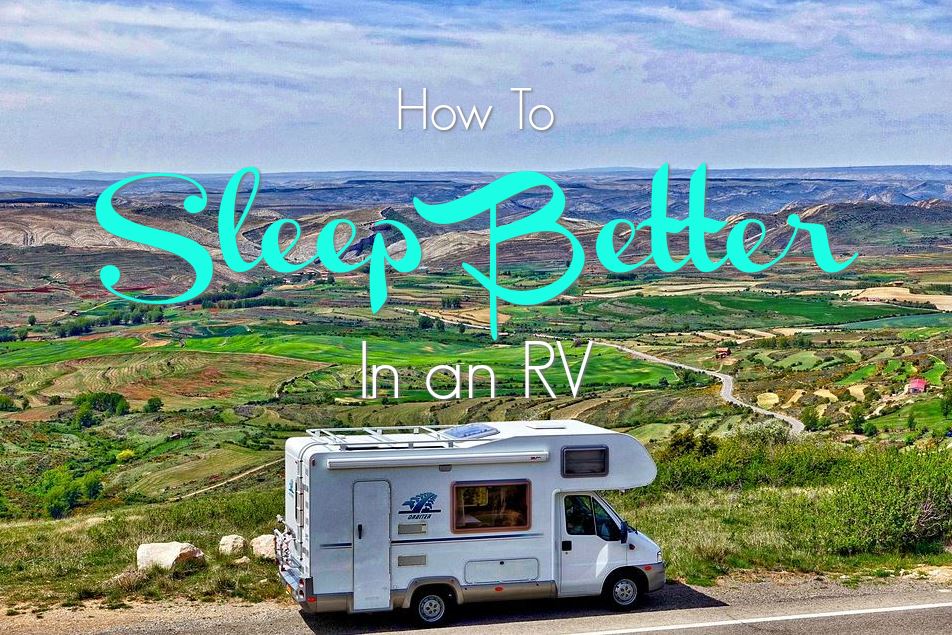 It's not true! You can sleep healthy while on the road and living in an RV. And you have plenty of natural custom mattress choices to choose from!
I might not be traveling in an RV now, but I do know a lot about choosing more natural, non-toxic mattresses and beds. I've been inspired about traveling around the country thanks to the vlogs of Less Junk, More Journey, one of my favorite YouTube channels, as well as the job flexibility of Michelle Schroeder-Gardner, who travels full time in an RV and wrote this amazing course on how to make money on the road. So who knows…….. (UPDATE: turns out that I ended up moving from a house and into an RV!……..keep reading to see what choice I did)
An original mattress in an RV is usually an innerspring mattress that is designed to reduce weight, not provide comfort. You spend one third of your life in bed sleeping. Shouldn't you upgrade to a more comfortable RV mattress that is healthy for you and gives you a good night's sleep?
It can be hard to find an RV mattress made out of natural materials or organic materials. It's hard enough to find a conventional size mattress that is non-toxic. So it can be REALLY hard to find a natural RV mattress in a size that works in your recreational vehicle.
RV mattresses are often shorter, and might need to accommodate corners or curved bed frames or be able to fold in ways that conventional mattresses don't need to do.
So if you want a natural RV mattress that is non-toxic and made with healthy materials, here are the very best options that I found that I would recommend.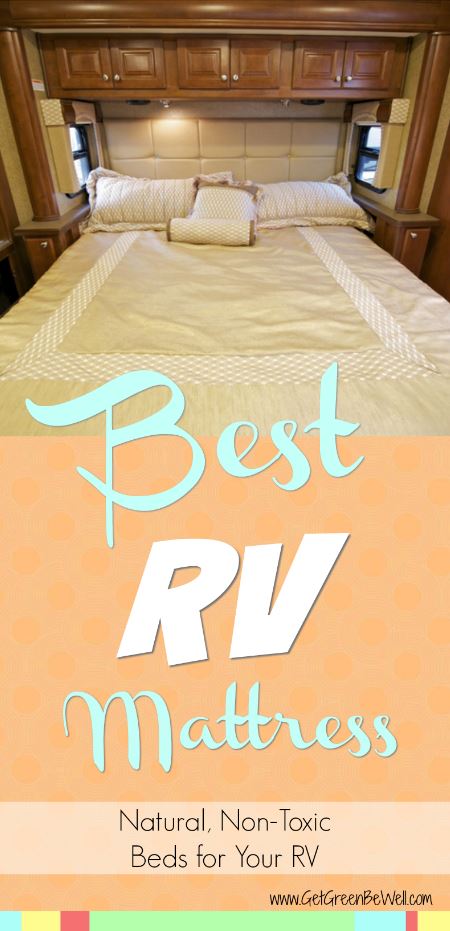 Plushbeds RV Mattress
Plushbeds is a company that I love working with. They offer RV mattresses that fit in all of the major recreational vehicle brands, including Winnebago, Monaco, Fleetwood, Gulf Stream and more.
This natural mattress company has one of the best return policies that I've found with a 100 Night Guarantee on their MobilePlush RV Mattress. So don't worry about ordering this natural mattress and not liking it. You're covered!!
There are four different types of natural RV mattresses from PlushBeds. All are GreenGuard Gold Certified, which means they meet rigorous testing for chemical emissions standards.
The all natural latex in a PlushBeds RV mattress is chemical-free, and contains NO pesticides, bleach, chemical fire retardants or carcinogenic adhesives, according to the company.
It doesn't stink or have any nasty odors. It doesn't off gass any harmful fumes or toxic odors.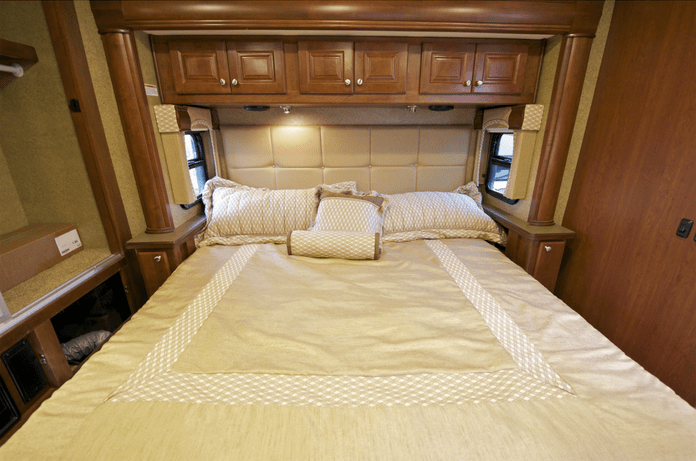 The PlushBeds latex mattress is made with a cooling technology (really, it's just a lot of tiny little ventilation holes during manufacturing) so you sleep cooler. No more hot, sweaty nights because of your mattress.
The talalay latex in the Natural Latex mattress is anti-microbial, dust mite resistant, mildew resistant and hypoallergenic. That means less worry when you sleep every night.
Swap out that RV mattress that came with your RV and sleep on a natural latex mattress that conforms to your body, yet springs right back to its shape again and again. No more sagging areas in your mattress where you've worn out the cushioning.
Of course, there are memory foam mattresses and a gel mattress that offer similar features. I encourage you to click on each type and see how the beds would work for your specific needs.
Get support that you need and softness that you crave with these RV mattresses.
PlushBeds offers four different types of an RV mattress for your specific needs and wants:
With prices as low as $459 and monthly financing, these natural RV mattresses are in the same price range as many other RV mattresses, yet without the harmful chemicals and better sleep.
Amazon sells RV mattresses from PlushBeds, as well, with free shipping. See the natural RV mattress options here.
Savvy Rest Custom RV Mattress
I love Savvy Rest! All of Savvy Rest's layered latex mattresses (3 choices to choose from) can be made into a custom size to fit an RV.
In fact, Savvy Rest not only customizes RV mattresses, but can customize a latex mattress for a boat, truck cab, loft, built in, and more.
Their organic mattress selections are made with three inch layers of natural latex. The different mattresses use between 2-4 layers of those 3″ layers of latex, depending on your custom mattress.
Here's the best part – you can have two different firmness levels in one bed! That's right. You can have one firmness on one side of the bed, and a different type of firmness on the other side.
You choose whether you want a Dunlop of Talalay latex – here are the differences. You also choose what firmness you want – Soft, Medium or Firm.
Organic cotton casing and organic wool batting round out the natural aspects of a Savvy Rest RV mattress.
Savvy Rest mattresses use Certified Organic Dunlop Latex, Certified Organic Wool and Certified Organic Cotton. Their Talalay Latex is Cradle-to-Cradle certified.
Get a free sample of their materials by requesting them online, or find a dealer near you to test drive a mattress before ordering a custom RV mattress.
Rocky Mountain Mattresses
While this company makes all kinds of mattresses, they do offer two natural latex options. With a 90 day money back guarantee, a custom RV mattress from Rocky Mountain Mattress might be an alternative for you.
San Diego Mattress Makers
Another company that offers plenty of mattresses, with the ability to order an RV mattress. San Diego Mattress Makers have a store in California so you can test drive the mattress before ordering a custom RV mattress.
The company states that they use all natural materials, including Pure New Zealand Joma Wool, 100% Pure Natural Latex, organic cotton and non-toxic flame retardants.
Their latex mattresses offer the Oeko-Tex 100 Certified certifications. That's a pretty well known and respected testing procedure to make sure that there are no harmful chemicals offgassing.
In fact, they offer a price match guarantee of beating the competitor by at least 5% or your mattress is free.
My Choice for a Comfy RV Bed
Soooooo……. what was my choice for a bed for our brand new RV?
I wanted a Plushbeds Mobile Plush Eco Green mattress.
But with all of the expenses of moving and a brand new RV, we just couldn't feel comfortable spending that much at this moment. I'm hoping that we'll get the mattress in the future.
So here is our comfortable RV mattress hack. It's not perfect (I'd like my entire bedding system to be completely non-toxic), but it does work great! Our RV mattress is super comfortable thanks to the Sleep on Latex mattress topper. Watch the video to see our RV hack:
What have you done to make an RV mattress more comfortable?