Finding a non-toxic mattress that uses inner springs, rather than just latex, is not as easy as you'd think. Plus, we wanted a bed that was more plush and soft rather than firm. And we wanted to buy online, rather than go to a furniture store. We finally found the Goldilocks of innerspring mattresses with our Nolah Natural 11 inch hybrid mattress.
Spoiler Alert: We are beyond thrilled with our Nolah Natural mattress! It is one of the softest, plushest mattresses we've owned. And my husband says it feels just like a fancy hotel bed. I agree.
There were a lot of surprising things about our Nolah that were different than our other bed-in-a-box mattress deliveries. So keep on reading for the details you don't want to miss.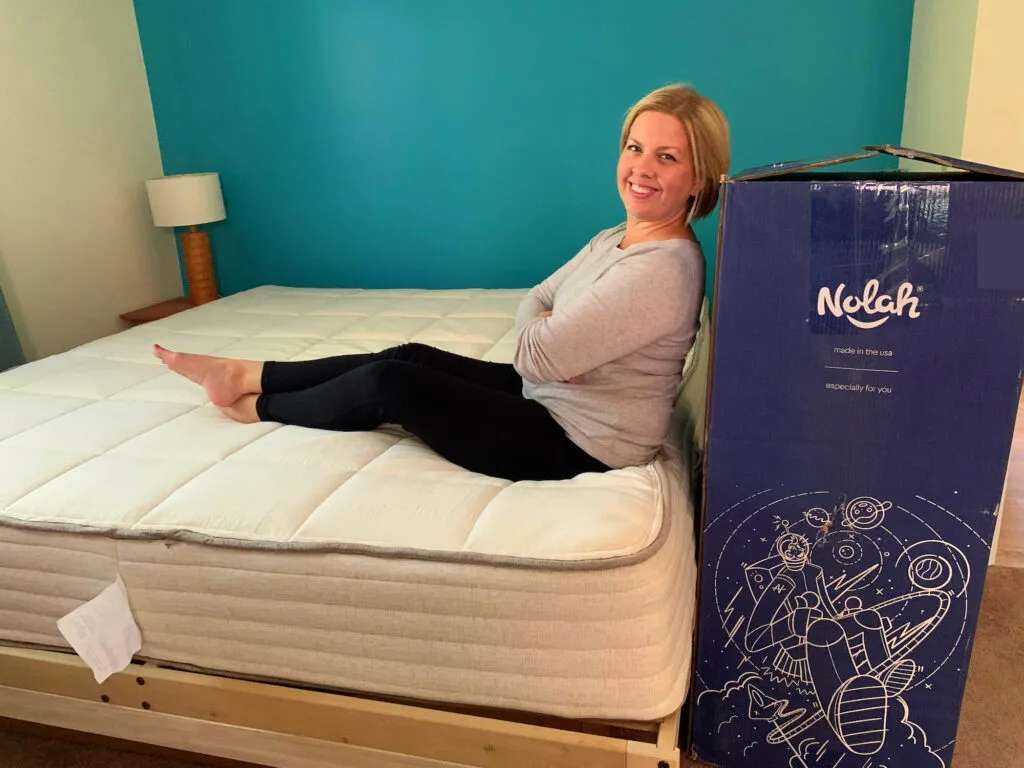 Nolah Mattress Review: How it Really Feels in Real Life
Thank you to Nolah for giving us a Nolah Natural 11 inch mattress to review.
When Nolah came out with their Natural mattress, I was impressed. Of course, I instantly started scouring the materials list to see if it met my expectations. And it definitely did.
Nolah Specifications
Organic Cotton Cover with GOTS (Global Organic Textile Standard) certified organic cotton.
Organic Wool layer (GOTS) for natural fire barrier and temperature regulation.
Talalay Latex – 2 inch layer
Engineered Talalay Latex Transition – 1 inch layer
Support Coil System – Nolah's proprietary and patented 8″ HDMax™️ Tri-Zone™️ support coils made from recycled steel; three targeted support zones and 25% more coils than most competing hybrid mattresses
Organic wool and cotton foundation layer
Extra Durable Organic Cotton Bottom Cover with sturdy, sewn-in handles
OEKO-TEX 100, Class 1 Certification
We also greatly appreciate that the mattress is 100% Made in the USA.
P.S. Nolah Nurture 10″ is a natural mattress made specifically for kids.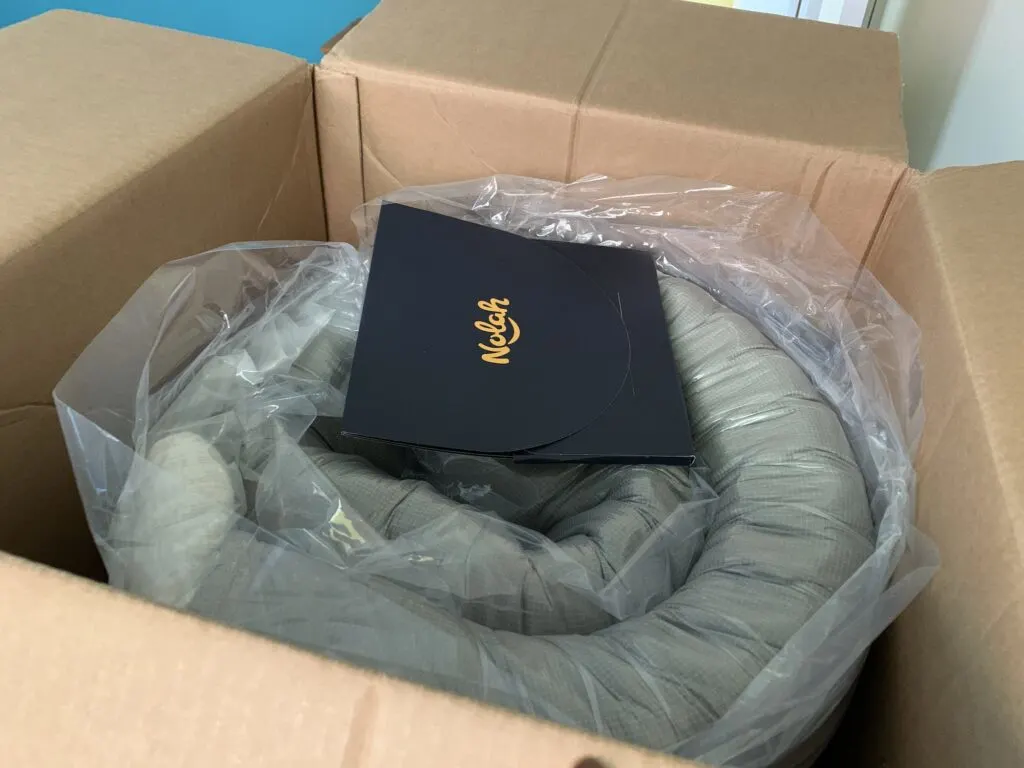 Our Experience
We tried out our Nolah Natural 11″ mattress for three months so far. I absolutely will not review a mattress without sleeping on it for several months to make sure that it works for us. You need that much time to see how your body responds, and how the mattress changes over time.
From the first night of sleeping on it, we loved it. The mattress is so soft and cloud-like, kind of like a pillow-topper feel. However, you don't sink down into it too far for it to be unsupportive. I definitely feel a supportive layer just underneath the cushiony softness.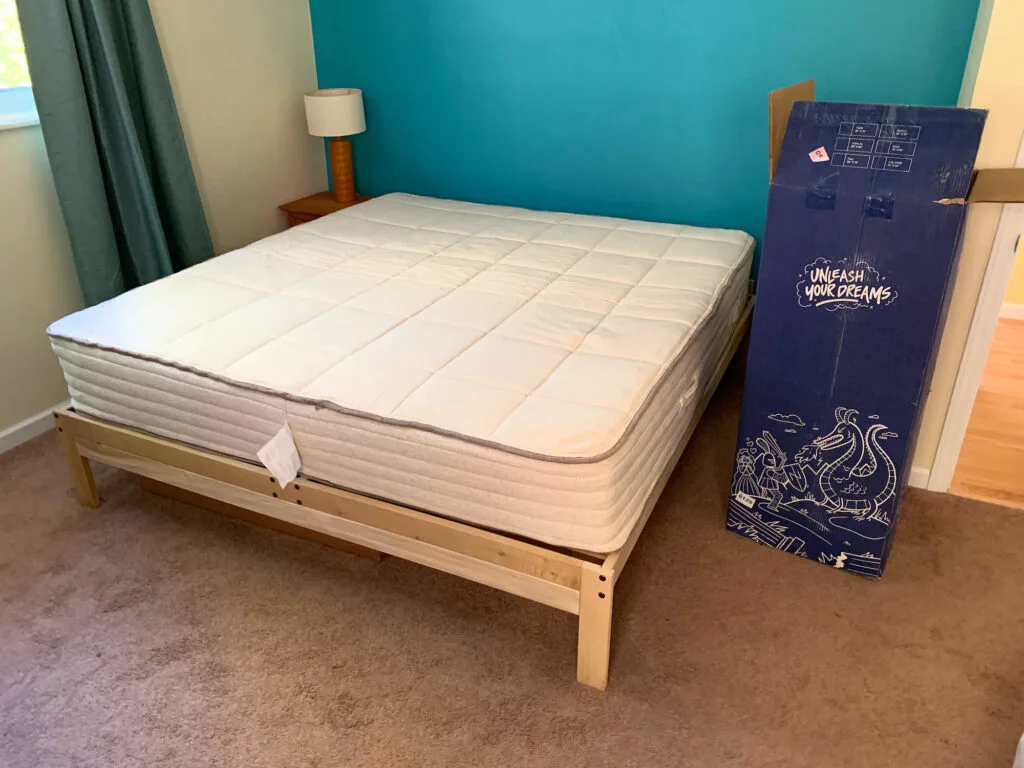 There was NO SMELL that we noticed at all. Which is always a concern of mine when opening a new bed.
I personally don't get hot in latex mattresses, however my husband sleeps very hot on a latex bed. In the Nolah, he is not sleeping hot at all. The company does state that the mattress sleeps 7 times cooler than other types of latex products. We would agree with that statement.
We were really impressed with the handles sewn into the mattress to help with maneuvering. The entire bed seems very well constructed and looks more like a high-end mattress you'd buy in a mattress store.
For those of you keeping up with my mattress reviews, you will notice that we now have two different mattresses in our home. Due to physical needs that I have (fibromyalgia, scoliosis, hip rotation), I've found that I really require a 100% latex mattress for every day sleeping. However, my husband has a lot of physical pain when he sleeps on a latex mattress and he actually requires the comfort and support of an innerspring mattress. We've come to realize that we both require different mattress types and there is not one out there to accommodate us both at the same time.
While I personally am not sleeping in the Nolah every night, my husband absolutely loves the bed and is sleeping better than he has in a very long time. And that makes me impressed, because I know how hard he has struggled to find a bed that doesn't keep him up at night. As a wife, I just want him to be happy and healthy and this works for us.
Firmness Feel
This is always the hardest part of buying an online mattress. Everyone's version of firm and plush are dramatically different.
According to Nolah, this mattress is a Luxury Firm with a score of 6-7 on a scale of 1-10 (with 10 being hard as a log). I do think this is a fair representation, although I'd say it's definitely more towards the 5-6 score rather than 7.
I feel that this mattress is way softer than others that I've tried. However, there is definitely a supportive layer underneath the pillow top softness on top that I can feel in my hips. It's like sleeping on a cloud, but your back and hips are definitely supported at the same time. Don't led the term "firm" mislead you if you are searching for a softer mattress.
There are two different types of latex used in mattresses: Talalay and Dunlop. Talalay is the most supportive one with the most pressure relief, and that is what is used by Nolah. I have found that I respond much better to Talalay latex beds and toppers than Dunlop, which is just too soft for me.
In all honestly, I haven't felt a hybrid experience such as this with any other mattresses that claim they have pillowtop toppers. Those are usually still too firm.
There was not quite enough support for my specific needs, but my husband feels that it is completely supportive. He is a back and side sleeper.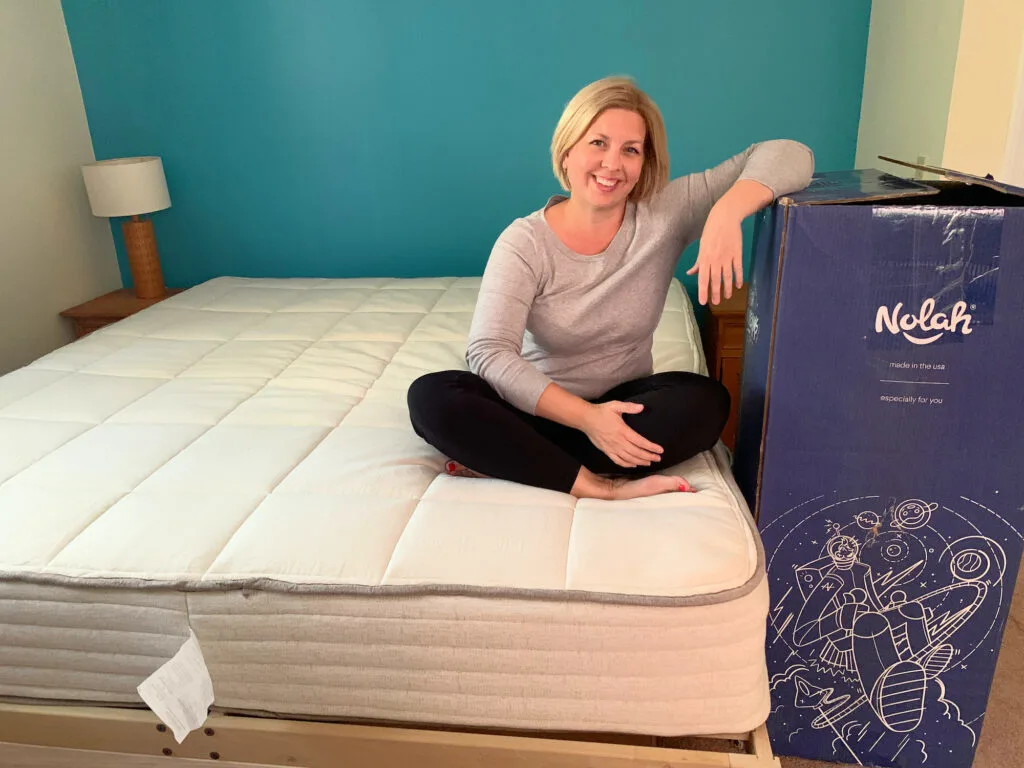 Nolah Mattress Shipping
We were quite surprised to see our King-size innerspring mattress delivered via FedEx in a box to our door!
To put this into context, I have had a King-size all latex mattress delivered, but it had to come by freight delivery. Which means extra cost and needing to schedule a delivery time with a crew. I've also had a Queen-size mattress bought from an online company delivered to my parents home that also required a delivery crew.
So the fact that a large mattress with innersprings could fit into a box, within the shipping and weight constraints of FedEx delivery, actually surprised us!
The box was easy to get inside our home by putting it on a handcart and pushing it to the bedroom.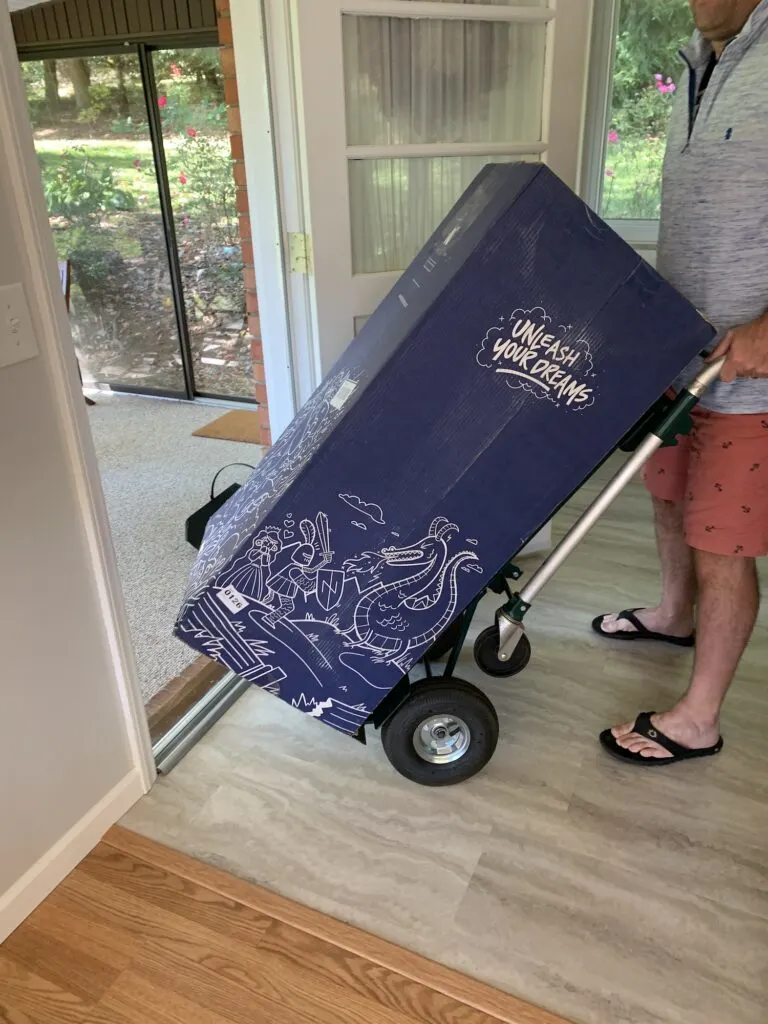 As with all bed-in-a-box shipments, it's going to be large, awkward and heavy. You'll probably need some help if you need to carry it up stairs or are not able to pick up items with considerable weight.
Unboxing
It's always fun to get your mattress out of a box and see it spring to life! And for this mattress, we were really wondering just how those innersprings were going to magically spring up as the mattress unrolled.
We have to say, the unboxing and unrolling went pretty much the same as a latex bed being unwrapped. Even though there are innersprings in the mattress, it's not like they instantly bounced to their full height in a crazy pop-up bed!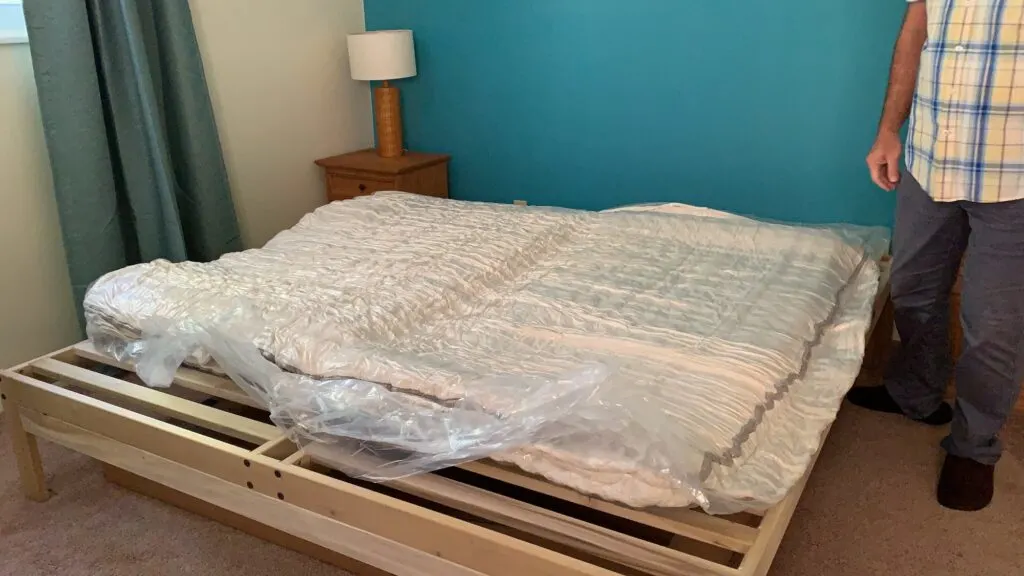 Once the plastic wrap was removed, the bed slowly started puffing up and taking its shape. As with all beds in a box, it was a bit smaller than the actual mattress dimensions at first. It did not fit the entire bed frame edge to edge. But over time, about a day or two, it did completely expand to be the stated size. It also continued to become just a tad bit taller as it puffed out.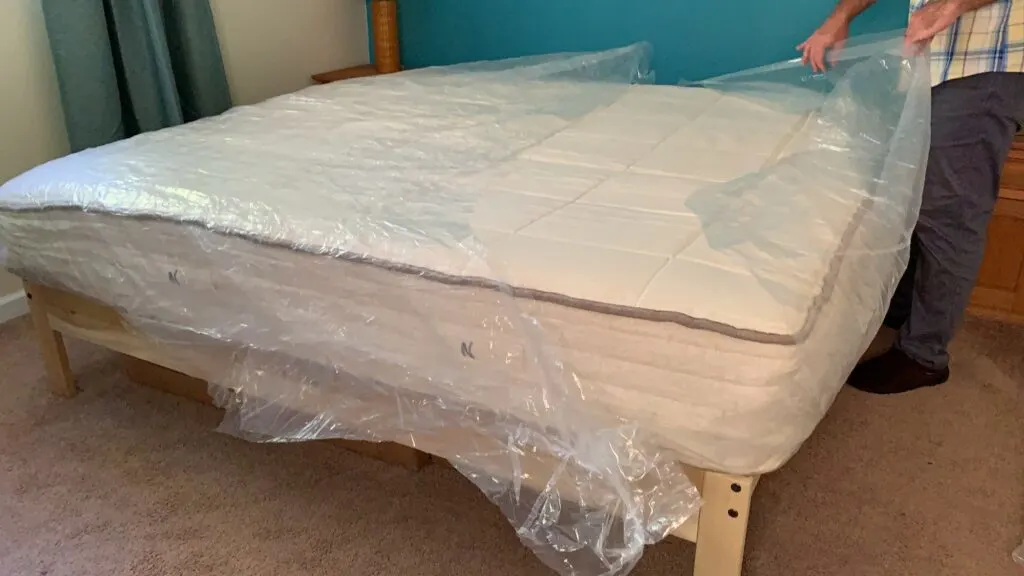 What Type of Base to Use
One of the frustrating things that I've heard from many of my readers is that they don't want to have to change their mattress platform. However, many mattresses void the warranty if you don't use a specific bed frame.
Nolah states that you can use their mattress on any flat surface, including:
Flat platform
Slatted Bed (no more than 4 inches apart)
Boxspring Foundation
Adjustable Bed
Our mattress is on this natural, non-toxic wood bed frame that we love. It is working very well.
Nolah Return Policy
Nolah has a 120-night risk free return policy.
You need to sleep on the mattress for a minimum of 30 nights. Then, if you decide you don't like the bed within the 120-night time frame, you can return it for free and get a full refund. PLUS, they will send a driver to come pick it up!
This is HUGE, y'all! Often times, if you decide you don't want to keep a mattress, the worry is on you to find a charity to come pick it up to donate it. And there are not a lot of charities that will actually take a bed because of health reasons. I've found this out when I did a bed return of another brand. I spent a lot of time researching charities, then waiting for a pick up time.
If you decide to forgo the option of a return policy, you can save money on your purchase with a discount.
Final Thoughts on Nolah Natural Mattress
Though I hadn't heard of Nolah before we received our mattress, I have to say that I am now pretty impressed with their natural mattresses. Not all of their mattresses would be ones that I would want, as I only want natural materials. But I do like the continuing commitment to use natural latex, wool, organic cotton and bamboo in their items.
We really like this mattress a lot. We have been searching for a long time for a natural mattress with inner springs that wasn't too expensive, had a return policy, and offered plush softness with support. We've found it with the Nolah Natural.
For more natural bedding items, check out these related posts: