My search for a natural mattress seems never ending. I currently have a latex mattress that I love. But my husband prefers a more traditional bed with springs. Among the best natural mattress companies that I could find, Avocado Green Mattress stood out as one of the clear contenders.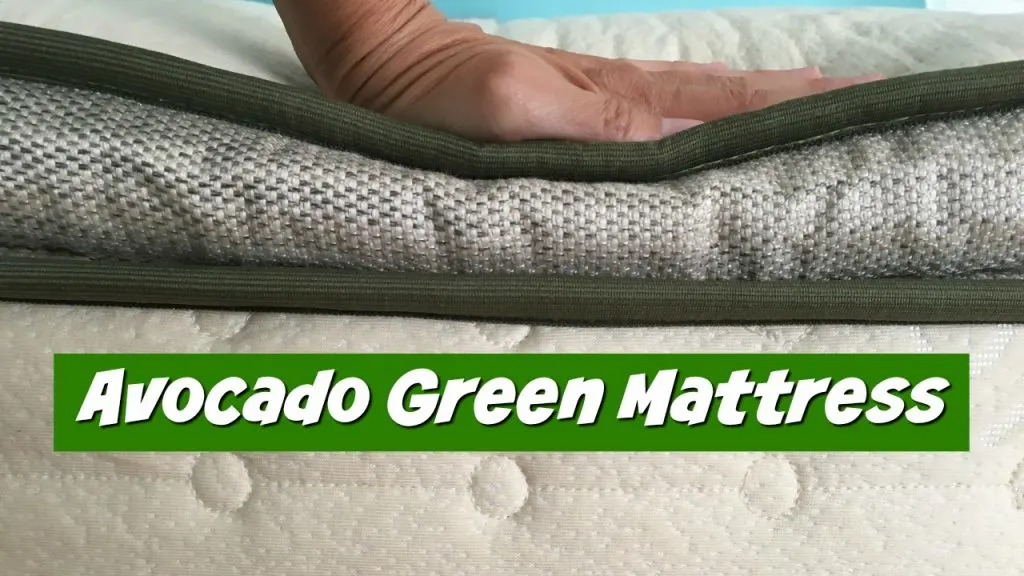 We bought one of their mattresses when we were living in a temporary rental home and all of our belongings were in storage in another state. It was a great time to try out a new mattress, because the ones that were supplied in the fully furnished apartment were HORRIBLE! (They were 4 inch thick "mattresses" from IKEA – never buy those if you value comfort!) So I decided to switch things up and try a different brand from what we already owned so that I could let you know an honest review.
P.S. I'm still looking for a couple new mattresses for our new home! I'm hoping to try some other brands to review and let you know what they are like.
Buying a Natural Mattress Online
Ordering a natural or organic mattress online without laying on it first is not for the faint of heart. It's just not.
You spend 1/3 of your life in bed. So making the wrong decision can be scary.
The great thing is that many natural and organic mattress companies offer generous money back guarantees (see my list of the best money back guarantees from natural mattress companies) if you don't like the mattress.
That's one of the BIG reasons why I bought an Avocado Green Mattress. They offered a 100 night trial and money back guarantee.
Some natural and organic mattress companies DON'T offer money back guarantees, which makes me never want to order from them, honestly. I would if I could try out the bed in a showroom, but that isn't always possible for most mattress buyers.
(FYI: My other top natural mattress options for a bed that doesn't cost too much and wasn't going to be a long-term investment were going to be Happsy, PlushBeds (the Organic Latex) and Latex for Less Reversible Mattress with two different firmness levels. For a long-term investment great quality bed, I would have given way more thought to Essentia, Naturepedic and Savvy Rest.
Avocado Green Mattress Reviews
In researching Avocado Green Mattress before buying one, I found some reviews online. None of them seemed to be extremely helpful.
If you look at reviews on the major bed review websites, all they do is talk about specifications, costs, materials used, etc. They make it seem like they're giving individual reviews, but I've found that usually it's just a laundry list of information from a website, along with a review after laying on a bed for a few minutes or putting some dumbbells on a bed and calculating measurements.
None of the Avocado Green Mattress reviews that I found were from actual real people that actually slept on the bed and bought it.
Which I think is horribly unfair to anyone looking for nontoxic mattress reviews online in order to buy a natural bed.
So those online reviews were unhelpful.
What was helpful was really investigating Avocado's transparent website.
I was really, really impressed with Avocado Green Mattress after studying their website and mission. And so I ordered a bed online and hoped for the best.
FYI: Here's my personal mattress review video:
A Natural Mattress: The Nontoxic Bed from Avocado Green
I was comfortable ordering a natural mattress online after reading Avocado's extensive listing of materials used and their mission as a company.
Here's what's in a nontoxic bed from Avocado Green Mattress:
eco-INSTITUT certified 100% natural dunlop latex rubber foam
OEKO-TEK standard 100 certified Joma New Zealand Wool
GOTS Certified Organic Cotton
Fabric encased inner springs (up to 1,414 of them in a bed)
Hydrated silica (a natural fire barrier)
Yep, that's it. All natural materials with no worries.
In fact, the natural mattress is GREENGUARD Gold Certified (a certification that I actually like and respect when it comes to buying products for my home).
Wait, are you vegan and don't want to sleep on a bed with wool? Avocado Green's new Vegan Mattress uses cotton instead of wool.
My Mattress Experience with Avocado Green Mattress
I easily ordered my mattress online with just a click or two. In fact, I had a discount code which gave me either $150 off or two free natural pillows. I wanted to see what the pillows were like, so I chose that sale option (my other beloved natural pillow had just become unbearable to use after four years.)
Delivery of a Bed in a Box
The mattress is made by hand in California, so it didn't start being made until I ordered the bed. Which meant that for me (living in Florida and taking a week of shipping time from California) I didn't receive the bed for another full 30 days.
I was hoping the bed would arrive sooner, but it didn't. However, the two pillows that I got for free with my discount code were sent in a separate shipment early. I received them in a couple weeks.
As was expected, the delivery guy would not bring my 80-lb. bed up the stairs to my second floor condo. He literally looked at all 5 foot 3 inches of me and said "It's too hard" to bring the mattress upstairs. Then he told me (I'm not even making this up…………) that it looked like it was going to rain soon and that I should figure out how to get the bed inside the house.
You might imagine what my response was.
Avocado Green Mattress has no control over the helpfulness of delivery people unless you pay extra for the White Glove delivery service, which means you can schedule the time for the mattress to arrive and it will be delivered and set up in your home. I know it's an extra cost, but it's worth it.
FYI: Wondering why I'm sleeping on a twin-size natural mattress? My husband and I totally embrace the concept of two Master Suites in our home because of sleep patterns and work schedules. In fact, I highly recommend two master bedrooms to get some decent sleep and personal space for better health.
Allergic to an Organic Mattress
Once the bed was dragged in my home (no small feat), we eagerly unrolled it since I had been sleeping on an absolutely horrible mattress in our furnished rental home for two months.
And then I noticed the smell.
It wasn't a horrible smell. It just smelled earthy. I think I'd compare it to mushrooms or cardboard.
Since it was all natural materials, I didn't think I'd have any problems with the odor.
Boy, was I wrong.
Now, to be fair, many people have never noticed a smell, according to Avocado Green Mattress reviews that I've read like crazy.
Other people do state that there is a distinct smell which disappears in under a week.
So, who's to say if you are going to have a smell with your brand new natural mattress or not. It's up to your specific body chemistry.
The problem was, even though it was natural materials off gassing, for some reason they really affected me. Like migraine within 30 minutes, throat swelling and itchy and eyes puffy and swollen.
The first night was absolutely miserable. But I thought I just had to get used to a new bed.
The second night was horrendous as well. I woke up feeling like I'd been through a battering ram.
The third night, I laid down for 30 minutes and when the pounding pain started in the base of my neck, I instantly knew that I had to get out of that bed and sleep somewhere else. (Which included sleeping upright on the couch for several hours.)
I contacted Customer Service asking what other materials could possibly be in the bed. Seriously, I wanted to know so that I never would have this allergic reaction again.
They were absolutely wonderful! Never questioning my reaction to the bed, giving me tons of specifications and materials information. Truly, they responded immediately and effectively to every request that I had.
Clearly I was having some sort of unique reaction to something. I still don't know what. (I've slept for years on a mattress made with natural latex, organic wool and cotton, so I'm baffled as to why I had this reaction.) So the bed definitely had to be returned ASAP.
Firm Natural Bed
I ordered the Avocado Green Mattress with the additional pillow top, adding an extra 2 inches of natural latex on top of the bed. I personally like a little bit of cushion on the bed, so I thought this would be the ideal combination for my nontoxic mattress.
However, even with the additional pillow top, the mattress was just entirely too firm for me.
If you like a firm bed, then maybe you'd have no problems. Mattress firmness is such a unique and personal thing that there is no way that I can say what I feel was too firm wouldn't be just right for you.
My unique situation, though, is that I've had Fibromyalgia in the past, still have a lot of pressure point issues, and go to a chiropractor because of scoliosis.
This bed was just TOO firm for my specific medial needs. As a side sleeper, my shoulders and hips ached because there was no "give" when sleeping on my side. I read many reviews where other side sleepers have said the same thing.


Returning a Bed in a Box
While many companies claim that they offer no hassle money back guarantees, I always had a feeling that it wouldn't be easy when it came time to actually returning the bed in a box. (I'm not the only one thinking returning a mattress can be too good to be true. This news station tried it with three different bed in a box mattress companies for an investigation.)
I couldn't have been more wrong.
Avocado Green Mattress customer service was amazing when it came to returning my bed. My mattress return experience was WAY more civilized than I thought it would be!
Because I had a pretty unique reason for returning a bed in a box, I thought I would need to argue my case about getting a mattress return.
But the amazing customer service reps at Avocado (I know them by name, now) responded to my email in an hour and said of course I could return my mattress for a full refund.
WOW!
Avocado Green Mattress said that because they were an eco-friendly company, they would prefer the mattress be donated to a charity or a low-income family instead of going to the landfill. If I could arrange for donation to either option (with appropriate paper work and receipts), then I'd be given the refund very quickly.
If you don't know, donating a mattress can be more difficult than you might think. Not a lot of charities are willing to accept used mattresses. It's very much a health and safety issue. However, some state mattress return laws allowed used mattresses to actually be RESOLD if they are sanitized and disinfected.
Avocado Green Mattress does NOT resell used or returned mattresses.
After posting on my Facebook page requesting any leads for mattress donations near where I live, I found a woman's shelter that could pick up the mattress and use it for good. The wait for pick up was 3 weeks, though, which meant that I wouldn't get my refund until the pick up was completed.
If I hadn't been able to find a mattress donation site, Avocado did say they'd help arrange pick up and transportation for alternate disposal.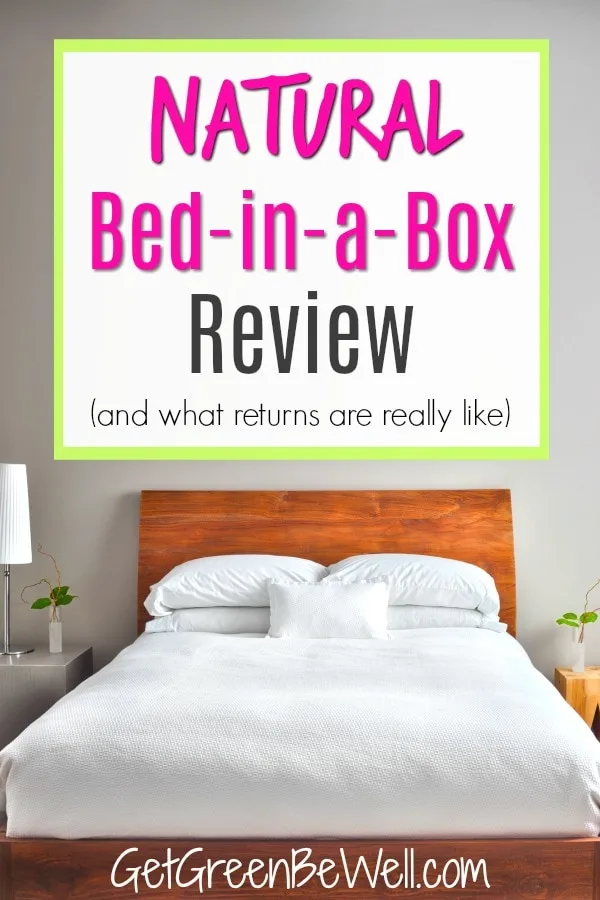 Pros and Cons of Avocado Green Mattress
So, to wrap up, here's what the pros and cons of the natural mattress from Avocado Green were for me.
Pros
CUSTOMER SERVICE IS AWESOME!
All natural materials
Great transparency from the company
Affordable price point compared to other natural bed companies
Great quality craftsmanship
Cons
Length of time to receive mattress
Firmness even with a pillow top
Do you need a new bed? If cost is a concern, check out my helpful tips on how to get a nontoxic mattress on a budget (you might be surprised at some of the tips) and how to make a bed more comfortable for cheap.