Want a non-toxic bed? Who doesn't? When you see the sticker prices for a non-toxic or organic bed, though, it's enough to make you rethink your dreams of healthy sleep.
Trust me. I know. I've been there.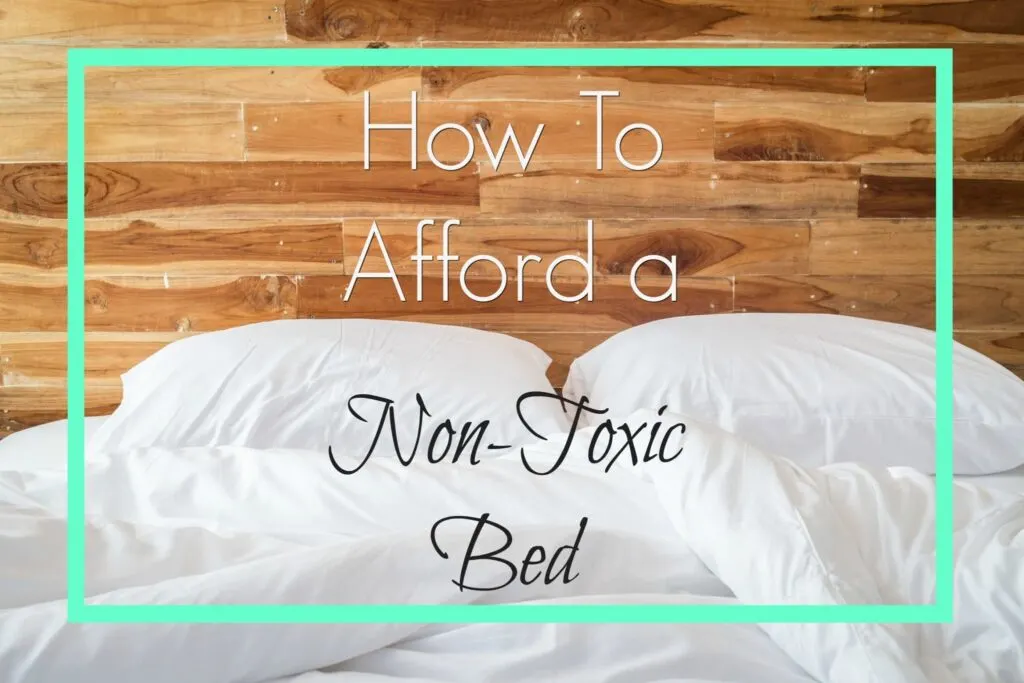 Buying a non-toxic bed or an organic mattress (Not all mattresses use certified organic materials, but can still be non-toxic to your health. That is why I use both terms interchangeably.) is one of the most important ways to create a healthy home.
You sleep in your bed for at least 1/3 of your life. Shouldn't it be toxin-free?
It's easy to be passionate about getting the chemicals out of your bedroom by choosing a more natural mattress. Conventional mattresses are usually made with materials that off gas chemicals (which means they release small amounts of those particles into the air where you are laying and sleeping every night). They are also usually treated with fire retardants, another source of exposure to potentially toxic chemicals.
The answer to buy a chemical-free bed is clear, then, right?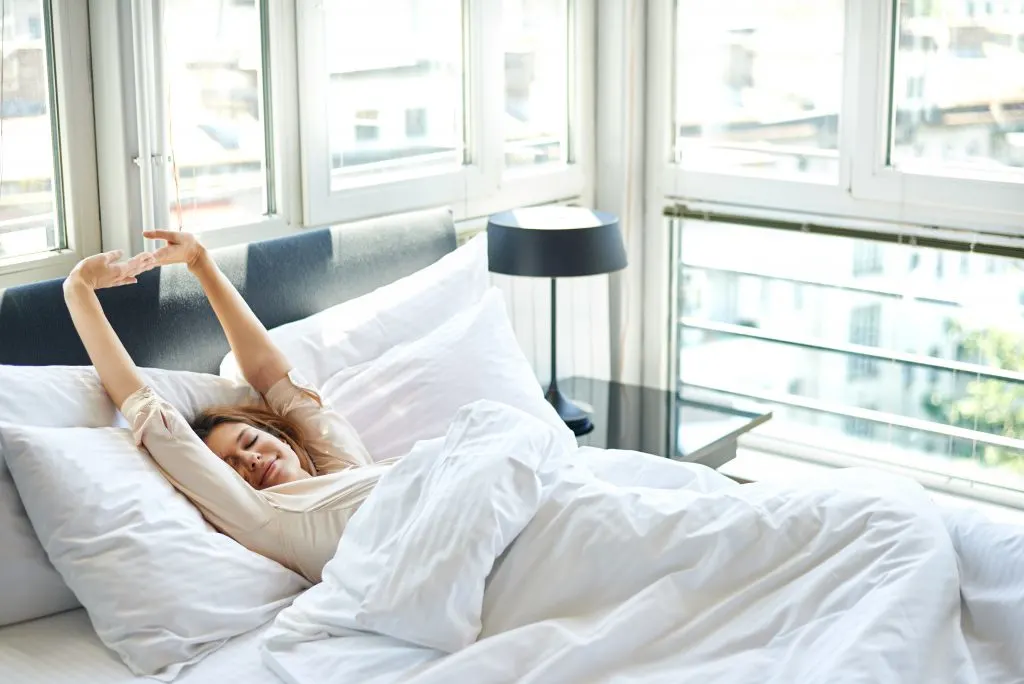 Good luck feeling that way when you start pricing non-toxic mattresses, though.
Because I GUARANTEE you that when you see the price of an organic bed, you will really reconsider whether the toxic exposure of a conventional bed could really be that bad.
The prices can be outrageous. And it's because natural ingredients just cost more than mass-produced, chemical-based ingredients.
A bed is also one of the most expensive investments that you will make in your home. Along with big appliances and some furniture such as a couch. So when you think about the cost of a mattress in general, then add on the extra cost of making it non-toxic or organic, it's enough to make you want to cringe.
There are ways to make a non-toxic bed or organic bed more affordable and cheaper.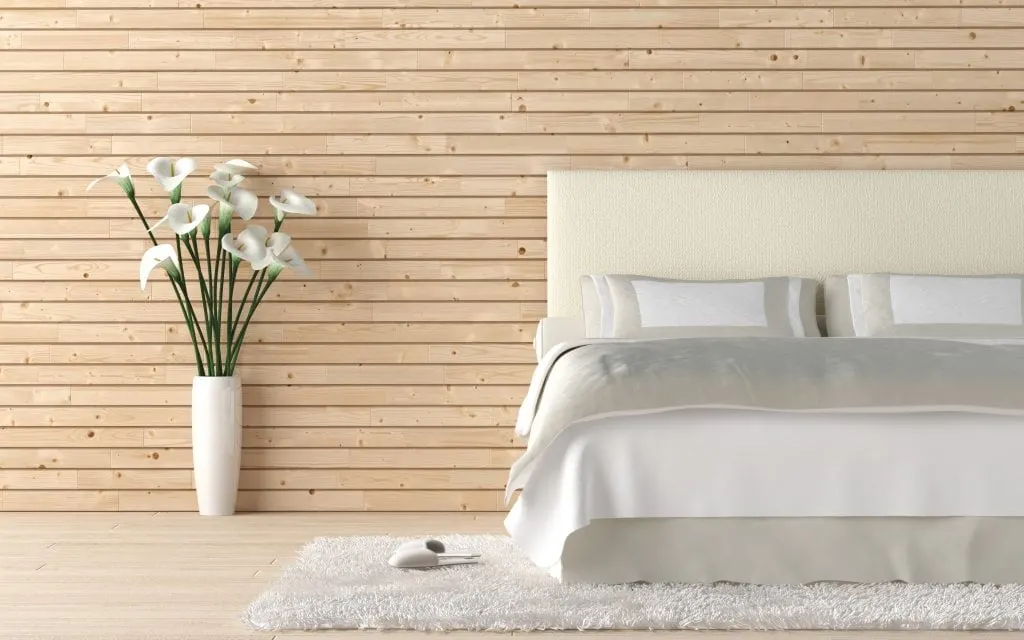 I've tried buying non-toxic bedding at many stages of my life, from just starting out in a new home with no furniture or money (more than a decade ago, when no one was talking about healthier mattresses) to being more established with a little more money to spend (and tons of companies available, yet still more money than I'm comfortable spending). And it always hurt to see the sticker prices. ALWAYS.
So here's how I've saved money buying a non-toxic bed. Pick and choose what options feel right to you. Sweet dreams!
Buy a floor model mattress.
Some people get weird about buying a mattress that has been in a showroom, with people laying on them all day long. I understand. But I didn't care.
I'd done the research many years ago, and knew there was no way that a non-toxic mattress was in my future. Yet my health was fragile, I really needed to clean up my home as much as I could (this was years before I wrote my book, The Everything Guide to a Healthy Home – it's FREE on KindleUnlimited), and I needed a new mattress.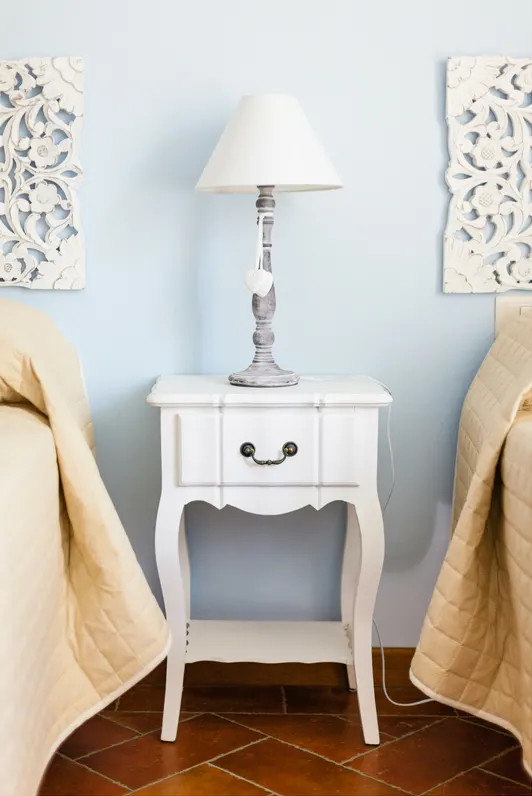 So we went to a conventional mattress showroom and picked out a comfy bed. Then I requested that very same bed that was the display model. The salesperson thought we were crazy. We weren't.
A lot of the off gassing that happens with products happens in the very first few days or weeks when you own it. That's because the item is unwrapped and all of the fumes immediately come off. Think about it. A mattress is wrapped up in plastic wrap with no air ventilation until it is delivered in your home. Where the delivery men immediately open up the plastic wrap – and all of those pent up fumes come into your indoor air.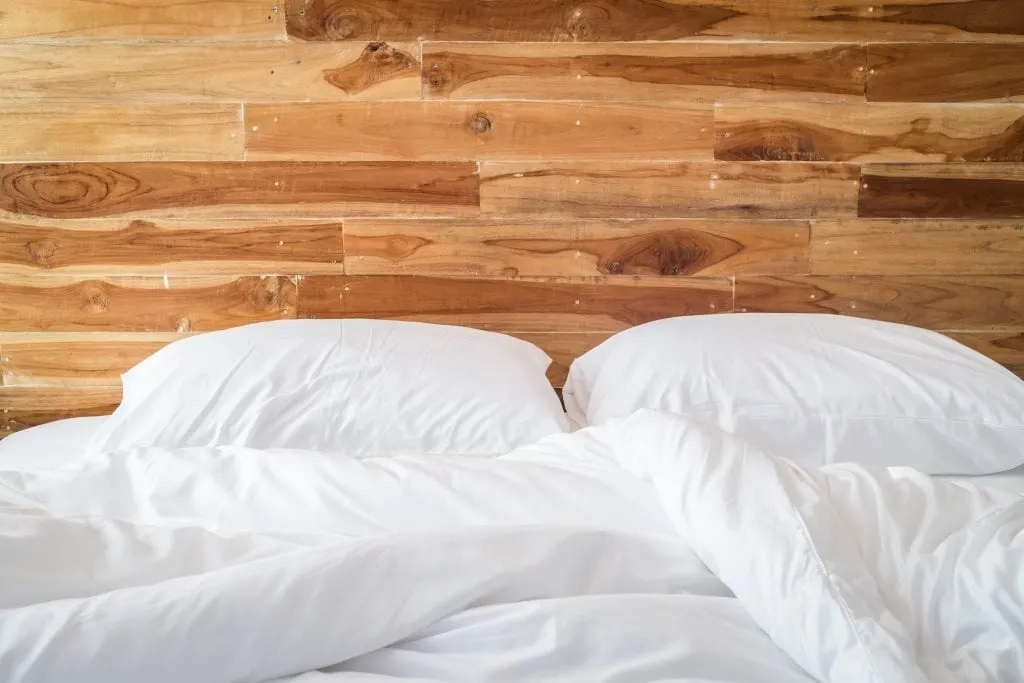 Buying the mattress that has been on a showroom floor has allowed the off gassing to start already. The amount of fumes could definitely be less than if you got it brand new.
We still had bought a conventional mattress at the time (we kept it for almost 10 years) but I wasn't as worried about it off gassing. Yes, there were still particles coming off over time, but I believe that they were less than if it was completely brand new.
Bonus: You'll usually end up saving money by buying the floor model of any type or brand of mattress. Ask the salesperson for a discount.
Choose Non-Toxic Beds Online
Chances are, the non-toxic bed options that you will want are from companies that aren't being sold in your local mattress store.
Organic and natural mattresses are primarily sold from really great companies that you are unfamiliar with and they are mostly sold online. It's a somewhat confusing and overwhelming process trying to choose and order a bed online.
Here are the companies that I recommend and/or use now:
Don't worry about ordering online, though. Some of these companies have amazing return policies with money back guarantees (here's the list of the great ones!).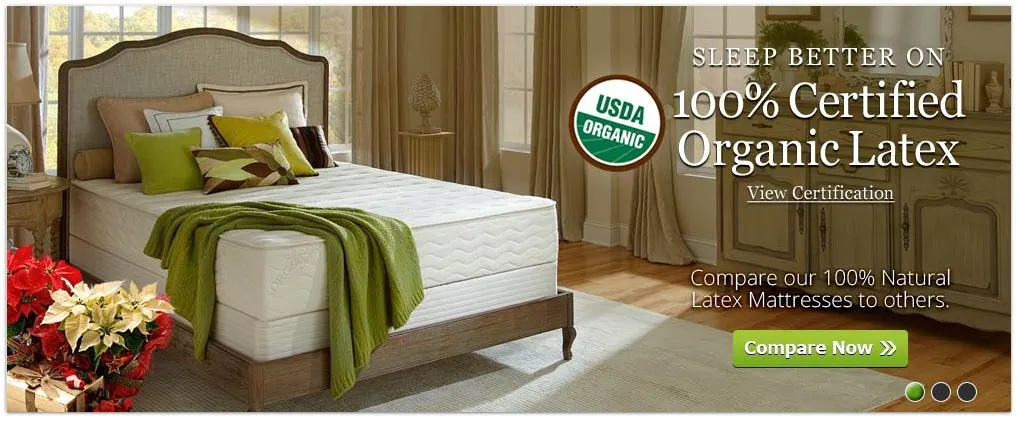 Ordering online cuts out the middleman. These companies are selling direct. So while the cost can still seem a little high, there's no markups from big box retailers or furniture stores.
Visit a Store
Happily, though, there are more stores opening that showcase non-toxic beds!
Essentia has among the most showrooms where you can try out the mattresses and talk with a representative.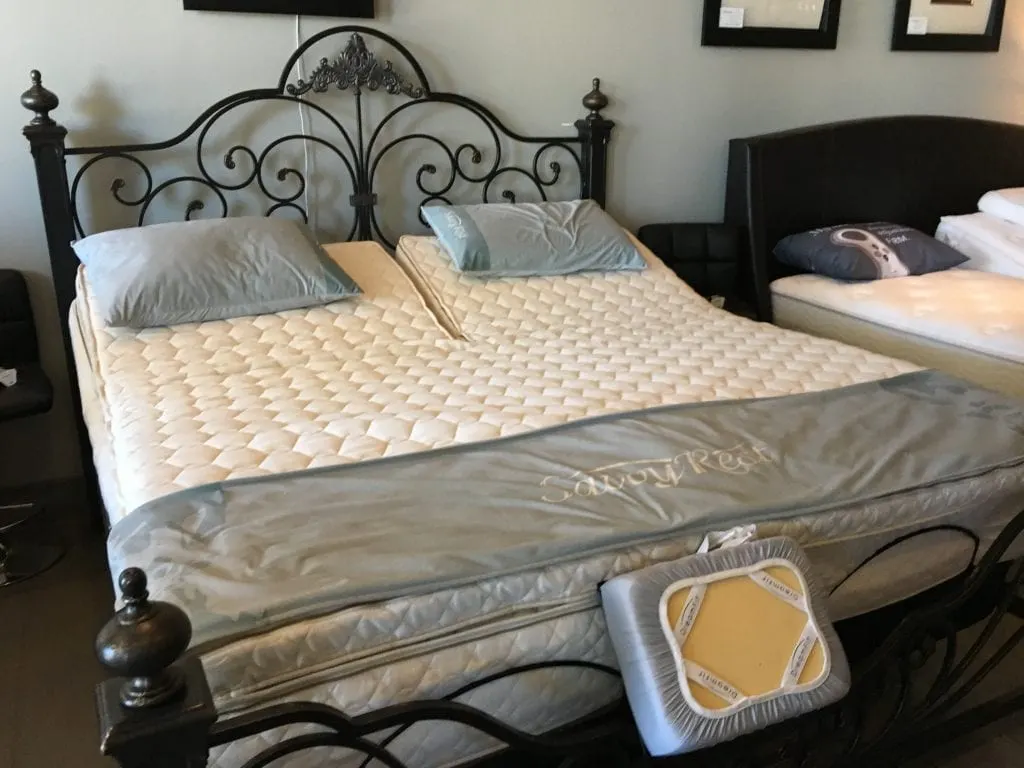 Naturepedic has three stores, and Savvy Rest has four showrooms, along with their products in many retailers across the country including Relax in Comfort stores which can be found around the country (I visited one and took the photo above).
Look for Sales
This one is a huge cost savings!! These online non-toxic bed companies and organic mattress companies have sales frequently. That's a great time to stock up and save lots of money.
No different than big box retailers which offer sales on major holidays.
Essentia frequently has sales. So does PlushBeds, which offers deep discounts, as well as Savvy Rest. Other companies offer major sales once or twice a year as part of a clearance of older models, etc. Tomorrow's World is well known for a major one-time clearance event on their website.
Sometimes the sales are for a discount on their mattresses. Other times you'll score lots of free non-toxic bedding items – such as pillows, mattress covers, sheet sets, etc. – in addition to or in place of a mattress discount.
Use Amazon
Amazon is – surprisingly – a great place to buy a non-toxic bed. You can buy anything on Amazon, and beds are no exception!
One of my favorite companies (and the bed that I currently sleep on) is Sleep on Latex, which offers some of their products (not all) on Amazon.
Naturepedic is also one of my favorites and one that I would recommend whole heartedly and already use (I've got their pillows which I love!) and they sell some of their products on Amazon. Including an organic twin mattress and queen mattress along with a huge selection of crib mattresses and kids mattresses.
PlushBeds is found on Amazon.
Savvy Rest is, too!!!!
Also, if you're looking for a non toxic bed frame made with unfinished solid wood, the one that I use can be bought (cheaply) on Amazon!
Bid or Win
When I was trying to get a Naturepedic EOS King Size mattress that I really wanted after trying it out at ShiftCon eco-wellness conference, I knew that I couldn't afford the price tag (I tried entering their conference giveaway with this cute bunny pajama set, too, but the winner was chosen at random, not on creativity!).
I saw that a mattress was being auctioned for the Environmental Media Association to raise funs for children's educational programs. I tried to win the auction – I was outbid at the very last 10 minutes – but if I had won it would have been a considerable savings on the organic bed.
Often there are contests to win organic mattresses, too. I hosted one for a Naturepedic EOS mattress recently. Always look to see if you can try to win a non-toxic bed!
Get Creative
This has been my trick recently. We left our home in Orlando to travel across the country for a year in an RV. The mattress that comes in an RV is not known for being comfortable or the healthiest.
I had looked into buying a non-toxic RV mattress (the size is different from conventional mattresses) and found these great non-toxic RV mattress options.
However, we weren't sure how much we wanted to invest in an RV mattress, not knowing if we'd like RVing or how long we would be doing it.
My solution was to buy a mattress topper from Sleep on Latex (since I already had their King size mattress and loved it!) to put on the existing mattress in the meantime. This saved money and while it is not ideal, it is the solution that made sense.
I had honestly thought about just cutting down my King sized Sleep on Latex mattress to fit the queen size bed in the RV, but I love this mattress so much that I knew I wanted to keep it for our home later on.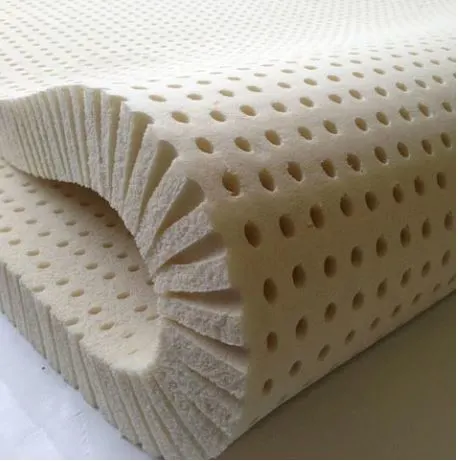 The old mattress is probably still off-gassing underneath, but we open the windows in the RV for 5-8 hours a day so I'm not as concerned about chemicals building up in the indoor air, since there is way more ventilation than our home ever had.
So we bought a 3 inch Sleep on Latex mattress topper (I like the medium firmness, which is what my mattress at home was, too) and rolled it out over the existing mattress. The mattress topper will need to be trimmed about 5 inches to make it RV size (Found out from experience that scissors and a box cutter won't work to do this. We'll need to use an electric knife like you use for carving turkey to cut through the foam.)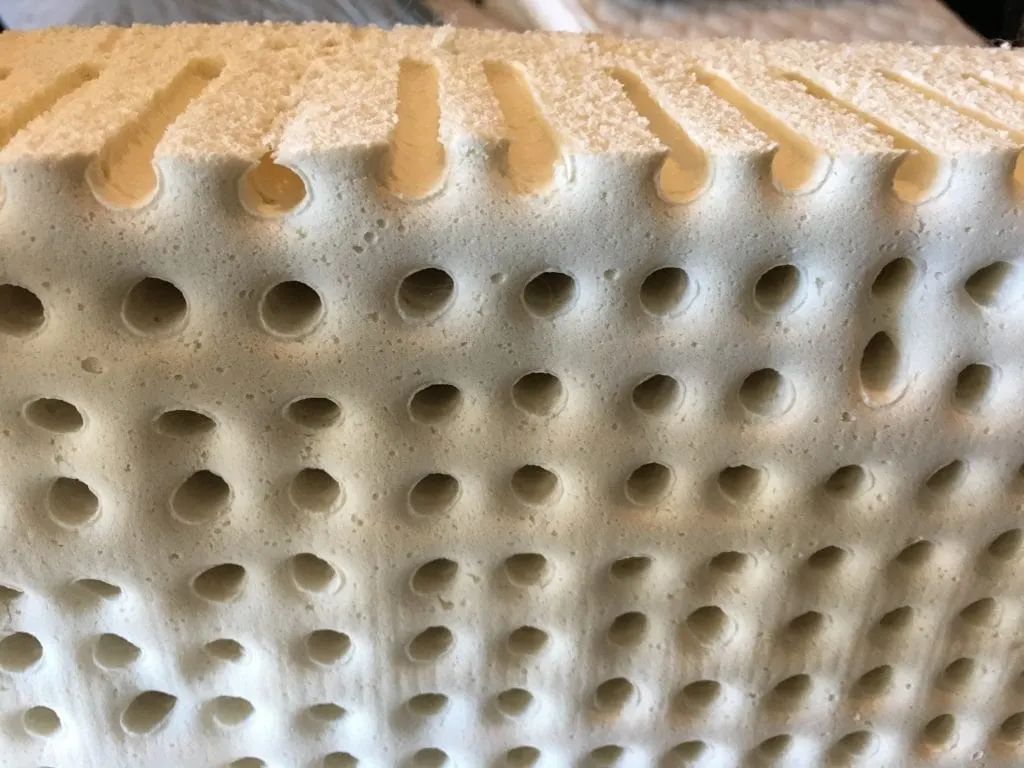 Using a mattress topper to create a more comfortable bed cost around $300, rather than the $800 or so to buy the eco-friendly RV mattress from PlushBeds (they had traditional RV mattresses for about half that price, but I wanted the low VOC options if I was going to buy one).
The bed is now unbelievably comfortable, though!!! I am super impressed with how awesome the topper worked!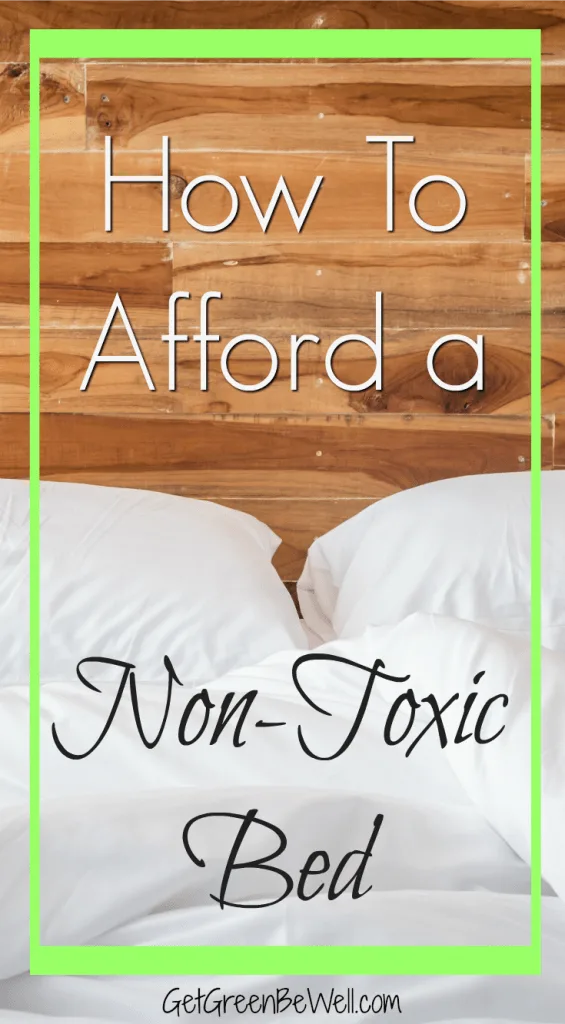 You could do the same thing, too, for your situation. Instead of a brand new mattress, consider using multiple mattress toppers. Or just a mattress topper on a frame instead of a mattress. I know many people that are chemical sensitive use just futons instead of mattresses to save money on chemical-free bedding.
Saving money on a non-toxic bed or organic bed is possible! Use these tips for budget-friendly bedding and mattresses that are chemical-free and create a healthy home.