One of the biggest reasons we love Fall is because of the scents of the season, and this Apple Cinnamon Potpourri Crock Pot Recipe is sure to make you happy this autumn!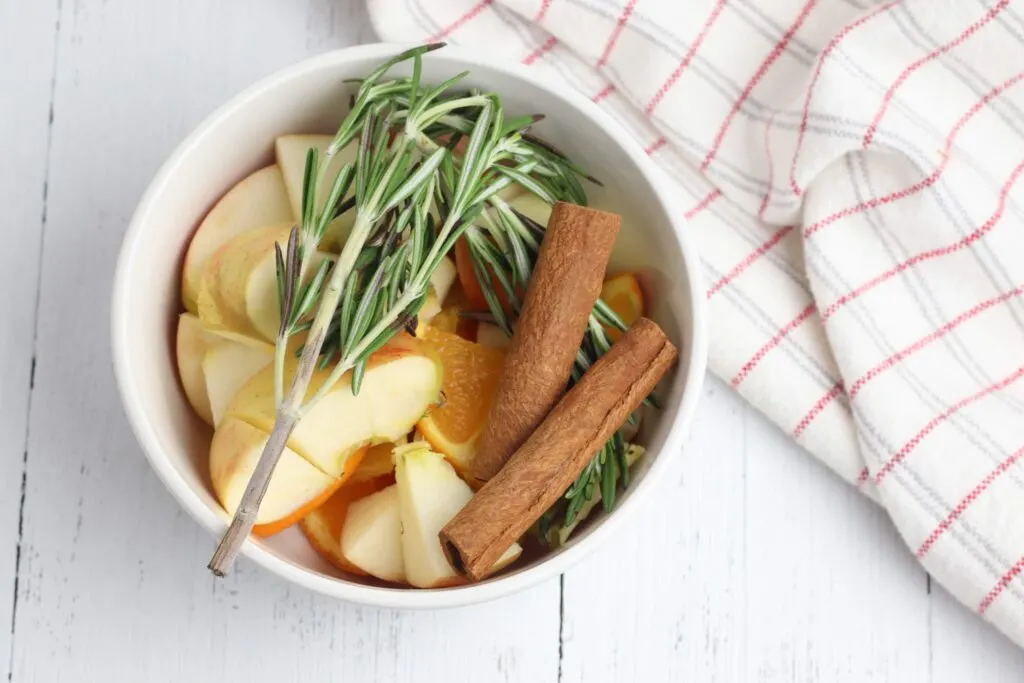 If you've ever wondered how to make homemade potpourri with apples, then read on!
Using all natural ingredients, this homemade potpourri recipe allows you to simmer the smells of Fall all day long in a crock pot. Although this apple cinnamon potpourri recipe works just as well as a stovetop potpourri, too!
Natural Fall Fragrance
All too often, the fragrances that we smell in Fall in artificial. And artificial fragrances aren't great to breathe into your body.
Why?
Because artificial fragrances are comprised of lots of different chemicals. In fact, the term fragrance can mean more than 1,000 different chemicals are used in the one ingredient.
And many of those chemicals have phthalates, which are considered to be endocrine disruptors. Phthalates can get in your body and start attaching themselves just like hormones into your body's normal rhythms. Then your body is thrown off balance, whether it's female hormonal issues, insulin resistance, sleep patterns, etc.
Which is why it's ALWAYS BEST to choose ALL NATURAL FRAGRANCES for your home (and your personal care products, too).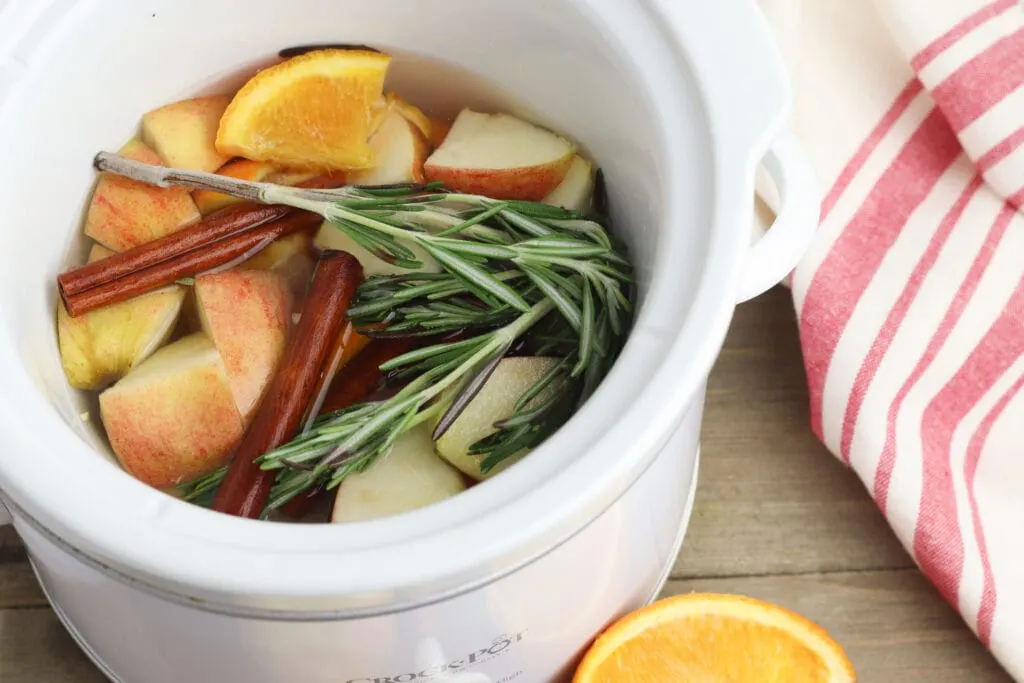 In addition to this Crock Pot potpourri in your home, consider adding even more natural fall fragrances, too. You might like this pumpkin spice potpourri simmer pot recipe, too! Plus, you can reuse the ingredients to make layered pumpkin cheesecake bars.
Our natural cinnamon pine cones are not only beautiful to look at, but there is a gentle cinnamon scent that lingers in the air.
These scented wax sachets can be customized to any fragrance you like. Hang them in your home or in a closet.
When cleaning your home, use this Pumpkin Spice cleaner to refresh your carpets and floors (it also makes a great scented scrubbing powder, too).
Making Apple Cinnamon Potpourri in a Crock Pot
It's so easy to make Crock Pot potpourri!
All you need is a Crock Pot (we like this simple, small, white Crock Pot that blends nicely with home decor), some fresh fruit and herbs, and water. It really is that simple.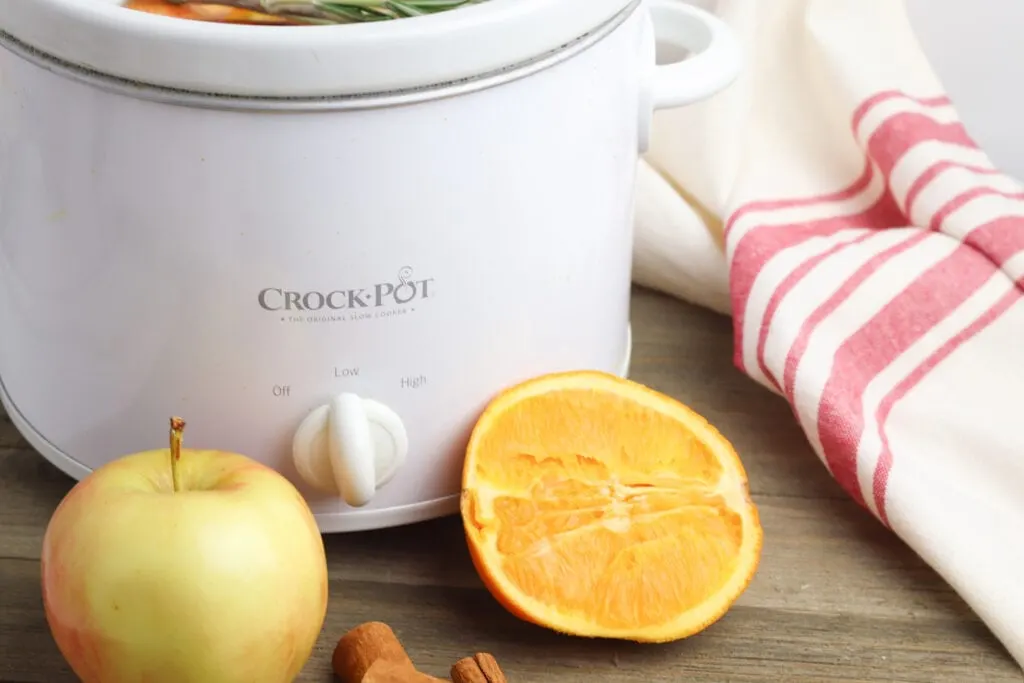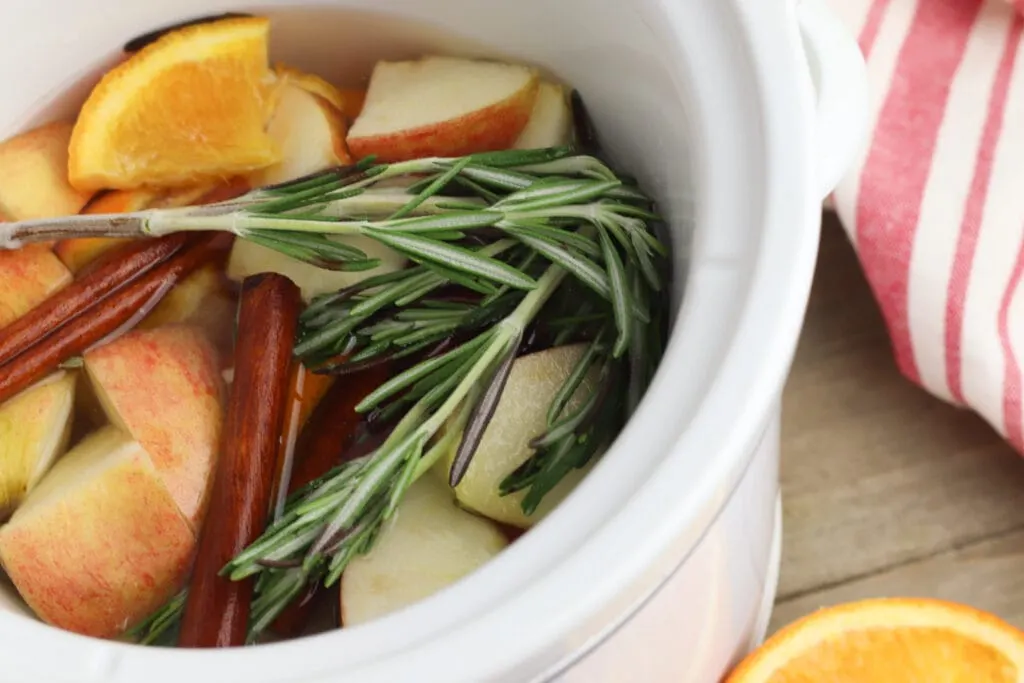 Allowing fruits, herbs and plants to simmer in water at a high heat releases their natural fragrances. And those fragrances will waft through your home.
During the Fall, it's so comforting to smell the delicious smell that's reminiscent of apple pie while you're curled up on the couch watching TV or working on chores.
The key to making a great Crock Pot potpourri is to cut some of the ingredients into small chunks. This allows for more surface area to release the fragrance.
For instance, you wouldn't want to add a whole apple or a whole orange to the apple cinnamon potpourri recipe. Cutting the fruits into small pieces allows more surface area to be exposed to the simmering water, while also starting to release the fragrant juices.
Do not peel the fruits, though. A lot of the natural fragrance can be found in the peels, skins and rinds of fruit.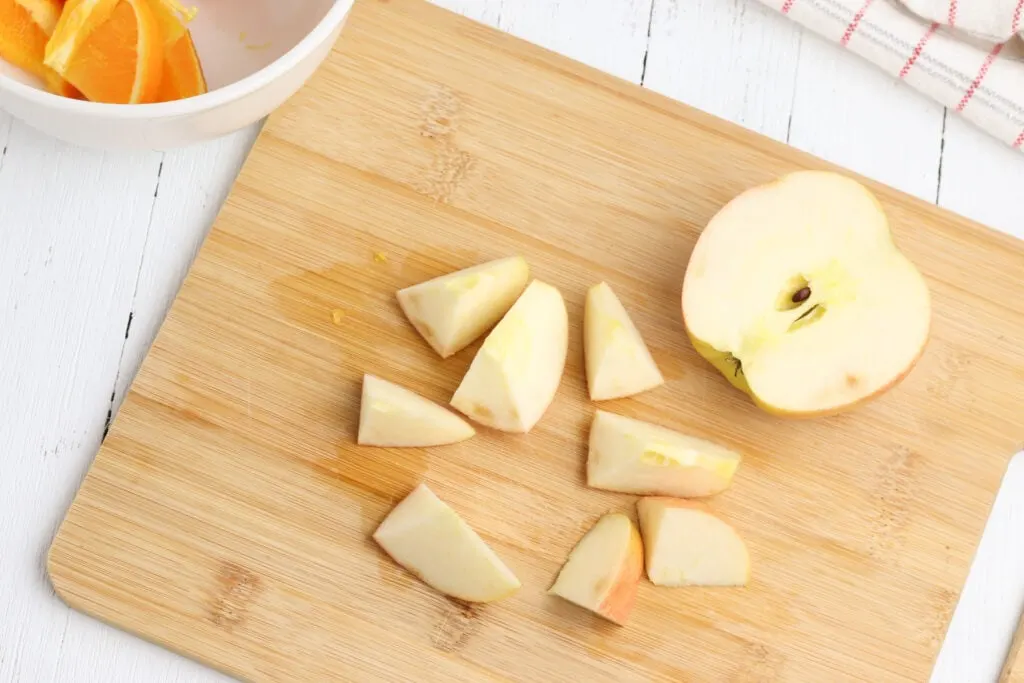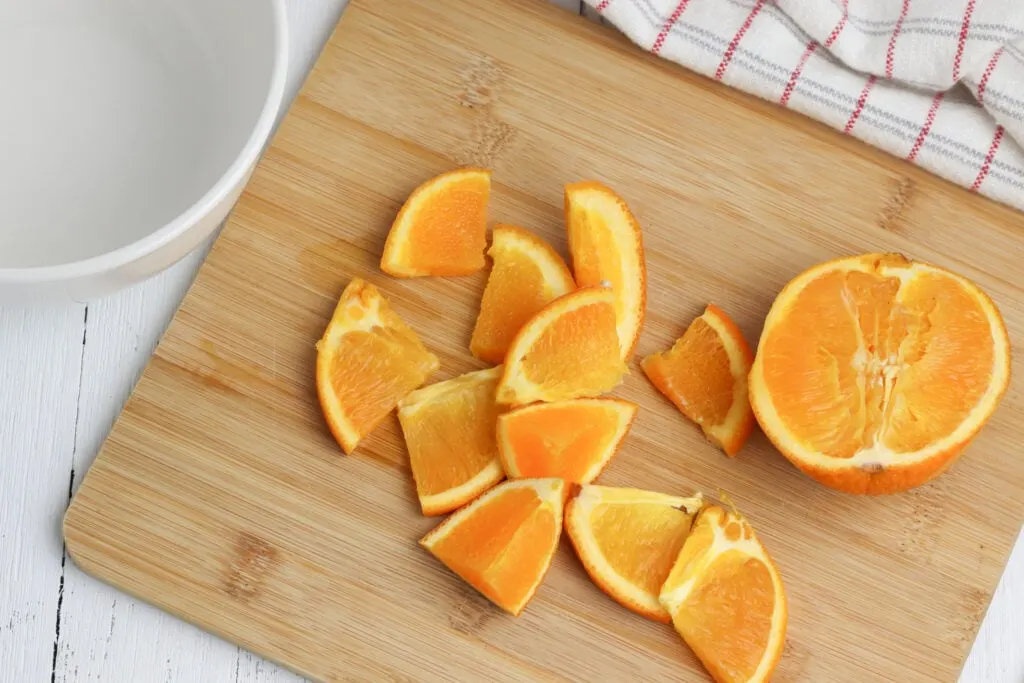 The rosemary and cinnamon sticks can be broken up into smaller pieces, if you'd like. However, it's not as necessary, since the natural fragrance of these herbs and spices are so potent that they are strong while simmering.
Be sure to Pin this recipe on a potpourri or Fall board so that you can remember it!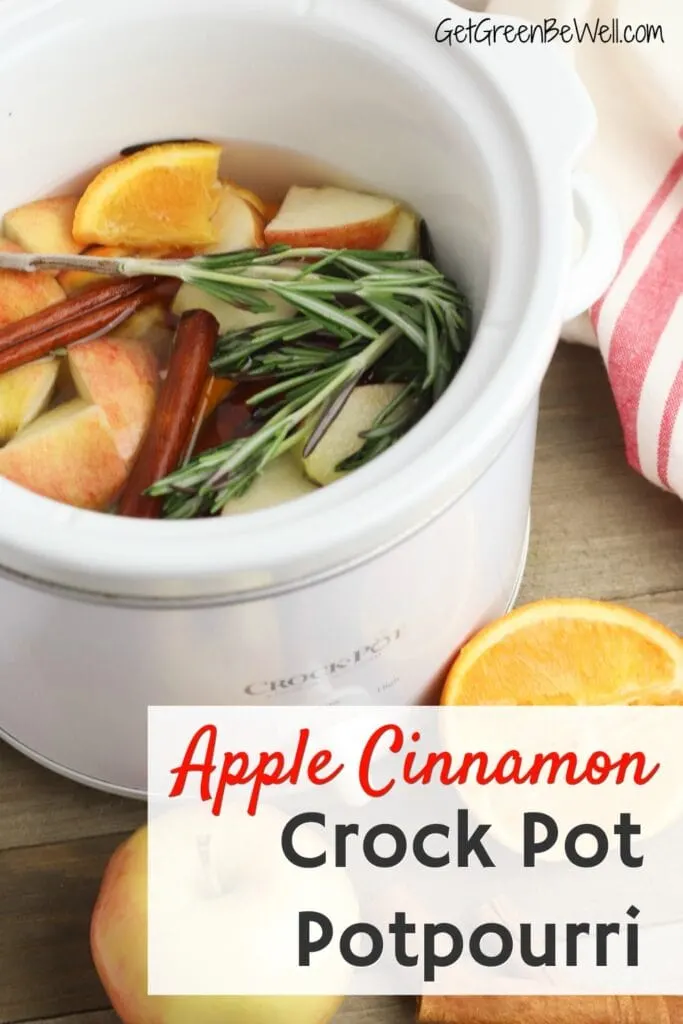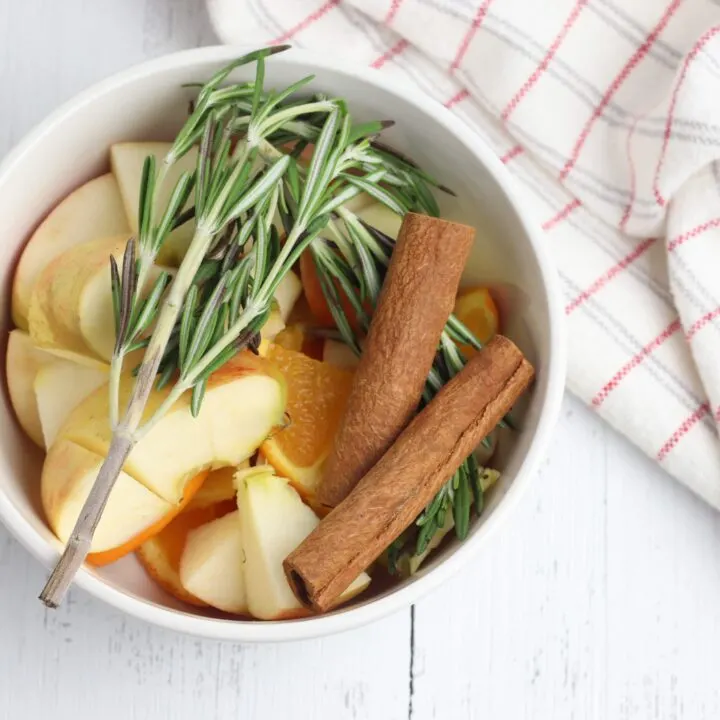 Apple Cinnamon Potpourri Crock Pot Recipe
Apple cinnamon potpourri will waft through the air when you use this homemade crockpot potpourri recipe. Perfect for Fall and Autumn to delicately scent your home with natural fragrances.
Materials
1 orange, cut into chunks
1 apple, cut into chunks
Sprig of rosemary
3 cinnamon sticks
Water
Instructions
Place apple, orange, rosemary and cinnamon sticks into the bowl of a slow cooker (Crock Pot). Fill with water to cover all of the ingredients.
Turn the slow cooker on high and allow to cook with the lid off.
Add more water to slow cooker as needed.
Notes
Keep in mind, you won't enjoy this homemade apple cinnamon potpourri unless you leave the lif off of the slow cooker! This is unlike cooking recipes where you would likely keep the lid on.
These ingredients can be composted after using.
Recommended Products
As an Amazon Associate I earn from qualifying purchases. I earn from other affiliate programs, as well.
More Simmering Potpourri Recipes
If you love how easy it is to naturally add fragrance to your home with simmering potpourri, then you've got to check out more of our homemade potpourri recipes!
Enjoy a warm, comforting coffee aroma with this coffee smell air freshener that can help you reuse coffee grounds.
The fresh, bright smells of Spring will waft through your home with this beautiful Lemon Lavender Herb Simmer Pot.
For a crisp floral fragrance, try our Rose Eucalyptus Simmering Potpourri.
When it's winter holiday time, try this Christmas stovetop potpourri which is absolutely beautiful simmering while you are entertaining!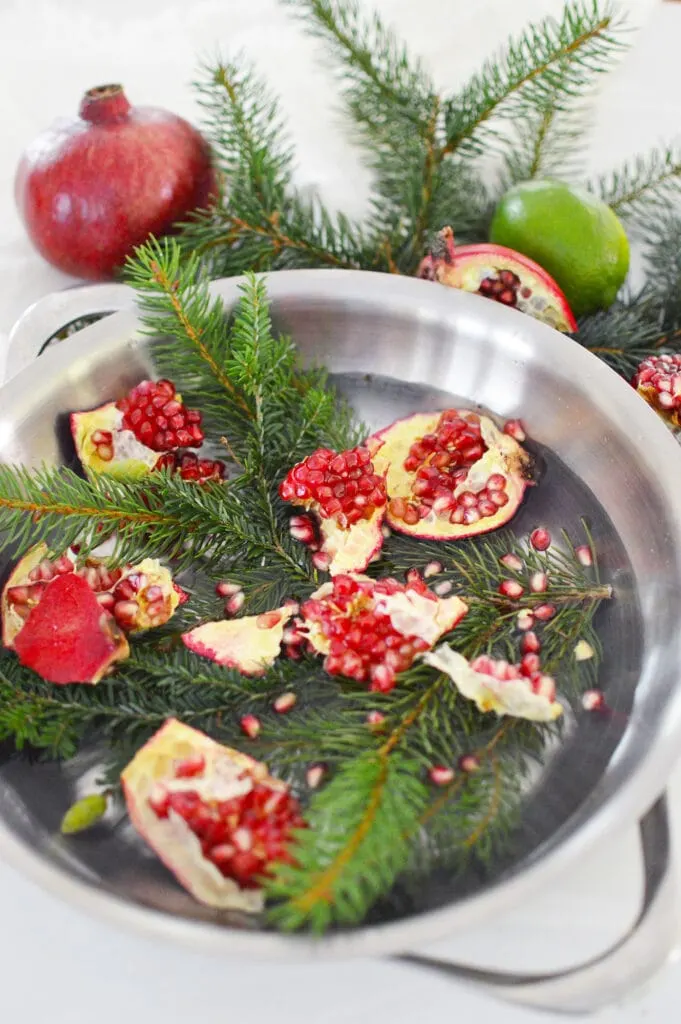 Or give the gift of natural home fragrance with these Christmas potpourri in a jar gifts.