If you want to naturally scent your home to smell like the holidays, add this Christmas Stovetop Potpourri recipe to your holiday plans!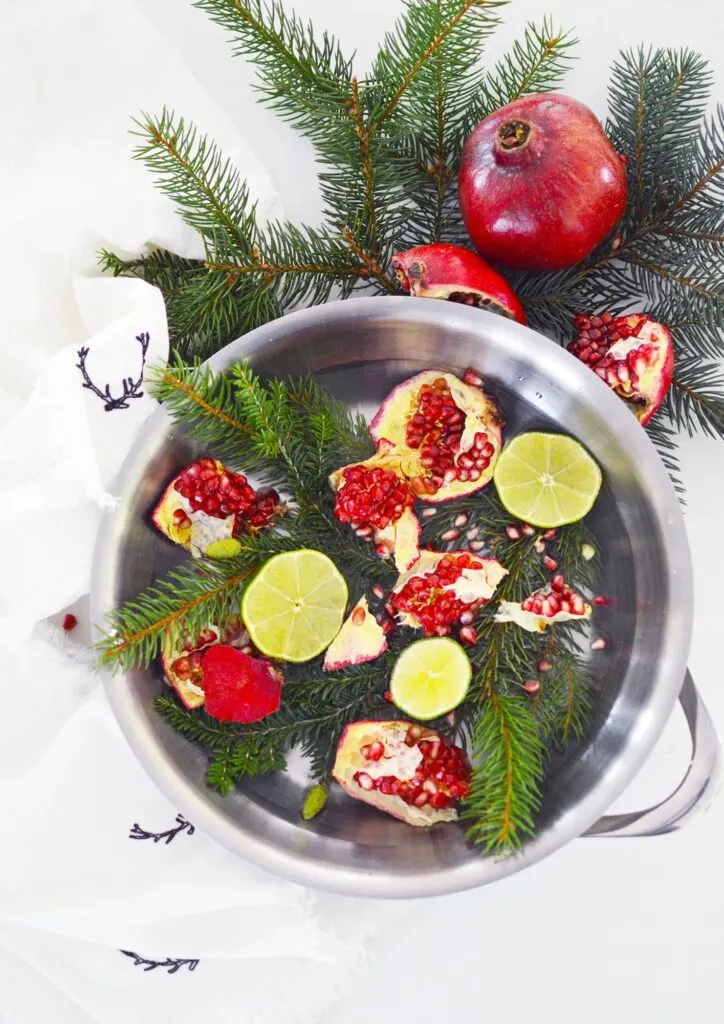 DIY Christmas Simmering Potpourri
Warm and comforting smells wafting through the air make it feel like Christmas, no matter what the weather's like outside.
So whether you live in the South where it's 80 degrees in December, or you are hunkered down inside against the cold, this fragrant Christmas Stovetop Potpourri recipe will wrap you in the Christmas spirit!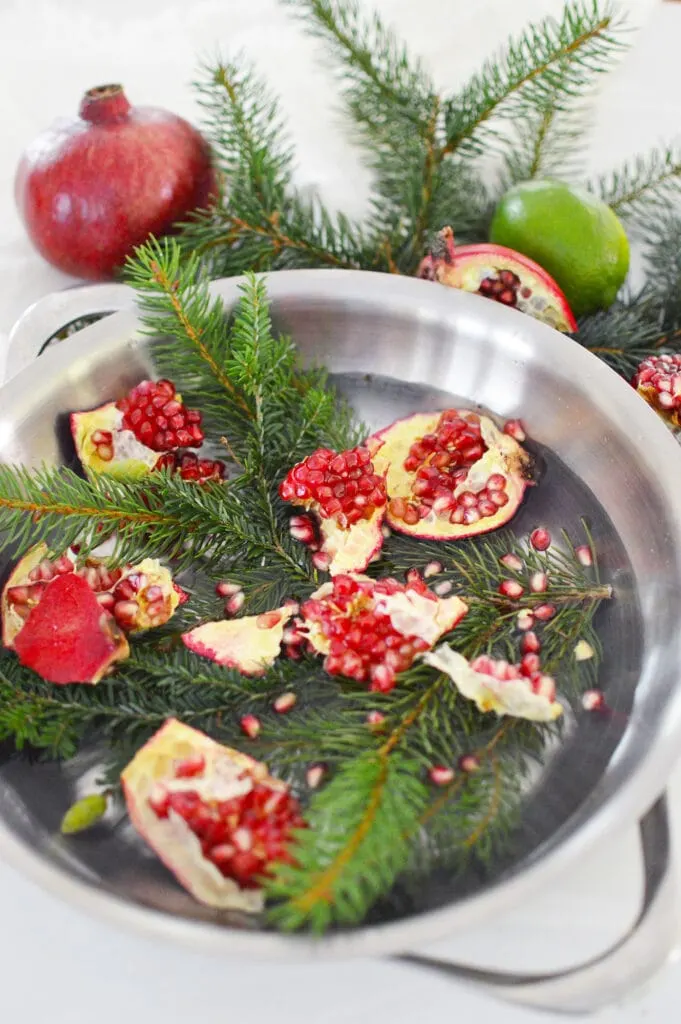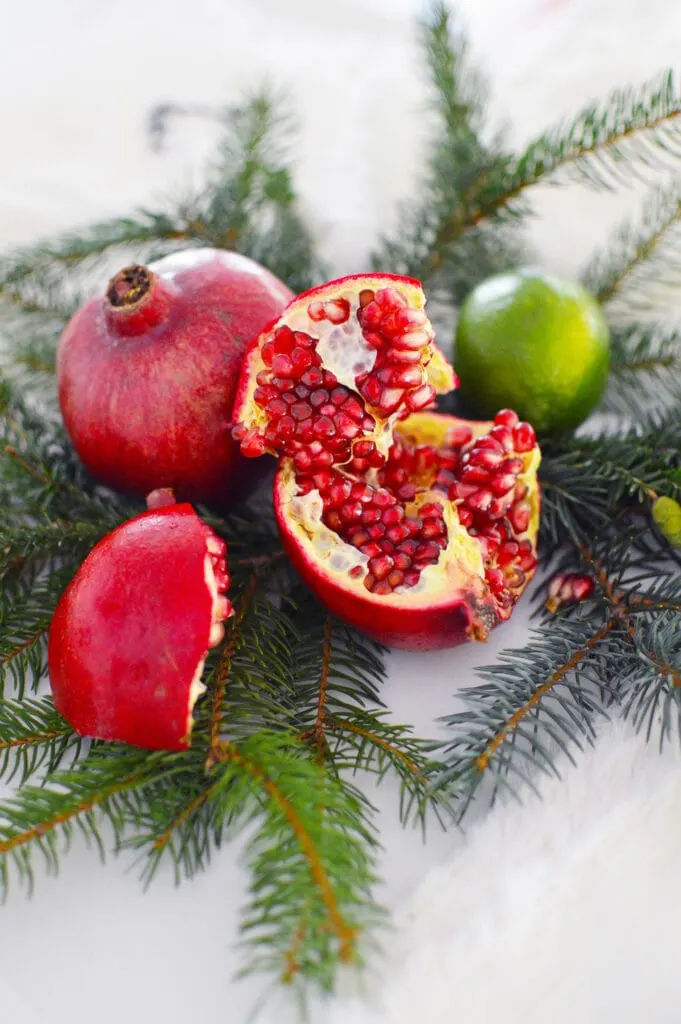 The wonderful thing about DIY potpourri recipes are that they use foods, spices and plants to naturally fragrance your home.
Plus, they look absolutely gorgeous on your stovetop! Especially if friends or family gather together with you in the kitchen.
Which means these natural air fresheners deliver a comforting aroma without the worry of toxic chemicals floating through the air and being inhaled into your body.
You might also like diffusing my homemade gingerbread essential oil blend, too!
The Nasty Problem with Artificial Air Fresheners
Adding fragrance to the air inside your home isn't a problem. But adding fragrance with chemical-based air fresheners can be.
Anything that is in your home's indoor air is inhaled into your lungs. You can't escape that fact.
If you are adding chemicals into your air as artificial fragrance sprays or potpourri, then those chemicals will be inhaled into your body.
Often, artificial fragrances are made with substances called phthalates. These chemicals are what help the fragrance stay in the air and fragrance your home.
However, those fragrance helpers are known to wreck havoc with your health. Problems such as endocrine disruption (which means estrogen and testosterone, along with insulin and thyroid) are linked to phthalates.
Which means you DON'T want to inhale those substances if you can choose not to.
And with DIY potpourri recipes to naturally fragrance your home, you don't have to allow chemicals from artificial room fresheners to be in your home's indoor air.
Christmas Stovetop Potpourri Recipe
This natural potpourri is easy to make. Just add ingredients and water! Plus, all of the ingredients can be composted afterwards, creating a zero waste potpourri.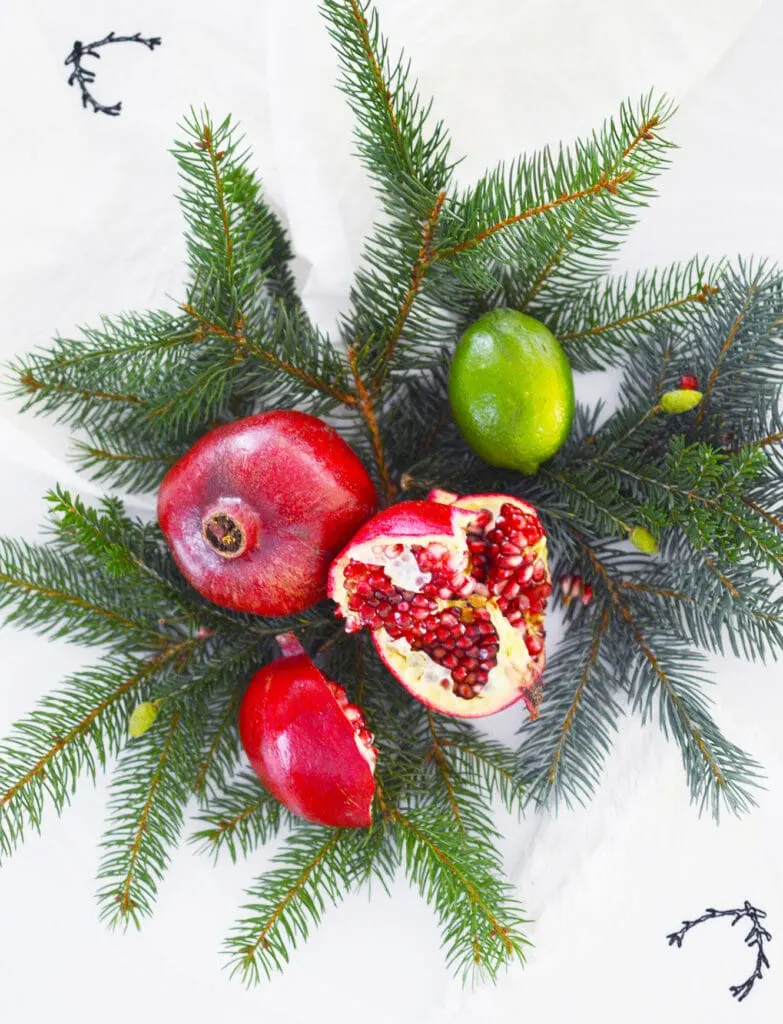 Ingredients
1 small to medium pomegranate (frozen could also work well if pomegranates are not in season or unavailable)
1 small to medium lime
Fresh evergreens
6 cups of filtered water
These ingredients are all flexible, you may change the amounts or swap out citrus fruits for another to best fit your preferences.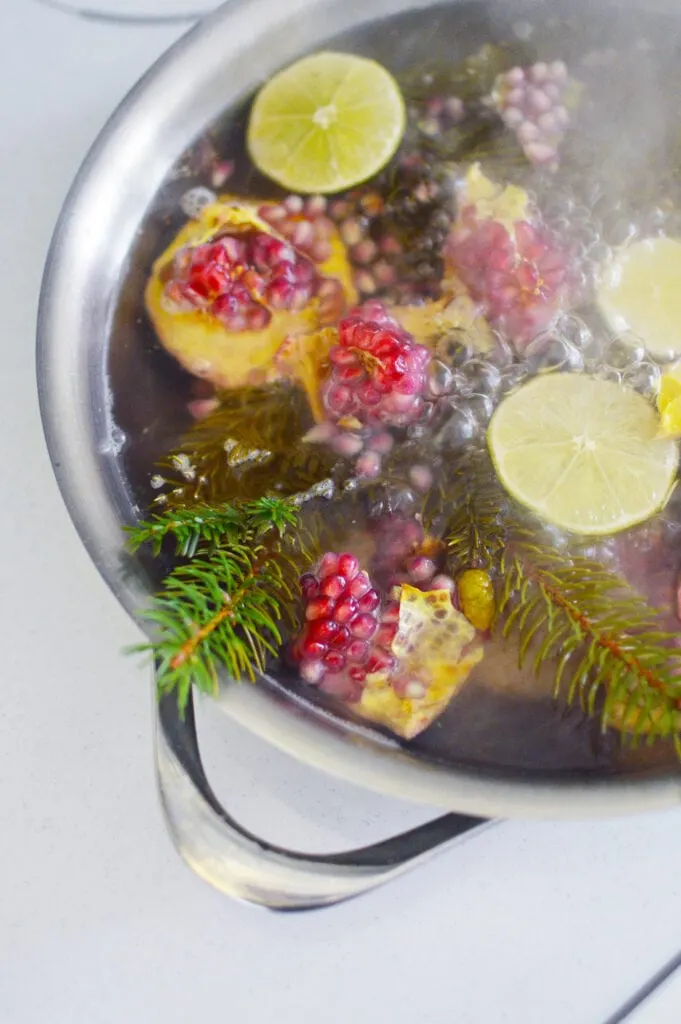 Directions
Rinse the evergreens to remove any dirt or debris. Place them in the bottom of the pot.
Break open the pomegranate and sprinkle on top of the greens.
Slice the lime or citrus into rounds and set into the water.
Bring the entire pot to a boil and then turn it down to a simmer for about one to two hours.
Keep an eye on the pot to ensure it has enough water at all times.
When you are done, the ingredients can be left in the pot to use again with in a day, or transferred to your compost.

More Stovetop Potpourri Recipes
We love natural air fresheners at home. Especially when it comes from food-safe ingredients and no toxic artificial fragrances.
These Christmas potpourri in a jar gifts are great for hostess gifts, neighbor gifts, and perfect for friends, family and co-workers.
This Apple Cinnamon Potpourri Crock Pot recipe also has wonderful Christmas-time scents, and can be made in a stovetop pot, too.
Or maybe you want to enjoy a Pumpkin Spice Potpourri Simmer Pot which is perfect for replicating the cozy smells of pumpkin pies baking in the oven.
In the Spring, consider this delightful Rose Eucalyptus Simmering Potpourri.
Or our fragrant Lemon Lavender Herb Simmer Pot has all of the bright notes and natural fragrance of sunshine and warmer days.
All year round, this coffee smell air freshener is comforting and cozy. Plus, it is a great way to reuse coffee grounds.