A natural and homemade stovetop potpourri recipe with the calming aromatherapy of citrus, lavender and herbs. This simmering pot is an easy DIY air freshener!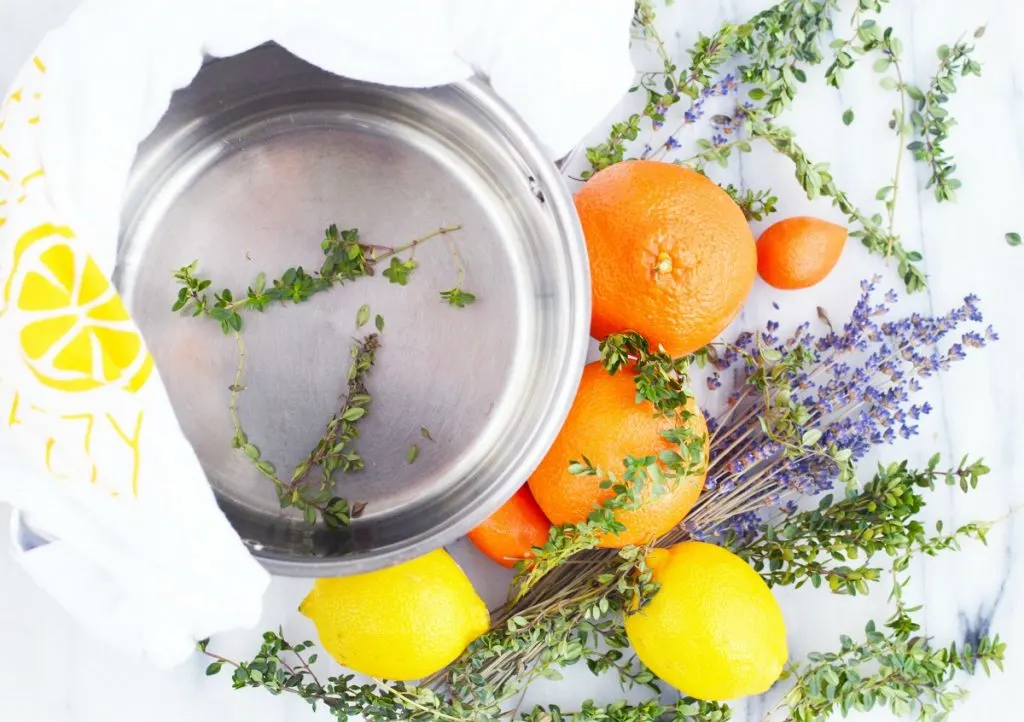 Finding a natural air freshener can feel like a challenge. But it doesn't have to be! Especially when you have an easy stovetop potpourri recipe using all natural ingredients.
The Importance of a Natural Air Freshener
Fragrance has been scientifically proven to alter human brain function, including how well you think, your mood, and social behavior.
So adding fragrance to your home can be a very good thing.
But not all fragrance is created equally. If you reach for an air freshener that you buy at the store, you might not realize that it could be negatively impacting your health.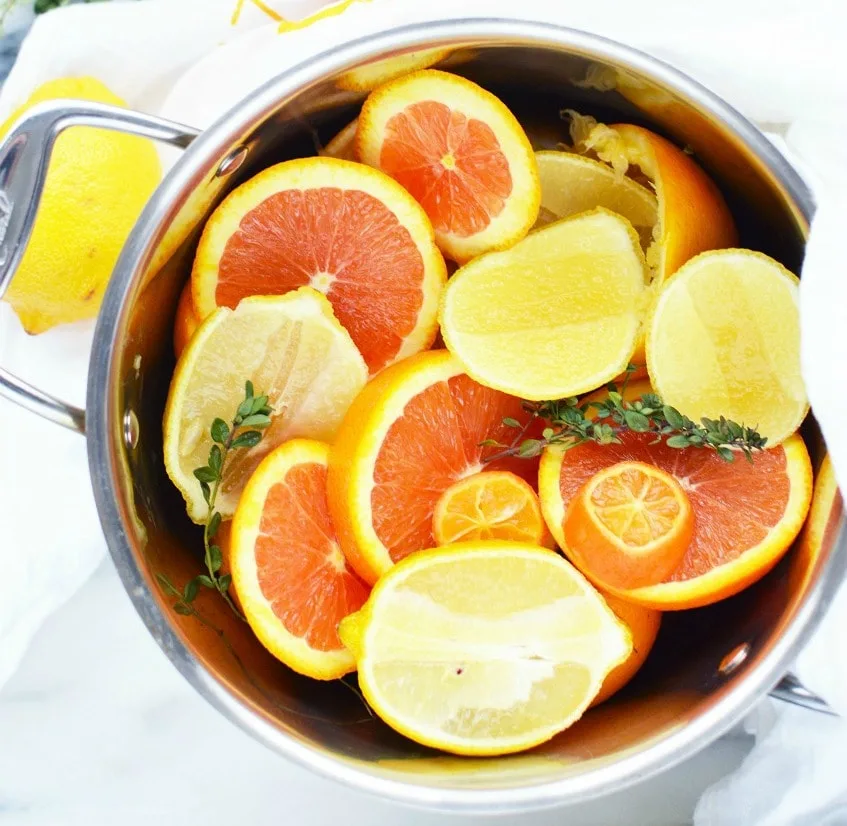 Sure, you want to get rid of odors. Or maybe you just love the calming or energizing effects of aromatherapy. But you don't want to do it by inhaling potentially toxic chemicals.
Lots of air fresheners that you buy on the shelf at a big store are made with synthetic ingredients and artificial fragrances.
The problem with ingredients in store-bought air fresheners is that they are made with lots of chemicals that haven't been tested for long-term human health.
And by inhaling those chemicals, they go straight into your body and directly into your lungs. In fact, the effect of fragrance in your body is so powerful, inhaled molecules of essential oils (such as the natural oils that come off of fresh ingredients in stove top potpourri recipes) will pass the blood-brain barrier in your body. That means that whatever you smell actually enters your brain!
Crazy true.
A DIY air freshener uses only the ingredients you feel safe using. Plus, those ingredients are generally food and herbs. Which means if you're okay with eating these ingredients, then you should feel good about using them in air fresheners that you inhale, too.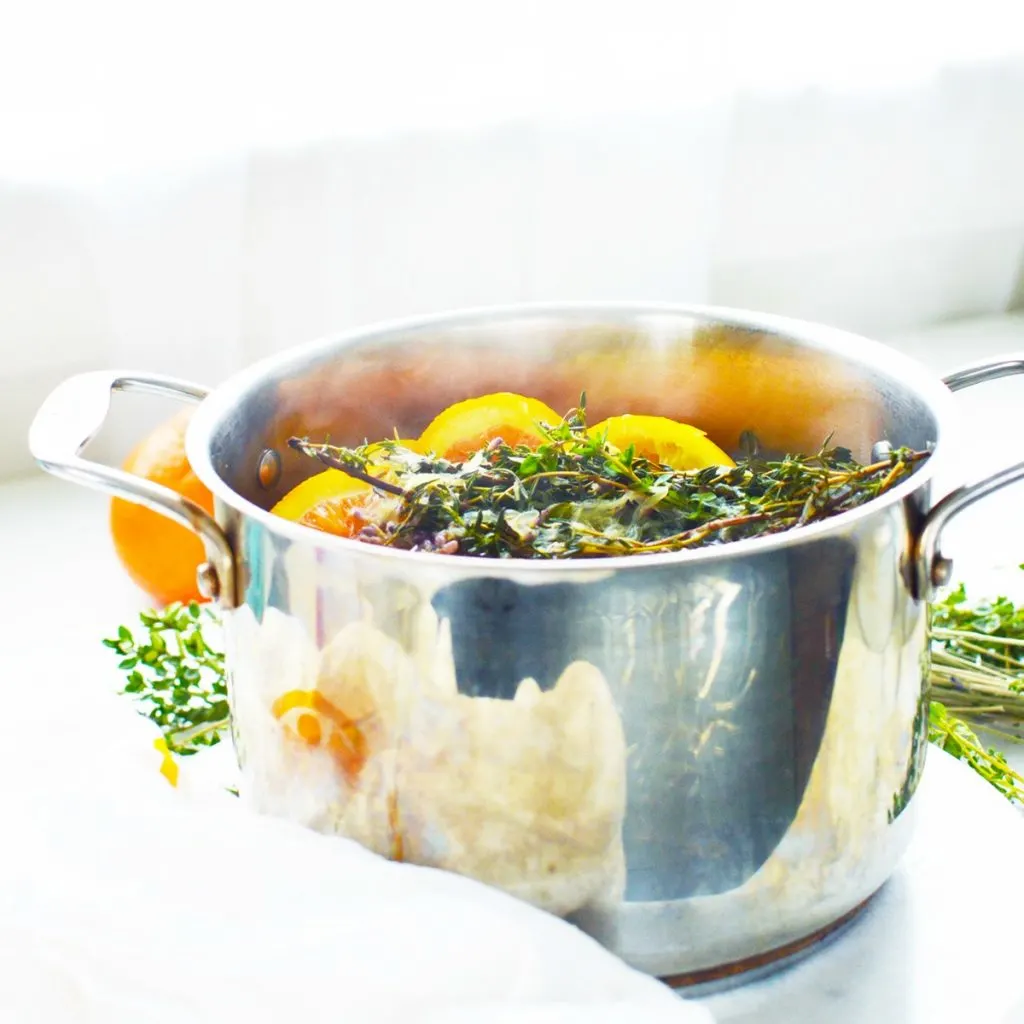 If you're wondering how to remove odors in parts of the home where simmering potpourri is not possible, check out how to deodorize your closet naturally, how to get rid of odors in your refrigerator and how to remove odor in a car.
Plus, our recipe for DIY Natural Odor Eliminator uses essential oils for a quick and easy room spray.
How do you Make Simmering Potpourri?
Homemade simmering potpourri is easier than you might think. Which makes it a great idea for naturally getting rid of odors in your home quickly, without having to make an air freshener or buy an air deodorizer.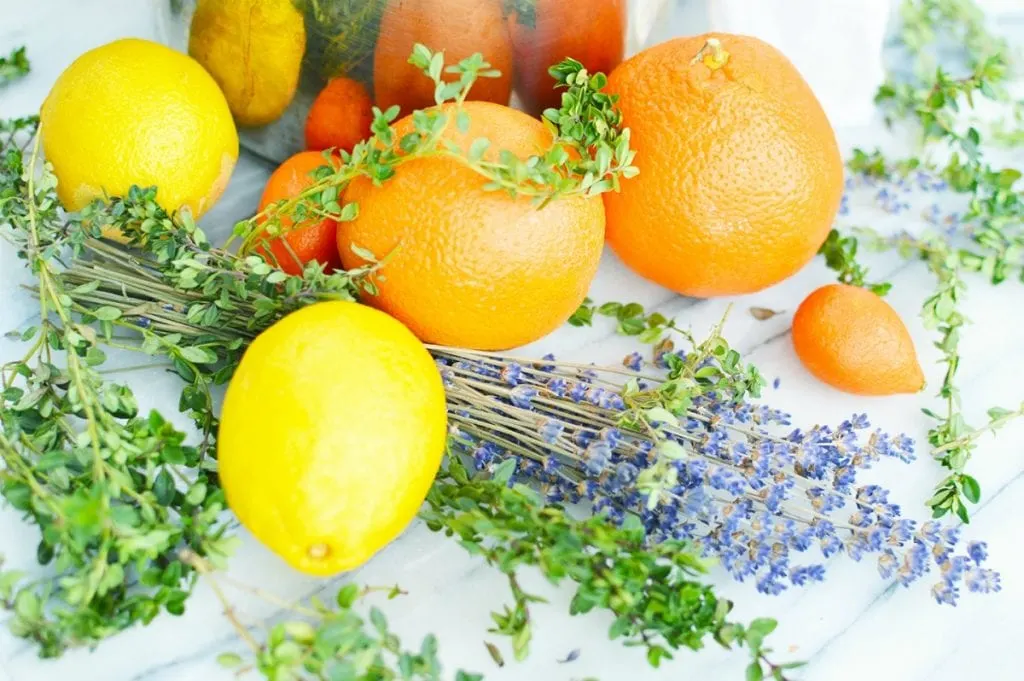 To make simmering potpourri, you will want natural ingredients such as:
Herbs (sage, thyme, rosemary, etc.)
Fruits (lemon, orange, apple, cranberries, etc.)
Flowers (roses, lavender, etc.)
Spices (cinnamon, ginger, clove, etc.)
You will add these aromatherapy ingredients into a pot of water. It's kind of like making a soup stock or broth.
Letting these natural ingredients simmer will release their fragrances into the air, creating a natural air freshener.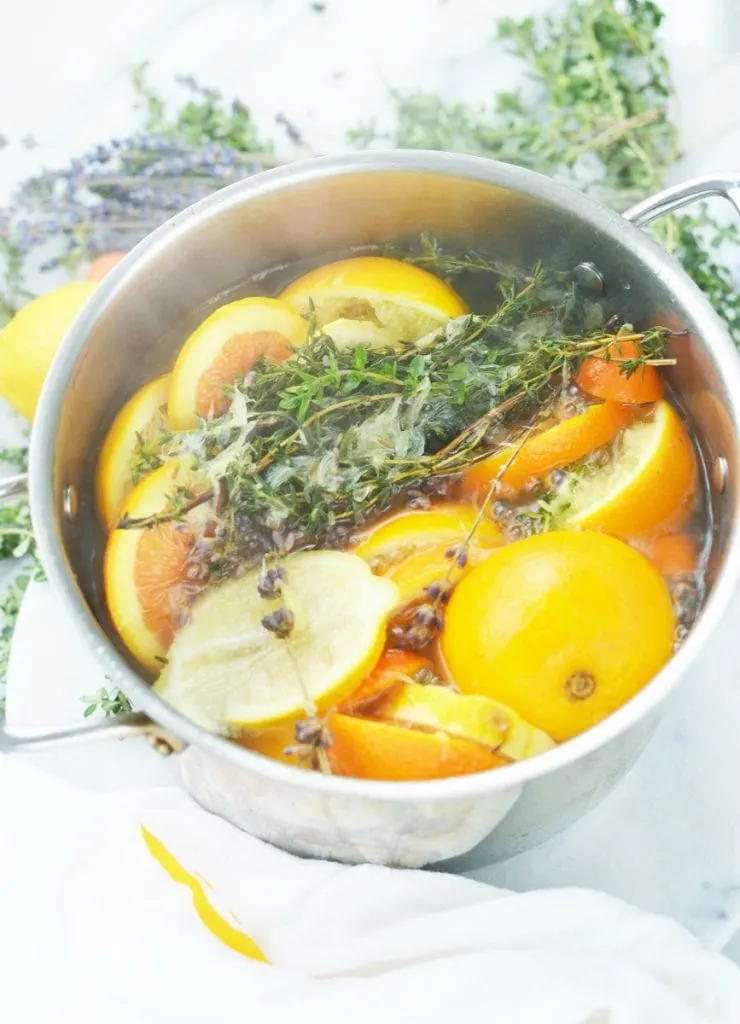 It's not hard to make a simmering potpourri. If you can boil water, then you can make a simmer pot!
Lemon Lavender Herb Simmer Pot Recipe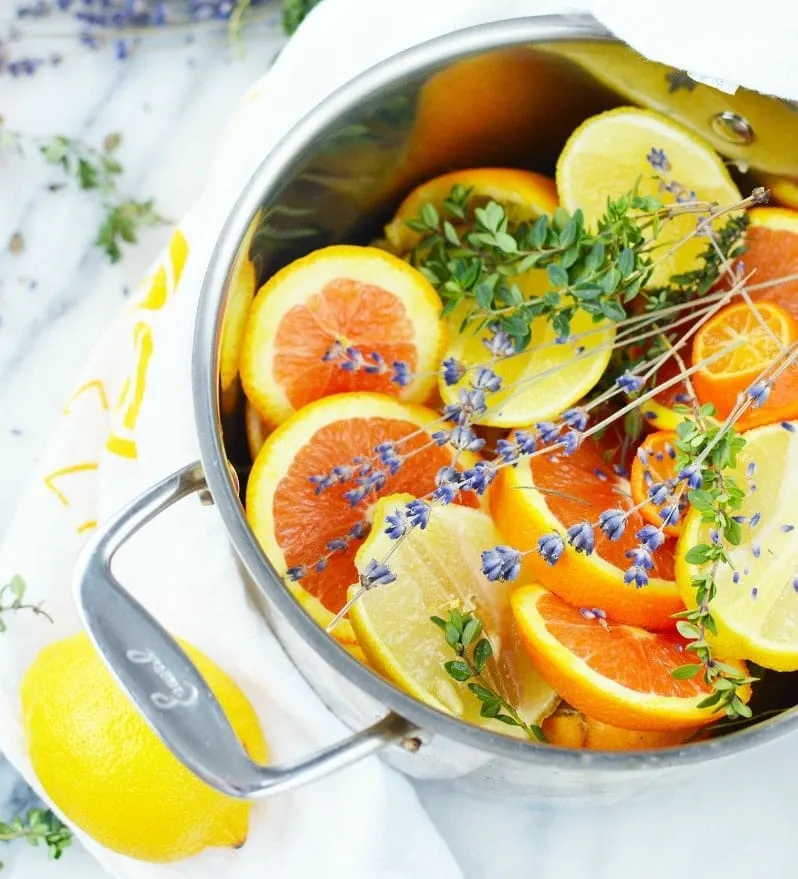 This fragrant stovetop potpourri recipe combines fresh, zesty citrus with calming lavender and earthy herbs. The combination of natural ingredients is like creating your own exotic perfume for the air.
And that's why I love this stove top potpourri recipe so much. You can customize it according to whether you want a more floral or more citrus scent. You are in control every time you make a potpourri pot. You don't have to use up a spray bottle or throw it out before you can enjoy a different scent in your home.
Be sure to Pin this recipe so that you can remember it the next time you want to add a natural fragrance to your home!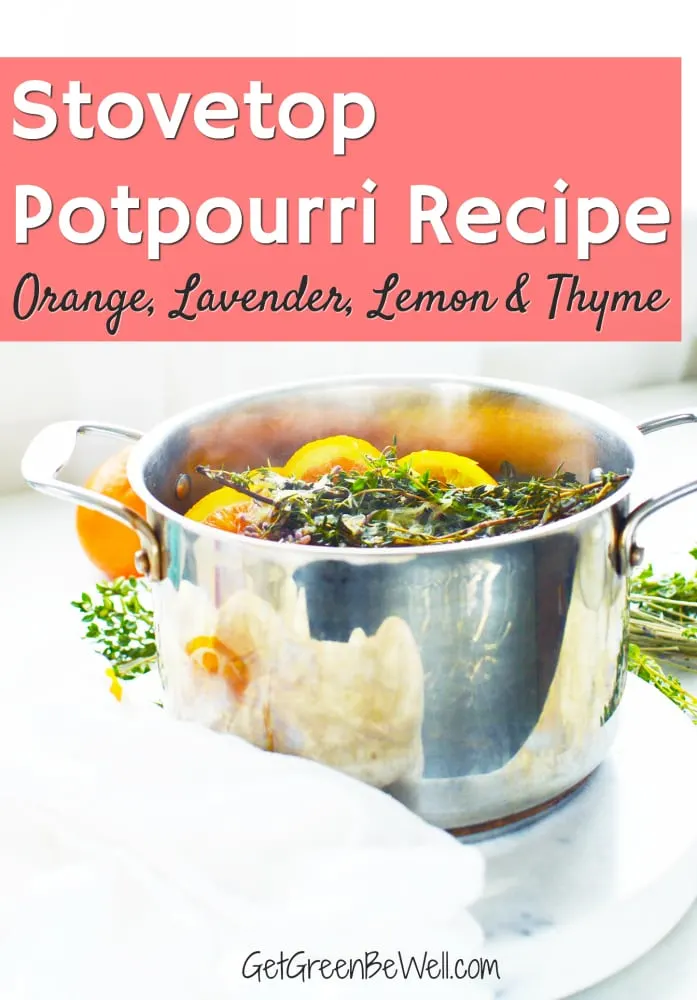 This simmering potpourri recipe is a great way to add humidity to indoor air. If you have a wood stove, this is especially important. A woodstove steamer pot is a great way to combine stove top scents with humidity in cold weather.
And if you don't have fresh lavender available, I suggest this organic dried lavender which is great to buy in bulk for air fresheners, room deodorizers, and more.
For even more simmer pot recipes, be sure to try out these natural home fragrances that are super easy to make: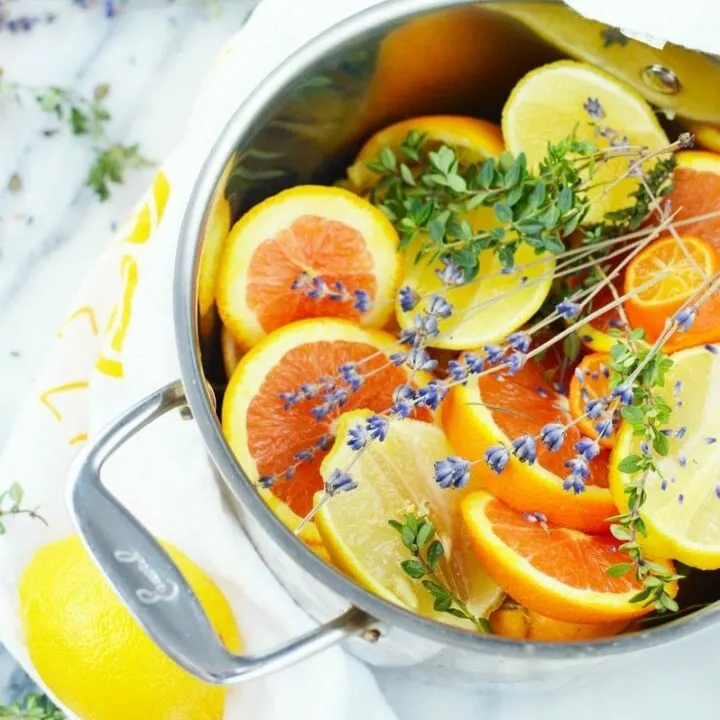 Stovetop Potpourri Recipe: Lemon Lavender Herb Simmer Pot
A natural and homemade stovetop potpourri recipe with the calming aromatherapy of citrus, lavender and herbs. This simmering pot is an easy DIY air freshener!
Materials
1 lemon, sliced
3-4 oranges, sliced
Dried or Fresh Lavender (around 1/4 cup dried or 1/2 cup fresh flowers and stems)
Fresh Thyme (around 1/2 cup fresh stems)
6 Cups of Filtered Water
Tools
Simmering pot (see Notes below)
Instructions
Add all ingredients to a simmering pot. It's best to put the pot on a burner in the back, where it can't be easily tipped over.
Bring to a gentle boil. Do not put a cover on the pot while it is boiling.
Add additional water after 45 minutes to 2 hours. Always keep in the ingredients floating in simmering water.
When done, the natural ingredients can be composted.
Notes
While you can use any of your pots to make a stovetop potpourri recipe, there is a chance your pot might get ruined if you forget to add water. Having a dedicated pot for simmering potpourri prevents damage to cooking pots. (See recommended products below.)
Use a stainless steel or cast iron pot. This prevents chemicals coming off of non-stick coatings.
The ingredients can be kept and used again if you haven't boiled them for a long time. Drain the water and add the ingredients to a closed jar. Use within 24 hours. Keep in mind, the scent won't be as strong.
This recipe is perfect for using squeezed oranges and lemons from making orange juice, lemonade, etc. You don't need the juicy flesh of the oranges and lemons as much as you want the peels for their fragrance.
Recommended Products
As an Amazon Associate I earn from qualifying purchases. I earn from other affiliate programs, as well.