These layered pumpkin cheesecake bars with graham cracker crust are an easy, frozen, no bake recipe that make a great alternative to a traditional pumpkin pie.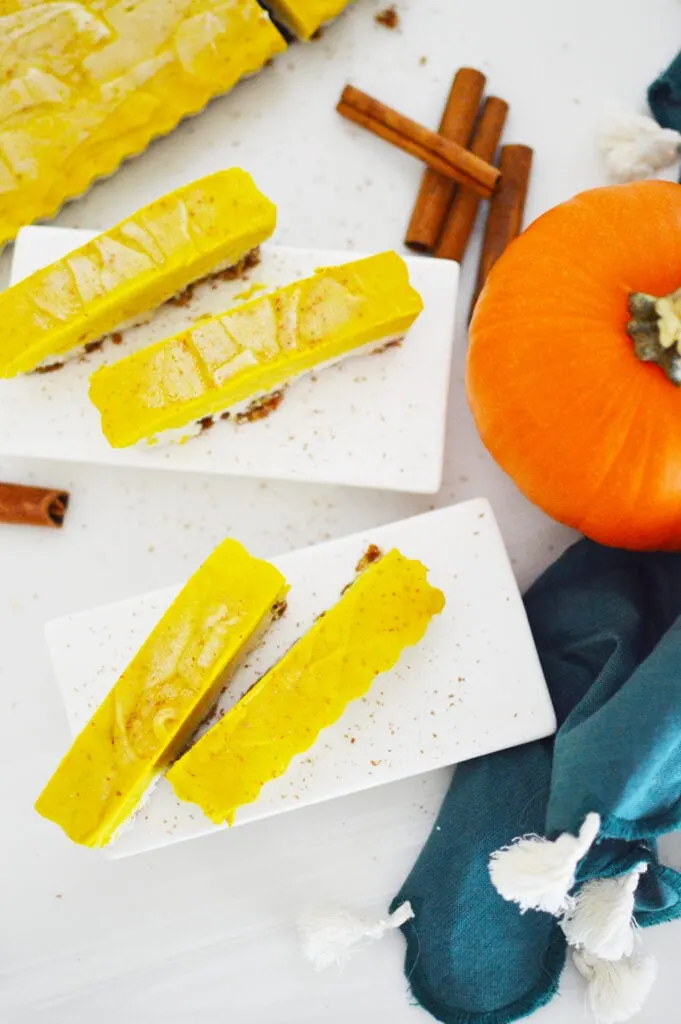 No offense to warm or room-temperature pumpkin pies. They are yummy and a tradition at holiday meals and during the cozy Fall months. But sometimes you want to serve up something different. Something unexpected but with a traditional twist.
And that's what these frozen layered pumpkin cheesecake bars are! You still get the same delicious pumpkin taste, but in a frozen dessert that is definitely unexpected.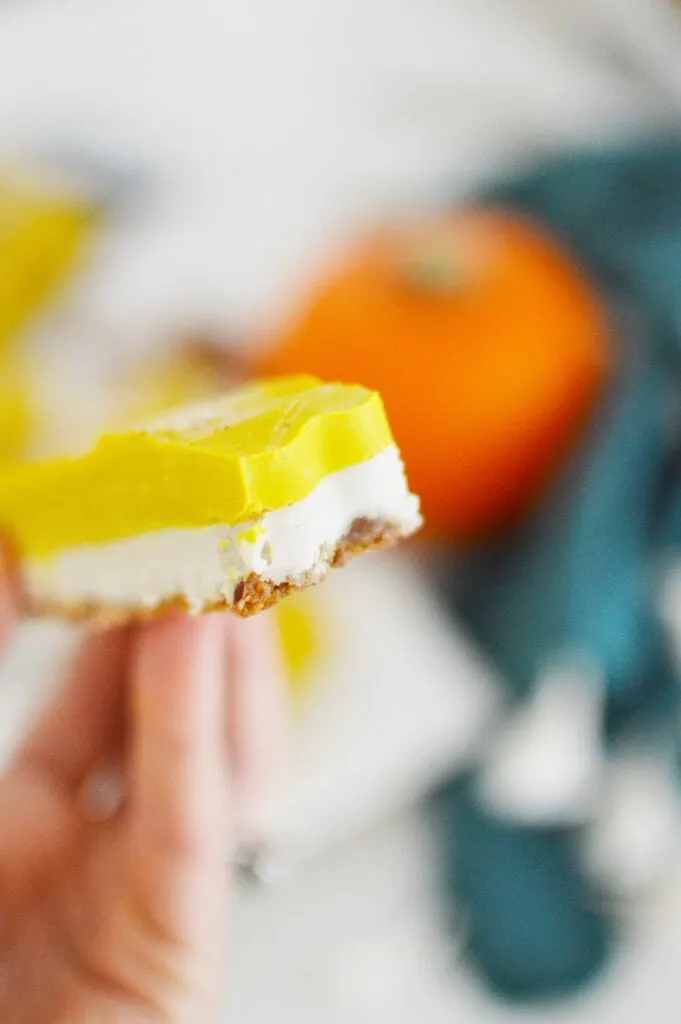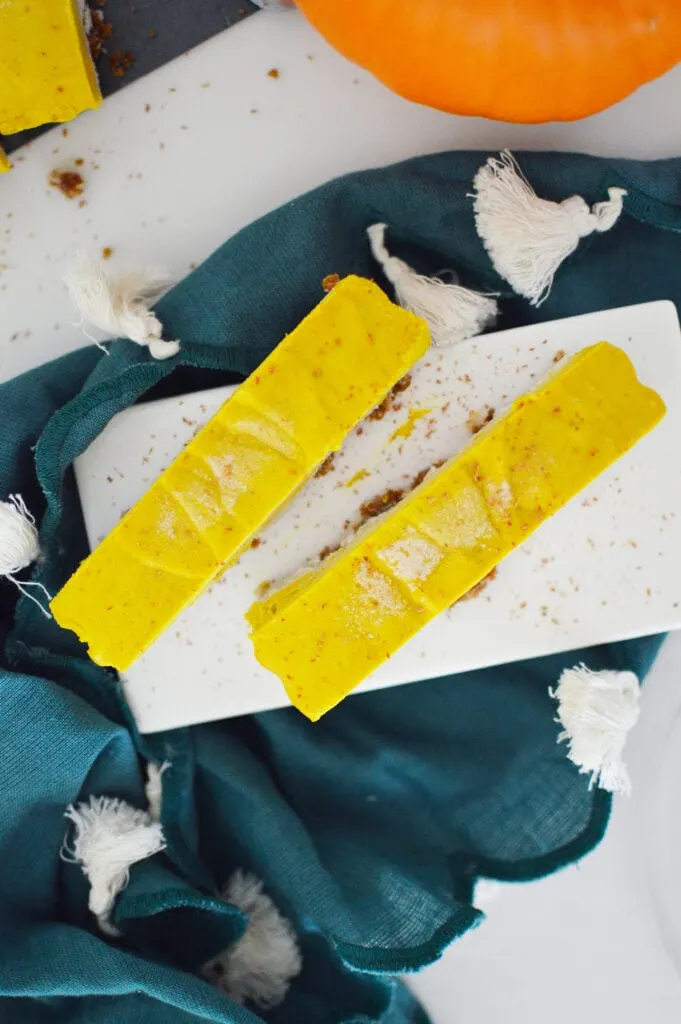 Plus, they are perfect for anyone who lives in the South or doesn't have chilly Fall weather. Trust me, I've spent over a decade celebrating Thanksgiving and Christmas time in Florida. There has never been a time when I needed to wear a cozy flannel shirt or bundle up under a blanket, like all of the Hallmark movies show.
Instead, I was hot and wishing I could have more of the "Fall feels" like everyone else did. So this frozen pumpkin dessert was perfect for combining the tastes of the season with the sensibility of where I lived! LOL!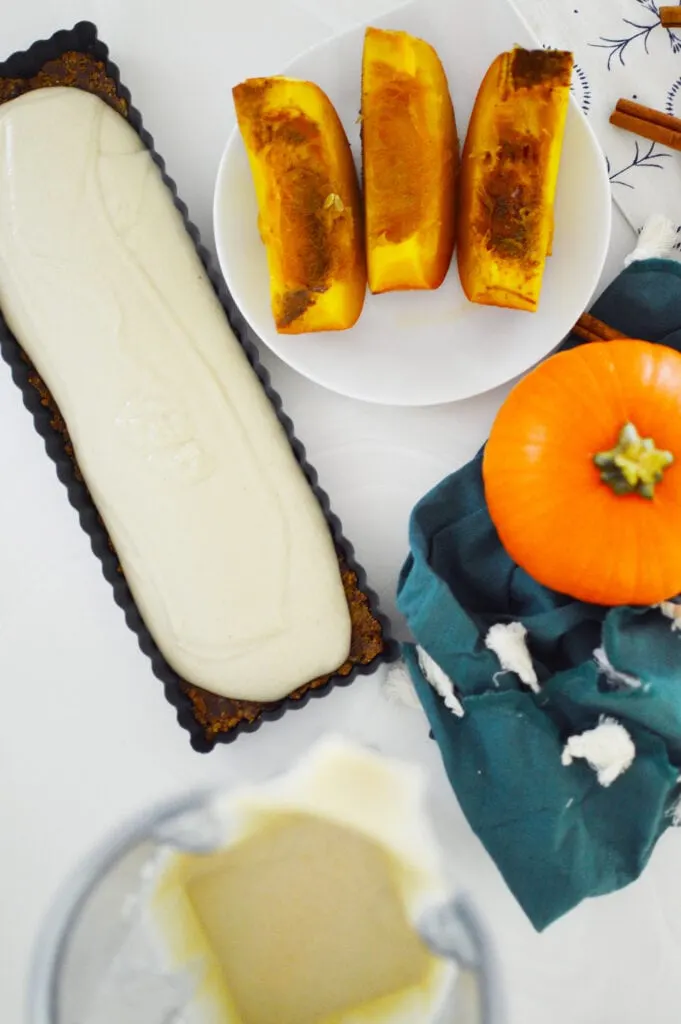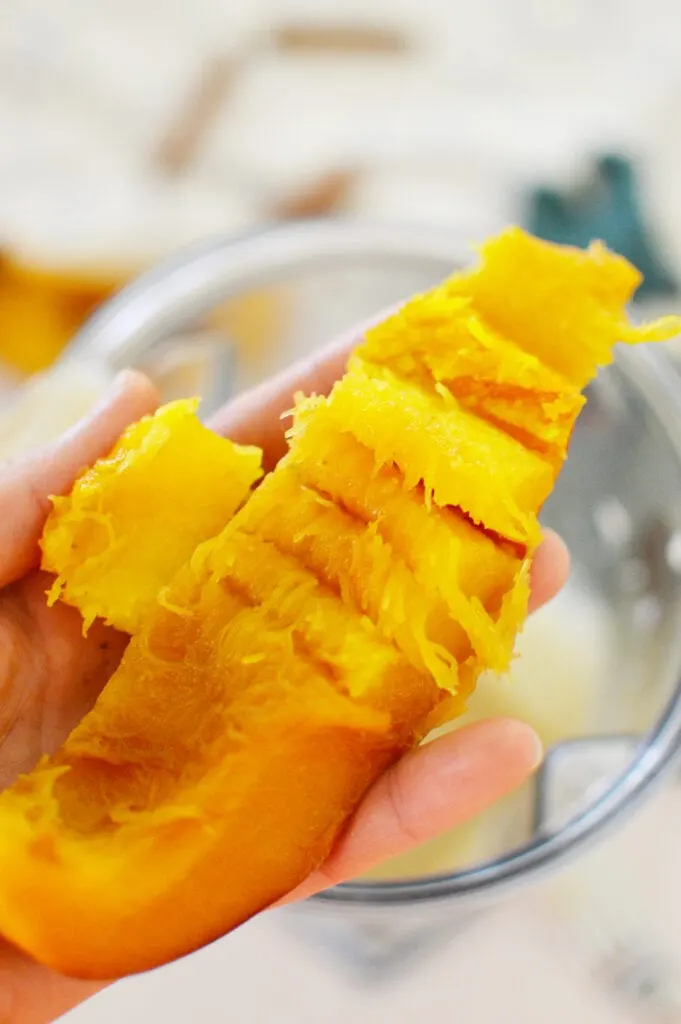 No Bake Pumpkin Cheesecake Bars using Vegan Ingredients
We love this vegan layered pumpkin cheesecake bars recipe because it uses ingredients from our pumpkin spice simmer pot recipe. Yep, that's right! The same ingredients we use to naturally fragrance our home can then be repurposed as ingredients for these easy no bake pumpkin cheesecake bars!
Not only are the ingredients repurposed so there is no food waste, they are all vegan and plant based, as well.
The pumpkin cheesecake bar ingredients include:
Fresh pumpkin
Coconut cream (we like Trader Joe's the best)
Salt
Turmeric (optional)
Graham crackers (see below)
As you can see, all of these plant based ingredients are pretty simple, pure and natural.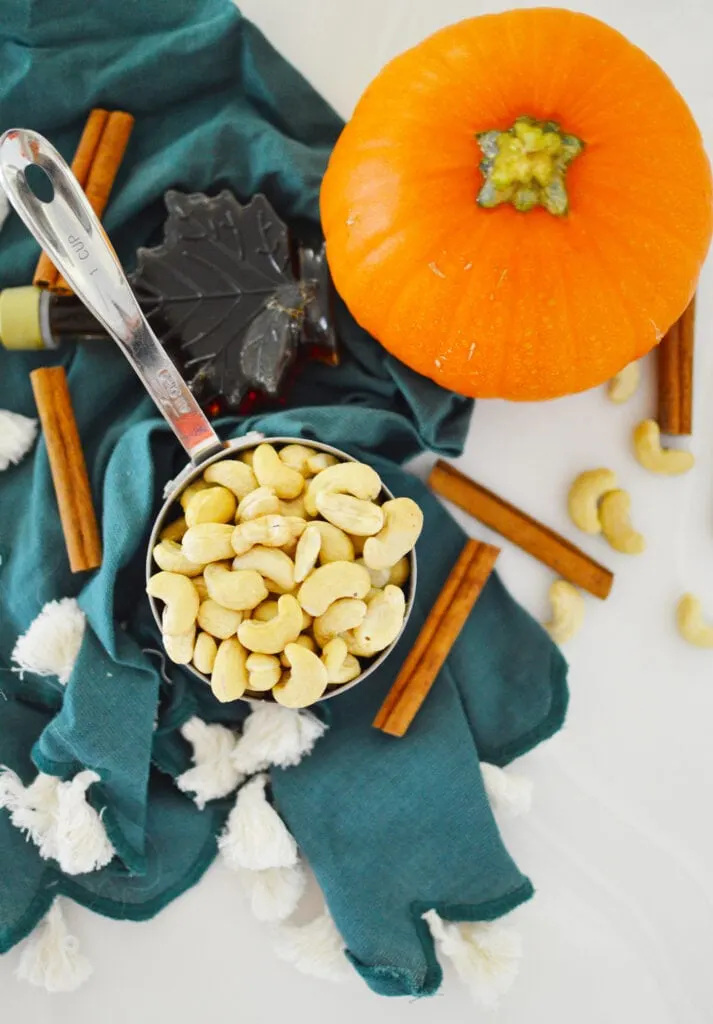 Making the Graham Cracker Crust
This no bake recipe is super simple. So you don't need to worry about mixing lots of ingredients or baking a graham cracker crust. (Here's some more no-bake snack recipes for kids!)
However, if you want to make sure that this recipe is vegan, you will need to make sure that the graham crackers that you use are vegan.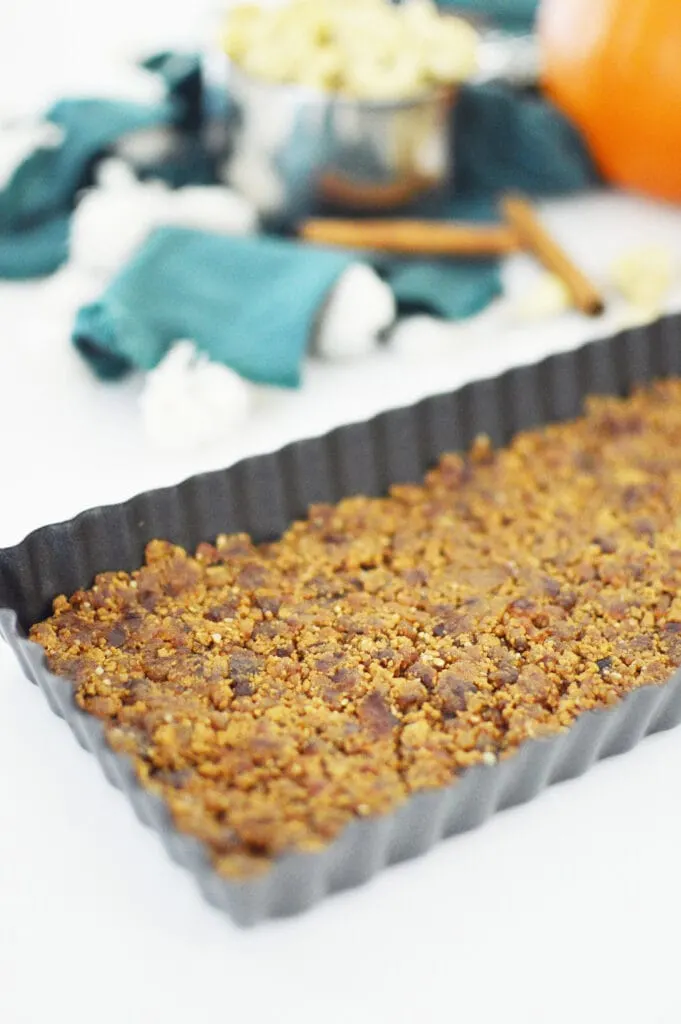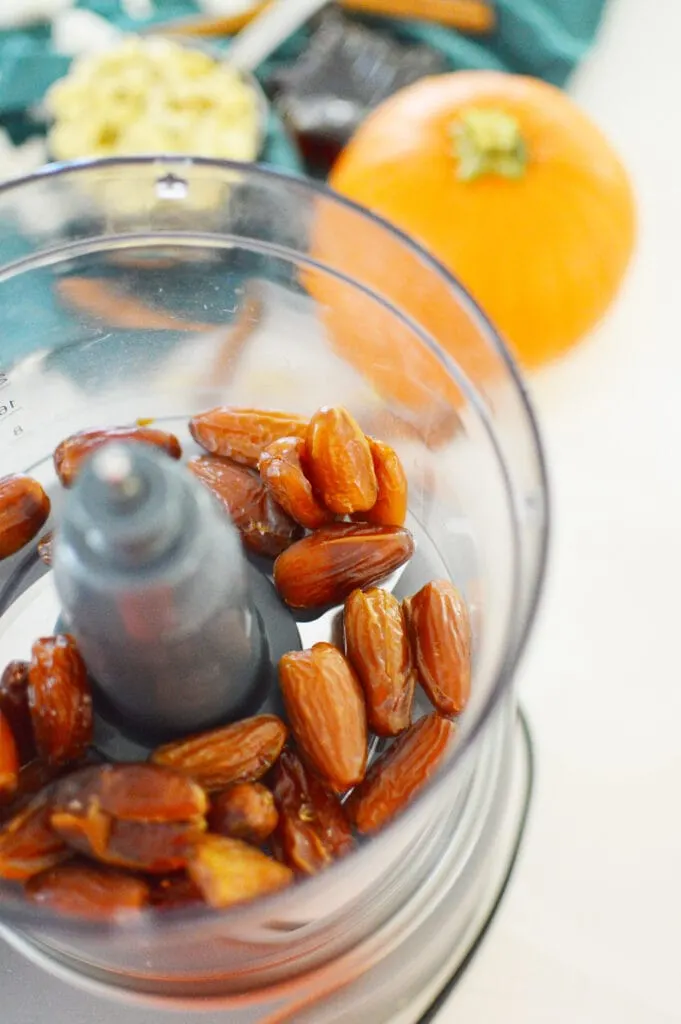 You will want to look for a honey-free graham cracker. And using organic ingredients is always high on my list. Some of the options include:
S'moreables Graham Style Crackers
Annie's Bunny Grahams (the original style graham crackers have honey in them, but many of Annie's Bunny Grahams are vegan, including the Gluten Free Snickerdoodle, which would pair well with this recipe)
Frozen Layered Pumpkin Cheesecake Bars Recipe
This easy recipe is super simple to make. Especially since it's a no bake recipe!
If you're wondering how we got the beautiful fluted edges, this is the tart pan that we used.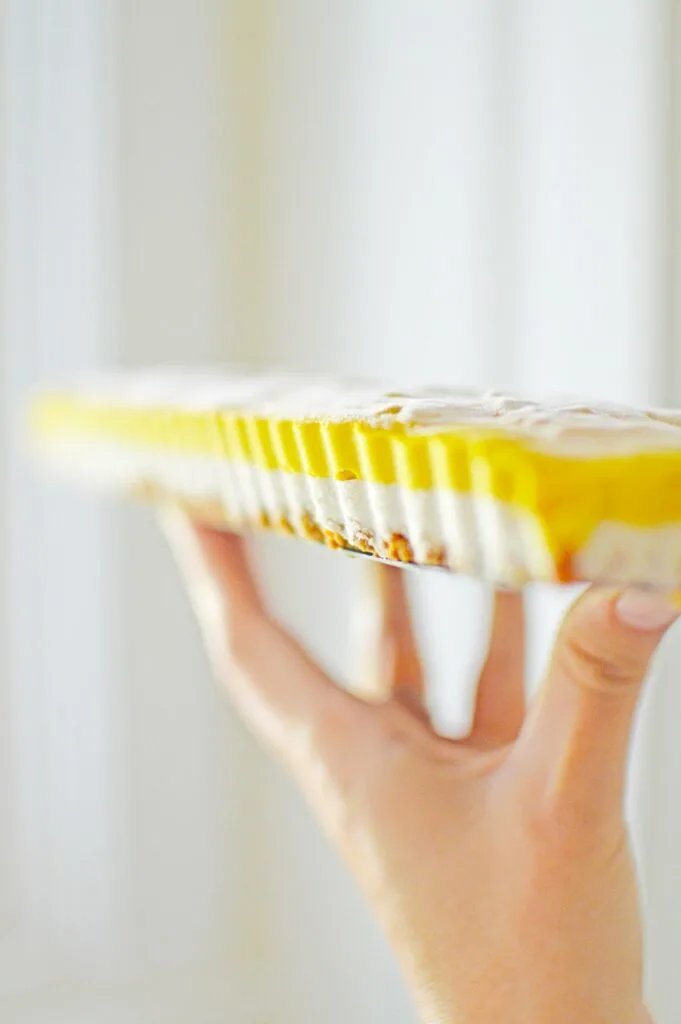 Be sure to save or print out the pumpkin cheesecake bars recipe below. And Pin It so that you'll have it on hand for when you want to make a quick and easy dessert without having to search for a recipe!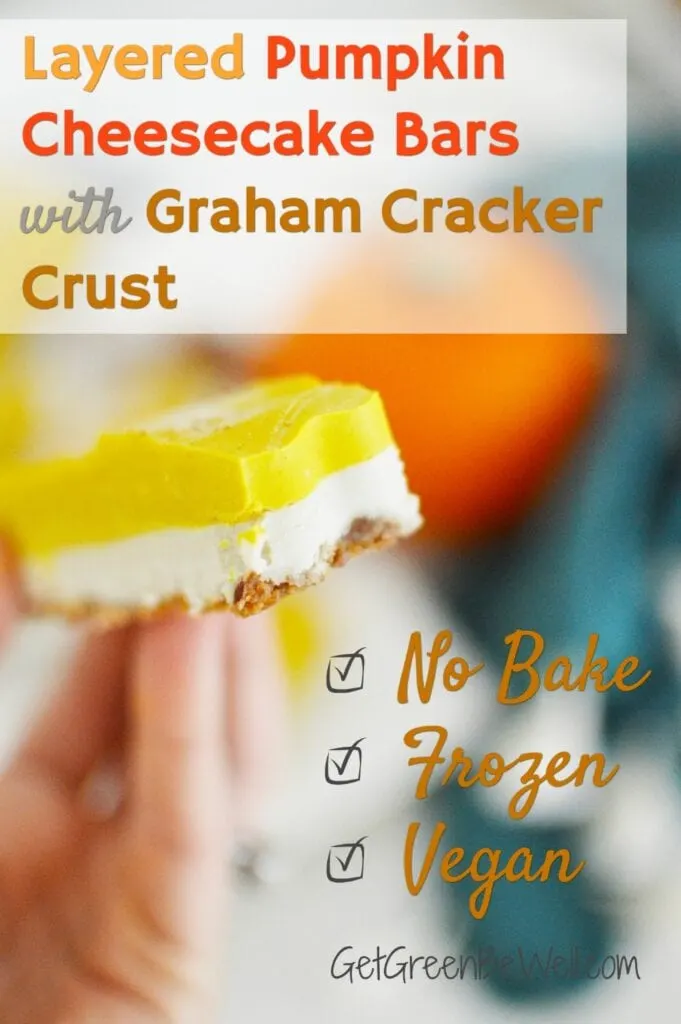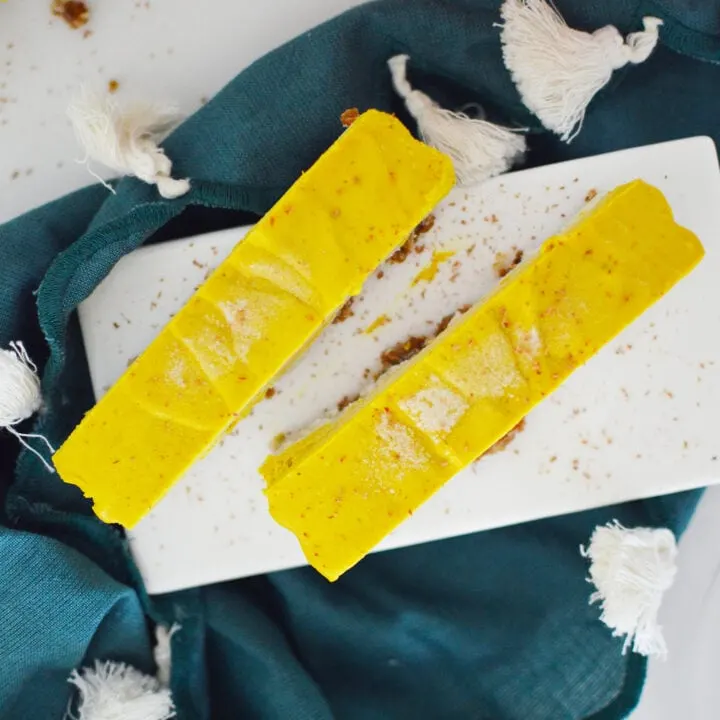 Layered Pumpkin Cheesecake Bars with Graham Cracker Crust
A different twist on a classic pumpkin dessert, these easy vegan frozen pumpkin cheesecake bars are perfect to make ahead for the holidays!
Ingredients
1 1/2 cups fresh pumpkin
1 2/3 cup cashews, raw and unsalted
1/2 cup coconut oil
1 can coconut cream
Dash of Himalayan salt
1/3 cup pure maple syrup
1 Tbsp. turmeric (optional, but it does boost the color)
2/3 cup dates, pits removed
2/3 cup graham crackers
Instructions
Soak the cashews overnight in room temperature water. OR, boil 4 cups of water, remove from heat, add the cashews, and lit site in the pot for an hour.
If the dates feel a little dried out, you can soak them in water very quickly - only 1 minute. Drain really well and then pat dry. (See notes below)
Using a food processor, pulse the graham crackers and pitted dates together until they come together into a sticky crumble that will hold together when you squeeze it. Don't overprocess or it will become a paste. (Feel free to add more graham crackers if needed.)
Press into a pan. We used a tart pan, but an 8 X 8 baking dish works, too.
Using a blender, add all filling ingredients excpet for pumpkin and turmeric and blend on high until smooth.
Pour half of the filling over the crust and place in the freezer.
While the crust is hardening, add the pumpkin and turmeric together in the blender and blend on high until silky smooth. (See notes for adding peel.)
Once the crust has hardened in the freezer (you will want the base layer of the filling to be hard enough for the next layer to be added and not fall into the bottom layer), add the pumpkin filling on top.
Freeze until solid, about 6-10 hours.
Take out of the freezer about 20-30 minutes before serving to cut more easily.
Notes
Don't let dates soak too long in water or else they will become mushy. Which won't work well for your crust.
You can add pumpkin peel to the pumpkin puree mixture for more nutrients and fiber, but make sure that the peel is edible.
These frozen layered pumpkin cheesecake bars with graham cracker crust are perfect to make ahead of time! Have a batch in the freezer for unexpected guests or to save time making Thanksgiving dinner or a Christmas meal.
Recommended Products
As an Amazon Associate I earn from qualifying purchases. I earn from other affiliate programs, as well.
Nutrition Information:
Yield:

14
Amount Per Serving:
Calories:

350
More Fall Feels
These delicious vegan cheesecake bars are just one way to savor fall with your taste buds.
Add some fall fragrance to the air with this super easy apple cinnamon potpourri crockpot fragrance. Or enjoy the delicious scent of cinnamon with these DIY natural cinnamon pinecones.
Use this DIY natural pumpkin spice cleaner to leave a gentle autumn fragrance as aromatherapy.
Create cute pumpkins out of fabric scraps or old shirts or sweaters with this easy no-sew DIY project. And if you are looking for a natural, simple centerpiece for your Thanksgiving table, these pumpkin flower vases are ideal.