Do you love the warm, comforting smell of cinnamon scented pine cones? They are perfect for creating a cozy home in fall and winter.
I'm actually allergic to cinnamon pinecones sold in stores. They give me such a headache. But I love the homemade smell of the spice. Which is why I'm thrilled to share how to make cinnamon pine cones at home.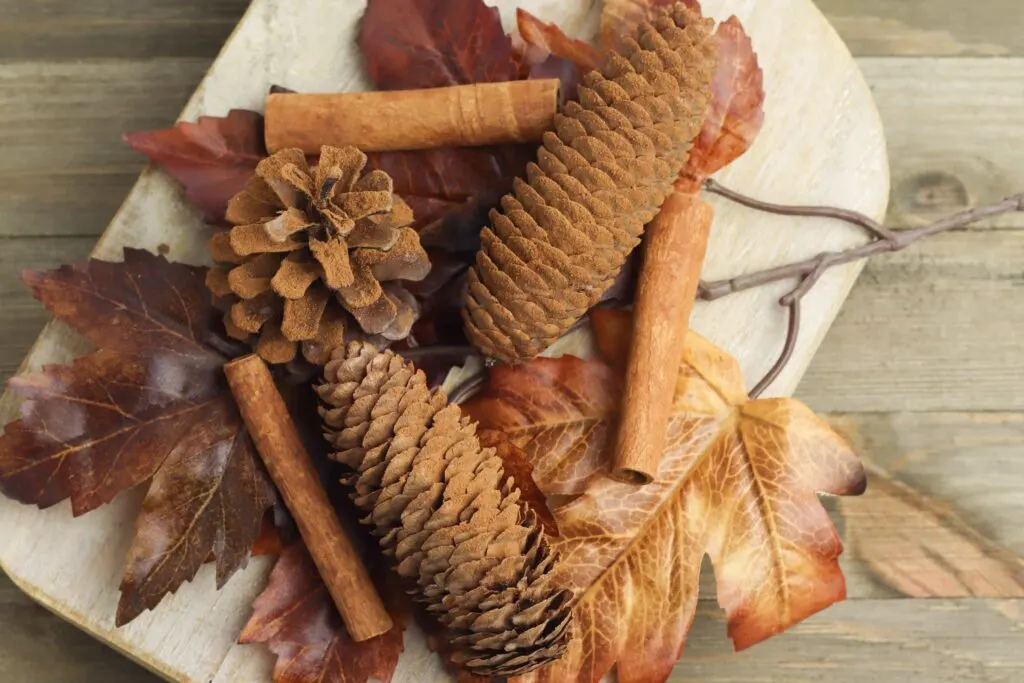 It's so easy to make these scented pinecones! Chances are, you might find lots of pinecones on the ground in your yard or while walking. They are free to use, so why not make your own? You will save so much money compared to buying them at a home decor store.
Here are two easy recipes to make scented pinecones. One uses essential oils for a stronger fragrance. The other recipe uses a cheap ingredient that you probably already have in your home right now – cinnamon powder!
The great thing about these recipes is that they are so easy to do, you can refresh the scent throughout the season. If the cinnamon smell starts to fade, just revive the pinecones by adding more cinnamon powder or essential oils as seen in the craft tutorials below.
You could also do this with acorns, too! They would be cute in a small bowl if you don't have a lot of space but still want a cinnamon scent.
Cinnamon Pine Cones for Fall and Christmas
So what's the big deal about cinnamon pine cones? If you haven't ever used them before, you might be wondering what is a cinnamon scented pine cone?
These home decor items are generally used during the Fall and Winter holidays, including Halloween, Thanksgiving and Christmas.
Cinnamon is a classic smell that makes us think of warm pastries coming out of the oven, mulled cider and hearty breakfasts. It's a feel-good scent that most everyone is familiar with.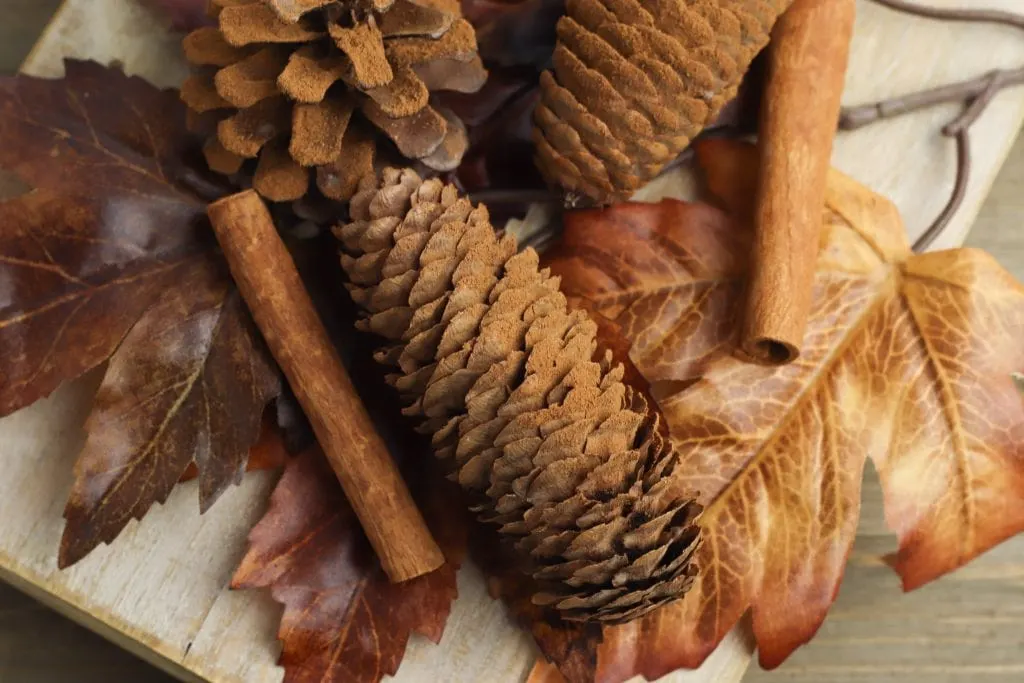 The way to use cinnamon scented pine cones is to pile them in a decorative bowl or basket. Or you can lay them on a mantel or along a table. Tuck them into your shelves for a seasonal touch. And consider laying them on a table runner on your dining room table.
You can also burn these pinecones in the fireplace. I'd prefer using the essential oil-scented pinecones to burn rather than the ones that use glue. If you want to add natural cinnamon to the fire, just add some cinnamon sticks or sprinkle the cinnamon on the logs before burning.
Allergic to Cinnamon Scented Pine Cones Found in Stores
In order to understand why this DIY scented pinecones recipes is important, you have to understand how the cinnamon pine cones you find in the grocery stores and home goods stores can affect you.
About a decade ago, I started having serious reactions to the smell of cinnamon scented pinecones sold in stores. It started in crafts stores. I'd want to be buying crafting supplies around Christmas time, but the overpowering scent of artificial cinnamon scented pine cones was so strong it would make me sick in the store.
I'd have to leave the store in a hurry, almost holding my breath until I could get to the door and fresh air. And those pinecones are alway place by the register or front door, which makes them hard to avoid. Also the cinnamon brooms, too.
When I would get home, I would have such a horrible allergic response – runny nose, watery eyes, pounding headache, coughing – that it would take me a day to recuperate. Literally.
And so I swore off craft supply stores after summer time just to avoid the artificial fragrance.
Then my local Publix grocery store decided to start selling cinnamon scented pine cones in the produce section. The smell was again horribly strong and would make me sick. So it got to the point where I'd need to have my husband go grocery shopping for me after the cinnamon pine cones were for sale in the store.
For anyone allergic to fragrances, you'll understand the dilemma. I literally couldn't shop anymore because of these toxic artificially scented cinnamon pine cones.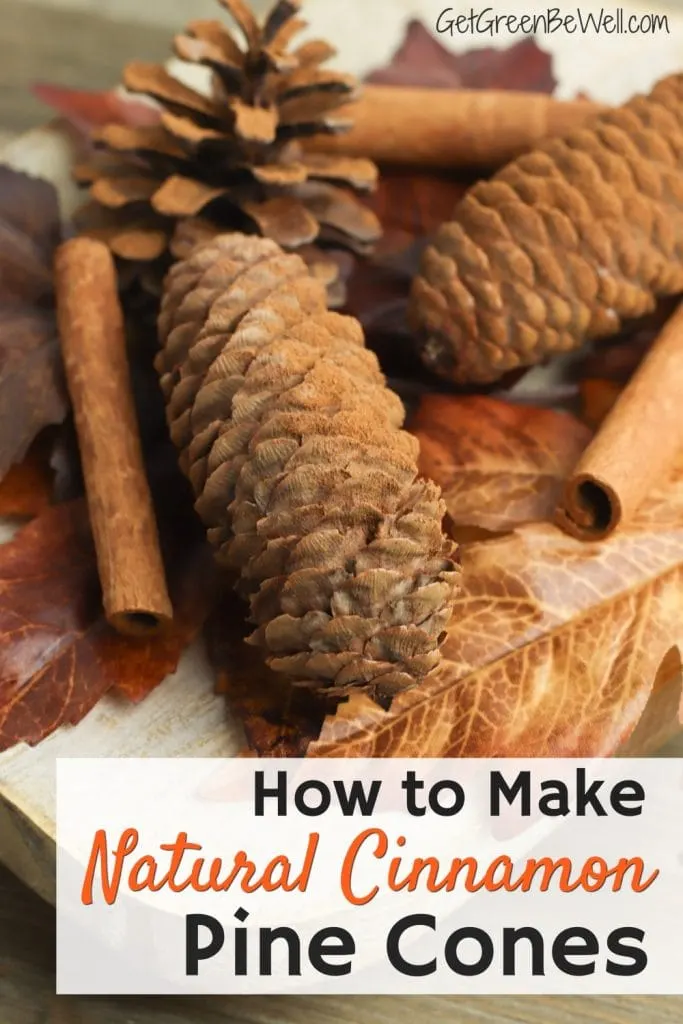 Why Are the Pinecones at the Store Bad?
While the thought of cinnamon scented pine cones is amazing, the problem is the scent itself. Scented pinecones sold in the stores use artificial fragrances. And the chemicals in artificial fragrances can cause quite a problem in people with multiple chemical sensitivities.
Artificial fragrance can be a combination of more than 1,000 individual chemicals used in the fragrance industry.
Why don't the companies just use fresh cinnamon instead? First, it's the cost. It's just not economical to use fresh spice for bulk manufacturing of the home decor products.
Second, real cinnamon doesn't stick strongly enough to make it through the rough shipment of the products. By the time they are manufactured, sent on trucks, thrown in boxes and put on display, that's a lot of jostling around. And the real cinnamon powder can fall off.
How to Make Cinnamon Pine Cones
The great news is that you can avoid the exposure to artificial fragrances yet still have the comforting aroma of real cinnamon!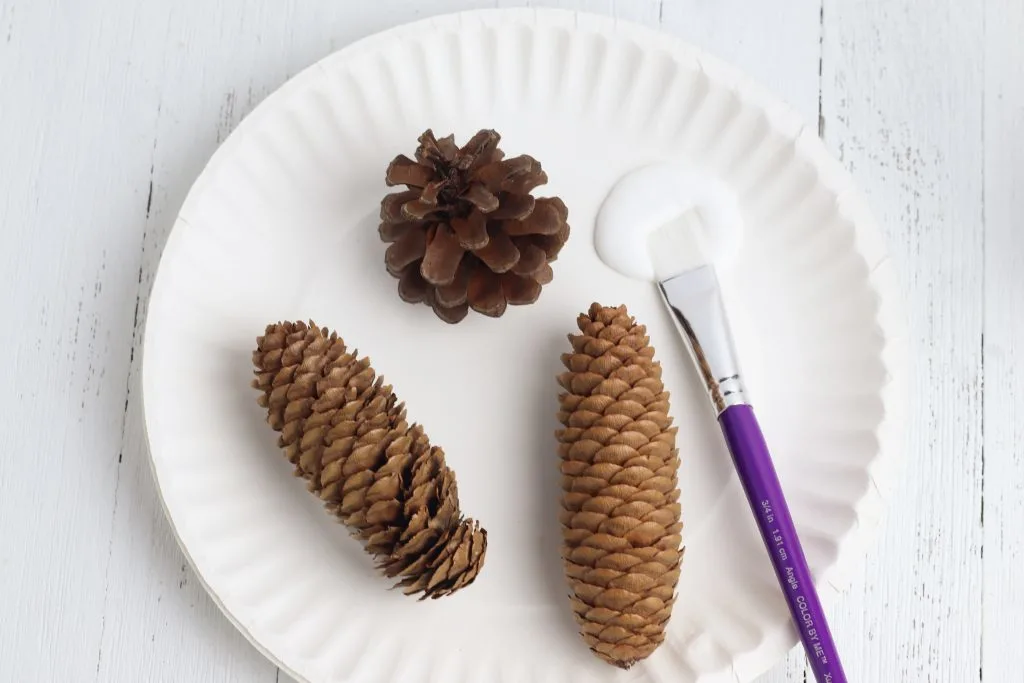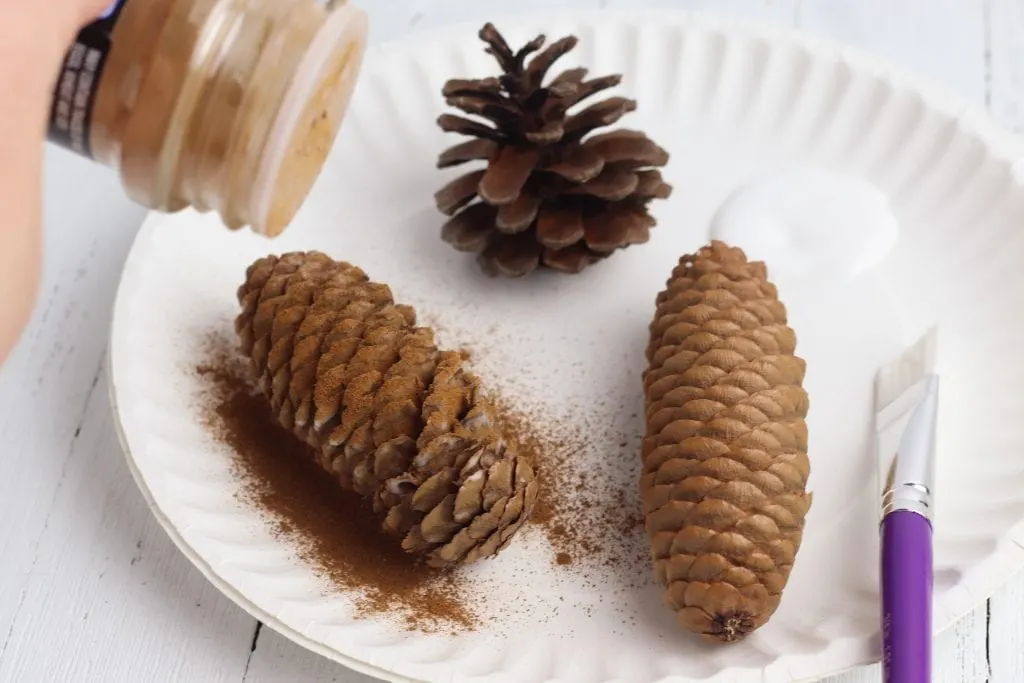 You'll be surprised at how easy and simple it is to make these scented pinecones.
FYI: Using pine cones that you find outside is fine. You just want to prepare them before crafting with them so you don't have any unwanted critters in your home. Check out this guide of how to prepare pine cones for crafts.
Here's the easy printable recipe below: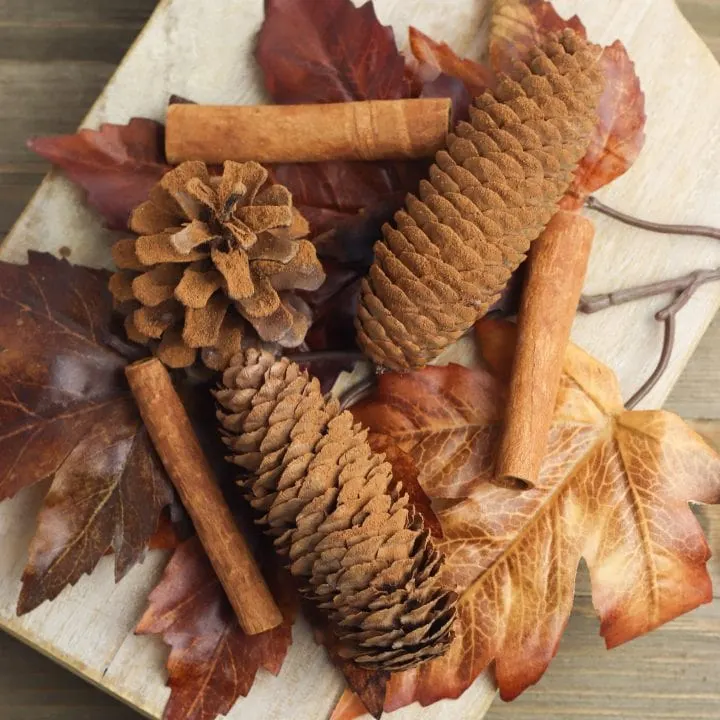 Naturally Scented Cinnamon Pine Cones
Naturally fragrance your home with these easy to make cinnamon scented pine cones.
Materials
Pinecones
Craft glue
Cinnamon powder (grocery store spice is perfect)
Tools
Small paint brush (such as a child's artwork paint brush)
Instructions
Clean dirt, debris and any insects you find inside the pinecone.
Using a small paint brush, paint glue over the pine cone's "leaves." You might want to do this in small sections.
Working quickly before the glue dries, sprinkle cinnamon heavily over the pine cone. Cover all of the wet glue with cinnamon powder. Do this over a plate or object that can catch the excess cinnamon so that you can reuse it for other pine cones.
After the glue dries, gently tap or shake the pine cone to remove excess powedered cinnamon. Do this over a plate or bowl so that you can reuse the spice on other pine cones.
Add the home decor pieces throughout your home for natural aromatherapy.
Notes
*Be sure the pinecones you use aren't covered in a shellac or shiny substance, otherwise the glue won't stick.
Recommended Products
As an Amazon Associate I earn from qualifying purchases. I earn from other affiliate programs, as well.
How to Make Scented Pine Cones with Essential Oils
This second way of how to make scented pine cones uses essential oils for a spicy cinnamon scent.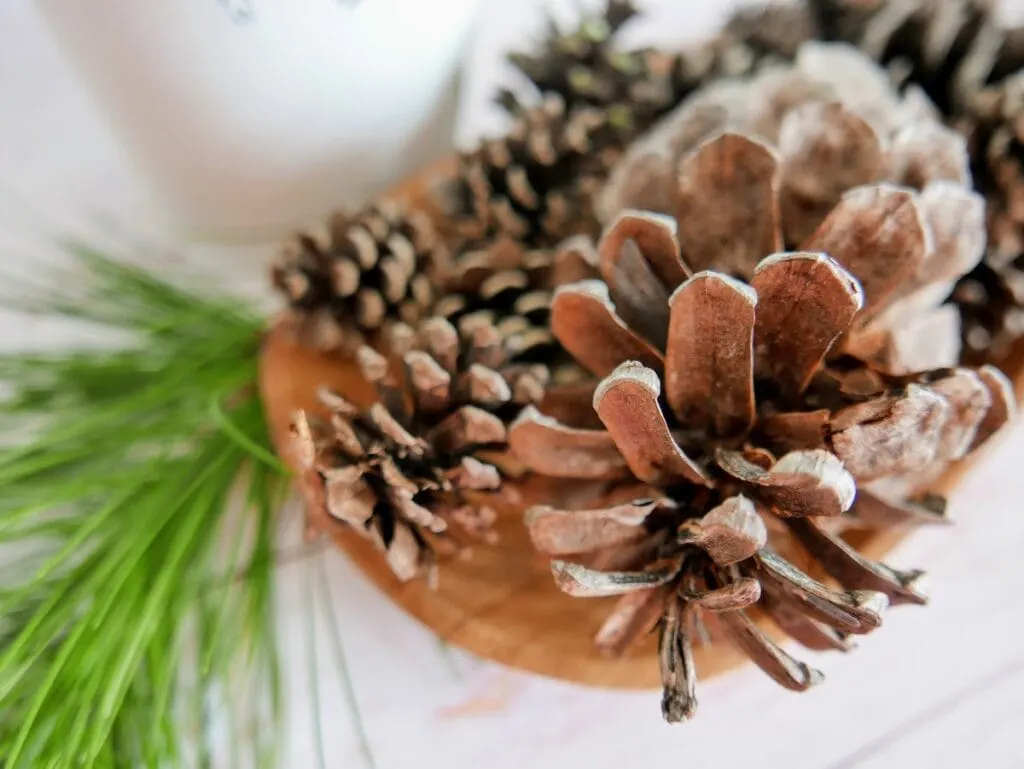 Using essential oils allows you to get a stronger scent. Plus, you can mix and match scents if you'd like to make something a little different, such as spiced pine cones.
For instance, this recipe to scent pine cones combines orange and cinnamon essential oils for a great cozy scent for your home.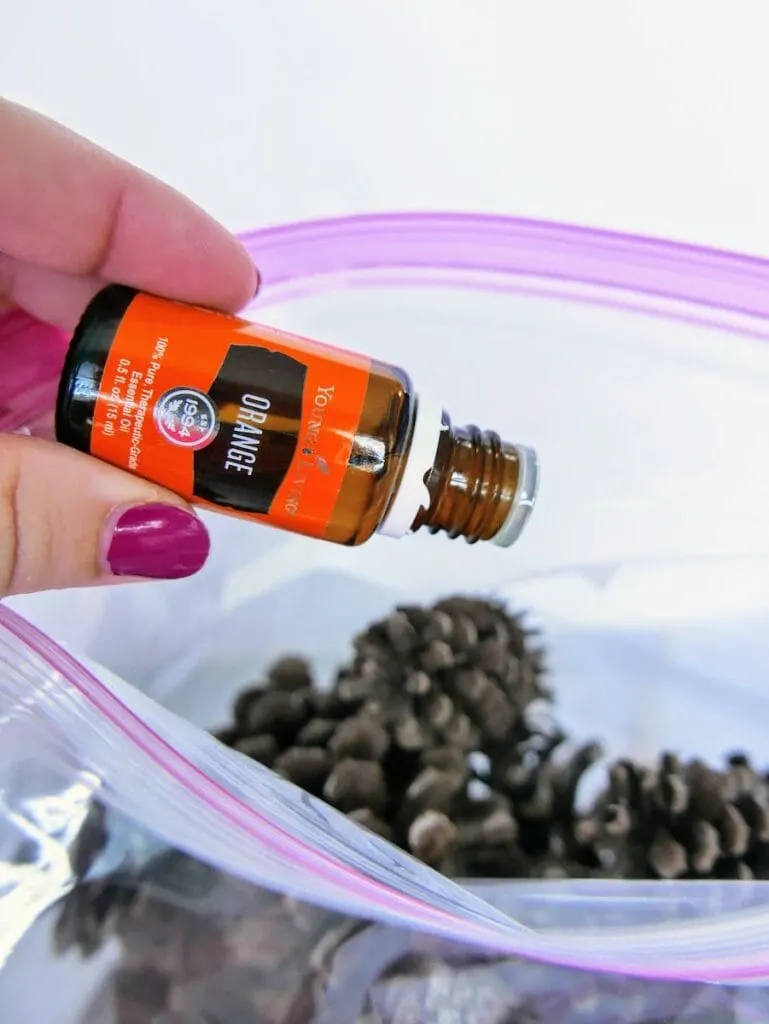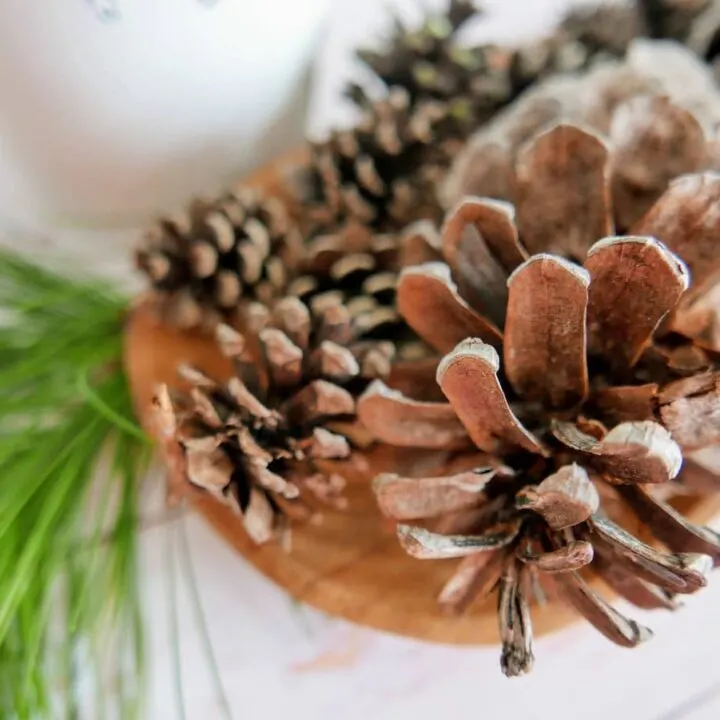 How to Make Essential Oil Pine Cones
Total Time:
7 days
45 minutes
How to make spiced cinnamon pinecones with essential oils.
Materials
Pine cones
Gallon-sized sealable bag
Essential Oils (I used Orange and Cinnamon)
Foil
Cookie Sheet
Instructions
Preheat oven to 200℉. Line a large cookie sheet with foil. Spread the pine cones evenly across the foil.
Bake in the oven for 40 minutes. Remove and let cool completely. (little bugs and critters can be hiding in the pine cones, so baking them is a good way to keep the critters from spreading in your house)
Once the pine cones are cooled, place them in a large gallon size sealable bag. Add your essential oils to the pine cones. I used 12 drops of orange and 12 drops of cinnamon.. You can try different combinations until you get the desired scent you like.
Seal the bag, and shake the pine cones around so that they absorb the oils. Remove excess air from the bag, and seal tightly.
Place the bag in a cool dark place to set for one week. This will allow the oils to fully absorb into the pine cones, and provide you with the strongest lasting scent. Once they have set for a week, remove and place in a bowl for display.

Notes
When the fragrance fades, put the pine cones back in a bag and add additional essential oils. No need to bake them again.
Even More Ideas for Natural Air Fresheners
These cinnamon scented pine cones make great natural air fresheners. But there are a lot of other ways to naturally scent your home, too!
For Fall, we love this pumpkin spice potpourri simmer pot and this apple cinnamon potpourri crock pot recipe!
Holiday scents can be enjoyed without worry when you make this Christmas stovetop potpourri recipe. Or give the gift of natural home fragrance with DIY Christmas potpourri in a jar gifts.
Use this DIY natural pumpkin spice cleaner to leave a gentle autumn fragrance as aromatherapy.
Our odor eliminator spray works like store bought sprays, only with all natural ingredients.
And to remove odors (rather than add fragrance into your home), check out these brilliant ways to naturally deodorize your closet, remove odor from a car, and remove odor from your refrigerator.
Be sure to follow my Pinterest Board on Natural Ways to Scent Your Home for lots of ideas!