One of the most frequent questions I'm asked is where to get truly non-toxic furniture. So if you're here searching for unfinished solid wood furniture so that you can customize the stains and varnishes used to make sure they are not full of nasty chemicals, then you are not alone!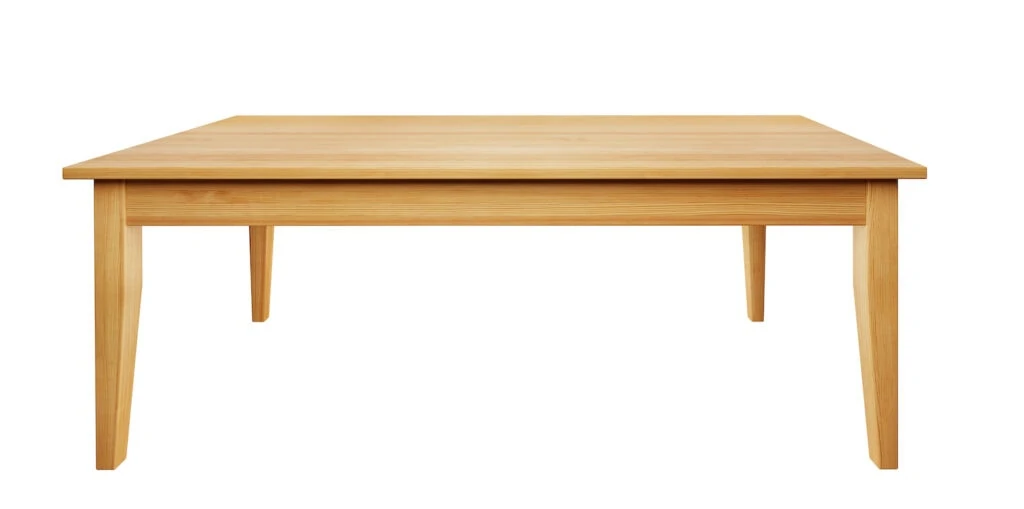 As I am buying furniture for my new house (we had sold everything before we started RVing and we need a lot of new furniture), I have found it both frustrating and surprising.
Frustrating because there are a lot of companies out there misrepresenting what they are selling. If you search for "solid wood furniture" on many sites today, what you will actually get back in the results is furniture made from MDF or plywood – which is NOT solid wood.
However, I am surprised at how many small American businesses do hear our desire for unfinished solid wood furniture that we can customize with colors, stains and varnishes or our own choosing to make sure they are not full of toxic chemicals that might make us sick. Here's the zero VOC paints (and some stains) that I recommend.
(Can you leave wood furniture unfinished? Of course you can! Then you can enjoy the wood's natural beauty.)
These small businesses never used to have a platform to sell their handmade furniture to a larger audience until now. And I'm so thankful that I am finding them.
So this list is not only for you, but it's also for me. It's the ultimate list of everything that I am finding during my search for non-toxic furniture. The search has taken a long time and led to some frustration on my part. I hope you'll not only save time but also save your sanity by choosing to invest in these solid wood furniture pieces made by business that care.
What is unfinished wood furniture?
First, let's talk about what unfinished wood furniture really is. It is nothing but a solid piece of wood (cut from an actual tree) and made into furniture.
It does NOT have any of the following:
Stain
Sealant
Lacquer
Varnish
Wax
Paint
Other finishes
This is very important to note because many companies actually apply products to their furniture and still call it unfinished wood. Which is confusing for you, the consumer, to try to figure out.
Solid Wood Furniture vs. Particle Board Furniture
Have you ever gotten a bookcase or end table wet, and watched the wood swell up and become deformed? That is because it wasn't real solid wood.
It used to be, if you bought wood shelves, they were actually made from real solid wood. Today, wooden shelves are likely made from materials that look like and act like solid wood.
What is Pressed Wood?
Have you heard of MDF (medium density fiberboard)? Then you've heard of pressed wood. It's also known as engineered wood composite, particle board, low density fiberboard or chipboard.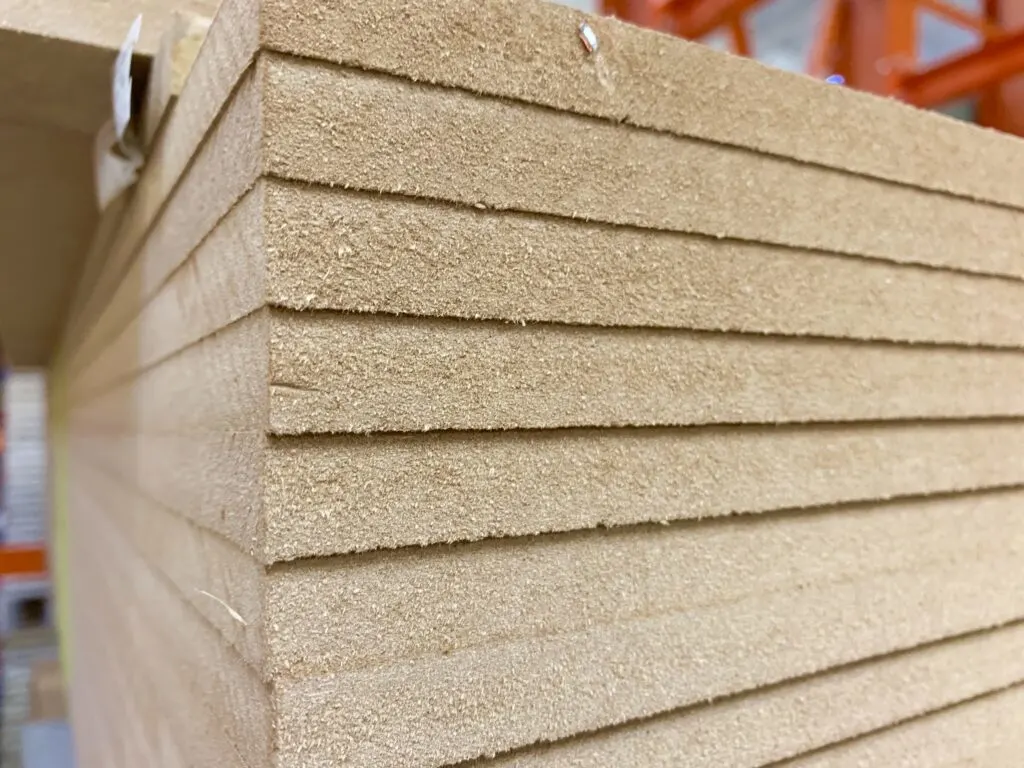 Pressed wood is created by "pressing" tiny pieces of ingredients together to resemble something similar to wood. These ingredients can include:
Wood particles
Planer shavings
Wood flour
Waste chips
Sawdust
The ingredients are bound together by adhesives. And it's THOSE adhesives that cause the problems, because they can often contain formaldehyde. Then the engineered wood is compressed under high heat to make a product that looks like solid wood.
Generally, furniture and cabinet manufacturers don't promote the fact that they are using pressed woods. They want to give the illusion that you're getting a real solid wood product. You will have to ask specifically if you are getting solid wood or pressed wood.
Formaldehyde in MDF and Engineered Woods
The EPA has said that in homes, "the most significant sources of formaldehyde are likely to be pressed wood products made using adhesives than contain urea-formaldehyde (UF) resins." The chemical gets into your home by off gassing from furniture, cabinetry, flooring and other products you bring inside. And that off gassing can last for years, even if you do not smell anything.
In 2011, the Department of Health and Human Services determined that formaldehyde is a known human carcinogen. Which means it is known to cause cancer.
What you might not know is that formaldehyde has a host of other health problems associated with it, including:
Burning sensations in the eyes and throat
Skin rashes
Coughing
Nausea
Asthma
Eye, nose and throat irritation
Wheezing
Generalized fatigue
Severe allergic reactions
Federal Laws and Formaldehyde Levels in Composite Woods
In 2019, new laws went into effect regarding the amount of formaldehyde that is allowed in composite wood products. These regulations are for certain wood products made in the U.S. or imported into the U.S. The new laws are now consistent with California's previous requirements that were more stringent than national standards. If you want to read more, check out the EPA's emission standards.
Keep in mind, these laws reduce emissions. It does not say that composite woods must totally remove emissions of formaldehyde.
And, call me crazy, but I always wonder what is being used instead of the toxic material that has to be removed. I'm always a skeptic when it comes to these things. I'd still rather have unfinished solid wood furniture with no formaldehyde emissions. I can then choose a varnish, stain or paint that makes sense to me.
Best Places to Buy Unfinished Solid Wood Furniture
These are the best pieces of non-toxic furniture that I've found in my research (and I've spent a lot of time studying websites!). I've tried to be budget-conscious with choosing pieces, because that is how I am buying furniture myself.
Bookcases
I used to have two solid wood bookcases from Wood You in my office, then in my living, before moving and selling them. I have promised myself that once I get solid wood bookcases again, I am NOT getting rid of them!
These bookcases in all sizes from The Woodland Mills are not only a fair price, but I love that they support a Pennsylvania small business. They have thousands of five star reviews and I hope to be among them soon, too!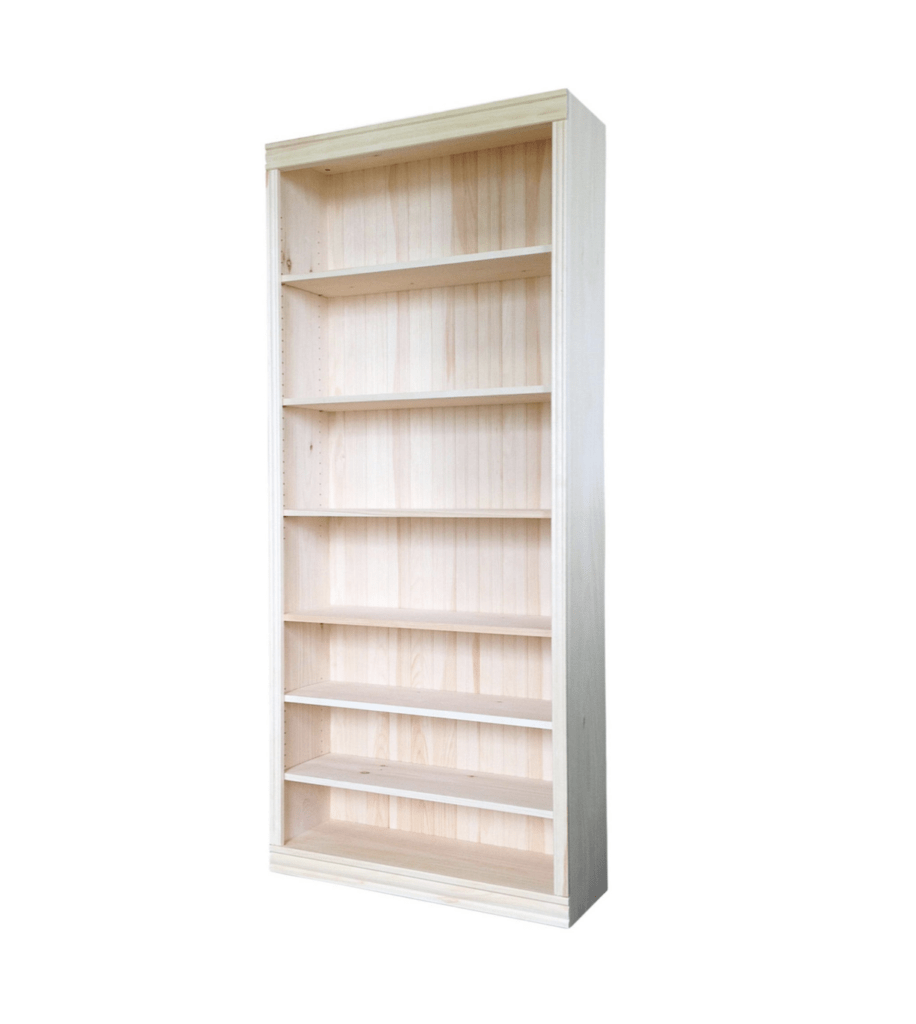 The furniture is crafted from Kiri wood, which is eco-friendly, lightweight yet strong, and has no knots or sap. Plus, the wood is naturally UV resistant, so it won't easily change colors if you don't finish it. Their bookcases have adjustable shelves.
Natural Solid Wood Tables
For console tables and side tables, I have found that WoodBarnUSA is one of the least expensive and best choices.
This Florida-based small shop has a variety of sizes and shapes that are perfect for entry way tables, behind a couch, or in a nook. (They also sell shaker peg coat racks if you are interested.)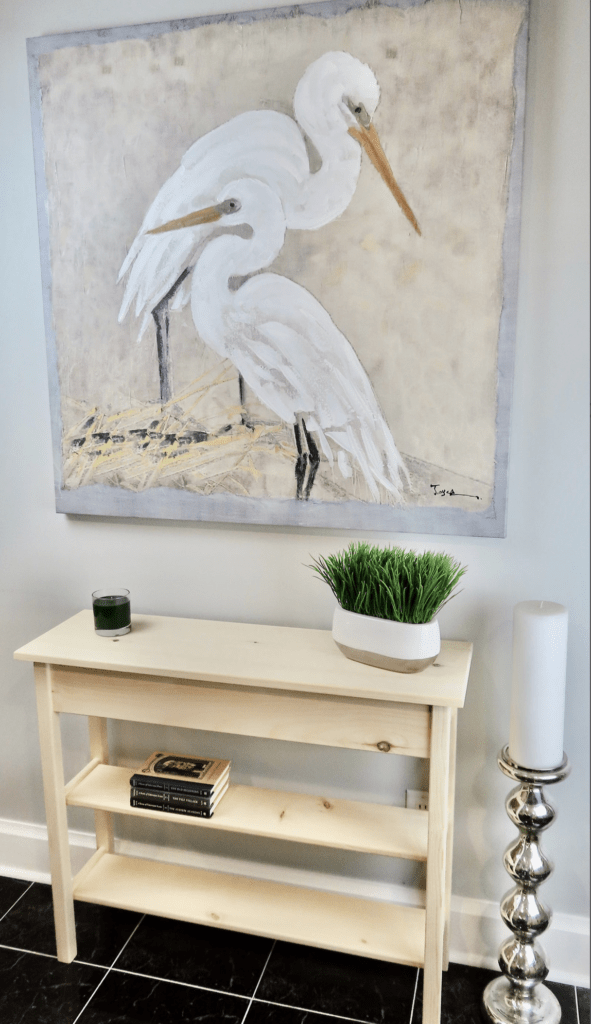 I love how they list Perfection as one of the materials used in their handmade wood furniture.
For a dining table, it's hard to beat the classic look of this unfinished wood table from Nutmeg Table Company. It's just one style of their many dining tables and butcher block islands.
In the United Kingdom, check out these solid wood tables with a metal base and a modern design.
Bed Frames and Headboards
I've shared my favorite solid wood bed frames in another article.
But I'll say again that this unfinished solid wood platform bed frame is by far the best I've come across and one of the least expensive options, too!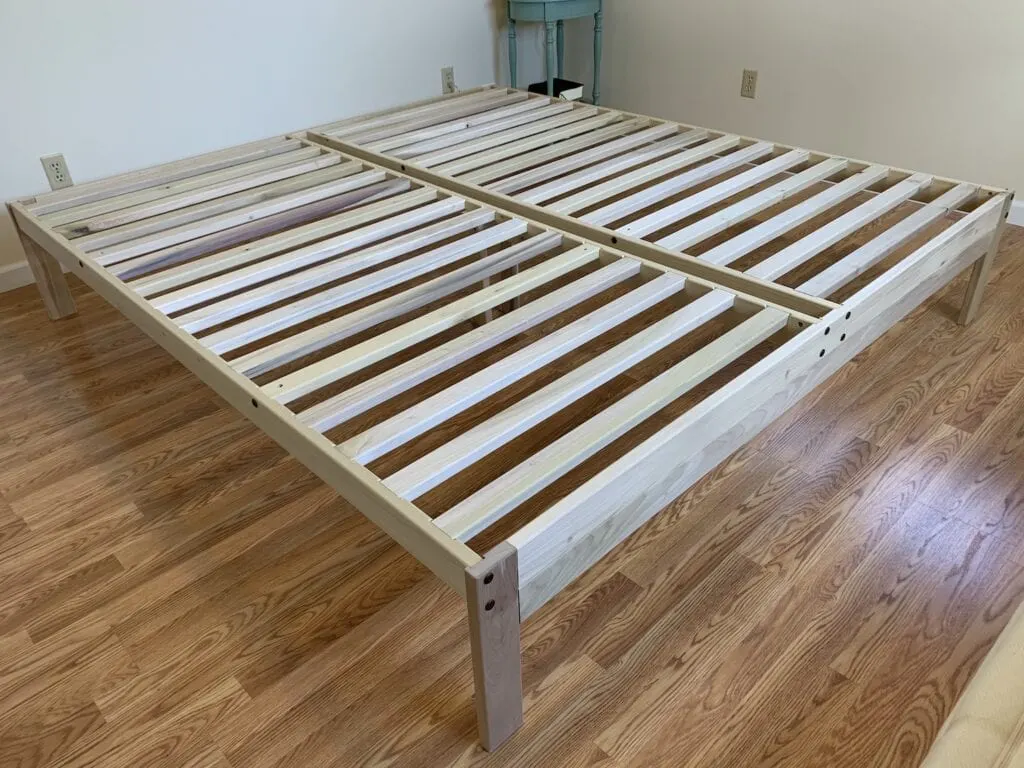 If you wanted a chunkier, thicker bed frame, this farmhouse platform bed would be a great option for you.
And I have to say, looking at this unfinished solid wood bunk bed makes me want to be a kid again! This bunk bed system (which either comes in twin/twin, full over full, or queen over queen) looks super fun for sleepovers.
Dressers
There are so many different types of solid wood unfinished dressers. If you want something more decorative or grown up, here are a variety of options.
Unfinished Solid Wood Dressers
Wood Storage Cubes
We all know how easy it is to store stuff in plastic bins. But that doesn't look good. And then the plastic ends up breaking. Invest in a few key pieces and you'll have these storage bins for years!
Solid Wood Storage Cubes
There are a million things to keep tidy around the home. Let these unfinished solid wood storage cubes, boxes and storage systems help you stay organized.
IKEA Furniture
You're probably wondering, does IKEA have solid wood furniture? Yes, they do. And I actually buy a few pieces from them.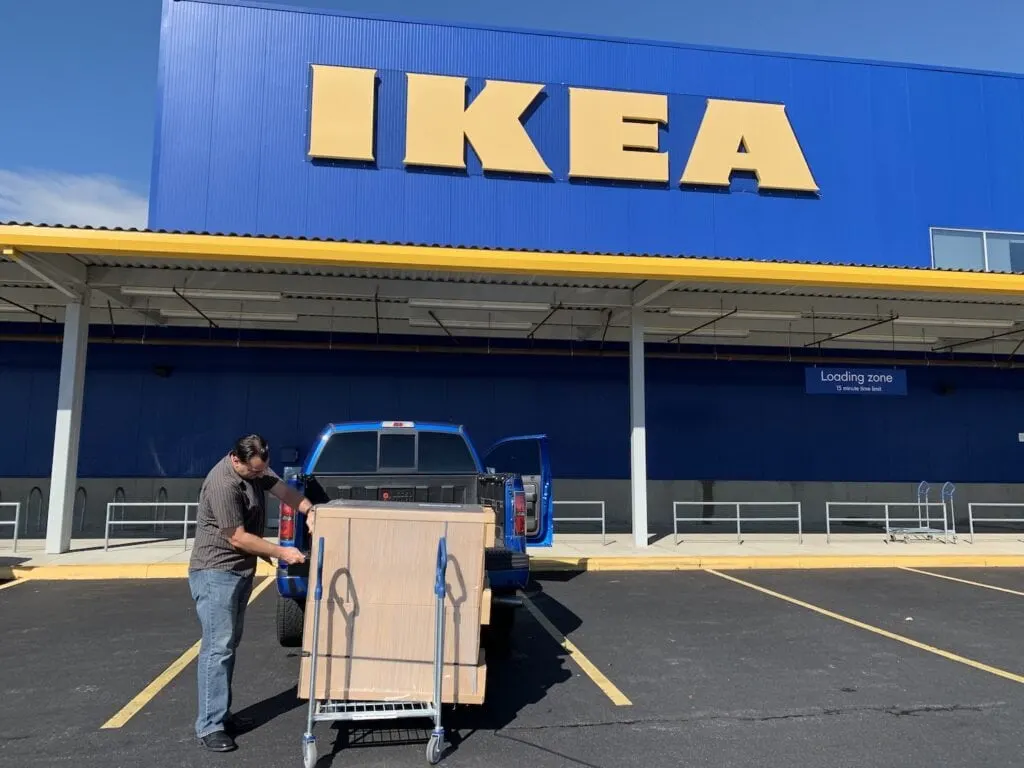 However, I have found that the IKEA pieces sometimes aren't as great as they seem.
Many of the styles look like solid wood. But upon looking at the materials, you will notice that fiberboard is used in bottom and backs of the drawers. If that's not something that bothers you, then IKEA does have some great deals on budget-friendly furniture.
When I tried to order their furniture to be delivered, I had so many problems with IKEA online ordering. I'd prefer to go into the store and get things that way.
Here's a shopping trip I did in IKEA looking for better furniture. Many of the same styles still apply:
Is Unfinished Furniture Cheaper?
Sometimes.
I've found that solid wood furniture can be less expensive than furniture made from particleboard and MDF.
When you start comparing prices for cheap, inexpensive furniture made to last a season or two, you will find unfinished solid wood furniture is likely going to cost more. But it will also last much longer.
So, if you are thinking that unfinished furniture is more expensive in your price comparisons, consider what you are getting. The furniture will last longer and can be an heirloom piece handed down to other family members.
Wondering how to clean real wood furniture? Check out my homemade cleaning recipes for beeswax furniture polish and olive oil and lemon juice wood cleaner.