IKEA is one of the best budget-friendly places to get furniture. Not only is the price right, but many of their products are solid wood or use non-toxic finishes and materials. So when I was interested in IKEA USA online ordering to get furniture delivered to my home, I thought it would be simple to place an order.
I was wrong.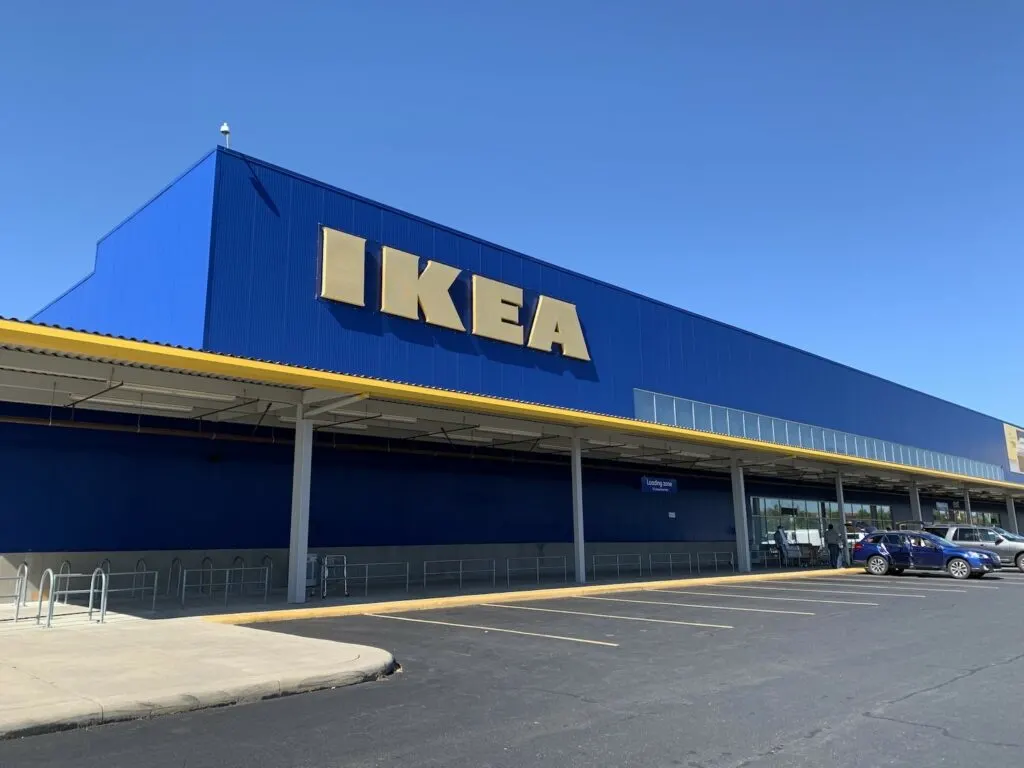 If you are considering ordering online from IKEA USA, or buying online to pick up in store, then you'll want to hear my story.
Because the IKEA online ordering platform is a mess. And the IKEA online customer service leaves a lot to be desired.
So don't hit the buy button yet until you know what you are getting into.
IKEA USA Online Ordering
So, first let's start with what ordering online with IKEA looks like. Because IKEA is in so many countries, it's important to note that my experience was with IKEA USA.
Anyone can do IKEA USA online ordering. You don't have to live in an IKEA store area to order online from IKEA.
This is important to note because ordering with IKEA to do a delivery from the store and ordering online from IKEA to do a delivery from their warehouses are TWO DIFFERENT THINGS.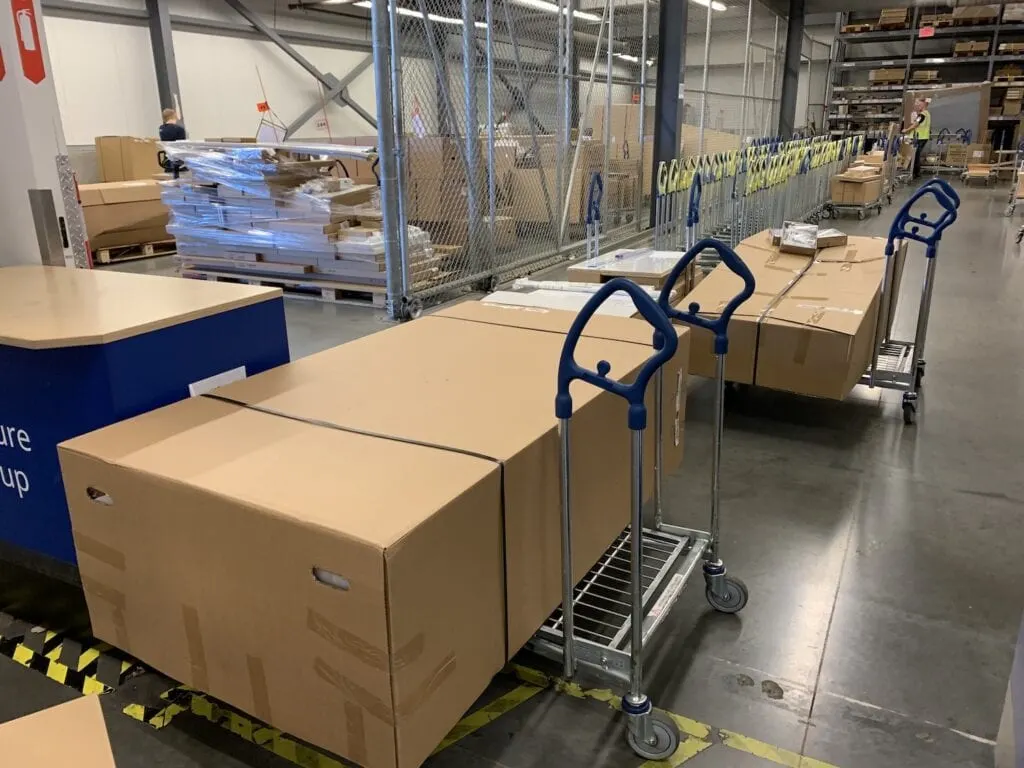 For instance, I could order furniture from my local IKEA Charlotte store and have them schedule a local delivery from the store. This merchandise would be coming directly from IKEA Charlotte.
However, IKEA USA online ordering means that I'm buying from the national IKEA USA company. They have warehouses different from the stores. So I would need to make sure that the merchandise is in the warehouses and can be delivered through a different company, rather than making sure it's at the store.
And THAT's where it gets super complicated.
IKEA Buy Online Pick Up In Store
So, you can also buy online at IKEA and choose to pick up the merchandise in the store. (A third option from buying online at IKEA. Confusing, I know.)
This means that you don't have to pay for delivery.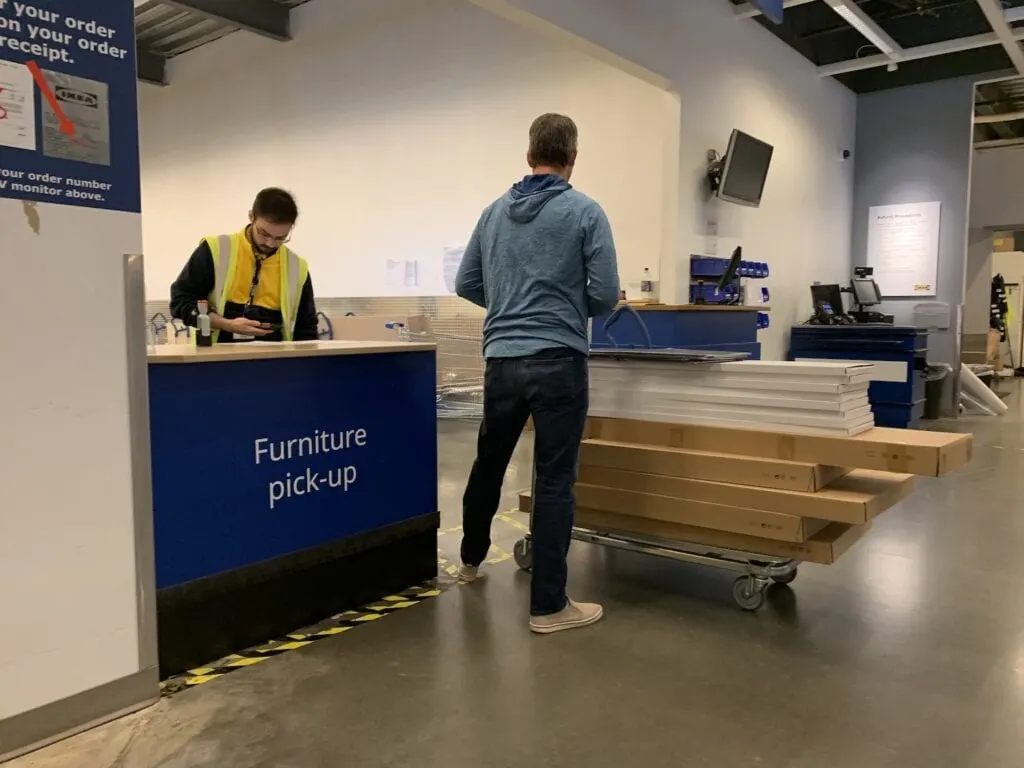 Which really keeps the costs down.
But you do need to live within driving distance of the store.
Plus, you can only order and pick up within 24 hours.
For instance, you can't order a couch and intend to go pick it up that weekend. It doesn't work like that.
With the IKEA buy online pick up in store option, you will need to pay for the merchandise online, receive your pickup order number, then go to the store and actually pick it up within 24 hours.
I tried using the IKEA buy online pick up in store option late at night around 8:30 p.m. before store closing at 9 p.m. The IKEA website gave me a couple of pick up times for the next day (they were in 2 hour time spans), but wouldn't let me schedule anything past the next afternoon.
IKEA Online Ordering Problems
Okay, so I was totally unaware of any IKEA online ordering problems until I almost hit the buy button on my IKEA Landskrona Couch and Landskrona chairs.
I happened to somehow come across a thread in a chat group about IKEA online customer service and a buyer beware warning.
Now, usually these types of warnings come from people that are cranky or just want to be angry. So I took the messages with a grain of salt.
But the more I read, the more I realized that there was a LOT of people all having the same problem. And they were all concerns that were just two weeks prior to when I wanted to order online at IKEA.
Most of the people had these same problems:
IKEA never told them delivery dates, then expected them to be available at home for delivery within 24 hours notice
Merchandise never came
Credit cards were charged, but merchandise didn't come
No one answered the customer service phone, or disconnected them if they did
You'll want to see this thread on Consumer Affairs before IKEA USA online ordering. However, I'd suggest you read my story below first, and then scroll back to this link (I'll also post it at the end, too). Just so you have a better picture of what the IKEA online ordering problems really are.
Ordering Furniture Online from IKEA to Be Delivered
I used to live 20 minutes from IKEA Orlando. It was so easy to just pop into the store and pick up what you needed.
Sure, I have had some MAJOR issues with returning merchandise at IKEA in store. Namely, having to wait an hour just to return some trinkets.
Yep, true story.
And the checkout lines at IKEA Orlando always rivaled theme park lines. They would always be snaking back towards the garden section they were so long. And slow moving.
But I never had to use the online IKEA website.
Until we moved from Florida to North Carolina. We had no furniture, and I was thinking it would be nice to get an order of furniture going so that it would be delivered soon after we moved into our new house.
Since IKEA Charlotte is a 2-hour drive away from us, this seemed like a smart choice.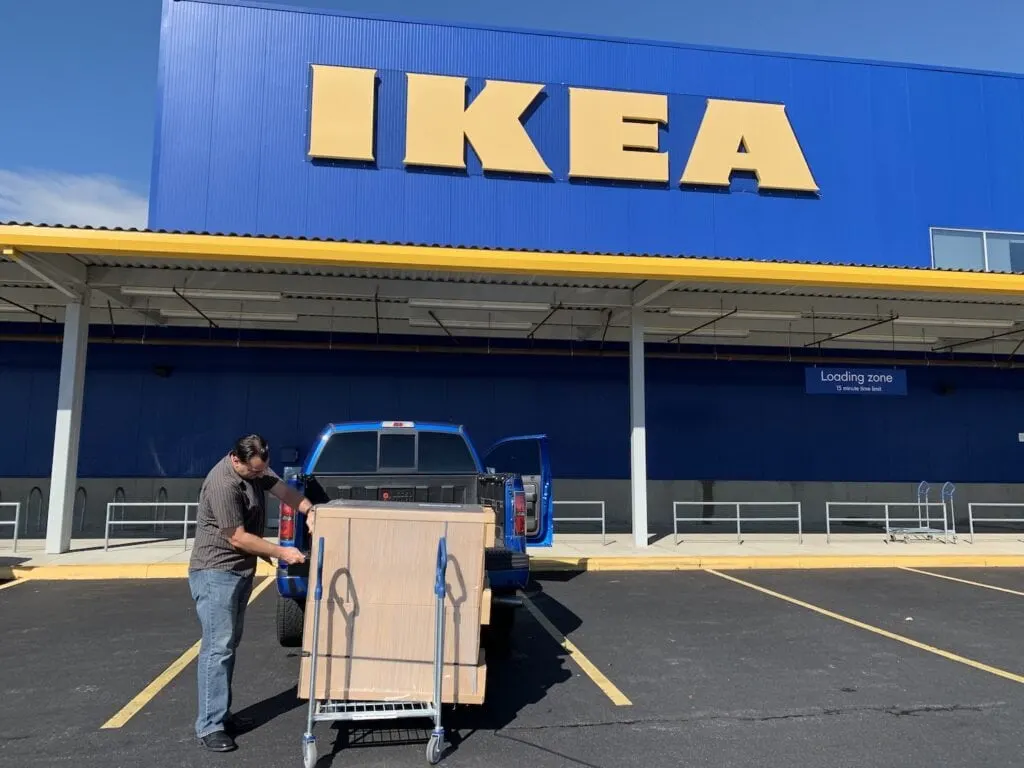 When I input all of the furniture items I wanted delivered the first time I visited the IKEA website, it seriously kept saying the delivery charge was only $99 for everything. No matter what I added on. Which seemed crazy and too good to be true.
Clearly something was wrong with their online ordering system. Because when I went back another time, it was a $69 delivery charge just for an ottoman.
I was scared off from ordering furniture online with IKEA based on the complaints on the Consumer Affairs website.
However, I was still considering it (see below on why I would do that…) in the back of my mind. I did try to process an order again. I chose a couch, and put it in my cart online.
One of the options of getting around using the IKEA USA Online Ordering system was to buy IKEA furniture on Amazon. I thought that was crazy, but it turns out there is IKEA furniture on Amazon! Just not the style I wanted.
The IKEA USA website says that you'll be given an estimated shipping date by putting items in your online cart. The couch was added to my cart. But no delivery date ever appeared.
And I tried several times.
After having read the warnings from others, I decided to call first before hitting the buy button. I called Customer Service at 9:45 pm. and was surprised to talk to someone.
The young and just-a-little-condescending customer service rep told me that I was doing something wrong. That of course there should be a delivery date showing when I placed it in my cart. (Which wasn't happening.)
Then she said wait a moment while she checked the warehouses. After being put on hold, she came back and said that there was no stock in the warehouse that serviced my area (apparently you can only get furniture if there is stock in a warehouse closest to the delivery site). Which is why I could add the furniture to my cart, but no delivery date would show.
Let's just stop and think about this for a minute. I could add the furniture and pay for it, but it wouldn't be able to be delivered because there was no stock in the warehouse…….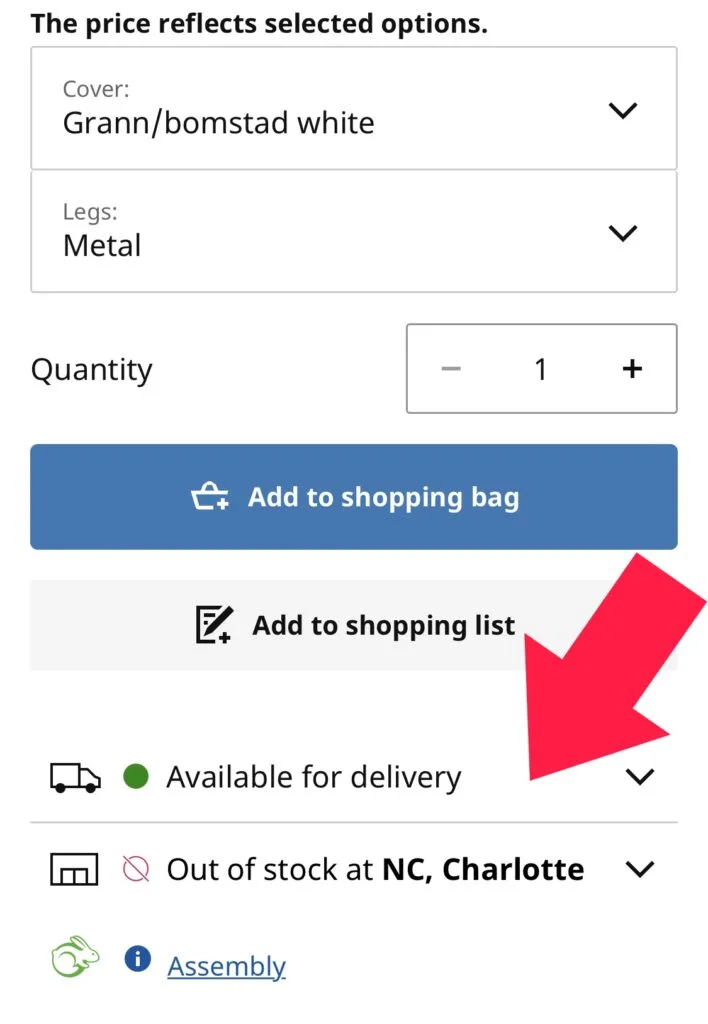 That's a serious warning sign folks.
IKEA Order Online Pickup in Store
So now we had no furniture and apparently the IKEA Landskrona sofa is very popular. There was no stock in the warehouses. And no stock in almost all of the stores (there were only 4 sofas available across the United States).
How did I know? Here's how to see what furniture is in stock at IKEA near you:
Go the IKEA website
Get on the page of the product you want to buy
Click the link where it says "Check at Your Local Store"
Scroll through all of the IKEA USA stores listed and choose yours
It will show you how many are in stock at each store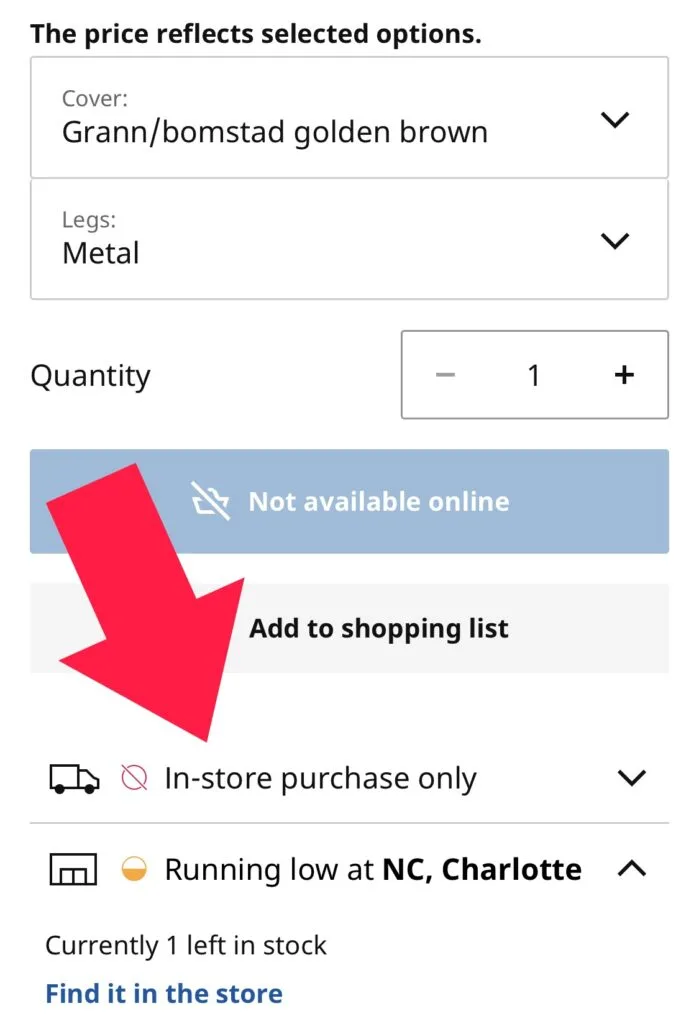 So we decided to just keep checking on the website each day to see when a delivery came in.
(Keep in mind, when I looked at my Charlotte store on the website, sometimes it told me no delivery was expected until Dec. 19 2019. Which is disconcerting to say the least. But when I continued to check other stores or on other days, no date came up. So I'm not sure what's up with that.)
When we finally noticed that a couch had come into the IKEA Charlotte store, we tried to order online that morning before driving to Charlotte.
We saw the website at 8 a.m. in the morning that there was one couch available. But IKEA doesn't open until 10 a.m. So we were hesitant to start driving 2 hours with no confirmation that the couch would be there when we got there.
So I tried to do an IKEA order online for pickup in the store.
Even though the website was showing one couch in stock, I could not order it online. It said it was unavailable.
After talking to an IKEA salesperson, she confirmed that if the stock is low on furniture, they won't let you do the buy online and pickup in store option. But I wanted so badly to be able to at least confirm we would have a couch if we drove there, and I couldn't even do an online order for store pick up.
IKEA In Stock Alerts Are Horrible
Among all of the many problems we had while trying to get our IKEA couch and furniture, another problem was their in-stock alerts supposedly sent from the stores.
If there is no stock available of an item at the store you are looking for, then you have the option of signing up for text or email alerts when the item is back in stock.
Or at least that's the theory….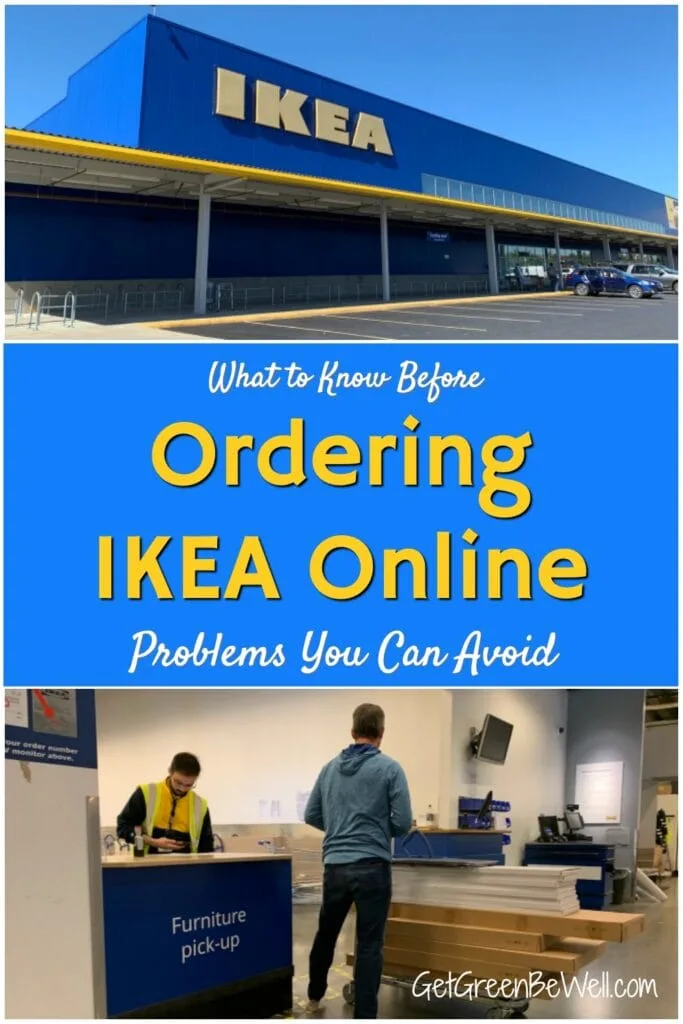 Pin This to Share with Others!
Both my husband and I signed up for in-stock alerts at IKEA Charlotte, IKEA Atlanta, IKEA Jacksonville, IKEA Orlando and more stores. We pretty much wanted to know when the couch would be back in stock anywhere in the Southeast.
While my husband signed up for text alerts, I signed up for both email and text alerts at the stores, too.
So we ASSUMED we'd be told when the item was in stock.
We were WRONG.
I found out that the couch was back in stock at Charlotte only because I got on the IKEA USA website and did my own search.
However, my husband got a text message that morning that the couch was in stock in Atlanta. But he never got a text message for Charlotte (me neither).
Ironically, when we were sitting in the IKEA cafe after having paid for our couch in the Charlotte store, my husband got a text message that Jacksonville had the couch in stock.
A few days later, I got a text message from Charlotte saying that my alerts had expired (I didn't request an expiration date) and that the stock had never come in.
The funny thing is, though, that the day after we bought our couch, another one was in stock in the Charlotte store. And we never received a text alert about that one, either. Neither my husband or I did.
So the stock was coming into the store, but we never got an in-stock message. And I NEVER got any email alerts.
A couple weeks after we got our couch, my husband got a string of texts from IKEA stores in Atlanta, Jacksonville, etc. saying that a couch was available. But never Charlotte, which is the one that we really wanted an alert for.
I never got any messages or texts at all about anything, except for having my Charlotte alert expired.
The lesson is, you can't set an alert on the IKEA website and expect it to work.
Our IKEA Furniture
So, how did we end up getting our IKEA furniture though we lived 2 hours away?
With the couch, we saw it online on our own and drove out to Charlotte.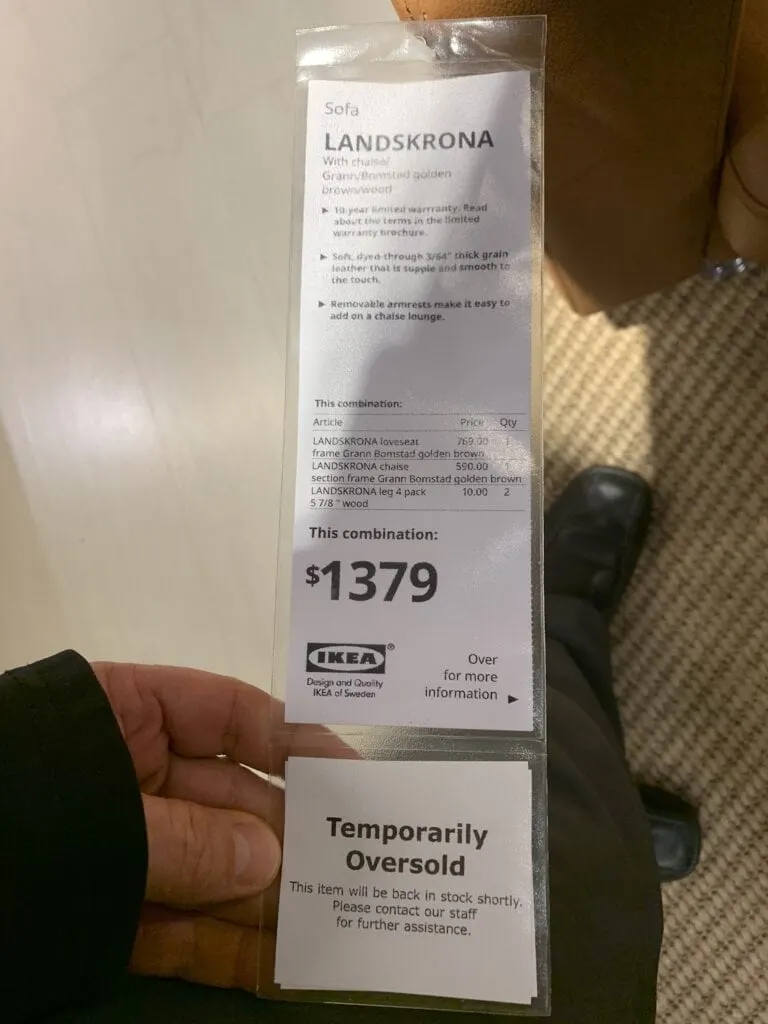 THANK GOD we had done research online and saw that there was one available. Because when we got to the store, we looked at the couch on display. The tag said there was none in stock. Had we relied only on that tag, we wouldn't have asked the IKEA salesperson to buy it.
So the IKEA tags in store aren't always accurate.
But on that first visit they did't have all of the furniture we needed.
For our two chairs, we just kept looking on the website. The LANDSKRONA chairs came back in stock about a week before we drove to Charlotte to get them. Thankfully they were in stock until we were able to get there.
We did try AGAIN to place an online order for in-store pickup the night before we went there. Even though 2 chairs were in stock, the IKEA website wouldn't allow us to do an order online and pick up in store option. I guess 2 chairs are still too low of stock numbers for the website to allow pick up in store.
Also, after our first visit, the helpful IKEA salesperson gave us the phone number of the IKEA furniture department in Charlotte. This was the ONLY way to get in touch with the store. We had previously searched online before our first visit to try and call beforehand. But we could only find a national toll free number for IKEA.
Before the second visit, we called the Charlotte store number and had them confirm there was 2 chairs in stock. They did confirm that, which was nice.
P.S. We've been shopping at IKEA for non-toxic furniture for years. That's why I was so committed to keeping on trying to get IKEA furniture. Check out my shopping trip to IKEA in the video below where I found lots of non-toxic furniture options:
Tips for IKEA USA Online Ordering I've Learned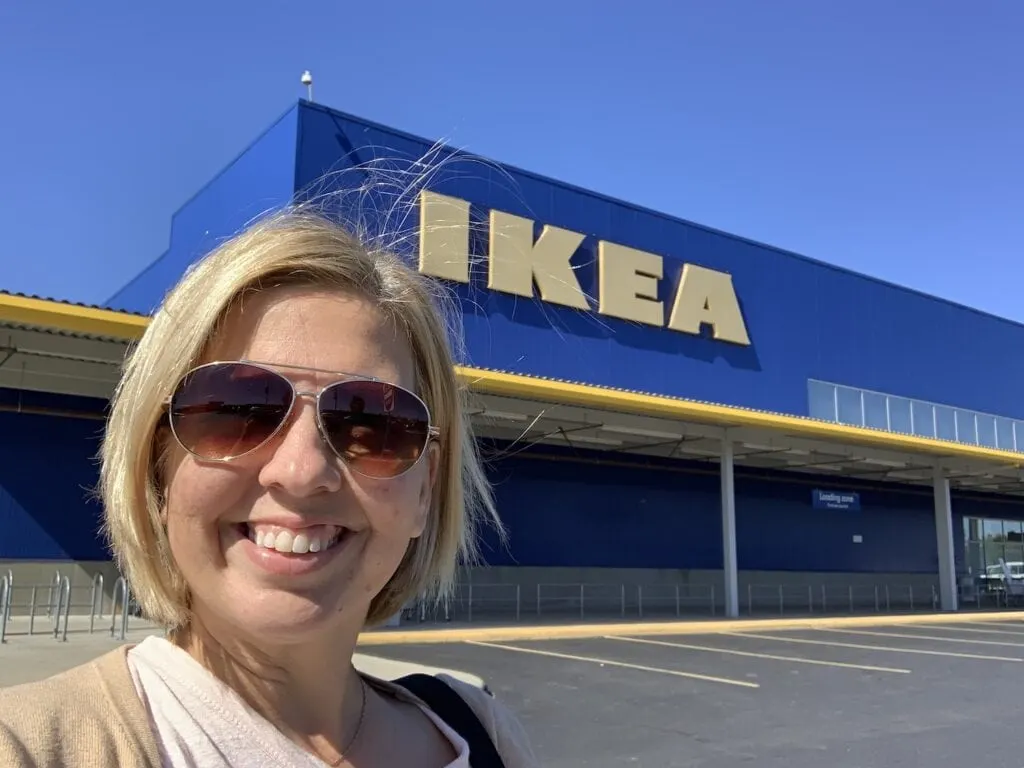 It was a complicated situation just trying to give IKEA money for furniture. Before you do the same thing, keep these IKEA tips in mind:
Look online for in-store availability before going to the store
Try ordering online for in-store pickup if possible
Don't rely on the IKEA alerts
Get a phone number to call at a specific store. If you go and they are out of stock, don't leave before getting their phone number so you can call back and confirm availability
If you want delivery and a date isn't specified in your online order, DON'T HIT THE BUY BUTTON
P.S. Now's the time to go check out the Consumer Affairs complaints about online ordering at IKEA USA.
Related Non-Toxic Furniture Posts
If you're interested in non-toxic furniture, check out our related posts: