Beeswax furniture polish might be your secret ingredient when it comes to restoring, cleaning or polishing wooden objects around your home. Perhaps nothing can give your furniture or cutting boards a new life as well as this easy homemade recipe!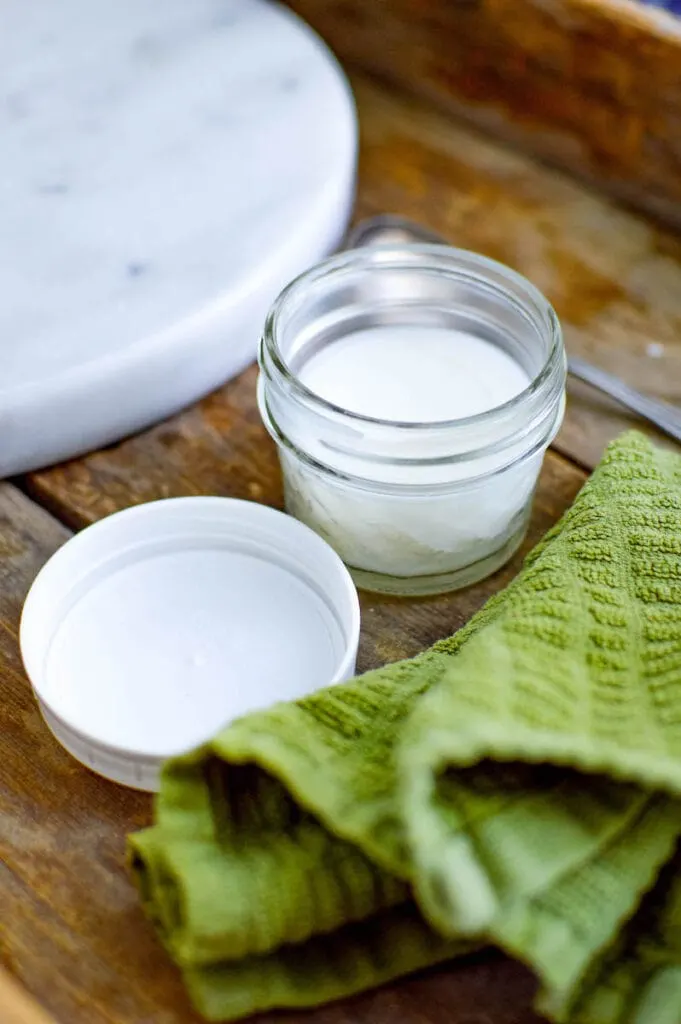 Why Use Beeswax to Clean Furniture?
Why should you even care about using beeswax to polish or restore items at home? Because this natural ingredient has no chemicals and comes straight from nature. So it's safe.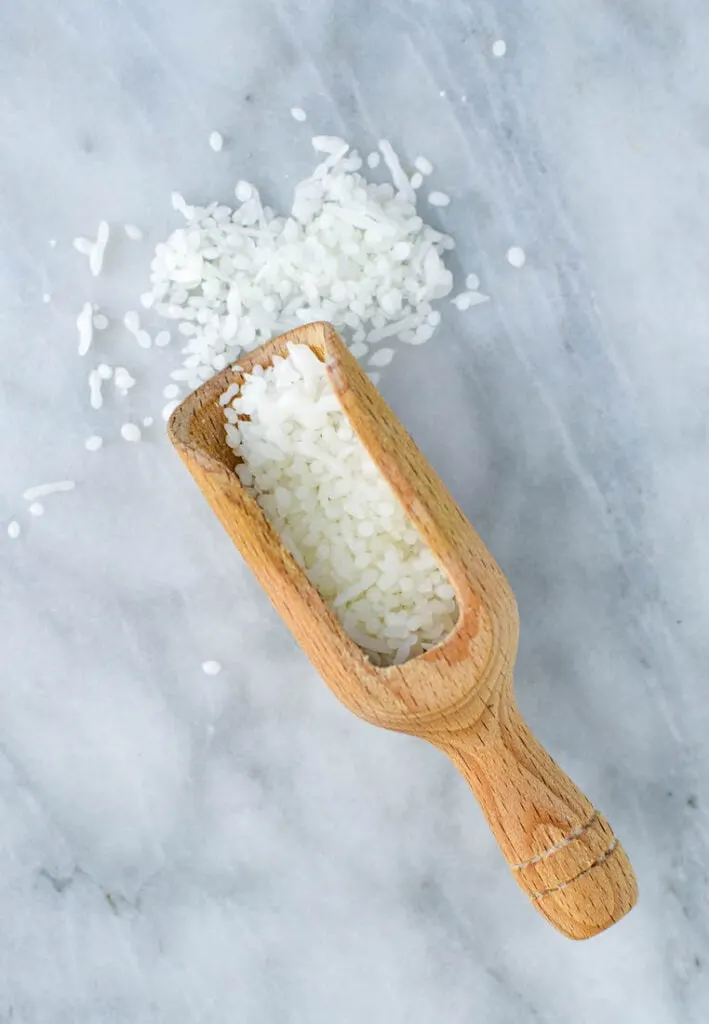 Plus, it's highly effective! And it can leave a pleasant scent if you love the fragrance of beeswax (or even add your own essential oils).
Wood furniture and kitchen items lose their moisture over time. And when they lose the moisture and natural oils, that's when they start to crack and/or look dull and faded. (Kind of like your skin. It loves natural oils to stay healthy and vibrant!)
Applying a beeswax polish to wood leaves a fine film behind of natural oils which both restore the wood and help to make it shine.
Related Post: Here's how to use coconut oil polish for leather furniture
If you like to use essential oils, adding lemon or orange essential oil to the mixture can increase how well it cleans. Both oils are known as degreasers and can help clean more effectively, leaving a natural lovely scent behind.
Using a beeswax furniture cleaner regularly can help maintain the look and health of the wood. Consider applying protective coatings every 3-4 months (or more often with more wear and tear).
What to Use Beeswax Wood Polish On
This homemade polish is great on anything that is made from wood. It can clean, polish or restore any of the following items in your home, such as:
Dressers
Tables
Bookshelves
Benches
End Tables
Nightstands
Butcher Block countertops
Wooden utensils
Cutting Boards
If you have a piece of unfinished wood that you'd like to add a gentle sheen to without using stains or lacquers, beeswax can also do that.
How to Use Beeswax Polish
Surprisingly, oil can help to remove oil. (Which is how the oil cleansing method works for skin, too.) So by applying a beeswax furniture cleaner to dirty wood that has buildup, the beeswax will actually clean the furniture.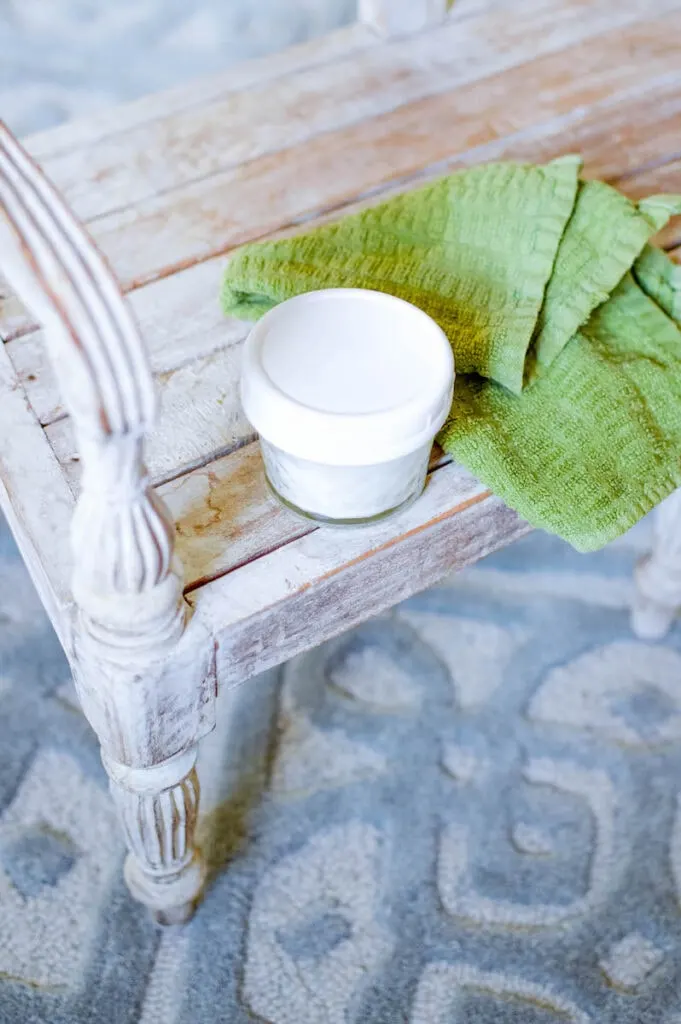 Here's the steps of how to use this furniture polish:
Use a soft cloth to wipe away dust, debris, visible dirt, chipping paint, etc.
Using a dry, clean, soft cloth (an old t-shirt works great), apply a small amount to the furniture, cutting board, etc. Probably no more than 1 Tbsp. at a time, but preferably less. Buff this into the wood using a circular motion. Cover the entire piece completely with the polish in a very thin layer.
Smooth out the entire surface using long, broad strokes in the direction of the grain of the wood with your cloth after you are done covering everything. Feel free to buff with another dry, clean, soft cloth if you'd like.
Allow the polish to absorb into the wood at least 30 minutes.
Follow up with another coat if you feel it is necessary. For instance, you want more shine, or you see patches that you might have missed.
Once you are happy with the application, do not use the furniture or kitchen items for at least 12 hours. For instance, do not place items on a table you just polished. Do not try to paint a furniture restoration project until the beeswax has completely dried. Don't wash a cutting board or wooden utensils for a day or so.
How to Make Beeswax Furniture Polish
Ingredients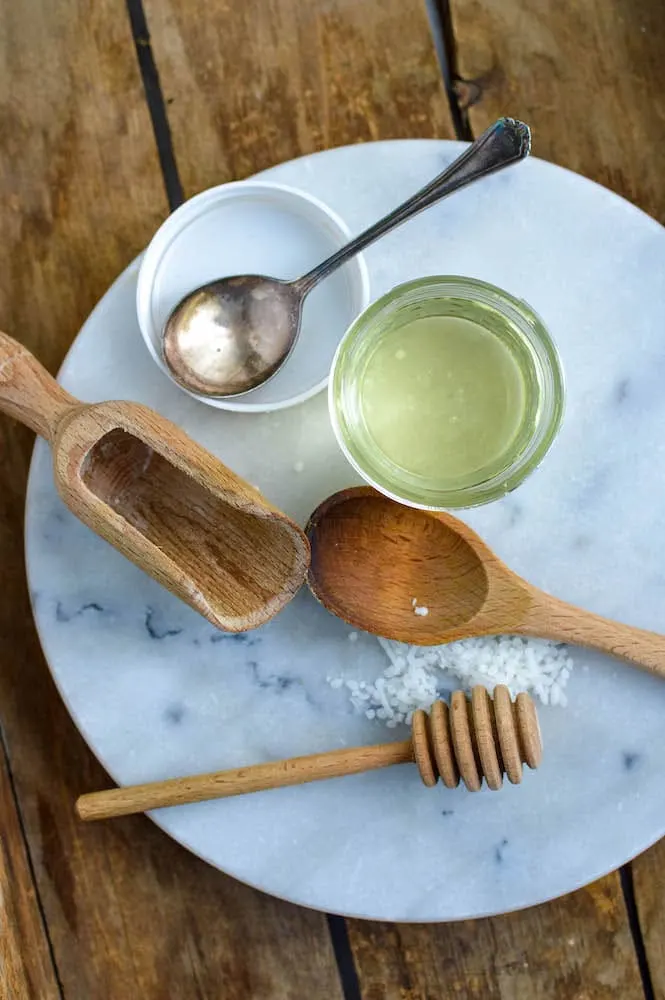 *If using on cutting boards and utensils, you'll want to ensure that the beeswax you get is food grade and safe for use with items that touch food.
*I use beeswax pellets so that I don't have to cut or grate beeswax chunks. However, you can use either. Also, if you prefer to have a subtle color (such as using on unfinished wood, buy the yellow beeswax).
Supplies
Directions
Combine the beeswax and coconut oil into your canning jar.
Heat over a double boiler or microwave for a few seconds at a time until the wax has melted.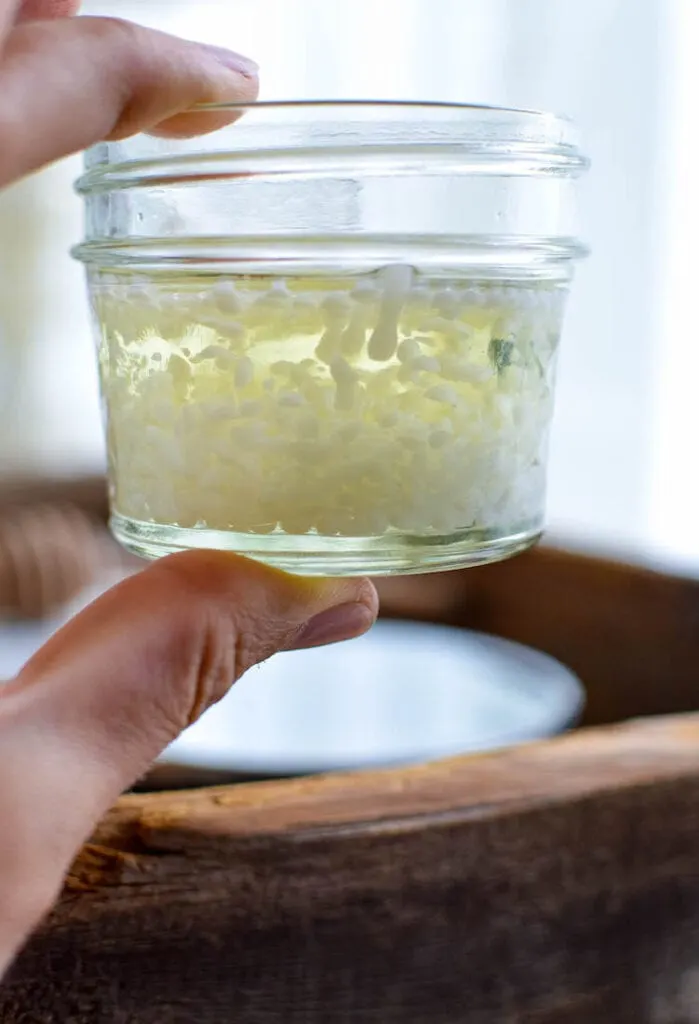 If you want to add fragrance to your furniture polish, drop in essential oils into the mixture now.
Give the polish a quick stir and then you can let it sit to harden and firm up in the jar, about 3-4 hours.
Once it has fully set up, you can add a lid and store the jar in a cool dark place. Don't store this in a sunny location or hot room, because the oils will melt.
These small jars of beeswax furniture polish are great housewarming presents or make to sell at craft fairs.
Use some of your beeswax to also make my DIY Beeswax Lip Balm Recipe or my moisturizing Beeswax Body Balm.
P.S. I also have an olive oil and lemon juice wood polish recipe, too, that doesn't require heating.