Is it possible to think of a wood polish and not immediately begin to smell a lemon scent? I think not. Probably because commercial wood cleaning products have subconsciously made us equate wood cleaner and lemons. But those products contain some nasty chemicals I don't want in my indoor air. So here's a DIY olive oil and lemon juice wood cleaner recipe that gives that comforting aromatherapy without toxic chemicals.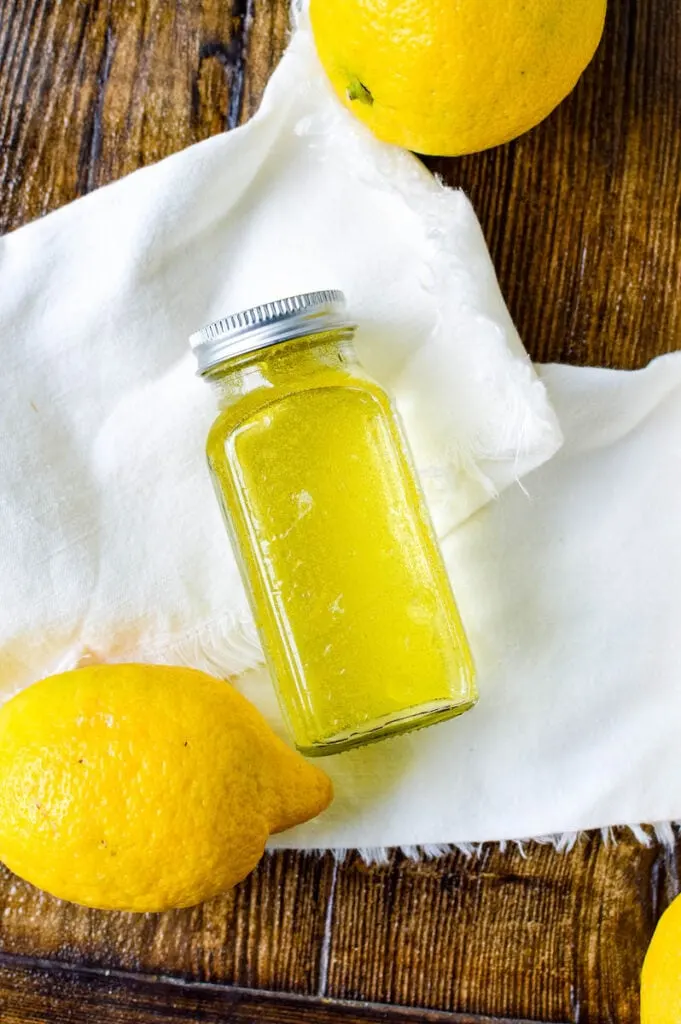 Problems with Wood Cleaners
If you notice your kitchen table is looking a little dirty no matter how much you've cleaned it with an all-purpose spray, you will probably head to the store to buy some wood cleaner. Right?
Unfortunately, a lot of those wood cleaners are made with chemicals that are necessary to keep them in a bottle on the shelf for awhile. Or to give a lemony-fresh scent without any actual lemons.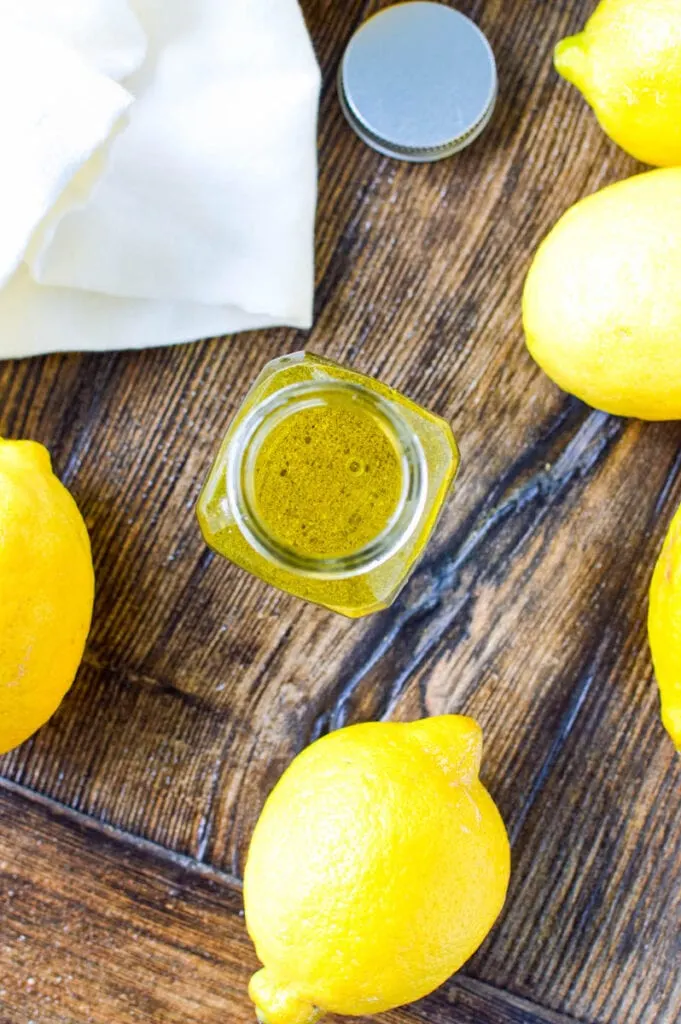 The Environmental Working Group (EWG) does great research on ingredients in cleaning products, giving scores from A-F based on toxicity of the ingredients. Here's what their scores for wood furniture polish cleaners were for some of the most popular brands you might find on the shelf.
Toxicity Scores of Wood Cleaners (via EWG in 2020)
Pledge Revitalizing Oil Spray
Target Up & Up Furniture Wipes
Bona Wood Furniture Polish
Method Wood for Good Daily Clean
Old English Lemon Oil Spray
You'll want to check their website for specifics on each product. But seeing these scores makes me want to take just 5 minutes and make my own wood polish. It's simple, probably costs less, and I know exactly what's in it.
Why Clean Wood with Lemons?
Lemon juice doesn't seem like it would be a good fit for cleaning wood. But like all things in nature, sometimes it's the most simple solutions that are the most effective.
Lemons are full of citric acid, which is a great cleaning ingredient. (That's why it's used in my toilet bowl cleaner recipe.)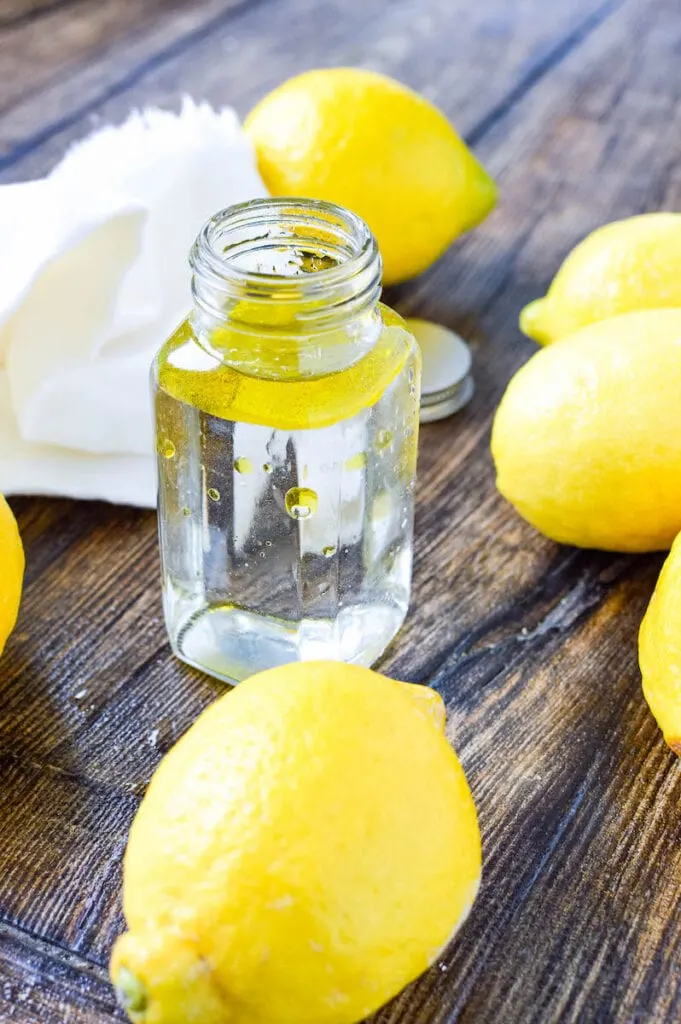 And, surprisingly, lemons are low in pH. Yep, you heard that right. Citrus fruits, such as lemons and oranges are actually low in acid.
Lemon oil is also known to have some antimicrobial properties. It's a natural and mild disinfectant that cuts through grease and grime and kills mold.
Plus, its bright, citrusy scent is uplifting and energizing. And we all need some happiness and positivity when doing something as mundane as cleaning wood throughout your home, right?
Why Use Olive Oil on Wood?
You know how your skin can get dry but by applying lotion it suddenly bounces back to life? Wood is the same way. It's a dry, porous surface. It needs moisture. And olive oil can give it.
Many wood cleaners use mineral oil. It's an oil that does add back moisture. But mineral oil is derived from petroleum, and it's not eco-friendly. And it certainly isn't food safe. Why use a non-natural ingredient such as mineral oil when you can just use a non-toxic food ingredient instead?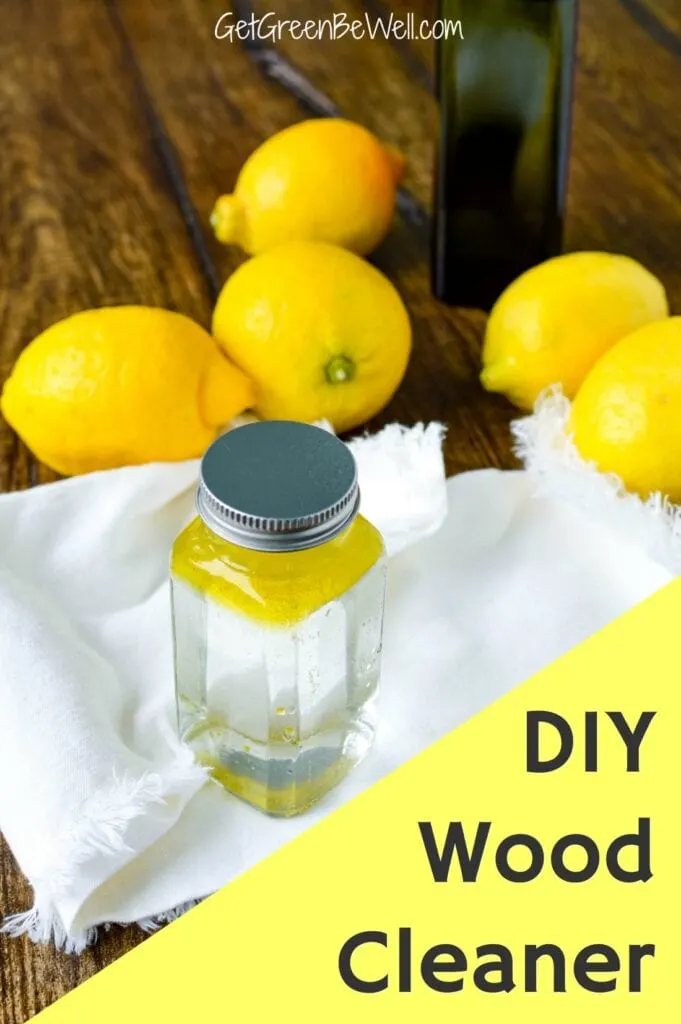 Olive oil will impart a gentle shine and sheen just like other oils. By using an oil on wood, it helps to protect the product and keep it long lasting.
We also have a beeswax furniture polish recipe, which uses coconut oil and beeswax. It works great, too, but is not vegan like this cleaning recipe is.
Olive Oil and Lemon Juice Wood Cleaner Recipe
Ingredients
1/4 cup of distilled water (optional)
2 tablespoons white vinegar
2 tablespoons olive oil
1 tablespoon lemon juice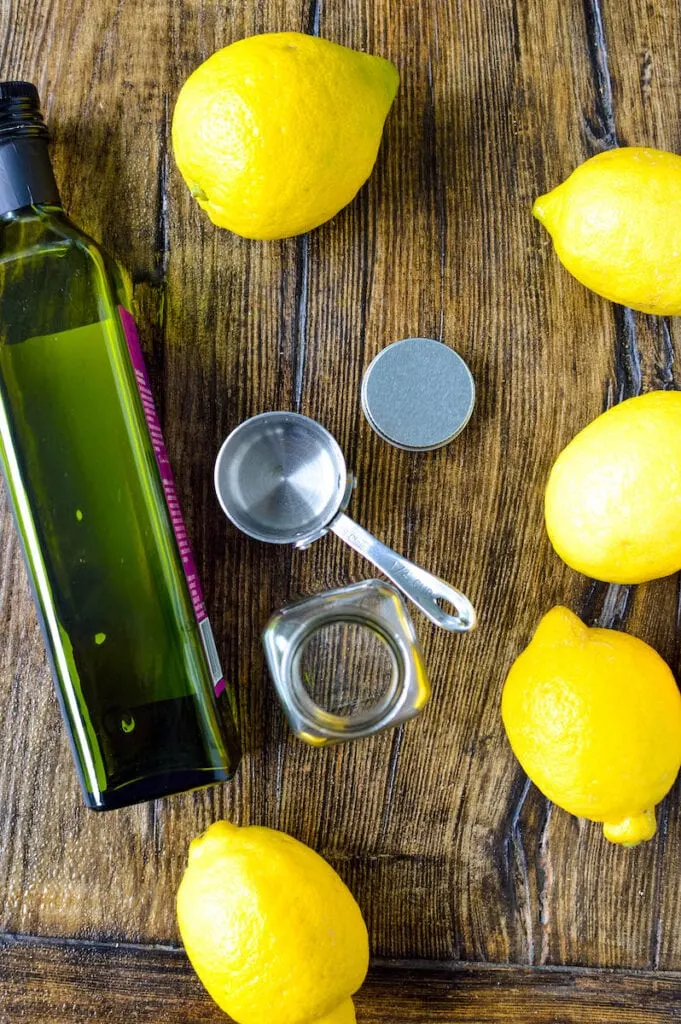 Materials
1-2 glass jars or spray bottles to hold the polish in.
Directions
Using distilled water will make the cleaner thinner in consistency. Which you might like, but it is not necessary.
Combine the ingredients together and shake well, shake again each time before using.
When you are ready to use, do a quick test spot with the polish to ensure you have the desired results. Wait about 48 before continuing to clean the entire item.
To Use
Spray or blot onto the surface and buff in with a clean, dry cloth. Buff off with a separate clean and dry cloth. Repeat as desired.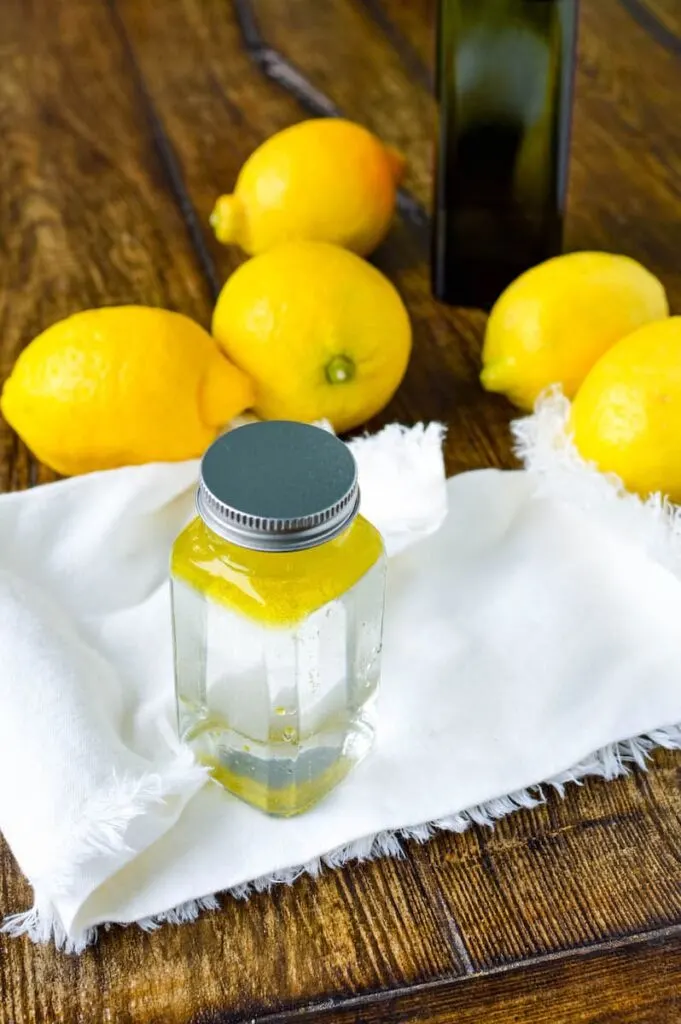 Store the jars or bottle in a cool dark place.
Best Wood Furniture Polish Cleaners
Not feeling a DIY project? It's okay. No hard feelings! Here's the best wood polishes and cleaners to buy, according to EWG. They all got a score of A (there's only 4 brands):
Martha Stewart Clean Wood Floor Cleaner
Truce Wood Cleaner, Lemon
Eco-Me Wood Polish, Kate
In a hurry? No worries! Pin this on your Pinterest cleaning or home hacks boards to save for later.