Finding a natural non toxic bed frame for a platform bed was a search that I didn't think would be so hard. All I wanted was a solid hardwood, low VOC and chemical free bed. Ideally I wanted it to be eco friendly and sustainable. But just as important as being healthy, was it needed to be an AFFORDABLE non toxic bed.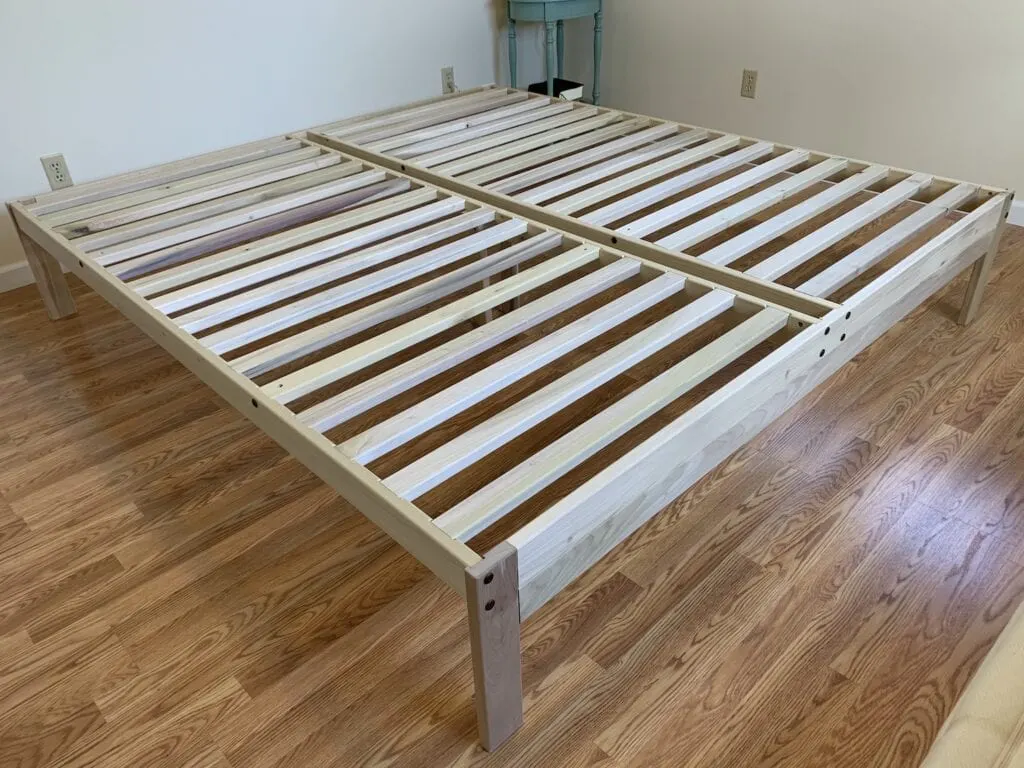 And trying to find all of those things in one piece of bedroom furniture actually kept me up at night (ironically) searching for the mythical piece of non toxic furniture that would fit my budget.
Did I find something?
Oh, yeah. And I can't wait to share my results with you.
Because in all honesty you don't need to waste hours of your time doing this same search for chemical free platform beds. Trust me. I've done it for you.
***This non toxic bed frame is what I bought and recommend for budget-conscious shoppers. I give you ALL of my results below.
Searching for a Chemical Free Platform Bed
Okay, so I was using my natural latex mattress on my very old bed springs for quite a while. And I didn't even realize it was a problem.
You see, I received a Sleep on Latex natural mattress when I still had an old conventional bed. I didn't realize that a latex mattress was supposed to be supported by a platform bed frame with slats.
So we put the latex mattress on the old bed springs. For years.
In all honesty, I didn't know it was a problem until I had readers asking me very specific questions about different types of mattresses (I review all kinds of natural mattresses and own different ones) and how far the slats were allowed to be apart to keep the bed warranty.
I had no idea this was a thing! And that you could void a latex mattress warranty because you didn't use a platform bed or the slats were too far apart.
When I realized this, I thought I probably needed to buy a new bed frame. Plus, the old box springs and metal bed frame that I had were low profile. Which meant that they were very close to the ground. Only about 8 inches off the ground.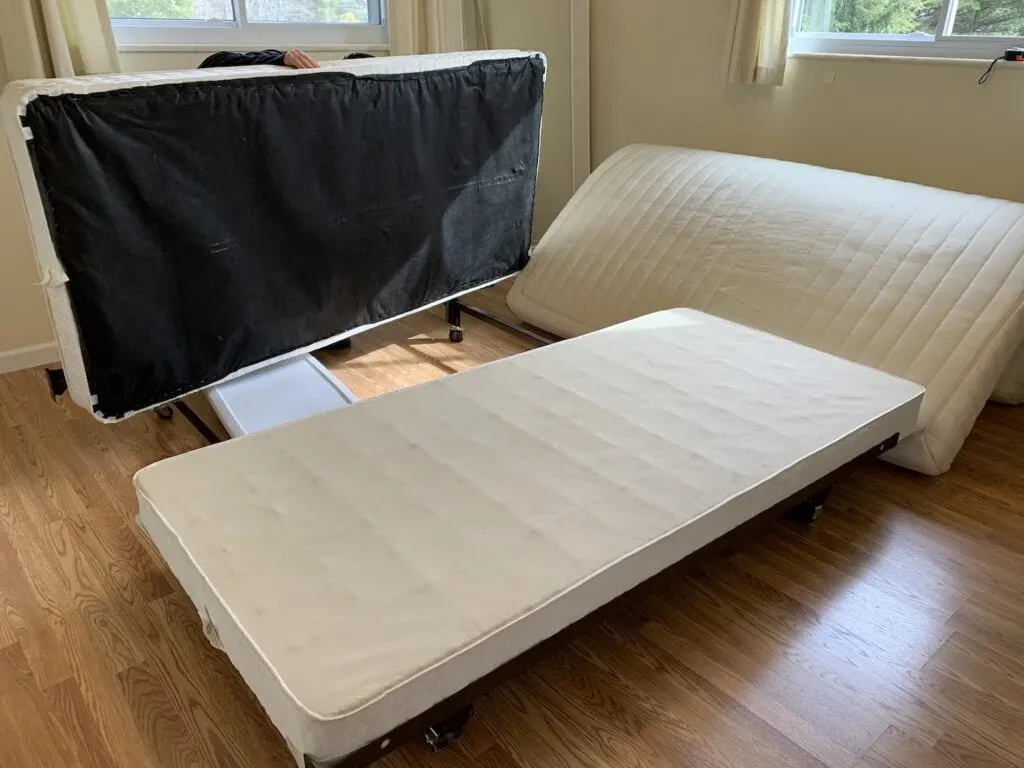 Which made me feel like a child every time I got in bed. And that's mentally not good.
I soon realized that I had a few options in getting a chemical free platform bed frame:
Solid Wood
Engineered Wood
Metal
A metal bed frame was not going to be something that I wanted. Not only do I not like the look of metal frames, I was very worried about the possibility of increased EMF fields while sleeping by laying on a metal platform bed.
Solid Hardwood Bed Frames vs. Engineered Wood Bed Frames
What I soon found out is that when you search for solid wood bed frame online, you don't actually get solid hardwood bed frames in the results.
Nope.
The results actually came back with a lot of sketchy, highly varnished wooden bed frames made with composite or engineered wood. And that's NOT the same as solid hardwood.
Today, wooden bed frames are likely made from materials that look like and act like solid wood.
But they are not solid wood.
What is Pressed Wood?
Have you heard of MDF (medium density fiberboard)?
Then you've heard of pressed wood. It is also known as engineered wood composite.
Pressed wood is created by "pressing" tiny pieces of ingredients together to resemble something similar to wood. These ingredients can include:
Wood particles
Planer shavings
Wood flour
Waste chips
Sawdust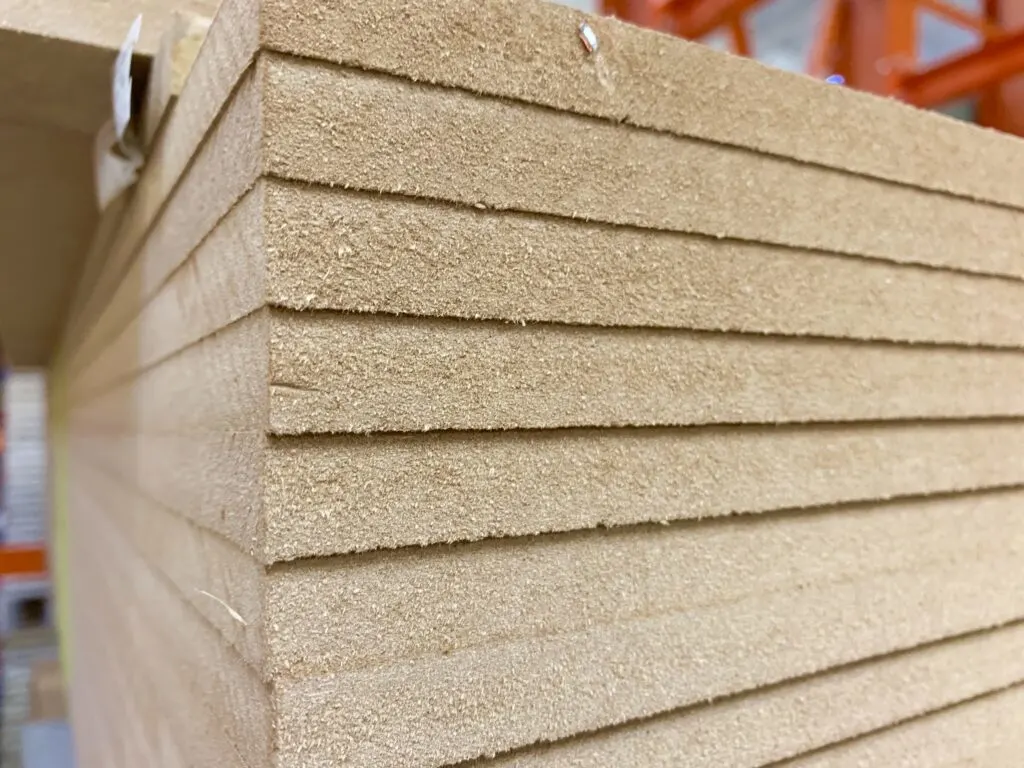 The ingredients are bound together by adhesives. And it's THOSE adhesives that cause the problems. Then the engineered wood is compressed under high heat to make a product that looks like solid wood.
Though most people don't say the term "pressed wood." Usually you'll hear this material referred to as:
MDF (medium density fiberboard)
Particle board (low density fiberboard)
Chipboard
Engineered woods often have a veneer or plastic laminate to look like the grain of real wood.
Generally, furniture and cabinet manufacturers don't promote the fact that they are using pressed woods. They want to give the illusion that you're getting a real solid wood product. You will have to ask specifically if you are getting solid wood or pressed wood.
Adhesives Used in Engineered Woods Could Cause Cancer
Engineered woods are inexpensive materials that perform as well as wood. If they are made without toxic chemicals, there's nothing wrong with using pressed woods. It's their adhesives that cause a problem.
Because they can come a high dose of formaldehyde.
The majority of engineered woods and pressed woods use adhesives and glues that contain formaldehyde. Not ALL companies use toxic adhesives, but it is more common than not.
In fact, the EPA has said that in homes, "the most significant sources of formaldehyde are likely to be pressed wood products made using adhesives than contain urea-formaldehyde (UF) resins."
Formaldehyde, a known carcinogen, has a host of health problems associated with it, including:
Burning sensations in the eyes and throat
Skin rashes
Coughing
Nausea
Asthma
Eye, nose and throat irritation
Wheezing
Generalized fatigue
Severe allergic reactions
Cancer
As of 2019, there are new regulations for certain wood products made in the U.S. or imported into the U.S to reduce formaldehyde emissions. If you want to read more, check out the
EPA's emission standards
.
But reduction is not the same as elimination.
How to Choose a Low VOC Platform Bed Frame
Usually when you search for a solid hardwood bed frame, you are doing so because you want low VOCs or no VOCs in your bedroom furniture.
And that's a smart decision when you are trying to create a non-toxic bedroom.
So keep these following shopping tips in mind for low VOC bed frames:
A metal bed frame can be one of the easiest solutions. However, you might not want to sleep on a metal structure because of potential EMF fields.
Wood bed frames with a highly polished look will require a shellac or lacquer. Those products usually contain VOCs and chemicals unless the company uses a non toxic version (rare, but some do, such as Savvy Rest)
Unless unfinished wood, the bed frame will require a stain. These can have the same high concentration of VOCs and chemicals as lacquers or shellacs. Again, you need to look for a company that promises to use zero-VOC stains (such as Savvy Rest).
If the materials description says particleboard, MDF, pressed wood, composite woods or anything other than solid wood, it won't contain a single solid piece of wood cut from a tree. See important information above.
Choosing an unfinished solid wood bed frame with low to no VOCs doesn't mean you have to settle for the look of unfinished wood.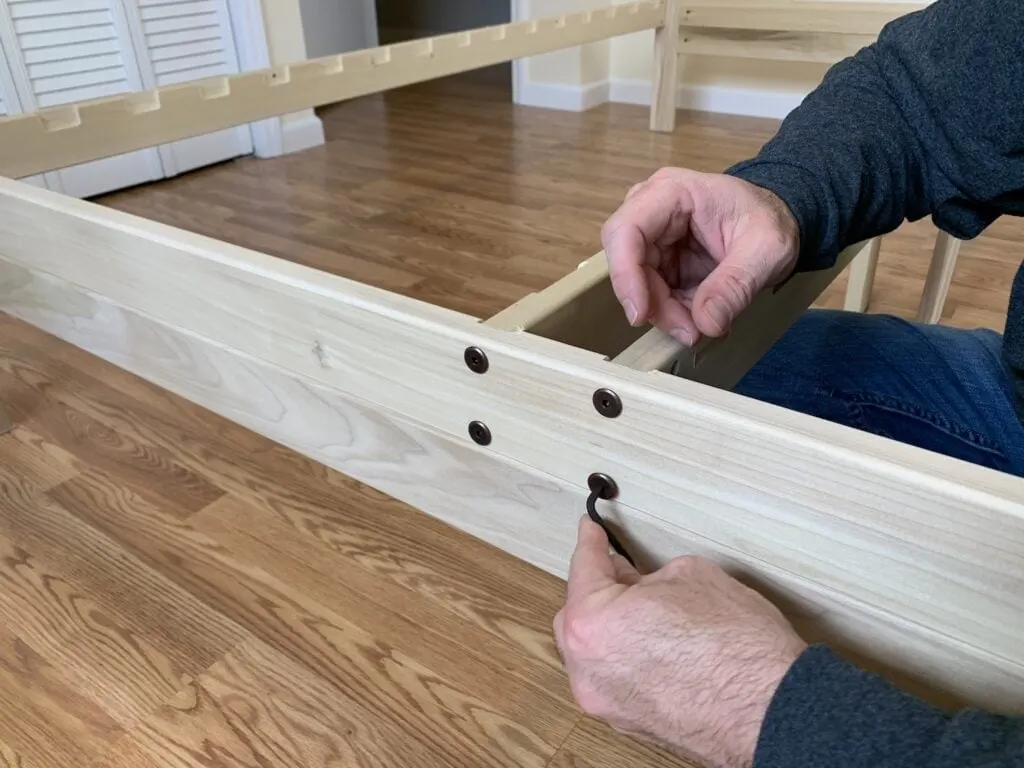 In fact, it gives you more options to customize your bed frame to match your bedroom and decor.
Here are low to no VOC ways to customize your natural solid wood bed frame:
Stain Yes, there are zero-VOC stains available.
Linseed Oil Among the most natural and old fashioned ways to finish wood. This wood finish combines linseed oil with beeswax for shine without gloss.
Paint There are a variety of no VOC or low VOC paints in any color you want. Try AFM Safecoat, ECOS, Bioshield or Benjamin Moore Natura.
Natural Non Toxic Bed Frames
I've done the research of what I would put in my own bedroom, so you don't have to search for hours online.
These are my best choices. Including the one that I own.
I have tried to include a variety of non toxic hardwood platform bed frames that are natural, low VOC (because I can't ever promise no VOC as that's dependent on manufacturing) and sustainable.
KD Frames
This is the solid wood platform bed frame that I bought. And it is affordable!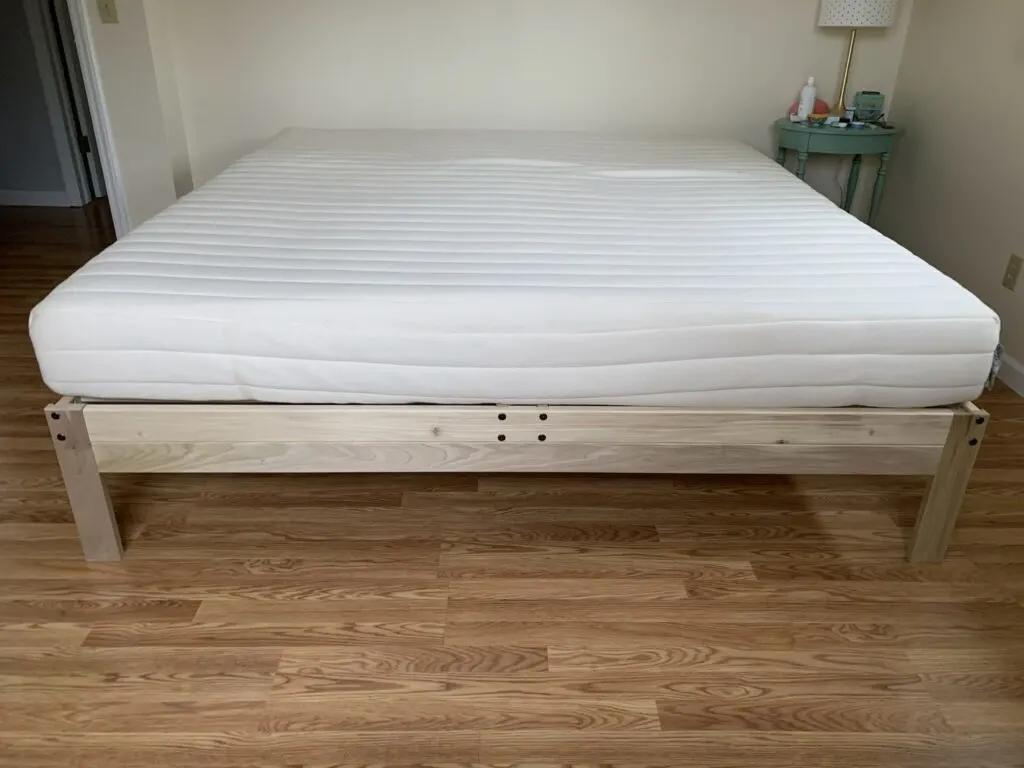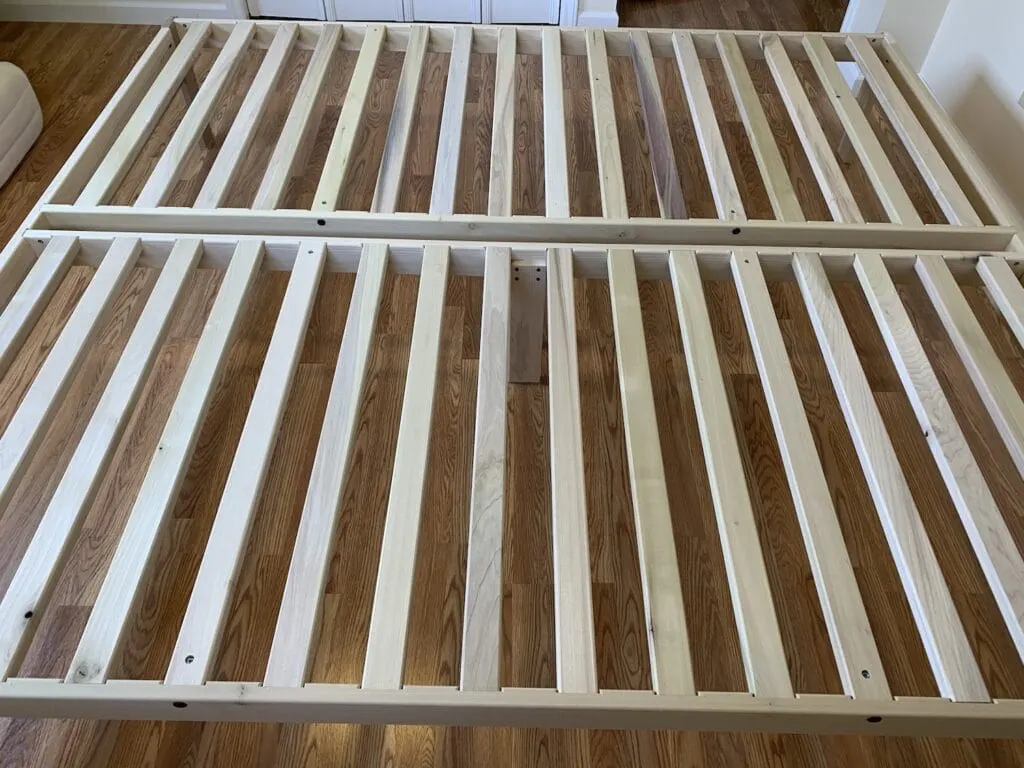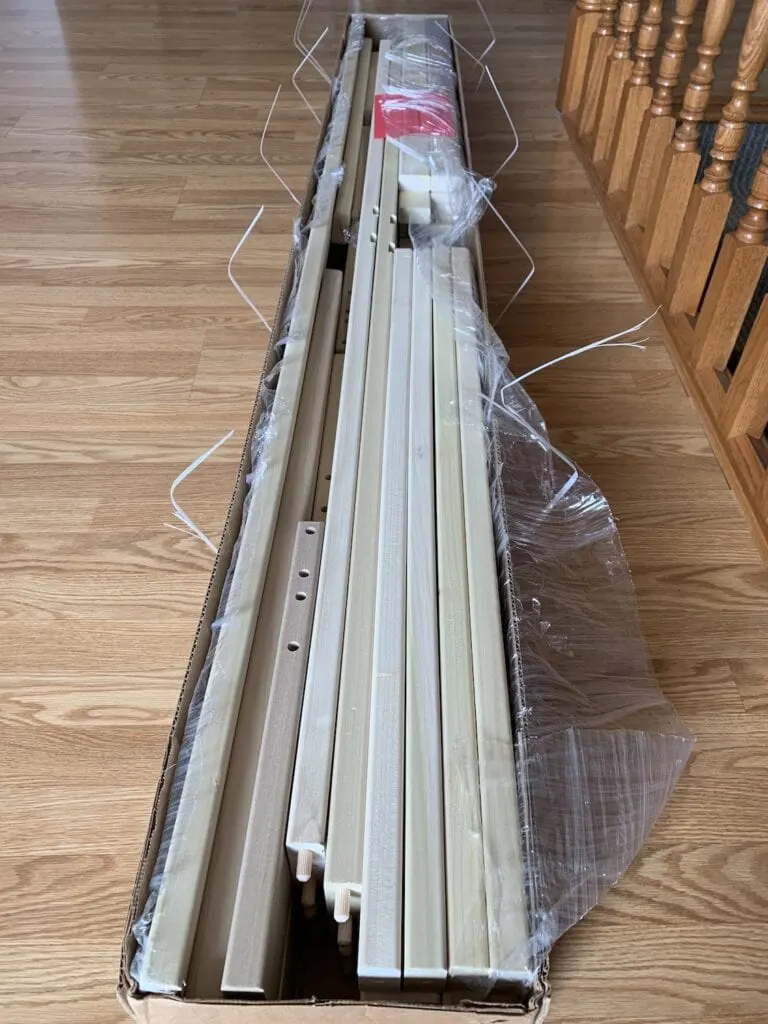 KD Frames is a Georgia-based company that has been in business since 1987.
Their hardwood platform bed frames are:
Made from kiln dried Tulip Poplar hardwood
Responsibly grown in Virginia forests
No chemicals applied in the factory
Smoothed wood
Unfinished
Keep in mind, for a truly chemical free platform bed frame, you will want to try to order from October to May. Why? Because the lumber company that cuts the poplar wood dips it in a fungicide in summer months to prevent mold. So wood that is received to be processed in the summer months could have fungicide residue. If this is a major concern for you, be sure to contact the company via their contact page. They are very transparent about when would be the best time to buy to avoid chemicals.
I love that the solid wood platform beds come with and without headboards. Also, there are accessories for customizing the natural bed frames, such as a solid wood trundle bed and wooden storage boxes that fit underneath the bed frame.
Here's my video of what it's like to put together a KD Frames solid wood platform bed frame:
We also use this platform with our Nolah Natural Mattress.
Savvy Rest Bed Frames
You literally can't have a list of non toxic bed frames without including Savvy Rest. It's not possible.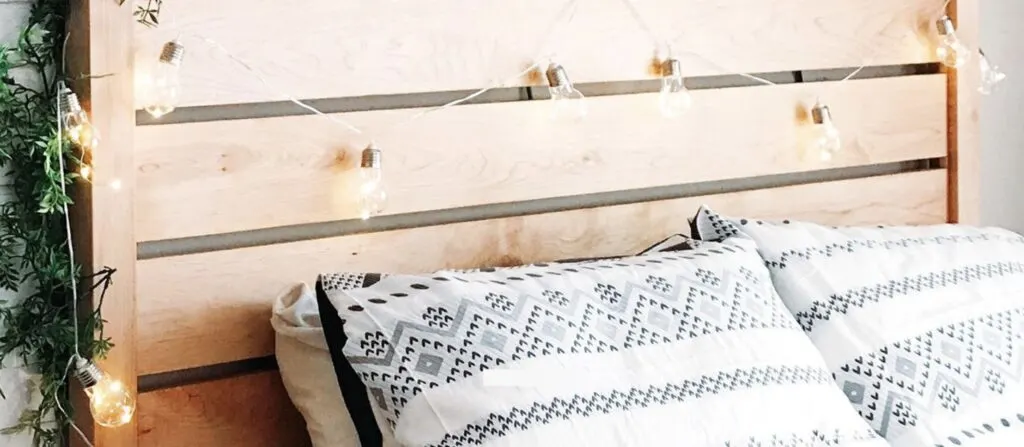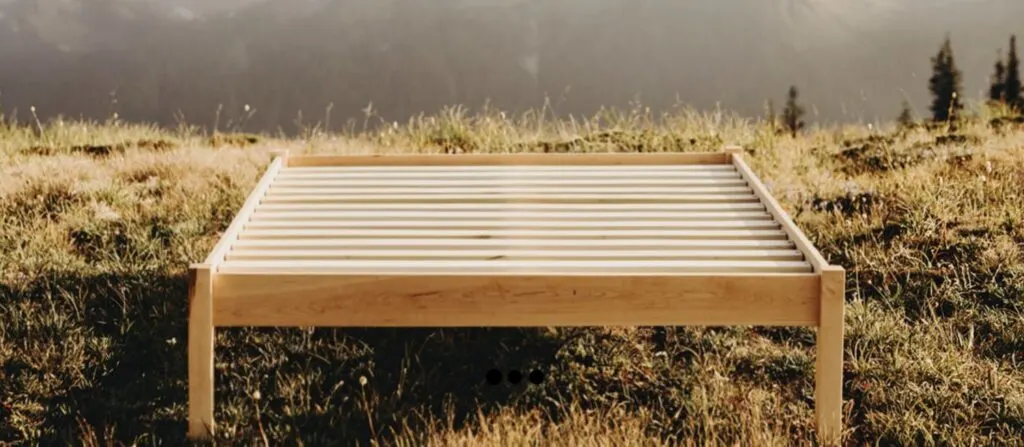 This eco friendly company has been making non toxic furniture and mattresses for so long. They are among the absolute best products if you are seeking chemical free bedding.
Savvy Rest has EVERYTHING you want in a chemical free platform bed!
Sold wood platform bed frames made in Virginia
Maple wood
Poplar wood slats
Unfinished wood option
Zero VOC stain options
Zero VOC linseed oil option
Sustainably sourced wood
Heirloom Quality
No Tools Needed for Assembly!
There are three Savvy Rest solid wood platform bed frames. All are amazing:
Non-Toxic IKEA Bed Frames
Okay, not all IKEA bed frames are going to be non toxic or natural. In fact, few are.
But they do have a decent selection of hardwood platform bed frames that are unfinished and not treated.
I showed some of my top picks in my IKEA shopping video below:
If you are searching IKEA yourself, always look at the product hang tag. It will tell you what the materials are.
Some of the top IKEA bed frame choices are:
NEIDEN Made of pine, it's a natural solid wood bed frame. Also incredibly cheap for a non toxic bed frame. However, I found the construction of this IKEA bed frame to be flimsy.
MYDAL Looking for bunk beds? These solid pine twin bunk beds are made from untreated wood.
By the way, if you happen to order an IKEA bed frame online, be aware of these IKEA online ordering problems with online ordering.
Buying in store is different so you don't need to worry as much.
More Furniture Shopping And Care
Looking for other pieces of unfinished solid wood furniture? Check out our shopping guide for dressers, bookcases, storage cubes and more!
Plus, if you want to add your own stain or paint to any of the wood furniture items, these are the best zero VOC paints (and some of the companies have stains and sealants, too).
When it's time to clean your wood furniture, our DIY beeswax furniture polish will add moisture back into the wood while naturally cleaning it.
And if you're curious about what sheets to put on your non-toxic bed, here's my favorite brands of organic cotton sheet sets.
Why not make your mattress more comfortable, too? These inexpensive latex mattress toppers are some of the most affordable natural options I've found.