Trying to remove smells in your house, but you don't want to use chemicals? I hear ya. Spraying anything in the air, whether it's natural or artificial, will mean that you, your kids and your pets will eventually breathe it into your body. That is why this easy DIY Natural Odor Eliminator Spray is so important to have in your home!
Removing Odors Naturally
I am a big believer in removing odors naturally. In fact, I would rather just remove the source of the odor rather than cover it up. That is always the best solution, and makes sense in the long run.
So before you start mixing up a bottle of this Natural Odor Eliminator Spray, consider whether you can just permanently remove the smell, instead. Consider doing any of these things if you can:
Remove the offending odor (throw out old, stinky shoes or remove the trash)
Wash an item to remove the odor (such as washing a comforter, spot cleaning upholstered furniture or carpet, washing dirty socks, etc.)
Use a long-term odor absorbing product throughout your home (these odor eliminators for closets are amazing and you can get rid of odors in the refrigerator with these unique finds)

DIY Natural Odor Eliminator Spray
But sometimes you just need a quick freshening up. Maybe something unusual happened in your home, or you have company coming over. Perhaps you have pets and it just doesn't matter how hard you try, you need an odor eliminator.
Or maybe you would actually like to incorporate natural fragrance into your home for aromatherapy. All of these are good ideas to find a natural odor removing spray.
Then this simple and easy natural odor eliminator spray is perfect for you!
Make up a batch to keep in each room that constantly needs odor elimination (like the bathroom, kitchen, laundry room, mud room, by the trash can, etc.)
In a hurry? Pin this to a cleaning or home hacks Pinterest board to save for later!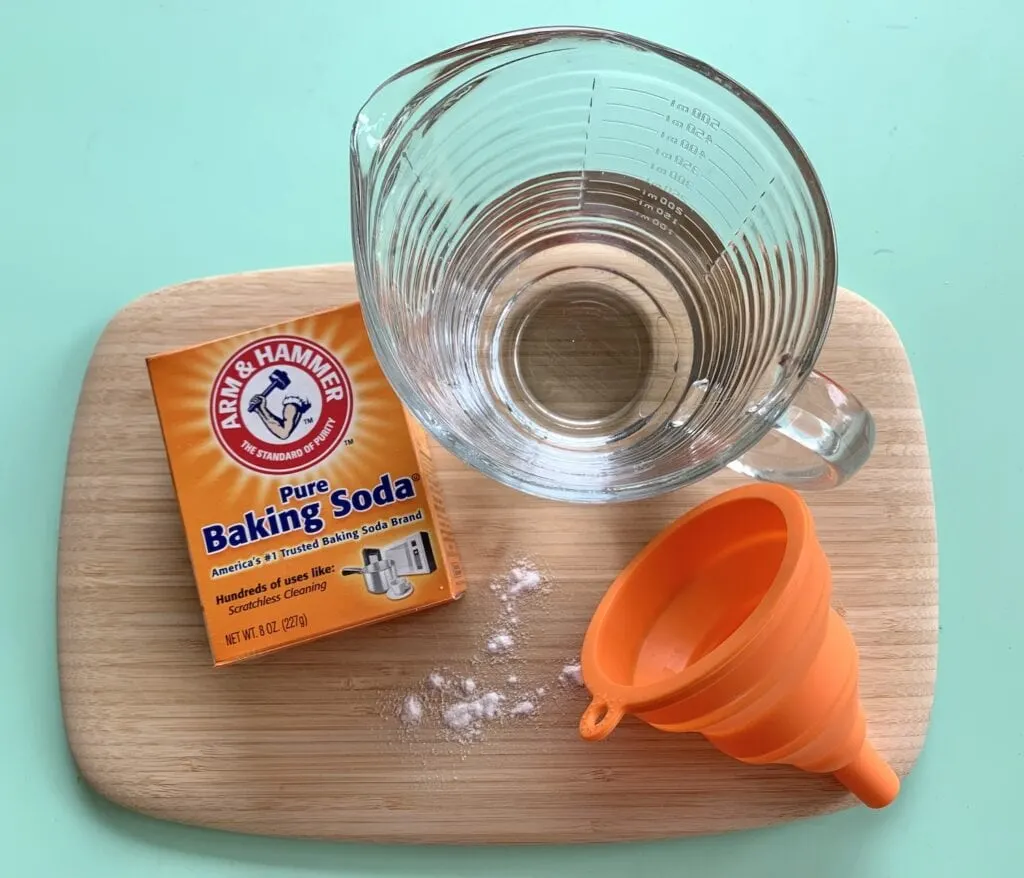 Natural Odor Eliminator Spray Recipe
Supplies:
1 spray bottle
1 tbsp. baking soda
2 cups distilled water
Essential oils (see below for some great custom scents)
Funnel
Instructions:
In a bowl, pour in the 1 tbsp of baking soda.
Add in your personal preference of essential oils. You ideally need just a few drops (from 5-25, depending on your preference of strength) of each. Keep in mind, you want these essential oils to be as natural (organic would be great) as possible. This is something that you will be inhaling into your lungs and breathing in. Don not get fragrances that are made of synthetic chemicals.
With a fork, mix the baking soda and essential oils together. Use a kneading action with the fork to blend in the oil into the baking soda.
Add 1 cup of the distilled water and stir together.
Using a funnel, pour the mixture into a spray bottle. Add the rest of the water, attache the nozzle, and shake up. (Note: You might not need the entire amount of the additional 1 cup of distilled water. Or you could need more. This will depend on the size of your spray bottle and how full you would like to fill it.)
Custom Essential Oil Blends for Removing Odors
Blending essential oils together is like being a perfume maker. It is fun and there are no rules. It all depends on what smells good to you.
So while there are infinite possibilities to creating an essential oil blend to get rid of smells, consider some of these popular mixtures:
Lavender, lemon and rosemary
Lemon, orange, grapefruit
Lavender, lemon and peppermint
Rosemary, eucalyptus, and grapefruit
Lavender, orange and rose
Lime, tangerine, grapefruit and spearmint
Geranium, grapefruit and lime

How to Pick Essential Oils
You might be freaked out after I keep stressing that you will be breathing in these fragrances, so you better make sure they are all natural.
Wondering how to pick essential oils? Here are some guidelines:
Choosing organic is always a great idea. The USDA Organic certified label means that there is nothing synthetic in your essential oils. The US Organic line of essential oils is a good and offers a wide array to choose from, including this lemon essential oil. Or try this organic orange essential oil from a different brand.
Always look for 100% pure essential oils. I am a fan of NOW Foods products. Their multi-pack of essential oils is a great choice.
Do not buy a "fragrance oil" or a "perfume oil." Fragrance oils are made with synthetic chemicals. That is NOT what you want.
You do not need to use a lot. Those big bottles of essential oils might seem like a great bargain. But if you never use them, they aren't. Most recipes use just a few drops of any essential oil, so a bottle lasts a long time. So don't be frightened by the cost of great quality essential oils. You might end up using them in a variety of ways for a long time.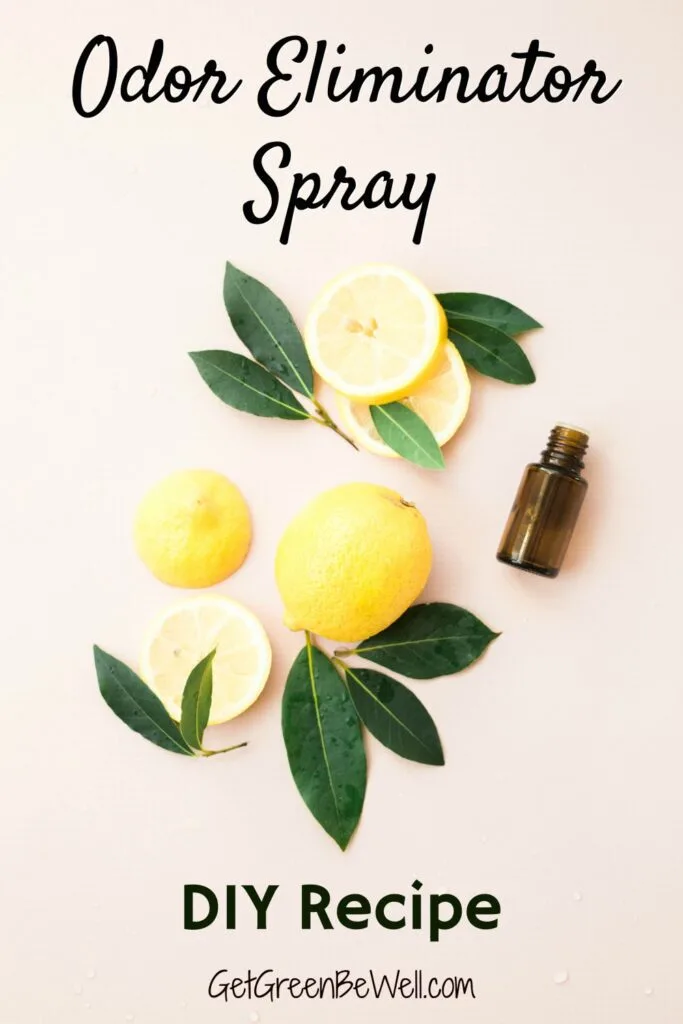 Making Your Own Natural Cleaning Supplies
DIY natural cleaning supplies are super simple to make. If you liked how easy this recipe was, then you will also love this no-streak homemade glass cleaner without vinegar and DIY all natural kitchen cleaner.
Check out our guide of which vinegar to use for cleaning, as well as how to use vinegar to clean your toilets.
And for continued odor eliminating in your home, consider running a diffuser with essential oils for a natural, pleasant smell.