Your kitchen sink is dirtier than your toilet.  Hard to believe, but true. How do you kill germs in your kitchen sink naturally, without using chemicals?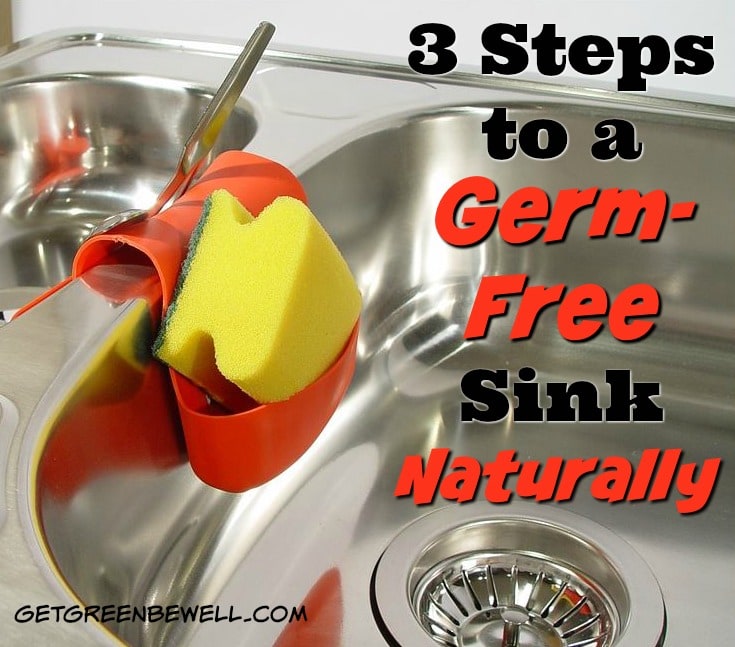 You can clean your kitchen sink effectively and kill all of the bacteria, without inhaling harsh fumes.  Try this all natural one-two punch to kill germs and get your sink really clean. (Keep in mind that this process might not be suitable for all kitchen sink materials. We use it on stainless steel. To avoid damage, perform a test spot first.)
3 Steps to a Germ-Free Kitchen Sink
Clean with soap and water, using a sponge or reusable rag.
Spray it down with white distilled vinegar. Let completely dry or wipe off.
Spray it with hydrogren peroxide.
Then simply let air dry.
The vinegar kills all kinds of nasties, from germs to mold and even cuts grease.  Here's a helpful list of what kind of vinegar to clean with. The hydrogen peroxide is just as effective at killing bacteria as bleach is, only without the toxic fumes.
Just DON'T mix the vinegar and hydrogen peroxide together to save a step. It will create a chemical – peracetic acid – that could harm you.
What's better than using an all natural and effective way to kill germs and clean the kitchen sink?  The fact that these cleaning items are really cheap!  So you'll actually save money in the long run.  Not bad.
Get Green:  Using less artificially created chemicals, many of which are harmful, means less of these chemicals get into our public waterways and in the ground. Using ingredients you already have on hand means you have to buy less products, which means using less packaging.
Be Well:  Vinegar and hydrogen peroxide don't have the nasty chemicals and toxic fumes of traditional cleaners, meaning you're not inhaling questionable ingredients – some of which have been shown to have negative health effects.