Have a white plastic vinyl fence that is dirty, moldy or covered with mildew? Is there green moss or algae growing on your PVC fence? Then you need these easy, non-toxic tips for how to clean a vinyl fence!
If you have a white vinyl (also known as PVC) fence, then it will get dirty. It's just a matter of time. While these types of fences are more low-maintenance than wood fences, they are not worry-free. They fences are exposed to dust, dirt, debris in winds, mold growth and algae build up. You do need to do some maintenance to keep them white and shiny.
The great news is that cleaning a white vinyl fence can be easy, cheap and it just takes a few minutes. It's the only way to keep your white fence from becoming gray with dirt and dust, or spotted green from mold and mildew. So there's no need to keep putting it off!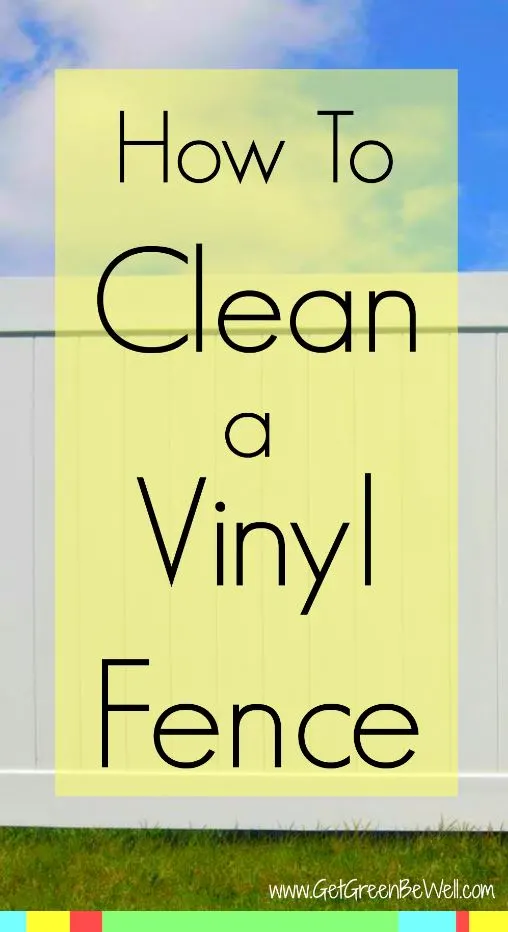 7 Ways to Clean a White Vinyl Fence
Washing your entire fence, not just the places that look dirty, is important for proper maintenance of your fence. You don't want to treat only the places that look dirty, only to have the rest of the fence start to mold and mildew a few weeks later.
These non-toxic ideas will easily clean a fence, as well as vinyl siding on your house, too!
1. Garden Hose
PVC fences that haven't built up a thick layer of moss or mildew can often be cleaned with just a spray from a garden hose. This is an easy way to clean your fence without a pressure washer.
Using a sprayer attachment for your hose, rinse off the dirt and grime starting from the top of the fence and working down. For extra cleaning power, you can use a high-pressure nozzle on your hose. Buying a high-pressure nozzle is still less expensive than buying or renting a pressure washer.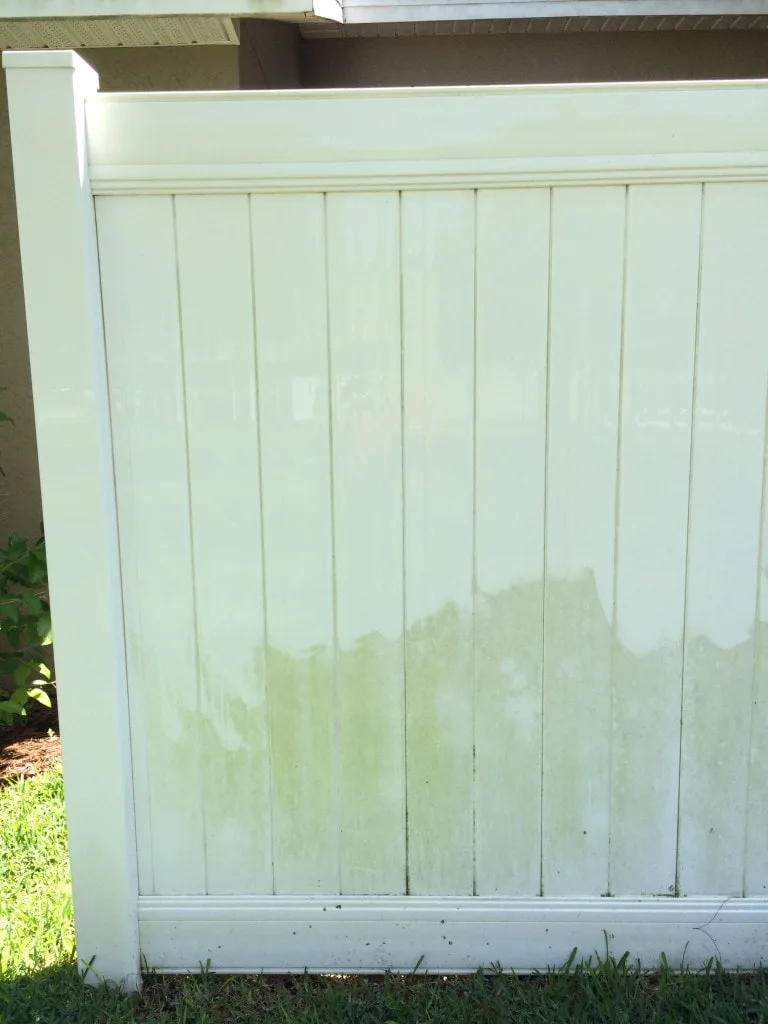 2. DIY Vinyl Fence Cleaner
You do not need to spend a lot of money on fence cleaners. In fact, you don't need to spend money at all! All it takes to clean a vinyl fence is something you've already got in your home – vinegar.
Make your own vinyl fence cleaner without any toxic chemicals! Here's the easy recipe:
Add 1/2 – 1 cup of white vinegar to about 1 gallon of water. The amounts are variable. You can't get it wrong. It depends on how much cleaning power you need (for example, caked-on dirt from 10 years might need more vinegar than routine maintenance cleaning). You can also add a little bit of dish soap to the solution, too.
Dip a microfiber cleaning cloth into the solution (or use a car wash mitt), and wipe down your fence.
Alternatively, you could use a vinegar and water solution in a spray bottle and spray the entire fence. Then wipe down the fence with a cloth to remove the grime.
You might need to cover the same area a couple times to remove caked-on residue.
Hose down the fence afterwards to remove all vinegar residues and solid particles. Keep in mind that vinegar is an acid, and therefore vinegar can kill weeds and plants when applied directly. This is a very watered down solution, but still take care to not leave too much on the ground below if you've got thriving grass or flowers. Hose down the area after you are done cleaning to dilute the residue so that it does no harm.
If you need a lot of vinegar for a larger job, get big bottles of vinegar. Not every type of vinegar is suitable for green cleaning, though. Make sure you know what type of vinegar to clean with.
Vinegar is such an effective green cleaning solution that it works on everything in the house! Be sure to see my other tips on how to clean with vinegar, such as how to clean a toilet with vinegar, how to unclog a shower head with vinegar, and how to make an all natural kitchen cleaner.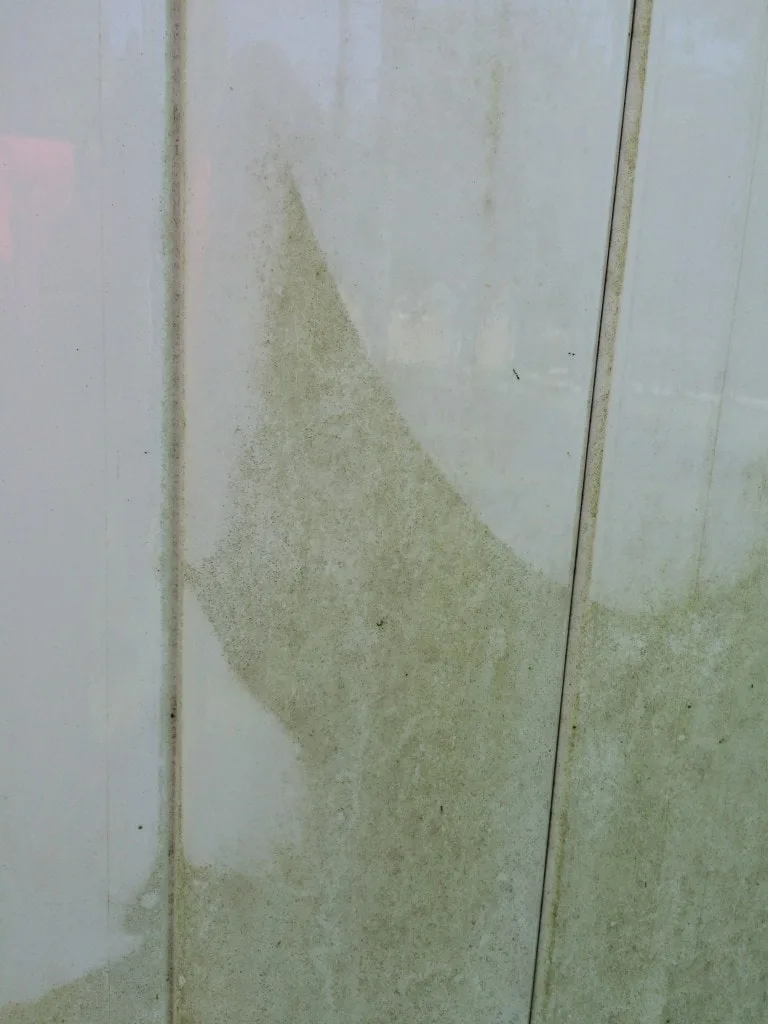 3. Soap and Water
Yep, good old-fashioned soap and water will work, too. Vinegar does have some added benefits of killing germs and bacteria and dissolving grime quicker. However, if you don't like the smell of vinegar, this method will work, too.
Add 1 Tbsp. of dish soap to a gallon of water. (A biodegradable dish soap, such as this dish soap, is better to protect plants and grass around your fencing.) The easiest way to do this is add the soap into a bucket first, then use a spray attachment on your garden hose to add water and get the soap to suds up.
Using a clean microfiber cloth or cleaning hand-mitt, wipe down all of the fence panels.
Rinse with water afterwards.
4. Use a Magic Eraser
Mr. Clean Magic Eraser's work pretty well at cleaning PVC fences! These are great to spot clean problem areas that have a lot of stains or mold residue. (I suggest you get the Extra Durable cleaning pads, rather than trying to clean a fence with the sponges meant for kitchen use.)
I have found that these types of magic erasers can strip off a light layer of finish on items, though. In fact, I used a cleaning eraser for a crayon stain on my wall. The eraser easily removed the stain, but also removed the sateen finish from that section of my paint. So you want to make sure that you don't use them for the entire fence. It could dull your finish over time.
Here's how to use a magic eraser on your fence:
Wet the eraser with water and make sure it is completely wet. Then squeeze out the excess water.
Lightly scrub the problem areas just until the stains are removed.
The eraser will get grimy and dirty and start to shrink down. Cut off the nasty parts after you've used them up, and continue to use the rest of the eraser until you are done.
Rinse your fence with water from a garden hose after you are done to wash away any bits left behind.
5. Use a Non-Toxic Fence Cleaner
I don't like spending money on cleaners if I don't need to. But sometimes it just makes sense.
If you need to buy a pre-made fence cleaner, I suggest Simple Green Oxy Solve Deck and Fence Pressure Washer Cleaner.
6. Pressure Washer
High powered water pressure is one of the most eco-friendly ways to clean your vinyl fence.
There are a variety of different types of pressure washers. Some have more strength than others. And there are differences between gas and electric pressure washers.
I have tried the WORX Hydroshot which is an electric, hand-held pressure washer that can be used in a variety of ways around the home. The water pressure wasn't overly strong which means it might be a great idea for cleaning PVC fences that need just a little bit of extra power, but not too much pressure. You can see how it works in my video below:
When I lived in Florida, my white vinyl fence was so old and had been in the hot sun for so long that it was starting to crack. Using a pressure washer on it would not have been wise because the pressure could have caused damage. Evaluate your fence for its strength before deciding to use a pressure washer, and always use the least amount of pressure as possible to remove the staining.
7. Hydrogen Peroxide Bleach
I'm not a big fan of using bleach unless necessary, but some stains just won't come off unless you use it. However, keep in mind that using bleach can dry out your vinyl, which can lead to it cracking. So use sparingly.
When using bleach, choose a hydrogen peroxide-based bleach, rather than a chlorine-based bleach. It is more eco-friendly (but still just as dangerous as any bleach).
Here's how to clean your fence with a bleach solution:
How Often Should I Clean My Vinyl Fence?
Preventative care is very important to keep your white fence shiny, glossy and looking as best as it can. Clean your fence at least once a year. Spring time is a great time to wash it. You can remove the grime that has built up over the winter, and your fence will look great for spending time in your yard during the warm weather months.
As I've mentioned, my old PVC fence in Florida was so old that mold and dirt stains were etched into the vinyl. It was also so dry that the lawn maintenance people poked a hole through it by hitting it with a weed eater.
You want to take care of your fence and keep it cleaned so that it doesn't need to be replaced. It's cheaper to clean every few weeks than replace your vinyl fencing!
---
You will also want to check out my other home maintenance cleaning tips, including: