Keeping the kitchen clean is a never ending battle. Shouldn't you enjoy cleaning up your countertops and other kitchen surfaces? With this DIY all natural kitchen cleaner, you can make a homemade kitchen counter spray using essential oils.
Your kitchen will smell good and you kill germs! (This all natural cleaner is great for the entire house, too!)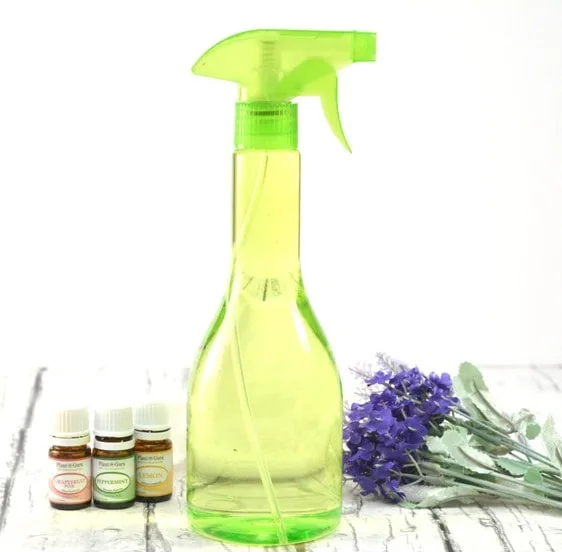 The best part is that this easy DIY all natural kitchen cleaner uses simple ingredients. Chances are, you might already have them at home.
So if you want to save money by making your own kitchen cleaners, check out this recipe for a homemade all purpose spray.
Using Vinegar in DIY All Natural Cleaners
Vinegar is often used in homemade cleaner recipes. Why?
Because vinegar is a powerful cleaner that is totally all natural. In fact, it's so super safe you can make salad dressing with it or drink it mixed with water. Just choose the best type of vinegar to clean with (hint: the best kind is super cheap).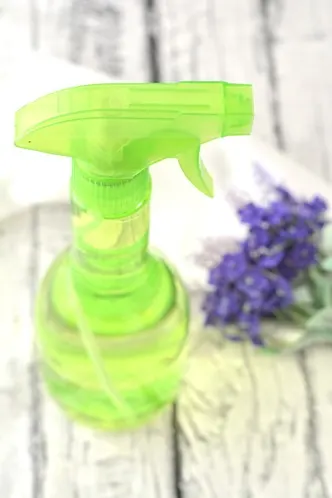 It is the ultimate non-toxic cleaning ingredient.
And it really works. (That's why it's great for cleaning the toilet, unclogging showerheads and killing weeds.)
What if you hate the smell of vinegar, though?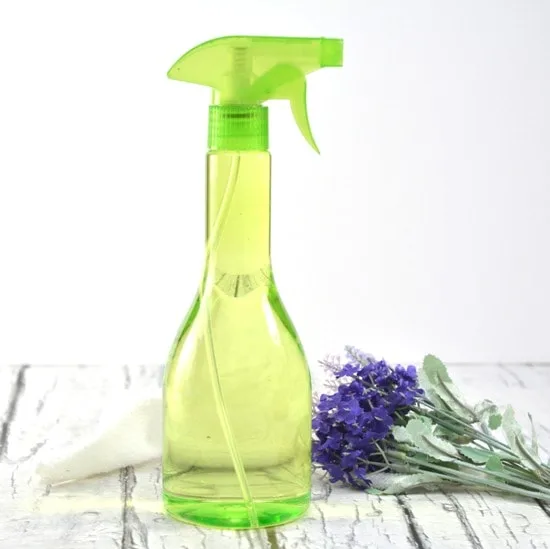 There are fancy cleaning vinegars. Usually, it's just vinegar and essential oils in an overpriced spray (here's some details about cleaning vinegars). If you're going to pay a fortune for a all natural cleaner made from simple ingredients, though, you could just DIY it yourself using the recipe below.
Why Use Essential Oils in Cleaners?
It's super easy to make a homemade kitchen cleaner. Quite honestly, all you need is vinegar to kill germs and cut through grease.
But many all natural cleaners use essential oils.
Why?
Essential oils are great for aromatherapy in your home. They make a cleaner smell good. Which makes your healthy home smell good naturally. And if you like cleaning, chances are you'll do it more, right?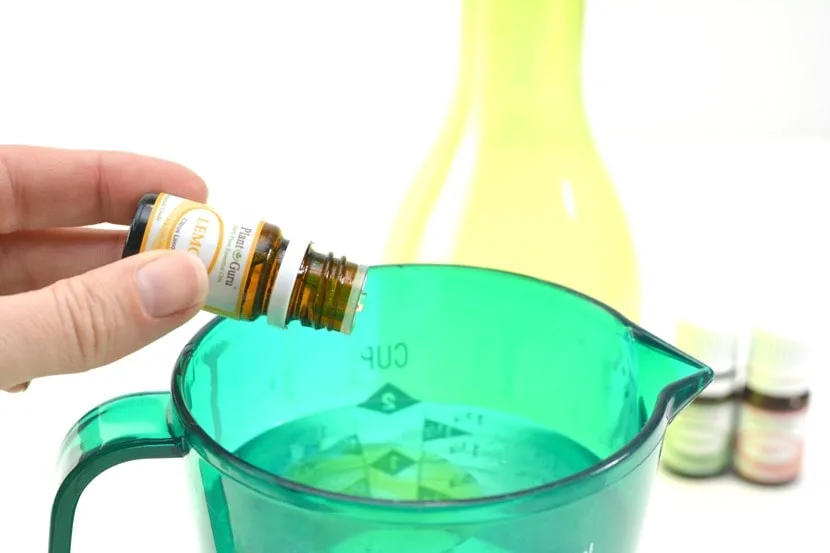 The other great thing about using essential oils in cleaners, though, is that they have some beneficial properties. Pink grapefruit essential oil will kill bacteria, germs, and other nasty stuff that could be lingering on your countertop.
So not only do essential oils make a DIY cleaner smell good, but they add a little extra oomph to the cleaning power of a homemade kitchen cleaner.
Best DIY All Natural Kitchen Cleaner Recipe
Ingredients
● 13 oz. Hot water (NOT boiling)
● ½ cup Vinegar
● 10 drops Lavender essential oil
● 15 drops Pink grapefruit essential oil
● 7 drops Lemon essential oil
Supplies
● 17 oz. Spray bottle (plastic is fine as long as you don't use boiling hot water)
● Measuring cup with a spout for pouring
How to Make All Natural Kitchen Cleaner
1. Begin by pouring ½ cup of vinegar into 13 oz. of hot water in a measuring cup.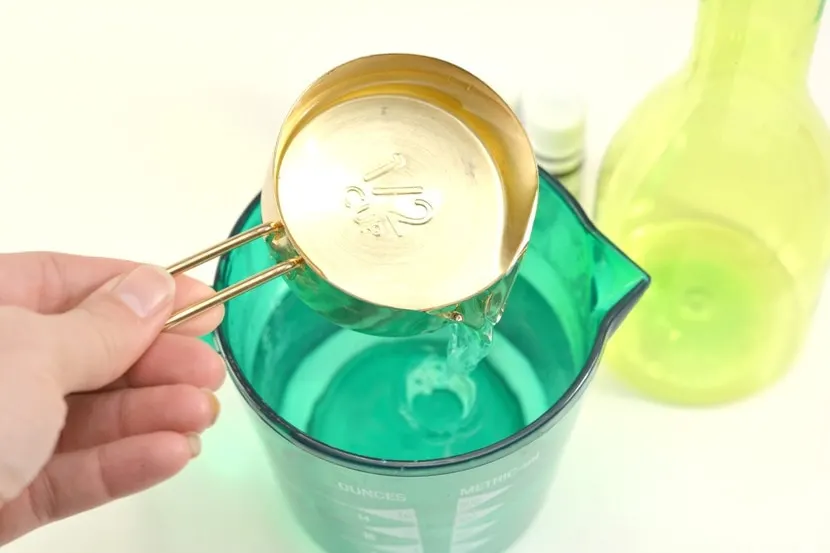 2. Add 10 drops of lavender essential oil to the measuring cup.
3. Pour in 15 drops of pink grapefruit essential oil.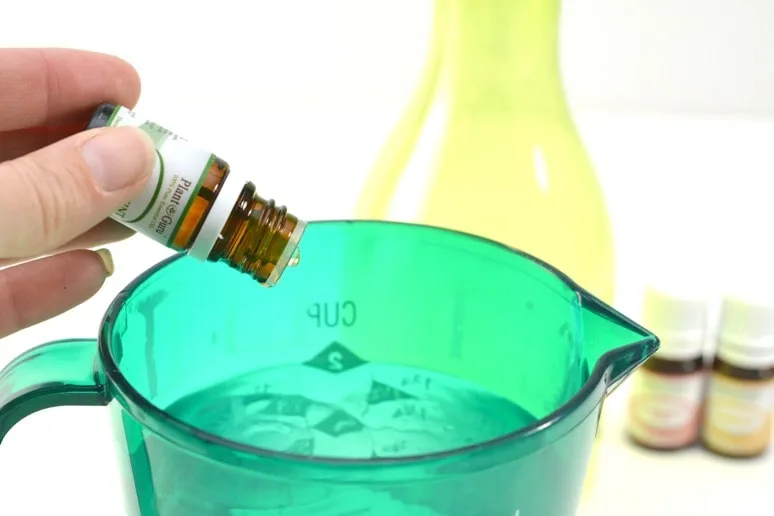 4. Mix in 7 drops of lemon essential oil.
5. Stir all of the ingredients in the measuring cup to combine well. Don't worry about getting it completely combined, you can shake the mixture well once it is in the spray bottle.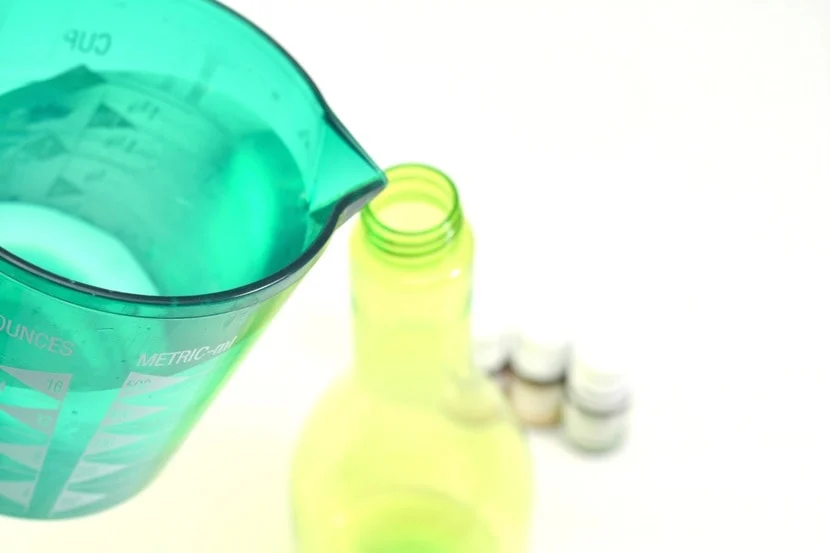 6. Pour all of the ingredients into spray bottle. If there is any room left at the top of the bottle, add additional hot water if you'd like.
Notes
The kitchen countertop spray does not have to be hot to effectively kill germs and clean dirt. The hot water helps the ingredients to mix well, but is not necessary for every time you clean.
Shake the all natural cleaner well before using each time.
The homemade cleaner is great for kitchen countertops, but use it on other surfaces, too! Bathroom countertops would be a great place to use the DIY spray, as well as the refrigerator (inside and out), range, microwave, toilet and more places in your home. Just be sure to test that the vinegar and oil spray will not damage delicate items.
Change the amount of essential oils or types of essential oils if you'd like. Customize your homemade kitchen cleaner to reflect what you want in your home.
Like this green cleaning recipe? Check out these recipes, too: