The sweet, spicy scent of orange cinnamon clove potpourri is warming and comforting at the same time. Here's how to make a dried orange potpourri with a touch of vanilla fragrance.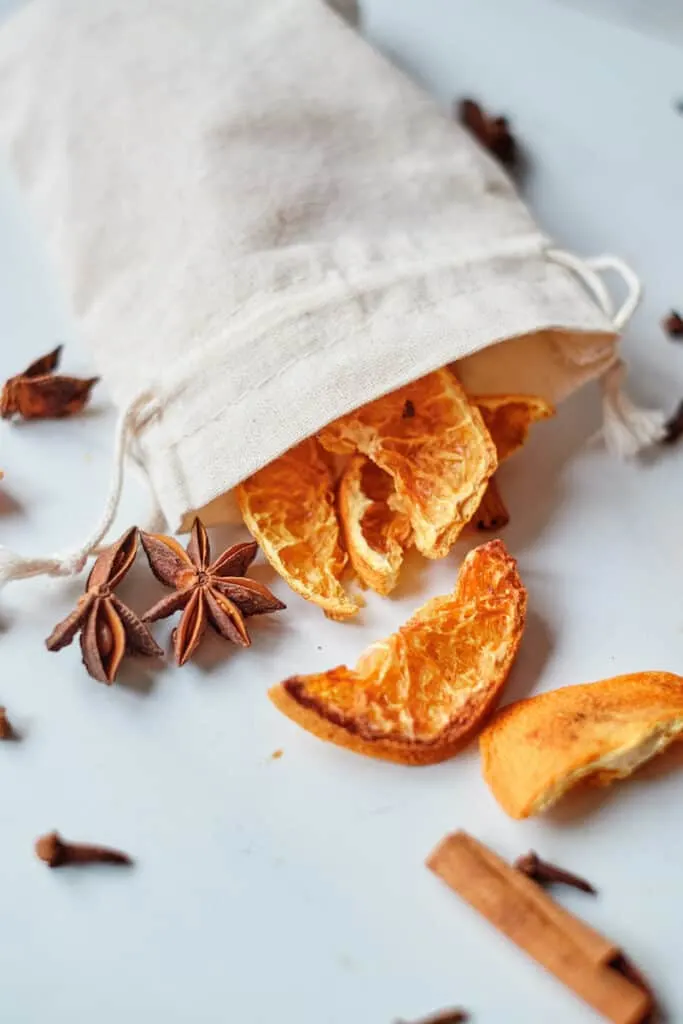 I love that this is a zero waste potpourri. All of the ingredients can be added to the compost pile when you're done.
Or consider adding the ingredients to a pot of boiling water for a simmer pot to release the last of the natural fragrance. This is a smart way to reuse the dried potpourri after it has lost its scent in a bowl.
This dried orange potpourri is a great gift! Just add it to a mason jar, apothecary jar, or muslin bag.
If you'd like to sew your own bag for the potpourri, whether to hang as a sachet or give as a gift, here's a great tutorial of how to sew a drawstring bag in minutes.
FAQs
Why Should I Make My Own Potpourri?
Traditional potpourris bought in stores use artificial fragrances to make the scent last a long time in the package while it's waiting to be bought. Those chemicals are what you are breathing in your home when you fragrance your home with many store-bought potpourris.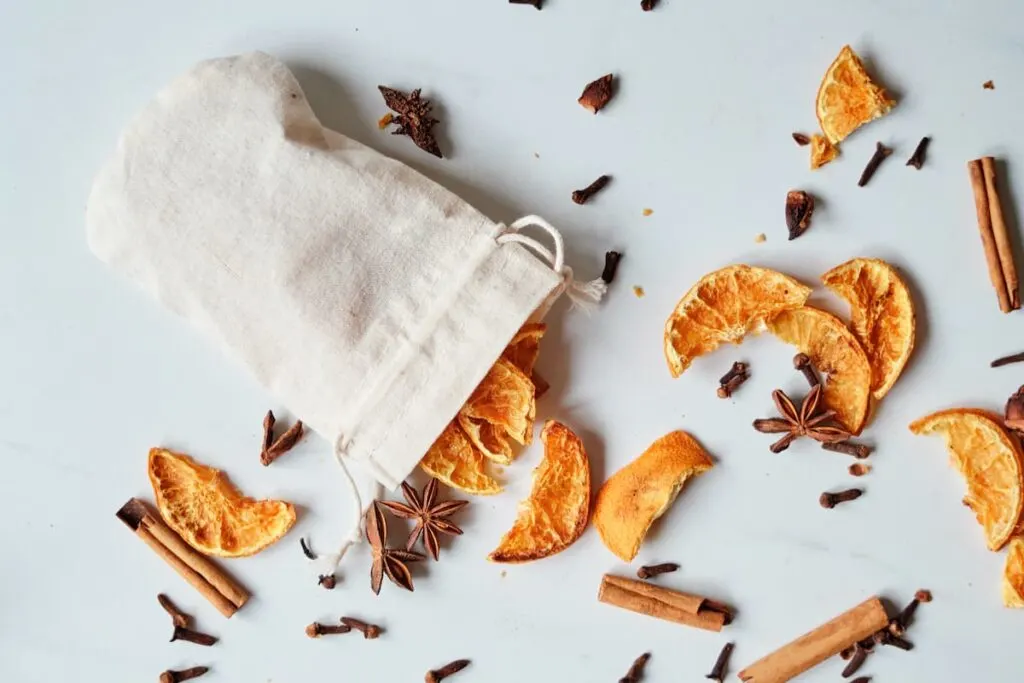 Can I Use Cheap Essential Oils?
You can use whatever essential oil your budget allows. However, keep in mind many essential oils are not completely pure. They might be made with chemicals or distilled in a way that the scent won't last as long.
The recommendations I make for essential oils are from companies that I use and trust with products that have proven to be superior for scent. I especially like NOW Vanilla Essential Oil Blend and Eden's Garden Vanilla Essential Oil.
Do I Need to Use Vanilla Essential Oil?
No, you don't. However, it adds a nice warmth to the potpourri and blends the spicy fruit and spices together nicely.
If you want to add a different type of essential oil, try Sunshine Spice or Orange.
How Long Will The Smell Last?
The scent will last a few days to a few weeks. It depends on whether or not the potpourri is in full sun (the sun's rays will reduce the fragrance quickly).
You will want to stir up the potpourri every couple days or so to release new fragrance. Especially before you have someone coming over, then give the potpourri a shake or a stir.
Refresh the potpourri at any time by adding more essential oils, or by breaking the spices into smaller pieces.
While dried oranges will last for weeks or months, they are susceptible to humidity. If you notice mold growing on the oranges in extremely humid conditions, throw out all of the potpourri immediately.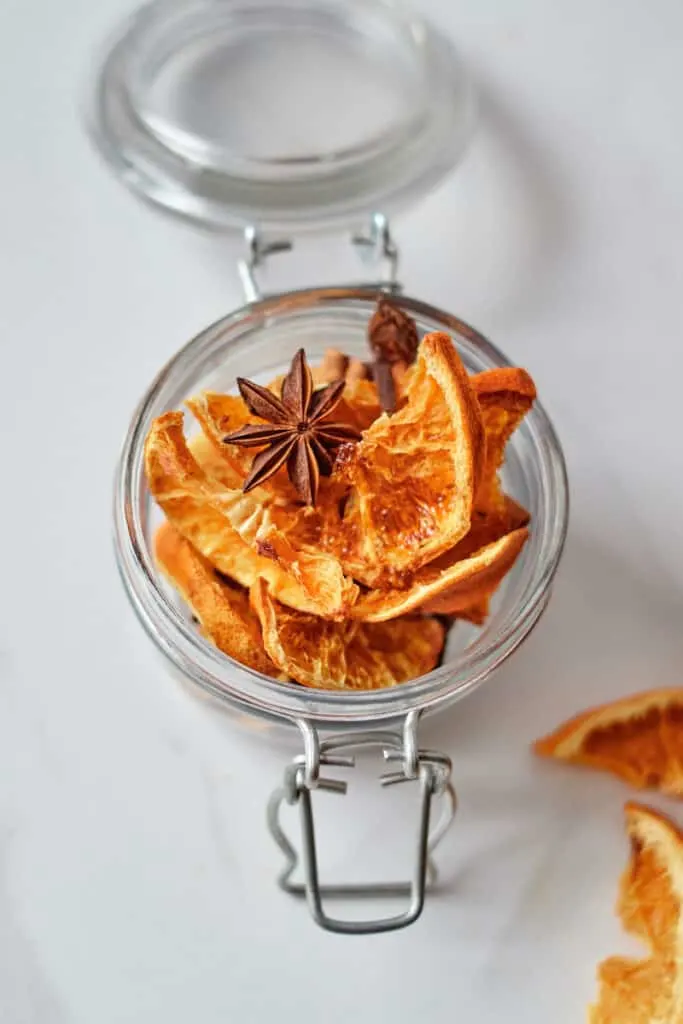 How to Make Orange Cinnamon Clove Potpourri
Ingredients
2 oranges
4-5 cinnamon sticks
¼ cup of whole star anise
2 Tbsp. cloves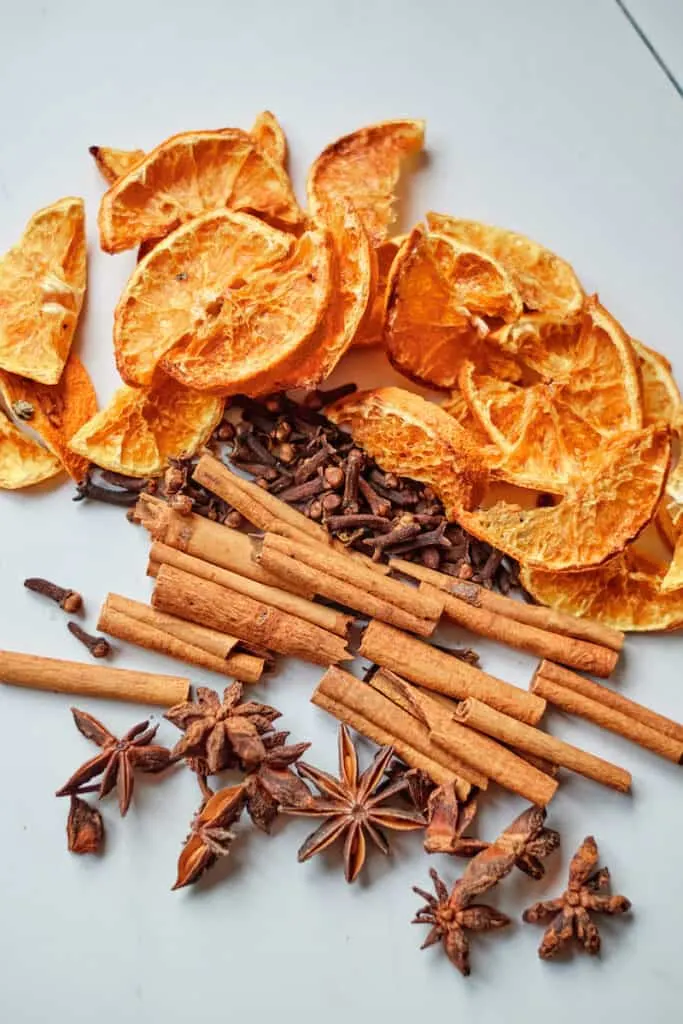 Directions
Slice and cut the oranges and place on a dehydration tray. (Here's a great tutorial on how to dehydrate oranges in the oven or a food dehydrator.)
Dehydrate for 10-12 hours or until oranges are firm and no longer sticky. Remove and cool.
Break up the cinnamon sticks into large pieces. Place cinnamon stick pieces, dried oranges, star anise and cloves into a bag or mason jar. (A paper bag or plastic zip top bag is fine.)
Add 6 drops of vanilla essential oil to the ingredients and shake to coat evenly. Display the potpourri in a bowl or a sachet bag to add natural fragrance.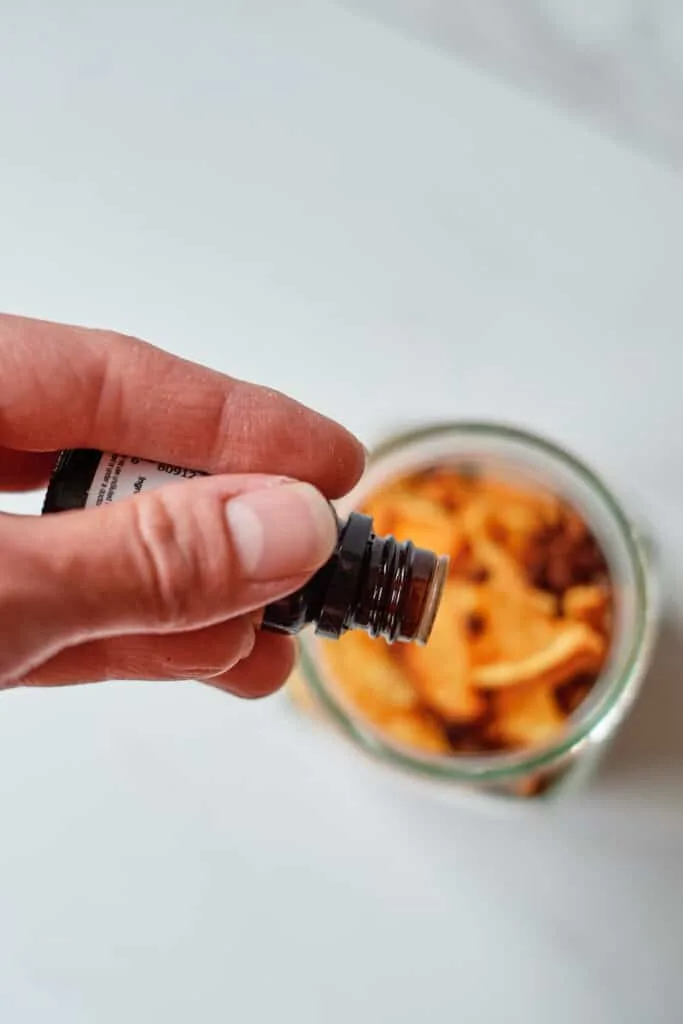 Want more natural potpourri recipes? We have quite a few simmering pot recipes, which are liquid potpourri that you use on a stovetop. Here's some of our favorites:
Pin This Recipe to save for later!