These are the best non-toxic body pillows for full-body support during pregnancy and for proper spinal alignment.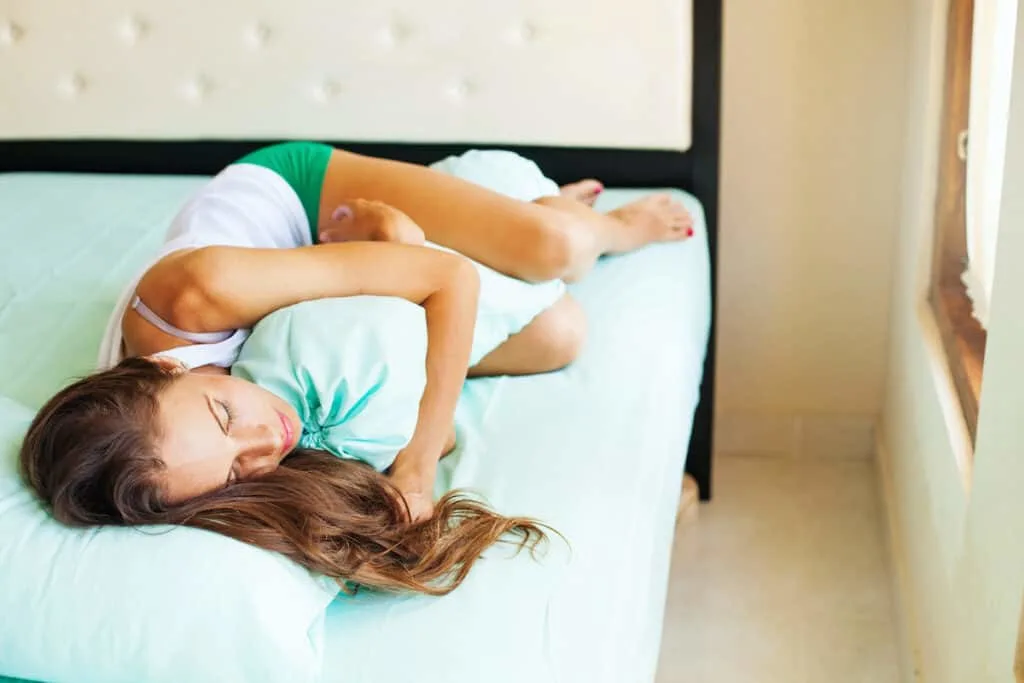 QUICK SHOPPING GUIDE

✅ These non-toxic body pillows are my favorite choice.

While these unusual body pillows might be the best choice for full-body support you need.

For expectant mothers who want relaxing aromatherapy, too, get a MoonWomb.
If you haven't ever used a body pillow, you don't know what you're missing! And if you already love the comfort and support of a long pillow and are looking for a chemical-free options, you will appreciate the non-toxic choices below.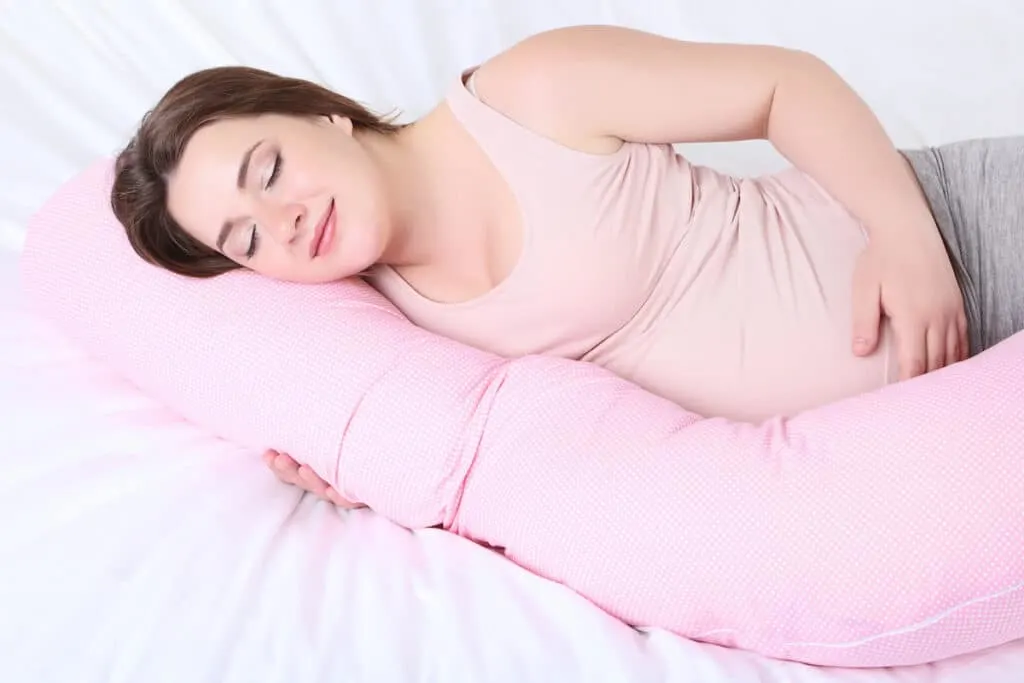 Savvy Rest
Savvy Rest is my number one choice for a non-toxic body pillow company. They have four different types, each with a different fill. All pillows come overstuffed, so you can easily remove filling to customize to your needs.
Every pillow comes with a soft flannel unbleached, naturally-colored organic cotton case. As well as an organic sateen pillowcase made specifically for the body pillow.
Use Code GETGREEN along with these links to save 20% off of any Savvy Rest purchase.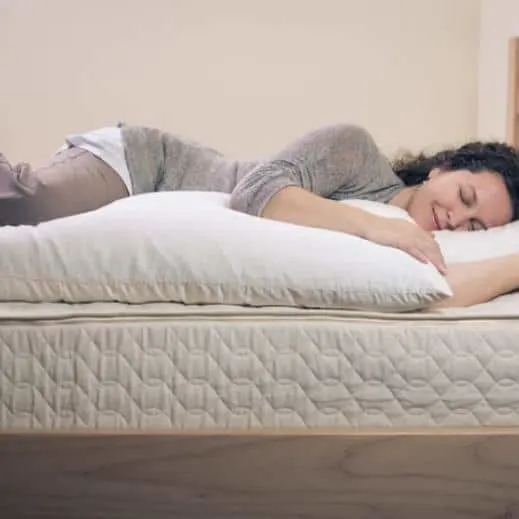 Organic Kapok Body Pillow
A truly soft and fluffy pillow made with vegan kapok, a plant-based material, with a similar feel to down feathers.
If you want luxuriously soft comfort, this one is for you!
Available in 15″, 17″ and 20″
Natural Shredded Latex Body Pillow
For the ultimate in support, the shredded natural latex body pillow (from the sap of a rubber tree) conforms to your body but won't sink under your weight.
This pillow is the least expensive of the Savvy Rest options.
Available in 17″ and 20″.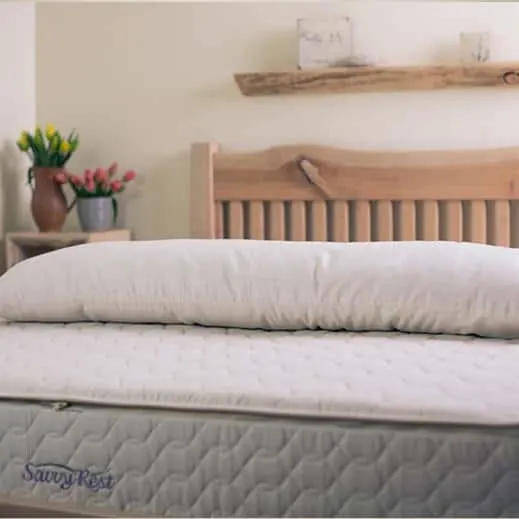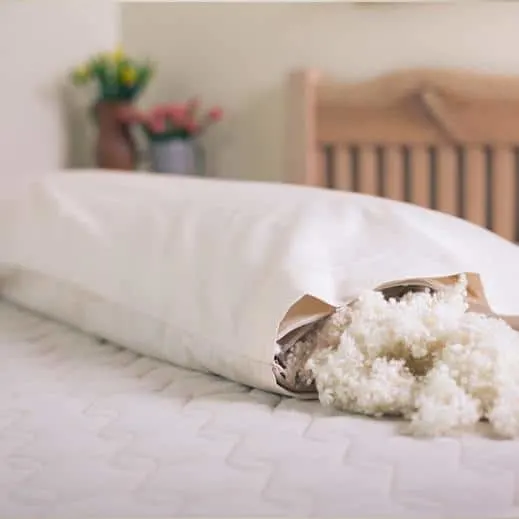 Organic Wool Body Pillow
If you sleep hot, you will like the surprising natural temperature regulation of a wool body pillow. It will keep you cool in the summer and warm in the winter.
Available in 17″ and 20″.
Wool and Shredded Latex Body Pillow
The ultimate body pillow, this one keeps your temperature regulated with the wool, along with offering the best support from the shredded latex.
Available in 17″ and 20″.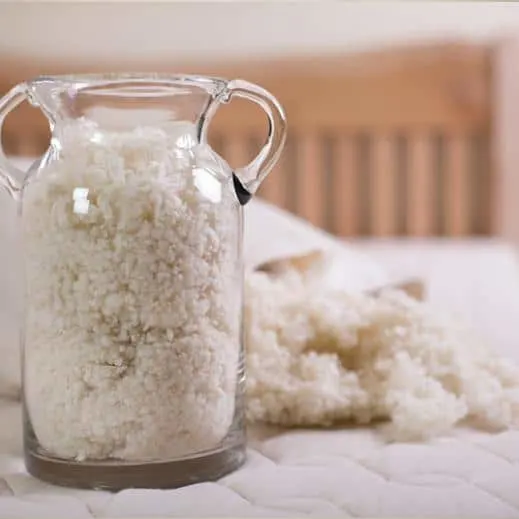 To see more of the Savvy Rest Kapok Bed Pillow that I own, watch my video below!
---
Essentia
Essentia is the number one choice for all natural memory foam products. Their body pillows use a a blend of their natural memory foam and proprietary latex foams for superior support.
The pillow covers are organic cotton with no synthetic dyes.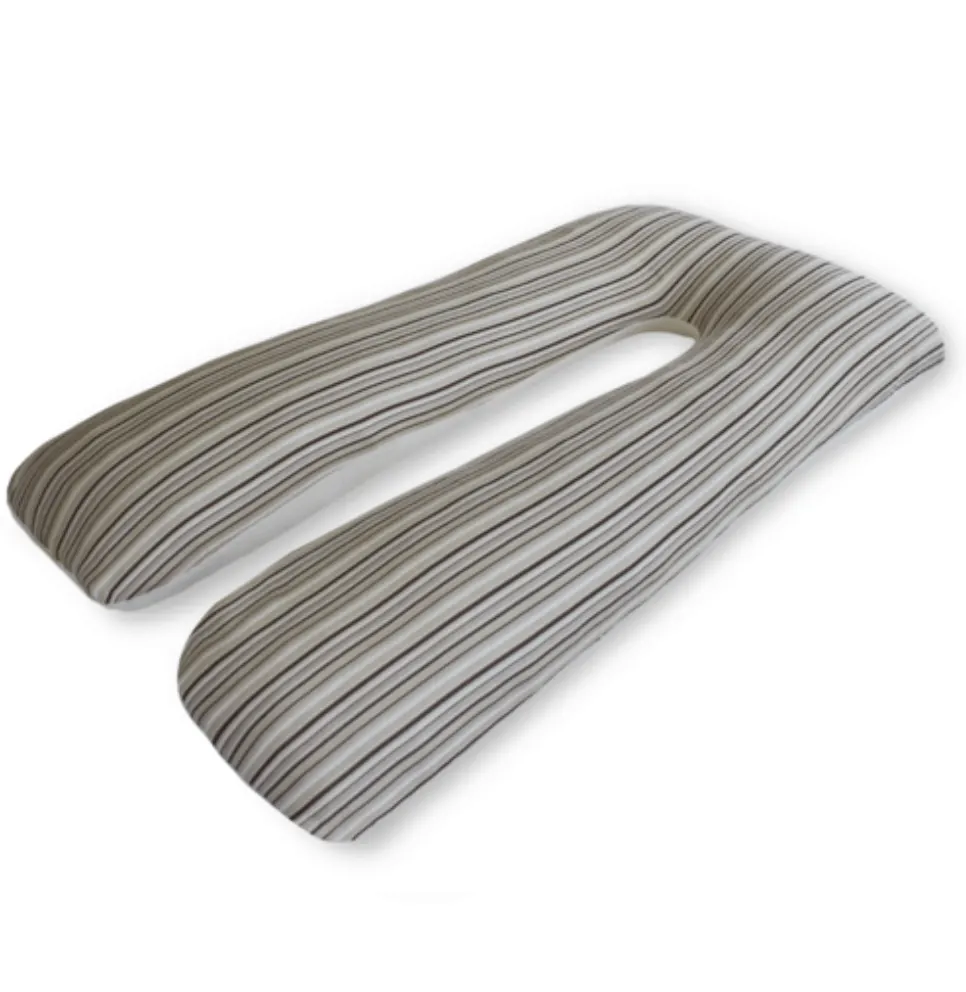 U-Shaped Full Body Pillow
This full U-Shaped body pillow completely surrounds you on either side and under your neck.
While sleeping, your head and neck will be supported. When on your side, you will have support for your hips and knees, along with a pillow support behind your back to prevent rolling over.
Body Pillow with Neck Support
Unlike many body pillows, this Essentia Body Pillow comes with a built-in neck support that takes the place of a traditional pillow.
This version is great for people who want the flexibility of having support on one side, but being able to sleep on their back or their other side without additional support.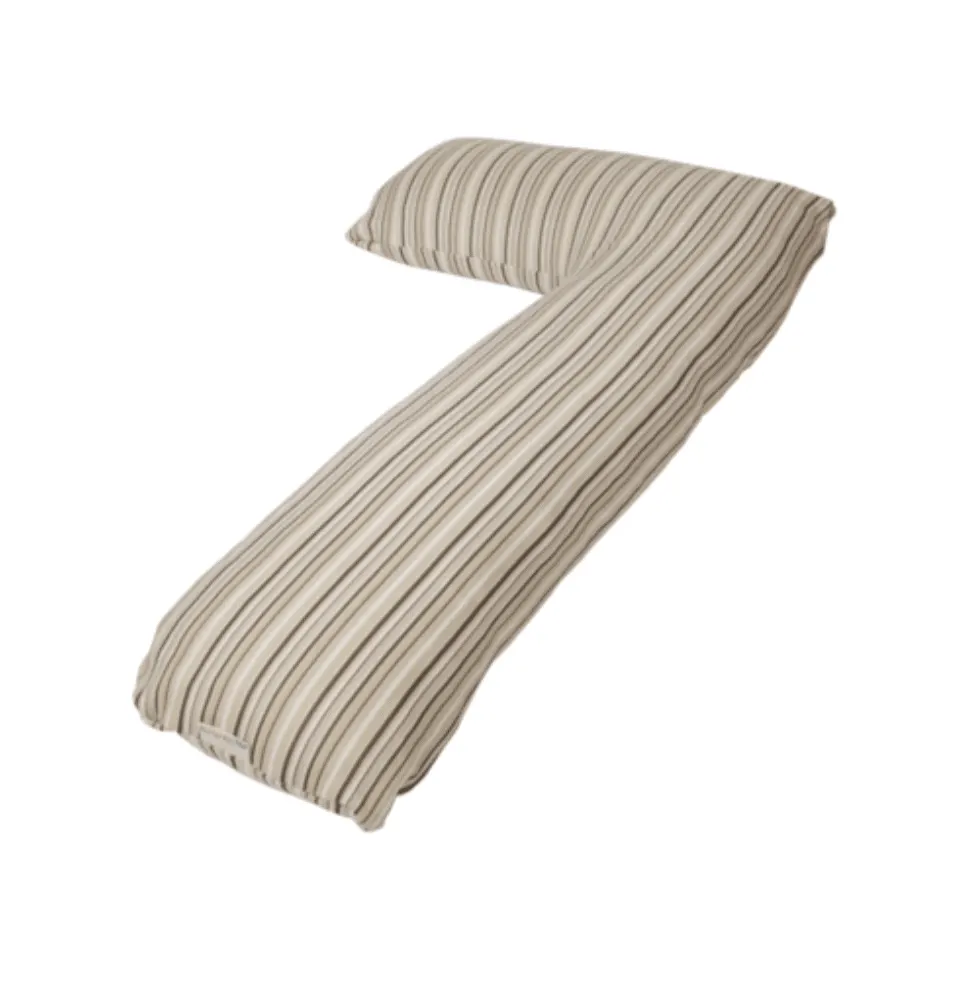 ---
The Sustainable Baby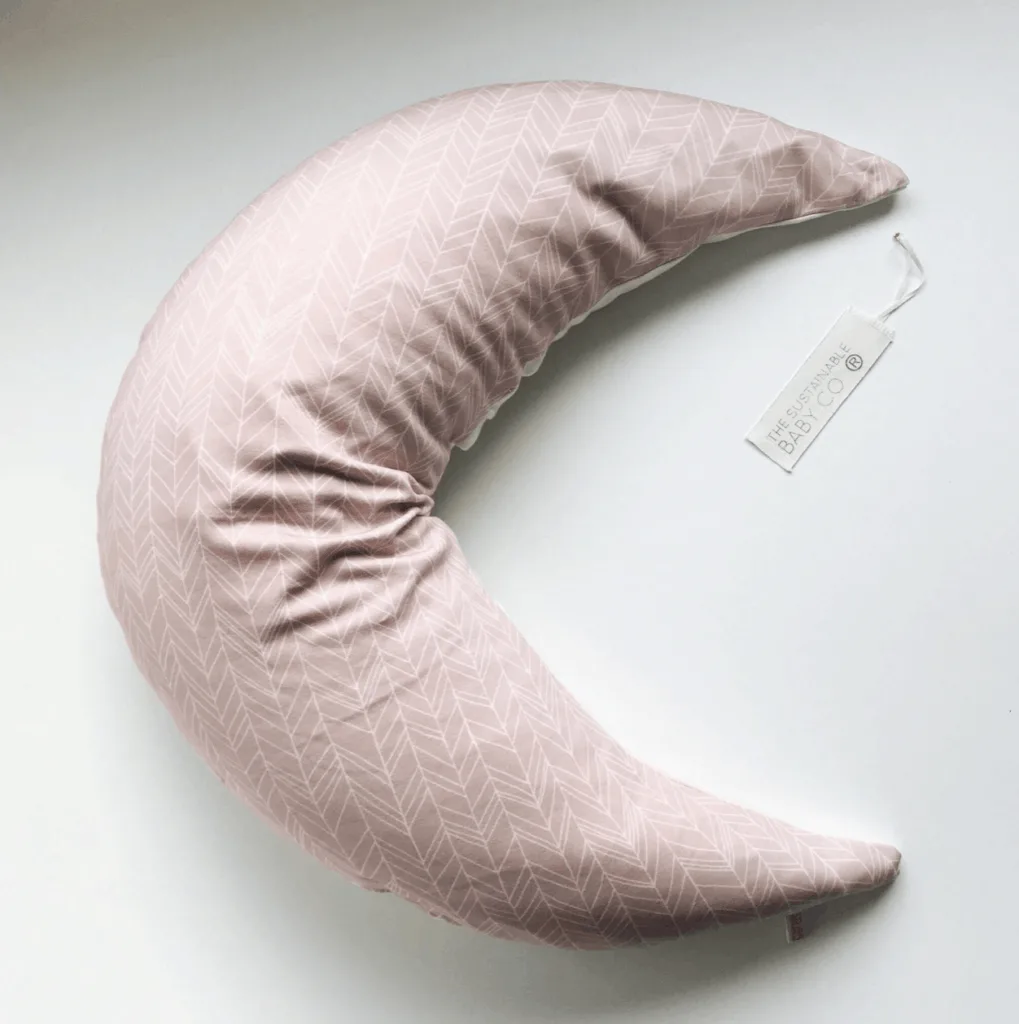 Organic MoonWomb
This unusual moon-shaped pillow comes with an aromatherapy pouch for true relaxation. It is ideally suited for pregnancy and nursing mothers. Although many reviewers use this pillow for their back or even their pets.
Buckwheat hulls give this crescent shaped pillow serious support. (Learn more about unusual buckwheat pillows.)
---
White Lotus
Organic Cotton
Just want an organic cotton body pillow? White Lotus has a range of body pillows, such as organic cotton. (Scroll through the menu to find the body pillow size.)
Available in 20″ X 72″ and 20″ X 54″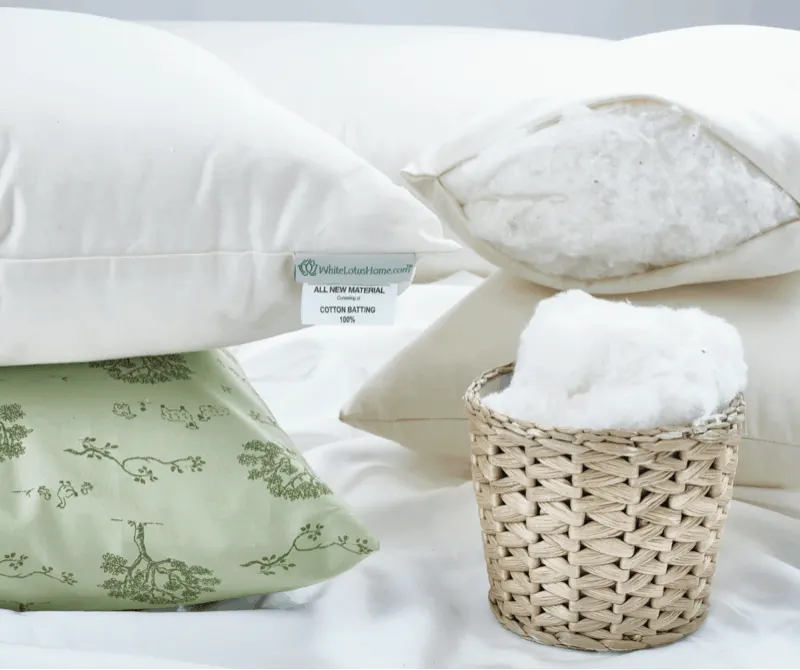 Best Body Pillow Covers
Though all of these body pillows come with non-toxic pillow covers (many of which are removable to be washed), you might want to add some extra style to your bed.
These are some of the best body pillow covers that I have found:
If you are looking for some new sheets, as well, check out these best organic cotton sheets sets.
Why Do You Need To Sleep with a Body Pillow?
Oversized body pillows might seem like a luxury for some. But, in fact, they should be a necessity. They offer great support while your body is resting and recovering during sleeping.
Benefits include:
Spinal alignment
Less Snoring (this wedge pillow can also help with snoring)
Relaxing muscles
Pressure relief for back, spine and hips
Can help with neck and shoulder pain
Weight distribution
Support for side sleeping (great to put in-between your knees)
Pregnant women and nursing mothers also know the need for a body pillow, too. The long pillow that can be curved in a variety of ways offers superior support for the belly while sleeping during pregnancy.
Once nursing, the pillow offers amazing support and flexibility for both mother and child in a nursing position. Because these body pillows in our buying guide are made without harmful chemicals, you don't have to be worried about exposing your baby to toxins.
Want more non toxic bedding? Check out my extensive list of resources for finding chemical-free mattresses and pillows, including:
Be sure to Pin This to save for later or share with others!