Kids organic bedding sets are so important. Little ones shouldn't be sleeping in a toxic environment every night. Which is why I love, love, love when I find cute organic options for bedding that are inexpensive – yet are still modern in design.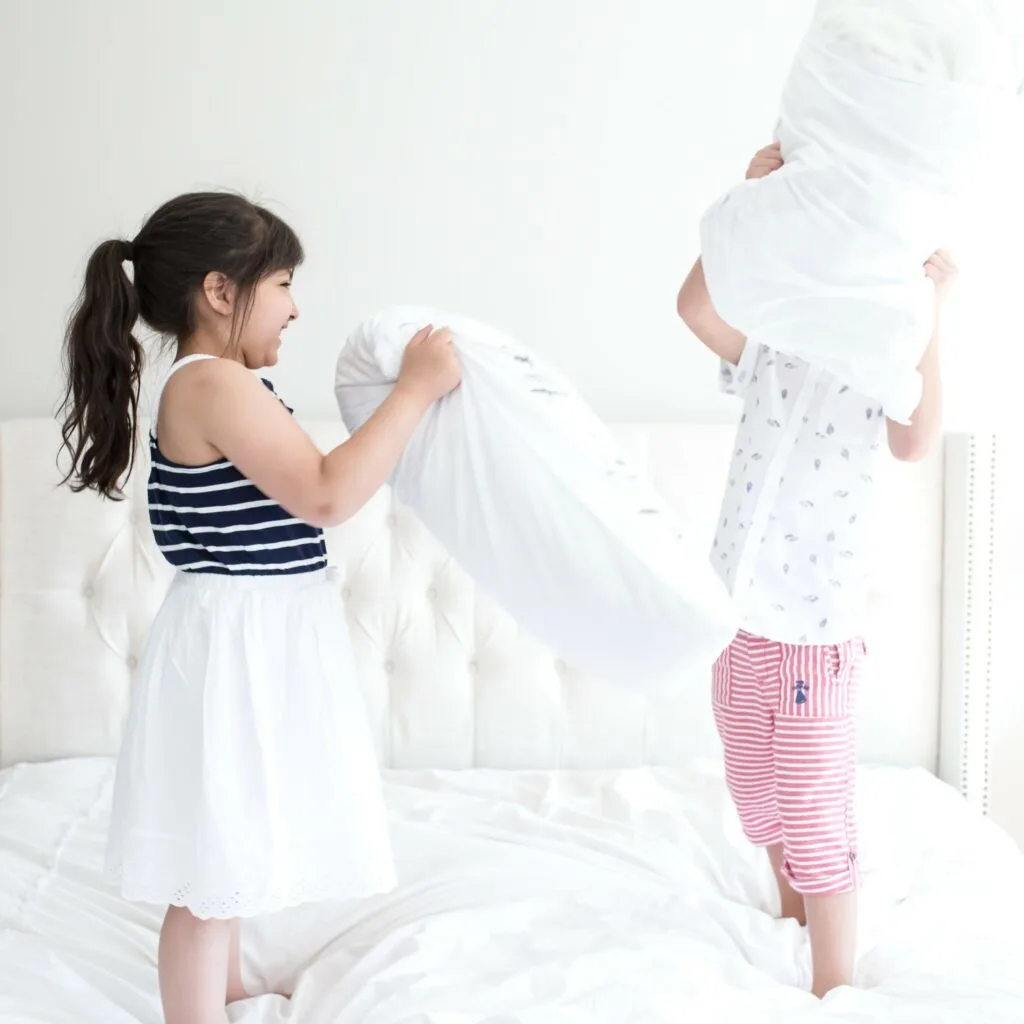 ✅ These are among my favorite organic sheet sets for kids because they always have cute patterns.
After all, your kids don't want to sleep in drab browns and greys at night.
Your kids will love expressing their individual style – and you'll love keeping them healthy! It's a win win!
Trying to Find Organic Bedding for Kids
While it can be super easy to find organic bedding sets for adults, finding kid-friendly organic bedding sets can be much more difficult.
Why?
First of all, organic sheets tend to come in solid colors or minimal patterns, such as stripes or dots. But kids often want something that expresses their personality, such as characters, trucks, cars, mermaids, etc.
But there are few organic sheet companies that make kid-friendly sheet sets.
If your kids are fine with solid color or minimalist sheets, then you really have nothing to worry about when trying to find the best sheets.
Second, using organic cotton is simply not enough. A lot of times, a company will proclaim they use organic cotton, but then use colors and dyes that are not healthy. Or add finishes, such as wrinkle-resistant, which can contain toxic chemicals.
When Search Results Are Often Wrong
Finally, a search for organic sheet sets for kids usually comes up with several problems, including:
Showing crib sheets (which are not for kids)
Sheet sets that are only made with conventional cotton or even polyester
I am amazed and appalled that when I search for organic sheets for kids, that so many of the results are NOT organic! On one major retailer, the results came back with tons of kids sheets sets that were made with polyester. Which is definitely NOT what I'd want.
How to Choose Kids Sheets
Don't get overwhelmed when choosing kids sheets. You just need to know what to look for. Here are some words and phrases to search for in the descriptions:
GOTS Certified
100% Organic Cotton
Non-Toxic dyes
Water-based dyes
When you see certifications like these, you will know that you are on the right track.
Organic Sheet Sets for Kids
To help you out with choosing some good sheet sets, I've listed some of my favorites below:
Pottery Barn Kids has an amazing array of organic cotton and GOTS Certified sheet sets with the cutest patterns.
I love all of these kids organic sheet sets. There are so many styles to choose from, but the space theme is among my favorites!
These sheets sets don't have patterns, but their bright colors will appeal to kids.
If you are looking for sheet sets for summer camps, dorm rooms or college rooms, be sure to check out our Organic Twin XL Sheets shopping guide.
Want to add some new sheets to your own bedroom? These are the best organic cotton sheets brands.
And don't forget, the bed is just as important as the sheets! Here's our smart ways to make a bed more comfortable without spending a lot of money. And when it's time to buy a new bed, be sure to choose from these natural mattress companies that allow you to try it out with no risk.