Kids organic bedding sets are so important. Little ones shouldn't be sleeping in a toxic environment every night. Which is why I love, love, love when I find cute organic options for bedding that are inexpensive – yet are still modern in design.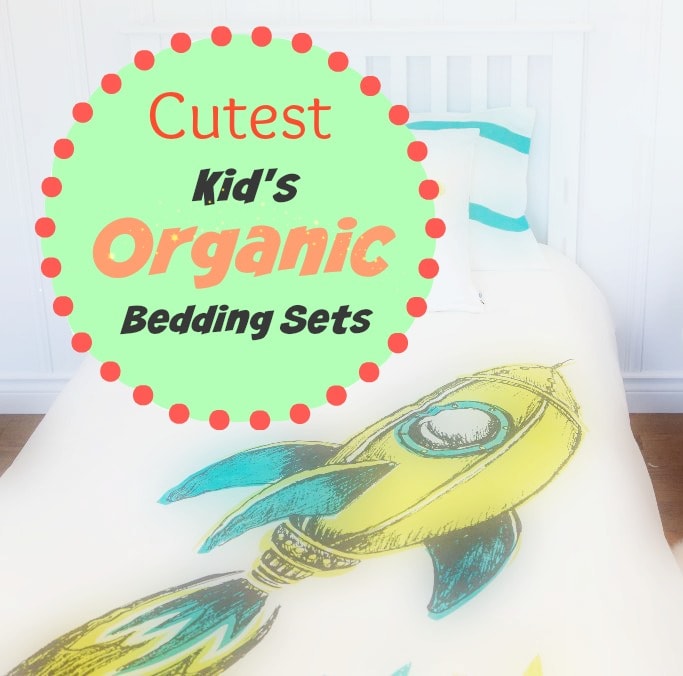 After all, your kids don't want to sleep in drab browns and greys at night.
Your kids will love expressing their individual style – and you'll love keeping them healthy! It's a win win! These designs come from the talented Atelier Edele. They are organic cotton duvet covers, with matching pillows made of organic cotton exterior covers. All of the options below are 100% organic sateen cotton, with a 300 thread count, that has been GOTS certified – an important distinction in trying to really determine if bedding is truly organic.
Following are affiliate links
Graphic Tulips Flower Duvet Cover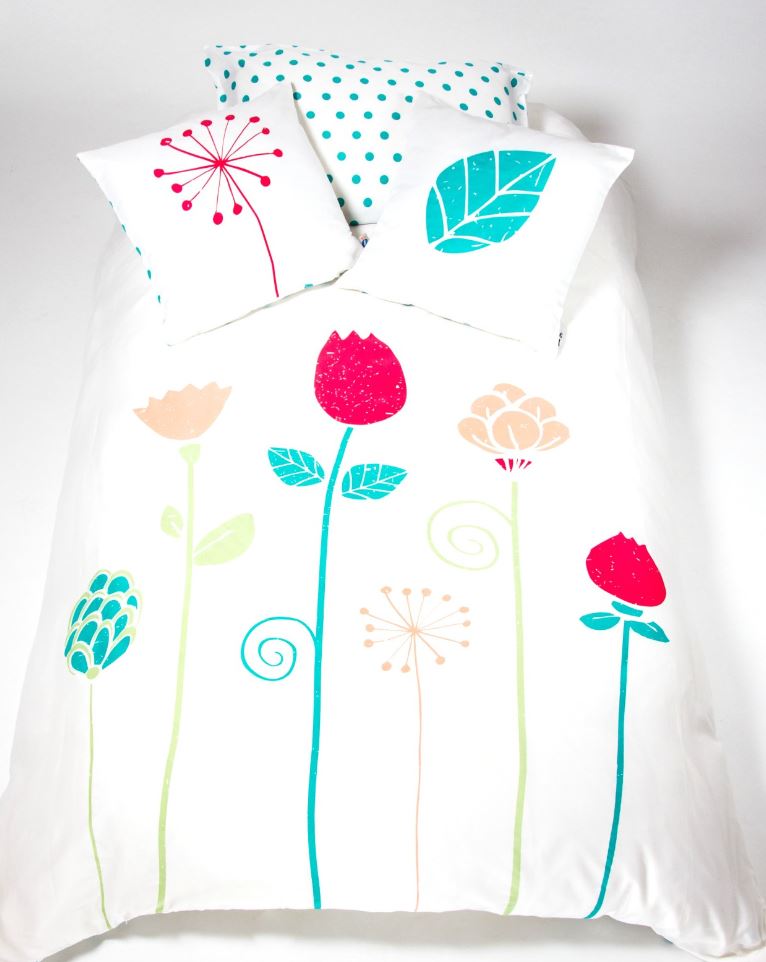 Is it wrong to want this modern abstract flower bedding set for myself? It is so cute, with such cheery colors, that I can't imagine not being happy when you walk into your kid's room and see this. (It reminds me of spring time in Holland – where I was blessed to see this fabulous tulip display.) The duvet cover comes with one or two pillowcases (depending on the size you buy). It's even reversible, and I love the turquoise polka dots, too!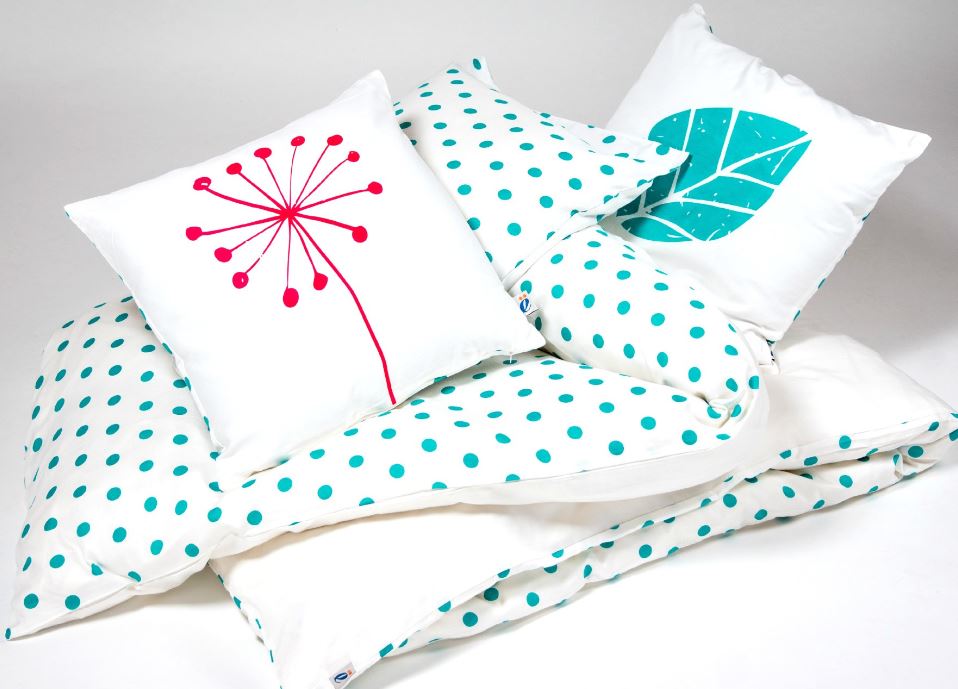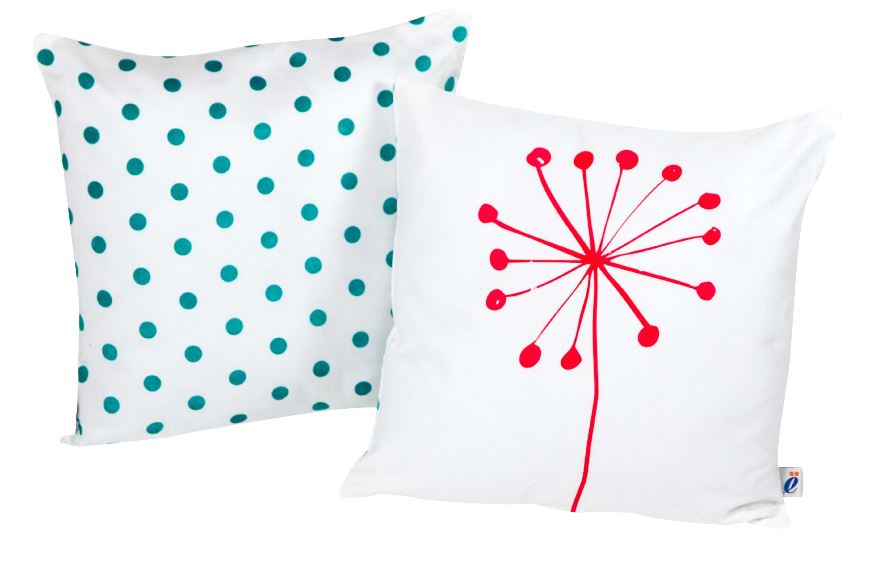 Make it a complete set by adding on the reversible pillows. They're organic cotton on the cover, though it's a polyester fill on the inside. Not made for sleeping, so you're children's face won't be against it, anyway.
Vintage BiPlane Duvet Cover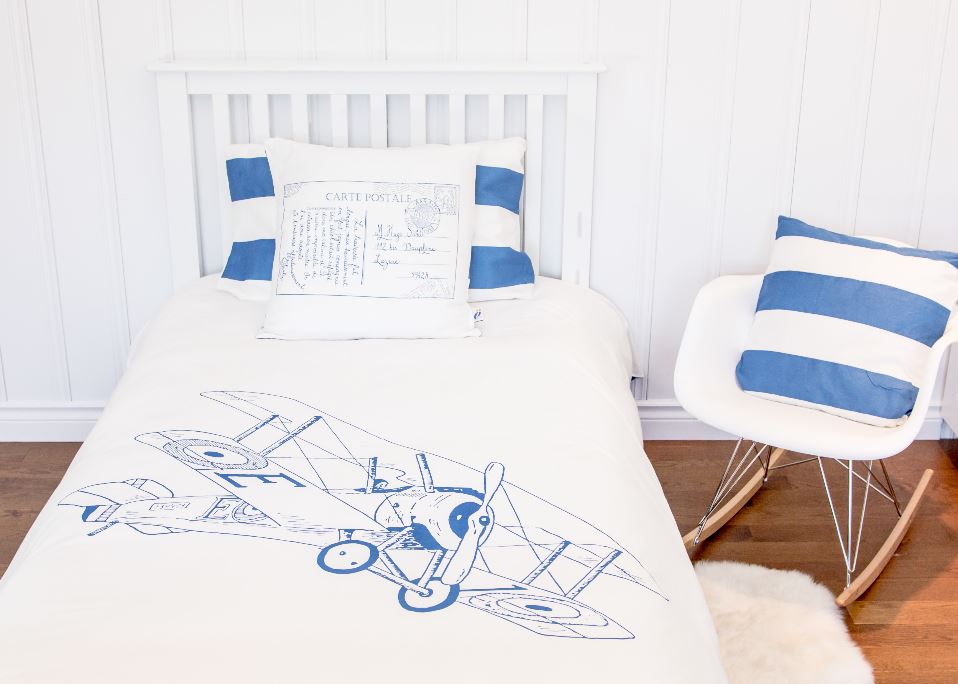 I cant' tell you how much I adore this biplane duvet cover. It's vintage aeronautical chic (is there such a thing?) that brings to life the historic days of flying – and lets your kid's imagination soar! (Check out my flight in a vintage biplane over Florida at sunset!)
Yet you can mix it up and make it nautical by reversing the duvet cover. Two looks in one!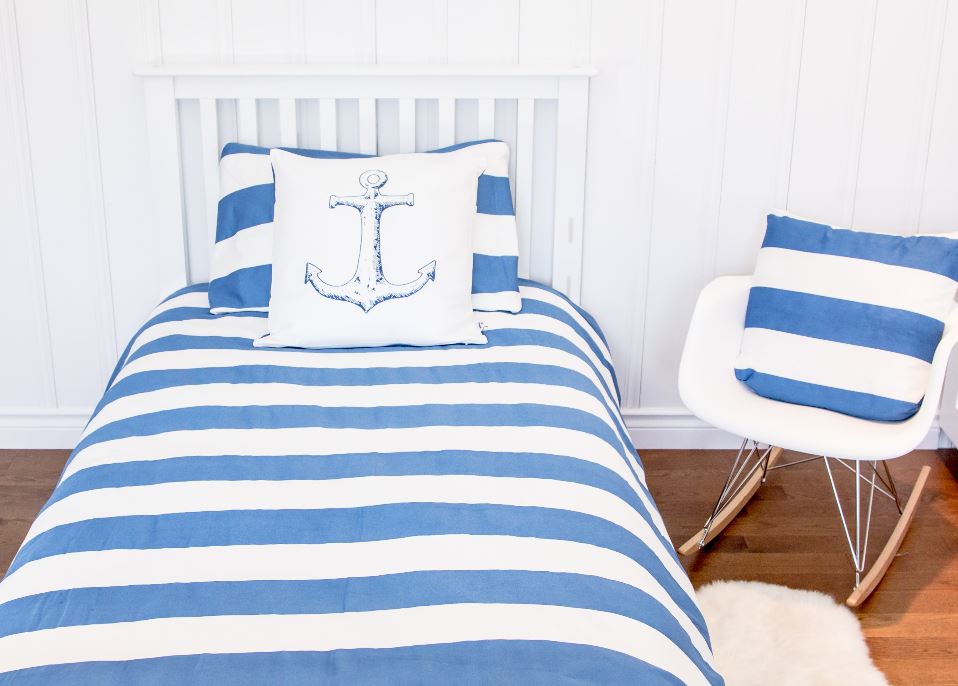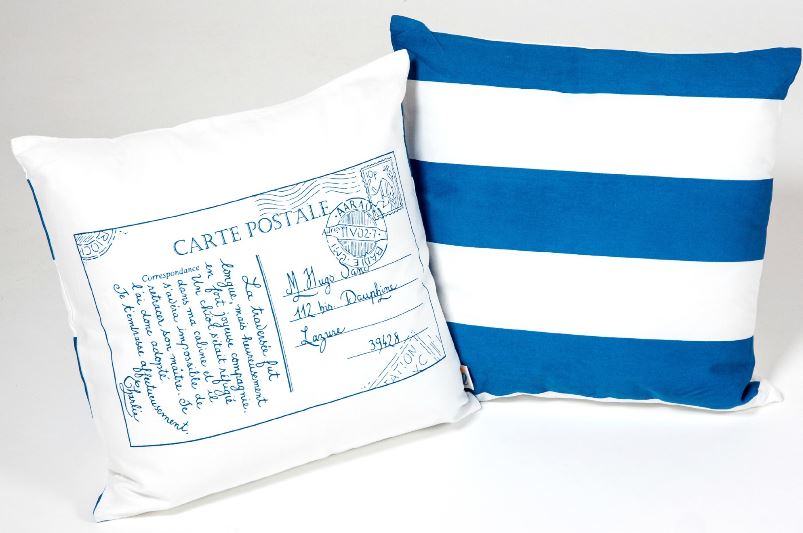 The accompanying pillows appeal to the traveler in me! I want this vintage postcard pillow myself! This bedding set is all about exploring your horizons, traveling and getting out there!
Rocketship Duvet Cover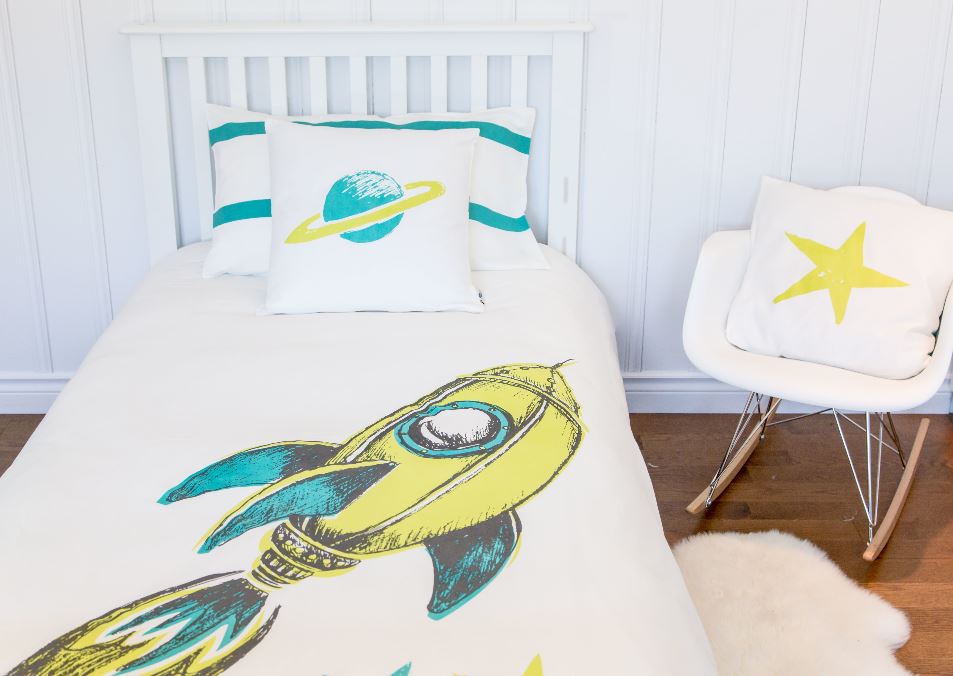 Does your kids want to go WAY OUT?!? Like outer space?
Me, too. I spent my childhood dreaming of NASA and flying into outer space (My childhood dreams have come true with the chance to attend two NASA Socials recently and actually see the SpaceX flights take off!). This rocket duvet cover bedding set (again, with a striped reversible second look) is ideal for fostering your kids' imagination and – quite literally – encouraging them to reach for the stars!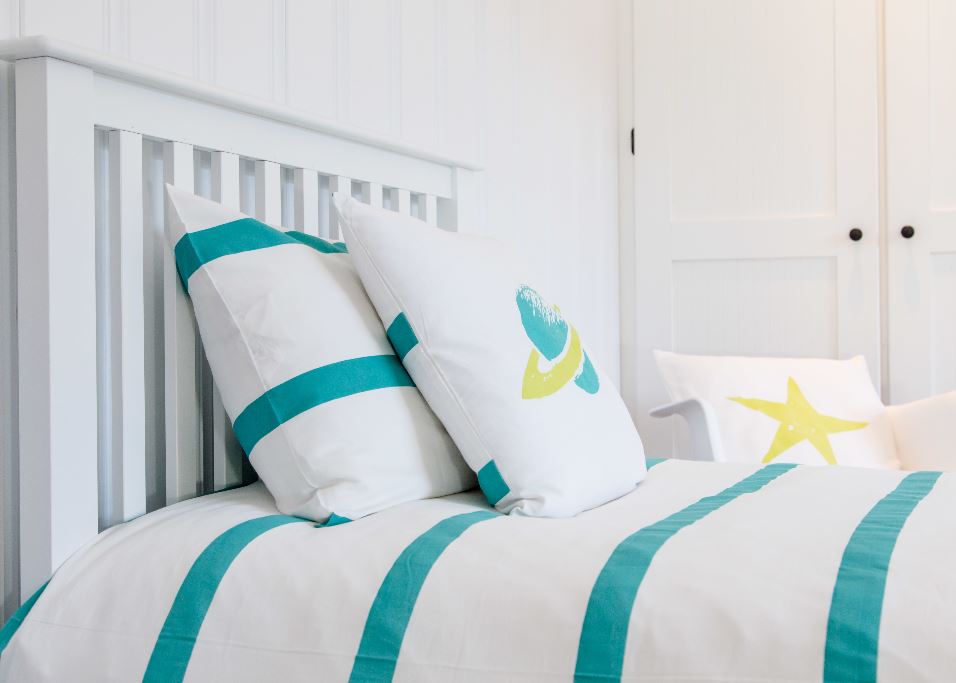 Nautical Compass Duvet Cover
Dreaming of the sea? Decorating a second home by the beach? Live by the ocean? (Lucky you!)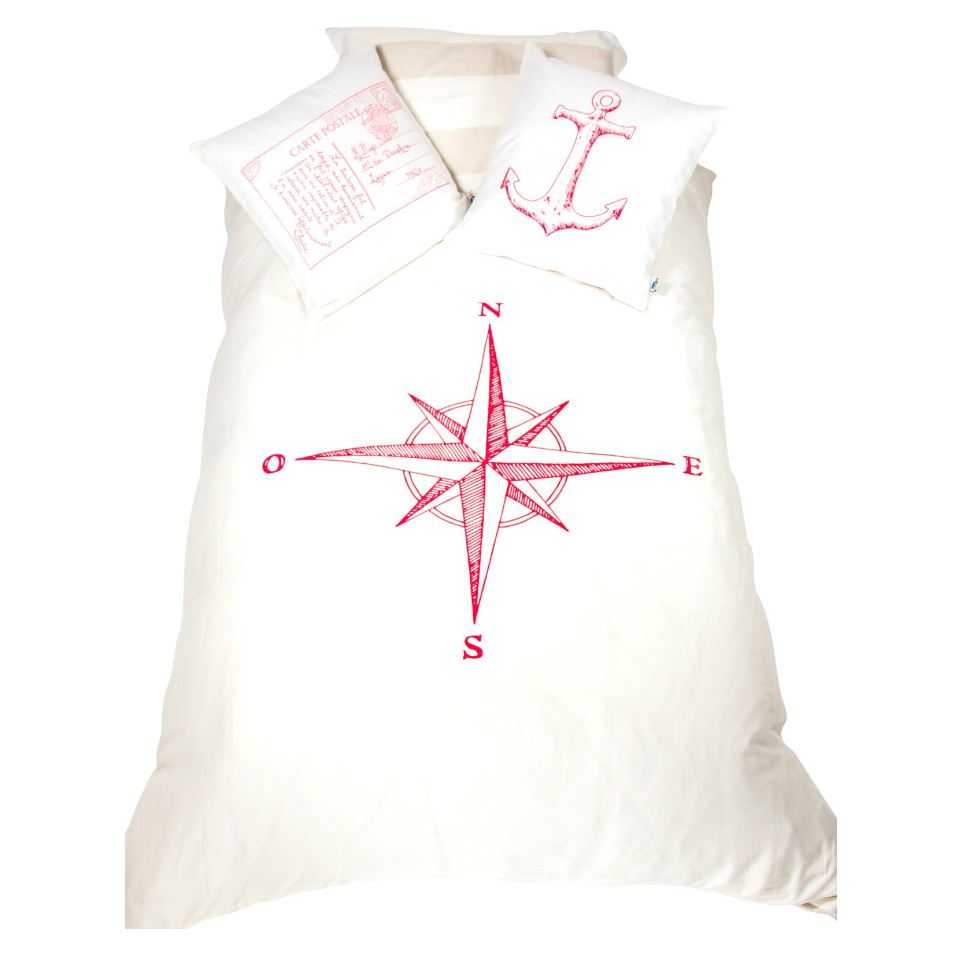 Then this compass duvet cover bedding set (with tan stripe reverse design) is ideal for your children's bedroom when paired with matching nautical themed pillows. Printed with a compass rose design, it's classic style for the traveler or ocean lover. The reversible print of muted tan and white stripes is ideal for a tranquil room and understated design.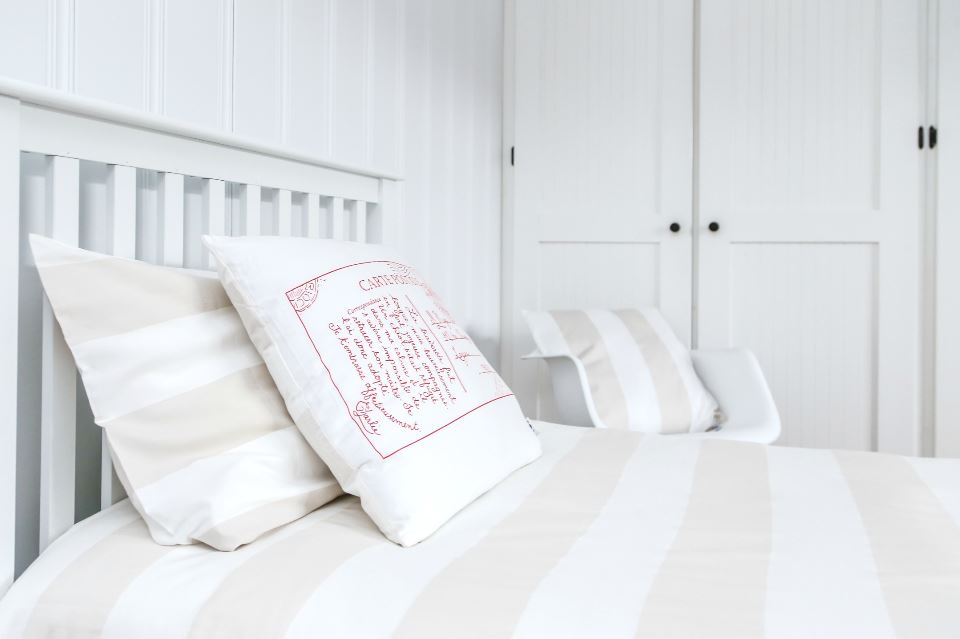 Again, I'm loving those pillows….. The red vintage postcard and nautical anchor are so chic, I would steal them to put on my porch or in my living room. I'm not joking!
Fancy Peacock Bedding Set
Finally, for the artistic child who loves something a little bit different, how about this bold peacock duvet cover bedding set?
This blue and purple graphic peacock is true artistic expression on one side, with fun polka dots on the other.