If you have a child heading off to college, or you're trying to find sheets for a split-king mattress, chances are you are looking for organic twin XL sheets.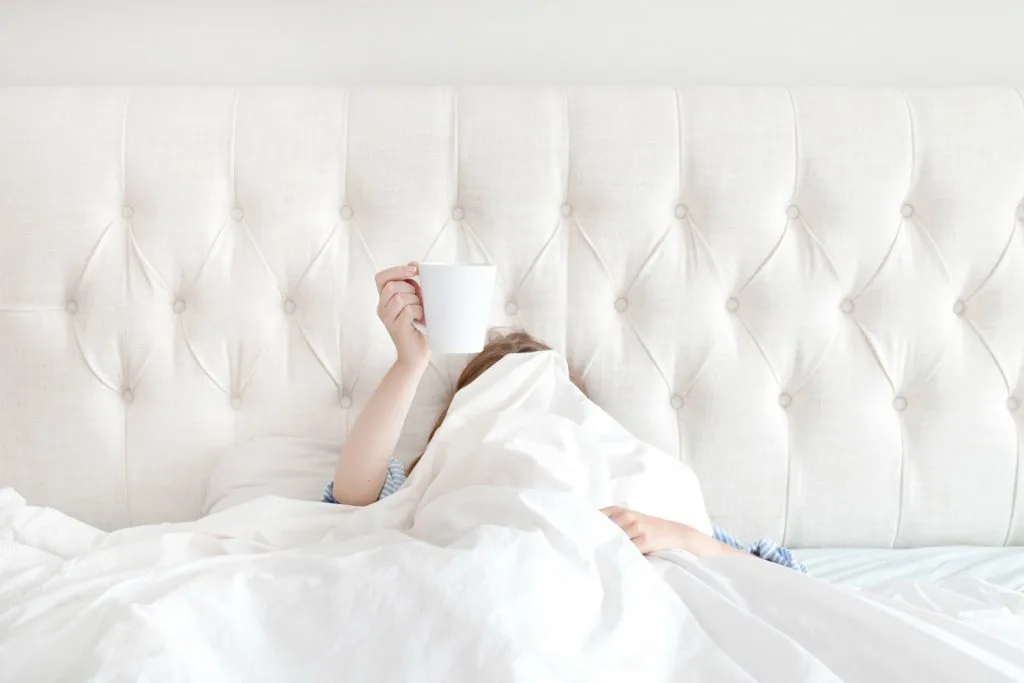 Surprisingly, not every bedding company makes twin XL sheets. And finding organic twin XL sheets that are affordable can be a challenge, too.
Which is why I've created this list of cozy organic twin XL sheets that you can easily buy online right now.
Why Organic Sheets?
A great night's sleep can help you feel better the rest of the day! So why not get a jump start on a fabulous day!
Organic sheets are made without chemicals that can possibly transfer to you during your rest. You probably didn't know that a lot of nasty chemicals are used to make sheets sets. That's why you can find some basic sheets sets for $20 sometimes.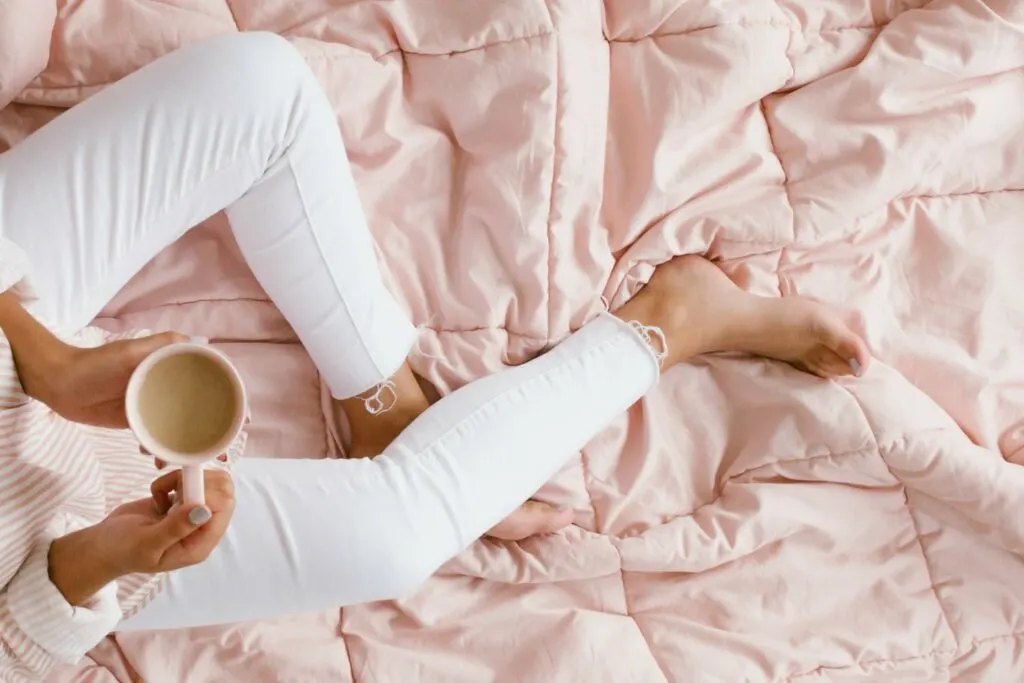 But with those low-cost sheets often come with low-quality craftsmanship. They can be rough and scratchy. They often fall apart in the wash pretty quickly, or start pilling up right away.
And, traditional sheets sets can be made with a lot of scary chemicals, including:
Colorings made from heavy metals
Formaldehyde coatings to prevent wrinkling
Polyester fibers, which are made from plastic and oil
Heavy bleach to prepare the cotton
Pesticides to grow the cotton
Chlorine to whiten the cotton
None of this sounds like something you want to lay on every night with exposed skin and breathe in, does it?
Organic cotton sheets sets don't have these problems usually.
By choosing organic cotton sheets, you're guaranteed that the cotton crop has no:
That's just the start. When choosing organic twin XL sheets from companies that create quality bedding products, you won't have to worry about colors made from toxic materials, chlorine, bleach, formaldehyde or other non-natural fiber finishes.
Don't be fooled. There are some companies out there that promise that they use organic cotton. But then they use lots of horrible brightly colored dyes, or coat the sheets with finishes to prevent wrinkles or acne medication stains. Which kind of ruins the whole reason you would choose organic cotton.
What I've found is that my organic sheet sets always get softer with every wash. Always. So after a few months, the organic sheets are so super cozy and comfy that I can't imagine using anything else!
Plus, my organic sheet sets have always lasted quite a long time, anywhere from 5-10 years.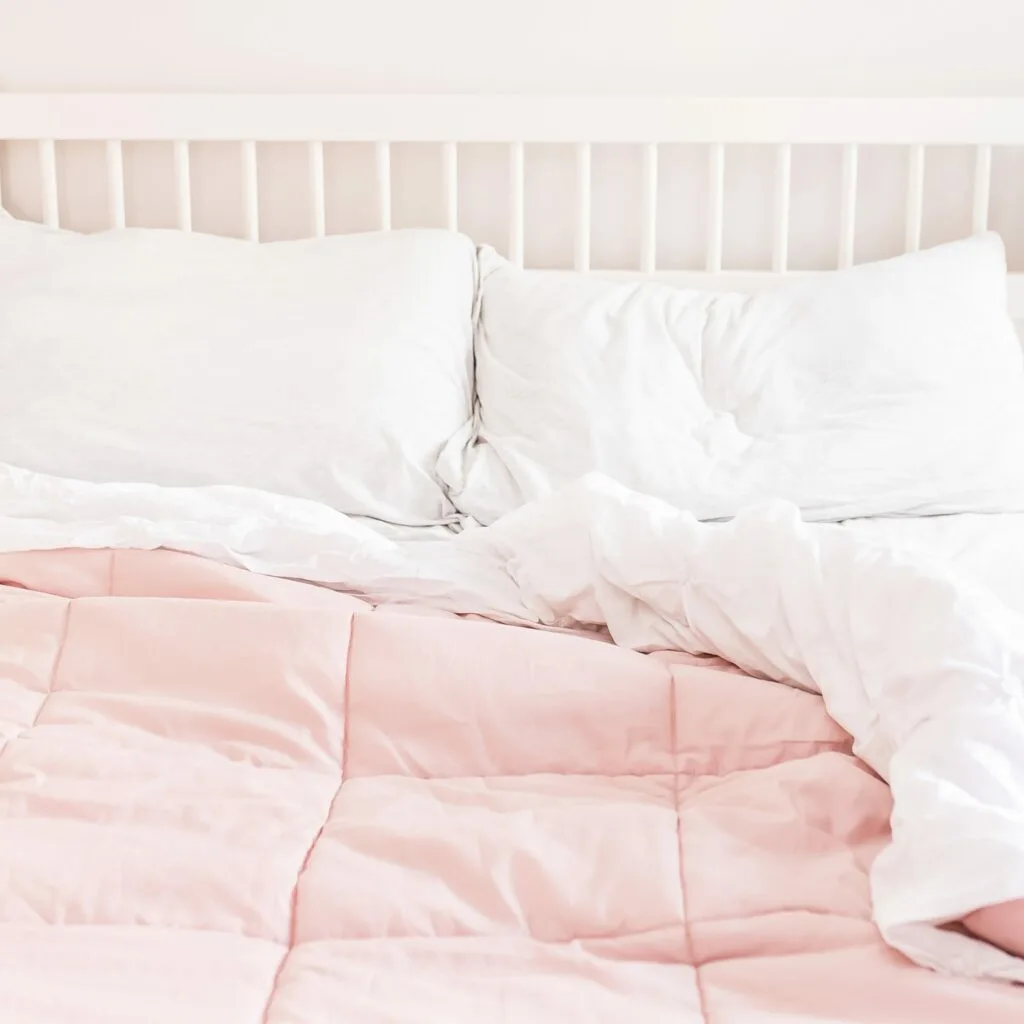 What is GOTS Certified Organic Cotton?
You'll notice that all of the bedding companies I've listed below use GOTS Certified Organic Cotton. What does that certification mean?
GOTS is the abbreviation for the Global Organic Textile Standard. It is the worldwide leading standard in organic textiles.
There is a reason that the GOTS Certified standard is so important. Textiles, including bedding sheets, must meet the following criteria to have the certification:
GOTS Organic label grade must contain a minimum of 95% certified organic fibers
No chlorine bleaching, only bleaches using oxygen
No toxic heavy metals
All chemicals must be evaluated and meet basic toxicity and biodegradability requirements
No formaldehyde
No GMOs
Working conditions are safe and hygienic
No child labor
Living wages for workers
No forced labor or inhumane treatment
These are just some of the many requirements for fibers, environmental criteria, technical quality and social criteria used to gain the GOTS Certified Cotton label.
Best Comfy Organic Twin XL Sheets
I've listed the best companies that offer organic twin XL sheets. These are companies that you don't have to worry about the colorings or finishes that they use. You can buy with confidence and know you're getting high quality bedding that will last a long time.
Savvy Rest
I've been a fan of Savvy Rest for more than a decade. I love this natural bedding company that is based in Charlottesville, VA.
The Savvy Rest organic twin XL sheets come in a natural cream color.
The GOTS-certified organic cotton sateen sheets are made in GOTS-certified facility.
With a 300 thread count, these organic sheets are a smart investment for less than $100.
BONUS: Save money on organic bedding by investing in a Dorm Bedding Set from Savvy Rest.
This special organic bedding package includes:
2 organic twin XL sheets sets
1 standard shredded organic latex pillow
1 organic cotton mattress pad
It's a great gift for a college student! Plus, it saves money rather than buying the pieces separately.

PACT Organic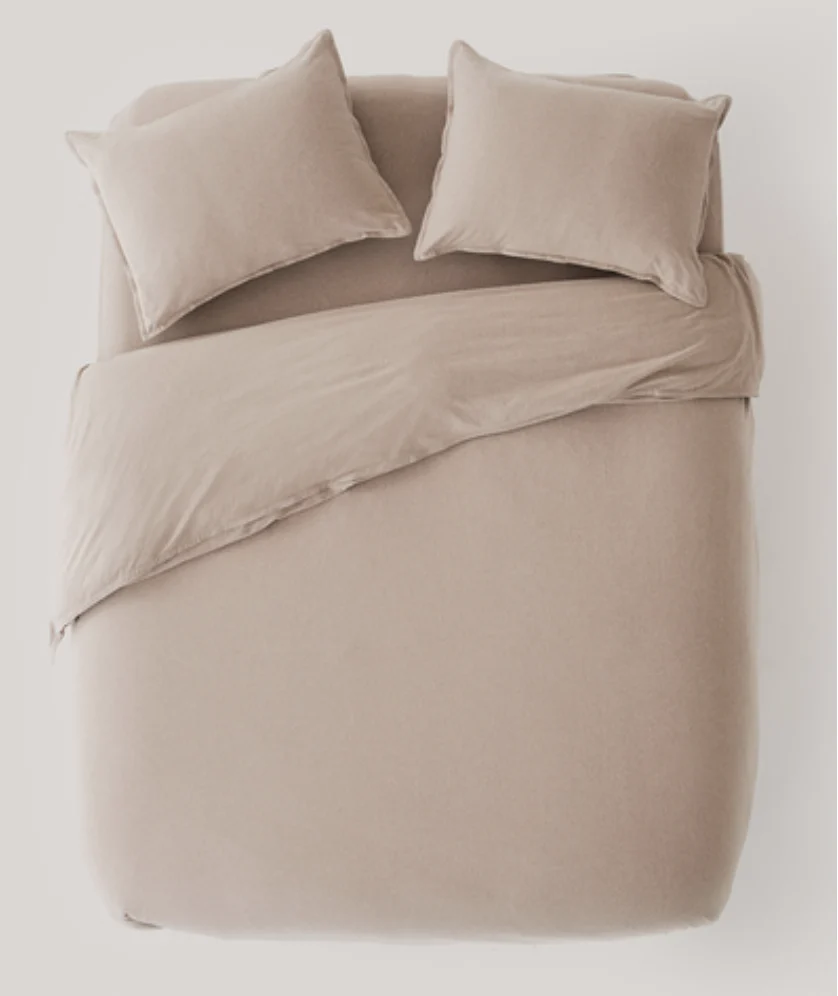 I absolutely love PACT Organic clothing, and I've reviewed their products a couple different times, since I've found so much to love! (In fact, I literally wear this PACT hoodie every night – it's held up well after two years of non-stop wear – and this PACT Organic dress is among my favorites.)
I was thrilled to hear that they now have organic sheet sets. The Favorite Tee Sheet Set is made of pure organic cotton jersey that feels like a t-shirt.
All of PACT Organic's twin XL sheets fit up to a 15″ mattress, are GOTS Certified Cotton and Fair Trade Certified.
Sol Organics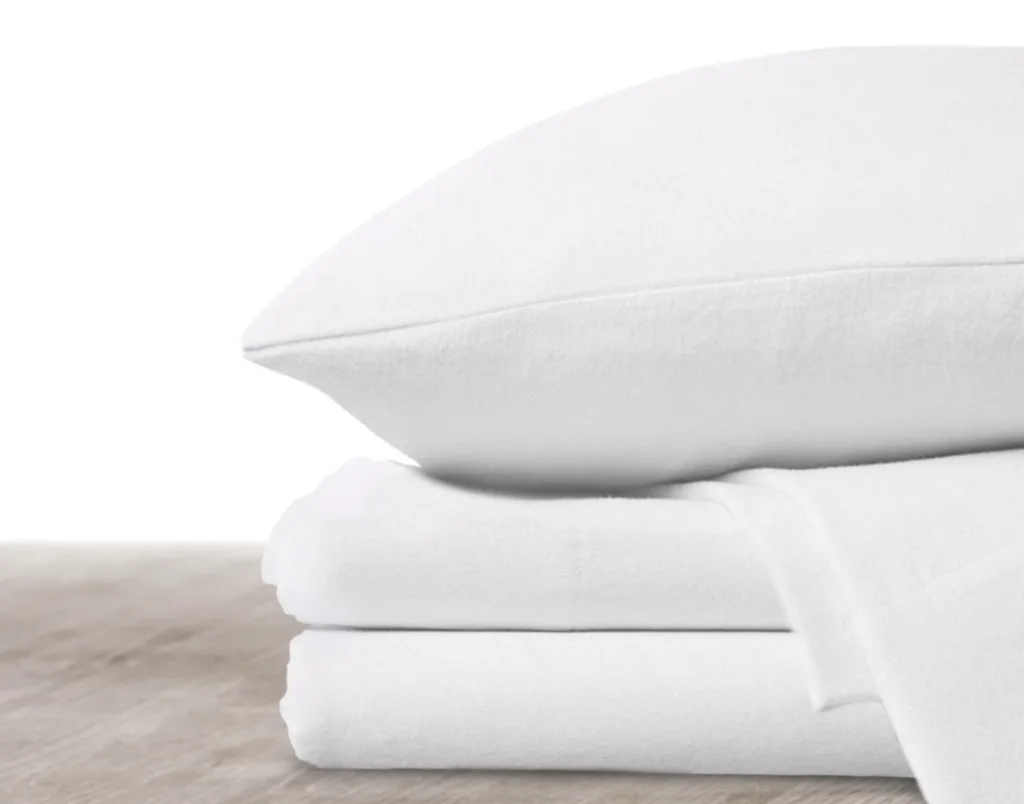 No matter what type of material you like for your sheets, Sol Organics has got them! You can get Twin XL sheets in sateen, percale, linen or brushed flannel.
These ethically-made sheets are sustainably sourced and fair trade. Yet they still have an affordable price point with a 30-day return policy.
White Lotus Home
If you are looking for a simple set of sheets made with organic cotton, White Lotus Home has a variety of sizes made with 230-thread count, including Twin XL.
Saatva Dreams
From the same company that creates the comfortable Saatva mattress (read my Saatva mattress review), Saatva Dreams offers organic cotton sheet sets.
They have organic twin XL sheets in the following classic neutral colors:
The 300 thread count GOTS Certified Organic Cotton is also Fair Trade Certified. These organic cotton sheets sets fits mattresses up to 15″ deep.
You'll also get a 45 day return policy on Saatva Dreams Twin XL sheets.
Alterra Pure
I own a Queen Size sheet set from Alterra Pure from when they first started introducing their organic cotton sheets sets.
The percale sheets are definitely heirloom quality. Similar to a hotel room's sheets, they are cool and crisp.
Using 100% GOTS Certified Organic Cotton, the 310 thread count bedding goes beyond organic practices (here's how Alterra Pure organic sheets go from farm to fabric)
I like the option of the Blush Pink color, along with minimalist designs in grey and white colors in the twin XL sheets.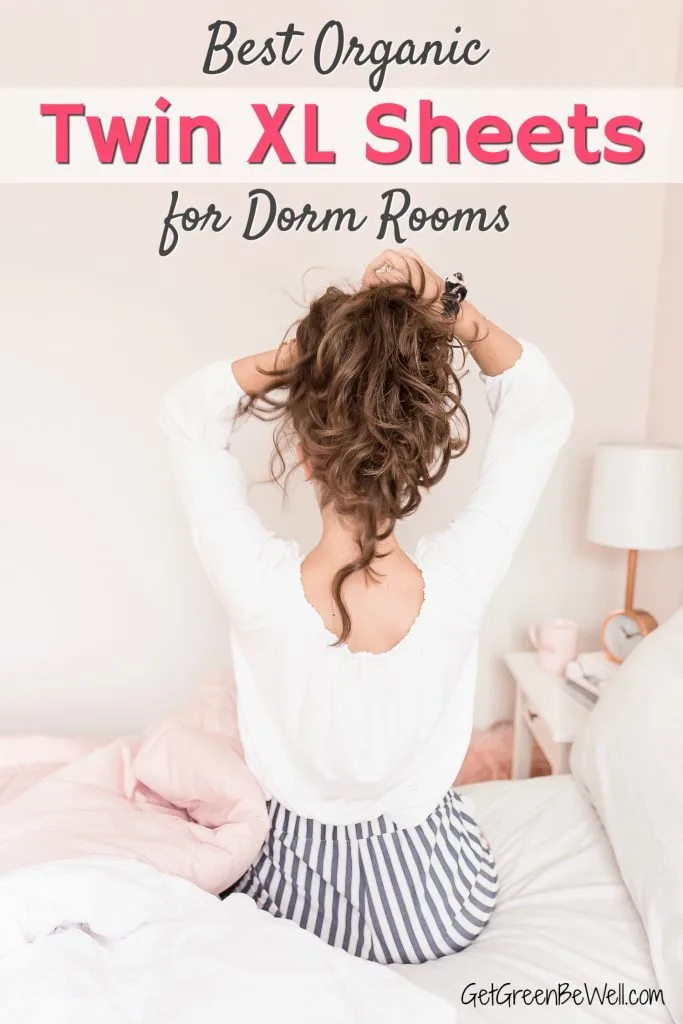 Cheat Sheet: Organic Twin XL Sheets
Scrolled to the bottom? That's okay! Here's a cheat sheet of which companies offer you the best options in the following categories.
Most Affordable
Deep Mattress Pockets
Money Back Guarantee
More Ways to Create a Healthy Bedroom
Organic sheets sets are just one of the layers of ways to make a healthier bedroom for better sleep and to restore health. A natural or organic mattress goes a long way in helping to restore your health overnight, so check out our list of how to choose the best ones.
Pillows are another perfect way to improve your health while sleeping. I've tried A LOT of them, and have only liked a few! Check out my reviews on buckwheat pillows, kapok pillows, Essentia Pillows and Naturepedic pillows.
Adding certain plants to your bedroom can improve your sleep and remove toxins. Choose one of these best bedroom plants.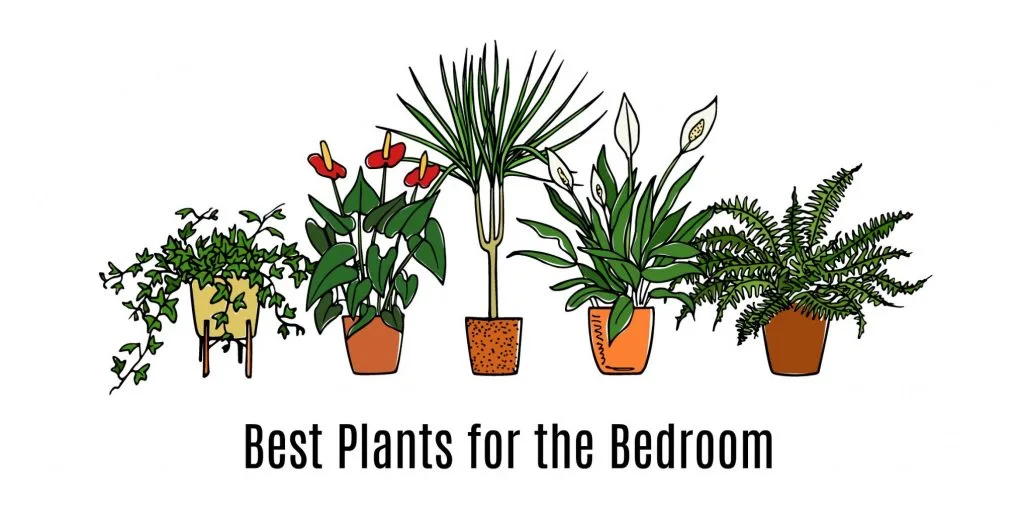 I've tried out a lot of organic sheets sets, and I love sharing my favorites with you. These are the best organic sheet brands that I have found.