How to make a classic pine tree homemade car air freshener using essential oils and a few craft supplies.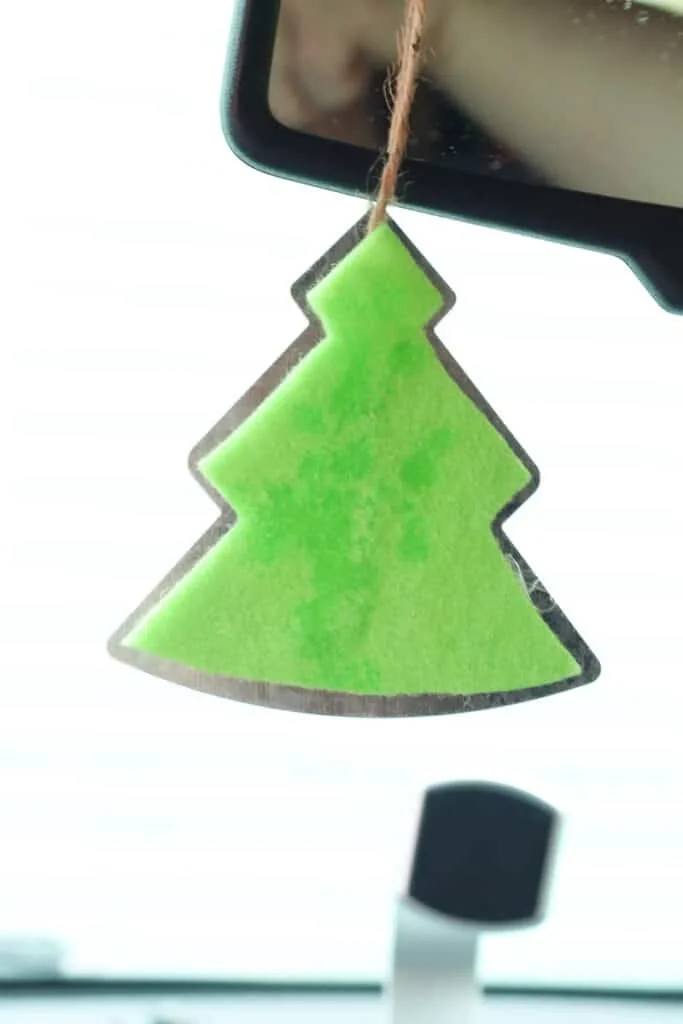 I don't take an Uber or taxi ride often. But when I do, I always hold my breath to see if the car is going to smell from artificial air fresheners. If I see one of those cheap cardboard trees dangling from the mirror when they pull up, I silently say a prayer not to get a headache.
The artificial fragrances of most air fresheners use chemicals I don't want to be breathing. And those chemicals often give me a headache nearly instantly. Once, I had to ask the driver if I could put the window down during my entire drive because the smell was overwhelming.
Needless to say, I'm a little passionate about telling people that you can freshen your car naturally without buying those cheap pine air fresheners! And this easy DIY craft makes it super simple to make your own at home.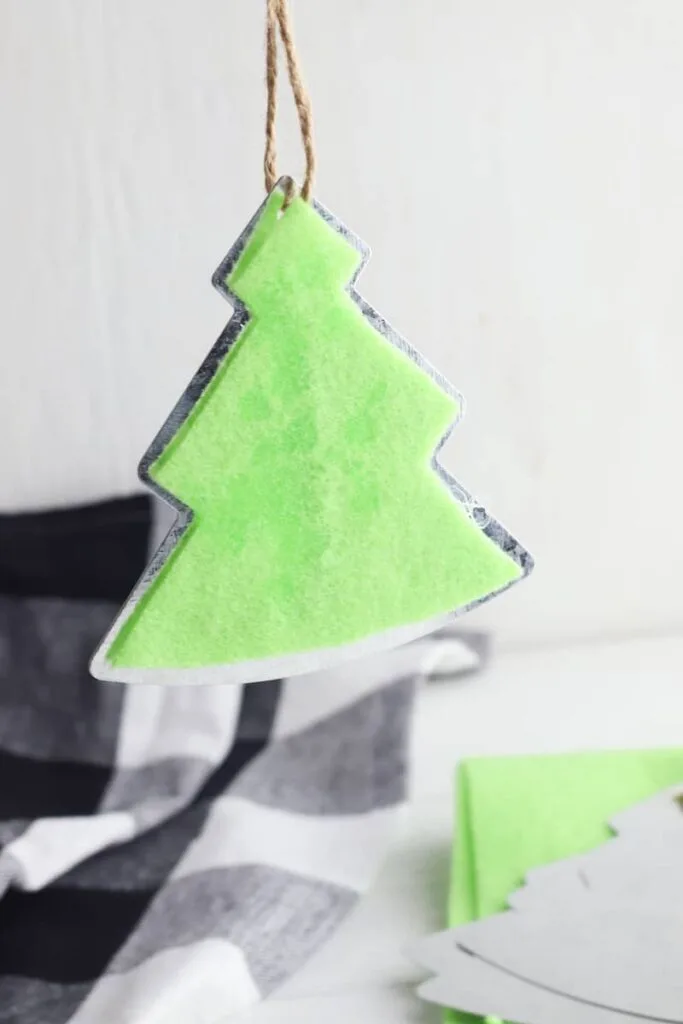 Helpful Tips
While I chose the traditional pine tree shape and pine essential oil scent, you can choose whatever you'd like. Such as a heart shape with rose essential oil. Or get a simple square or circle and add cleansing tea tree oil as the fragrance.
You will need to refresh the essential oils periodically. Sunlight can cause their potency to fade more quickly, so if your car is parked outdoors, you will likely need to refresh it more often.
If you'd like, add felt pads on both sides of the ornament.
Be sure to Pin This so you don't forget this simple DIY project! Also, the printable How-To card below might not show large photos once printed. So bookmark this webpage if you'd like to reference tutorial photos.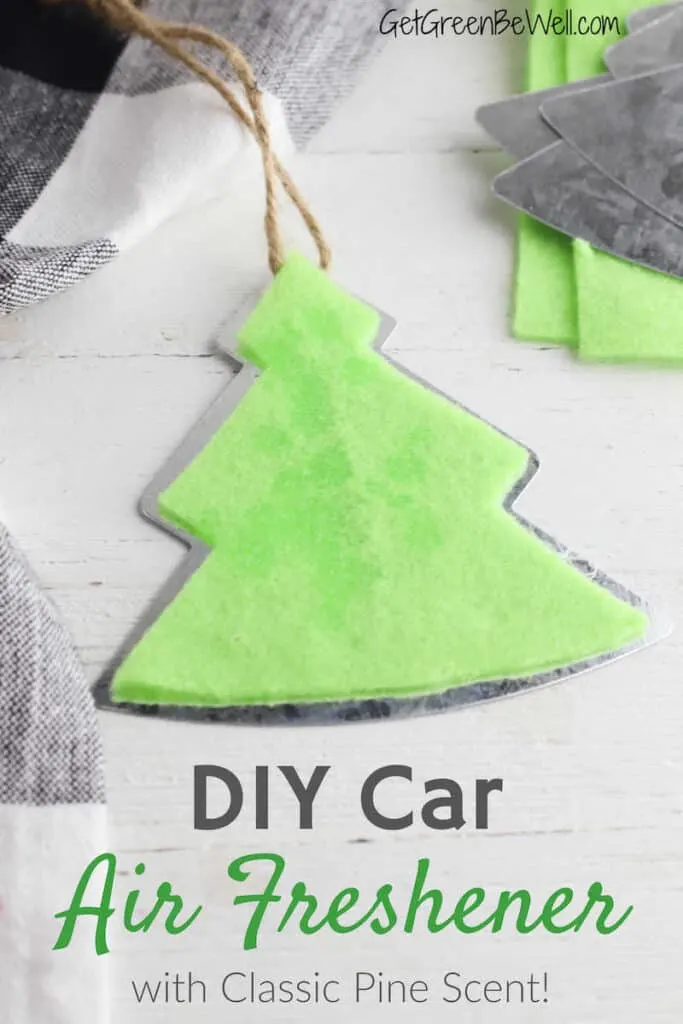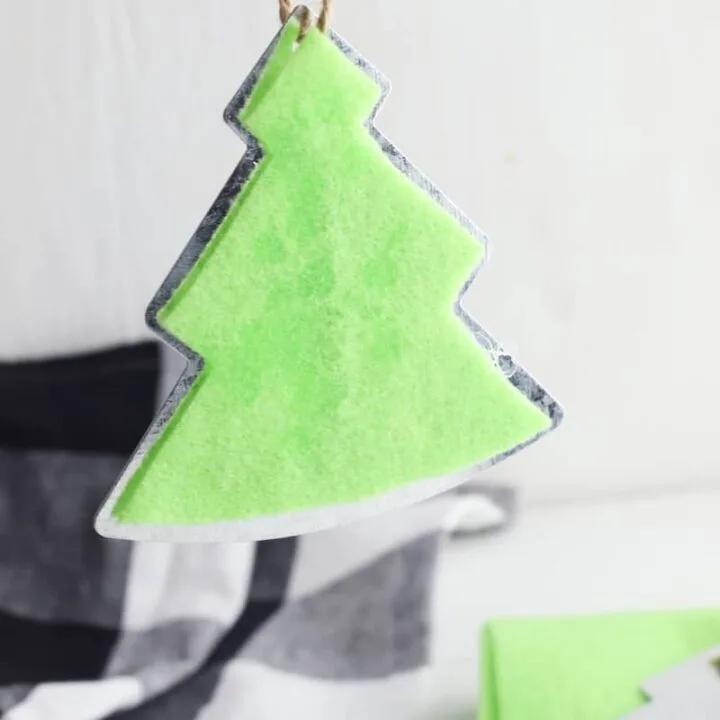 How to Make Your Own Car Air Freshener
Yield:
1 car air freshener
This pine tree car air freshener is made with natural essential oils. No need to breathe in artificial fragrances!
Materials
Metal tree-shaped ornament
Green felt
Marker
Scissors
Hot glue gun
Pine essential oil
Instructions
Use the fabric marker to trace around the outside of the tree ornament on the green felt. Then, cut along the inside of the line to make the felt piece slightly smaller than the top of the ornament.
Glue the felt to the top of the ornament.
Drop 10 to 15 drops of pine essential oil on the felt.
Hang the tree in your car to freshen the air.

Notes
Refresh the essential oils periodically.
Use whatever shapes and fragrances you'd like.
Add a second felt shape to the backside for a stronger scent.
I love showing people how to swap out their artificial fragrances for more natural air fresheners. Here's some more great DIY ideas that you'll love: