I am passionate about healthy, non-toxic sleep. I stick with companies that I really know, trust, and love to provide seriously safe bedding and mattresses. And Savvy Rest is most definitely one that I recommend all the time!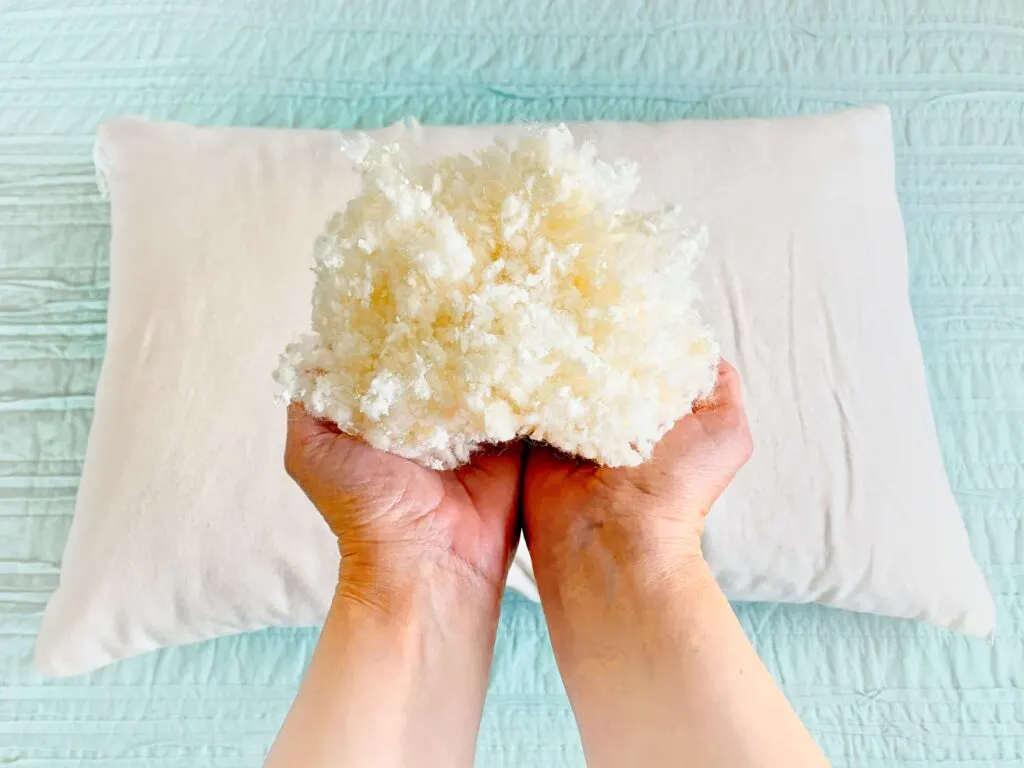 When Savvy Rest asked if I wanted to review a few of their products, I definitely said yes! It comes at the perfect time as I'm restocking my home with healthy essentials (after selling everything and downsizing to go RVing for a year.) I need lots of bedding and mattresses, so I'm thrilled to add several Savvy Rest products to my home and try them out.
I was gifted:
Spoiler Alert: I loved them all just as much as I thought I would. I do put a LOT of research into the companies that I choose to promote and purchase from. So it comes as no surprise, that the Savvy Rest products were as great as I was thinking they'd be. And if you want to get right to shopping for quality non-toxic bedding on Savvy Rest, use my code GETGREEN for 20% off all products, not just the ones I reviewed! Be sure to use links in this article to get the discount!
Watch my video view, or keep reading for details below:
Natural Duvet Insert
Okay, I have NEVER owned a duvet. Am I the only one?
My only experience with duvets have been in hotel rooms. And usually they are super huge, heavy and make me sweat in the middle of the night.
I probably would never have bought one on my own, but if I'm offered one to review, then why not try it out?
WOW. I'm glad I did. I'm a little shocked that the Natural Duvet Insert that I got from Savvy Rest is in no way similar to the thick polyester duvets I'm used to in hotels. And that's a good thing!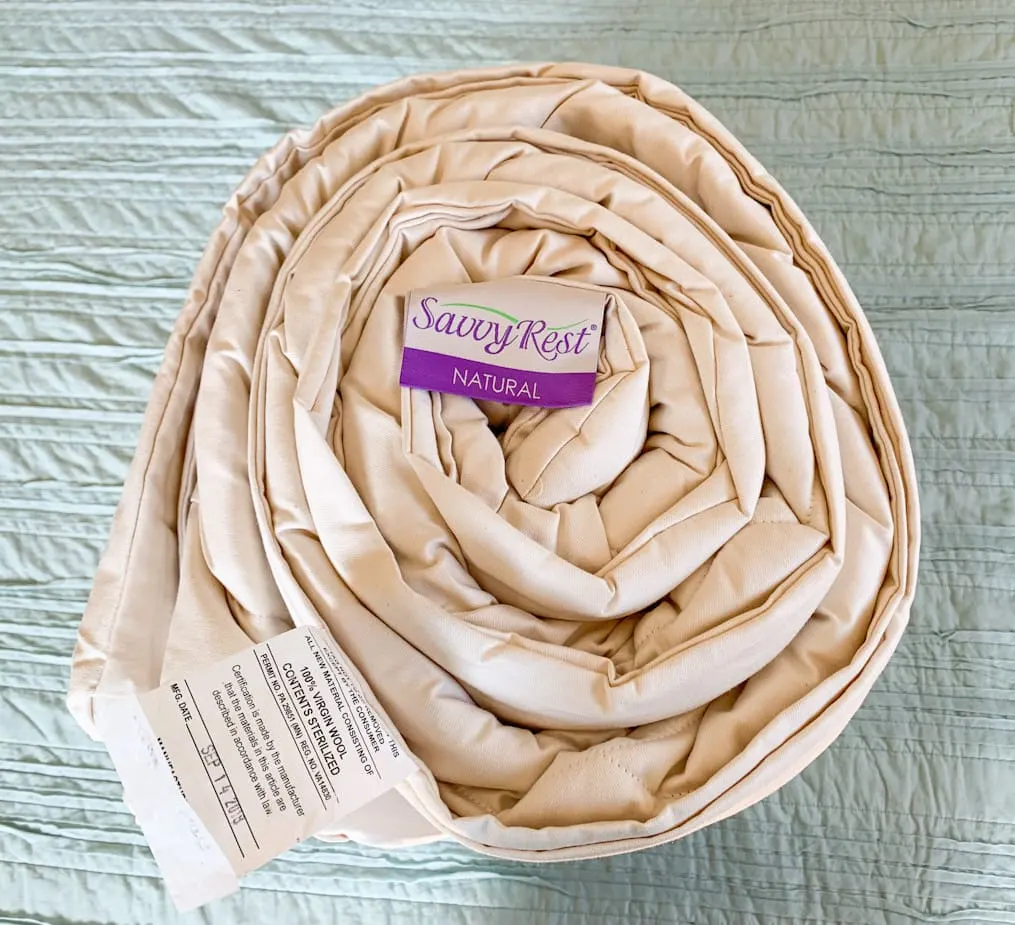 First of all, I really am surprised at how thin it is. Dimensions on the website state 1.5 inches. So I never felt like I was suffocating under a duvet.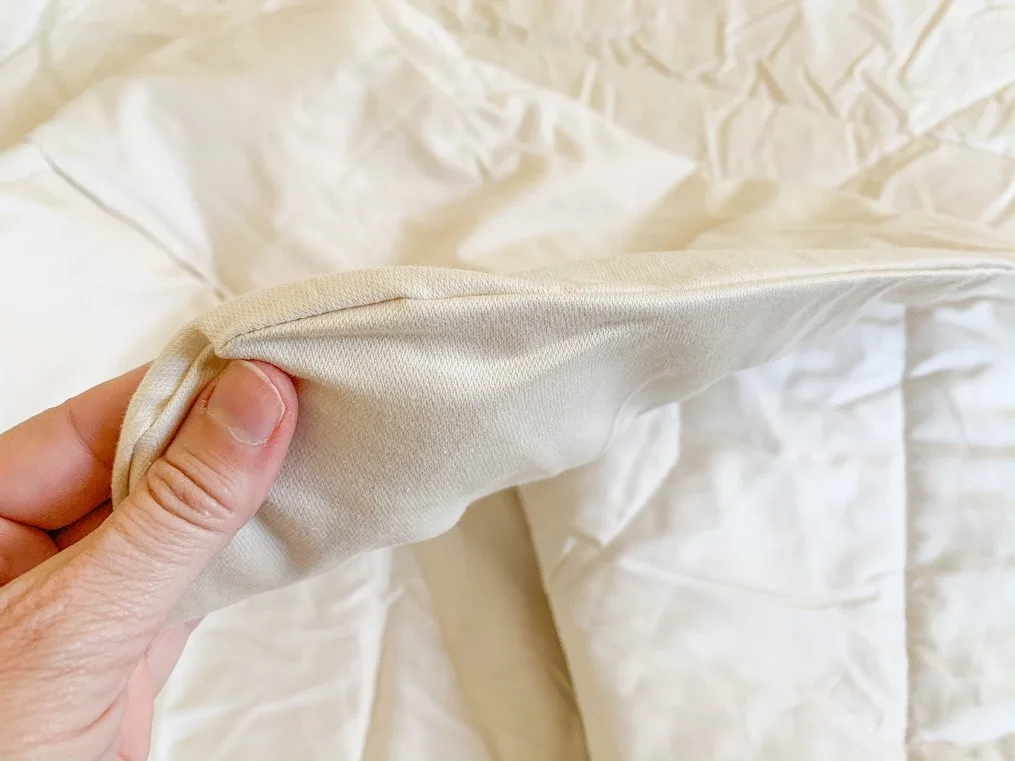 Most importantly, though, is the fill of natural wool covered by organic cotton sateen fabric. With the natural temperature regulation of wool, this is truly a duvet comforter that works in all seasons. I could use it in the summer time and still be cool as I sleep. And in the winter time, such as when we're trying it out, it definitely keeps us warm.
The duvet insert can be used as a comforter if you want a minimalist design. The diamond pattern makes it beautiful on its own. However, I love color and patterns, so I'll be looking for a duvet cover soon. Since this is definitely going to be a keeper in our house! P.S. I was so excited to share that I didn't try to get the wrinkles out! The pictures are from 2 minutes after I unrolled it!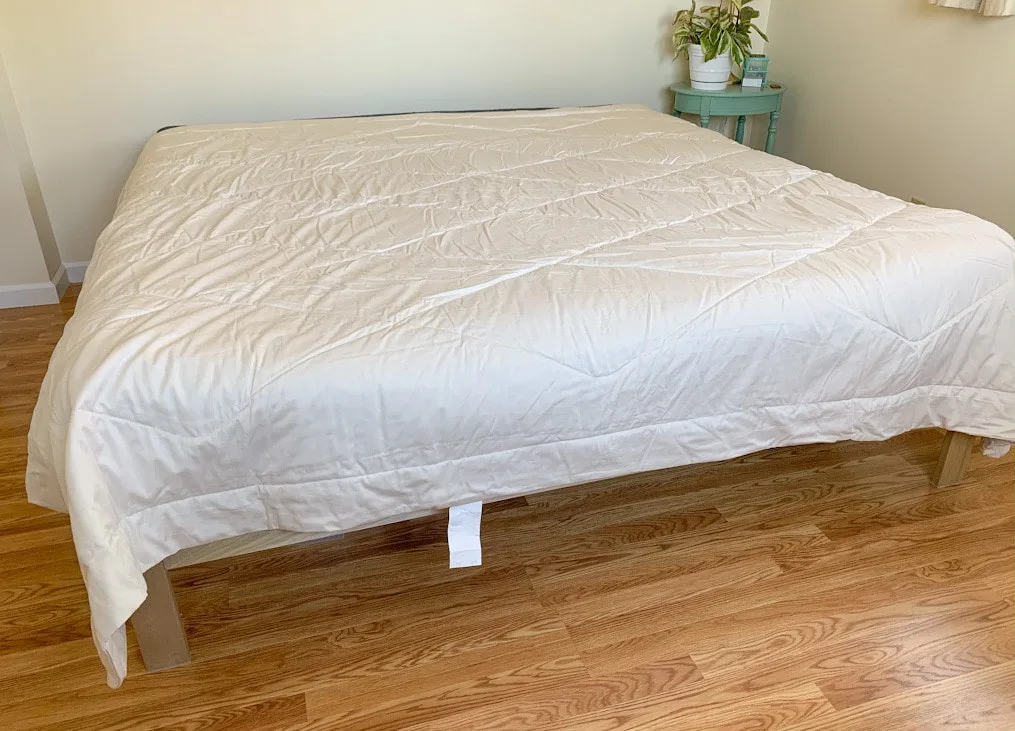 Savvy Rest Wool-Latex Pillow
My husband and I have been needing a new pillow for quite a while. I think a lot of us feel the same way, you want a new pillow but you just don't know what to buy. I like pillows to have plenty of support, but also to be soft.
We chose a wool-latex pillow which offers medium support. And I'm truly happy with it!
I am definitely loving using wool in bedding more often. As a natural temperature controller, wool can help keep you cool when you're sleeping hot. Or keeps you warm when the temperature is cold. And it whisks away moisture, too, which polyester pillows do not!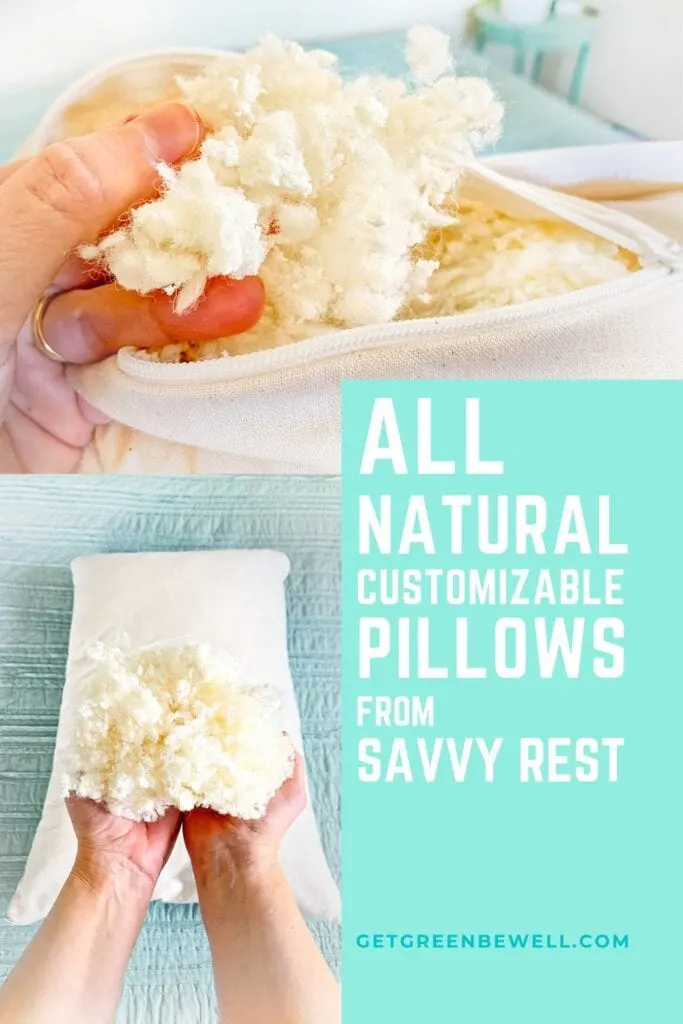 We have found that shredded latex fill is also something that we love in a pillow. As side sleepers, we like to bunch up the pillow underneath our neck. It's hard to do that with a solid piece of natural latex. So shredded latex makes more sense.
When we opened the pillow, I was surprised at just how big it was! I'm used to thin pillows that you see in the store. But Savvy Rest intentionally OVERSTUFFS their pillows so that you can control the loft and thickness. That way, people who want a lot of loft are happy, and those that prefer thinner pillows can easily take out the stuffing to customize to their needs.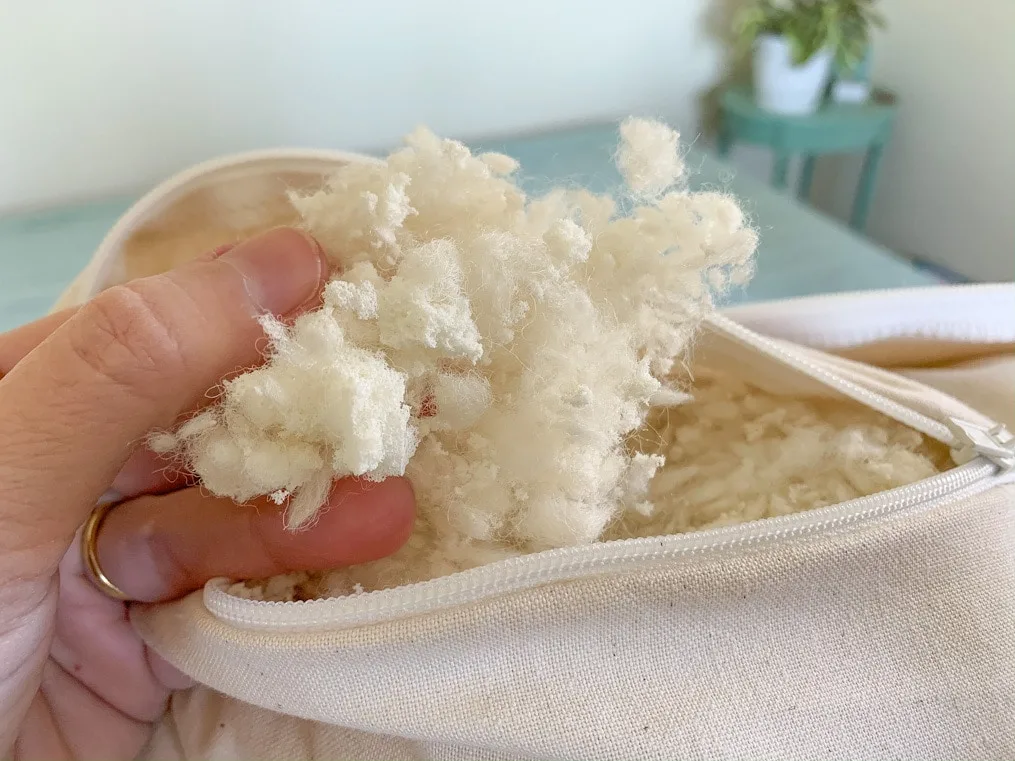 (If you do take out the stuffing, I'd highly suggest keeping it! Use it in a throw pillow or just keep for later, because the natural ingredients are valuable!)
I didn't think my husband would like the pillow as much as he does! So he has taken it as his own. LOL! Which is perfectly fine with me because he has a really hard time finding pillows that he likes. But he loves the Savvy Rest Wool-Latex pillow!
By the way, Savvy Rest makes a variety of pillows with different materials, including cotton, kapok, and formed latex.
Organic Cotton Blanket
Can you ever have too many quality blankets? I think not. I find them to really be heritage pieces that can be passed down through the generations when you buy a great blanket.
We chose an organic cotton blanket in natural color for a king size bed. The blanket is made without toxic dyes, pesticides, bleach or other synthetic materials.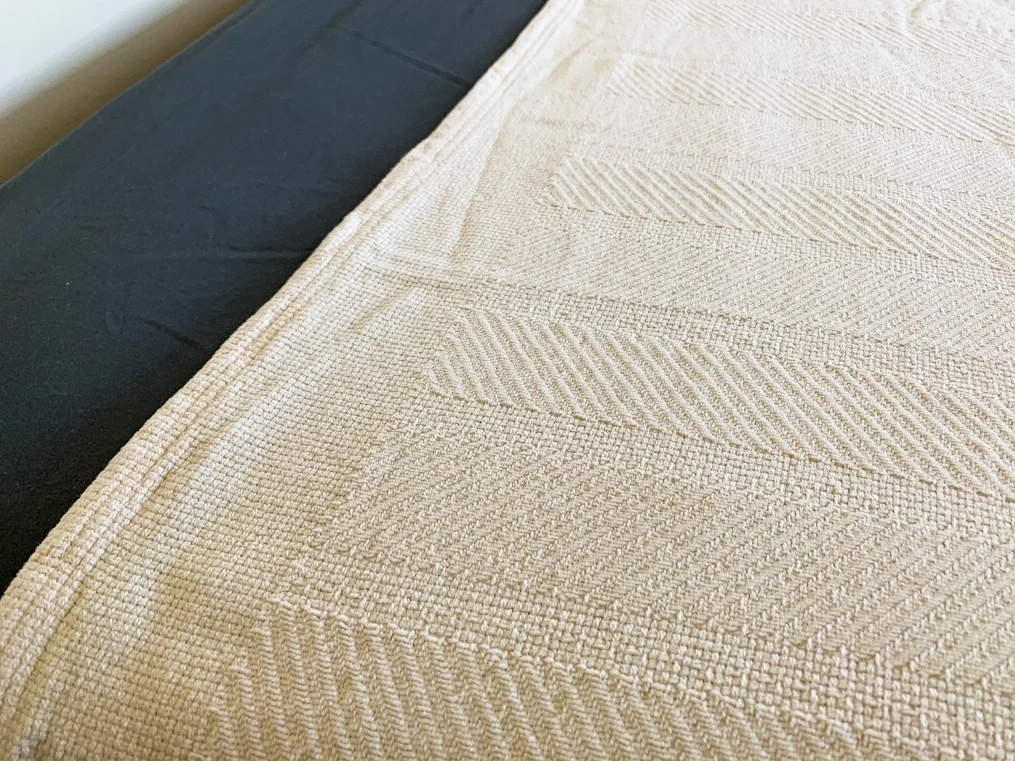 There is also one other color – warm buffalo brown – that is grown in that color. It's not dyed. So you really don't have to worry about chemicals used for colors.
Instantly, as soon as I touched the blanket in its canvas bag carrying case, I loved it. It is SO SOFT!!!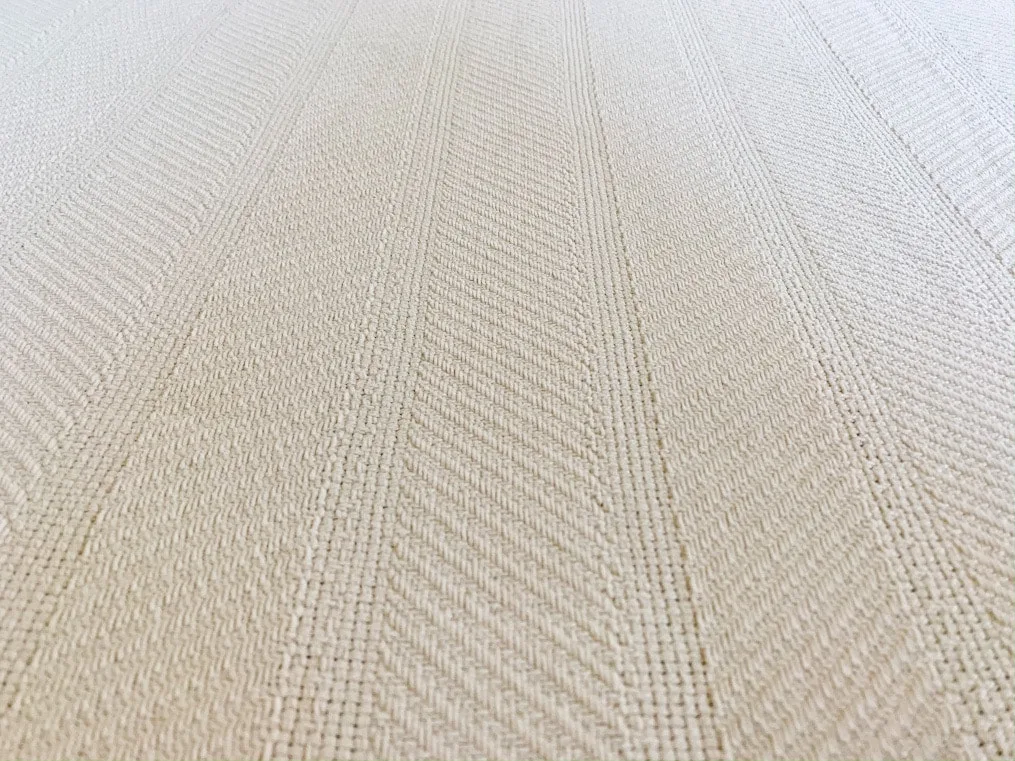 The herringbone design is beautiful, too. And it's made in the USA, which is a plus.
Also very important to me is that I can wash the blanket in warm water and put it in a dryer. This is HUGE. So often, decorative blankets can't be put into a washing machine because the material will be ruined. And that's gross. Whether you have a blanket on a bed or as a throw on the couch, it can accumulate dust mites. And it will. So you NEED to be able to launder your blankets in warm water and dry them properly.
Since Savvy Rest offers throw blankets, this is a big deal, since throw blankets often can't easily be laundered. And, of course, blankets on your bed need to be laundered frequently, too.
Savvy Rest Coupon Code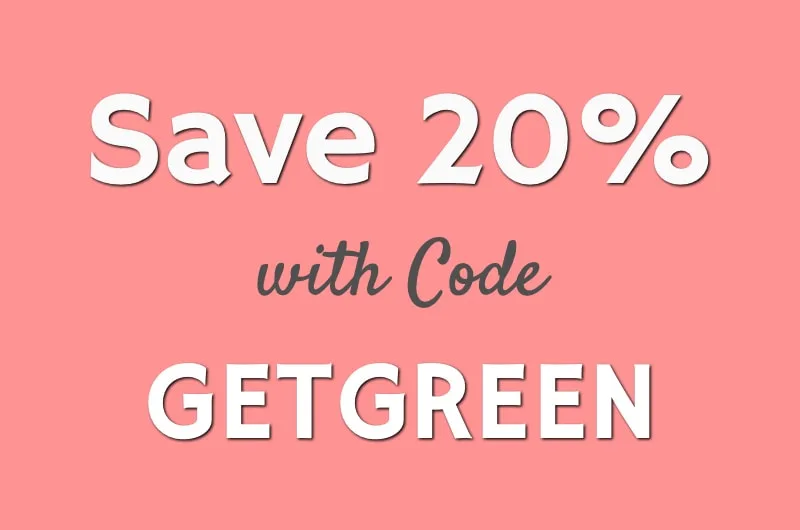 If you want to try out any of these – or other – Savvy Rest products such as their wedge pillow or non-toxic dog bed that I reviewed, too, be sure to use my coupon code!
You will get 20% off ALL Savvy Rest products (and they've got some really awesome stuff!) with code GETGREEN.
Remember to use either the links in this article, or type in GetGreenBeWell.com as the referrer, when placing your order. Along with the coupon code.