I have had such a hard time finding a foundation that doesn't make my acne prone skin breakout. While I've tried using all natural and super expensive foundations, those actually have created MORE problems with my sensitive skin. So when I found that these top drugstore foundations weren't full of nasty chemicals and were more affordable, I think I jumped for joy.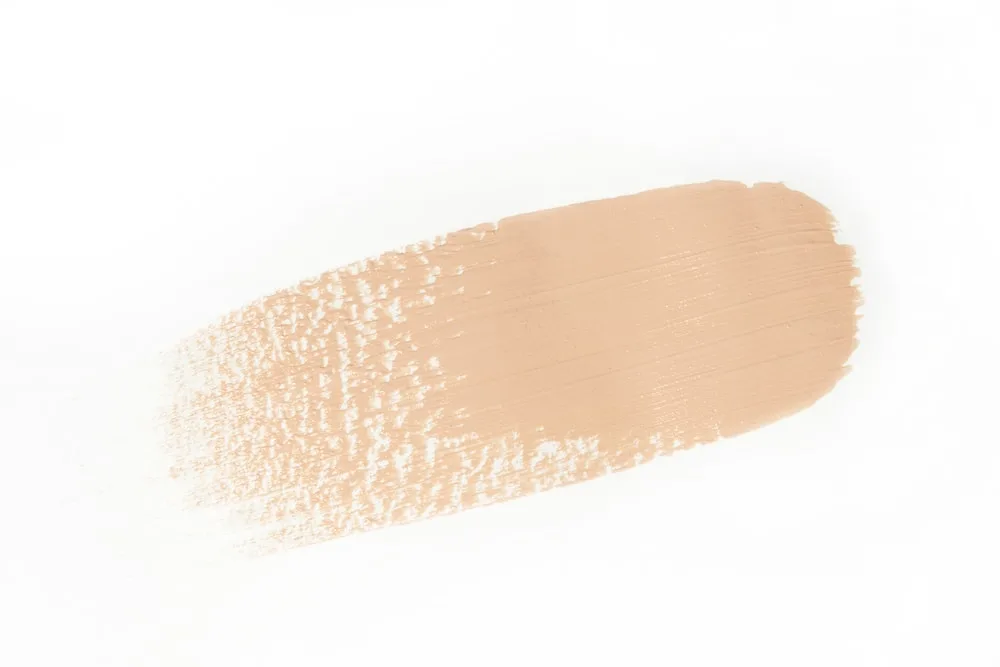 The Struggle to Find the Top Drugstore Foundations
I have spent years (actually a couple of decades) fighting with my skin and my desire to use non-toxic makeup. My sensitive skin breaks out in painful cystic acne whenever I upset it with a product that it doesn't like. Can you relate?
FYI: Here's how I got rid of my cystic acne with the proper face wash (but I still can't irritate my skin with foundation that has nasty ingredients).
Every time I try another foundation that promises to be natural, non comedogenic or made with organic ingredients, my skin breaks out. In truth, the more natural the ingredients are, the worse my skin behaves.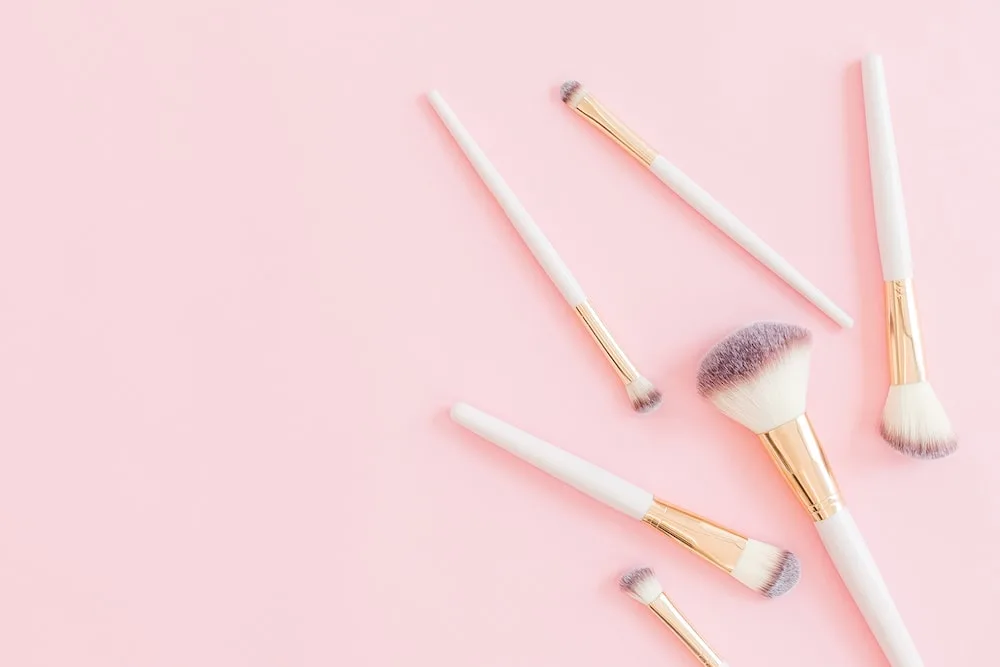 Weird, I know. And then I spend a month waiting for the cystic acne to heal.
It got to the point that I stopped trying to use anything natural or organic. And I just went to the drugstore to buy inexpensive foundation that I knew worked well and cost less.
And you know what?
It turns out that my foundation (L'Oreal Paris) has been on the Environmental Working Group (EWG) list of least toxic makeup all along!
Nasty Ingredients in Some Makeup
I sheepishly turned to drugstore makeup brands because I knew that they were cheap, easy to find and I could return them if I didn't like them. (CVS is where I buy most of my makeup, and they have AMAZING beauty deals with sales, ExtraCare Cash Back, and returns of products you don't love.)
But I knew how toxic most makeup can be. So I was torn.
If you're not familiar with the nasty stuff that can be in a lot of makeup, here's a very brief introduction below. After all, there's SO much stuff that can be in makeup that it will make your head spin and you'll feel defeated.
Trust me, I know. I feel this way every time I try to navigate the makeup aisle.
Here's What to Avoid in Makeup:
Parabens These go by names such as methylparaben, propylparaben, butylaraben and ehylparaben. If it says paraben at the end, you want to avoid it. Why? Because these chemicals mimic estrogen when they get in your body. Then they might cause hormonal issues, which can lead to a lot of health problems, including breast cancer.
Ethanolamines (MEA/DEA/TEA) You probably can't pronounce it, but just know that one of these chemicals, (DEA), has been linked to cancer in animals.
Oxybenzone and Octinoxate Sure, you've probably seen this ingredient in makeup that promises SPF protection. But, these specific chemicals have been found to have problems, including interfering with hormones. You can protect your skin with other less-toxic sunscreen ingredients.
BHA and BHT These chemicals, known as butylated compounds, work like a preservative. But, again, these can disrupt your hormonal system and could be a human carcinogen.

Finding Non-Toxic Alternatives
Keep in mind, the chemicals above are just some of the nasty ingredients in makeup.
Unless you read the labels of everything you buy and cross check the ingredients with toxicity research, you probably will never know how toxic your makeup can really be.
And who wants to do that?
Which is why the EWG Skin Deep Database is pure gold!
EWG does the work for you, testing and researching more than 71,000 personal care products on the market. They share their results for free, ranking products from 1-10.
With 1 being safe and 10 being the most toxic. I like to focus on the products that are considered "Safe," which have scores of 1 or 2.
Did you know that EWG even has a Healthy Living app, so that you can actually scan makeup in the drugstore to know the toxicity level before you buy anything?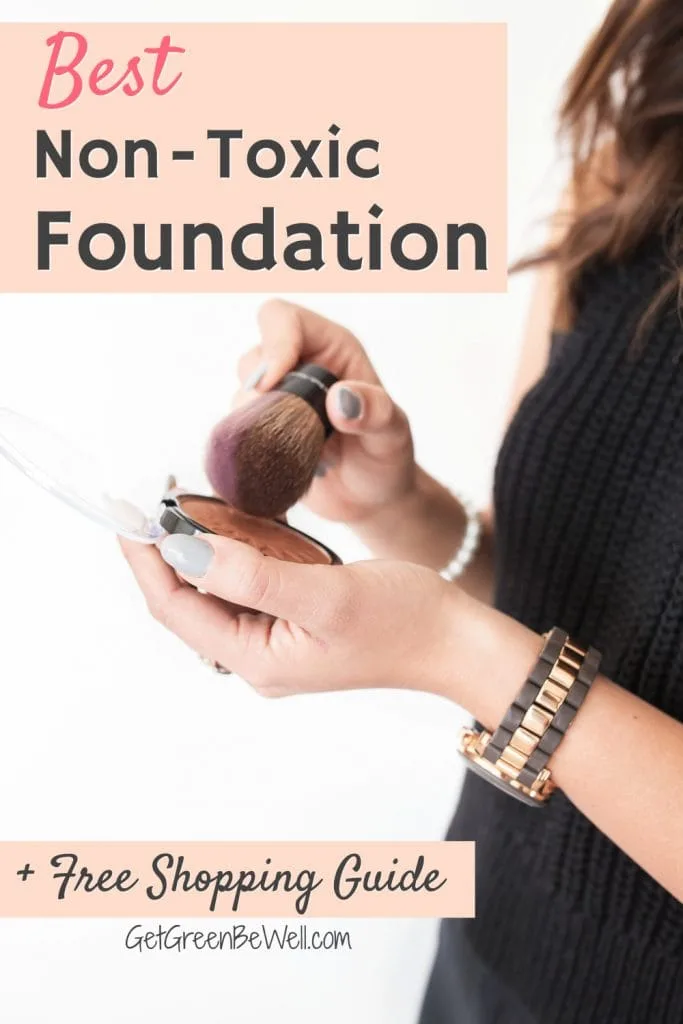 Top Drugstore Foundations and Powders That Are Safe to Use
I cross referenced the EWG list of foundations, powders, concealers and primers with common makeup brands found in the drugstore.
Then, I narrowed down the results to only the makeup products that got a score of either 1 or 2 in the EWG Skin Deep Database.
The best foundation, powder, primer and concealer to use, based on the EWG safety score, is listed below.
Want a printable shopping guide? You're in luck! Download my free printable shopping guide with all of these brands and products.
P.S. These aren't the only makeup shopping guides that I have. Check out the best blushes and bronzers, as well as the best eye makeup that is safer to use. And these are the 10 best lipsticks without lead.
Best Non Toxic Drugstore Foundation: Liquid and Powder
Boots No 7 Airbrush Away Foundation; Calico, Chestnut, Cool Beige, Cool Vanilla, Latte, Warm Beige, Warm Ivory
L'Oreal Paris Infallible Pro-Matte Up to 16 Hr Matte Finish; Classic Tan, Sun Beige
L'Oreal Paris True Match Lumi Cushion Buildable Luminous Foundation; Shell Beige, Natural Tan, Cocoa, Classic Ivory, Classic Buff, Buff Beige, Perfect Beige, Light Ivory, Nude Beige
Maybelline Dream Liquid Mousse Foundation; Caramel, Classic Ivory, Cocoa, Natural Beige, Natural Ivory, Nude, Nude Beige, Porcelain Ivory, Pure Beige
Maybelline Dream Velvet Soft Matte Hydrating Foundation; Caramel, Classic Ivory, Coconut, Natural Beige, Nude, Sandy Beige, Warm Porcelain
Maybelline Dream Wonder Fluid-Touch Foundation; Classic Ivory, Porcelain Ivory
Maybelline Fit Me! Shine Free Foundation; Buff Beige, Coconut, Natural Beige, Pure Beige, Toffee
NYX Mineral Stick Foundation; Caramel, Porcelain
Best Drugstore Face Powder
Almay Line Smoothing Pressed Powder; Light/Medium
Almay Smart Shade Skin Tone Matching Pressed Powder; Light/Medium
Boots No 7 Perfect Light Pressed Powder; Medium
e.l.f. Studio High Definition Powder
e.l.f. Studio Translucent Mattifying Powder, Translucent
e.l.f. Tone Correcting Powder Palette
L'Oreal Paris Infallible Pro-Matte Up to 16 Hr Matte Finish Powder; Cocoa, Porcelain, True Beige, Golden Beige, Natural Beige
Maybelline Fit Me! Powder; Buff Beige, Classic Ivory, Ivory, Natural Beige, Natural Buff, Golden Beige, Sun Beige
Maybelline Fit Me! Matte + Poreless Powder; Buff Beige, Natural Buff, Porcelain, Sun Beige, Toffee
Maybelline Fit Me! Set + Smooth Powder
Maybelline Dream Wonder Face Powder; Honey Beige, Medium Buff, Nude, Classic Beige, Sun Beige
Maybelline FaceStudio Master Fix Setting + Perfecting Loose Powder, Translucent
Maybelline Dream Wonder Powder; Pure Beige, Natural Beige
NYX Hi Definition Powder
Physicians Formula Mineral Wear Correcting Powder; Creamy Natural, Translucent
Physicians Formula Mineral Wear Talc-Free Mineral Correcting Powder
Physicians Formula NudeWear Glowing Nude Powder, Light
Physicians Formula Powder Palette Mineral Glow Pearls
Physicians Formula Pressed Powder; Light Skin
Physicians Formula Gentle Wear 100% Natural Origin Pressed Powder; Translucent Medium Organic
Wet N Wild CoverAll Pressed Powder; Fair/Light, Medium/Tan, Tan
Best Non Toxic Concealer at the Drugstore
Boots No 7 Radiant Glow Concealer, Medium
Boots No 7 Stay Perfect Blemish Cover; Cover Deep, Light, Light Medium, Medium Deep
e.l.f. Studio Complete Coverage Concealer
Maybelline SuperStay Better Skin Concealer; Deep
NYX Above & Beyond Full Coverage Concealer; Green, Orange
NYX Dark Circle Concealer; Fair, Light
NYX Wonder Pencil; Light, Medium
NYX HD Studio Photogenic Concealer; Fair, Beige, Porcelain
Best Non Toxic Makeup Primer To Buy in the Drugstore
e.l.f. Mineral Infused Face Primer: Brightening Lavender
L'Oreal Paris Studio Secrets Magic Perfecting Base
Maybelline Instant Age Rewind Primer Skin Transformer
Maybelline Master Prime by Face Studio Blur + Smooth
Maybelline Master Prime by Face Studio, Blur + Redness Control
Maybelline Baby Skin Instant Pore Eraser
NYX Soft Focus Primer, Nude
NYX Studio Perfect Photo-Loving Primer; Clear
Physicians Formula Mineral Wear Corrector + Primer + Powder; Natural Beige
Rimmel London Stay Matte Primer
Rimmel London Exaggerate Undercover Shadow Primer
Wet N Wild Coverall Face Primer, Partners in Prime
DIY Cosmetics
Prefer to make your own cosmetics using all natural ingredients? It's easy to do!
Make your own whipped coconut oil lotion with two simple ingredients. This anti-aging eye balm is made of super pure ingredients. And you can make your own lip gloss with a delicious chocolate mint flavor!
Making your own soap is super easy, too. This oatmeal cinnamon soap is exfoliating and rejuvenating. For Christmas, try these festive Christmas Tree Soaps with real pine. And this soothing skin balm is ideal for when your skin has been exposed to cold, wind or sun.
Be sure to download the free printable shopping guides for non toxic makeup at the drugstore!