Is there anything that coconut oil can't do? I don't think so. It seems that this tropical gift from nature is good for everything from eating to cooking to cleaning and beauty products.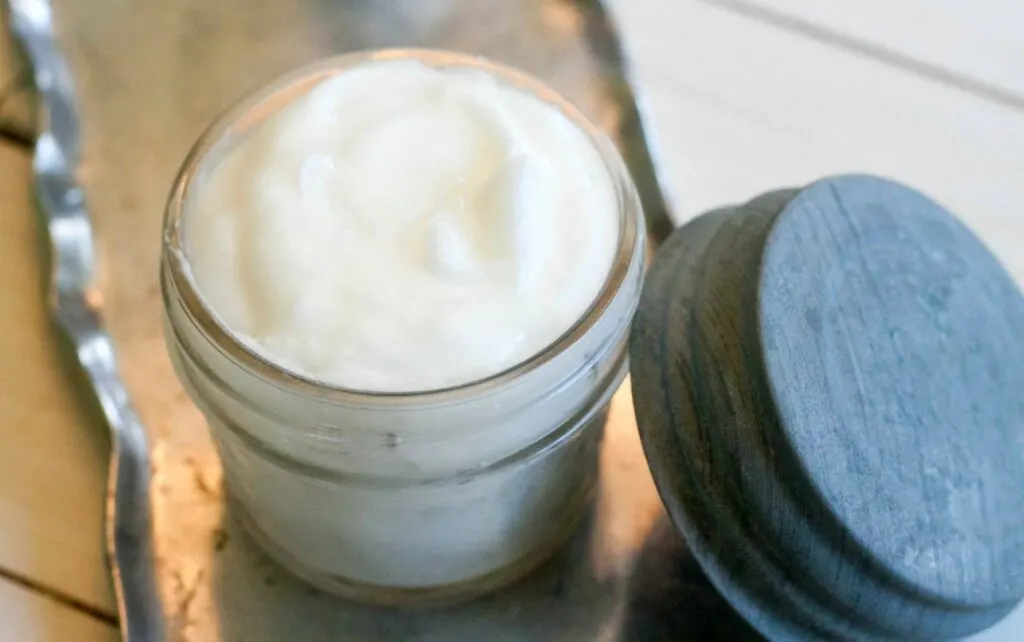 Coconut oil is easy to purchase (you can find it in just about every store now) and makes most people think of happy thoughts of the beach when they smell it.
Which is why I'm so excited to share with you this super simple homemade body lotion recipe. It is so easy that you can easily make a batch in your kitchen right now!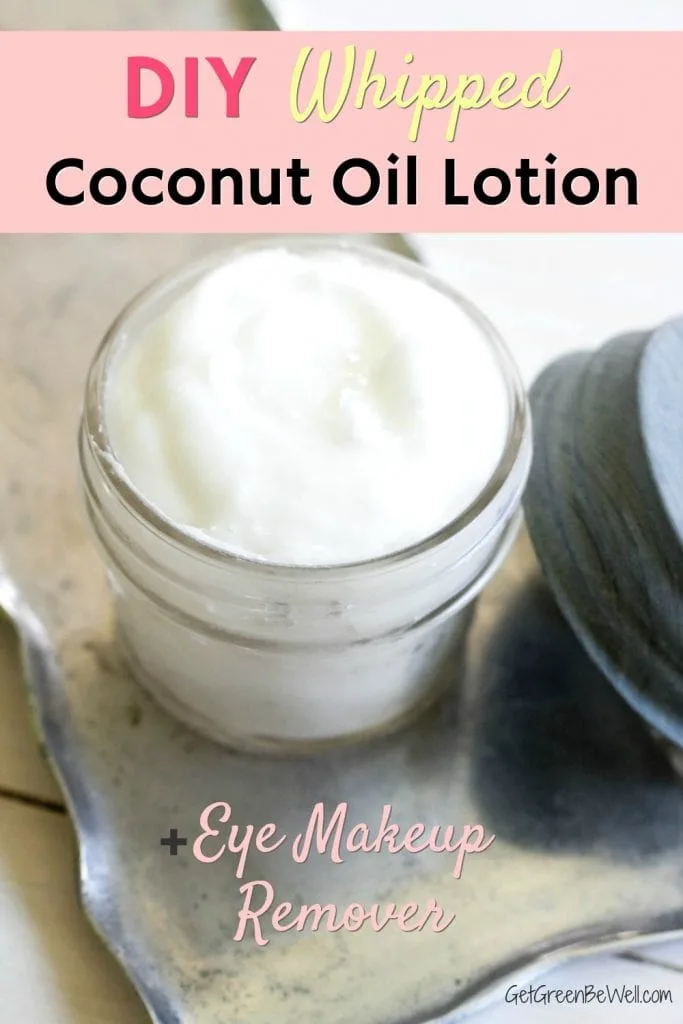 DIY Beauty with Only Two Ingredients!
The reason I love this whipped coconut oil lotion recipe so much is that it only uses two ingredients. It is THAT simple.
Of course, you could use more ingredients if you wanted. For instance, if you wanted to combine the scents of essential oils, then technically you'd have more than two ingredients.
But that choice is up to you.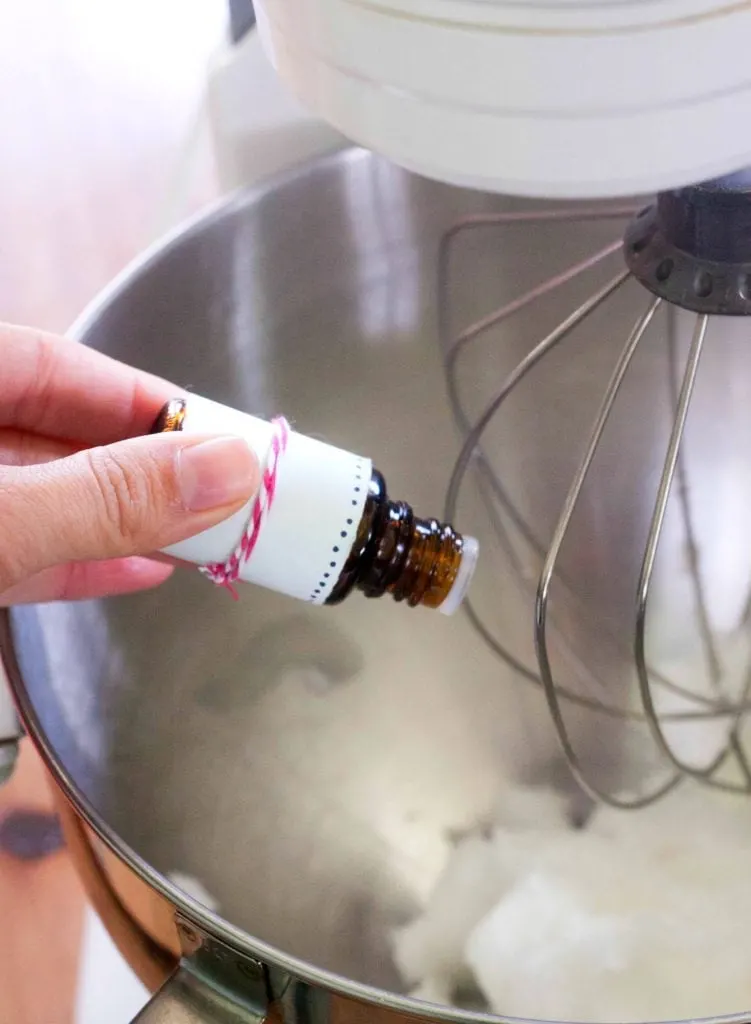 This coconut oil lotion is so rich and smells amazing. It absorbs quickly and leaves your skin feeling silky smooth!
Use it in place of eye makeup remover, too!
You can print out this DIY Coconut Oil Lotion Recipe below!
Choosing Coconut Oil for Body Lotion
You can use any coconut oil to make this whipped body lotion. And it will work.
But you'll want to choose a great quality coconut oil because it's being absorbed into your skin.
Just like you'd want organic coconut oil to consume in your body (from sautéing foods, adding to smoothies, etc.), you'll want the same quality with what you apply to your skin.
As you'll see, when you apply the coconut oil lotion, it appears slightly oily on your skin. And then it absorbs into your skin and you're left with smoother, more nourished skin.
But what happens when the coconut oil is absorbed?
The ingredients are gobbled up by your skin cells, which then process the coconut oil and send it through your body. It quickly ends up in your blood stream and other areas where the nutrients are used.
So, yeah, that's why it's so important to choose all natural, non-toxic beauty products. And why you don't want to skimp on the type of coconut oil that you use for making coconut oil lotion.
I suggest these great quality coconut oils for applying to your skin:
Coconut oil is also used in my solid beeswax lotion bars. It's an easy DIY that makes great gifts.
More Ways to Use Coconut Oil
Did you know that coconut oil makes a great leather cleaner? Yep! Although I'd probably use some standard coconut oil (not organic) or coconut oil that might be going bad for this cleaning job.
It even is great at stopping squeaking doors. It's super simple to use coconut oil instead of a chemical spray to get rid of the squeaks.
More Non-Toxic and Clean Beauty Tips
You might also like this soothing skin balm that can soothe irritated and wind burn skin easily using all natural ingredients.
Make these homemade bath fizzies to enjoy a luxurious bath. Or give as a gift!
Make your own eye cream with this DIY anti-aging eye balm recipe.
This homemade chocolate mint lip balm not only is super easy to make, but it tastes delicious, too!
And this is my favorite facial oil cleanser to get rid of hormonal cystic acne.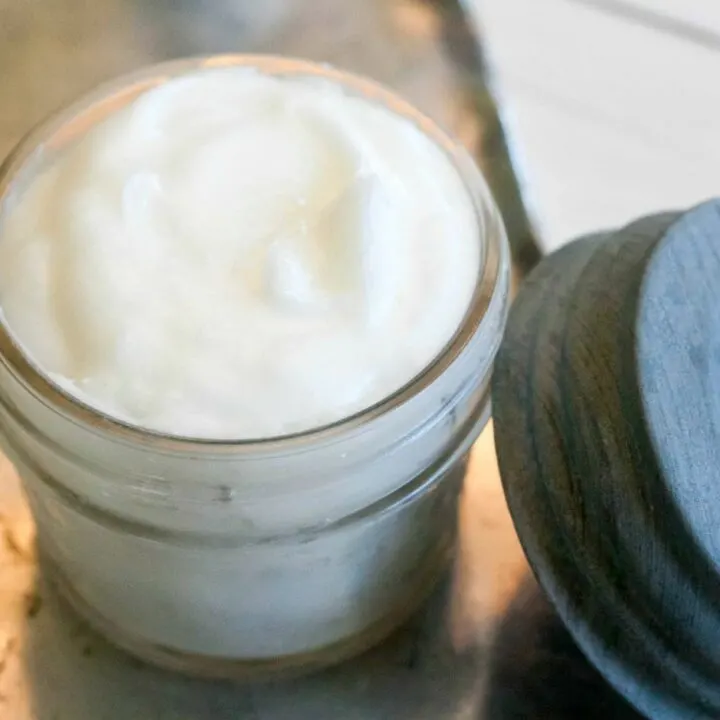 Easy DIY Whipped Coconut Oil Lotion
Moisturizing body lotion that also doubles as an eye makeup remover.
Materials
1 cup coconut oil (unrefined, cold-pressed)
8-10 drops of your favorite essential oil (or a blend)
Instructions
Scoop coconut oil into mixing bowl.
Add essential oil drops to the mixing bowl.
Turn the mixer on high and whip the coconut oil for a few minutes.
Scrape down the sides of the bowl and continue to whip for 5 minutes or so, until all of the coconut oil is soft and fluffy.
Put coconut oil body butter into an airtight storage container.

Notes
Coconut oil melts at 76 degrees F, which means that if you leave this whipped body lotion in a hot bathroom or in luggage in a car it can become liquid. So be careful where it's stored to keep it a solid!