If you love the warm, comforting smell of a hot bowl of cinnamon oatmeal in the morning, then you're going to love this exfoliating cinnamon oatmeal soap bar recipe!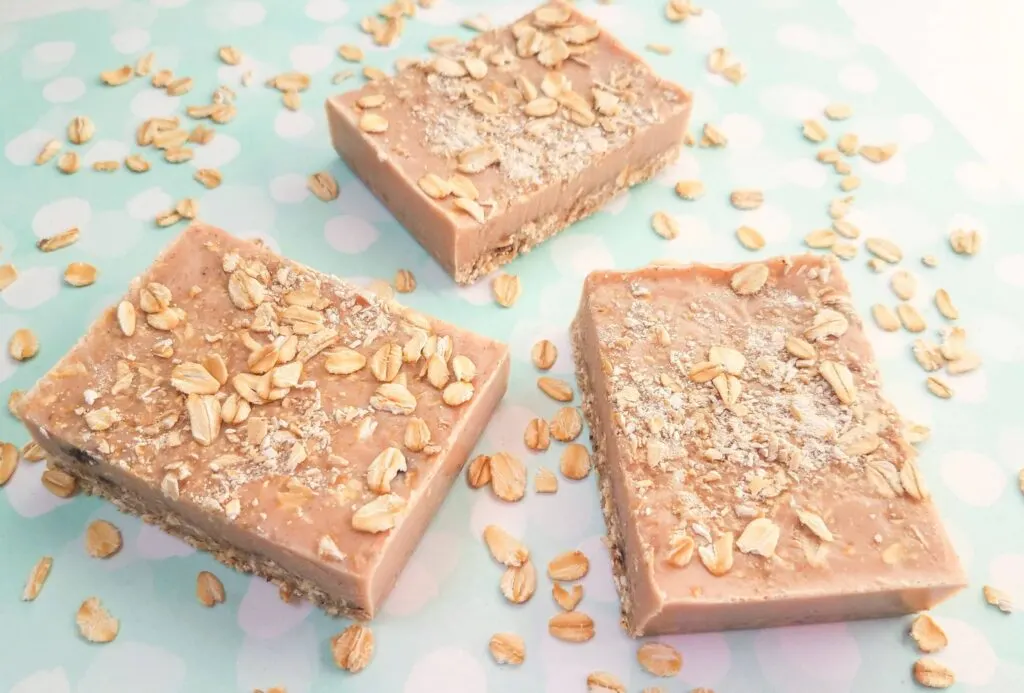 This homemade soap recipe is so easy! Trust me – you don't have to worry about getting everything right when you use a melt-and-pour soap base.
And I love that the ingredients are natural with this soap: goat's milk, cinnamon and oatmeal!
Be sure you check out my other goat's milk melt and pour recipes, including my yarrow flower soap recipe. You might also like my lemon poppyseed soap, too.
Benefits of Oatmeal in Soap
A lot of sensitive skin products have oatmeal as an ingredient. Why?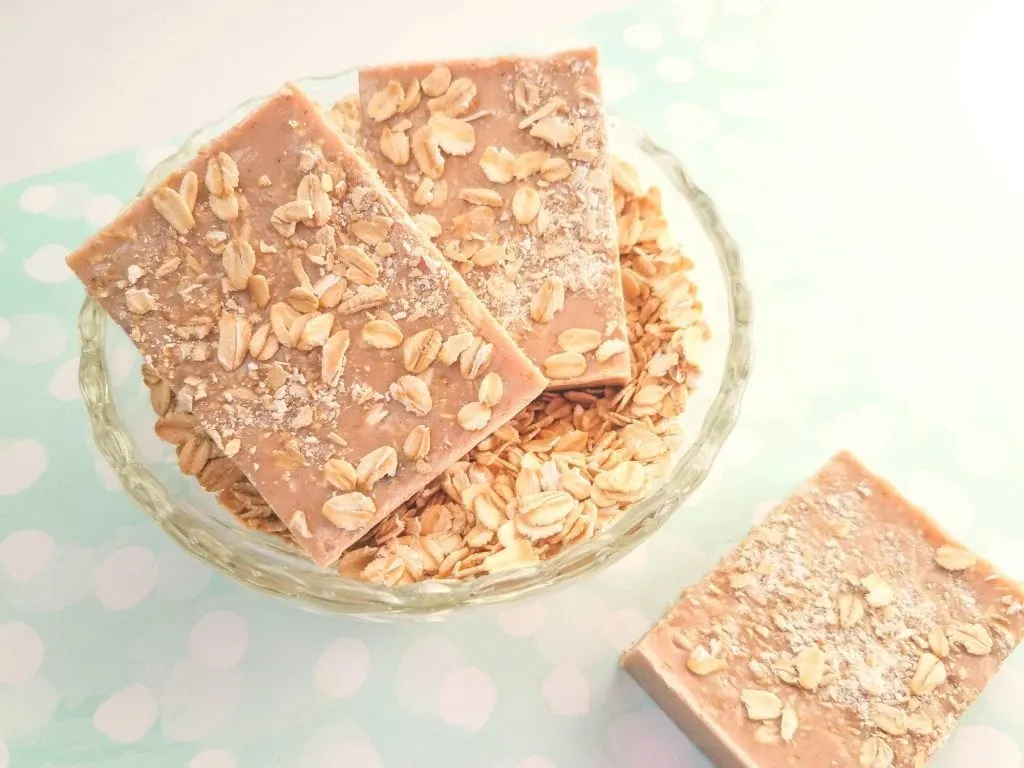 It's because oatmeal naturally has anti-inflammatory compounds called avenanthramides. These compounds help calm down irritation and inflammation.
Oats are full of protein, too. That's why they're such a great breakfast! Those proteins and lipids naturally found in oatmeal that we eat also work great when applied to the skin. The proteins helps to repair your skin by adding in moisture and antioxidants.
Oatmeal is great if you have:
Eczema
Dry skin
Sensitive skin
Insect Bites
Itching
Poison Ivy or Poison Oak
My honey oatmeal chamomile soap recipe also has the soothing benefits of oatmeal.
P.S. When you're done with an oatmeal container, turn it into this easy plastic grocery bag holder with free printable label.

Benefits of Cinnamon in Soap
Other than just smelling heavenly, cinnamon does offer some pretty great benefits for you skin.
Cinnamon helps to warm your skin and stimulate it. When your skin is stimulated like that, extra blood comes to the surface, which brings in fresh nutrients.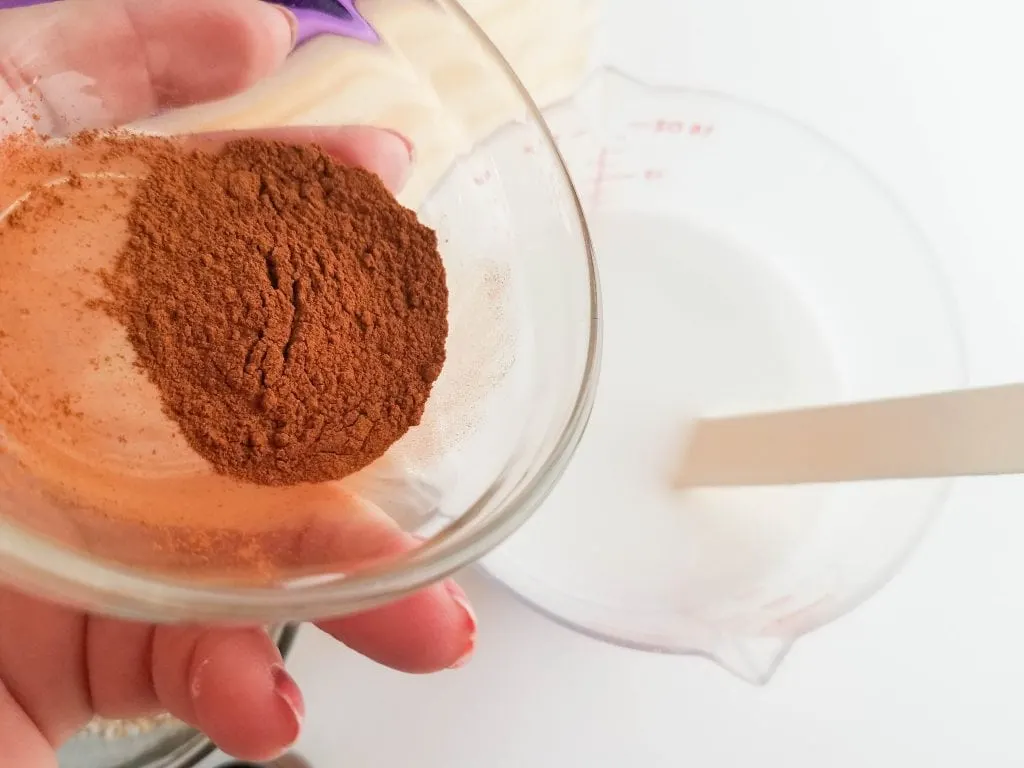 The natural spice also is an anti-fungal and an anti-bacterial ingredient, both good things when it comes to properly cleaning your skin.
While cinnamon can have a lot of beneficial aspects for your skin, extremely sensitive skin could be irritated by the spice. Keep this in mind when making the soap if your skin is easily angered by ingredients.
Exfoliating Soap Bar Recipe
This DIY goat milk's soap not only has nourishing ingredients, it will exfoliate your skin, too.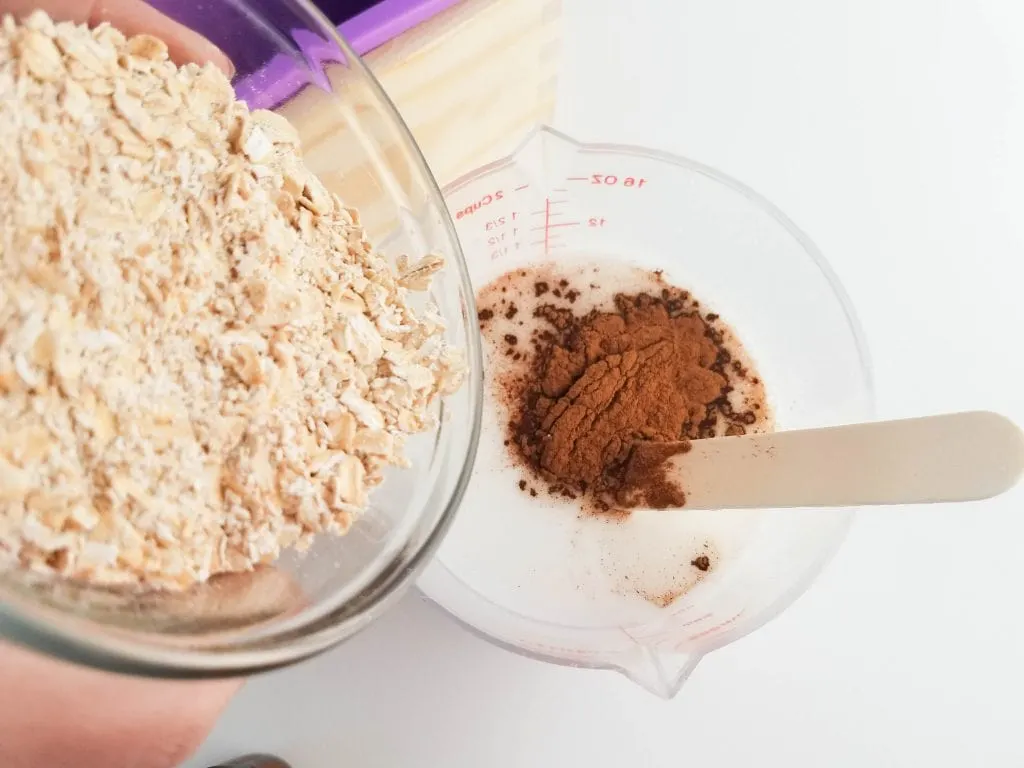 It's hard to believe that the ground cinnamon would have an exfoliating property, it seems so small. But it does!
And the ground oatmeal definitely has exfoliation properties, too.
Which means that you'll effortlessly revive your skin by removing old, dead skin cells and letting fresh new skin cells rise to the surface.
Another great exfoliating soap is my coffee grounds soap using a melt and pour soap base.
Handmade Exfoliating Cinnamon Oatmeal Soap Bar Recipe
Here's the recipe for the goats milk cinnamon oatmeal soap bar. This recipe makes 5 soap bars, so you'll have plenty to store in the cupboard. Or lots to give away as gifts, too.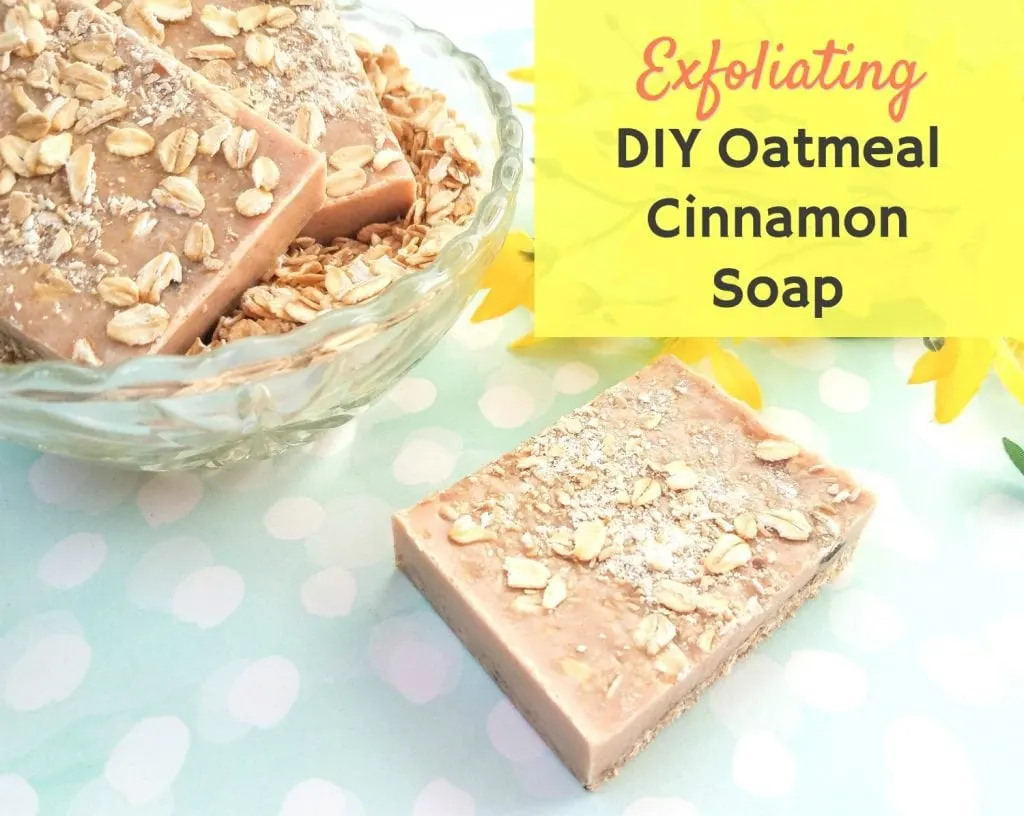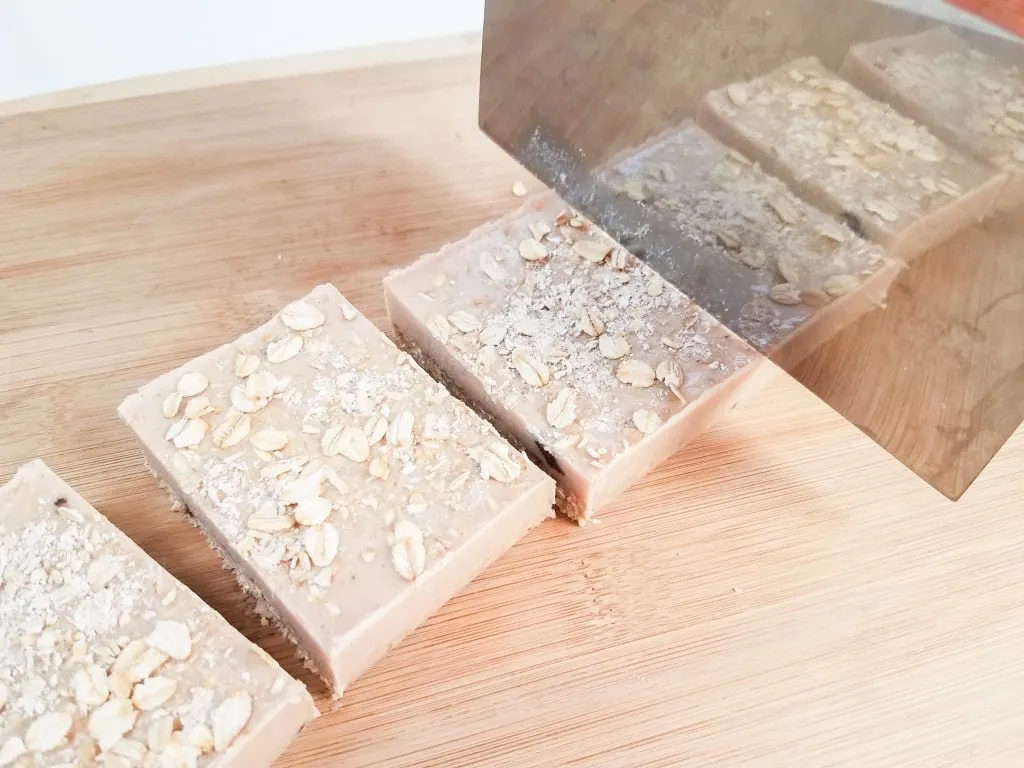 Be sure you use 100% real cinnamon essential oil, rather than a cinnamon flavored oil. Otherwise you could have problems with fragrance allergies from artificial scents.
If you like this easy soap recipe, see our other DIY soap recipes: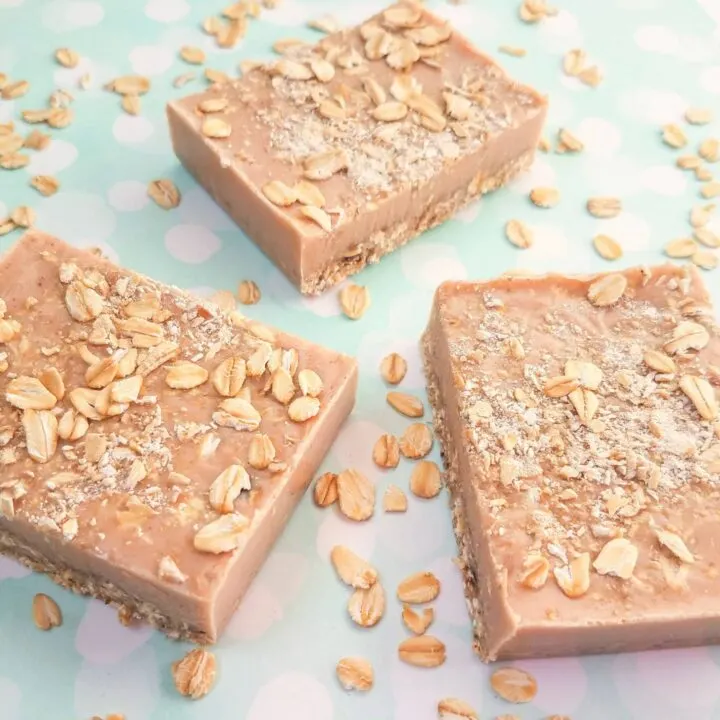 Exfoliating Cinnamon Oatmeal Soap Bar Recipe
Total Time:
4 hours
30 minutes
Easy and organic exfoliating cinnamon oatmeal soap bar recipe soothes and refreshes skin.
Tools
Wooden stir stick
Rubbing alcohol
Instructions
Grind the oats. (You can do this with a rolling pin, in the food processor, Ninja, Magic Bullet, or whatever your preferred method is.)
Cut the soap into 1 inch chunks. Melt the soap in the microwave for 30 seconds. Stir. If it is not completely melted, put it back on for 10 second increments, until fully melted; stirring each time.
Add the cinnamon to the soap base. Mix well.
Add half of the ground oats to the soap base. Mix well.
Add the cinnamon essential oil. Mix again.
Pour into the silicone mold.
Pour the rest of the oats into the mold, making sure to evenly distribute them.
Mist lightly with rubbing alcohol to help reduce bubbles.
Let set for about 3-4 hours.
Remove from mold. Using the straight scraper, cut the soap into 2 inch bars.
More DIY Beauty Recipes
It can be surprisingly easy to make your own DIY beauty products. Plus, you get full control over what ingredients you use!
Chocolate Mint Lip Balm is a great way to keep your lips nourished and hydrated (plus it just tastes great, too!). This soothing balm for dry skin is perfect all year round for deep hydration. Keep your dedicate under eye area hydrated and plump with this anti-aging eye balm recipe.
And for the holidays, check out these Christmas tree soaps with real pine and natural Christmas tree bath fizzies, both of which are great as gifts or a seasonal addition to your beauty routine.