Our Saatva mattress review explains why this affordable non-toxic bed might be the best solution for you if you're worried about off gassing.
I have been on the hunt for great mattresses at a great price for a while. Does that sound familiar to you? So many people contact me asking what's the best mattress that I recommend. They are overwhelmed with information and confused about materials. Then you need to have a softness or firmness that's perfectly right for your body. So you can see how the decision to buy a mattress is stressful!
Trust me, I know.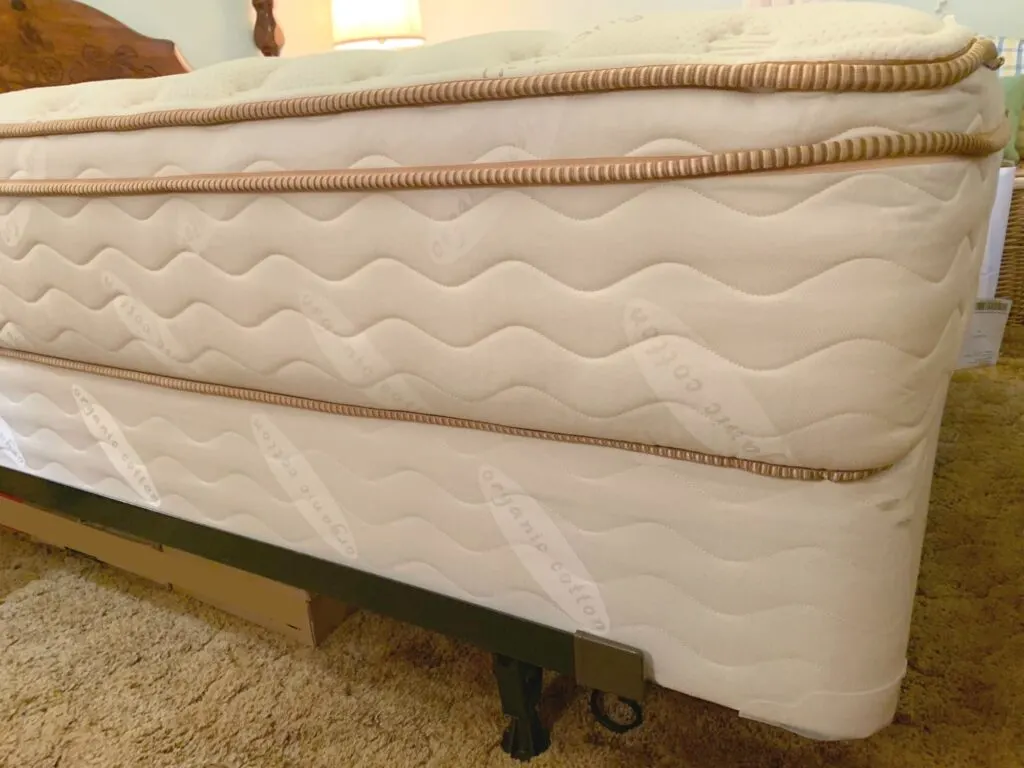 A natural, non toxic mattress has been one of my highest priorities for more than 10 years. Back then, there wasn't a lot of widespread knowledge about off gassing mattresses and VOCs. Therefore, there wasn't a lot of options for natural beds that were affordable. (That's why I used many of these hacks to get a non-toxic bed for cheap.)
Today – thankfully – there are companies that know that consumers want and need a non toxic mattress. We are all more aware of the dangers of fire retardants, formaldehyde and heavy metals that once were common in beds. And when we are investing in something to spend a third of our lives on every day, we want the best.
Saatva Mattress
When Saatva contacted me to see if I wanted to try out their mattress to review, I was intrigued. In my constant research, I had heard about Saatva Mattress a lot. But I had typically gravitated towards mattresses that only use natural latex, cotton and wool.
But my husband hasn't exactly been a fan of my bedding choices.
He prefers the traditional feel of an innerspring mattress and a hotel-like luxury foam bed.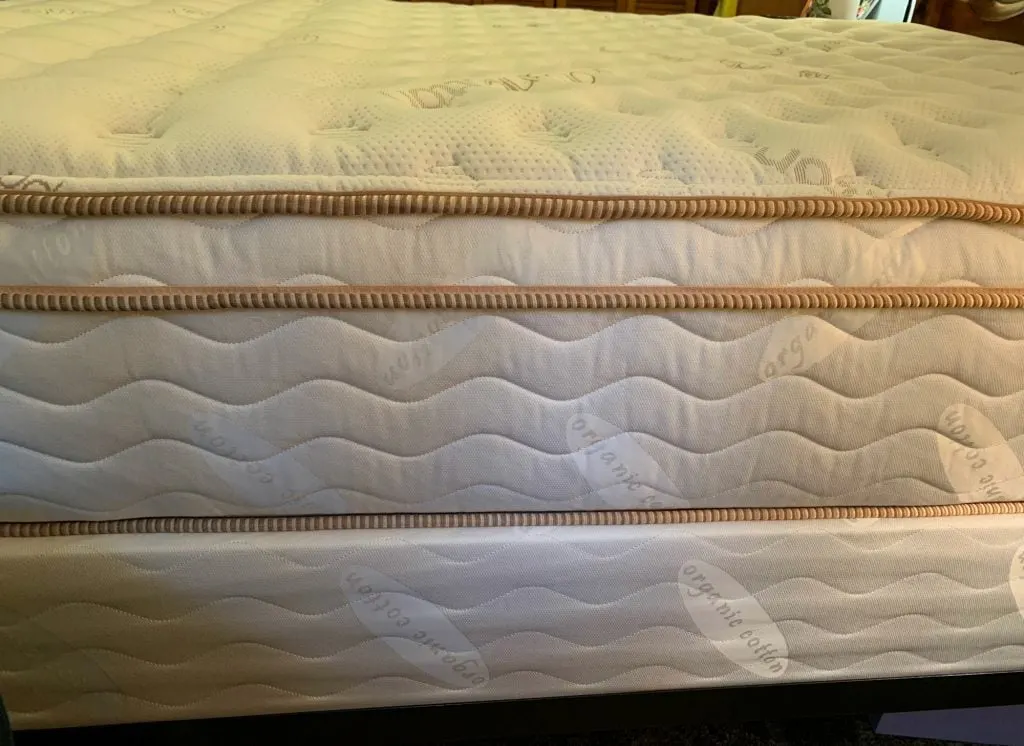 A Saatva mattress promised to offer a compromise for both of us. Non-toxic bedding materials and low VOCs that are so important to me, and a plush, traditional bed for my husband.
We chose a Luxury Firm Saatva Mattress along with the foundation and frame, to try and see what it's like.
Saatva Mattress Construction and Materials
A Saatva mattress is built using these top five features of a luxury premium bed. However, you won't have to pay the luxury premium price.
Innerspring Coils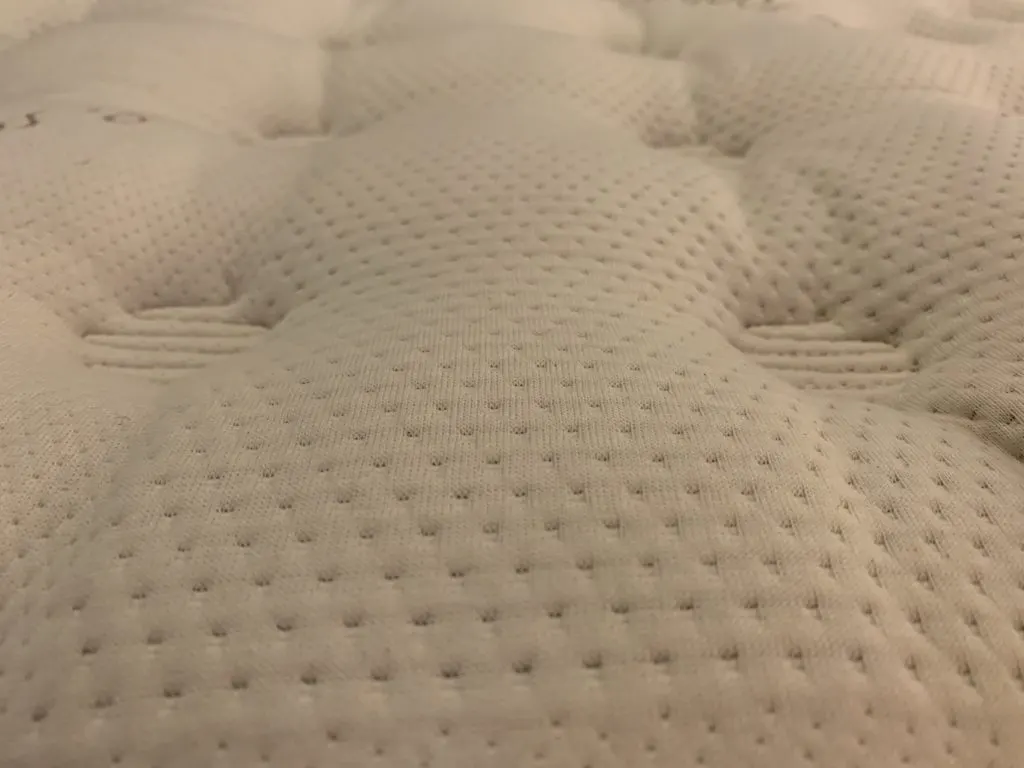 All coils used in the Saatva mattress are tempered three times and oven baked.
Saatva mattress has a system of two rows of innerspring coils.
The base layer is recycled steel coils that are connected in an hourglass shape.
A second top layer of innerspring coils are individually wrapped. This means that the motion on one side of the bed won't transfer through to the other with shared coils.
Supportive Edge
We all know what it's like to have the side of a mattress start sinking. Especially if you tend to sit on the edge of your mattress a lot.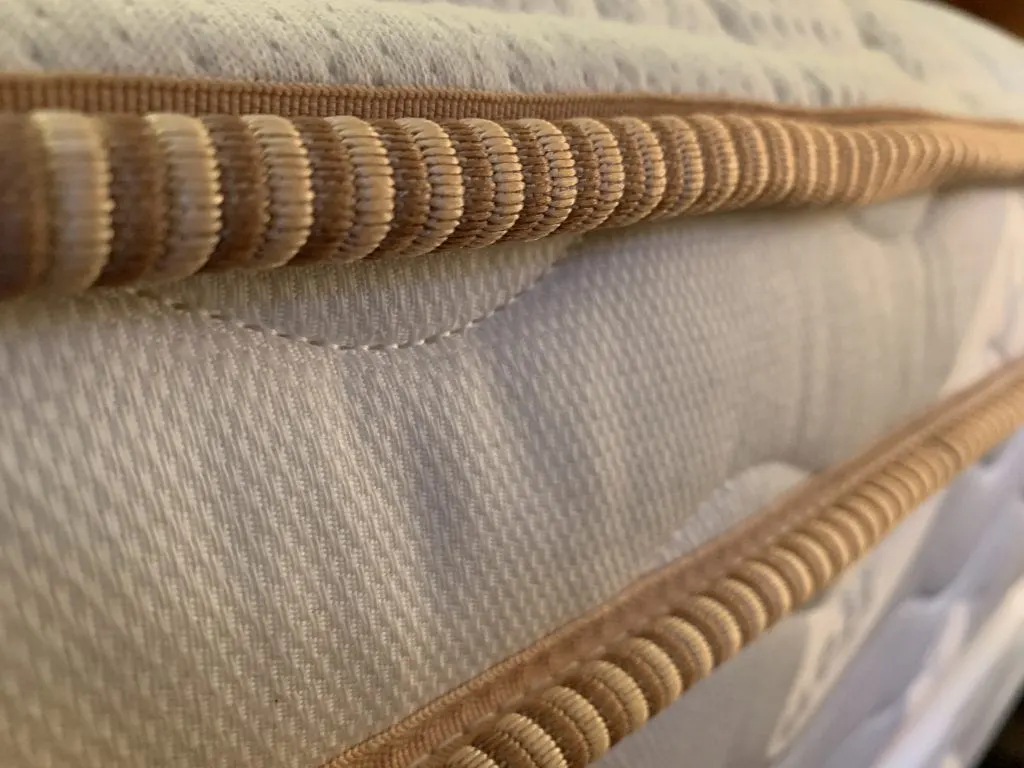 When the sides give out, you'll find yourself feeling like you're rolling off of the mattress. Or you'll move closer to the middle, which gives you less sleeping space, especially if you are sharing the bed with a partner.
Saatva combats this common bed problem with a Dual Perimeter Edge Support System. The foam encased anti-sag support lets you use every available inch of the bed. Plus, with the foam surrounding the top innerspring coils, you don't have to worry about feeling innersprings at the edge of the bed.
I sat on the edge of the bed while putting on shoes, laid on the edge of the bed, etc. It definitely feels just as supportive as the rest of the mattress.
Lumbar Support
A memory foam layer provides pressure relief. This is great for anyone with problems with pressure points, including back problems, and fibromyalgia.
Organic Cotton Cover
All of the materials are encased in an organic cotton outer layer.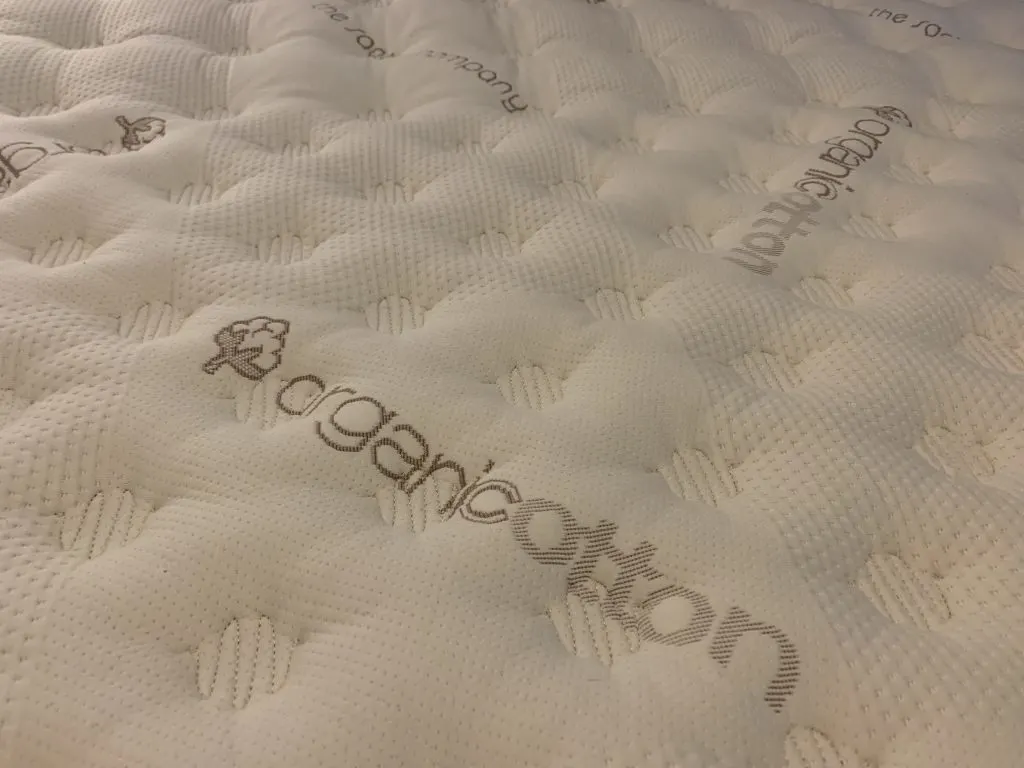 CertiPUR-US Foam
I have to admit, this one material is what has given me pause in deciding whether or not to recommend Saatva.
Honestly.
I have ONLY recommended mattresses in the past that use all natural ingredients, including natural latex, organic cotton, wool, plant based fibers, etc.
The need for a healthy night's sleep to repair your body and rejuvenate for the next day is a must. And when you're laying on anything that's not natural, I just question whether you're getting the best non-toxic restorative environment that you can get.
CertiPUR-US is the memory foam used in Saatva mattresses. And it's a flexible polyurethane foam.
Yeah, I know.
BUT, Saatva's foam that has achieved the CertiPUR-US certification is made from plant based materials. The new Harvest™ line foam is made from plant-based renewable oils which primarily make up the polyol used in the foam.
I know a lot of my readers are looking for the best non toxic choices out there. And non toxic doesn't ALWAYS mean natural. (Trust me, I know after trying this all natural mattress. I got so sick and was in so much pain that I couldn't function. Natural isn't always the best choice.)
I honestly am open to all choices for all price points and all types of needs that are non-toxic.
Non-Toxic Certifications for CertiPUR-US Foam
Any beds using CertiPUR-US certified foams will have the following non-toxic features:
Low VOC emissions (less than 0.5 parts per million)
Made without formaldehyde
Made without phthalates regulated by the Consumer Product Safety Commission
Made without mercury, lead and other heavy metals
Made without PBDEs, TDCPP or TCEP ("Tris") flame retardants
Made without ozone depleters
The ingredients that each company uses to make their foam can vary. However, if it is CertiPUR-US certified foam, then it must meet the requirements above.
Is CertiPUR-US Foam Safe?
When it comes to asking whether CertiPUR-US memory foam is safe, I am going to assume you're wondering if it is healthy.
And that's a question that varies wildly for everyone.
With low VOCs and no nasty ingredients that have already been shown to possibly affect the human body, then CertiPUR-US certification is something that can help you navigate towards more non-toxic choices.
However, this certification doesn't help narrow down your bedding choices a lot. If you look at the consumer directory of brands using flexible polyurethane foams that have been certified through CertiPUR-US, you'll see that there is a mind boggling amount of companies using this foam.
And you don't know what materials they are using.
However, Saatva is using plant-based oils in their foam. Which is a good if you're looking for more natural, eco-friendly materials.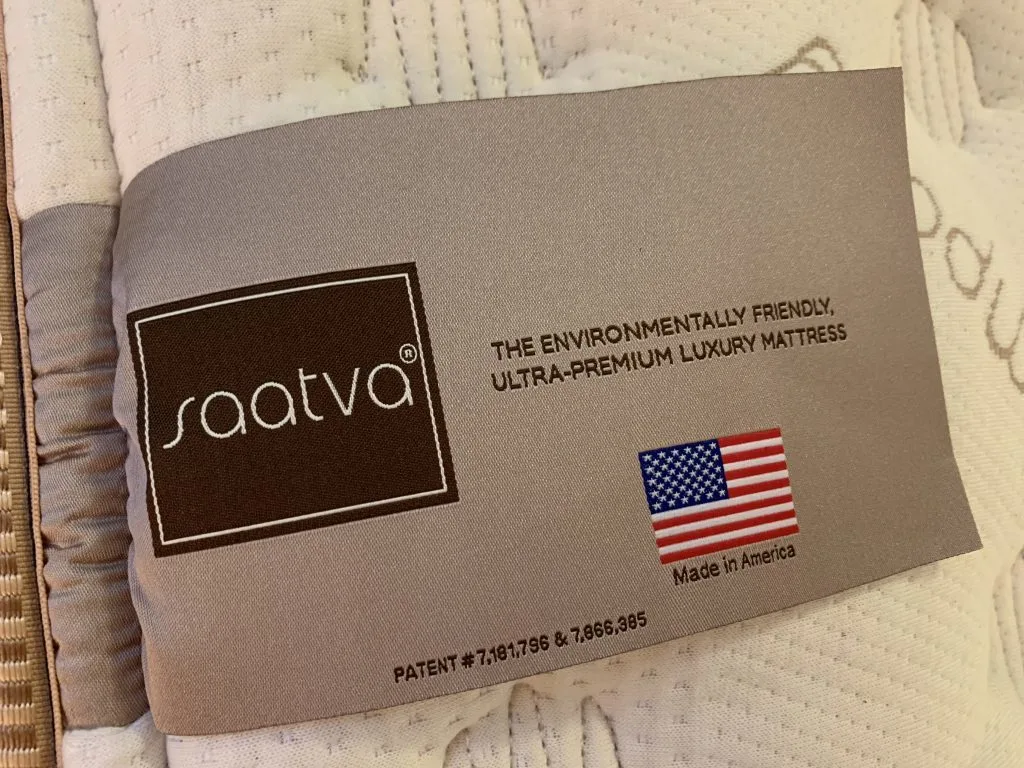 What you really need to look at is the overall commitment of a brand towards wellness and health.
Saatva Mattress Firmness Choices
We chose a Luxury Firm Saatva Mattress which is the bedding company's flagship level.
Think of it as the not-too-soft, not-too-firm choice.
The three Saatva Mattress Comfort Levels are:
Plush Soft If you like to feel like you're sinking into your mattress, then this one is for you. A softer foam in used that contours to your body. Great for side sleepers and if you have problems with your arms going to sleep before you go to sleep.
Luxury Firm Much like a hotel bed, this is the Goldilocks version of all mattresses. A little soft and a little firm to appeal to everyone. If you change positions a lot in the night, this one makes sense.
Firm The foams used are firmer in this bed. You'll feel like you're laying on the bed, rather than sinking into the bed.
Delivery of a Saatva Mattress
You'll get FREE White Glove Delivery and FREE Mattress Removal with Saatva.
I can't explain to you just how AWESOME this is! If you have ever tried buying a bed in a box, you'll know what a pain it is to try to get that heavy bed into your home, even if it's compressed in a box. (These boxes usually weigh about 70-150 lbs.)
To have someone deliver the bed to you and set it up, many companies charge extra for that. And it's a hefty cost! (About $100-200)
Trust me, my husband has had to go to the chiropractor repeatedly after trying to get a bed in a box into our home (all of the times our bedroom was up a flight of stairs, which is NOT fun in trying to move a mattress.)
My Saatva Mattress Review
What you really want to know is how do I like the Saatva Mattress, right?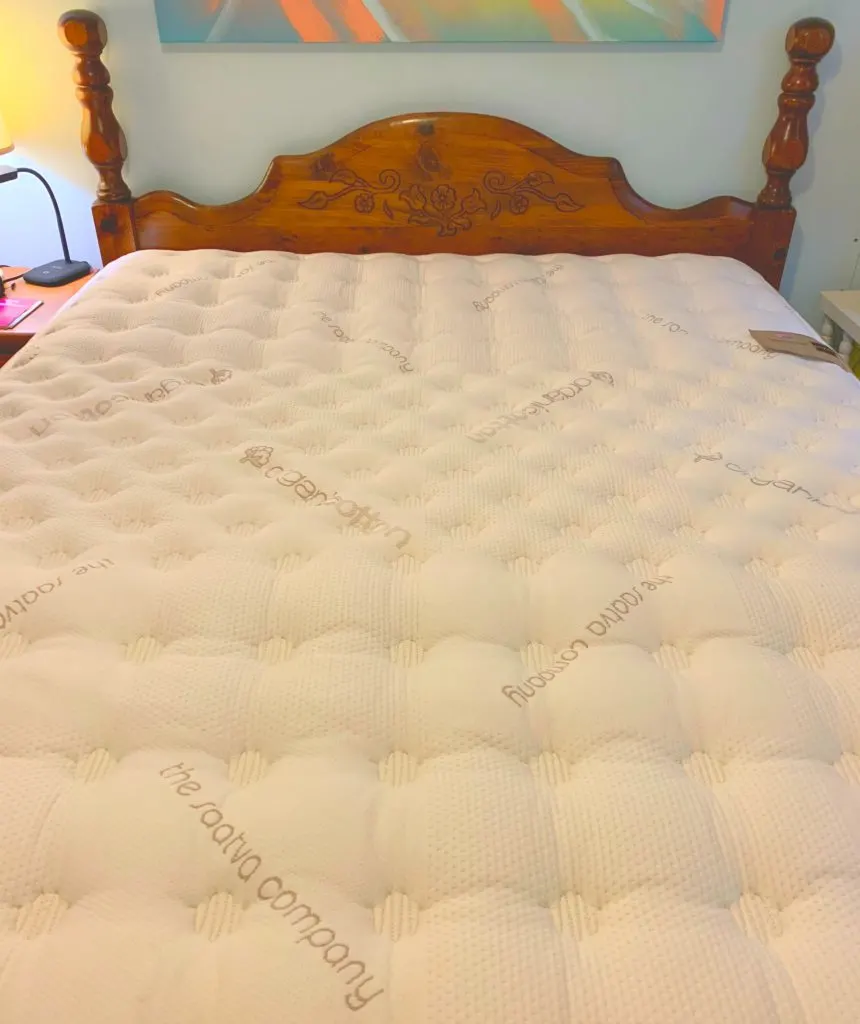 I have to say, I'm happily surprised that I love it.
Once it was delivered, we found out how plush and luxurious the mattress really is. It honestly looks like a hotel bed.
When we bounced onto the top of the bed after it was all set up, we were instantly surprised at how comfortable it is.
I don't just sleep on a mattress for one night and decide if I like it or not, though. I had to sleep on it a lot to decide.
Firmness
And what I found was that I really enjoy the firmness and plushness of the Saatva mattress. It truly is like an ultra premium hotel mattress.
I have mentioned previously that I have pressure points that make sleeping in hard mattresses so uncomfortable. Plus I do have some spinal alignment issues that can be really aggravated by bad beds.
When I woke up from sleeping on the Saatva mattress every night, I didn't feel sore or achy at all.
That was surprising!
I wasn't in pain when I was sleeping. I wasn't aware of coils. In fact, I just laid down and slept.
Motion Transfer
When my husband changed positions in the middle of the night, I didn't really feel the bed move.
Granted, I didn't do a red wine test to say that there is no motion transfer. But considering someone that weighs almost double what I do was changing position a couple feet from me and I didn't feel like the bed was moving – now, that's impressive!
Chemical Sensitivity / Allergies
I have shared about having allergic reactions to other beds because of an off gassing smell or weird allergic reaction to the natural ingredients.
With Saatva, I noticed no off gassing smell.
I was able to sleep on the Saatva mattress and not have any allergic reactions or mild allergies, either.
There was no headaches or sinus problems or runny eyes.
For those of you with chemical sensitivity, I can't guarantee you will have the same response. But for me, I was happily thrilled with no reactions to a brand new bed.
Again, I slept so well on the Saatva mattress. I have no complaints!
Affordability
I have found Saatva Mattress to be quite affordable. Especially with white glove delivery as one of the benefits.
You know that a mattress is a big investment. It's also an investment that can have great rewards, with improved sleep and energy and feeling good again in the day.
So purchasing a new bed is a wise decision.
Not sure if you'll like Saatva's mattresses? I understand. And they do, too.
That's why you can enjoy a 180 night trial to sleep on the mattress for almost six months before you have to decide if you love it or not.
More Better Sleep Tips
Choosing a non toxic mattress is the first big step in getting a great night's sleep. But there are some more easy steps you can take to wake up feeling refreshed.
Make sure you darken your bedroom for better sleep. It helps regulate your melatonin levels which will let you get more restful sleep.
Adding these bedroom plants for better sleep is a simple way to absorb nasty toxins in your bedroom. Plus, they're beautiful and are a piece of your decor. Biophilia (the love of nature) is being shown to help relieve stress and improve mood. Adding houseplants is an easy way to increase biophilia in your life.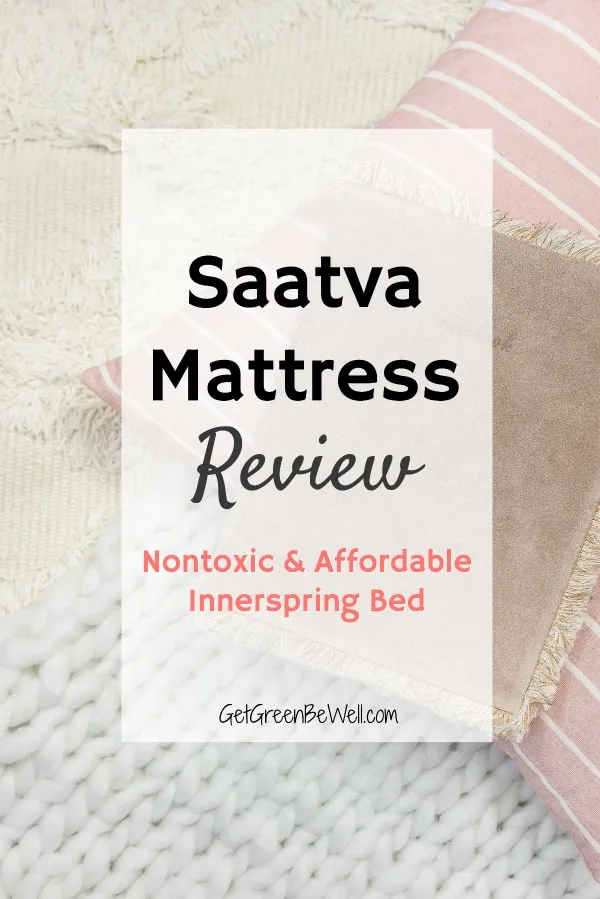 Adjusting your thermostat is also another easy fix for deep sleep. Here's how to find the best bedroom temperature for sleep.