Winter time is the perfect time to learn how to make elderberry tonic. As cold and flu season occurs, having the ancient wisdom of how to simply make a natural tonic that could boost your immune system is a powerful tool to have!
What is Elderberry Tonic?
Have you ever heard of elderberries?
The tiny fruits pack a big punch when it comes to health and wellness. Especially when it comes to treating cold and flu symptoms.
Purple berries are grown on shrubs and trees after the elderflowers appear (here's how to forage elderflowers and dry them). But they are definitely not something you want to eat raw or off of the plant! However, cooking and processing them makes them safe to eat, and provides immunity support.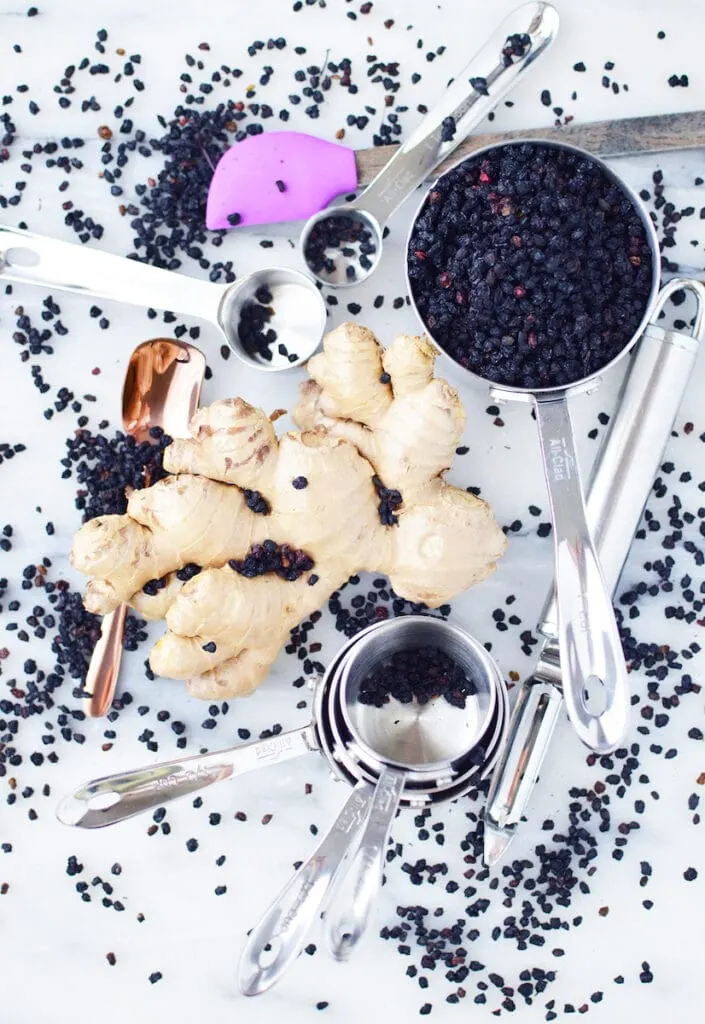 And you only want to use black elderberry. Not red elderberry or any other varieties.
While many believe that elderberry syrup is just folk medicine, studies have shown that elderberries can reduce the severity and length of influenza-like symptoms (check out this study on PubMed).
Why You Want to Make Your Own Elderberry Tonic
Elderberry syrup is easy to find on store shelves or order online. In fact, I often order it online.
So why would you want to make your own?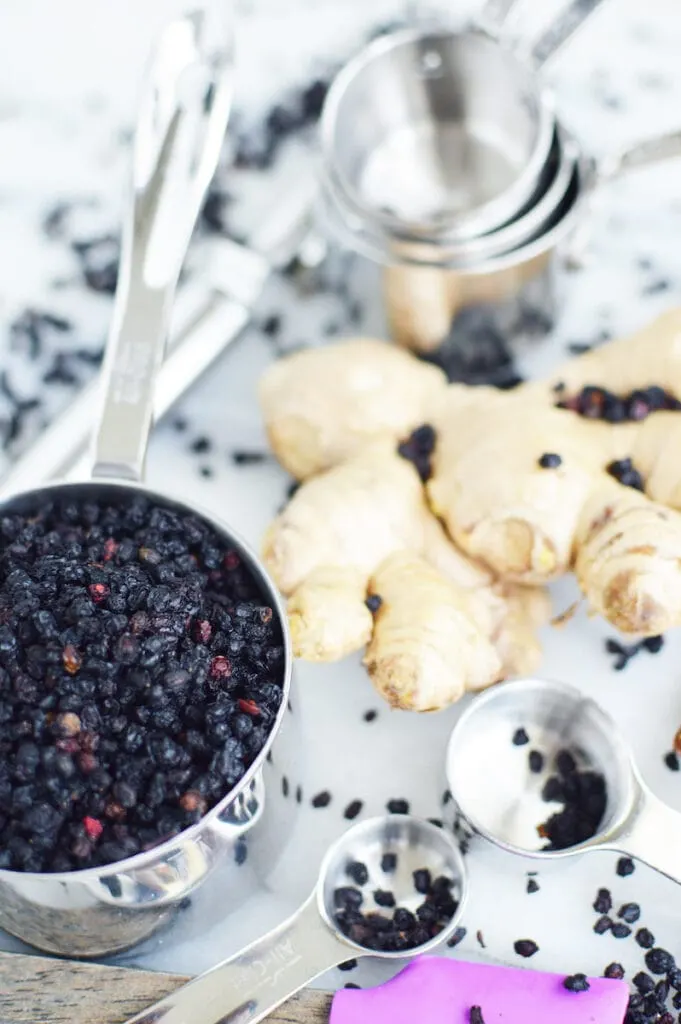 There are two very good reasons to make your own:
First of all, elderberry syrup is expensive. Really expensive. The last time I bought some online, I was really shocked at the price. And when I found out how much money I could save by making my own, well, it is a no brainer when it comes to saving money!
You can buy dried elderberries online. Which is awesome. Or, if you're lucky, you can forage for wild elderberries if you know what you're doing and what plants to pick berries from safely.
Helpful Tip: Try to buy elderberries when it's NOT cold and flu season. The price fluctuates, and will be cheaper in Spring, Summer and early Fall. (We've seen a $40 price difference on the elderberries we recommend in summer compared to winter.) Also, supplies tend to be sold out in cold and flu season. So it's wise to stock up before you need it.
Second, you might want to control the ingredients. For instance, the Gaia Elderberry syrup that I buy online has organic cane sugar in it. And you might not want to have added sugar. Or you might want to customize with additional herbs.
How Much Do I Take?
Here's another good question. And one that you need to talk to a medical professional about. So I'm not going to tell YOU how much to take.
I will share what WE do. As adults, we take 1-2 tablespoons a day during cold and flu season. (Others suggest taking 1-2 teaspoons, not tablespoons. Which is why I say you need to ask a medical professional.) If I was feeling symptoms or around someone that I knew was sick, I would take more per day.
How Long Does Homemade Elderberry Tonic Last?
This is a good question. And an important one.
Because homemade elderberry syrup doesn't have preservatives, you definitely want to be mindful of not keeping it too long so that it doesn't go bad.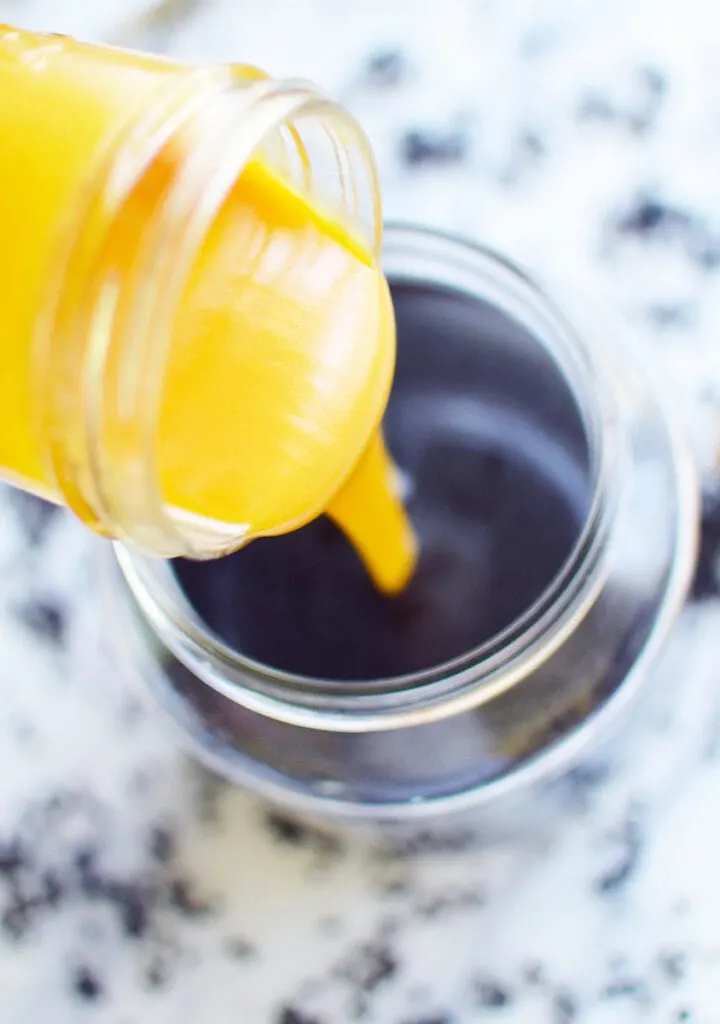 We keep up to two week's worth of it in the fridge. I've heard you can keep it for several months in the refrigerator, and I admit the store bought stuff I buy I DO keep that long because it's so expensive! But we just like to be cautious. Either way, you MUST refrigerate it!
Then we store the rest in the freezer. While you can easily freeze the elderberry tonic in an ice cube tray, you could also just pour it in a baking dish or pan and let it freeze in a sheet.
Break off chunks of the frozen tonic with a fork and then transfer it into a jar to keep in the fridge when needed.
Elderberry Syrup with Honey
Our recipe uses honey as a sweetener. Because elderberries can be pretty bitter without something sweet. Also, local or raw honey imparts its own medicinal and healing properties.
But you don't have to use honey.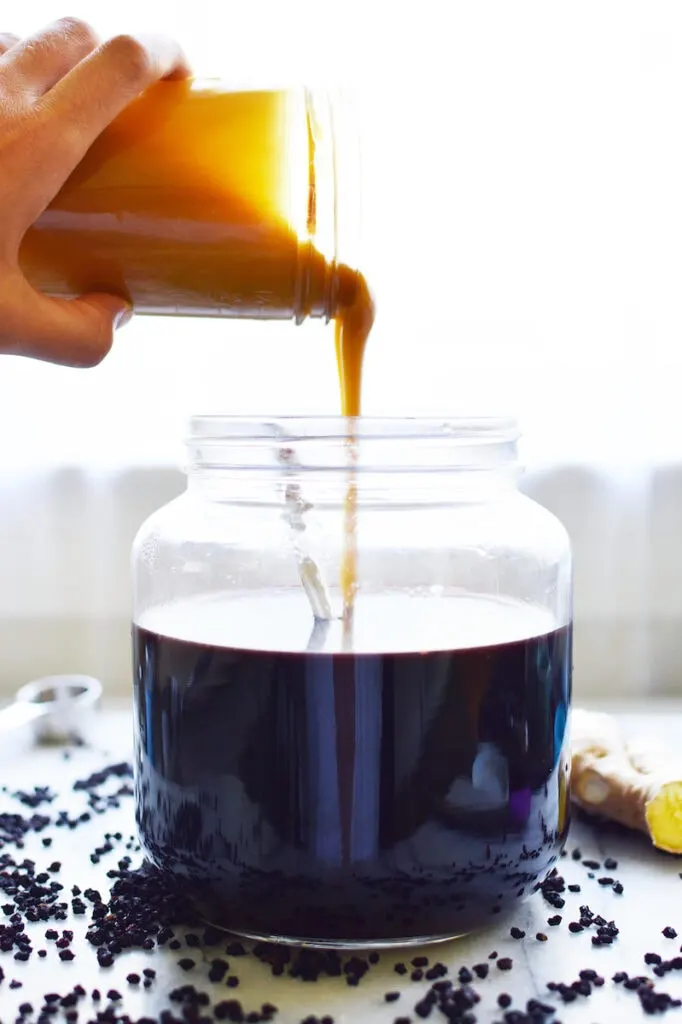 Leave off the sweetener if you'd like.
Or substitute honey with maple syrup or molasses.
I have heard people skipping the honey and instead using alcohol, such as vodka.
In all honesty, I've added elderberry tonic with alcohol to make cocktails. It adds a great flavor. So……
Elderberry Tonic Recipe with Honey
Ingredients
2 cup of water (if using fresh berries) or 4 cups of water (if using dried berries)
2 cups of fresh OR dried organic elderberries
3 tablespoons of sliced fresh ginger
2 teaspoons cinnamon
1 teaspoon ground cloves
1 cup raw organic honey
Directions
Add the elderberries, water, ginger and spices to an Instant Pot. Whisk well and then twist on the locking lid.
Use Manual mode for 15 minutes. When the pressurized cook time has finished let the pot natural pressure release.
Carefully remove the lid, lift the inner pot out of the Instant Pot base and let everything come to room temperature on the counter, about an hour.
Use a fine mesh strainer or potato ricer (as is shown in the images) to strain all of the possible liquid out of the ginger and berries.
Stir the honey and apple cider vinegar into the elderberry liquid. The honey may take a little bit to fully dissolve. Stir this and then continue to let it rest on the counter until the honey is fully incorporated.
Pour into glass bottles or mason jars. Store in refrigerator.
What to Do with Elderberries After Making Syrup?
With the cost of elderberries, you might think about reusing them to save money. Kind of like reusing a tea bag. I understand. But it won't work.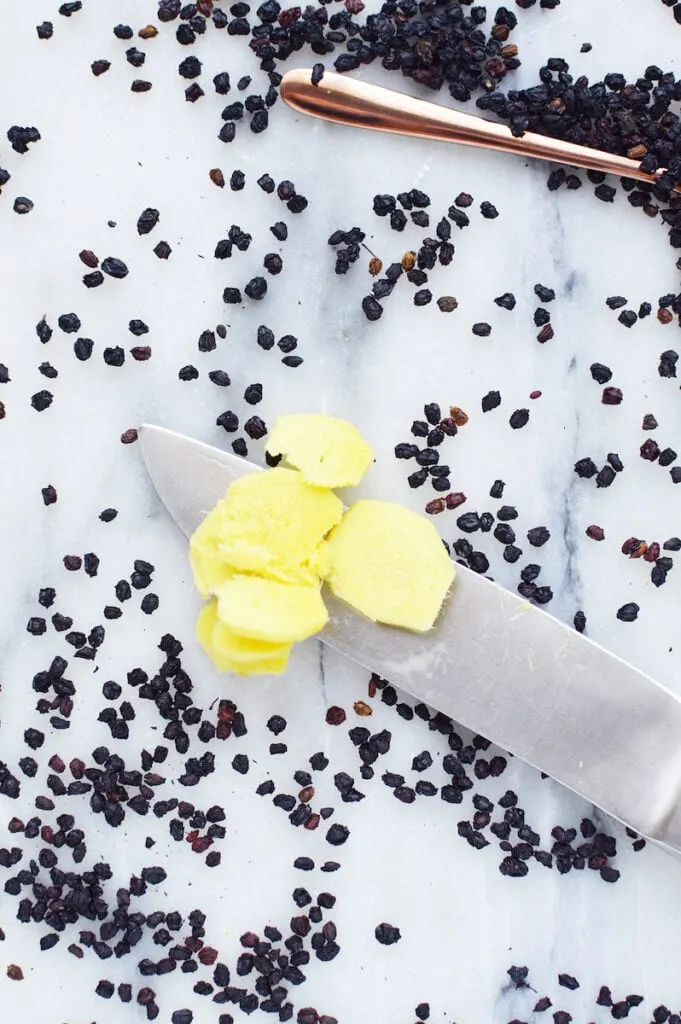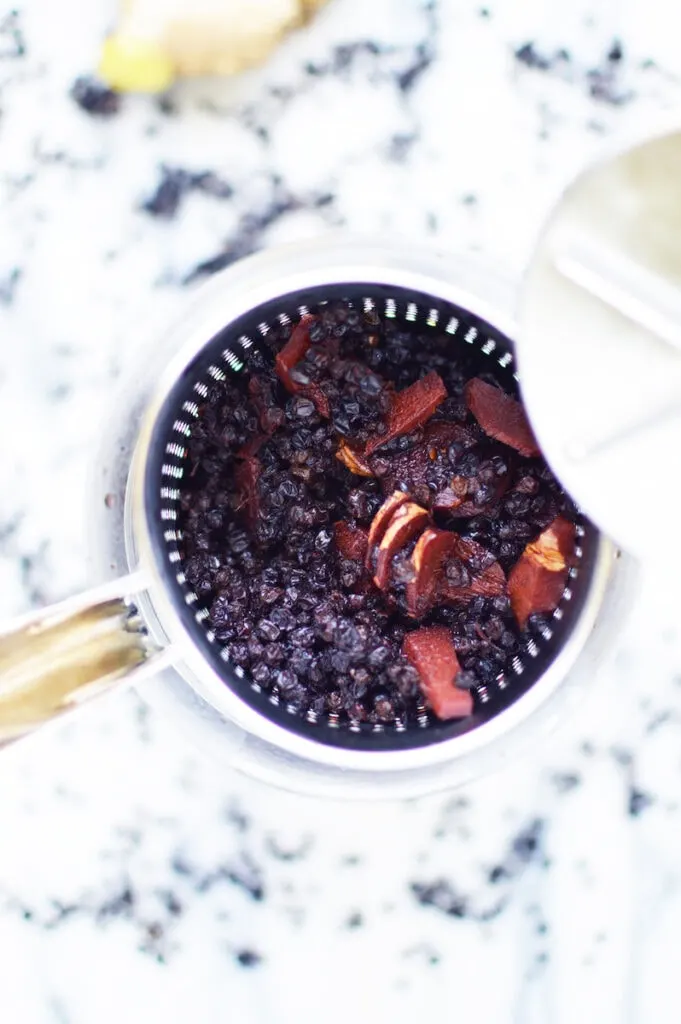 If you want to have the best immune support, you want to use full-strength ingredients. Reusing elderberries simply means using old ones that have lost much of their value, so it's not going to benefit you.
Composting the used elderberries is the best way to reuse them.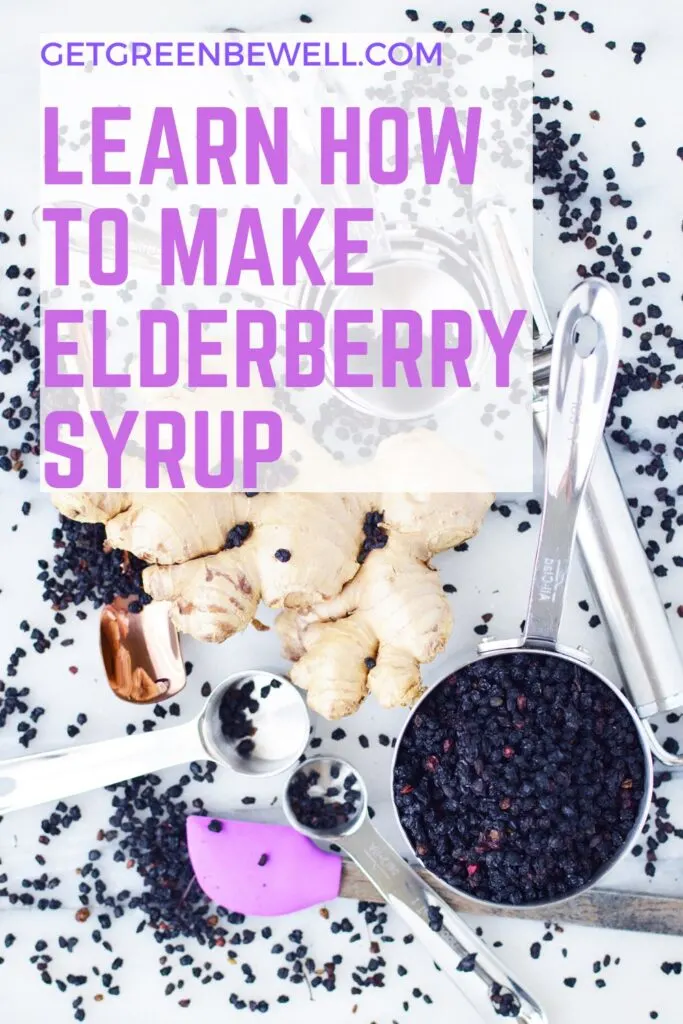 You might be interested in our article on how to forage and dry yarrow, as well. Yarrow is an abundantly wild herb with medicinal properties.