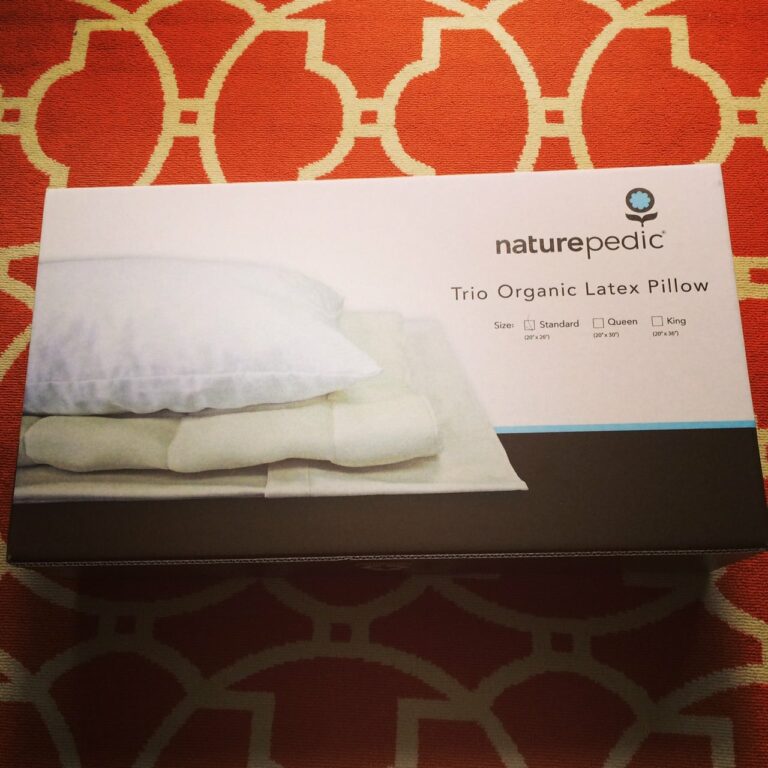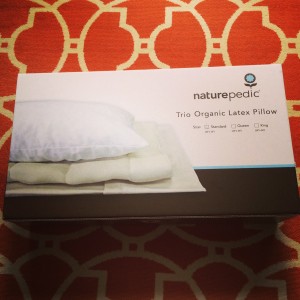 You know how you wake up in the morning with pillowcase crease lines on your face? You wouldn't have those lines if your face wasn't buried into a pillow for 8 hours a night. So shouldn't what's in your pillow be non-toxic and chemical-free?
Every single night, you lay down your head on your pillow to get a good's night sleep. Yet so many people don't get that. Sleepless nights, caused be a myriad of problems, will affect your body's rest, which then means you won't heal as quickly, and you'll catch more colds, and you'll probably be at risk to a myriad of health problems that are compounded or exacerbated by lack of sleep.
Sleepless nights can be caused by a lot of things, but what very few people even stop to consider is if their pillow could be directly causing their sleeplessness.
The toxins and allergens in your pillow material might be creating a less-than-refreshing sleep situation. With one quick change, you could start sleeping better again.
I recently received a pillow to review from Naturepedic, one of the leaders in the non-toxic bedding industry. Needless to say, it has been a hit in our home. So much so that we'll be placing an order to buy another one very soon.
But let's first talk about why I needed a new pillow – and why you do, too.
You've probably heard about dust mites in your mattress. The naturally occurring organisms breed and multiply in humid places with a food supply (normally sloughed off human or pet skin). A mattress is a prime location for dust mites because of the sweat your body produces while sleeping. And if your mattress is a prime breeding ground, then your pillow is, too.
So, if your pillow is more than a year or two old (and most people's are, by the way!), you've likely got dust mites. And those suckers are producing allergens in your pillow that you're then breathing in every night. No wonder why you're waking up with a stuffy nose and nasal congestion!
Beyond the dust mites, there are the toxic chemicals usually used in bedding. They don't need to be used – as Naturepedic will show us – but they're cheap. The stuff that's lurking in the fibers used to make your pillow, as well as the fire retardants and chemicals possibly used to the fibers to resist fire, mold, etc., can be annoying your body's healing mechanisms while you sleep.
Don't think that you're not breathing the gunk in, because you are. Remember the pillow creases in your cheeks from sleeping? Just goes to show that your nose and mouth (which are your entire respiratory system, by the way) are just inches away from the materials used to construct the pillow.
So that's why I was trying out a Trio Organic Pillow from Naturepedic. After being seriously impressed with their mattresses at the ShiftCon conference, I was at ease in using their bedding products.
The Trio Organic Pillow ($139 standard, $159 queen, $179 king) has a three layer system, hence the name. The inner core is made of organic cotton sateen fabric, as well as organic shredded latex fill. Now, don't get worried about the name latex. This latex is natural and directly from a rubber tree, using organic suppliers for the latex sap. There is a zipper on this inner layer so that you could remove some of the latex fill if you'd like for a less plush pillow.
Surrounding the inner core is a quilted encasement of organic cotton stretch knit fabric, and PLA filling, which is derived entirely from plants. And then there's an organic cotton sateen fabric pillowcase.
There are NO Flame Retardants on this pillow.
When I opened my pillow up, there were instructions to wash it first to allow for shrinkage of the materials. Wow. A pillow that actually begs to be washed. Now that's a difference!
And that means you can wash it whenever you want, to, in order to kill dust mites and get rid of germs.
I noticed the tags had manufacturing dates of when my pillow was created in Ohio. And the dates were just weeks prior to my shipment arriving. Freshly made pillows made in the USA. Woo Hoo!
But let's get to the juicy stuff, the thing that you really want to know. Was the pillow comfortable? Did it work?
Oh, yeah!
Let me just say that I've been using an orthopedic pillow for the past eight years. My spine and neck problems necessitate an orthopedic pillow or at least one with great support. It was time to ditch the polyurethane product that I had though, no matter what the orthopedic promises were, for a natural solution that would still greatly support my spine and neck. And I've found it.
Naturepedic suggests the Trio Organic Pillow as one that offers proper postural alignment. I agree.
This pillow is somehow magically possible to be soft and cushy, yet firm and supportive on the inside. You'll feel like you're sleeping on a cushion, yet you'll never have that feeling of your head sinking inwards toward the bed because there's no support. When I was out of town for a week, I suggested that my husband try it out. He said the same thing – how can something so soft still have support? And that's why we'll be buying another Naturepedic Trio Organic Pillow soon – because he wants one now.
There are two fiber-based pillows to choose from by Naturepedic, too, if you don't want a latex pillow.
I'm still working on getting a Naturepedic mattress to create a truly non-toxic sleeping environment. But I, like many, start small with the pillows. If you're like me, you won't be disappointed in this small investment of something you'll use for one-third of your day EVERY DAY! It's an investment in your health and in your stamina and energy. Shouldn't you try one and see?
Other than receiving a free sample of the product from Naturepedic, I was not paid for any of the opinions or reviews expressed in this blog post.