If you take great care in choosing a healthy mattress and bedding for your family, then don't forget your family pets, too!
Dogs can be affected by toxic chemicals and finishes on their bedding and mattress, just like humans. Which is why finding a non-toxic dog bed is so important.
With the amount of time that dogs lie in bed with their nose just inches away from the mattress, you really want to make sure that their pet bed is made with natural, eco-friendly materials that avoid potential toxins.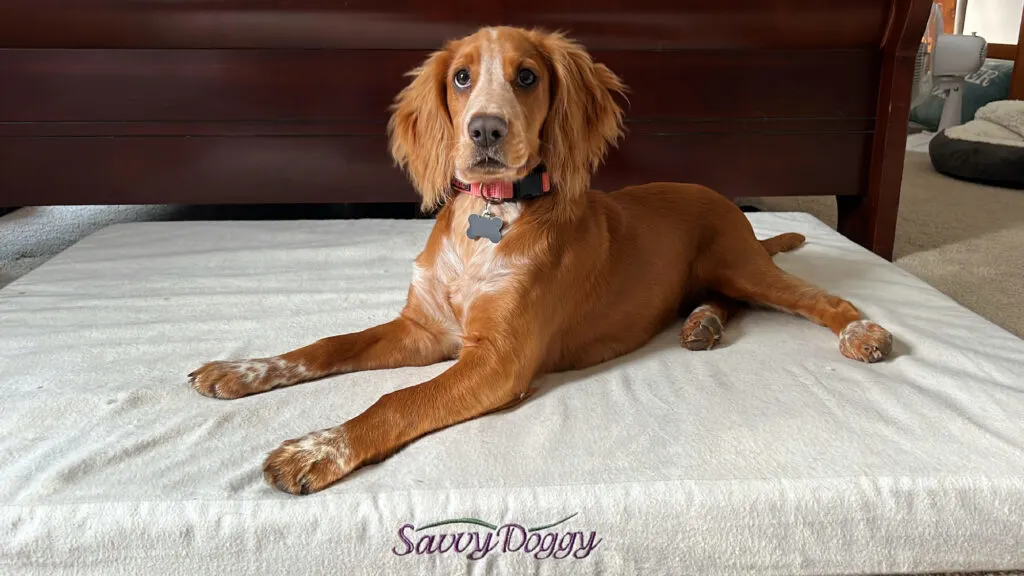 I have found that Savvy Doggy dog bed is a great choice for my dogs! After getting a natural latex bed for our three pups, from a six month old puppy to an older dog with lots of joint issues, I've found that I can definitely recommend this eco-friendly and sustainable pet bed!
Before I tell you why I love the Savvy Doggy bed, let me first start with the toxins that I want to avoid for my pets, none of which are in Savvy Rest pet beds.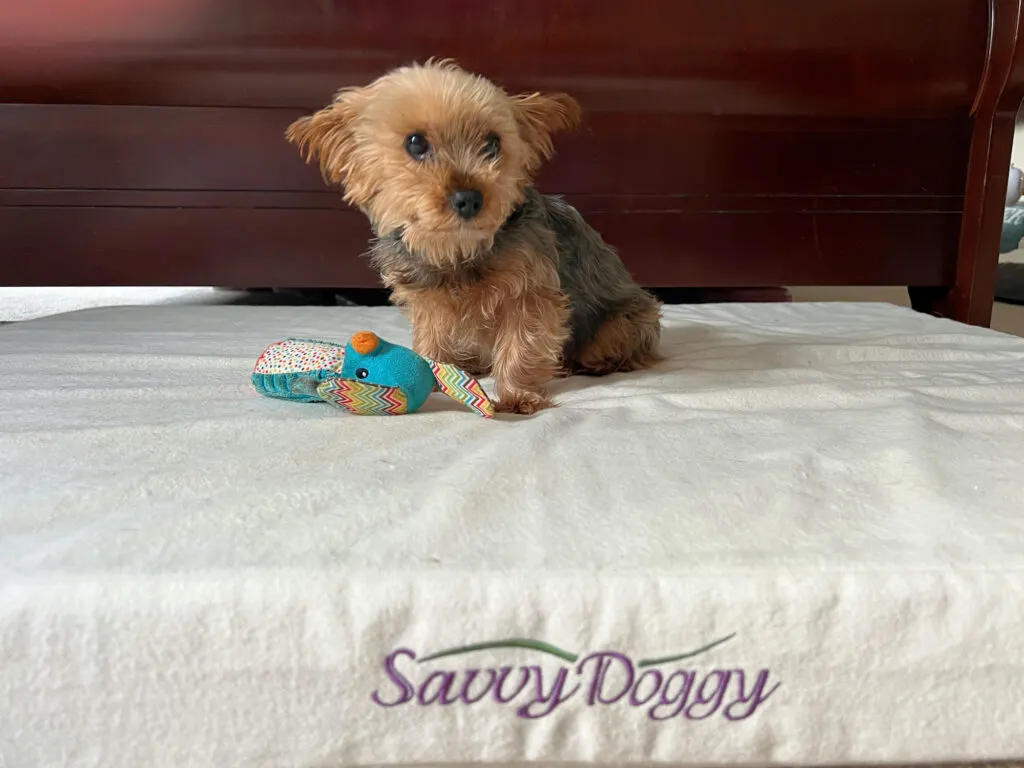 What to Avoid in Dog Beds
Just like beds for people, dog beds can contain a variety of potentially toxic chemicals, VOCs and materials that you don't want your pet to be exposed to. These synthetic materials include polyester, nylon, and fire retardants, among others.
Here are some of the items you don't want in a dog bed:
Synthetic Water Resistant Finishes and Stain Resistant Finishes
Many dog beds that use water resistant finishes have been coated in chemicals such as per-and poly-fluoroalkyl substances (PFAS). These chemicals are in the Durable Water Repellant (DWR) family.
PFAS are linked to health issues, including disrupting the thyroid, increasing the risk of cancer, and affecting the immune system.
Flame Retardants
Just like other bedding, many dog beds are coated in flame retardants for safety. However, the very chemicals used to prevent fires on petroleum-based products could be a source of toxic exposures every day.
Common flame retardant chemicals include:
Bromine
Formaldehyde
Antimony
Chlorine
Arsenic
Arsenic is often used as a preservative and pesticide on cheap dog beds.
If you have ever read a mystery book or watched a murder mystery movie, you know that arsenic is often used as a poison. Small doses over a long time can cause health problems such as vomiting, diarrhea and organic failure, for both humans and pets.
Savvy Doggy Dog Bed by Savvy Rest
I am a big fan of Savvy Rest products for our home. So when Savvy Rest created a Savvy Doggy dog bed, I knew that I needed it for our pets.
Savvy Doggy is a bed that is made with non-toxic materials that are also used in their beds for humans, such as natural latex, organic flannel and organic canvas materials.
Save 20% on ANY Savvy Rest product (regularly priced) when you use my Coupon Code GETGREEN along with my custom links in this post.
Natural Latex Dog Bed
There are two different types of natural latex, which is harvested from rubber trees, that can be used in the dog bed:
Formed Latex
Shredded latex
The formed latex is like a solid sheet of natural latex, similar to a mattress topper. A shredded latex dog bed will be like an oversized pillow, with the flexible fill of smaller pieces of latex inside.
Either bed would be perfect to go on Savvy Rest's Doggy Platform Bed made with sustainable wood and Zero-VOC stains.
Organic Materials
The material used in the covers of the natural latex inner core are all organic.
The latex bed has an inner lining of organic cotton canvas.
The outer cover is made of organic cotton flannel.
If you choose a waterproof liner, it is made of organic cotton.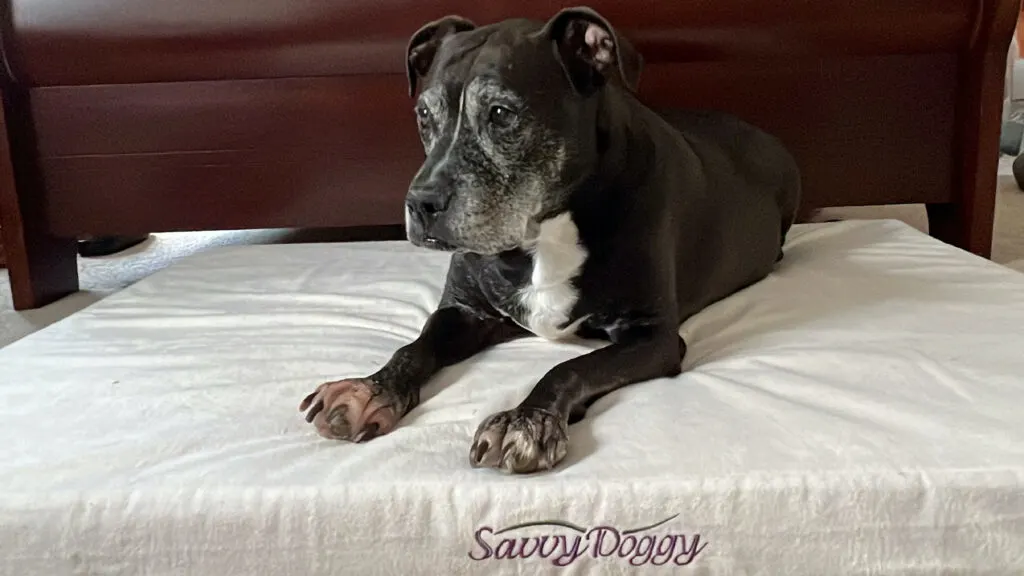 Non-Toxic Waterproof Finish
While conventional dog beds often use troublesome chemicals to protect the mattress from moisture, Savvy Rest uses a better way of waterproofing the dog bed.
The Savvy Doggy waterproof liner is made with a thick organic cotton canvas fabric.
The waterproof barrier is made using Thermoplastic Polyurethane (TPU). It is considered one of the safest plastic materials on Earth which is biodegradable and doesn't pose any harm to human health.
TPU is laminated to the organic cotton fabric using a solvent-less, hot melt adhesive which becomes inert after the application.
Using TPU is preferred over Polyethylene because of the squeaky sound that Polyethylene films may make on the mattress liner.
This liner does not include vinyl, flame retardants, formaldehyde, perfluorinated compounds (PFCs), pesticides, or any other harmful chemicals. The thickness, pore size, and waterproofing properties will help stop liquids from damaging the dog bed.
Moisture repellence is necessary in dog beds for many reasons, including:
Peeing on the bed
Pooping on the bed
Dog drool
Water dripping off of a dog's mouth as they get back in bed
Wet paws
Customizations
There are many ways you can customize the dog bed to your specific needs for your pets, including:
Three different sizes from Small to Large
Custom sizes are available
Two different pet bed cover colors, including natural and black
Choice of formed latex or shredded latex
Add on a waterproof liner
Choose Extra Support (great for larger dogs)
Washable Dog Bed Covers
The outer cover of the Savvy Doggy beds can be washed. The standard flannel outer cover can be hand washed and line dried.
The waterproof liner can be machine washed and tumble dried.
Related Post: Easy Dehydrator Dog Treat Recipe
Real Life Review
As I mentioned in my video below, I got a Large pet bed because more than one dog likes to lie on it at the same time. The Large bed definitely is big. If you have a large breed dog, such as a German Shepherd or Husky, I think you will be happy with the biggest size.
After several weeks of use, the dogs still climb up on the bed for resting and napping, even though their old bed is in the corner of the room "just in case!" The fact that they go towards the Savvy Doggy bed and not the conventional pet bed is great.
If your dog prefers a soft, plush feel or digging on their bed, I'd definitely recommend the shredded latex version. With the small chunks of natural latex, it bends and moves.
The formed latex is much like a mattress topper. It is one solid sheet of natural latex that doesn't change form.
I did find that the outer flannel cotton cover did pill up quite a lot during the first week or so of use. There where fabric "pills" everywhere after the dogs would climb on the bed and roll around.
I'd suggest washing the outer cover once or twice before using just to reduce the amount of pilling once the dogs start using it.
See the dog bed in my house and watch how I change the covers in my YouTube video review below:
Remember, if you want to get any of these Savvy Rest pet beds or platforms, use my discount code GETGREEN along with any of the links in this blog post to save 20%!
If you are concerned about choosing a non toxic dog bed for your pets, be sure to invest in non-toxic pillows and bedding for yourself, too. Here are some great guides to help you choose the best products: