Want a fresh scented drawer or closet? I hear ya. While I'm pretty good at not having stinky shoes in the closet or smelly clothes in drawers, sometimes a stale or musty odor seems to build up. Which is why these no sew drawer sachets with rice and essential oils are so great to make right now!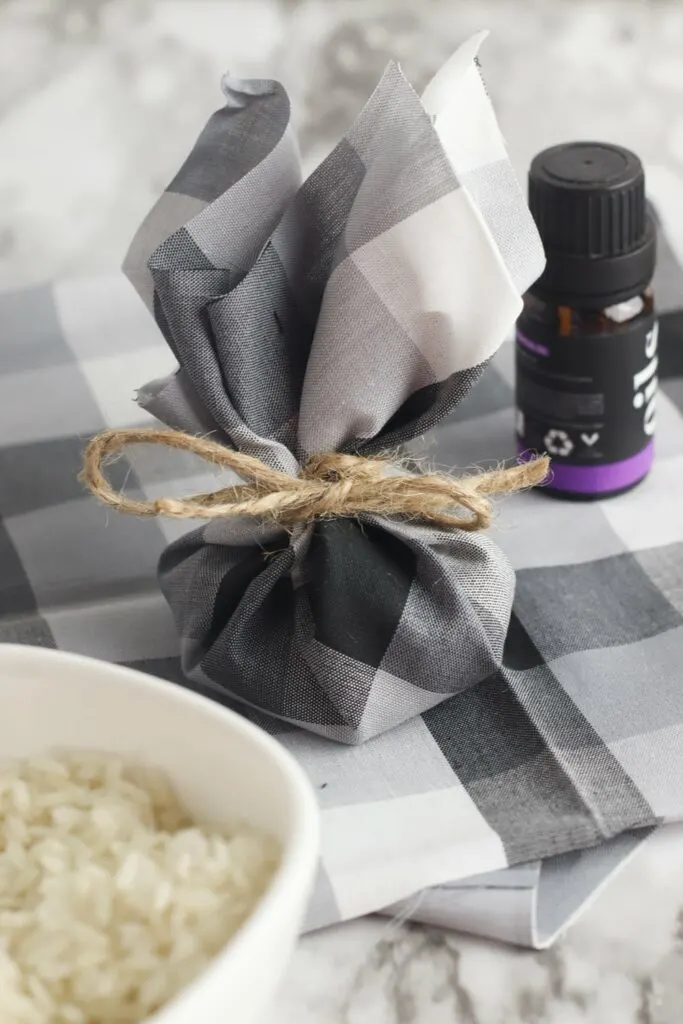 If you have fabric scraps, rice and essential oils, you can freshen your closets and drawers right now! Ready?
Good! Here's the directions.
How to Make DIY Drawer Sachets
The great news is you don't need a sewing machine, sewing skills or any fancy materials to make these homemade drawer fresheners. There is zero excuse for not making them right now 😉
P.S. Here's another great tutorial for no sew fabric pumpkins.
What Do You Put in Drawer Sachets?
A lot of people love to put in a scoop of flower buds, such as lavender, into a drawer sachet. I'm not that person.
I choose quick, easy and convenient. And I don't know about you, but I don't exactly have dried lavender buds hanging around my house. I'd have to order some, pay a lot for them, and then wait to make these sachets.
I'm all for making things simple. Rice and essential oils are the easiest ingredients to put in drawer sachets. They are something you probably have at home right now. And they actually are great at dispersing natural fragrances, just like dried flowers would be.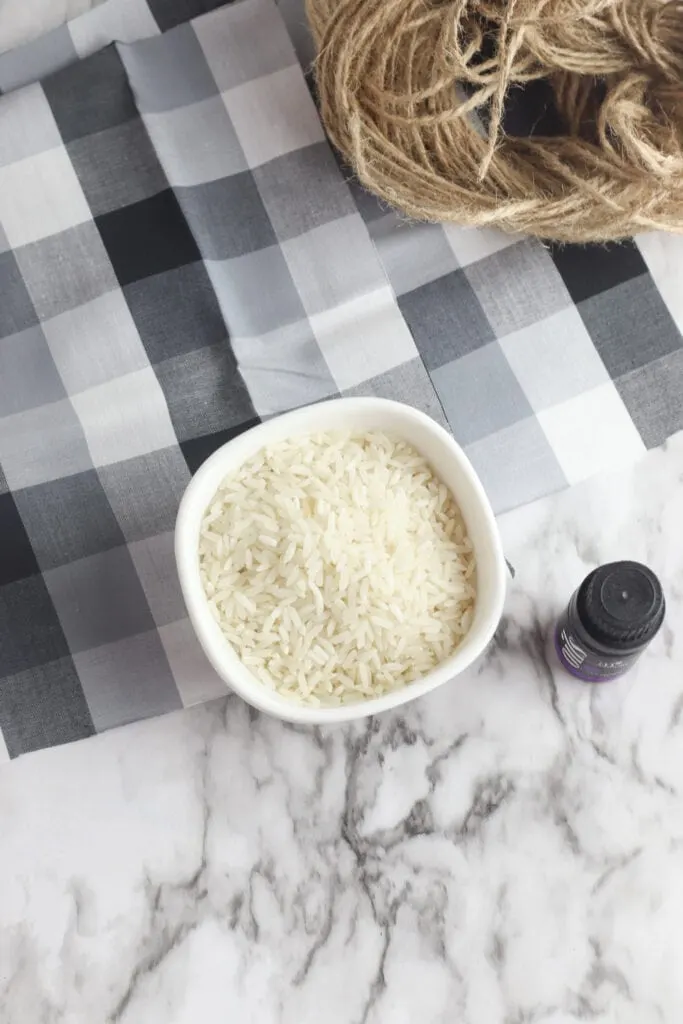 Makes One Scented Sachet for a Drawer or Closet
Materials for Scented Rice Sachets
Fabric Scrap (at least 4 X 4 inches)
1/4 cup uncooked rice
Ribbon, twine or string
Directions
Cut the fabric into a 4×4-inch square.
Place three to four tablespoons of rice on the center of the fabric.
Add 10 drops of your favorite essential oil or essential oil blend. (You can add more if you'd like a stronger scent.)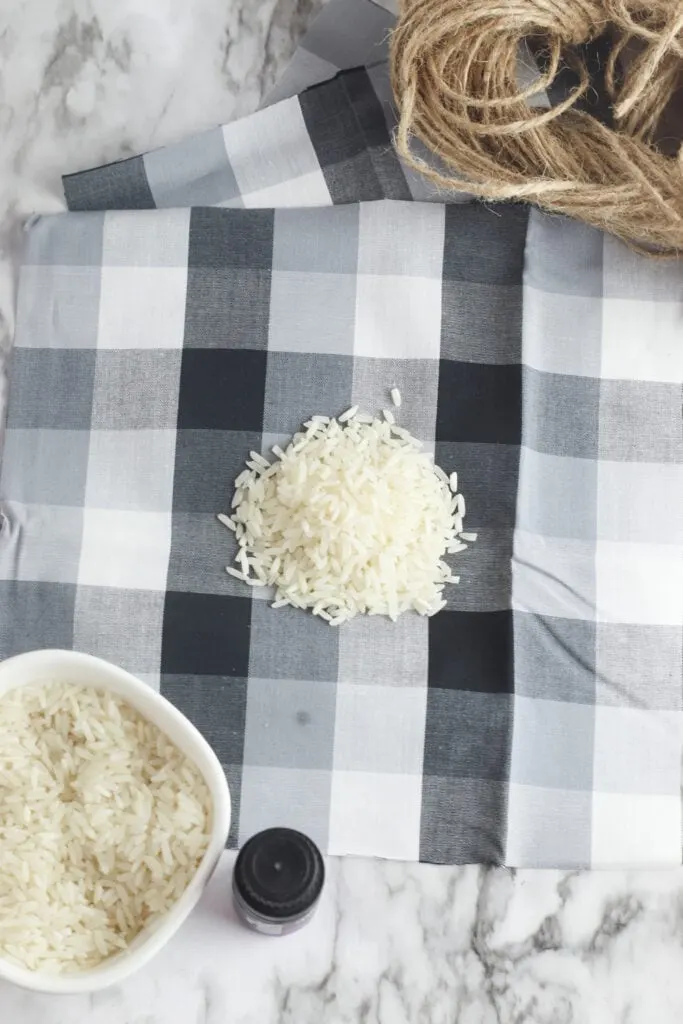 Let oils absorb for 10 minutes or so.
Pull the fabric together towards the center from the corners. Gather it together just above the rice, and tie a ribbon or piece of twine around the center in a bow to secure it.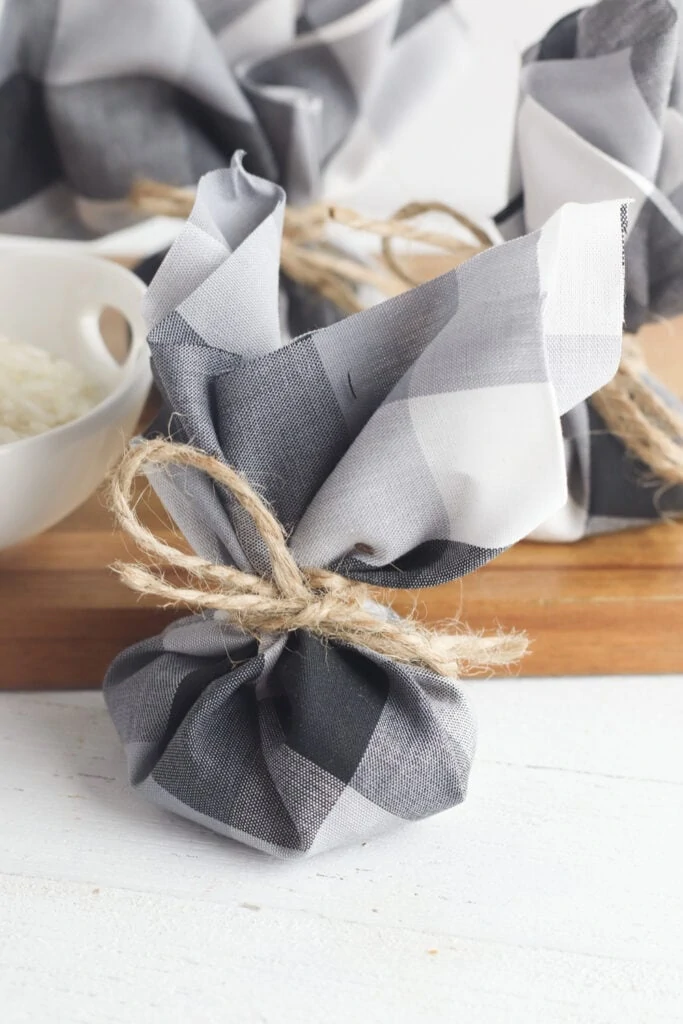 Helpful Tips for DIY Rice Sachets
A rubber band would work instead of the ribbon or string. It's not as pretty, but it gets the job done!
There is no need to hem the fabric or finish the edges. Just cut the fabric with scissors.
Every so often, scrunch the drawer freshener in your hand to redistribute the rice and oils and release more scent.
You will need to freshen these sachets over time. Just untie the ribbon, add more essential oil, and tie back.
Worried about ants, insects and pests? The rice is uncooked, which is unappetizing to pests. You can always add tea tree oil or peppermint oil in your essential oil blend if you really want to make sure that pests don't come near your drawer freshener. They hate those smells.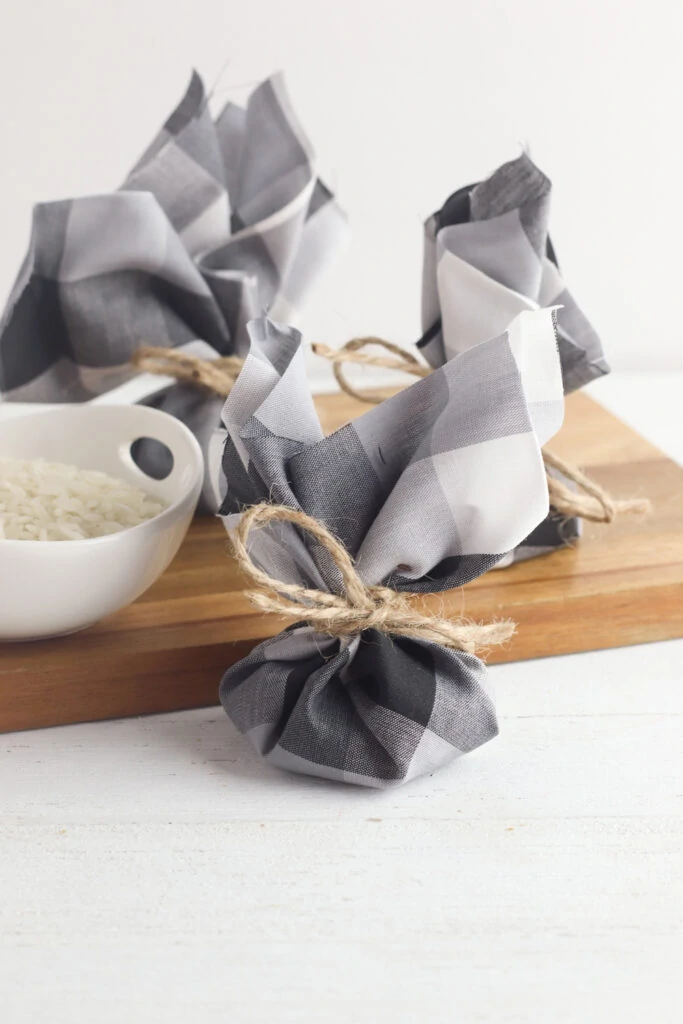 How do you infuse rice with essential oils?
You might be wondering how essential oils can make rice scented. Does it really work?
Adding essential oils to rice does infuse them with scent. Because the rice is hard and uncooked, the oils coat the top of the surface. Then the scent evaporates into the air and adds fragrance.
When infusing rice with essential oils, it's best to allow the oils to absorb into the rice for around 10 minutes. If you have the time, allow them to infuse for up to a day (but I don't think that's really necessary).
Putting oils on the rice and then immediately wrapping them up in a sachet could make the oils transfer to the fabric. Which could result in staining, or just having scented fabric.
A general guideline to infuse rice with essential oils to scent a room, drawer or closet is add 20-30 drops per half cup of rice.
This scented sachet recipe uses 10 drops for a 1/4 cup of rice. Which is a little stronger than some other recipes. However, I don't like to have to go back and refreshen the rice as often.
Plus, if you're going to use a drawer freshener, I want to go ahead and get the most bang for my buck. There's no point in having a very faint scent if you are going to do the work to make a drawer sachet (unless, of course, you just want a hint of fragrance).
Handmade Drawer Sachets
Even though this DIY tutorial is super simple, you might want something a little more stylish. If so, support these small businesses who make beautiful drawer fresheners:
These lacy bra-shaped drawer fresheners are perfect for your lingerie drawer! Customize them with lace color and ribbon color choices. The price is so good that you'll want to buy a few for birthday presents, bridal showers, stocking stuffers, etc.
Using vintage embroidered linens, these lavender-stuffed drawer sachets are beautiful.
I like how these handmade sachets can be customized with whatever scent you choose. Plus, the calendar fabric with the changing moons is interesting!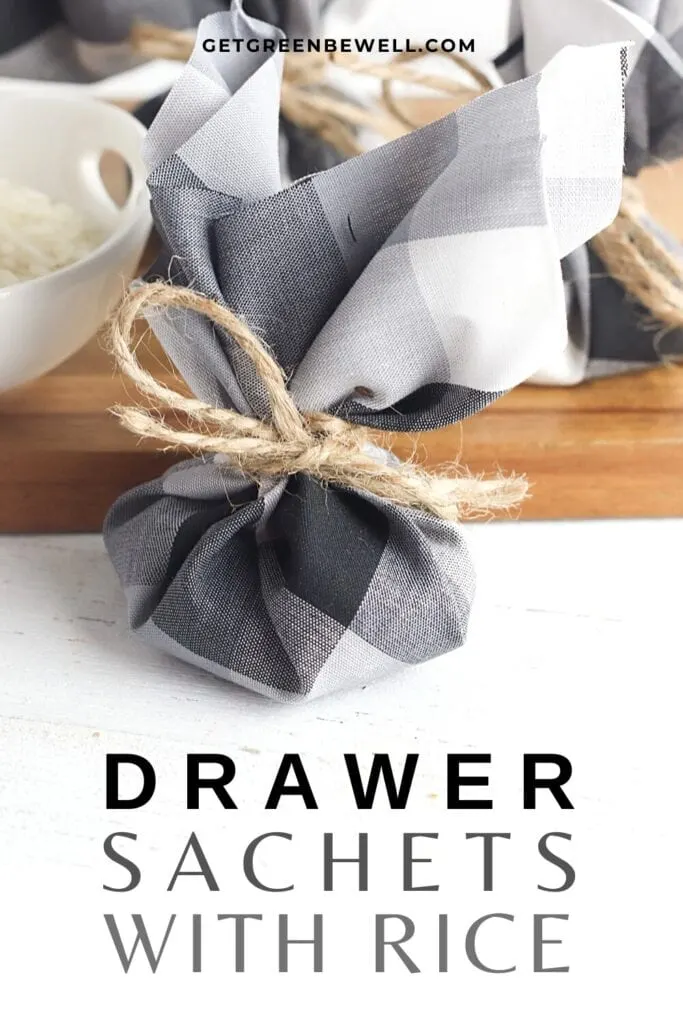 More Natural Fragrance Recipes
We have lots of DIY recipes to add natural fragrance to your home. Why? Because using chemicals to scent your house isn't a good thing. Spraying or diffusing unnatural ingredients and chemicals into the air makes your lungs inhale those products. As your lungs breathe in the chemicals, your body has to process them. And it's always a good idea to keep your body burden as low as possible. You never want to make your body work harder than it has to. Especially when there are so many effective ways to naturally scent your home!
Our coffee smell air freshener uses old coffee grounds for the most delicious scent wafting through your house.
Or try a fresh citrus scent with this Lemon Lavender Herb Simmer Pot.
Make natural cinnamon pinecones for a very light scent. They are beautiful displayed in bowls around your home or bathroom.
A classic favorite, this Apple Cinnamon Potpourri Crock Pot recipe can also be made on the stove, too.