Kids of all ages always look forward to fun gifts in their Easter Basket. And you certainly don't want to disappoint them just because you're trying to make a more natural Easter Basket with non-toxic items.
These organic Easter basket ideas will give you the cutest Easter baskets for children from toddlers to tweens. And you won't have to feel like you're buying something that you hate giving to your kids.
We've got the best healthy Easter basket ideas, including what to stuff the basket with, how to dye Easter eggs naturally, organic candies, and candy-free gift ideas.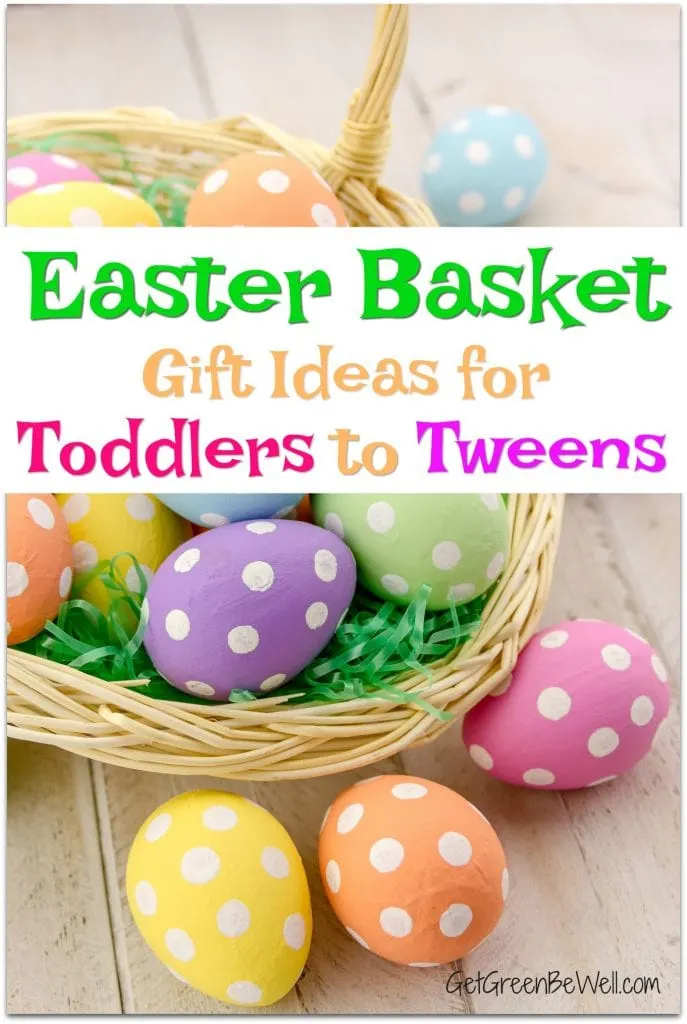 Candy-Free Easter Basket Gift Ideas
Organic Lip Balm
Girls of all ages will love this Organic Strawberry Sorbet Lip Balm included in their basket.
Chocolate Easter Bunnies
This dairy-free chocolate Easter egg is organic and a healthier option than traditional Easter chocolate candy.
Natural Play Dough
Kids will love playing with this natural play dough. Made with organic flour, this play-doh is a great choice by the Easter Bunny.
Stuffed Bunny
I love how cute this homemade stuffed bunny rabbit is! What a keepsake item! And far more original to the mass market Easter rabbits available to everyone else.
Hair Accessories
Perfect for Easter parties, these adorable handmade Easter bunny ears come with a handmade bunny tail wand as well.
Rabbit Earrings
A variety of handmade bunny earrings and bunny earrings sets are available. Perfect for Easter, but girls will be able to wear them year-round after the holiday, too.
Outdoor Games
A fun jump rope will be fun for the kids after hunting for Easter eggs in the yard!
Natural Soaps
Older kids will enjoy these natural bar soaps in their baskets. With organic ingredients and therapeutic essential oils, these bars address any acne issues while offering a great fragrance.
Legos
This adorable Lego Easter Bunny Hut is a fun basket surprise!
Gardening Gifts
Gardening will be fun when they get to use their own new Gardening Tool Kit.
Stickers
These Snoopy Easter stickers are classic and fun.
Puzzles
This cute bunny puzzle will be a fun treat to put together again and again.
Books
When we were kids, we loved The Berenstain Bears books! Kids can join the bear cubs in this book, as they find real Easter eggs!
Bunny Teether
Adorably cute, and made with beeswax and wood. These little bunny ears are perfect not only for Easter, but also for teething later on.
Child's Apron
Promises of messy and creative play time are what toddlers will have with this personalized apron. Add it to an Easter basket with crayons (see below), chalk or paints.
Organic Bath Bombs
Super cute bunny bath bombs made without any nasty chemicals are perfect for the kiddos. Their Easter rabbit shape is ideal for natural Easter baskets.
Easter Bangle Bracelet
Perfect for Easter baskets before going to church, your girl will be able to wear this beautiful charm bracelet right away!
Wooden Easter Eggs
Montessori inspired colorful wooden eggs are great for imaginative play year-round. Made with wood, food-grade dyes, they are a natural toy great for learning.
Easter Soap
Organic cocoa butter soap with a raised Easter rabbit design is perfect for the shower or a kid's bathroom. Make it a game to see when the Easter bunny will disappear – it encourages handwashing and proper hygiene!
Wooden Bunny Teether
As if the wooden bunny teether wasn't enough, check out the customizable Easter-themed Paci-Catchers! Too much cuteness all in one package.
Wooden Hand Tools
Have the kids pretend to join in on your next DIY project or home renovation. These all-natural wooden toys are ideal for budding DIYers.
Personalized Name Crayons
I LOVE these colorful and fun personalized crayons. Your child will feel so special when they open a box with their name inside. Especially with the bright kid-friendly colors. Display them in a kid's room or use them with coloring books (add a few to the Easter basket for instant fun).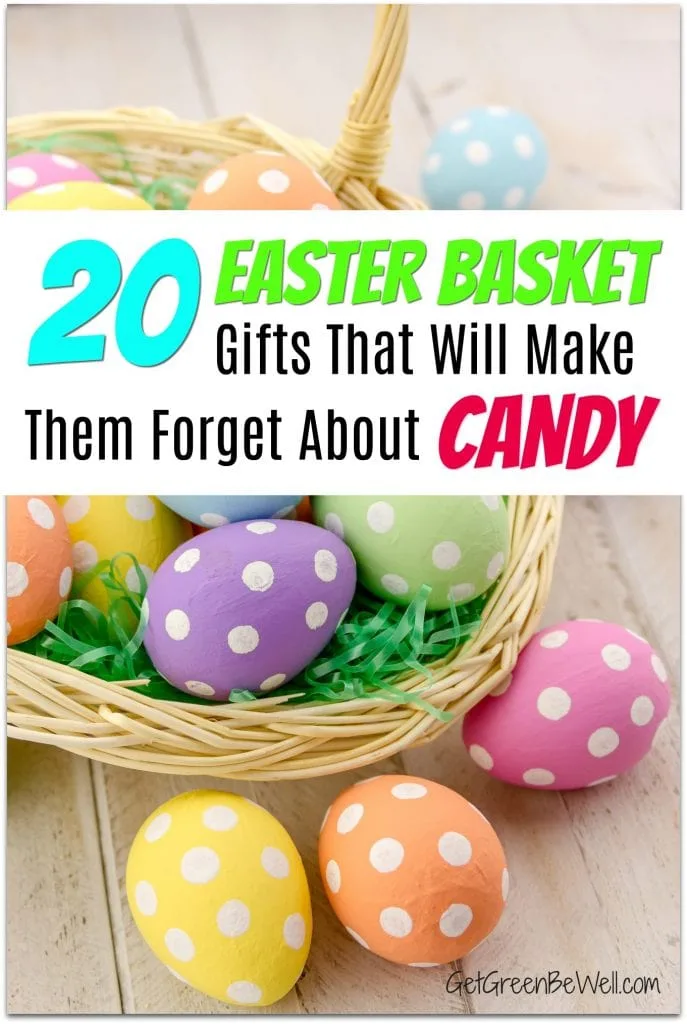 Personalized Canvas Tote
A natural canvas tote personalized with your child's name will be useful long after the Easter bunny has hopped away. Use it instead of an Easter basket or tuck it into a basket as a filler. Perfect for library visits, daycare, school, or shopping trips afterward. Check out all of the different bunny styles besides this one.
Personalized Cross
Make one for each of your children to have a meaningful item for Easter each year. The handmade keepsake personalized cross will be treasured for years.
Easter Books
Any book will be a great filler for an Easter basket, but check out this Easter pop-up book for lots of fun!
Here's a few more gift ideas that you could use in an Easter basket:
Organic Easter Candies
Many kids expect the Easter bunny to leave some sort of sweet treats in their basket. If you're looking for some better candy options, check these out:
For the classic solid chocolate Easter bunny, you must get Lake Champlain's candy bunnies made in Vermont. They come individually wrapped in milk chocolate, dark chocolate and white chocolate.
If they like Peeps, then try these SMASHMALLOW snackable marshmallows in the most unusual flavors. They have an Easter pack with individually wrapped treats made with organic cane sugar.
These organic gummy bunnies and bears in Easter packs are among my favorite treats.
I've shared how I think these chewy fruities are a great Starburst alternative, but made with ingredients that I'm more comfortable with.
What to Stuff an Easter Basket With
Most people buy a bag of plastic Easter grass to use to stuff an Easter Basket. But did you know there are lots of alternatives?
We love growing your own Easter grass or using something more sustainable to fill your Easter basket. Here's 9 alternatives to plastic Easter grass this year.
Natural Easter Egg Dyes
I've gathered all of my favorite natural Easter egg dyes recipes together in one blog post so be sure to check them out!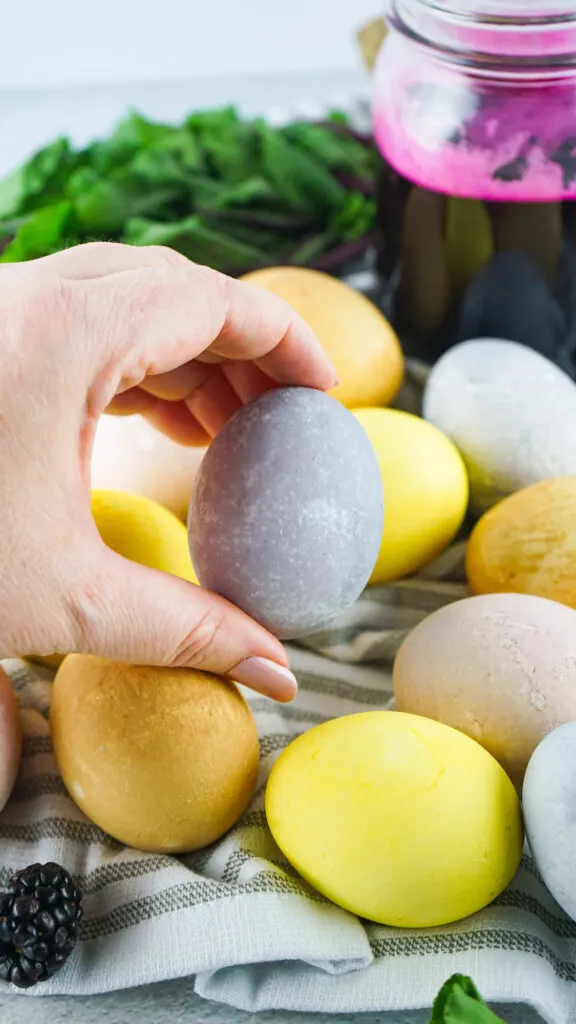 Be sure to download our free printable of natural Easter egg dyes, too. There are a few more in the printable that I don't have on the blog.
If you are looking for specific egg dye colors, these how-to guides can help you create colorful Easter eggs:
There are a variety of natural food colors that you can buy, too. I was surprised to find that McCormick has natural food coloring with colors derived from vegetable and seeds.