Looking for a better alternative to Starburst fruit chew candies? You're in luck. Here's the best organic versions of the fruit chew candy similar to Starburst.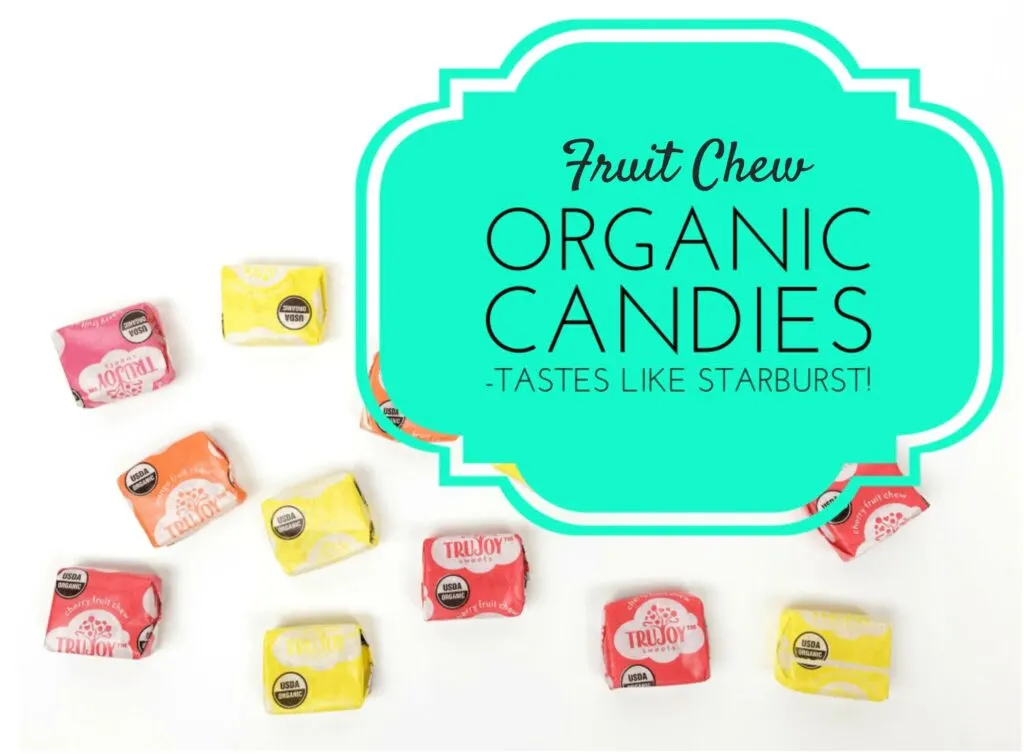 Organic Fruit Chew Candies
Starburst fruit chews candies are made with corn syrup, along with artificial colorings and flavorings.
There's no denying that these candies are kid-friendly and delicious! However, you can get a similar candy made with all organic ingredients (nothing artificial) from many organic candy companies.
Here are my picks for an organic candy swap for Starburst fruit chews.
Wholesome Organic Fruit Chews
These candies used to be called TruJoy Organic Fruit Chews (hence the packaging shown above). Now the company is known as Wholesome.
Wholesome Organic Fruit Chews are the same chewy burst of fruit flavors packaged up in the same familiar square shapes. This Certified Organic and Non GMO certified candy doesn't skimp on any of the flavor or texture that you love from Starburst, but delivers ingredients that you can understand.
Organic brown rice syrup is the number one ingredient, with colors derived from vegetables and organic flavors. They are gluten free and vegan.
Your purchase helps to support Fair Trade farming communities.
Black Forest Organic Fruity Chews
I've loved this company for a while now, too. I can find a lot of their products in Publix (the popular grocery store in the Southeast) which makes indulging in them even easier.
Black Forest has got a unique flavor in their Certified Organic fruity chews – Mango. It's not a flavor you see much.
As with all Certified Organic products, there's no artificial colorings or flavorings. And the fruit chews are Non GMO.
Torie & Howard Chewie Fruities
This is another American company with some unique flavors that I love. Their hard candies are delicious, too! Pomegranate and Nectarine Chewie Fruities are flavors that appeal more to adults, older kids and foodies. I'm okay with that!
There's also Blood Orange and Honey, as well as Meyer Lemon and Raspberry combos.
It's nice to mix up the flavors.
You'll get 100% of the daily recommended allowance for Vitamin C in each serving. As with all of these brands, these gluten free fruit chews are Certified Organic and therefore have No GMOs, either.
Lovely Organic Chewy Candies
These vegan candies come in three delicious flavors of Strawberry, Lemon and Cherry. They are individually wrapped, although the packaging doesn't make it appear that way.
Lovely Organic Chewy Candies are gluten free, kosher, Certified Organic and Non-GMO.
Another great find with no artificial colors or flavorings. Go Organic Fruit Chews come in a variety of flavors, including Lemon, Strawberry, Raspberry and Sour Apple.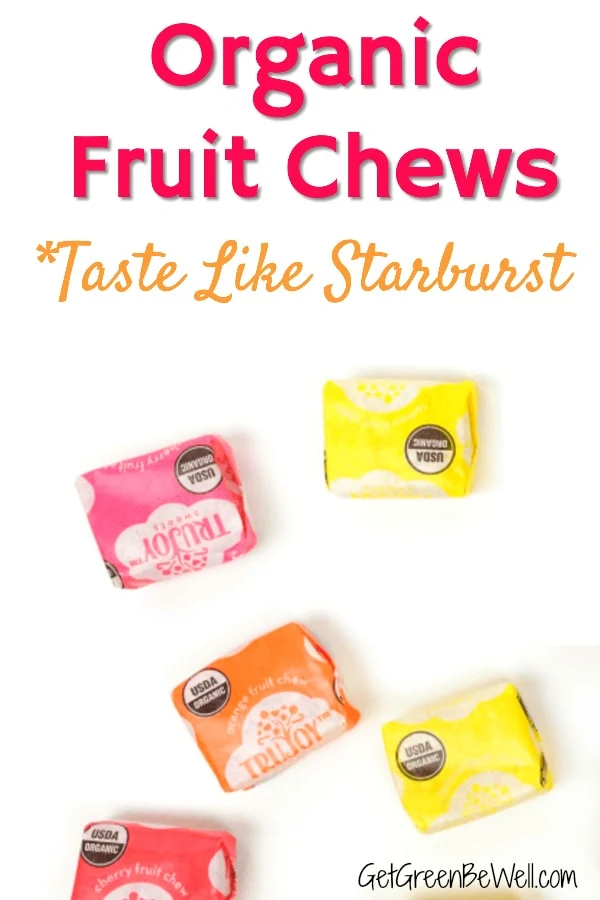 Wondering what to do with all of these candy wrappers after eating the organic fruit chews? Save them for these cute candy wrapper crafts!
If you are looking for more sweet treats that are kid-friendly, check out these no bake snack recipes using healthy cereal.