Black tea has been used as a dye for textiles for generations. Tea gives an antique, vintage color to fabrics that is perfect for a farmhouse look. The beverage works the same for egg shells, too, and is a perfect natural dye to color Easter eggs brown. Here are the simple instructions of how to dye eggs with tea.
If you want a neutral color, then this natural dye is perfect for you!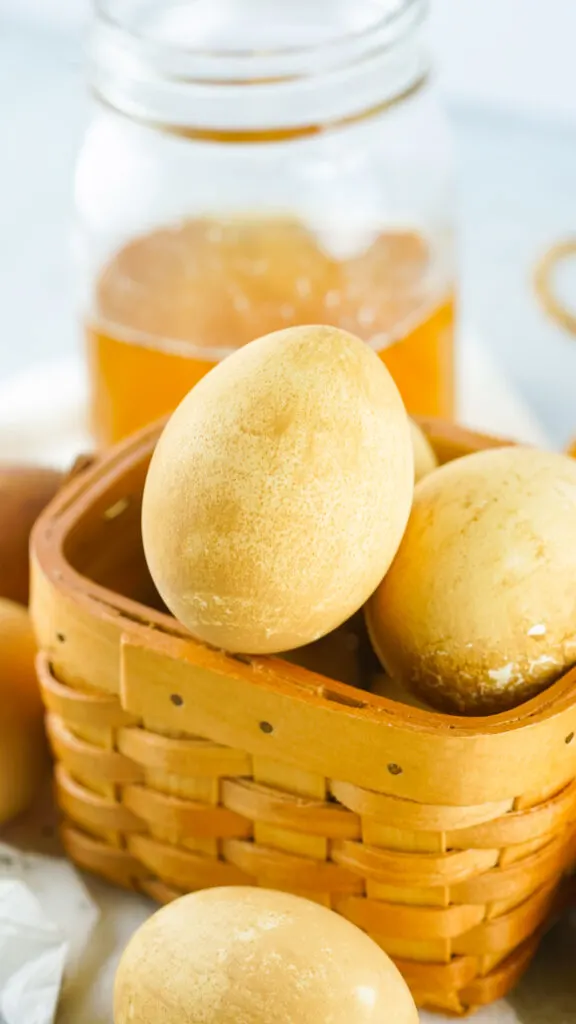 While you could use any kind of tea to dye the eggs, black tea is really the only variety that will give you a deep color. Other tea varieties, such as green tea or rooibos, won't work the same.
You can buy black tea bags very inexpensively. In fact, you can get a box at the Dollar Tree for around $1, which makes this a very budget-friendly natural dye.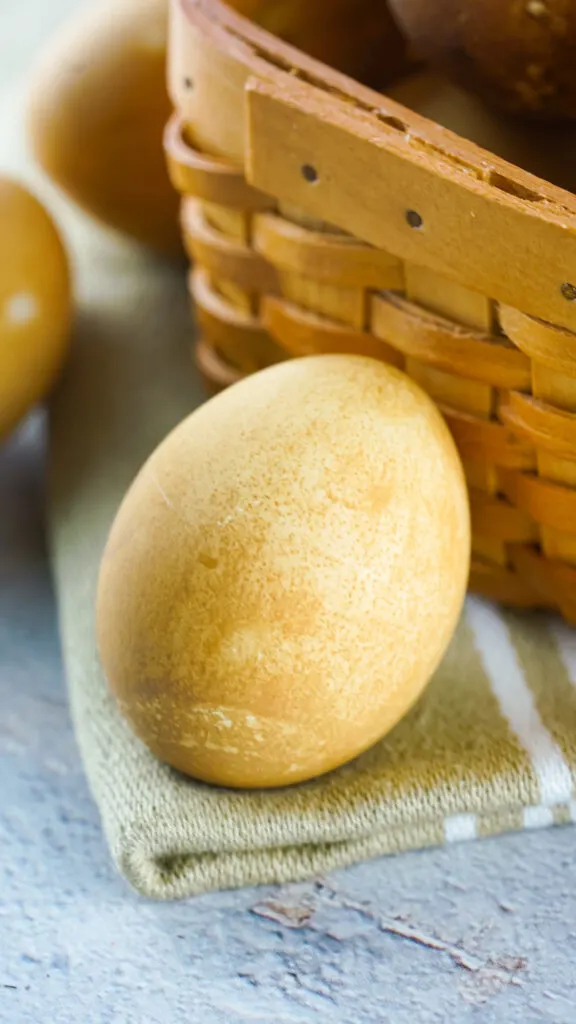 A printable how-to card is included below.
This is just one of many natural Easter egg dyes that I share on the website. Be sure to see them all!
Tuck these eggs into a basket filled with one of these 10 Easter Basket Grass alternatives for a sustainable treat. Add one of these 25 Organic Easter Gift Ideas, too!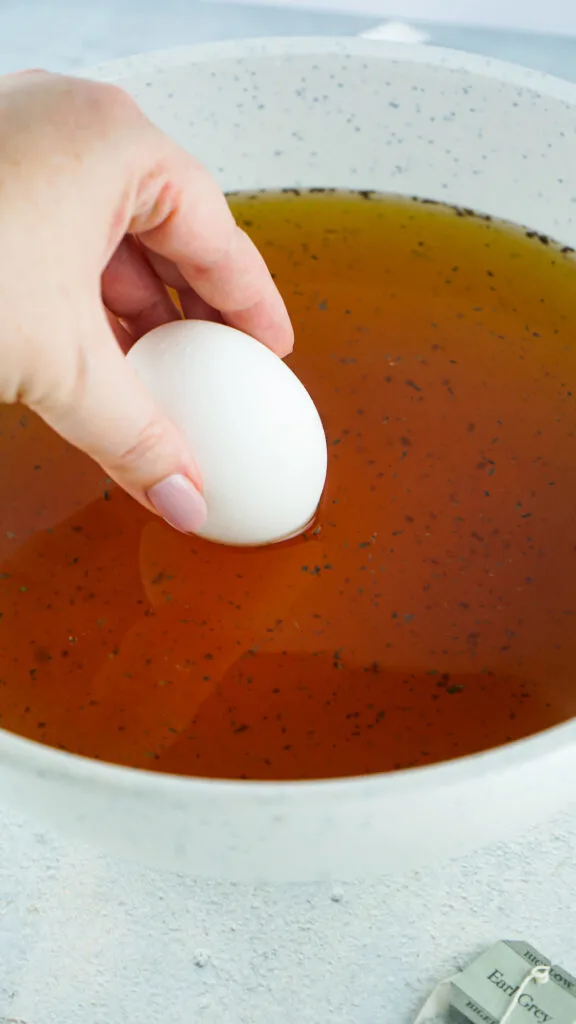 Helpful Tips
Stainless steel and glass pots or bows are ideal for using tea to color anything. It won't stain like it will plastic.
If some loose leaf tea gets into the dye, that's okay. A tea bag opened while steeping the dye, as you can see in my photos, and the process still worked great.
To make this Easter egg dye eco-friendly and zero waste, be sure to buy compostable tea bags and put them in your compost bin afterwards. Or use loose leaf tea in a reusable tea ball.
You can leave your eggs in the natural dye as long as you'd like. The longer that you leave them in, the darker the color will become. It is a wise idea to start checking the color after about an hour in the dye. Gently lift the egg out of the dye and see if it's dark enough. If not, then replace the egg and allow it to sit for longer in the liquid.
Don't use more or less vinegar than the instructions state. Too little vinegar will mean that the dye might not adhere well. Too much could mean that the egg shell will start dissolving.
When drying the eggs, keep in mind that dripping dye will stain. Use a paper towel unless you don't mind a reusable towel having red stains on it.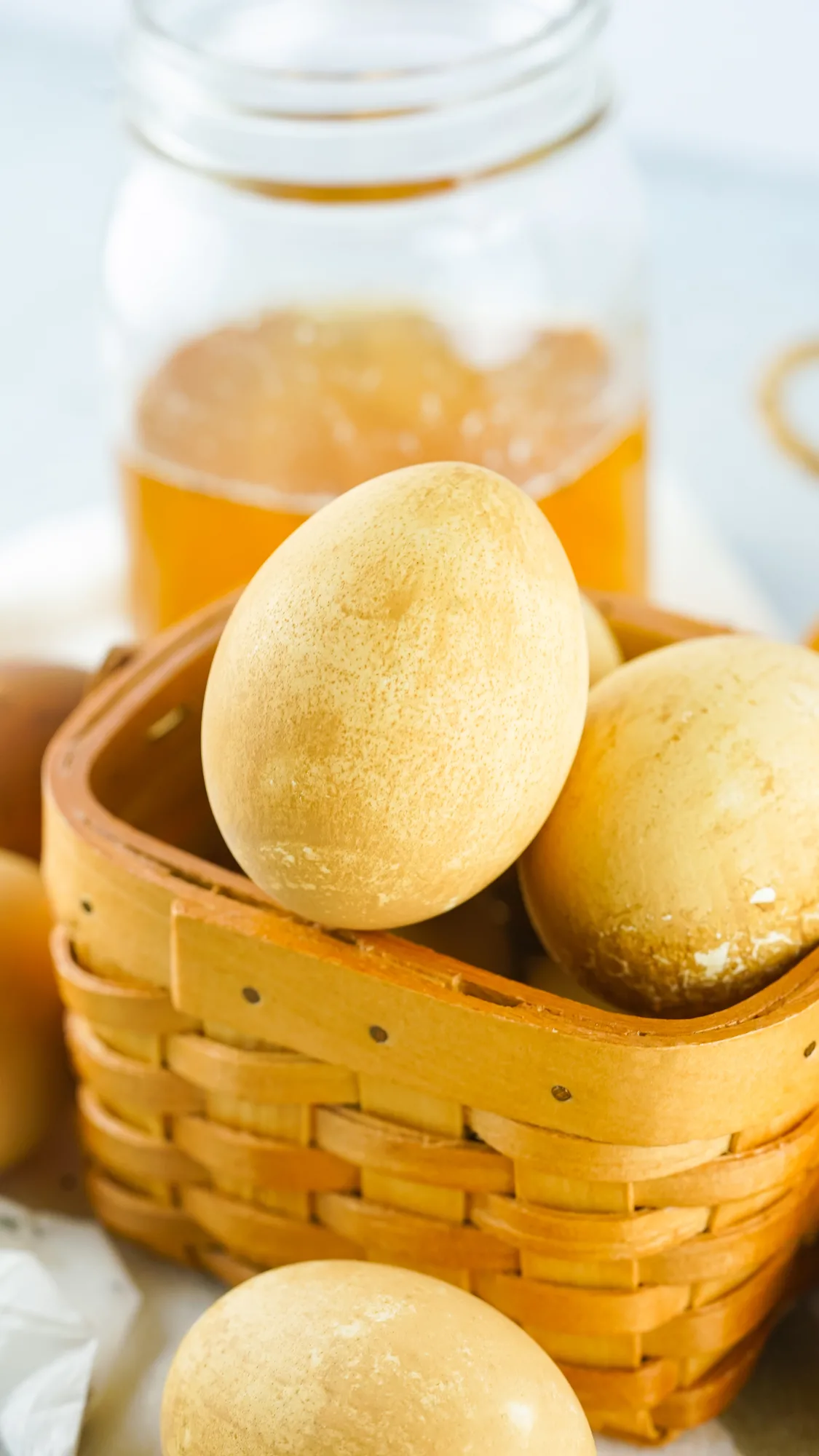 How to Dye Eggs with Tea
Total Time:
8 hours
15 minutes
Black tea is a perfect dye for adding antiqued color in a farmhouse style. Here is the easy way to dye eggs with tea for neutral colored Easter eggs.
Materials
8 Black Tea Bags (personal cup size)
1 Tablespoon White Distilled Vinegar
1 Quart Boiling Water
Hard Boiled Eggs
Instructions
Steep all of the tea bags in a heat-safe glass bowl with the boiling water. Keep the bags in the water for 10 minutes.
Remove the tea bags from the bowl and squeeze out the liquid from each bag back into the bowl.
Add the vinegar into the tea dye and mix together.
Place the hard boiled eggs in the mixture and allow to soak until desired color is achieved. For this color, it took 8 hours.
Remove the eggs from the bowl with your fingers or tongs. Place on paper towels to dry. Flip the eggs over after a few minutes to prevent the dye from accumulating in one place where the egg is resting on the towel.
Notes
I dyed a dozen eggs and had plenty of dye left over to make more colored Easter eggs.
This how-to project was found on GetGreenBeWell.com
FAQs
Can I Use Loose Leaf Tea Instead of Tea Bags?
Yes, you can! Just be sure to add enough black tea to your tea infuser to equal 8 tea bags.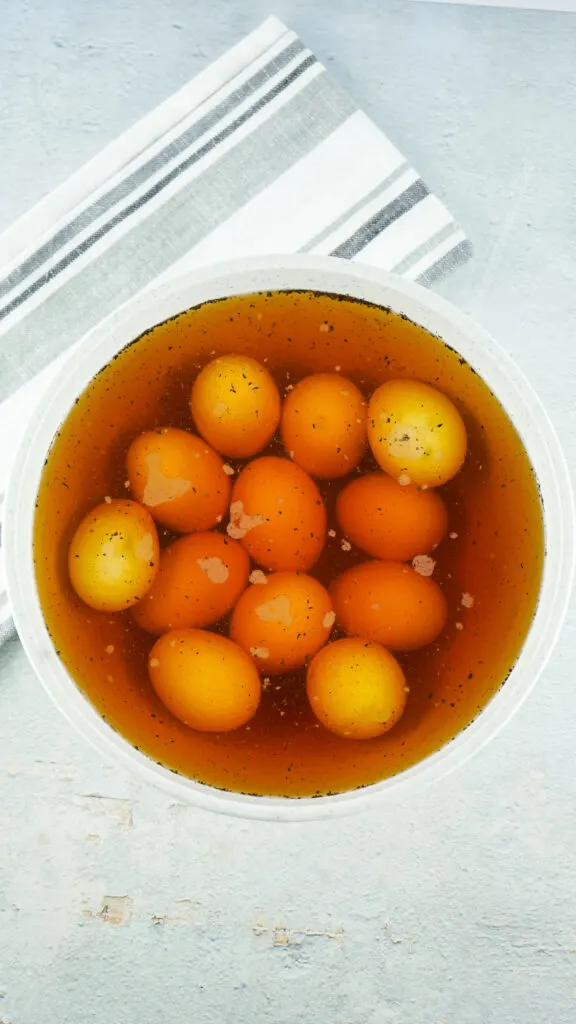 Should I Use a Certain Variety of Black Tea?
No, you don't have to use a particular variety of a black tea beverage, such as Earl Grey or a breakfast blend. However, you do want the tea to be mostly black tea leaves. Ideally, you would want 100% black tea and no other flavors or ingredients added.
For instance, while Chai tea bags have black tea in them, there is also a lot of other spices and flavors added. These would not be ideal for dyeing eggs.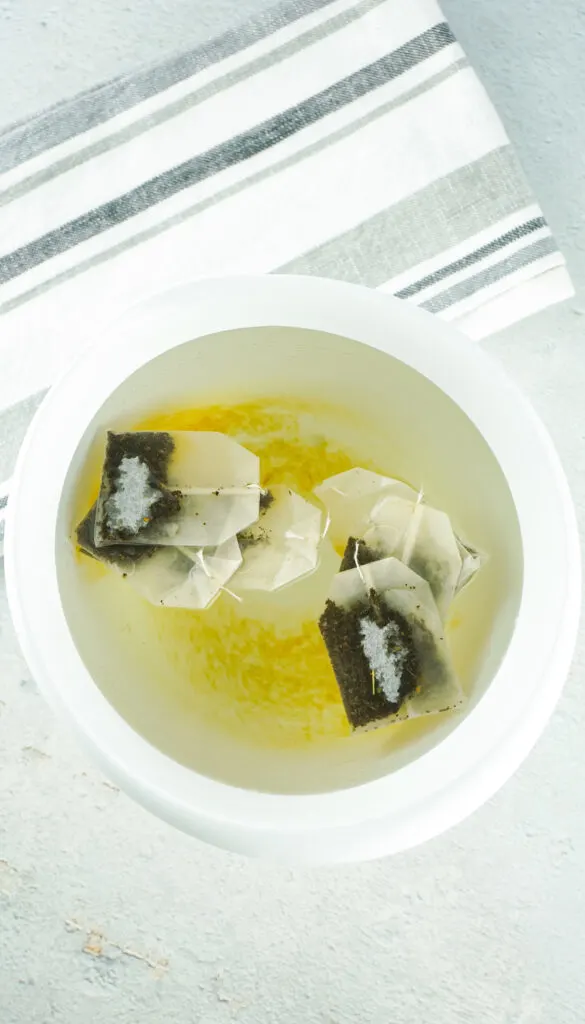 Can I Use a Bottle or Can of Black Tea Already Made?
Most pre-made bottles and cans contain sugar, lemon or other chemicals and preservatives. I wouldn't suggest using these in place of steeping the tea bags.
Can These Eggs Be Used the Next Day?
Yes, the colorful dye will last.
Will The Eggs Taste Like Tea?
No, your hard boiled eggs inside the shell will not taste like the drink. However, if the egg shell has cracks, some of the natural dye color can get inside and color the eggs.
Can I Decorate the Eggs and Dye Them?
Yes, you can decorate eggs before or after dyeing them just like the process of any other Easter egg dye.
If you color on the egg before dyeing, I suggest using these non-toxic beeswax crayons. The wax will create a layer on the egg and won't dye as strongly as the egg shell.
Why Isn't the Color Perfect?
Natural variations in the egg shell means that color is absorbed in different ways that might not be even or perfect.
While the tea will have the same amount of pigment in each cup of dye, that doesn't mean the egg will absorb it evenly.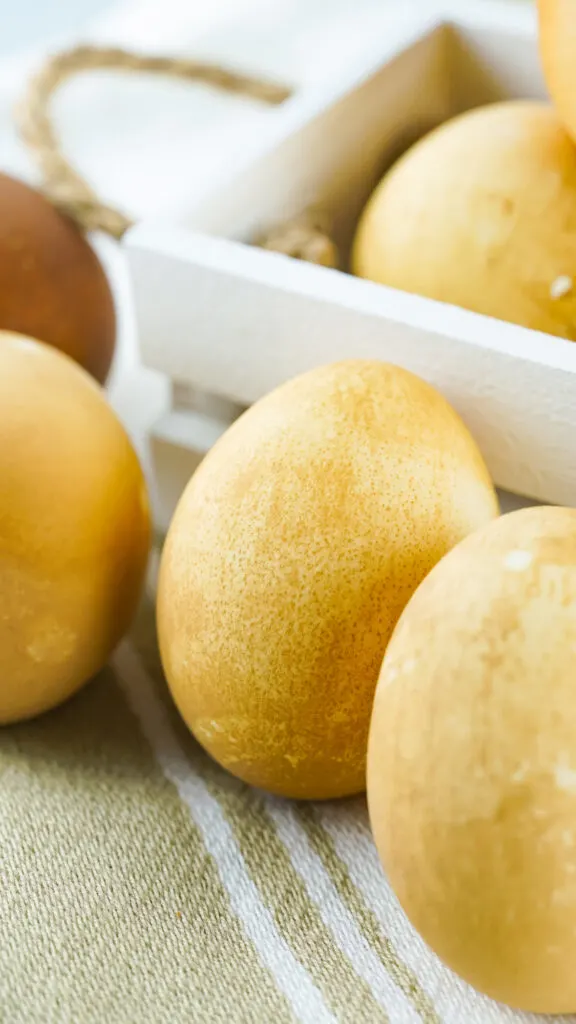 The beauty of nature is that nothing is perfect and everything changes! Embrace the natural look of these colorful eggs.
Do I Need to Put the Eggs in the Refrigerator After Coloring?
Treat these eggs the same as you would any hard boiled egg that you would dye. If the eggs are put in the refrigerator, they will be okay. You might find that the color runs just a bit, but that would be the same with any dyed Easter egg.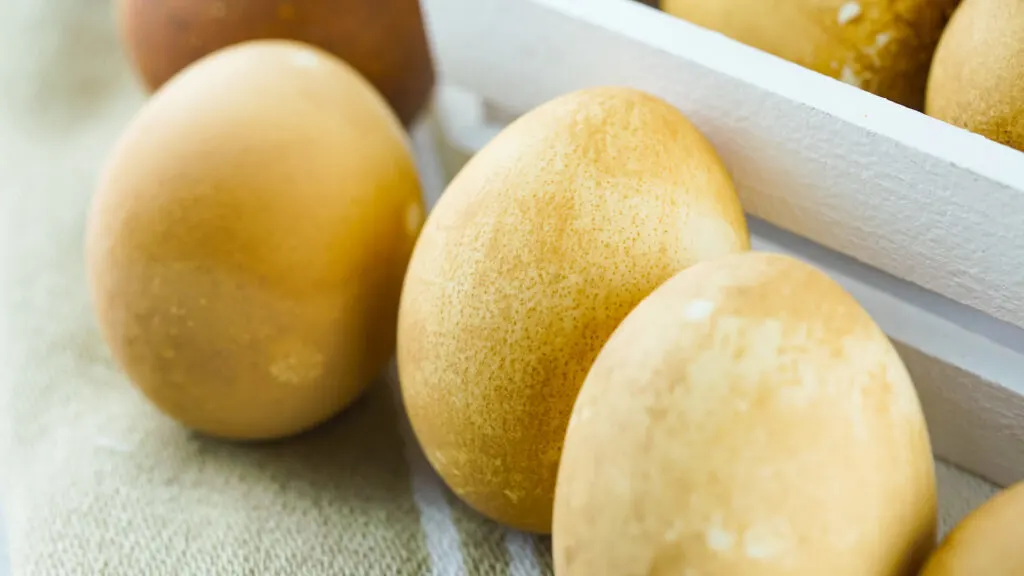 If you like how simple it is to dye eggs with tea, check out these easy DIYs, too: