I find it fascinating that foods and plants make some of the best natural dyes. Plus, the colors look so much more realistic than neon-bright artificial colorings.
So when I found out how to dye Easter eggs with blueberries and vinegar, I absolutely had to share the process. This is a great project to do with kids because it uses all natural materials. Plus, these blueberry-dyed eggs have a shade of blue that can't be as easily made with chemical-based dyes.
In fact, this blue is similar to natural robin's egg blue! What a lovely color!
Most food colorings are made with artificial dyes and lots of chemicals. Unless you buy one of the natural food dyes, such as McCormick Nature's Inspiration Food Colors or India Tree Nature's Colors, both of which used vegetable based colorants.
This recipe for how to use blueberries is just one of the many ways to dye eggs with natural ingredients. Check out these five gorgeous natural Easter egg dye recipes.
And get my free printable list of more natural Easter egg dyes.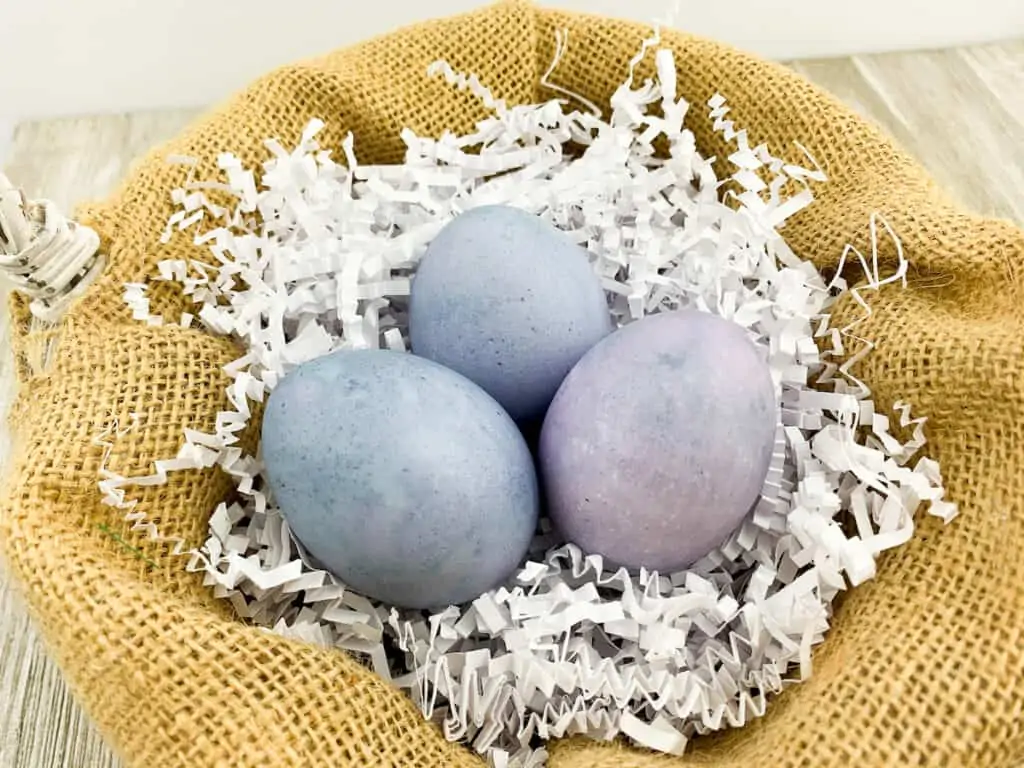 FAQs
Do I Have to Use Vinegar?
Yes. Just like with many egg-dyeing recipes, vinegar is necessary to prep the egg shell to absorb the dye.
Can I Refrigerate These Eggs?
Yes, just like with any dyed Easter eggs you can refrigerate them. However, all dyed Easter eggs, no matter if they use artificial or natural dyes, will start to look a little different after being in the refrigerator for a few days. The colors could become splotchy or start running.
Can I Use Frozen Blueberries?
Yes, you can use frozen blueberries. Simply boil them in water as you would fresh blueberries based on this recipe.
Can I Use Dehydrated Blueberries?
Dehydrated blueberries will work to create an Easter egg dye. It is best to rehydrate them with some water before adding to the saucepan to boil. Otherwise, the blueberries will absorb the water while boiling and you might not have as much liquid left over to make enough blueberry dye.
How Long Should I Let Eggs Dye in Blueberry Juice?
The longer you let them soak in the blueberry dye, the more darker the color will get. For lighter shades, soak about 10 minutes. For darker blue, soak up to an hour.
How to Dye Easter Eggs with Blueberries
Supplies
Hard boiled eggs, cooled
1 cup fresh blueberries
1 cup water
1/2 cup vinegar in a bowl
Spoon
Paper towel lined tray
Colander
Pitcher
Cup or containers for vinegar and blueberry juice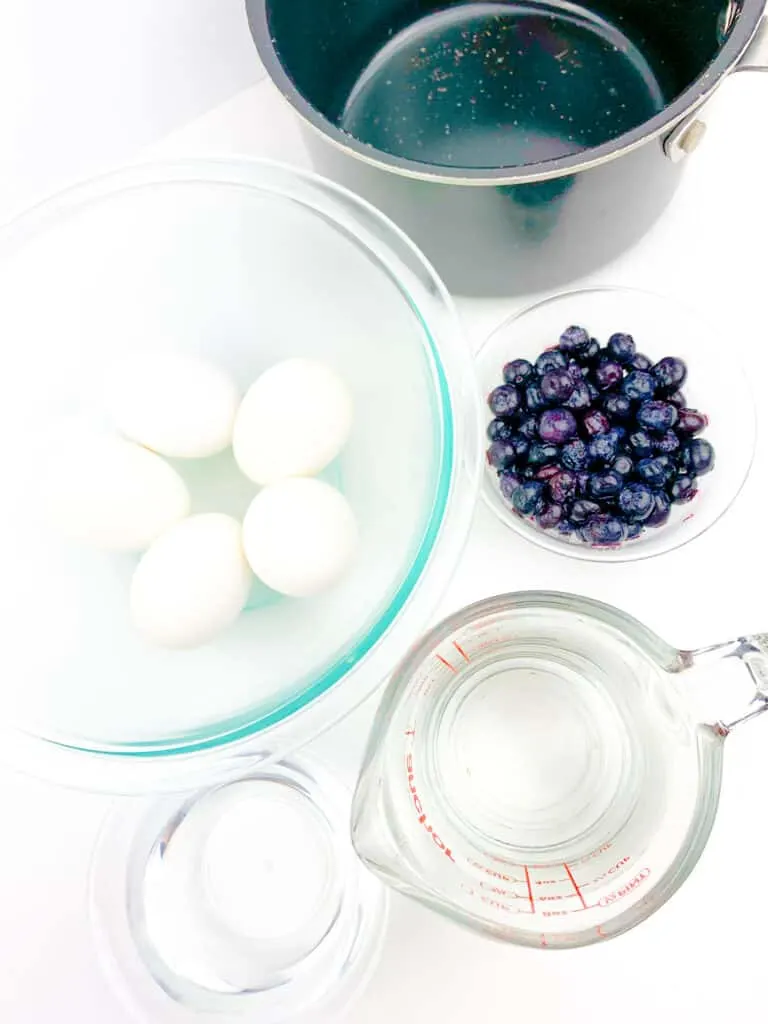 Instructions
Step 1:
Pour the blueberries into a medium size saucepan. Add the water.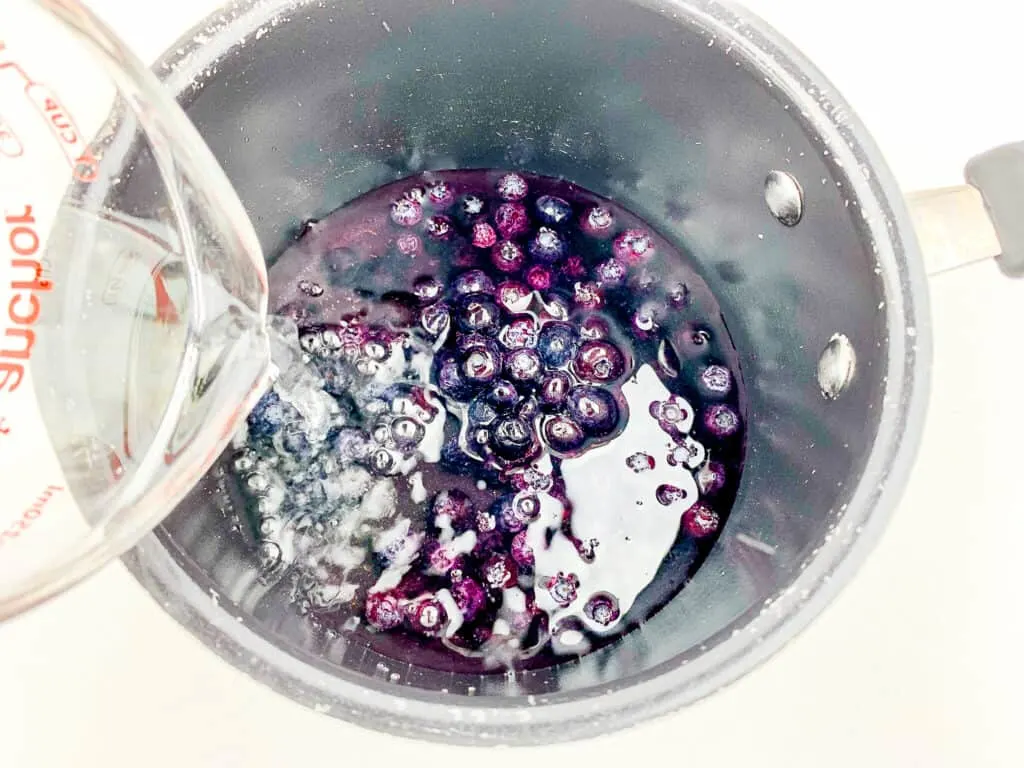 Step 2:
On the stove top, bring the blueberries to a boil. Stir (they might start to break apart and turn to mush, and that's okay).
Turn off the heat and remove the pot of blueberries to another spot on the stovetop or on a rack to cool. Allow the blueberries plenty of time to cool down.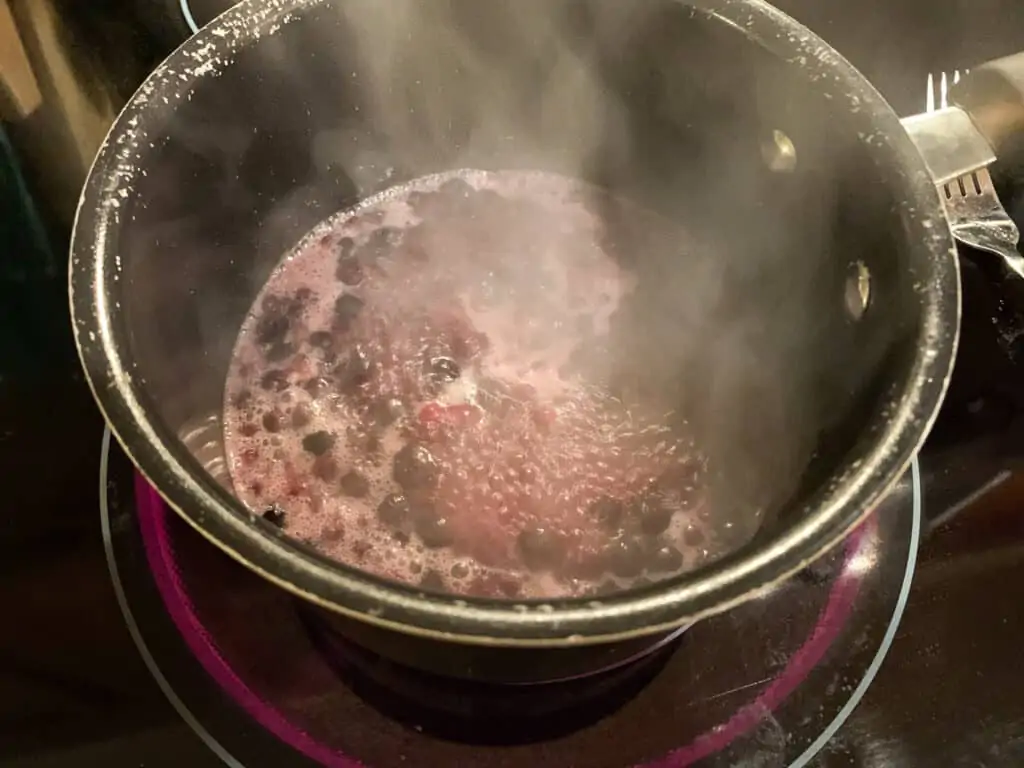 Step 3:
Place a colander over a pitcher. When the blueberries have cooled, pour the mixture into the colander to separate the skins from the juice.
You don't need to use the skins, so you can use them in a recipe or compost them.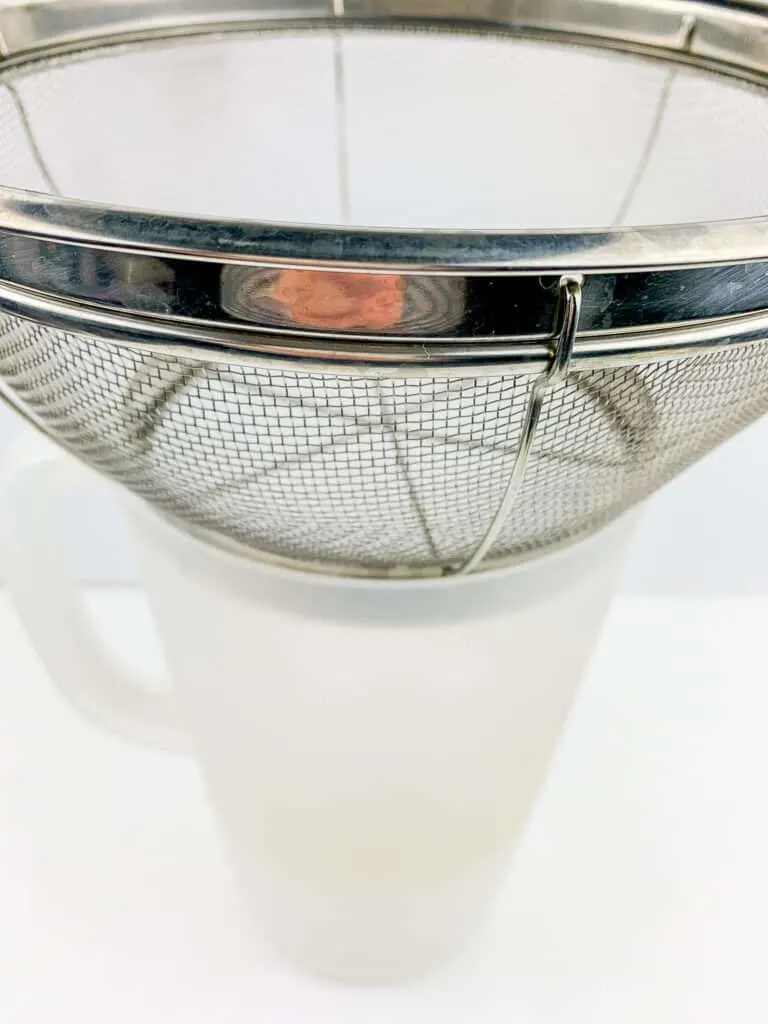 Step 4:
Pour the blueberry juice into a cup or bowl for dyeing. You will want it big enough to allow the whole egg to fit in the cup, along with displacing the liquid when you add the egg.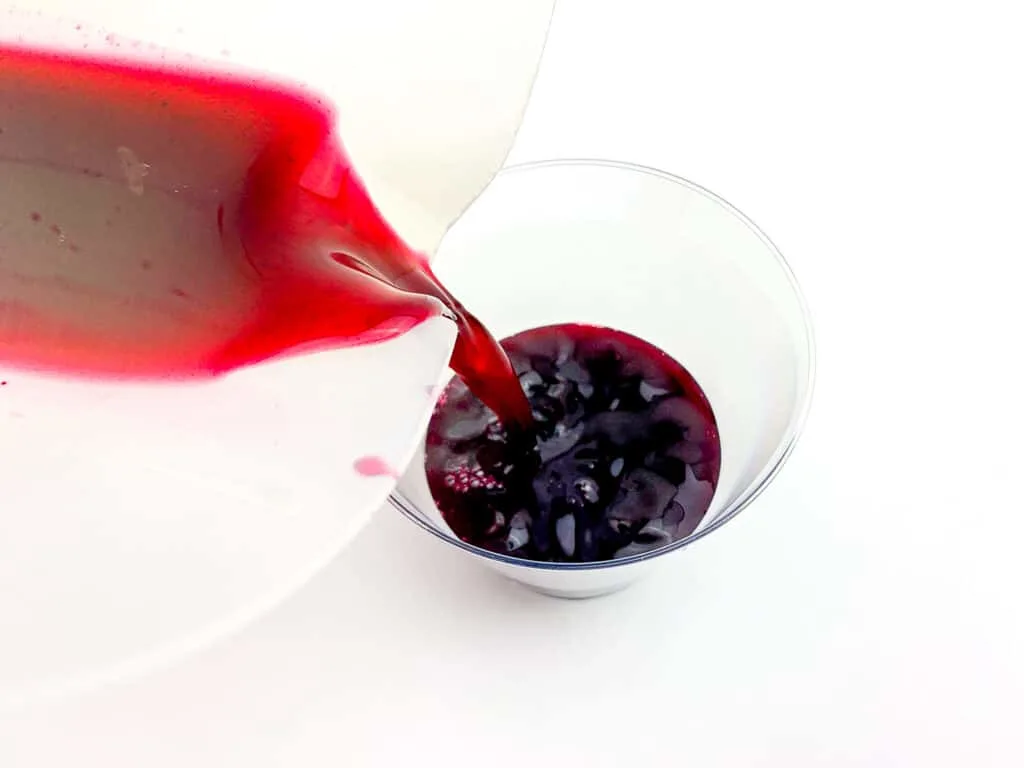 Step 5:
Dip an egg into the vinegar for a few seconds. This is very important so that the blueberry dye adheres to the egg! Then place the egg into the blueberry juice, one at a time.
Allow to soak for at least 10 minutes. You can soak for an hour or two for very dark shades of blue.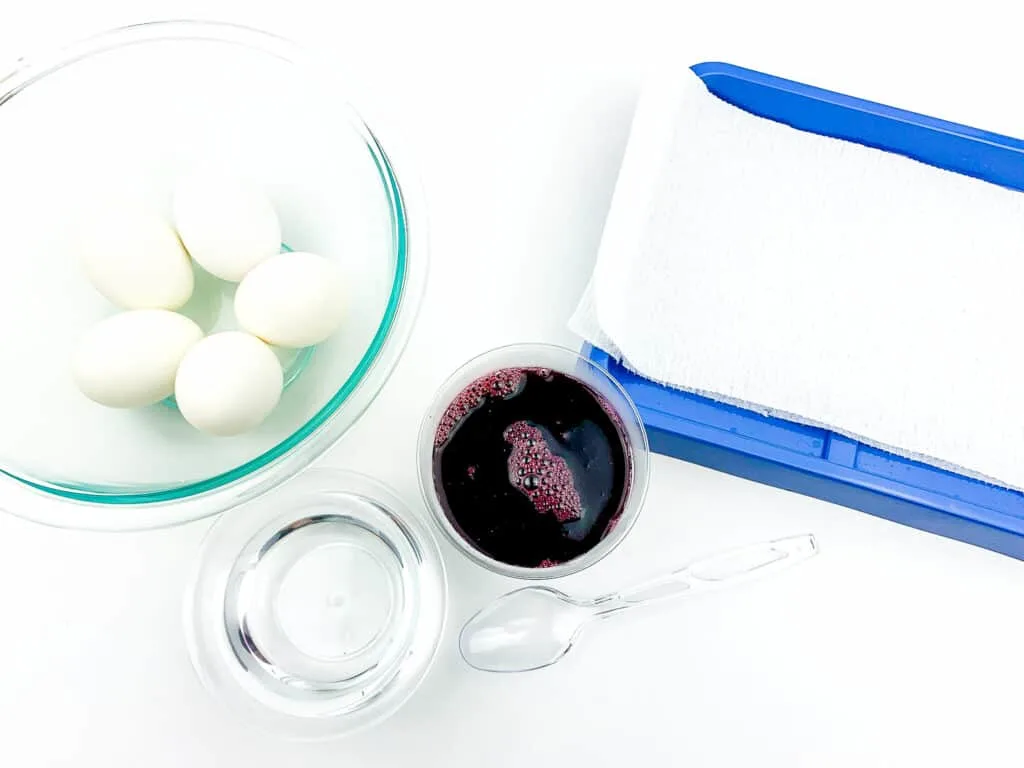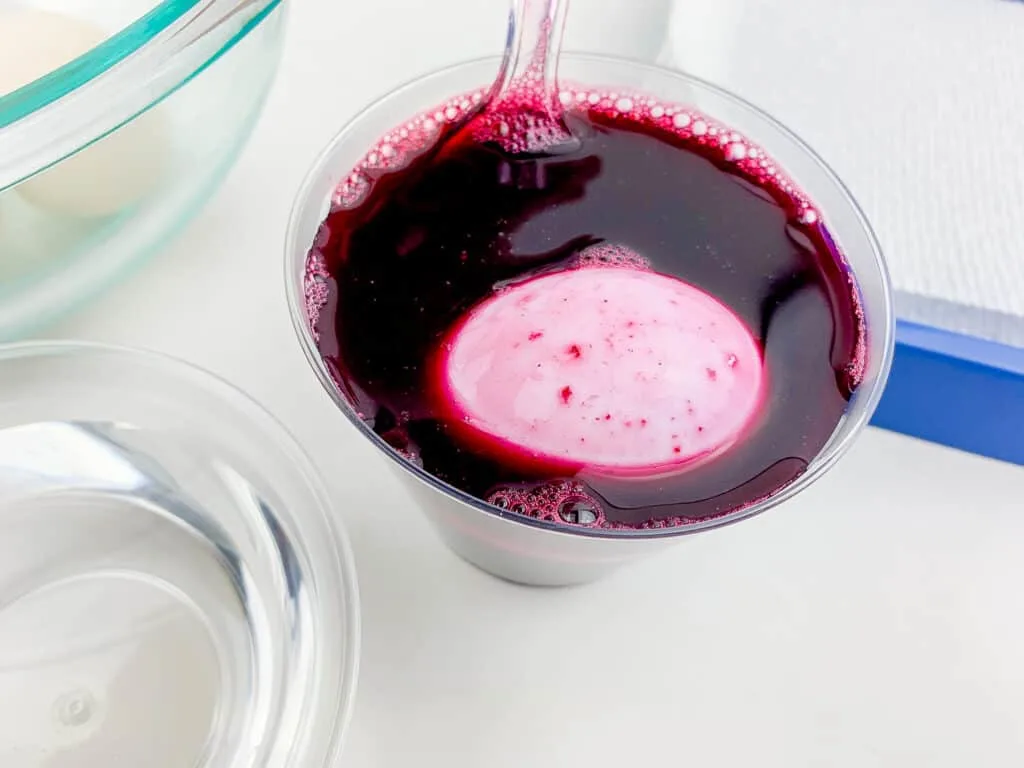 Step 6:
Take the egg out of the juice using a spoon (or tongs) and place the egg on the paper towel lined tray.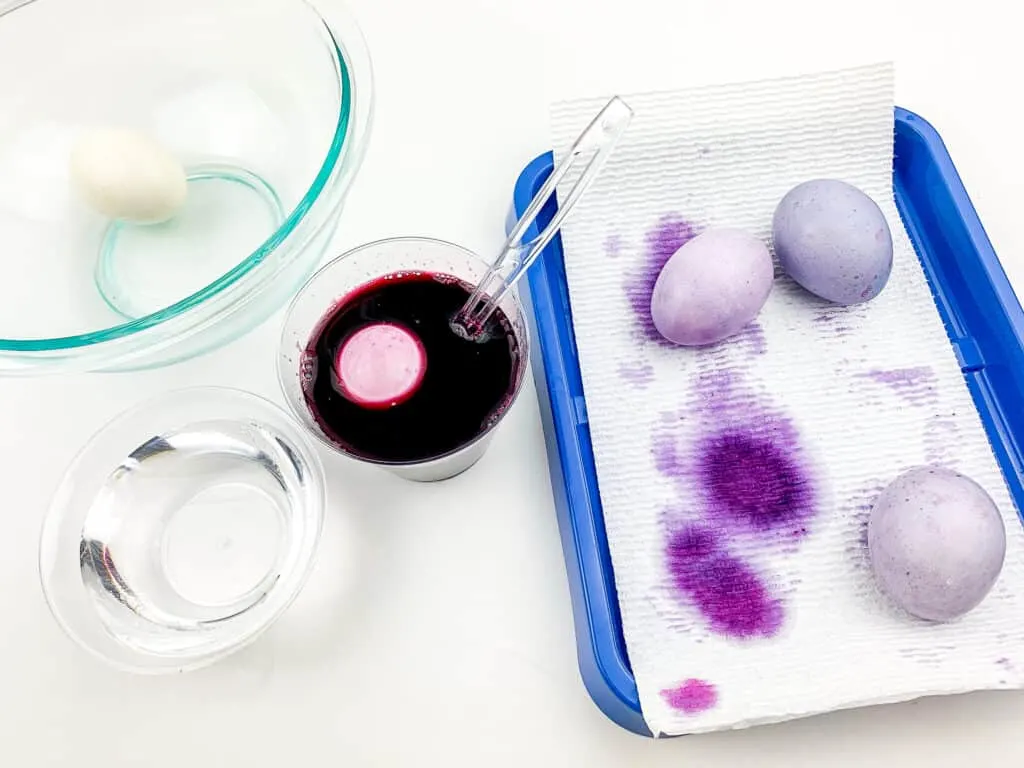 Step 7:
Gently roll the egg around on the paper towel to remove the remaining juice or gently pat dry. Try not to rub the egg with the paper towels to avoid removing or smearing the coloring.
Let the eggs to dry naturally once the excess juice is removed.
Helpful Tip: As with any dyed egg using any sort of method, try not to leave the egg in one place on the paper towel or you may end up with a lighter color on one side. Or you might get the print from the paper towel in the dye on that side of the egg. I propped the eggs up against the tray once the excess juice was removed and the bottom of the egg was dried.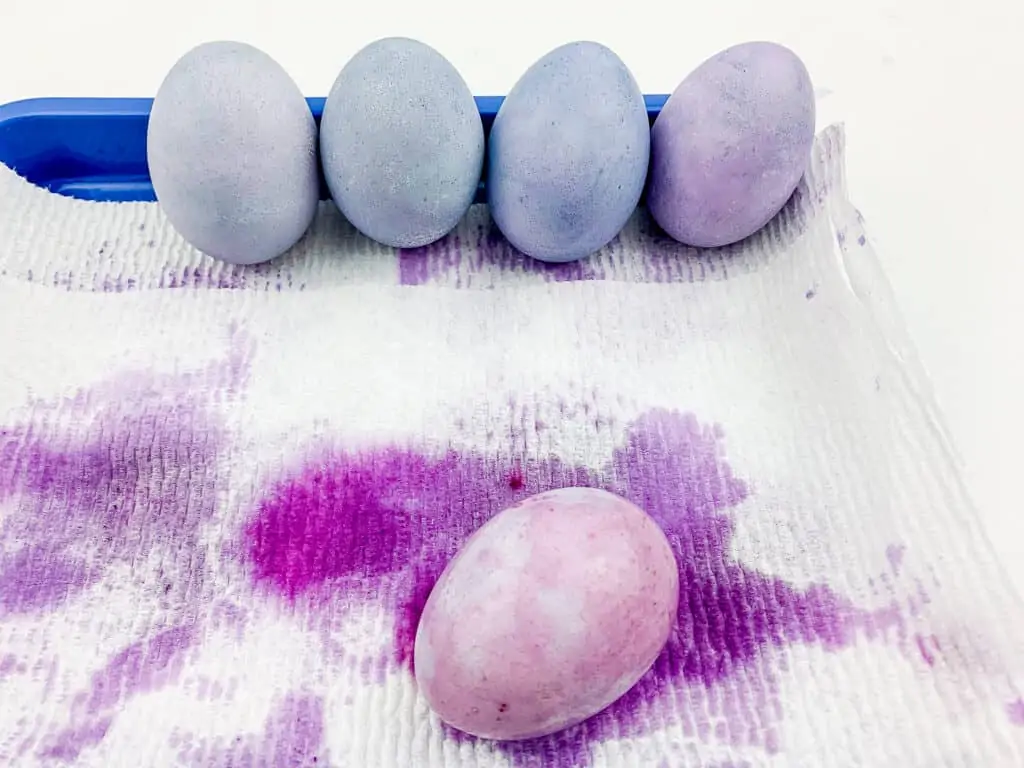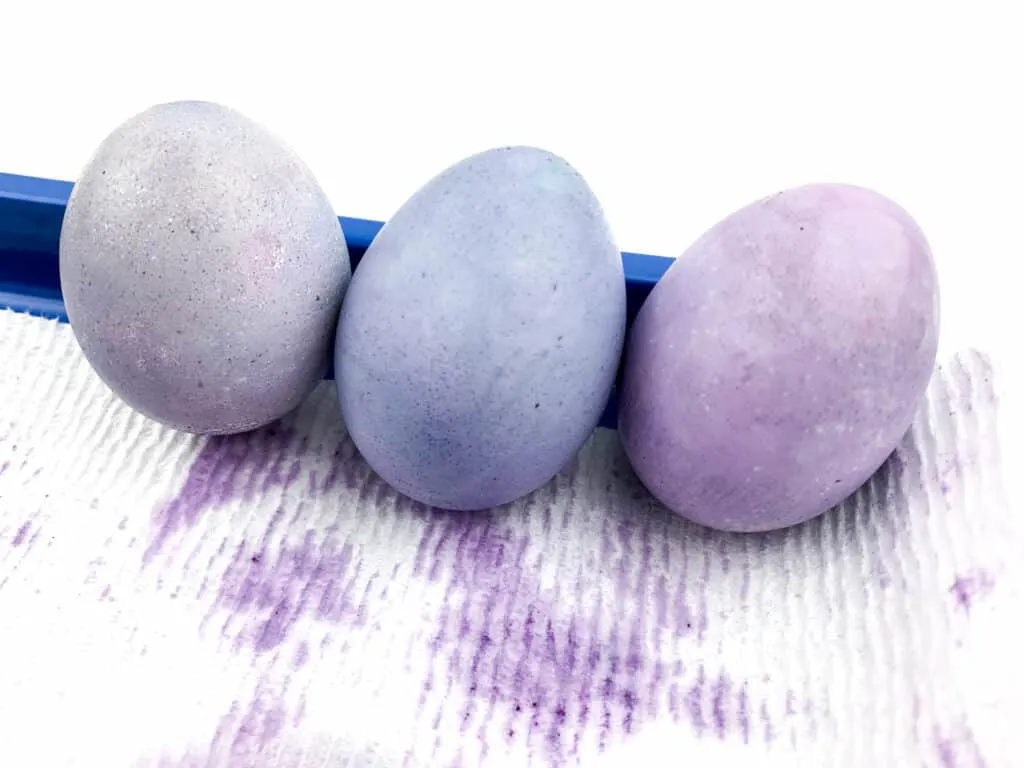 Be sure to Pin This recipe to remember for later.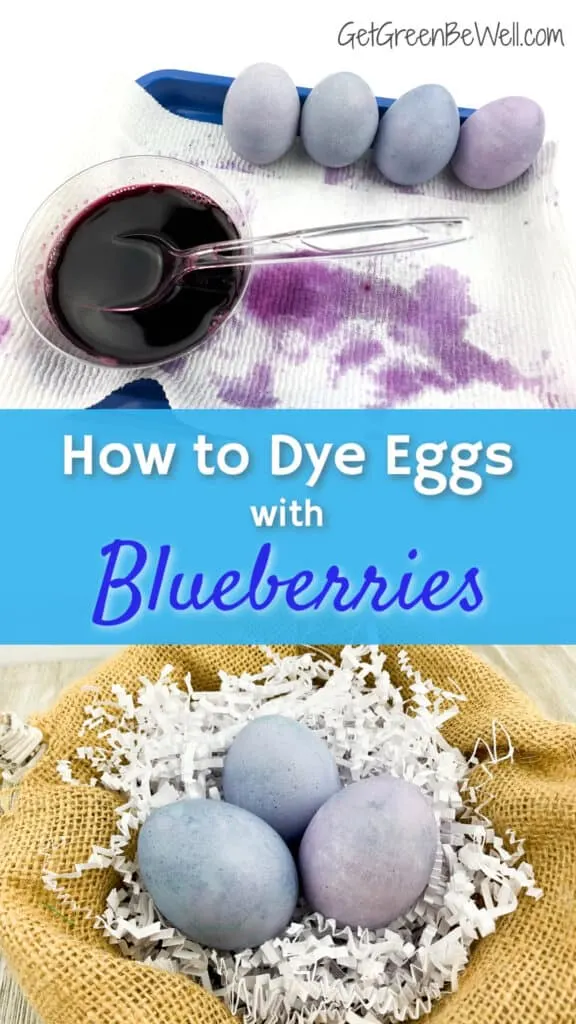 Naturally dyed Easter eggs will look great in a basket with these plastic Easter grass alternatives.
And you'll want to check out all of these amazing options for organic Easter Basket gifts this year. There are so many cute candy-free treats, along with yummy organic candies, too!
For even more ways to use fruits, vegetables and spices to dye eggs, check out these ideas: