Wondering what to do with used coffee grounds? Did you know that they make a great exfoliant soap?
Yes, it's true! You can make a simple homemade soap using a melt and pour soap base and brewed coffee grounds. Not only will your soap smell amazing, it will also help to refresh and renew your skin.
I made two different soaps inspired by fancy coffee drinks: Vanilla Latte Soap and Mocha Peppermint Soap. Both use the same base ingredients and are made in the same way.
Pick whichever soap you prefer based on your favorite coffee house drink!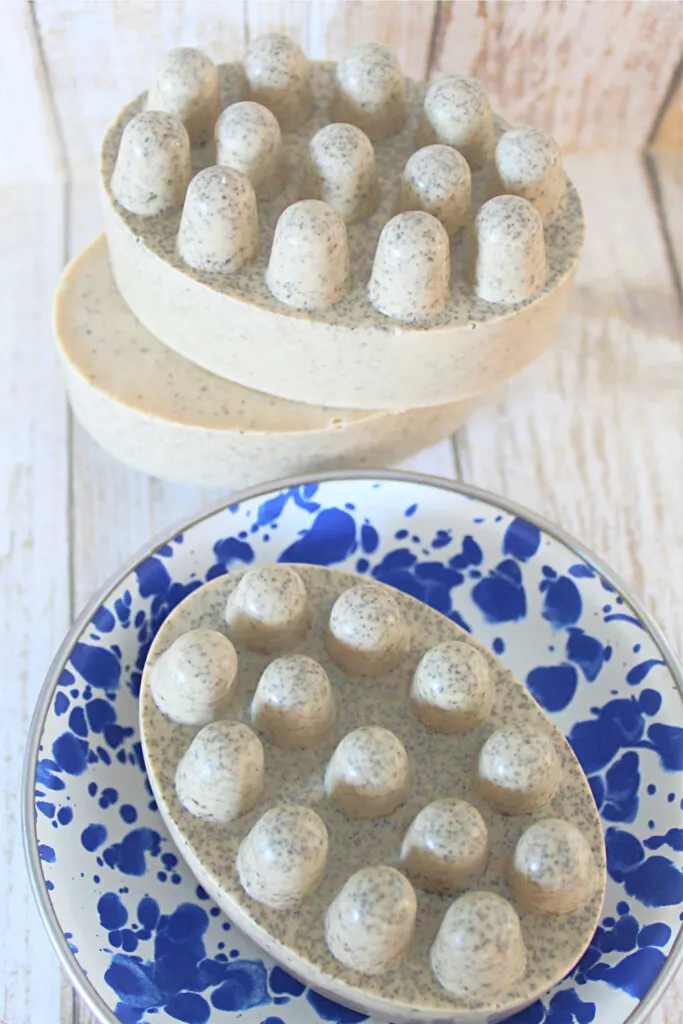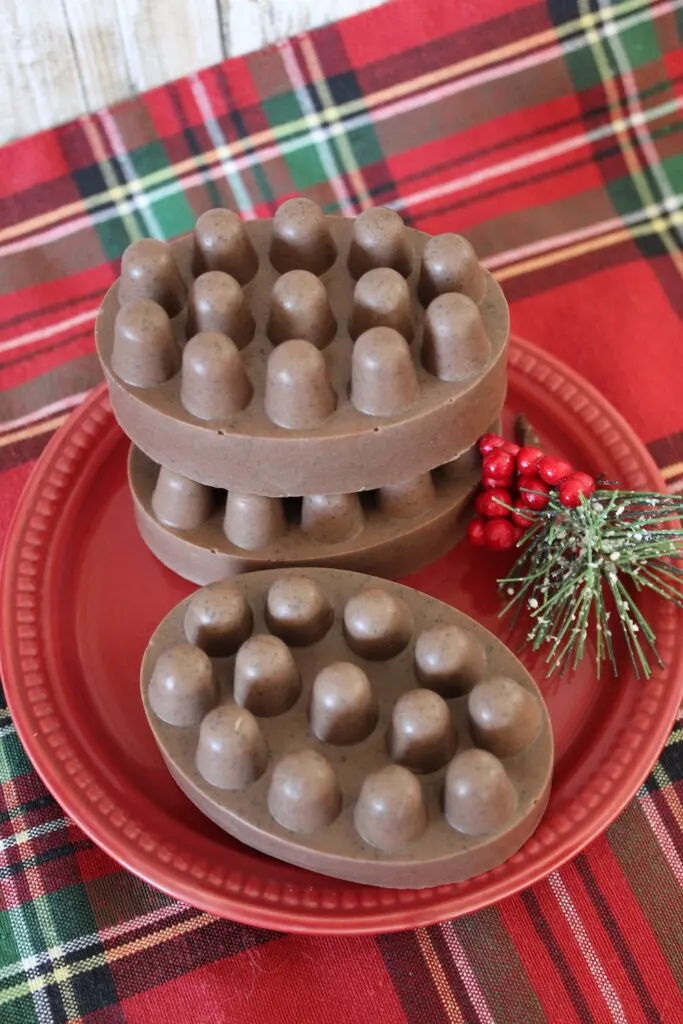 If you love the smell of coffee, then you definitely need to check out my coffee air freshener simmer pot recipe.
Coffee grounds are said to reduce the appearance of cellulite. They are especially useful in a DIY coffee body wrap. I have also used them in my coffee sugar scrub recipe.
Those recipes can be a little bit messy, though, when using them. That's why this coffee exfoliating soap is great!
These recipes use 2 K-Cup coffee pods after brewing. (You don't need K-Cups. You can just measure out used coffee grounds, instead.)
I have tried both unused and used grounds for soap making. I like using the used coffee grounds better because they are softer when exfoliating. Brewed coffee grounds also don't color the soap quite so much. Otherwise, your soap could look really muddy.
A shea butter melt and pour soap base, along with sweet almond oil, creates a moisturizing soap for hands and body.
The massage bar mold that I used is pretty large, which means you will get less soap bars. However, it's nice to be able to massage this coffee grounds exfoliant soap into your skin for maximum effect. See my lemon poppyseed soap for more information about massage soaps.
If you have another type of mold to use, that's fine! You can use whatever type of silicone mold you want. There will just be more soaps made.
Vanilla Latte Soap
I added orange essential oil to give a bit of sweetness to the smell, which isn't possible with just vanilla alone.
Pure vanilla essential oil can be very expensive, and there's no need to spend a fortune on it for soap. Look for a good essential oil that is mixed with a carrier oil or something like Oleoresin Vanilla, which isn't a true essential oil, for a less expensive option. There's nothing wrong with that when making soaps.
And, no, vanilla extract won't work!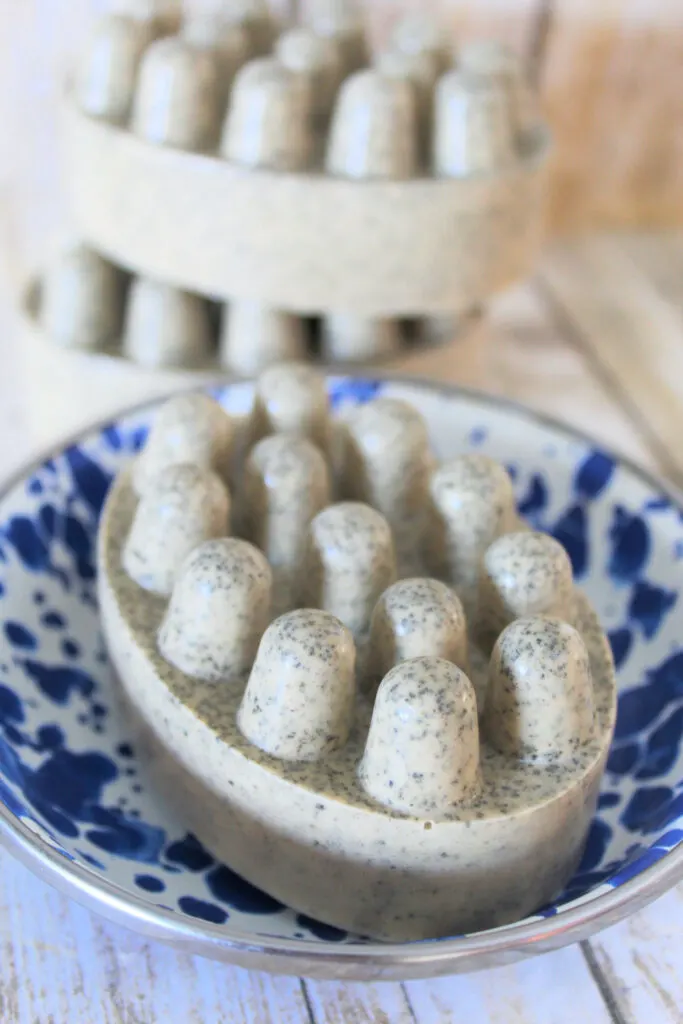 Mocha Peppermint Soap
If you want to make a Christmas soap that they will love, this recipe for Coffee Chocolate Peppermint Soap is guaranteed to make them smile! This soap smells absolutely delicious!
Think of your favorite peppermint mocha frappe, or peppermint hot chocolate, and that's what this smells like.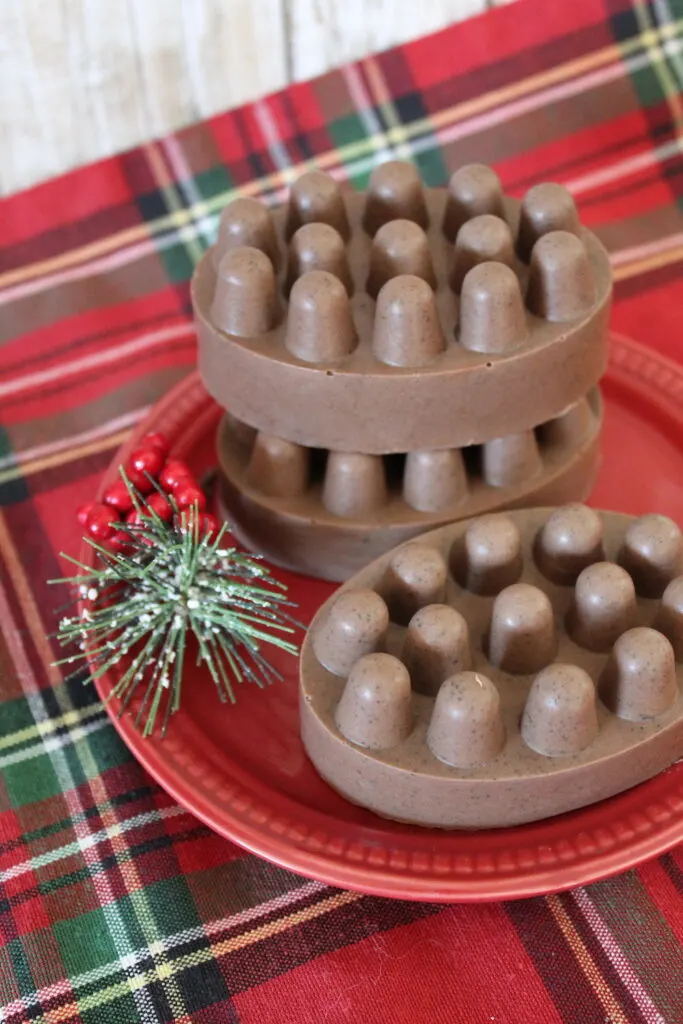 Using cocoa powder in soap gives it the look and smell of chocolate. You can use any cocoa powder that you would use for baking.
Melt and Pour Coffee Soap Recipe
Both of these soap recipes are very similar. This recipe is for the Vanilla Latte Soap. The variation for the Mocha Peppermint Soap is below.
I made 3 bars using a large soap mold. Standard size soap molds will yield 4-5 bars.
Ingredients
Directions
Dry your coffee grounds from the K-Cups. Remove the top film off of the K-cups and pour the coffee onto a layer of 2 paper towels. Put another paper towel over the grounds and press down on the coffee to absorb the moisture. Continue to pat the grounds with paper towels until they are fairly dry.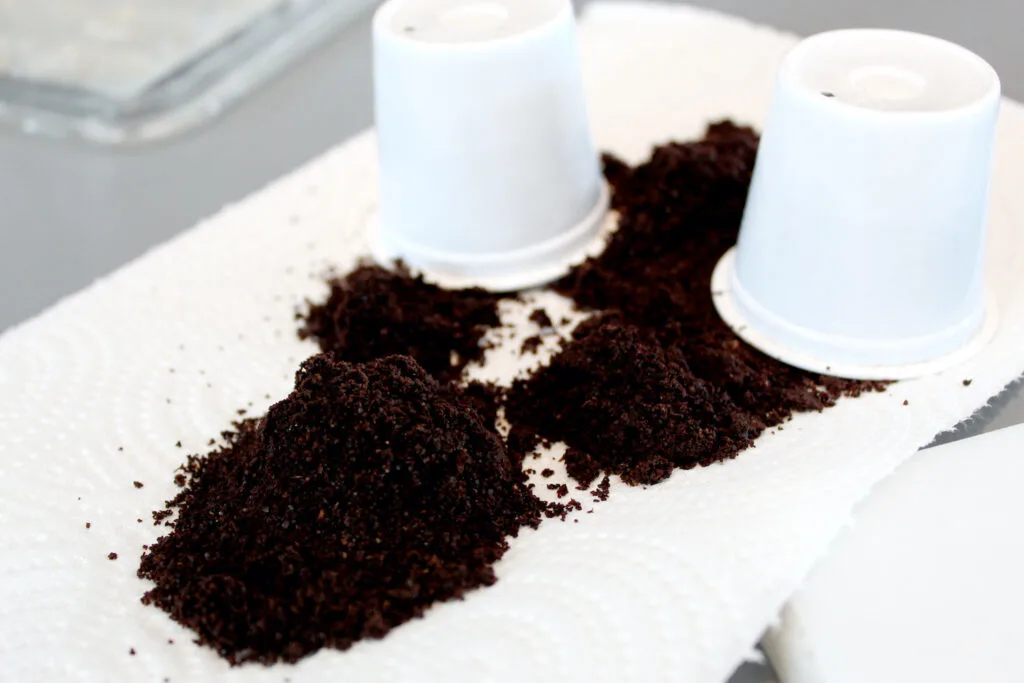 Chop up the soap base into 1" cubes. Most of the soap bases are pre-scored into cubes which helps in cutting it up. You will need approximately 12 cubes. Microwave in a glass mixing bowl or measuring cup for about 90 seconds, in three 30-second intervals. Stir in between. Measure your melted shea butter soap after melted to make sure you have 1 1/2 cups. If not, add another cube or two and melt.
Add sweet almond oil to the soap base and stir in well. Scrape off the sides of the bowl to get any thickened soap into the bowl. Microwave for another 60 seconds until smooth. If there are still lumps, heat another 20 seconds.
Stir in the essential oils and coffee grounds. Mix well until spread evenly throughout your soap base.
Pour the soap into the molds. Keep in mind that the coffee grounds might accumulate on the bottom of the measuring cup, so be sure to stir them into the soap base frequently. Otherwise you'll have some of the soap with a lot of coffee in it!
Cool completely, about 1-2 hours. Feel the outside of the molds to make sure they are cool. If warm to the touch, allow to cool even more. Peel back the molds and pop out the coffee soaps.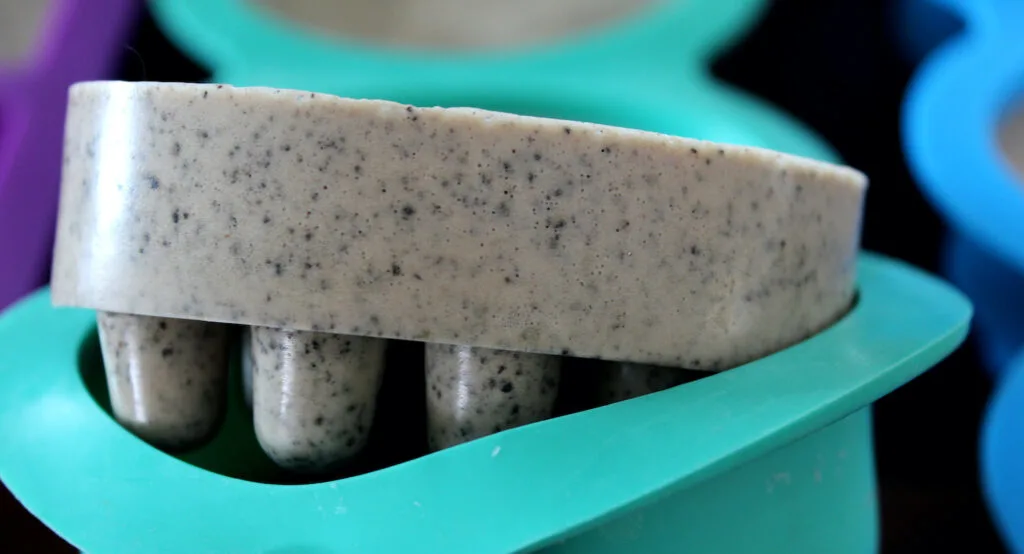 Mocha Soap Recipe with Peppermint and Cocoa
This recipe makes about 4 larger bars of soap, or 6 standard size bars of soap.
Ingredients
Directions
Follow the directions above. The only difference is that you want to combine the almond oil and the cocoa powder together before adding in. Stir them together until a paste forms, and no powder is left dry. This step is important to achieving a consistent brown tone in the soap and from having dry spots of cocoa scattered throughout.
Then continue with the recipe, adding in the essential oil and pouring into the molds.
---
Check out my other natural soap recipes, such as:
Be sure to Pin This Recipe to Save for Later!