In my family home, there is no central air conditioning unit. And as summers become hotter and longer, that really worries me. We have long considered portable air conditioner units as a solution, but didn't know how well they could honestly work. So when I was offered the chance to try out the Honeywell Portable Air Conditioner 14,000 btu (MM14CCS), I definitely knew it was the right time to decide whether a system like this was a good investment.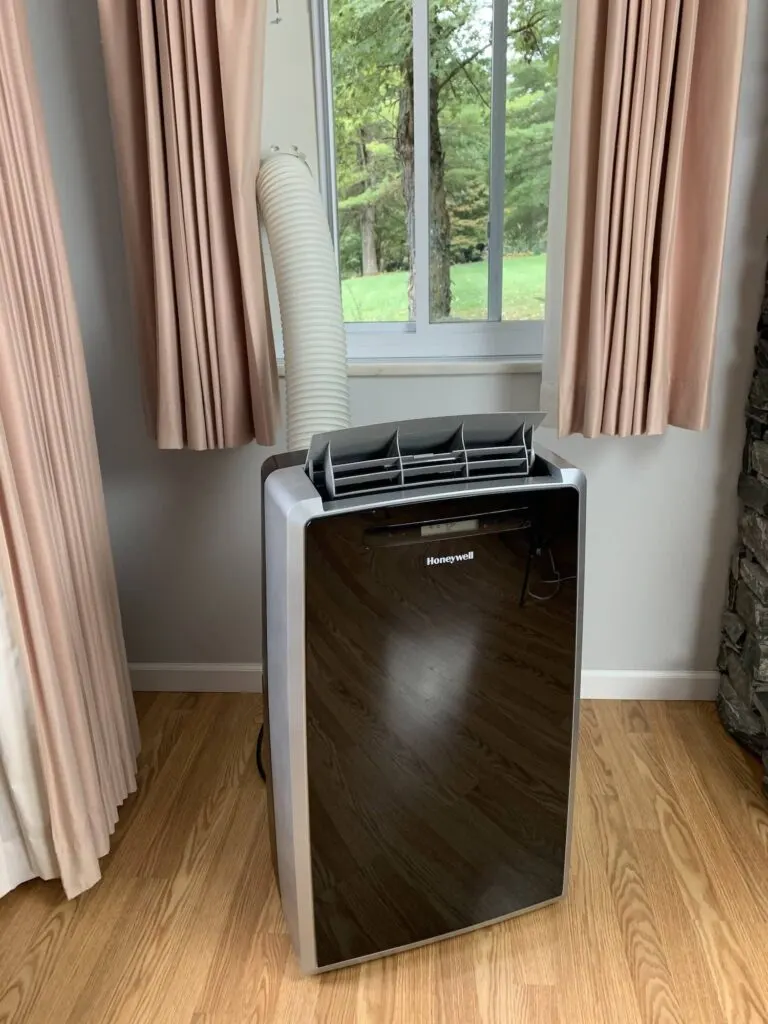 *I tested this unit out first in my own home before brining it to my parent's home. I wanted to make sure that the unit worked properly and was something that was worthy of having them add to their home. I did find it quite useful and they are happy to have it now. While we tested it, our window venting system is a little higher than recommended. Keep that in mind – the hose should be a few inches lower for extended use.
When You Should Use a Portable Air Conditioner
My parents live in an older home built in a vacation community in the mountains. Back then, when the weather wasn't so hot, there was no need for air conditioning. So obviously there's no duct work or units in place.
As summers become hotter, though, it's necessary to have an air conditioner.
The home has a window air conditioning unit, but it's loud. VERY LOUD.
And, it only cools one room at a time.
Which is why a portable air conditioner can be so valuable. Not only does it bring in an air conditioning unit without needing to add a huge system, but it can be moved to where you need the cooling. And you don't always need the same rooms cooled all day long.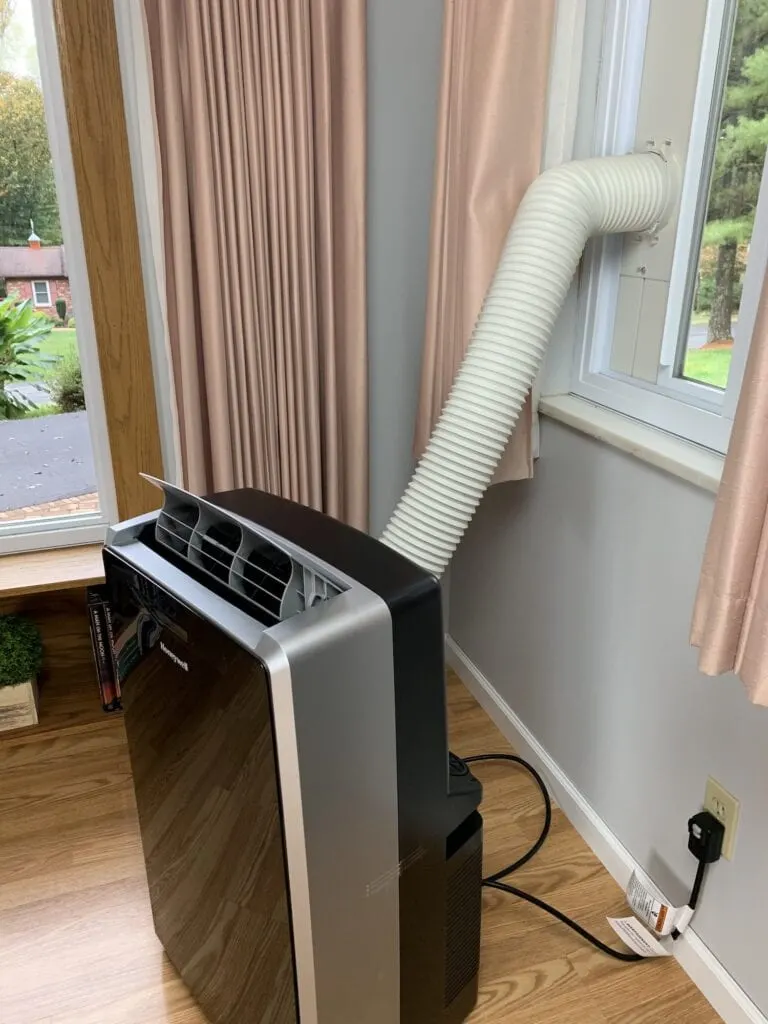 Here's some of the reasons why a portable air conditioner would be a great investment for you:
No central air conditioner in your home
Air conditioning unit isn't working great at cooling, but you don't have the money to upgrade the system
You only have air conditioning in one room, but other rooms are hot, too
Having a cooler room at night would help with getting a good night's sleep
You are unable to install a traditional A/C unit for a variety of reasons or codes
Want a portable air conditioner for emergencies (such as power outages or hurricanes)
Worried about older adults at home who don't have cooling in their house
There are a variety of reasons why a portable air conditioner could be a wise investment for you.

Emergency Preparedness
Living in Florida, we are well aware of how a natural disaster can affect your quality of life afterwards for days and weeks to come.
One year, we had three hurricanes in a row. Every weekend there was a different hurricane. Seriously.
After one hurricane went through, there was no power for quite a while. And while you are extremely thankful that your property wasn't damaged and you weren't hurt, it can be miserable afterwards.
Because no power means no cooling. And hurricane season is exactly when the temperatures are super hot and humid. Plus, a hurricane sucks out all of the winds and cooling, leaving behind still, hot, damp air.
It was miserable. Not because of lack of food or water or lighting. But because of the heat and the moisture that literally was running down the walls for days afterwards.
A portable air conditioner would have brought great relief back then. Along with a generator powerful enough to run it, a Honeywell Portable Air Conditioner would be ideal to create more enjoyable livable conditions. Another family member has one just for this reason, and now we can see why!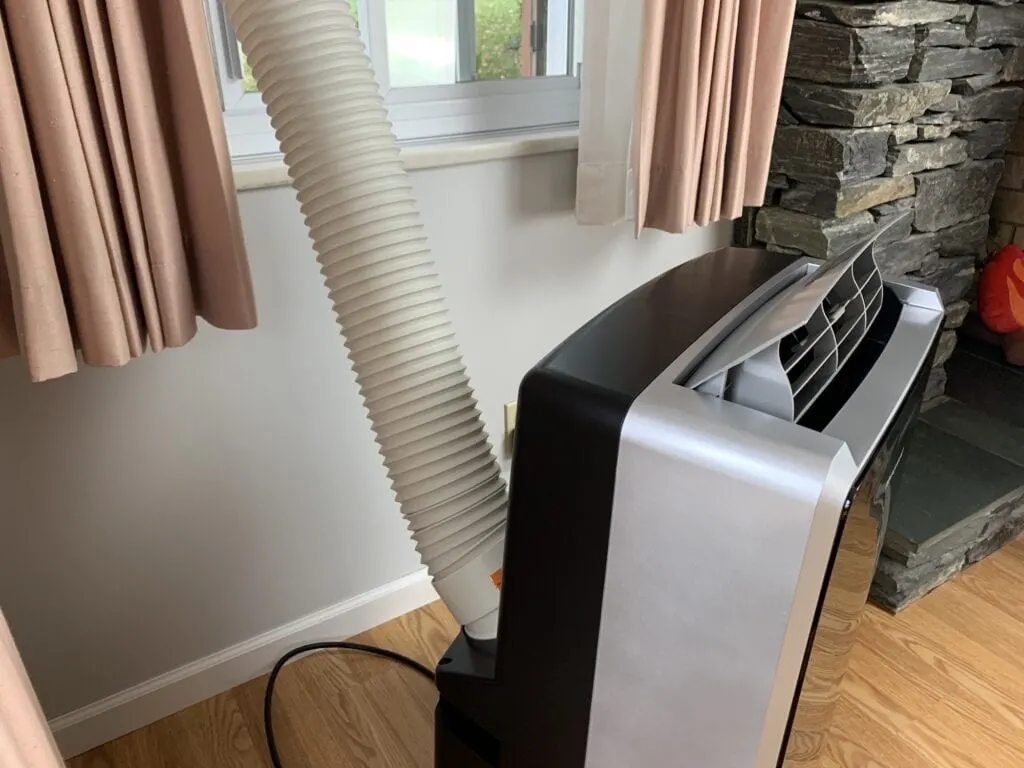 Moisture Control to Prevent Mold
One of the best reasons to have air conditioning in your home (besides feeling cooler) is that it helps to control mold.
The cooling evaporative effect of air conditioning keeps humidity levels low in your home. Which in turn keeps mold from growing as fast.
And mold can be one of the major health problems in a home. You DON'T want to let mold start growing in your house.
The Honeywell 3-in-1 Portable Air Conditioner is a great product to have because it not only has an air conditioner but it also has a dehumidifier. Which means that the one product will help you to control moisture and mold growth in your home, even if you're not using it to cool your home.
So there's no need to buy an additional dehumidifier if you have the Honeywell MM14CCS unit.
How Does the Honeywell Portable Air Conditioner 14,000 btu Work?
We hooked up the Honeywell portable air conditioner to see just how well it works in cooling a room.
What we found was that it was really quite easy to install. I was actually really worried about putting together hoses and venting the hose outdoor through a window.
However, we found it to be pretty quick and simple to install. Watch our video demonstrating how easy it is:
There are three settings for the Honeywell Portable Air Conditioner. Even on the High setting, the unit wasn't too loud. Certainly not as loud as my parents' wall unit air conditioner.
The fan blew pretty strong into the room. We really felt the cooling and were quite happy with the results.
Helpful Hints About the Honeywell Portable Air Conditioner MM14CCS
We really like the Honeywell Portable Air Conditioner unit. It's a great investment, ESPECIALLY if you don't have central air conditioning or are concerned about older adults being too hot in their home.
But there are some things that you need to be aware of that might affect your purchase.
Cools rooms from 550-700 square feet.
There is a timer, so you can schedule how long you want the air conditioning to be running. For instance, allow the A/C to run for a few hours after you fall asleep, and then turn off in the middle of the night when it's cooler.
Filters are washable, so you don't have to buy new ones.
There is a remote control with the unit, so you can control it without needing to get out of bed or off the couch.
This unit is heavy. We weren't prepared for how heavy it would be at delivery. And the UPS driver actually commented on how heavy it was. If your delivery is straight to your door and you can push it inside, that's fine. But if you have to carry it up steps (as we did), it could be an issue. We needed two men to carry the box. Not just because of the weight, but because it's an awkward shape that's so heavy. It's about 93 lbs. in the box with the accessories and packaging.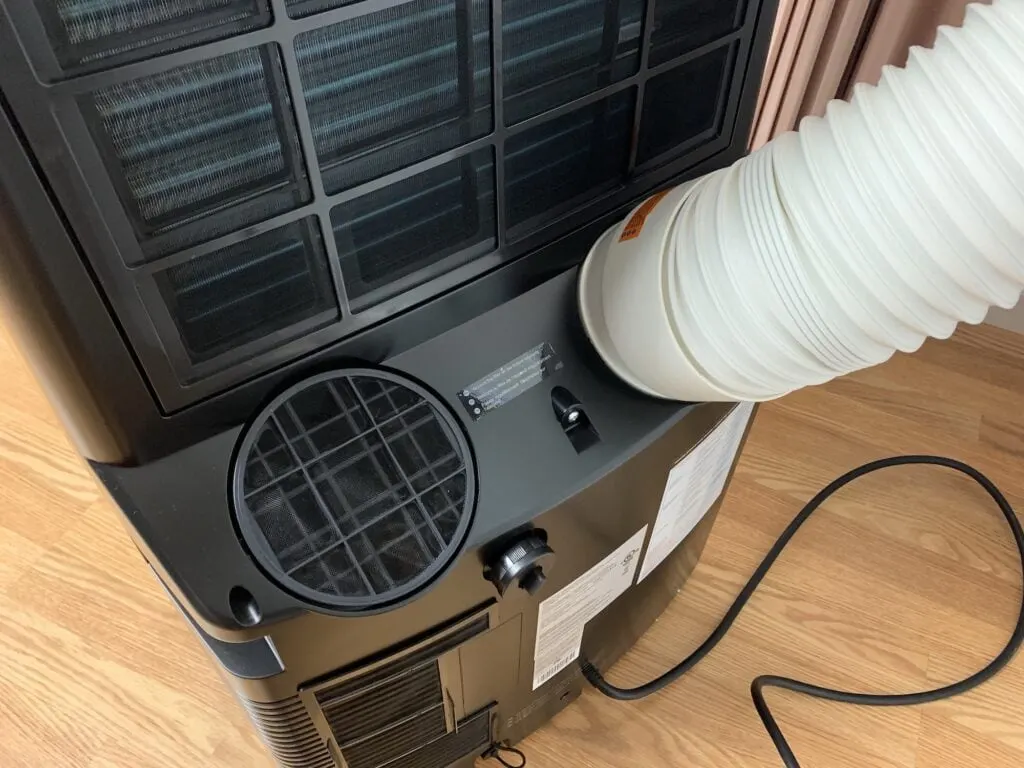 The Honeywell Portable Air Conditioner with Dehumidifier needs a hard connection. Which means there isn't a bucket in the unit to collect moisture to then dump. A drainage tube needs to be connected to the back of the unit. Then it can be directed to a bucket to collect the water, or attached to a drainage system leading outside so you don't have to worry about it.
The window attachment to allow the air conditioner to vent to the outside is easy to install. But we still had a gap or two. And no unit is going to fit every window perfectly. So consider preventing outside air from coming in by patching the gap with gaffers tape, duct tape or another type of seal to prevent air infiltration or pests.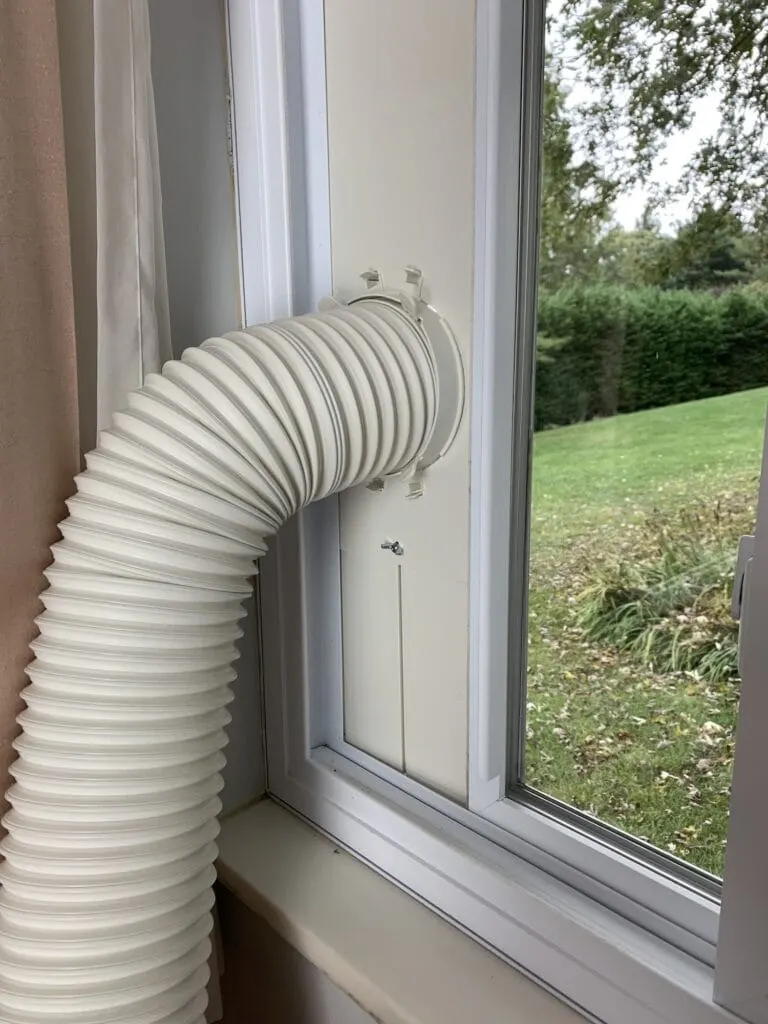 Overall, we were impressed with the sleek look and design of the Honeywell Portable Air Conditioner. And the fact that it has three different functions in one product is really useful. It is a great investment in a climate where weather keeps getting hotter and you need to take care of yourself at home.