The smell of gingerbread is so warm and comforting, especially at Christmas time. But I don't have the patience to bake my own gingerbread cookies! So I discovered another way to make my house smell like the holidays!
My DIY Gingerbread Essential Oil blend is the best way to make the gingerbread scent of baking cookies without having to turn on the oven! While I use this homemade gingerbread essential oil in a diffuser, you could also use it in a room spray or in handmade candles.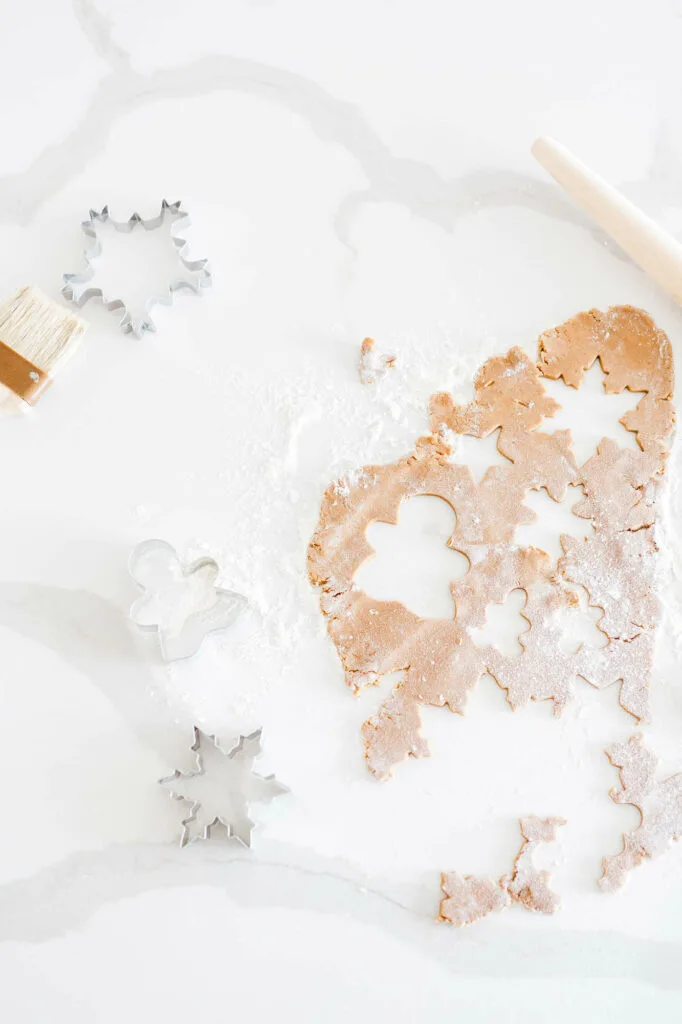 Other perfect ideas for this aromatherapy blend are to use in wax melts or fire starters. And if you want to have the warm gingerbread smell gently wafting through the air all season long, add the blend to a clay diffuser ornament to hang on the tree.
This natural fragrance blend is sweet and spicy at the same time. The warm blend of spicy ginger and cloves with sweet aromas such an orange make this a yummy-smelling blend.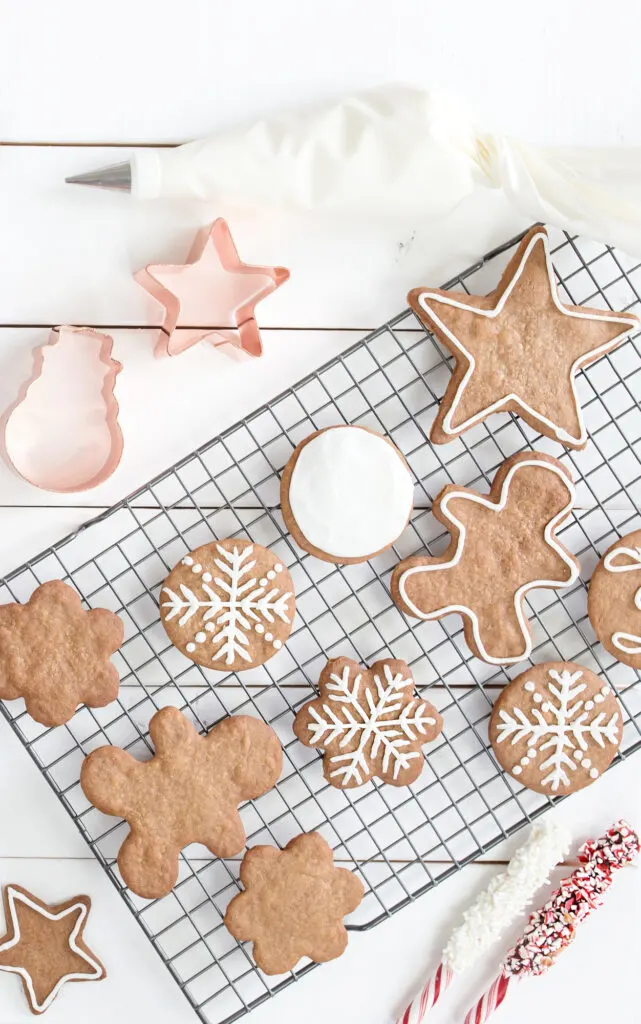 How to Make Gingerbread Scent with Essential Oils
This diffuser blend is so easy to make because it combines the essential oils derived from the very ingredients that are used to make gingerbread cookies, including ginger, nutmeg, cinnamon and clove.
I have listed the essential oils that I used below.
You will notice that they are from different brands. I don't stick with one brand for essential oils. I buy great quality oils when they are on sale, regardless of the brand. I suggest you do the same thing, too.
However, be careful never to buy fragrance oils compared to essential oils. Fragrance oils can contain synthetic ingredients. Pure essential oils are naturally derived from plants and spices.
Want more ways to make your home smell like the holidays? You will like my Christmas stovetop potpourri simmer pot, or my apple cinnamon crockpot potpourri. These free printable Christmas sachet packets are a great way to scent drawer or give as gifts.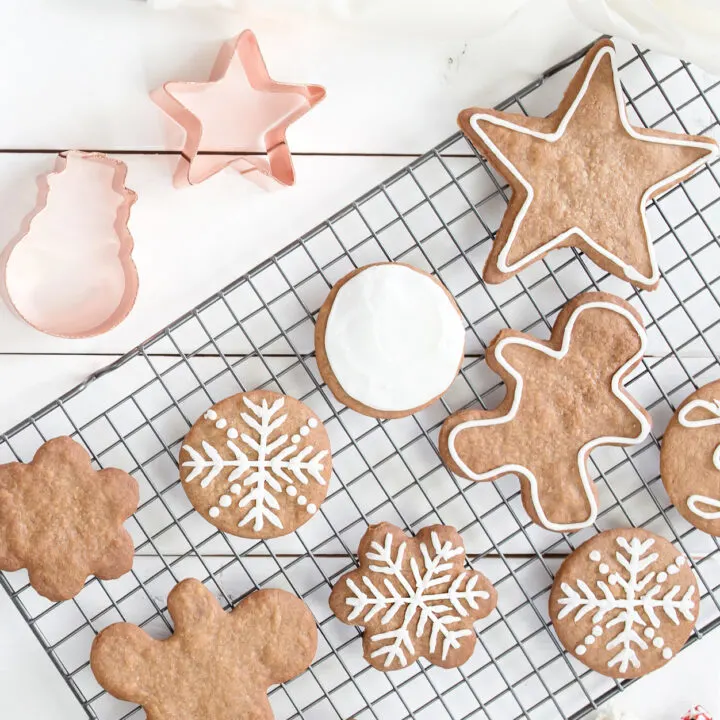 DIY Gingerbread Scent Essential Oil Blend
How to make gingerbread scent with essential oils. This diffuser blend smells just like baking cookies for the holidays.
Materials
10 drops ginger essential oil
8 drops clove essential oil
8 drops nutmeg essential oil
4 drops cinnamon essential oil
4 drops sweet orange essential oil
Instructions
Add essential oils to a diffuser.
Fill with enough water according to your specific diffuser machine.
Notes
This recipe can be made in a bigger batch to store in a glass bottle. For a 10 ml amber bottle, triple the amount of each ingredient. Add to the bottle via a small funnel.
FAQs
Can I Use Homemade Gingerbread Essential Oil in Baking?
No. This essential oil blend should not be substituted for baking ingredients in cookies, breads, pies or other edible items.
Essential oils should never be consumed unless they have a label saying they have been certified as food-safe.
Can I Add Vanilla?
Most cookies use vanilla in the ingredients, so I thought that adding vanilla essential oil would make this blend smell even better. I was wrong. The vanilla did not enhance the aroma for me. In fact, I think it made it smell worse.
Do I Have to Use Sweet Orange Essential Oil?
Adding a few drops of orange essential oil gives this blend a fresh sweetness. Without the orange, it smells too spicy and not like a gingerbread cookie.
If you do not have sweet orange essential oil, you can use any orange essential oil for a similar scent.
Be very careful adding orange, though. Just one extra drop can make it smell too citrusy. I found that out the hard way.
Can I Substitute Cinnamon Bark or Cinnamon Leaf Essential Oils?
There are three different types of cinnamon essential oils which all give off a classic cinnamon smell.
I chose to use Cinnamon Cassia because it is extremely fragrant and you only need a little bit. Technically, Cassia is not really cinnamon. However, for fragrance purposes, many people don't care what plant that it comes from, only that it has a strong cinnamon scent.
Cinnamon Bark is also fragrant, but not as strong. It is more expensive than Cinnamon Leaf oil.
Finally, Cinnamon Leaf has the lightest aroma of all three. You will need many more drops of Cinnamon Leaf than you will Cinnamon Cassia.
You can use whichever you choose. However, this recipe is created using the strength of Cinnamon Cassia.
Can I Make a Bottle of Homemade Gingerbread Essential Oil?
Yes! While the recipe above is for a smaller amount to add to a diffuser, you definitely can make a larger amount of this gingerbread scent essential oil blend. It is perfect to have on hand during the holidays, or to give as a gift.
A 10 ml amber glass bottle will hold around 200 drops of essential oils. Which means you can triple the gingerbread scent recipe above and add to a brown glass bottle to keep on hand or give as a gift.
The recipe amounts would be:
30 drops ginger
24 drops clove bud
24 drops nutmeg
12 drops cinnamon cassia
12 drops sweet orange
Add all of these ingredients into the clean glass bottle using a small funnel. Put the top back on and gently shake together. For the best scent, allow to sit for a couple days for the aroma profiles to blend together.