My mission to find an affordable and healthy mattresses and mattress toppers is surprisingly more difficult than you might think. When you're like me, and want a nontoxic bed to sleep in but don't want to spend a small fortune, you might get discouraged really, really quickly. Which is why when I find a company offering natural mattresses at an affordable price I am quick to tell you about it. Latex for Less is one of those companies.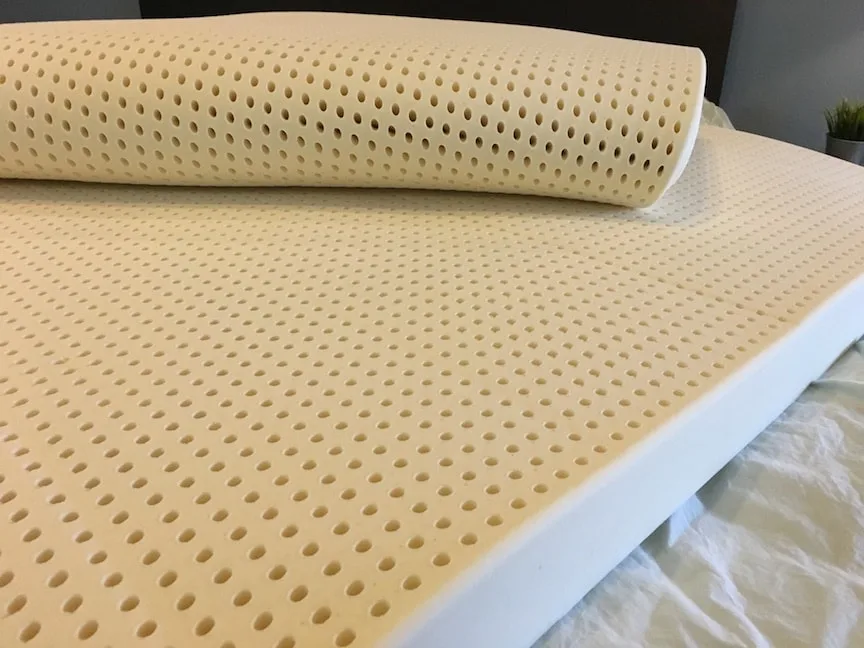 Searching for a Natural Mattress Solution
I've gone through a lot of different beds over the past year and a half. We liked the beds that we had in our old home, but when we decided to RV across the country, those beds had to be put in storage.
When we moved into an RV, we didn't realize how hard it was to find a natural bed for such a small space. I found great options for natural mattresses for an RV, but in the end I decided to do this RV mattress hack which involved a latex mattress topper.
We're currently living in a furnished rental home until we can figure out our next house. Which means that it comes with its own mattresses. And in our case, those mattresses are HORRIBLE! (No exaggeration – they are completely horrible.)
So here's my deal. I want to find a quality, natural and healthy bed to sleep on. But I don't want to invest a lot of money right now. I don't know how our needs will change in the future when it comes to beds and bedding.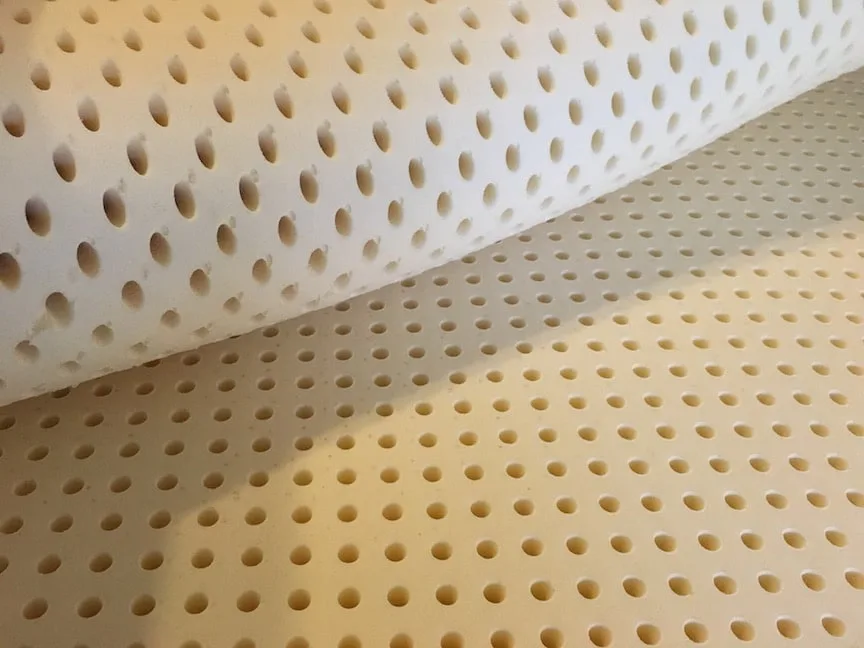 Mattress off gassing is a serious concern of mine. When you start getting beds made of memory foam and multiple layers of different materials, off-gassing could be a problem. A 100% natural latex mattress or mattress topper won't off-gas. So you don't have to worry about chemical smells or potentially toxic materials escaping into your indoor air.
Latex For Less Review
When I started doing research, I found that LatexforLess.com was among the top choices. The prices are reasonable, the mattresses and mattress toppers are what I was looking for (with proper certifications that I like) and the 120 night money back guarantee offered enough time to truly know if the bed was for me. (Keep in mind there is NO return policy for mattress toppers.)
Ordering a bed online? Then you MUST make sure that you have a generous money back guarantee. Here are the best money back guarantees for natural mattresses.
I wish I could have a new mattress, because I know that so many of you are looking to replace your old nasty mattresses (a virtual high five to you!). And I'd love to give you an honest review of more mattress choice. But when Latex for Less offered me a mattress topper to review, I decided to try it as an affordable solution to a not-so-perfect bedding situation, just like many of you have. Trust me when I say all of these opinions are my own. There is NO way that I'm going to suggest to you a bed or mattress topper that is horrible. Your sleep is too important to mess around with an uncomfortable bed.
We went with a soft latex mattress topper.
Previously, I have had a medium firmness latex mattress and latex mattress toppers. I find that they offer just enough support for me, with back and hip problems and having had fibromyalgia in the past.
We were going to put this mattress topper on a ridiculously firm bed, though, that we couldn't get rid of. So I decided to try a soft latex mattress topper to counteract the incredibly hard mattress that would be underneath.
The soft latex mattress topper came in a box that was delivered to our door from FedEx. We opened it up easily and were happy with it from the first day. See video of the unrolling below:
Soft or Medium Firm Mattress Topper: How Do You Choose
We chose soft for this mattress topper. However, I also have a medium firm latex mattress topper. So I can easily compare the differences.
The soft latex mattress topper makes me feel like I'm sleeping in a cloud. Seriously.
It's just soft and plush enough that you feel like you're sinking into it a bit, without it feeling like it's overtaking you or enveloping you.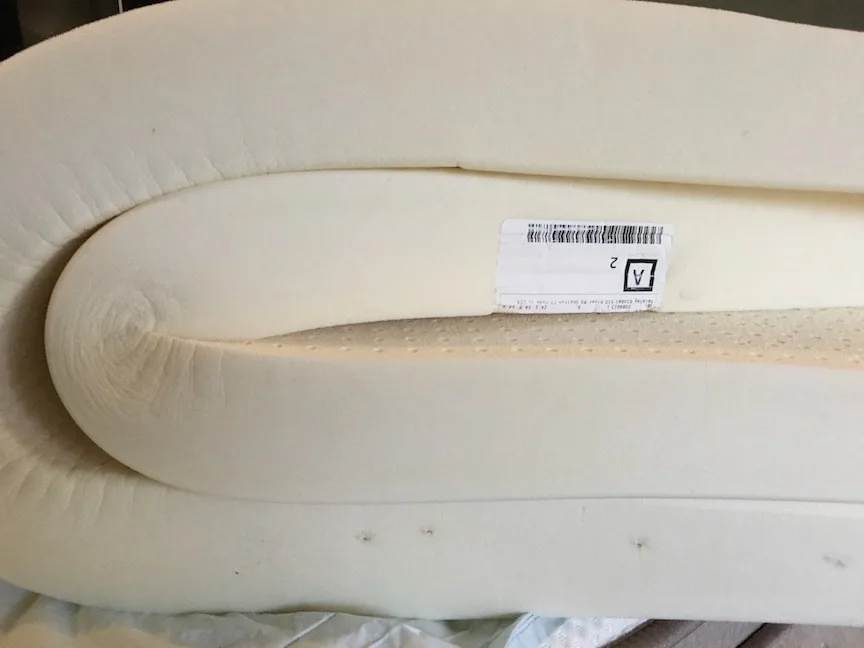 We noticed that the soft mattress topper was much easier to move than the same size latex mattress topper in medium firmness. So it does weigh a little less.
When you push down on a soft latex mattress topper, it does give way under your weight much more than the medium firm mattress topper.
I think the soft mattress topper was the perfect choice in our situation, where the super firm bed underneath is supporting it.
But I do feel that I need a *little* extra support with my specific medical needs for back and hip problems. If I was to have a normal bed that wasn't so firm underneath, then I would definitely choose a medium firm mattress topper.
Soft Latex Mattress Topper
Feels like sleeping on a cloud
Ideal for those who like side sleeping
If you love softer beds, a soft mattress topper is for you
Not as much support as medium firmness
Could be an issue if you have back or hip problems
Medium Mattress Topper
Perfect balance in between softness and firmness
Ideal if you need more support for medical issues
Great for back sleepers
Decent amount of give for side sleepers
Probably the smart bet if you are unsure what firmness to get in a mattress topper
Latex for Less Mattress Topper
I highly suggest a Latex for Less mattress topper. The prices are reasonable (especially with the awesome sales they have) and I am completely happy with the service and product.
There is NO return policy for mattress toppers. The company says they are a personal bedding product that can universally be used and cannot be returned. However, there is a 120 day guarantee for mattresses bought through Latex for Less.
Latex for Less money back guarantee is longest when ordering through their website. Latex for Less mattress and mattress toppers are available on Amazon, too.