Do you love cleaning with vinegar, but need a product that will more easily stay on surfaces such as shower walls? Then you will love this DIY Vinegar Gel Cleaner that's similar to Mrs. Meyer's Vinegar Gel.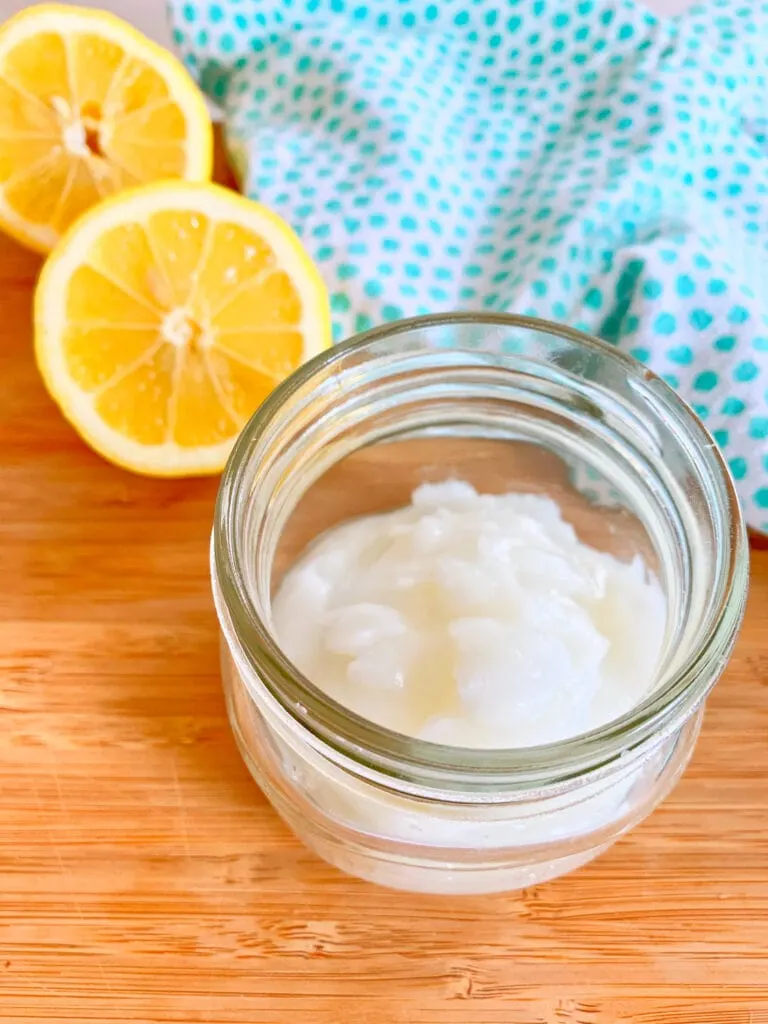 Why Do I Need a Cleaning Gel?
I love spraying vinegar cleaners throughout my home just like anyone else who loves homemade cleaning recipes. (Especially using this DIY Sage Spray or All Purpose Kitchen Cleaner.) However, there are times when a liquid solution doesn't work so well.
Often you have soap scum, grime and maybe even mildew or mold on places that need a cleaner to stick and soak. Such as surfaces like:
Shower walls
Shower doors
Faucets
Any vertical surfaces
Sure, you can spray liquid on these surfaces. But it will start to drip down immediately. Which means you don't get the long lasting cleaning benefit of having a product stay on the surface and dissolve soap scum and grime.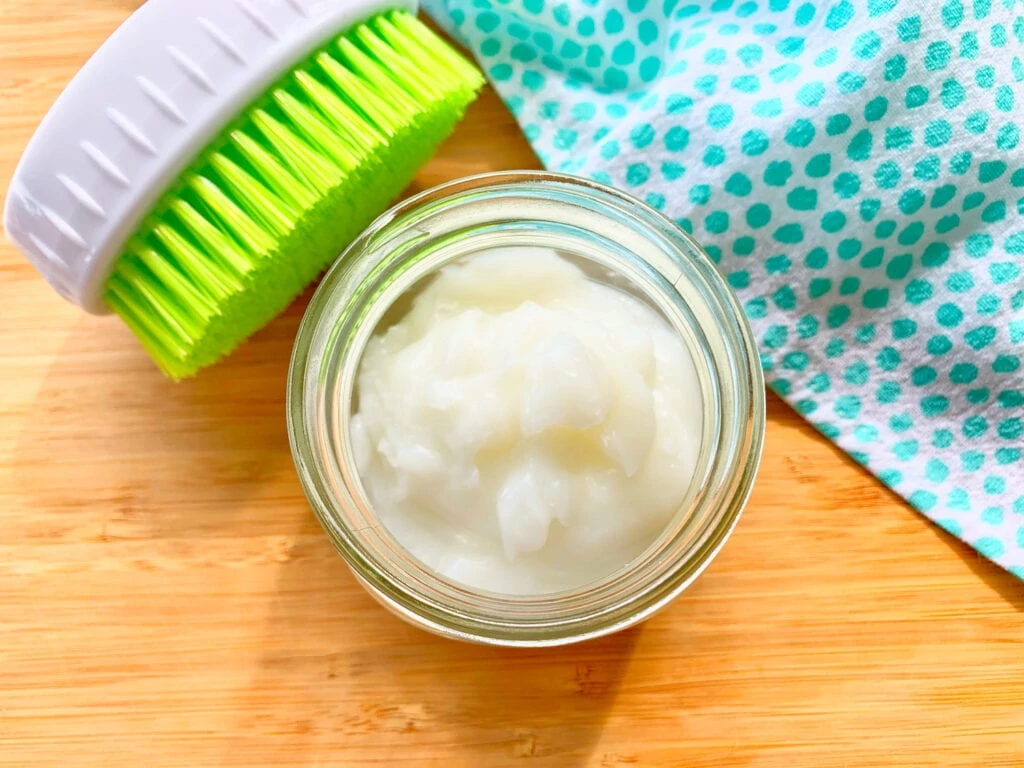 Why Don't I Just Buy Mrs. Meyer's Vinegar Gel?
I have to admit, I didn't know vinegar gel was even a thing until I saw Mrs. Meyer's Vinegar Gel. And then I was curious. I thought, you can actually make vinegar into a gel?
Yes, it would be slightly easier to buy it already made. But there's the cost. It's super expensive, especially when I can literally make something similar for pennies! It's a pretty hefty price tag to buy a bottle of the stuff.
And then I just can't physically tolerate Mrs. Meyer's products. I'm sensitive to fragrances, even some natural ones. But especially ones that are made from some chemicals. Mrs. Meyers does not ever claim to use 100% natural fragrances and ingredients. I think that's fine for many people. But for me, I get a seriously bad headache from the scents.
So I decided to try to make my own homemade vinegar gel.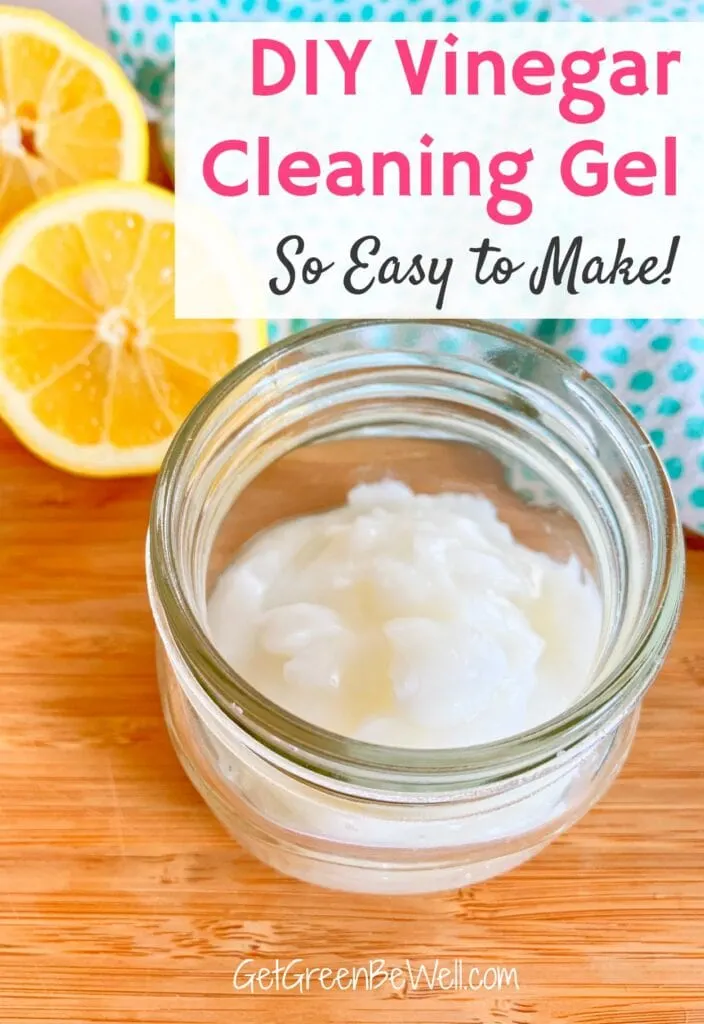 How do you make Vinegar Gel?
It turns out, it's super easy and cheap to make your own gel vinegar cleaner! I was really pleasantly surprised!
What you need is vinegar and something to make it thicken up, but not cause more of a mess. Plus, you can add in essential oils if you'd like for aromatherapy and additional cleaning power.
P.S. Here's the best types of vinegar to clean around your home.
After researching, I found that there are 2-3 ingredients that are perfect for thickening vinegar to make it into a gel:
Cornstarch
Tapioca powder
Xanthan gum
While you are probably familiar with cornstarch, tapioca powder and xanthan gum are not as well known. They are predominantly used in gluten-free recipes. So I chose not to use those two ingredients because they cost more than cornstarch, and they are likely not to be in your pantry.
If you didn't know, cornstarch is kind of like a secret green cleaning ingredient similar to baking soda. It's also used in my no streak glass and mirror cleaner spray.
Vinegar Cleaning Gel Recipe
You just need a few simple ingredients to create this effective gel cleaner.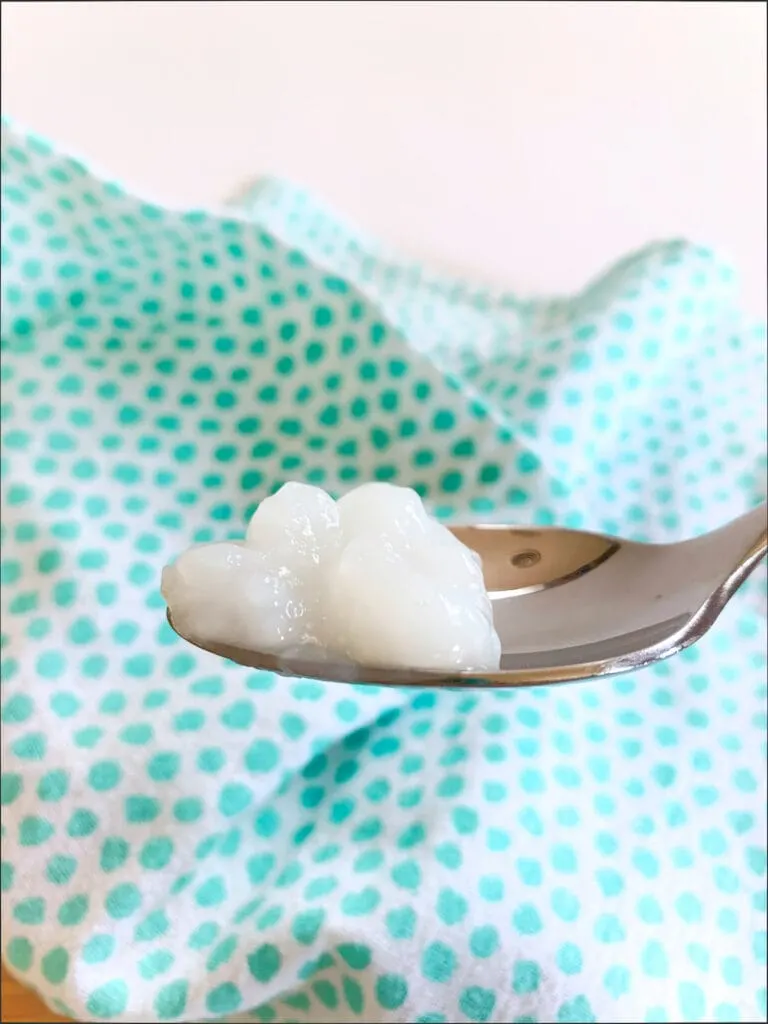 Ingredients
Directions
Add the vinegar and cornstarch to a saucepan and stir together.
Using medium low heat, constantly whisk the ingredients in the pan for about 7-10 minutes.
When the mixture suddenly starts to thicken and cling to the whisk, remove from heat and let cool.
Stir in essential oils a minute or two after bringing it off the heat.
Store in an air-tight container. I chose a small canning jar, but you could use a squeeze bottle for short term storage.
How Much Did it Cost to Make?
I bought a gallon of white distilled vinegar and a jar of cornstarch at my grocery store. The gallon of vinegar was $2.50 for 64 oz. The cornstarch was $1.20 for 6.5 oz.
Which means that making this gel vinegar cleaner only cost me 0.24 cents to make !
Yep, the entire jar that you see cost less than a quarter.
If you add in essential oils, the cost will go up. But only if you buy a bottle that you don't already have.
Learn From My Mistakes – What NOT to Do
I made many batches of this vinegar gel cleaner to try to find the best recipe. I had so much of the cleaning gel on hand!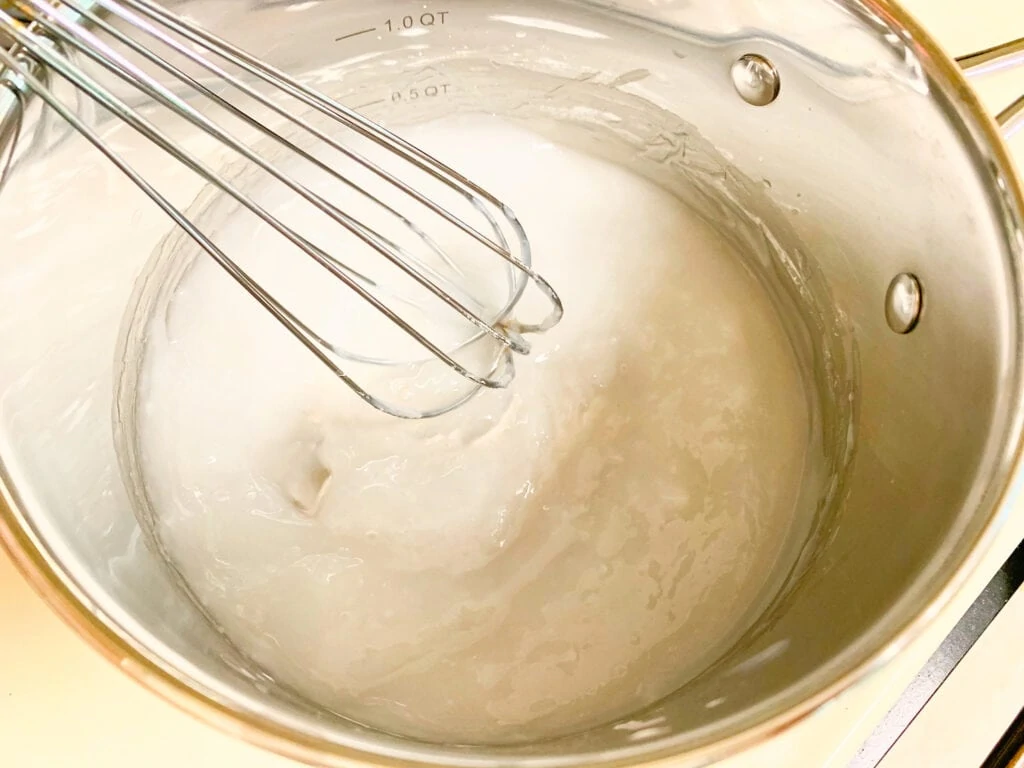 With my trial and error, I did find some tips I'd like to pass on to you:
Use this exact ratio of ingredients. When I tried just 1/2 Tbsp. of cornstarch, the cleaner was too runny. No different than normal vinegar. When I used just 1 Tbsp. of cornstarch, it thickened a bit, but not to the point where there was any value in going through the whole process.
Do not add cornstarch to hot vinegar. It just clumps and becomes messy. It's similar to adding cornstarch to pan drippings for Thanksgiving dinner to make a gravy. You need to add the thickener to water (or in this case, vinegar) before adding it to something hot, otherwise it doesn't dissolve.
This cleaner does leave a bit of a residue. Which is no worries in the shower or tub when you are rinsing well anyway. But if you use it on a countertop or in place of any other liquid cleaner, you might be surprised at the need to wipe it up more.
When storing in a glass jar, my vinegar cleaning gel stayed decently moist and usable for at least a week. It was much more soft, though, right after making it. So you can store it and it will work well, I just wouldn't make a big batch in order to store for long.
If you do not like the smell of vinegar, do NOT make this recipe! When cooking the vinegar, the smell was so strong that it seemed to burn my nostrils. And I do like the smell of vinegar. It's just that heating it up made the scent so intense.
Adding essential oils really took the vinegar smell away. Once I got over the strong smell of vinegar from cooking, I really didn't notice too much of a smell in the gel.
When I make DIY cleaners, I always use an old stainless steel pan that is reserved for craft projects. I'm just paranoid about damaging the pots and pans that I use and love for cooking. It's up to you what you use.