Do you want to effectively clean your home – both energetically AND from nasty dirt, grime and bacteria? Then this DIY Sage Spray is perfect for you!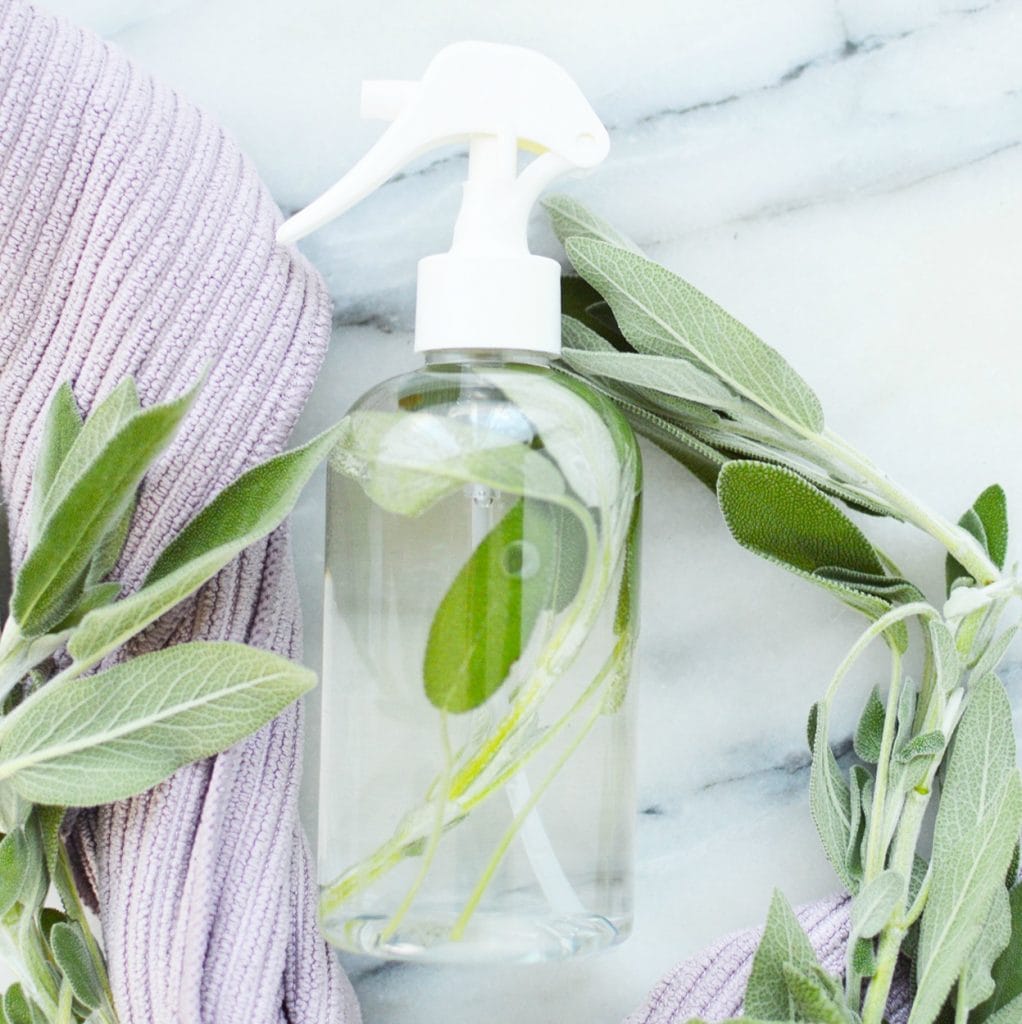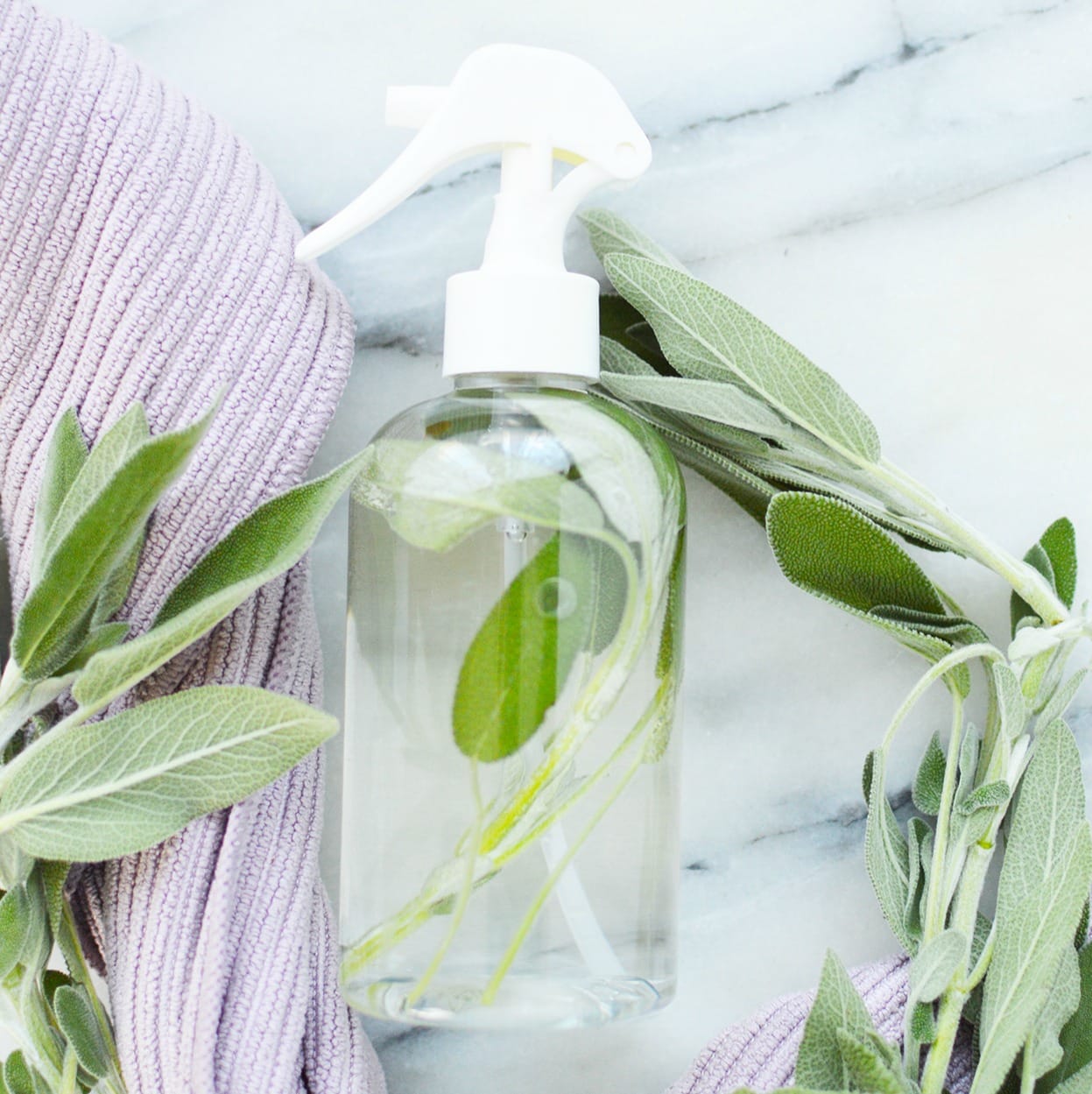 Maybe you are looking for a sage room spray to help with clearing negative energy. Or maybe you just want a natural multi-purpose cleaner that smells good.
Whether or not you believe in the energy cleaning power of sage, this DIY sage spray definitely has proven cleaning powers (and you might just get some energy cleaning benefits, as well).
Be sure to see more of our green cleaning recipes at the end of this article.
What is Sage Spray?
If you search for "What is Sage Spray" you will get a lot of different results. The most popular topic is how to clean your home of negative energy using the properties of the herb sage.
The process of smudging your home has been around for centuries. It is a sacred art that uses smoldering sage leaves to clear negative energy from a room. The sage can be dried in bundles and then set on fire, allowing the smoke to go throughout a room or home to clean negative energy. (Buy a home smudge kit here.)
But smudging a home can be messy, smoky and not practical.
So sage smudge spray is a more modern day way of trying to get the cleaning powers of sage without setting the smoke alarm off or causing asthma problems.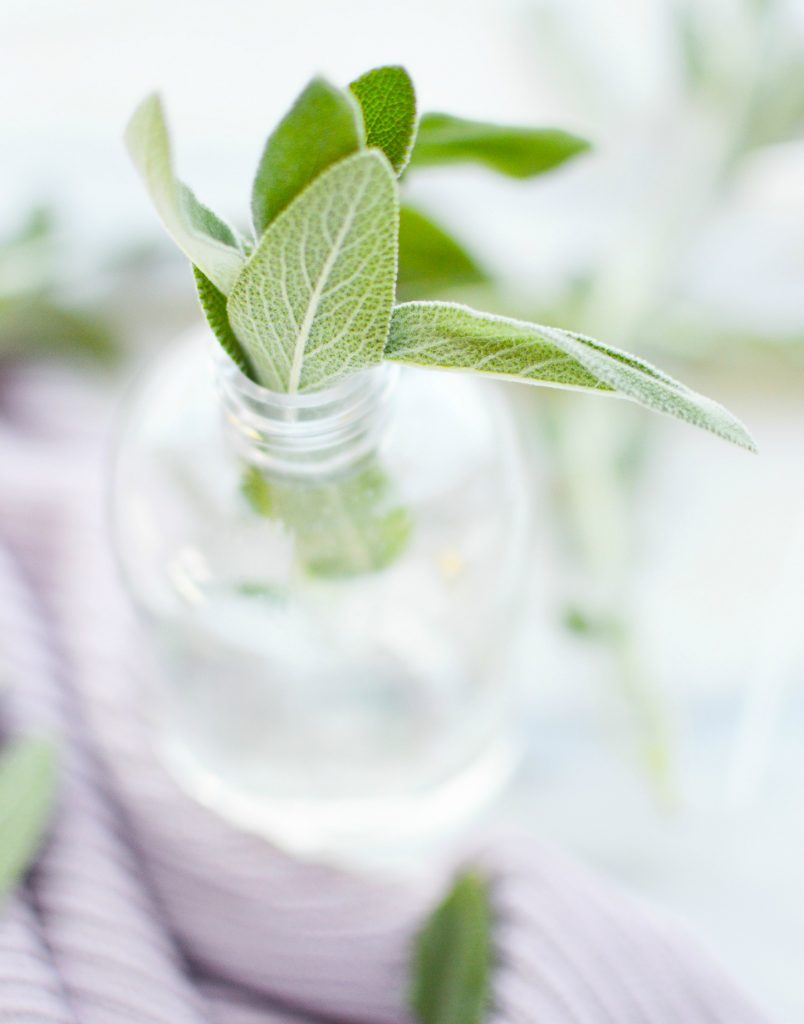 Sage smudge spray uses fresh sage or sage essential oils in a carrier (such as water, witch hazel, etc.) to be spritzed through a room or home.
Best Times to Use Sage Smudge Spray To Get Rid of Negativity
If you are wondering when you would want to use a sage smudge spray purely for energy cleaning purposes, these are the best times:
Moving into a new home or apartment
Children are afraid of monsters in their room
Emotional loss from someone leaving (spouse, significant other, friend)
Negative people have been in your home (family, friends, hired professionals, etc.)
Something negative has happened in your home

Powerful Benefits of Cleaning with DIY Sage Spray
I'm not about to proclaim that sage smudge spray definitely can remove negative emotions and energy. I just don't know. But I also am wise enough to know that we don't understand how everything works in nature. And often the ancient ways have a lot of wisdom in them.
What I do know is that I'd like every bit of help that I can to live a healthier and happier life. And if using a liquid sage spray to clean my home gives me some extra added benefits, then I'm all for that!
The recipe for our DIY Sage Spray combines the best of a sage smudge spray with all natural cleaning ingredients.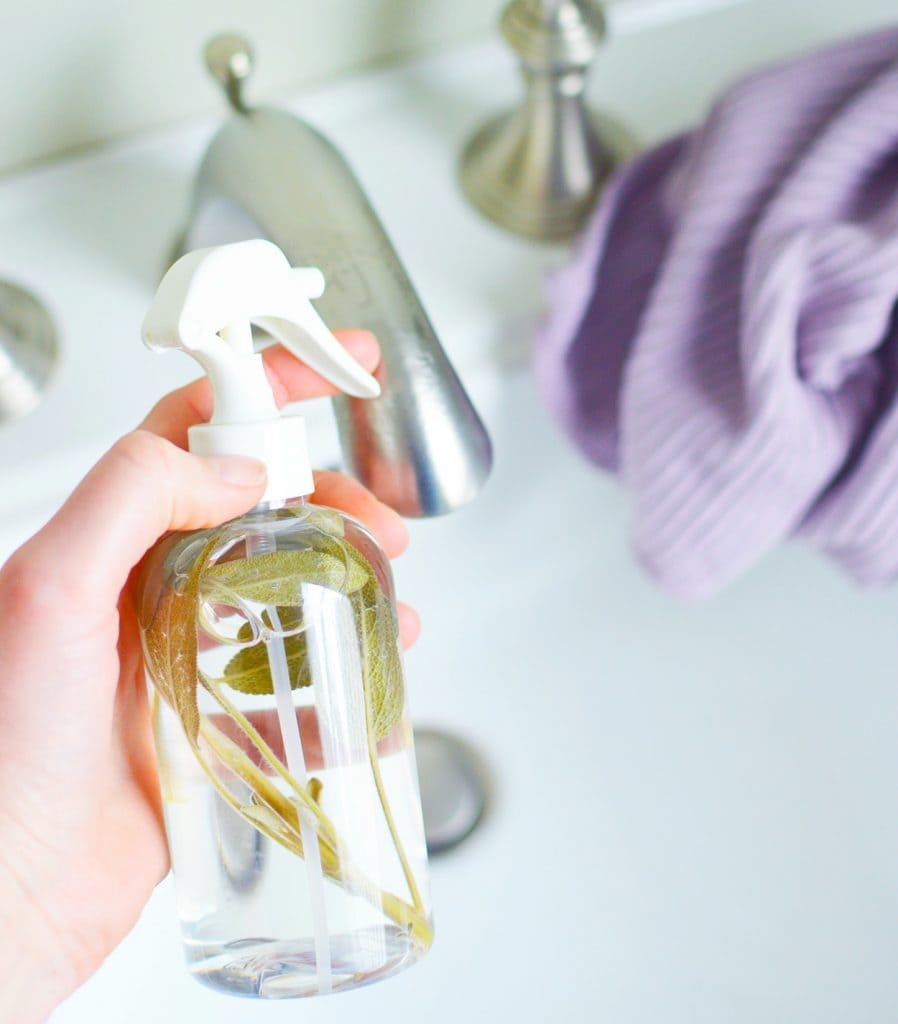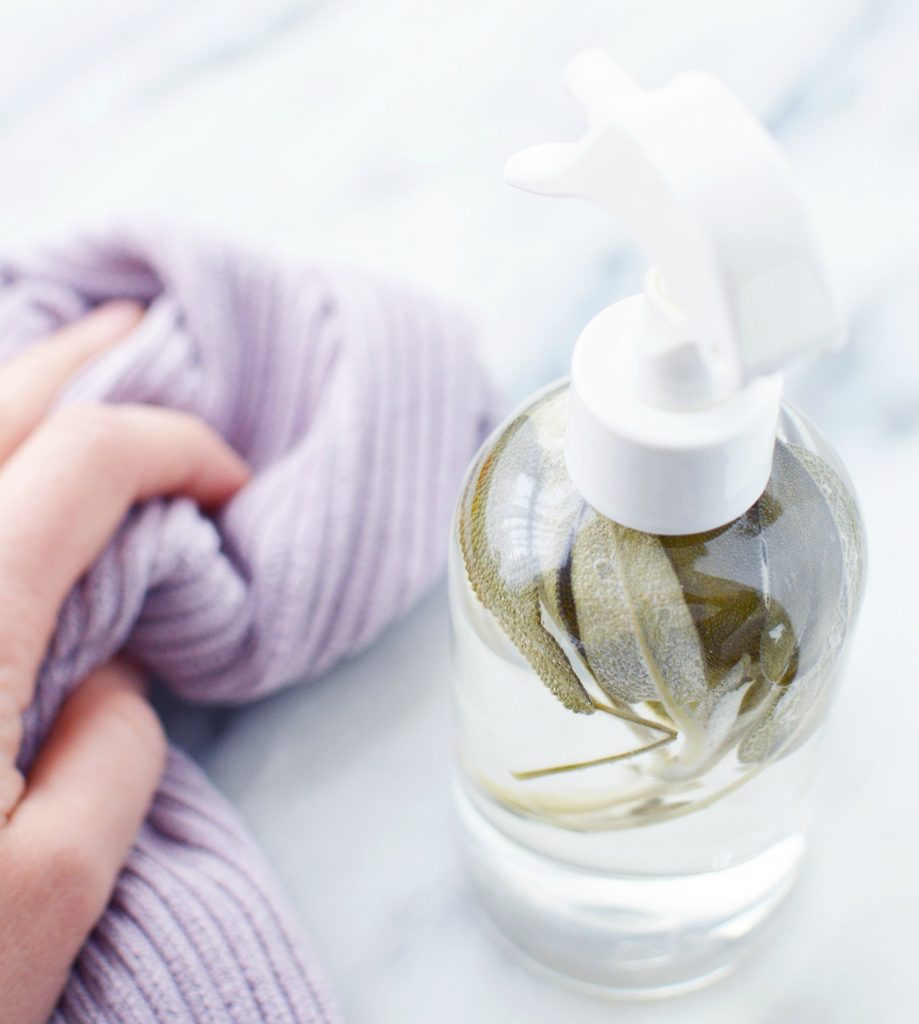 Which means that you can effectively clean your home every day. And if killing viruses and bacteria with vinegar can be combined with the negative energy cleaning power of natural sage, then why wouldn't you try this homemade cleaner?
(Plus, it's kind of beautiful to have on the countertop, too.)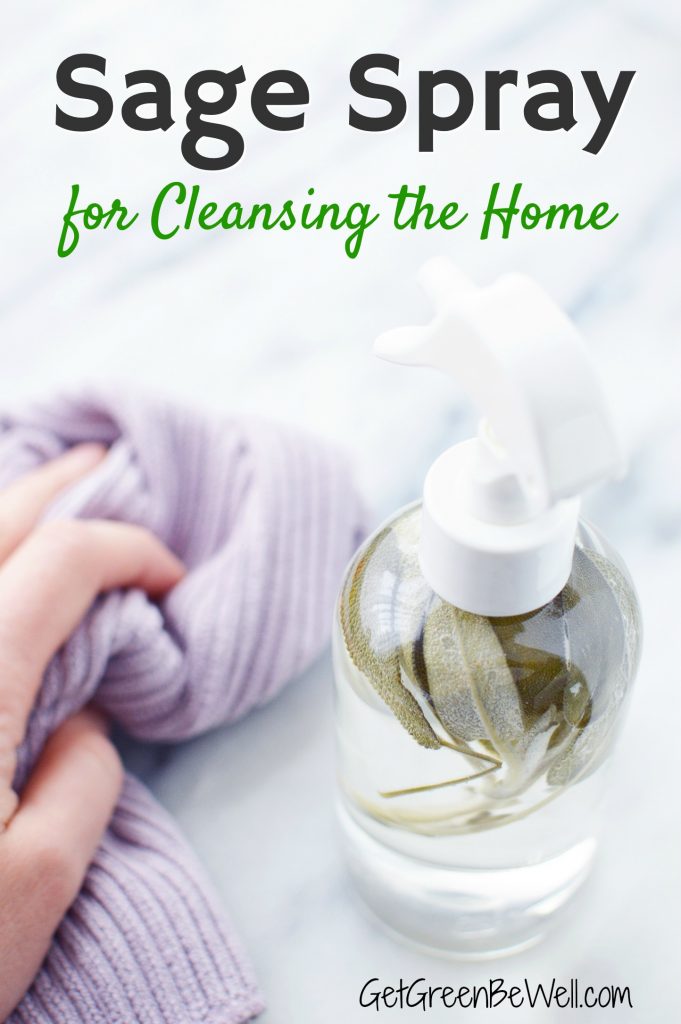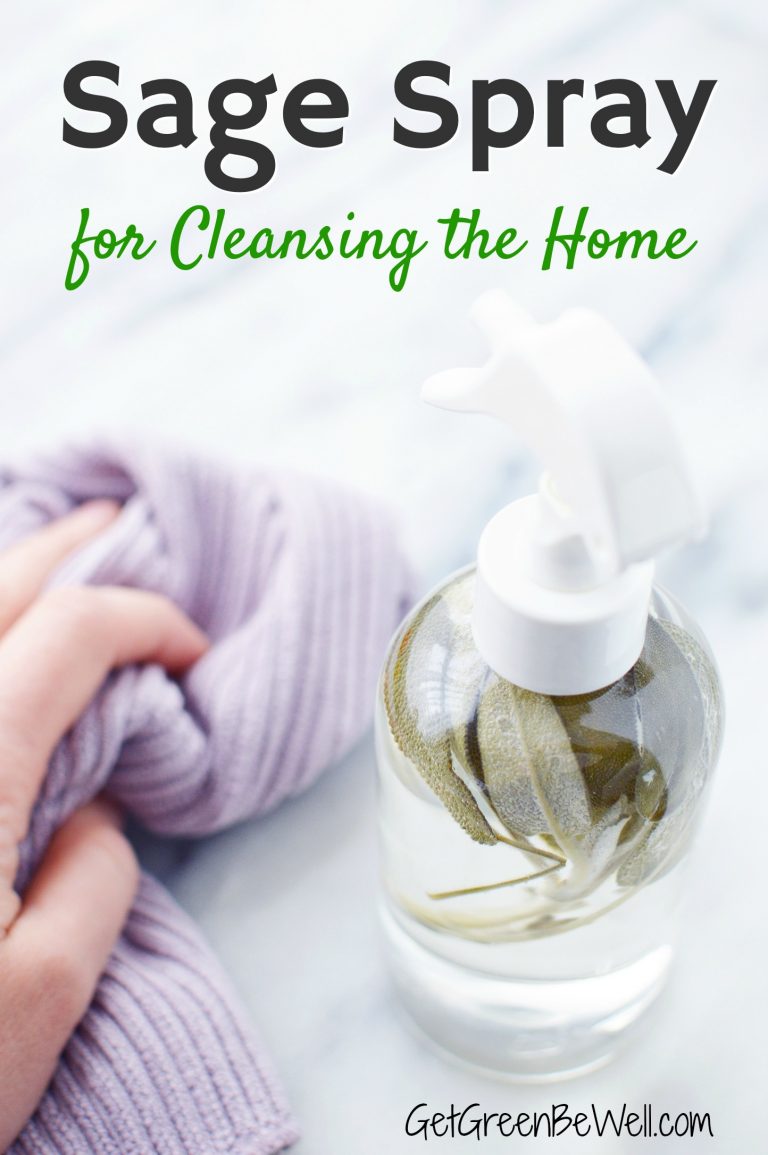 Energy Cleaning Ingredients
This DIY sage spray is made of all natural ingredients. Most of them are chosen for their reported energy cleaning powers.
Sage/Sage Essential Oil This herb is known for its reputed powers of clearing negative energy. Both leaves from the herb and the essential oil come from the same plant. However, essential oil is more concentrated.
Palo Santo Essential Oil Palo Santo essential oil is created from a tree species native to Ecuador, Mexico and Peru. The tree is also known as "holy wood" and called "mystical" for it's use to keep negative energy away by burning branches.
Sea Salt Just like the salt air at the beach helps to improve your mood and seemingly wash away worries and negative energy, sea salt also has energy clearing properties, too.
Grime and Bacteria Cleaning Ingredients
Vinegar This pantry staple is one of the most effective natural cleaning ingredients that you can find. If you're wondering what kind of vinegar to use for cleaning, read our extensive list. It will kill all kinds of nasty stuff, as well as cut through grime. It's an inexpensive cleaning agent and food-safe, too.
Sea Salt Not just known for energy clearing properties, sea salt is also used in a variety of DIY green cleaning products, too. Again, this product is food-safe and something you'll have in your kitchen cupboard.
DIY Sage Spray Cleaning Recipe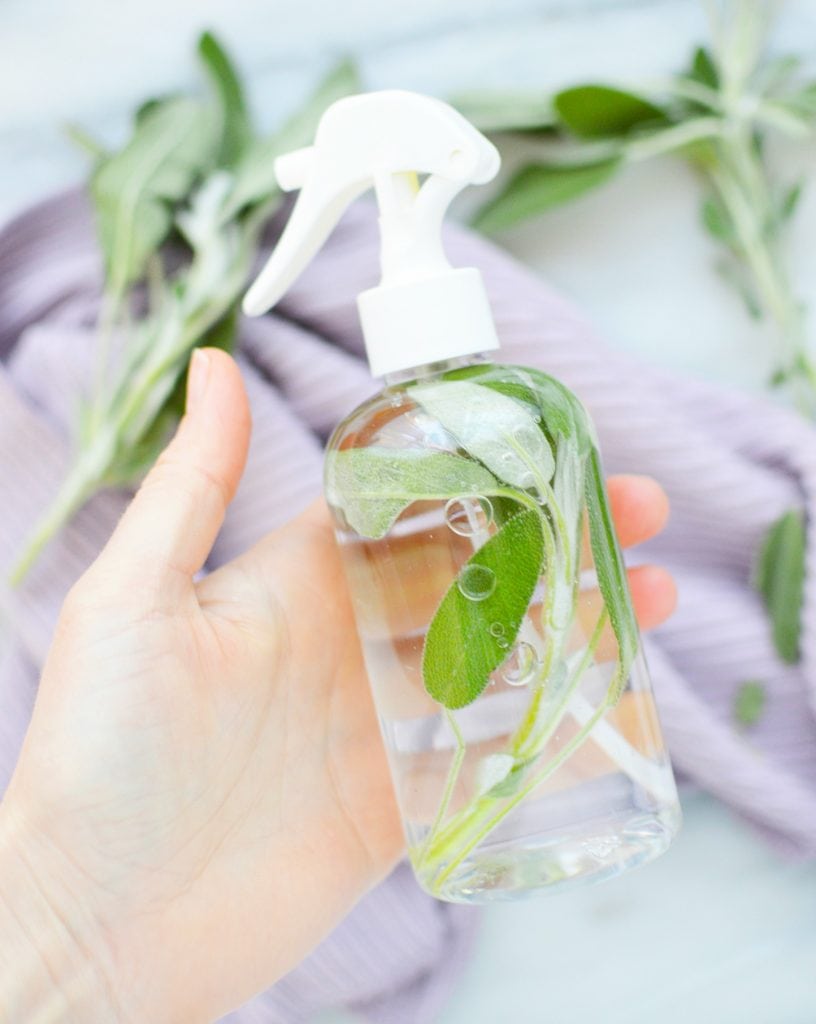 Here's how to make sage cleansing spray. Consider it a one-two punch in getting rid of ALL nasty stuff in your home.
Want even more DIY green cleaning recipes? See more homemade recipes immediately below this recipe card.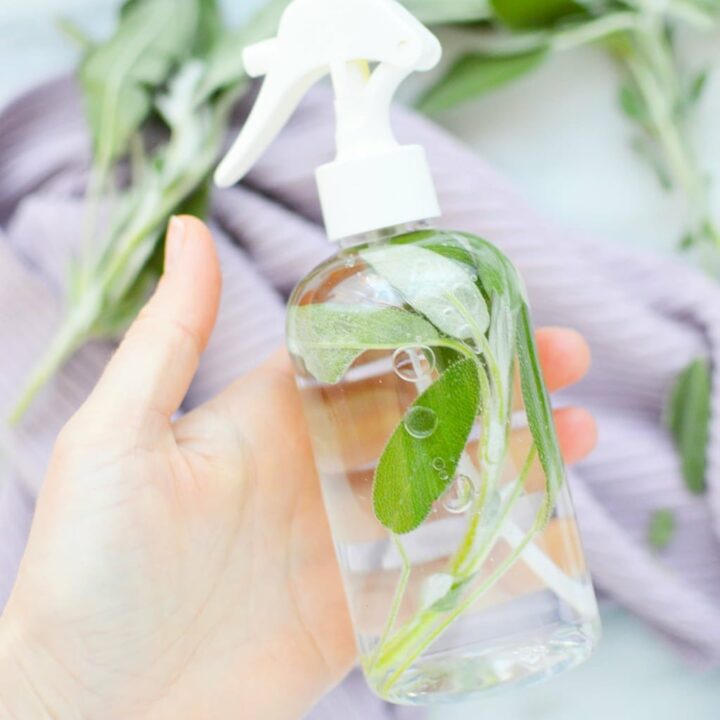 DIY Sage Spray for Cleansing Home
DIY Sage Spray that can cleanse your home from viruses, bacteria, and negative energy. Easy DIY recipe for green cleaning.
Materials
1 bunch of fresh sage leaves
1 cup hot water
Instructions
Add hot water (NOT boiling just hot) into bottle (make sure it's a glass bottle).
Ruffle or break up the sage leaves, to release the oils, and then add them to the hot water in the bottle.
Add white distilled vinegar and salt to the bottle.
Set the bottle in a cool, dark place. Let the sage seep in the vinegar solution overnight (or at least 12 hours).
If desired, add sage essential oil and/or Palo Santo essential oil (both known for energy clearing properties) to the solution after it has come to room temperature. (This can either be done before setting in a cool, dark place, or after the sage has steeped.)
Notes
Sage leaves will start turning brown after a day. This is natural and means the plant is breaking down into smaller pieces in the vinegar.

More Green Cleaning Recipes
If you love making homemade green cleaners to control the ingredients used in your home, check out our other DIY green cleaning recipes.