This goat milk and honey soap recipe uses a melt and pour soap base for a homemade soap that is easy to make. Heating the ingredients in the microwave is the key to making these soaps fast with very little mess.
I used raw orange blossom honey in my recipe, along with two citrus essential oils to give the soap a sweet smell. The cute honeycomb soap molds that I found are the perfect finishing touch for these DIY soaps.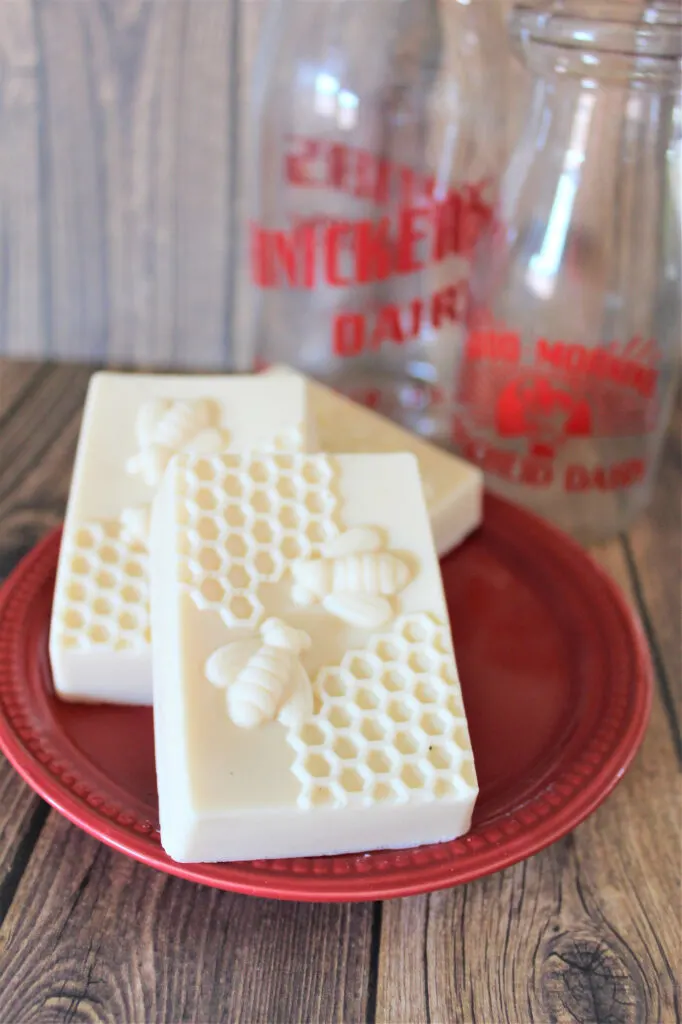 Milk and Honey Soap Benefits
Both goats milk and honey are deeply moisturizing and nourishing to skin. Using a milk and honey soap softens the skin naturally by exfoliating dead skin cells.
Honey is hygroscopic, which means it actually draws moisture to your skin.
Helpful Tips for This Milk and Honey Melt and Pour Soap Recipe
Use raw honey, not pasteurized honey found in most grocery stores. Raw honey has naturally occurring enzymes and beneficial properties that are removed by pasteurization.
You can substitute Manuka honey if you would like to. Manuka honey is known for powerful antibacterial benefits.
The essential oils are optional. You can leave them out. However, do use the sweet almond oil.
Measure out your almond oil first, in the same measuring cup before putting in the honey. That way, the honey slides right out and will not stick.
If the honey is thick and hesitant to pour, place the bottle into a cup of hot water for a few and it will loosen right up.
This is just one of my many goats milk melt and pour soap recipes. Be sure to see them all!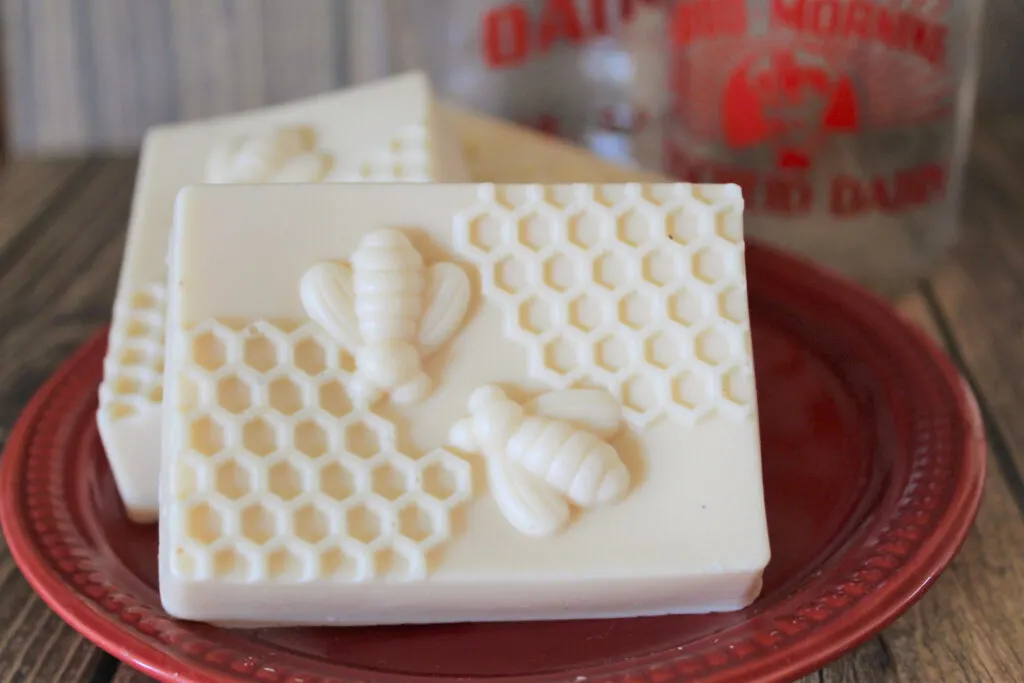 How to Make Milk and Honey Soap
I made four bars of soap using the bee and honeycomb mold linked to below.
Ingredients
This 3-pack of essential oils contains orange, tangerine and lemon for a great price. Lemon is one of the most used essential oils in homemade cleaners, so it's good to have on hand!
Supplies
Directions
Step 1
Cut the soap base into 1 inch cubes. Some melt and pour soap bases are scored into cubes to cut. Large bricks of goats milk soap base you might have to cut yourself. You will need about 16 one-inch cubes.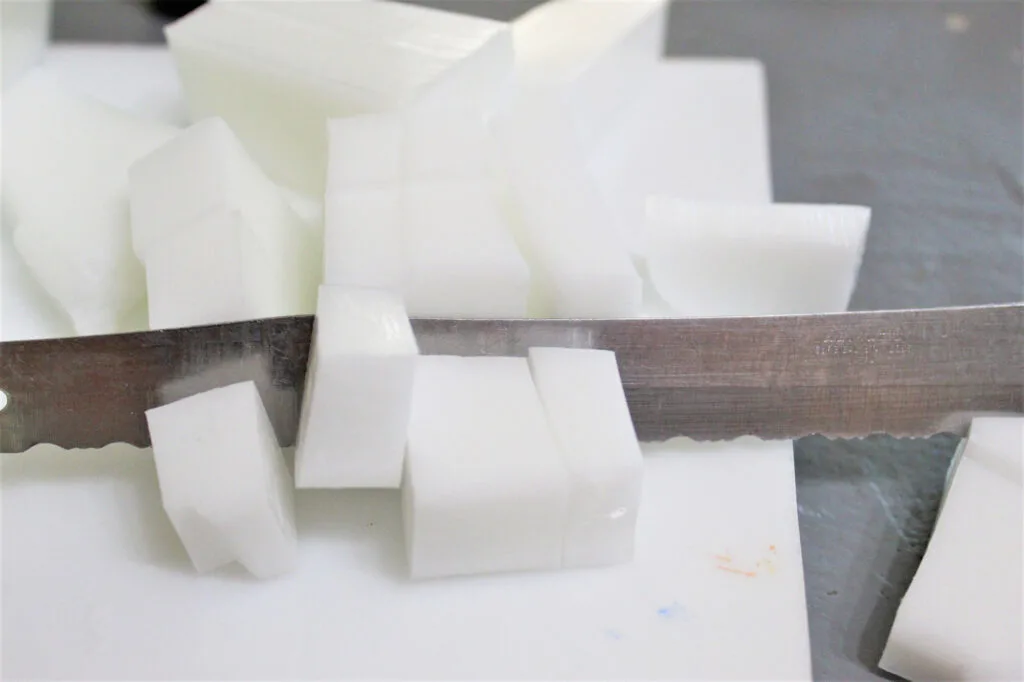 Put the cubes in a measuring cup. Microwave for 90 seconds. Then take your rubber spatula and stir the soap well, scraping all around the bowl and checking to see if there are any lumps of cubes sticking together. Try to break them up if you easily can.
Step 2
Check to see how much soap base you have in your measuring cup. If you need more, add a few more cubes and melt until you get 2 cups of melted goats milk soap base. Microwave in 30-second intervals, stirring in between each session.
Step 3
Stir the honey and sweet almond oil into the soap base in the measuring cup. Once completely blended, microwave for another 20 seconds.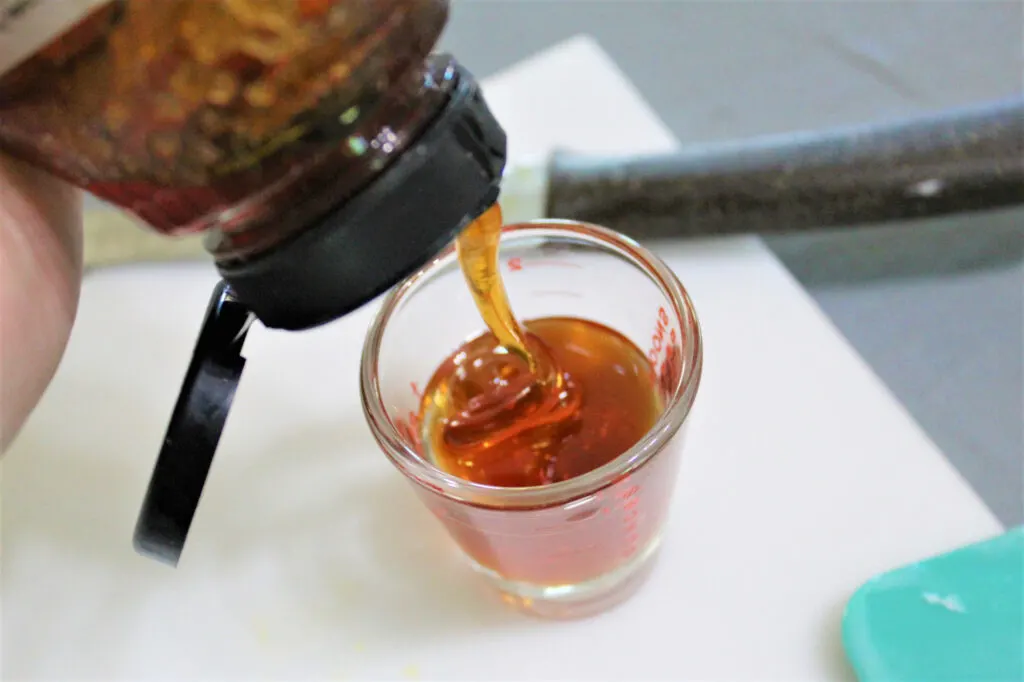 Step 4
Add in the essential oils, stirring completely and scraping soap off of the edges of the measuring cup as you stir.
After stirring in the essential oils, if your soap base is still smooth and liquid, you can now add it to the soap molds. If it has thickened, microwave it another 15-20 seconds and then add to the silicone mold.
Step 5
Fill the soap molds to just below the top. Pour slowly and repeat until you have used it all up.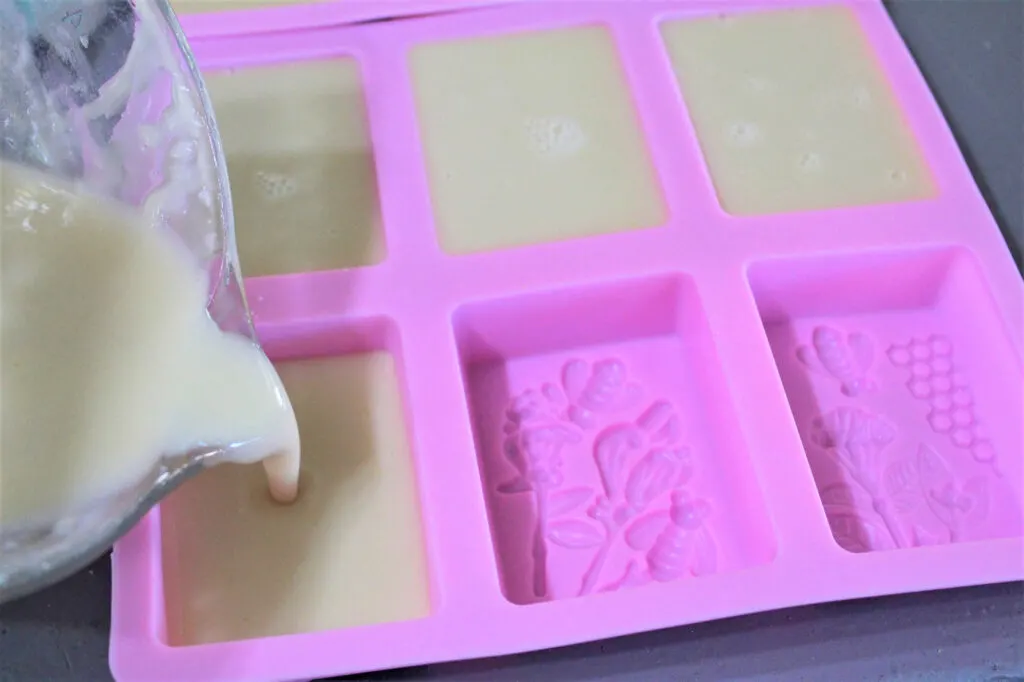 Step 6
Allow to cool at least an hour. It could take several hours depending on the weather. Feel the center of soap bar on the top and bottom to see if it feels fully cooled.
Once it does, carefully peel the mold off of the bars. Then, turn them over the opposite way and allow them about 15-20 minutes more to cool and evaporate any moisture on bottom.
These do tend to feel more moist than some other soaps because the honey adds a real moisturizing factor.
This milk and honey soap recipe is easy to make. You might also like these DIY soaps, too: