It can be difficult to find non-stick cookware not made with questionable chemicals. We want to choose healthy products for cooking, but also have the convenience and ease of modern-day technology, which often includes non-stick pots and pans.
Caraway Cookware is a non-toxic, ceramic cookware that provides the ease of non-stick cooking without using questionable materials.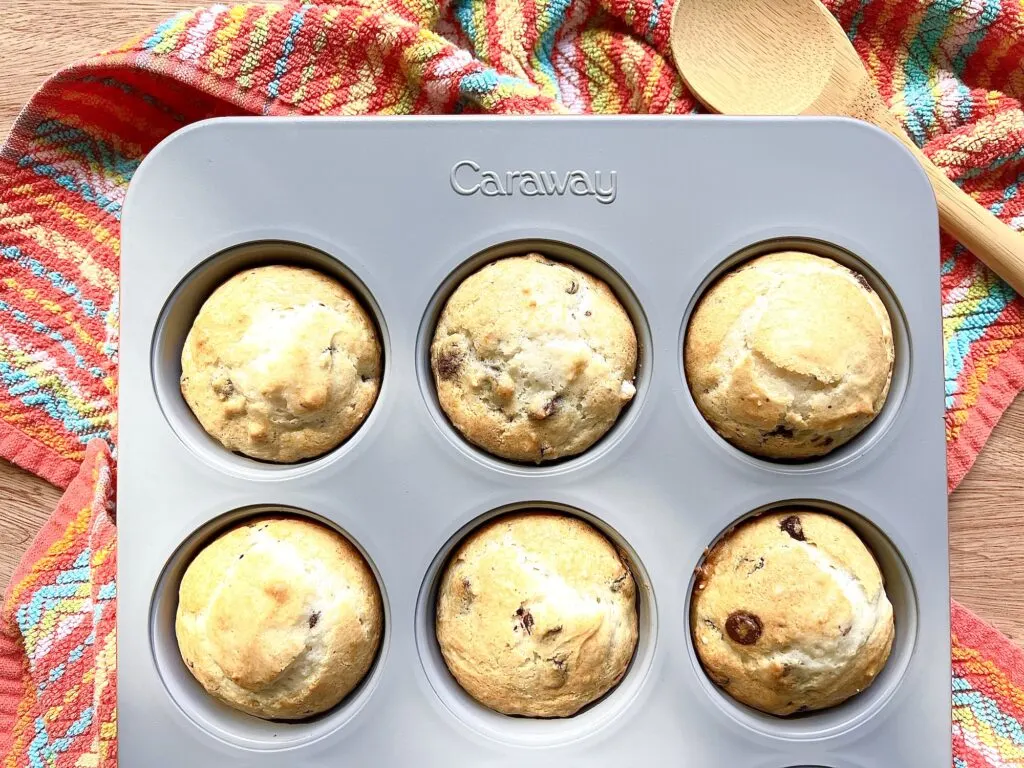 Non-Toxic Non-Stick Cookware
Caraway cookware is non-stick ceramic pots and pans made with an aluminum core and stainless steel bases and handles.
After contacting Caraway about the ceramic coating, the company told me that "the non-stick coating is a sol-gel processed fine ceramic coating material formed from a low curing temperature."
The company states that the cookware is free of:
PTFE, such as Teflon
PFOA
PFAs
Heavy metals such as lead, cadmium, and toxic metals
Certificates of lab tests can be found in the following links: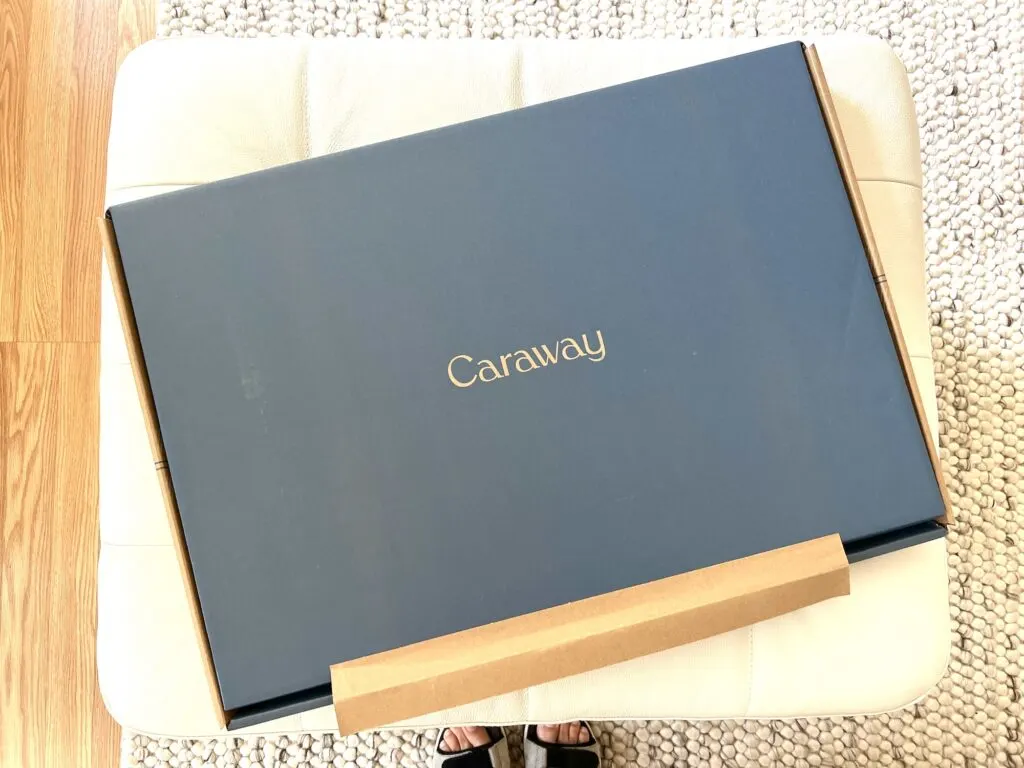 Caraway Products
Caraway offers both cookware and bakeware products, in addition to linen items.
Cookware and Bakeware sets allow you to receive the entire product line at a discount, along with a complimentary storage system that can help you easily keep the products clutter-free. The storage solutions are only available with the sets.
The Cookware Set includes:
Fry pan
Saute pan
Sauce pan
Dutch Oven
Pot and Lid Holders (Hanging and Countertop solutions)
The Bakeware Set comes in two sizes.
The 5-piece set includes:
2 Baking Sheets
Muffin Pan
Rectangle Pan
Cabinet Organizers
The 11-piece set includes the same items as the 5-piece bakeware set, as well as:
Loaf Pan
Circle Pan
Square Pan
Cooling Rack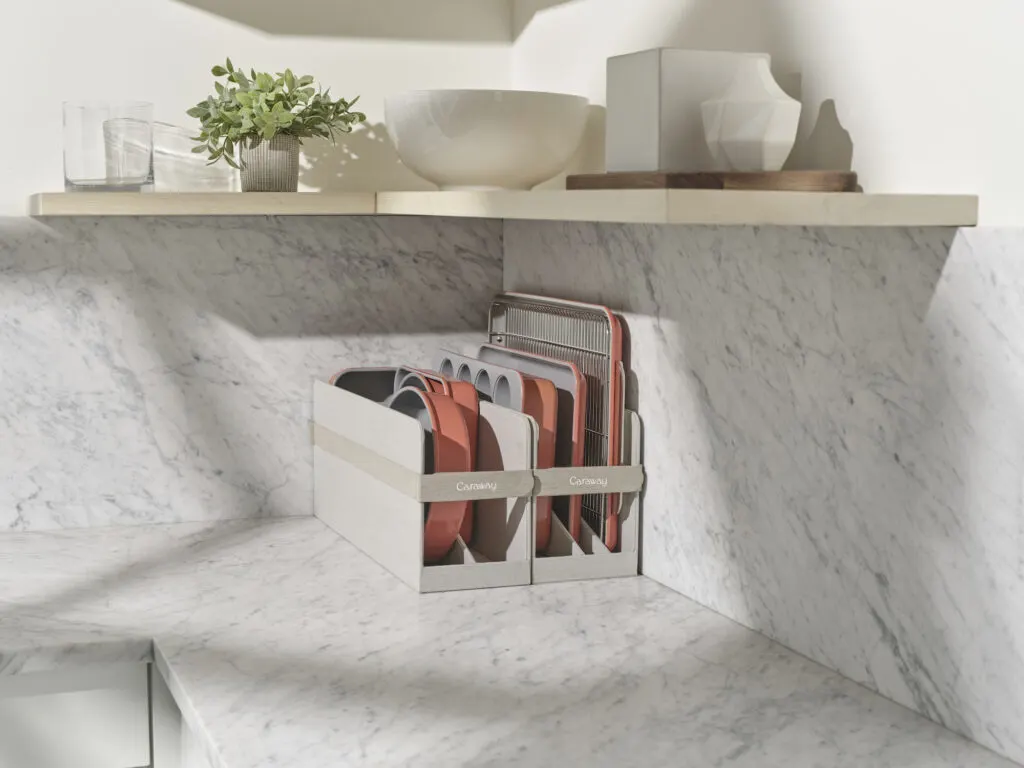 Individual, or a la carte, products can also be purchased.
Caraway Cookware Products I Reviewed
Caraway sent me several complimentary products to review. Since I didn't have the space, or need, for a complete cookware or bakeware set, I chose several products a la carte, which included:
Fry pan, 10.5 inch
Baking sheet duo (medium and large baking sheets)
Muffin pan
I chose Perracotta as the color.
At first, I was very happy with Caraway non-stick cookware. The weight and sturdiness of the pots and pans is surprising to me. And I love the colors.
I have used the baking sheet to cook bacon, the fry pan to cook beef tips and the muffin pan to make muffins.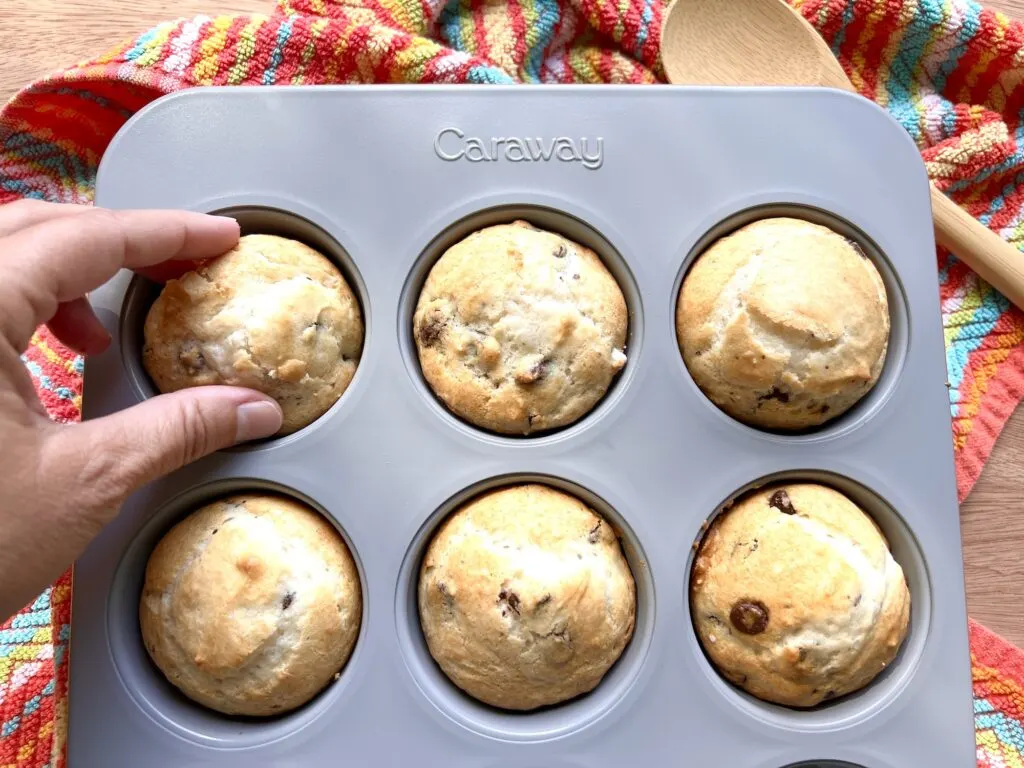 I do realize that I will need to be very careful with the products, as I can see they will easily scratch or chip if not taken care of properly.
After a few months, the non-stick coating didn't seem to work anymore on the muffin pan. I now have to use baking spray on the pan to get the muffins not to stick to the pan.
A surprising thing is that I have found some color transfer between my pot holders and the hot baking pans. I set a hot baking pan, and a hot muffin pan, on my existing fabric pot holders that I have been using for three years. When I went to wash the pans, I noticed that there was color and pattern transfer from the fabric onto the pan on the bottom.
It is distinctive because I have checkered pot holders, and the pattern on the bottom of the muffin pan is now checkered. It is on the bottom, so not visible, but I thought that was strange.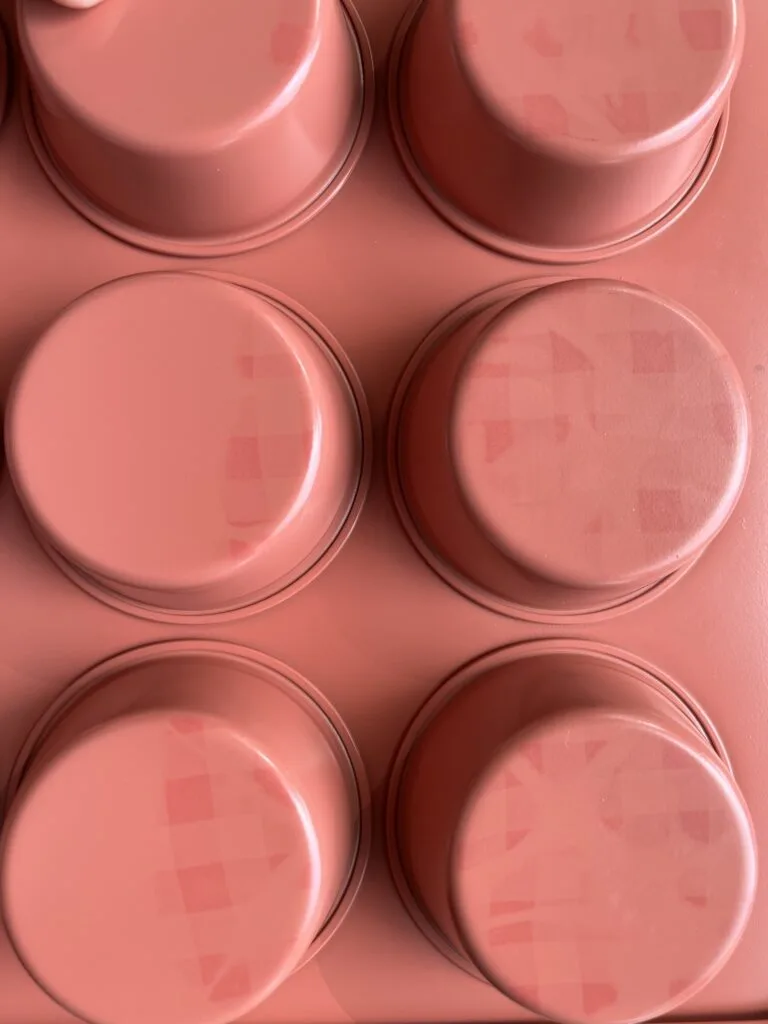 Caraway does send a cork trivet with each piece of cookware that you can use. For my bakeware, I received a square cork trivet in each box. For the pan, I received a circle cork trivet in the box.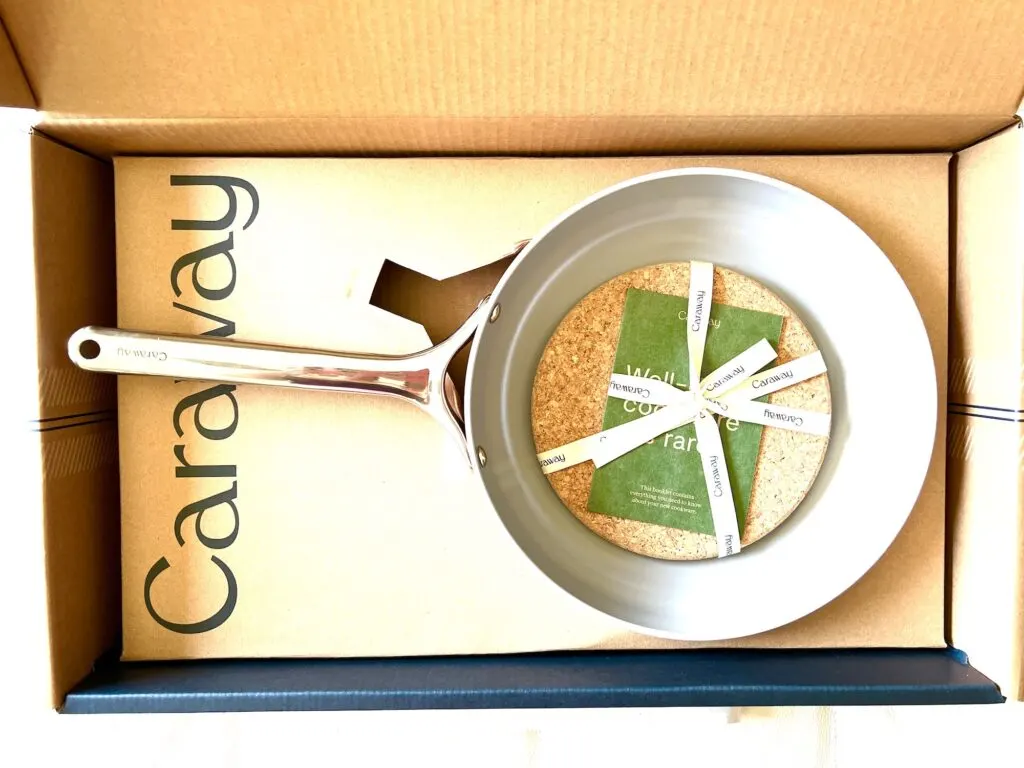 I chose individual products because I didn't have anywhere I could use the Caraway storage solutions for the cookware sets. However, I do wish I had an entire set and was able to try out the storage systems, because they are a great selling point for purchasing the sets. It would be great to easily have all of the cookware stored and organized with no hassles.
Cooking with Caraway Pots
Using ceramic cookware is just a little bit different than using other types of pots and pans. However, once you learn a few basics, you will love the ease of using these non-stick pots and pans.
Here are a few important tips to keep in mind when using ceramic non-stick cookware:
The pots and pans can conduct heat differently than your existing cookware. For the first few uses, monitor your food to see if the temperature seems to be too hot or not hot enough.
Use only low or medium heat with Caraway pots. The cookware is efficient and can hold heat better than other types of cookware.
Using high heat can damage the non-stick coating over time.
There is no need to season your bakeware or cookware.
Pre-heat the pot on low to medium heat for a maximum of 90 seconds before adding oil.
Never leave an empty pan on a burner that is heating.
No not put empty bakeware in the oven without food in it.
Do not use spatulas, spoons or other items that have rough or pointy edges. Instead of metal utensils and cooking implements, use silicone, plastic, nylon or soft wood products instead.
Cut, dice and slice foods outside of the pan on a separate surface. Do not use knives and cutting utensils inside the pan.
The handles will get hot to the touch when used in an oven or left on a burner. Always use an oven mitt or pot holder.
A unique feature of Caraway pan's is the bump (a raised ridge) placed on the handles to let you know if you are too close to the danger zone of getting burned from the heat.
Does Caraway Cookware Work on Induction?
Yes, Caraway cookware can work on induction burners, as well as electric and gas.
Should You Use Oil with Your Non-Stick Pans?
Even though your pots and pans are non-stick, a little oil can help keep food from sticking.
Use 1-2 tablespoons of oil when cooking. There is no need to use anymore than that. Butter or liquid oil is the best to use.
Do not use aerosolized cooking oil sprays with your Caraway cookware.
How to Clean
Cleaning non-stick cookware can be easy. Just remember a few key rules:
Use soap and warm or hot water
Do not use an abrasive sponge
Wipe dry with soft, non-abrasive towels
Avoid using the dishwasher
When cleaning, be sure to let your pot or pan cool completely before running cold water over it. The sudden temperature change from hot to cold could damage the non-stick coating, creating cracks in the surface which you don't want.
Removing Stuck on Food
Even non-stick pans can get food stuck to the surface. But don't use harsh chemicals or scrubbing to try to remove it from ceramic cookware. Here are several ways to remove stuck-on food.
For cookware: Simmer soapy water on low heat to get the food to soften and release from the pot or pan. Using a soft sponge or a non-abrasive scrubber can help to loosen the food from the pan.
If that method doesn't work, use this non-toxic cleaner recipe for stuck-on-food, as recommended by Caraway:
1 cup water
2 Tbsp. baking soda
1/2 cup white vinegar
Mix the ingredients together and scrub the stain or residue to remove.
P.S. Vinegar is a great non-toxic cleaner. Here are the best vinegars to clean with.
For bakeware: Caraway recommends to cover the baking pan with 2 tablespoons of baking soda and 1 cup vinegar. Let the mixture sit for 30 minutes. Then wipe away and washing the pan with mild dish soap.
Non-Stick Pan Browning
If your non-stick pans and cookware are turning brown or have discoloration, this is normal. The brown stains occur over time with normal use.
To remove the discoloring, use a mixture of baking soda and vinegar and apply to the stain. Using a soft sponge or non-abrasive cleaner, wipe the mixture on the pan and then gently remove.
Not all brown stains can be removed if they have been on the cookware for a while. This is a natural occurrence.
Are Caraway Pots and Pans Oven Safe?
Yes, both Caraway bakeware and cookware is oven safe.
The maximum temperature for Caraway bakeware is 500 degrees Fahrenheit. The maximum temperature for Caraway cookware, including pots and pans, is 550 degrees Fahrenheit.
Do not use the pans or bakeware on open flames, such as campfires, grills and stovetops.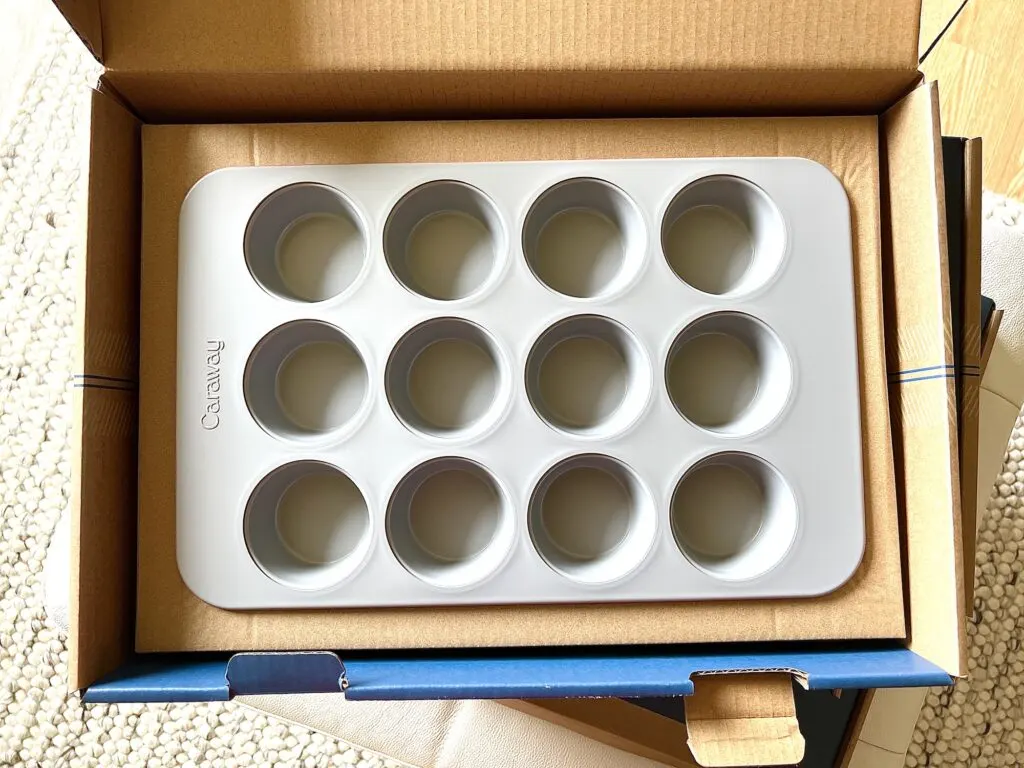 Is Caraway Dishwasher Safe?
Hand washing is recommended for cleaning Caraway cookware.
The ceramic coating could become damaged if the pots and pans are put in a dishwasher repeatedly.
Caraway Cookware Colors
One of the best features about Caraway Cookware is the variety of colors that you can choose. If you like to display your pots and pans in the kitchen, then choosing a color that works with your decor might be of interest to you.
Colorful cookware also makes cooking and baking fun. We should all have a little more joy when cooking!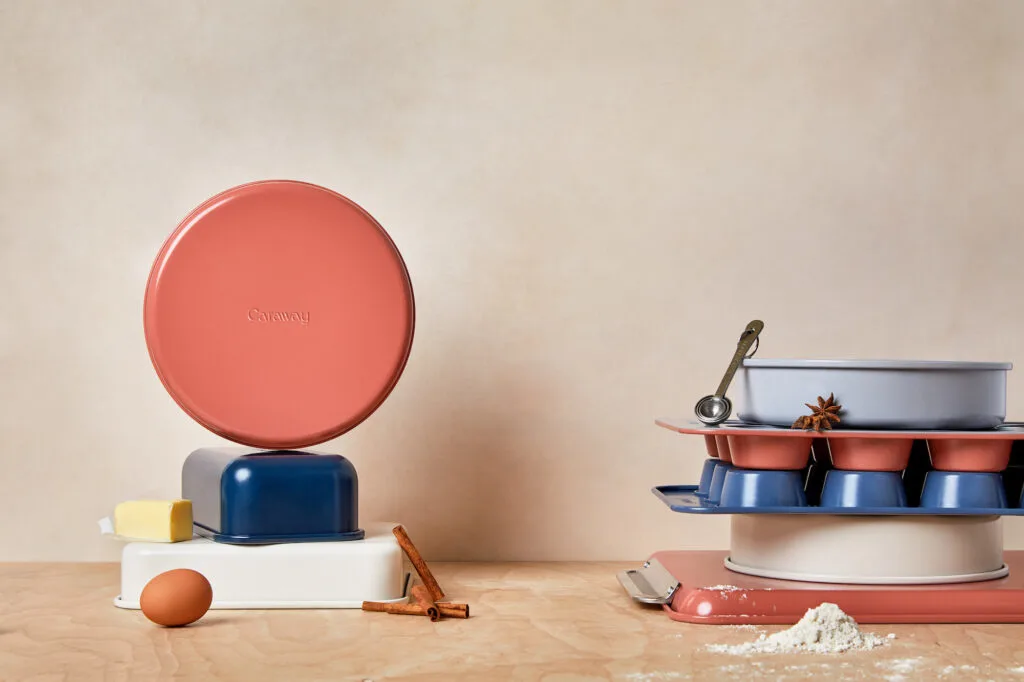 There are a variety of colors that Caraway offers, along with some limited time colors. Currently, the colors are:
Navy
Cream
Gray
Perracotta
Sage
Marigold
Brick Red
Caraway Vs. Green Pan
I have used both Caraway and Green Pan, as well as Green Life.
Caraway pots and pans are definitely heavier and feel very solid, compared to Green Pan.
I share more about my experience with Green Pan in my non-stick ceramic cookware review.
Where is Caraway Cookware Made?
The products are designed in the USA, and made in China.
Caraway Storage
One of the unique aspects of Caraway cookware is that you will receive storage solutions when you order either the cookware or bakeware sets.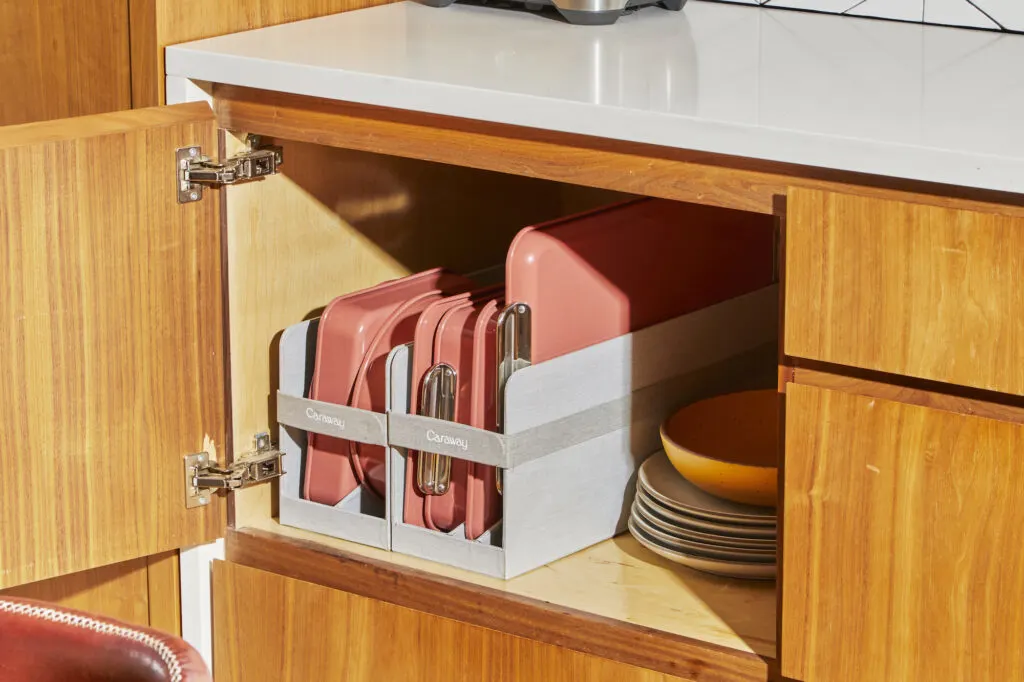 This is a nice benefit if you can use the storage holders in your kitchen, either in a cabinet or on the countertop. You won't have to worry about buying another type of storage product and not having your pots and pans fit, because the storage systems are custom made for Caraway products.
Sustainable Packaging
Caraway ships their products in sustainable packaging that manages to protect the cookware while also being biodegradable.
I was very impressed with the presentation of the packaging. If you are giving these pots or pans as a gift, the recipient will be impressed!
No plastic is used. Only cardboard which can be recycled or composted. The pan comes wrapped in a reusable drawstring pouch to protect it from damage during shipping.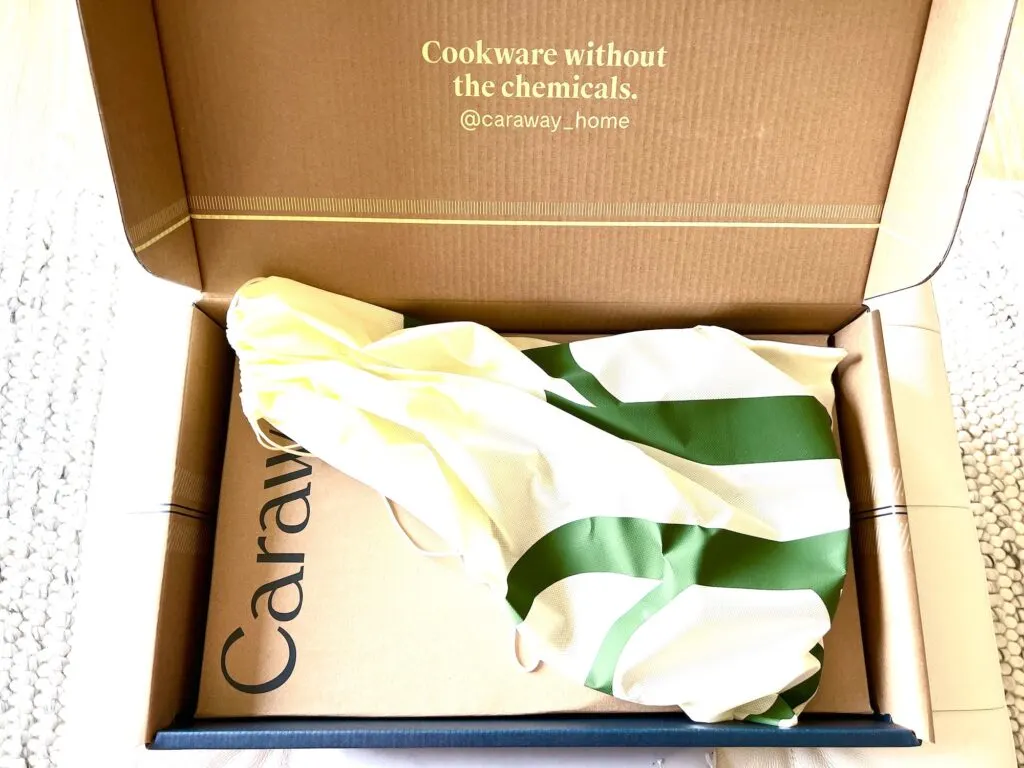 The user manual is paper, and the book is sewn together with thread.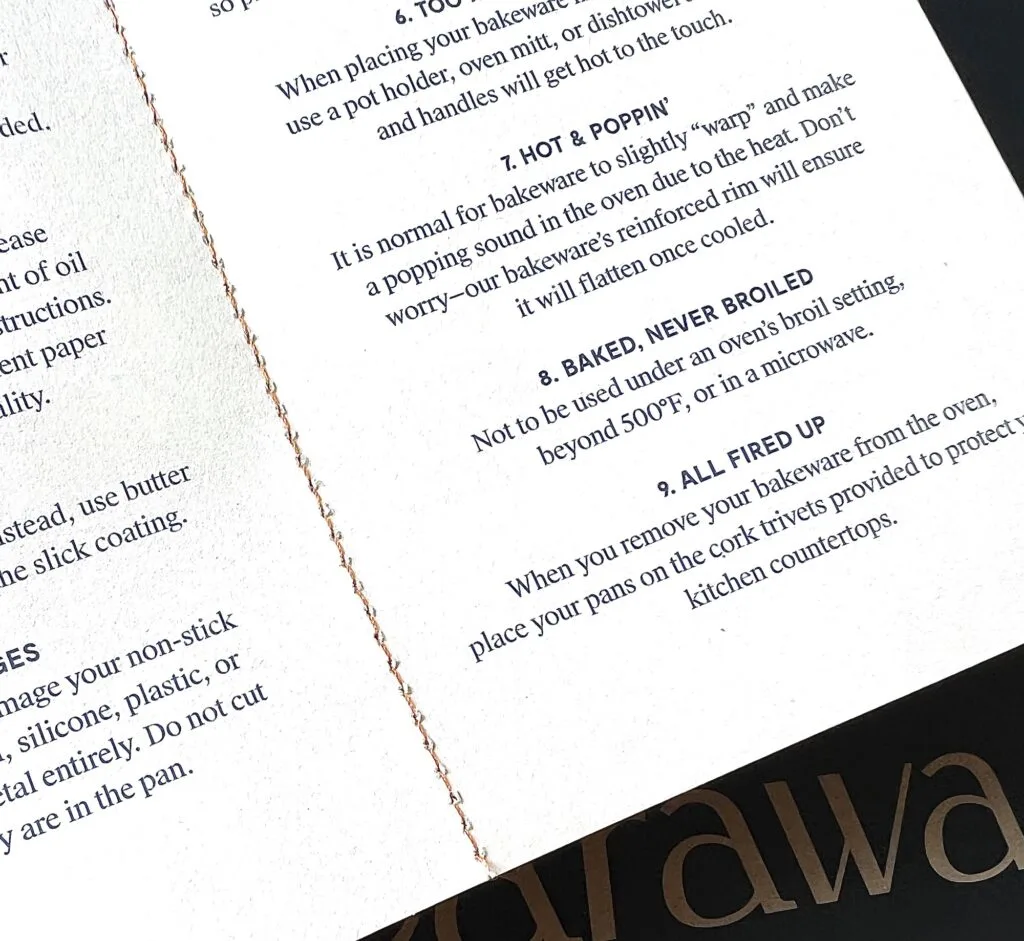 Related Post: 11 Zero Waste Living Ideas
Where to Buy Caraway Cookware
These non-stick pots, pans and bakeware can be bought on Carawayhome.com.
You can also buy products at:
Is There Free Shipping?
When ordering from Carawayhome.com, you will get free shipping on orders of $90 or more.
From other retailers, shipping is dependent on their terms.
What is the Return Policy?
When ordering through Caraway's website, you have 30 days to try out this non-stick cookware and decide if you love it. If not, send it back for a full refund.
Is Caraway Cookware Worth It?
If you are wondering whether Caraway cookware is good, it depends on what you are looking for in your pots and pans. There are a variety of pros and cons that can help you decide whether it is a wise investment for you.
Pros
Non-Stick There aren't a lot of options for using non-stick pots and pans without worrying about the chemicals used in the products. Ceramic non-stick cookware offers the benefits without as much of the worry as using some other brands.
Stylish If you like having a pretty kitchen, then Caraway cookware is great for you. The colors and minimalist style will look great on display.
Thoughtful Details The design of Caraway cookware is well thought out. The muffin tin has a wide surface area for grabbing the pan and pulling it out of the oven. The large baking sheet has stylish handles on the side to aid in pulling out the pan. The warning "bump" on the stainless steel handles lets you know when your hand might be too close to a hot surface.
Colors It's easy to create a cohesive look in your kitchen with pots and pans in colors that you love.
Sustainable Packaging All of the packaging can be biodegraded or reused, creating less waste.
Pretty Presentation If you are gifting a bakeware set to someone, or buying it as a gift for yourself, you won't be disappointed in the presentation of the packaging.
Cons
Non-Stick Properties Didn't Last We used the muffin pan infrequently for a few months. Maybe once every two weeks or so. After four months or so, we noticed the muffins were sticking to the pan and wouldn't come out easily. In fact, the baked on muffin dough wouldn't come off, either. We now have to use cooking spray on the muffin pan so that the muffins will come out easily.
Weight These are solid and sturdy pots and pans. Therefore, the weight is substantial. It is not super heavy, but if you have arthritis or difficulty in holding pots and pans, these might not be the most lightweight options for you.
Not Heirloom Quality These cookware sets are designed for several years of use, but they aren't going to be passed down to your children. No non-stick cookware can achieve that feat. All non-stick coatings will become scratched over time.
Must Be Careful With Use The ceramic coating, as well as the exterior finish, can be easily damaged by banging the pots and pans around, exposing them to rough edges or objects, or dragging them across the range or in the oven.
Not Dishwasher Safe If you can't take the time to hand wash your cookware, you might not want to use any non-stick pots or pans. Dishwashers can degrade the finish more quickly, which means any brand that you choose won't last as long as it could if you hand washed the items.